We test and review fitness products based on an independent, multi-point methodology. If you use our links to purchase something, we may earn a commission. Read our disclosures.
When it comes to stationary bikes, there are a ton of options—from the endless brands on the market to the different styles of bikes you can choose from. If you're shopping for a stationary bike for your home gym and you landed here on this Marcy ME-709 Recumbent Exercise Bike review, it might be because you're someone who is recovering from an injury or surgery, or is lacking overall mobility.
If that describes you, a recumbent bike could help transition you back into an exercise routine. In this Marcy ME 709 recumbent exercise bike review, I will help you determine if this budget-friendly stationary bike will be the next addition to your home gym.
We Test Bikes of All Shapes and Sizes for Your Benefit
The GGR product testers are a group of fitness industry professionals that includes certified personal trainers, CrossFit Level 1 Trainers, and nutrition coaches. We've tested dozens of stationary bikes—from basic fan bikes to high-tech bikes with touchscreens and everything in between.
Coop, the OG product tester and founder of Garage Gym Reviews, put the Marcy ME-709 to the test to find out firsthand who this budget bike will benefit the most.
Marcy Recumbent ME-709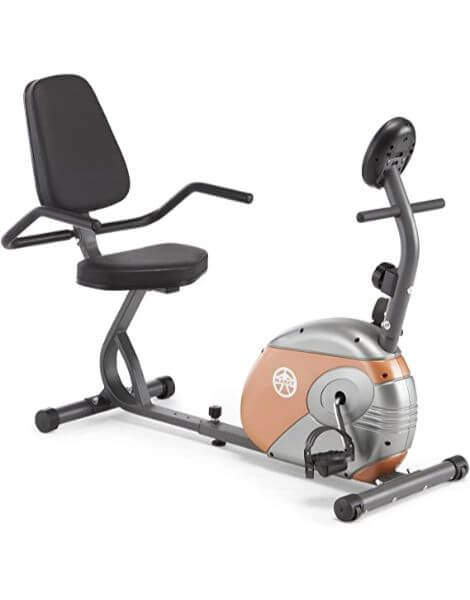 GGR Score: 3.4
Product Highlights
Recumbent exercise bike 

8 silent magnetic resistance levels

Step-through frame 

LCD display to track time, distance, calories burned, and speed
Pros & Cons
Pros
Step-through frame design
LCD display
Weighted counter-balanced pedals
Free shipping
Cons
Reviewers complain of uncomfortable seat
Only 8 levels of resistance
Short 2-year warranty
Limited reviews
Customers share it is difficult to change seat distance
Bottom Line
The Marcy ME-709 Recumbent Bike is a basic, affordable machine best for beginners.
A Quick Look at the Marcy ME-709 Recumbent Exercise Bike
Marcy Fitness offers a wide variety of fitness equipment at affordable prices. The brand's cardio lineup includes treadmills, ellipticals, and rowing machines.
Additionally, Marcy manufactures quite a few stationary bikes including air bikes, folding bikes, mini bikes, indoor cycling bikes, upright bikes, and recumbent bikes. Of the nine models in the recumbent category, the Marcy ME-709 is one of the most budget-friendly price tags and will cost you less than $200 if you get it from Amazon.
Before You Buy
The console is fairly low tech featuring an easy-to-read display with large numbers
The two AA batteries you'll need for the LCD display are not included with the purchase
Transport wheels and the lightweight frame make the ME-709 easy to move around
Is the Marcy ME-709 Recumbent Exercise Bike Worth It?
In general, the GGR product testers can agree that recumbent bikes are for a certain type of home gym owner and will not suit everyone's needs. Recumbent bikes are helpful for anyone with limited mobility because sitting down onto a comfortable padded seat is a bit easier than mounting a traditional upright bike.
Coop's hands-on experience with the Marcy ME-709 made it clear that this bike is designed with beginners in mind—not an avid cyclist. "For someone discovering if this is an activity they'll stick to, I think the Marcy recumbent is a good starter bike," says Coop.
Great for:
Individuals at a beginner fitness level or returning to exercise
Folks looking for a basic exercise bike
Anyone recovering from a lower-body injury
Not recommended for:
Experienced cyclers
People looking for a traditional upright exercise bike
Individuals seeking interactive programming options
Marcy ME-709 Recumbent Exercise Bike Specs
| | |
| --- | --- |
| Price | Under $200 on Amazon |
| Footprint | 58″ L x 20″ W x 38" H |
| Weight capacity | 300 lbs |
| Resistance type | Magnetic |
| Resistance levels | 8 |
| Materials | Steel tube frame |
| Display | LCD screen |
| Adjustable seat | 27"-37" inseam height |
| Pedals | Adjustable straps |
| Warranty | 2-year limited warranty |
Workout Experience on the Marcy ME-709 Recumbent Exercise Bike
The Marcy ME-709 Recumbent Exercise Bike is an affordable and simple stationary bike. The bike does not require a power outlet and will only need a pair of AA batteries to run the easy-to-read computer screen. Additionally, the step-through design makes it easy to get up and down—the frame is not bulky and there is nothing you need to hike your legs over.This makes it functional for anyone lacking mobility to simply sit down and start a cycling workout.
Once you're in the bike seat, you'll have support from a padded backrest made from high-density foam. You'll also be able to grab onto a set of handlebars on either side of you for additional support.
According to Coop, these features make the ME-709 ideal for someone who is rehabbing an injury. "Or someone who doesn't have a lot of fitness experience and wants something low impact and comfortable to get in more movement," says Coop.
In addition to being accessible, this exercise bike is one of the lowest priced recumbents on the market. "Due to this, it can lack a lot of features but still be a good value for some folks," says Coop.
For example, the bike doesn't offer a touchscreen display but it does feature an easy-to-read, bright and simple LCD screen to display basic metrics. For elderly people or anyone rehabbing an injury, these basic readouts might be all you really need.
Other than the Marcy Recumbent Exercise Bike ME-709 having a simple display, I was curious about the resistance levels and how challenging the eight preset levels of magnetic resistance can make a recumbent bike workout. Coops notes he would have preferred more resistance on this bike, but says, "for who it's really designed for, I think the resistance is appropriate."
Footprint, Portability, And Construction
The frame of the Marcy ME-709 is constructed from 14-gauge steel tubing with a powder coat finish. "There is a lot of plastic used for the adjustment components, which don't feel very solid, but fit for the price," notes Coop.
Both the frame and stabilizers feature a slim and minimalist design, making the ME-709 under 2 feet wide. Additionally, the machine is nearly 5 feet in length and just over 3 feet tall.
"It's also quite lightweight so it's easy to move," says Coop. Although the weight of the ME-709 is not disclosed on the brand's website, on Amazon the bike is listed at 61 pounds.
With such a lightweight and affordable exercise bike it might not come as a surprise the machine jostled a little during the test workout. "There is more rocking than I'd like from a recumbent, but it can be overlooked for the low price," says Coop.
Comfort And Ergonomics
The Marcy ME-709 has a comfortable, padded seat with a backrest. Both the seat and the backrest are constructed from high-density foam and, according to Coop, "it's much more comfortable than a normal bike seat."
Although there is only one seat adjustment on this bike, the inseam height can be adjusted from 27 inches all the way to 37 inches away from the foot pedals. To make adjustments, pull the quick-release knob, glide the sliding frame to your desired position, and release the knob to lock the seat in position.
Coop says the bike worked well for his height, but mentions taller individuals (over 6 feet) might feel a little cramped. "For most people, including those who are short, the Marcy ME-709 will feel comfortable," says Coop.

Lastly, the ME-709 features adjustable foot straps for a snug fit around your shoes so that your feet don't slide out while you pedal. The pedals themselves are also weighted and counterbalanced for more control while placing your foot in the pedal or pulling it out.
Technology and Conveniences
The Marcy Recumbent ME-709 is not a high-tech piece of exercise equipment—it's a basic machine with a straightforward console. "The simple monitor does not overwhelm people with tech or a lot of buttons," says Coop.
The computer screen on the ME-709 has basic readouts like time, distance, calories, speed, and an odometer to track total distance. You'll have to use the mode button below the LCD window to toggle through one metric at a time.
I think it's also worth mentioning that this bike lacks some simple conveniences like a water bottle holder or a media tray, which could have added some additional value.
Comparison to Similar Products
The Marcy ME-709 recumbent bike best compares to another brand that is also known for budget home gym equipment: Sunny Health and Fitness.
The Sunny Health and Fitness Essential Series Magnetic Recumbent Bike is a near match in weight capacity, display type, and levels of resistance. Although fairly similar, the biggest differences are the warranties and the price.
The Sunny Health and Fitness model will cost you about $50 more than the ME-709 and it has a slightly longer warranty than the ME-709. However, in this price range our product testers don't expect brands to provide extensive warranty policies.
| | | |
| --- | --- | --- |
| | Marcy ME-709 Recumbent Exercise Bike | Sunny Health & Fitness Essential Series Magnetic Recumbent Bike |
| Price | Under $200 on Amazon | About $300 |
| Weight capacity | 300 lbs | 300 lbs |
| Display | LCD display | LCD display |
| Resistance | 8 levels of magnetic resistance | 8 levels of magnetic resistance |
| Warranty | 2-year limited warranty | 3-year structural frame, 180-day parts and labor |
Sunny Health and Fitness Magnetic Recumbent Bike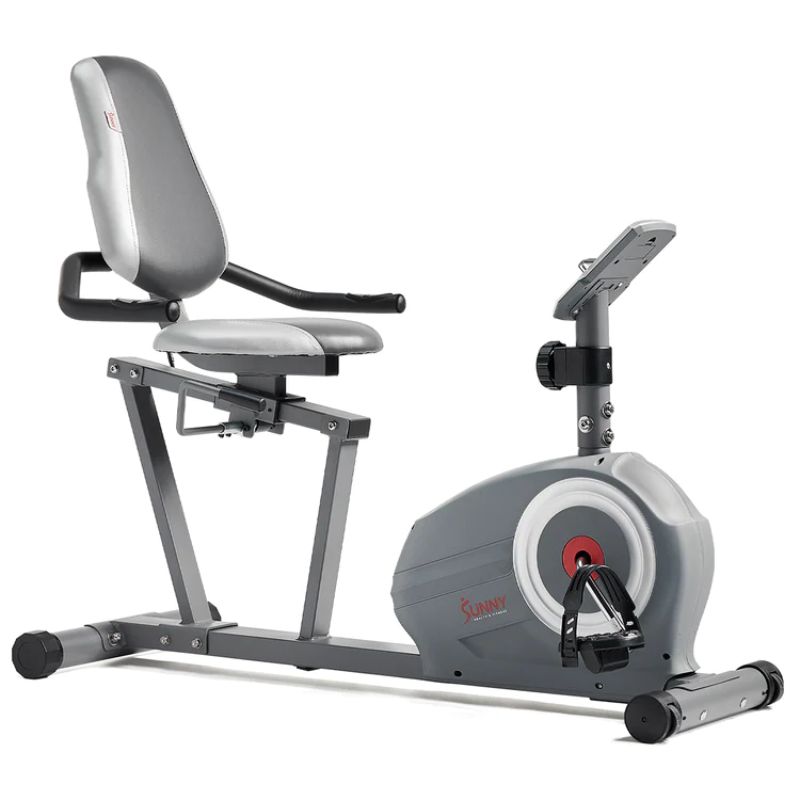 GGR Score: 3.4
Product Highlights
Just under $300
Easily adjust the seat, foot pedals, and resistance levels
Easy to mount and dismount
Pros & Cons
Pros
Under $300
User weight capacity of 300 lbs
Adjustable seat
8 levels of resistance
Pulse sensors
Transport wheels
Cons
Second set of handlebars are short
Lacks a bottle holder
No device holder
Bottom Line
For under $300, the Sunny Health and Fitness Essential Recumbent Exercise Bike is an excellent option for beginners on a budget.
Customer Experience
Marcy Fitness provides a limited two-year warranty on the ME-709. What that limited warranty basically means is that you're covered for manufacturer's defects for up to two years. If you do notice any issues or defects (that are not just from wear and tear) within the warranty period, you can open a ticket on Marcypro.com or call the customer service department at 1-800-999-8899.
If you purchase your Marcy ME-709 through Amazon, you'll get that same warranty, but all shipping, returns, and exchanges will be conducted through Amazon directly.
If you need to return your ME-709, it will have to be in unused condition. Amazon allows returns to be made up to 90 days after receiving your order while Marcy requires returns to be made within the first 30 days.
It's worth mentioning that Marcy will charge you with a 15 percent restocking fee and the cost of shipping your bike back.
Ordering and Assembling the Marcy Recumbent ME-709
The assembly process is fairly straightforward—some customers even state they assembled the bike alone without any help. Although I don't recommend that approach, I thought it was worth mentioning that I read more than one review with that same feedback.
The good news is, the part of the bike that houses the magnetic flywheel and the mechanism to pedal is already assembled. That means you'll just need to place the sliding frame into the main frame and attach the stabilizers to allow the bike to stand on its own. From there, you'll need to attach the upright to support the console (which does require some wiring) and the bike seat and handlebars.
Customer Reviews
On Amazon, the Marcy ME-709 has nearly 20,000 reviews and has a 4.5-out-of-5-star overall rating. That's not to say there are no negative reviews. Folks who left negative ME-709 reviews mostly mentioned that the frame feels unstable and shaky while cycling. Other customer reviews that are more positive include commentary on the low price point and ideal use for beginners or seniors.
Final Verdict of Our Marcy ME 709 Recumbent Exercise Bike Review
I feel confident saying that you're likely interested in purchasing a Marcy ME-709 recumbent exercise bike if you're either new to fitness, elderly, or going through lower-body rehabilitation.
That said, here are a few things I like about the Marcy ME-709:
Easy setup
Large and straightforward console display
Counterbalanced pedals
Comfortable seat
Walk-through design
No power outlets required
Marcy ME-709 Recumbent Exercise Bike Rating
Marcy ME-709 Recumbent Exercise Bike
Find out in this Marcy ME 709 Recumbent Exercise Bike review if this is the stationary bike that will kick-start your fitness routine.
Product Brand: Marcy
Product Currency: $
Product Price: 187
Product In-Stock: InStock
FAQs: Marcy ME 709 Recumbent Exercise Bike Review
Is Marcy a good brand of exercise bike?
Marcy offers a wide variety of budget exercise bikes, with most bikes being priced under $500. That said, not every brand will suit every home gym owner. However, if you're looking for a straightforward stationary bike without a lot of high-tech distractions, the Marcy brand is worth looking into.
Which recumbent exercise bike is best?
The best recumbent bike is the one that fits your budget and your needs (in addition to your space because recumbent bikes tend to be a little bulkier than upright bikes). Luckily, we've put several recumbent bikes to the test and have a roundup dedicated to the best recumbent bikes on the market.
Who makes Marcy bikes?
Marcy bikes are manufactured by IMPEX Fitness.
Why are recumbent bikes not popular?
Recumbent bikes might be a less popular option for home gym owners because they tend to be a little bulkier than an upright bike. Recumbent bikes are also a solid option for beginners, seniors, and folks recovering from injury or surgery.