We test and review fitness products based on an independent, multi-point methodology. If you use our links to purchase something, we may earn a commission. Read our disclosures.
You can save 10% on your entire purchase from Harambe System with our exclusive GGR discount code.
Dumbbells and barbells are some of the most common pieces in any home gym and can help folks of all shapes and sizes get stronger and build muscle. However, if you're limited on space, that doesn't mean your gains have to be limited, too.
It's difficult to build a bonafide home gym when you're lacking extra space in your house or apartment. I know the struggle—I live in under 900 square feet. That's why I appreciate unique solutions like the Harambe System where you can utilize the versatility of resistance bands in a compact way.
Of course, you can just buy resistance bands from Amazon and find something to secure them to. However, the addition of the footplate and a compact barbell with rotating bushings helps elevate your at-home squat, bench press, and deadlift experience.
Harambe System Exclusive Promo Code
The GGR team is always trying to help you save a few bucks while building the home gym of your dreams. Here are a few ways to get the best discounts from Harambe System:
The GGR coupon code gets you a 10% off discount sitewide.
Harambe System offers a military discount if you send an email with your military information to support@harambesystem.com.
Follow Harambe System on social media for potential sales and special offers.
Sign up for Harambe System's newsletter where subscribers can receive the latest news and promotions.
How to Apply the Harambe System Coupon
Step One: Go to harambesystem.com to choose a complete system or build a custom system of your own (this will include the selection of a bar, slings, platform, block, and bands).
Step Two: Once you've made your selection in the online store, add your items to the cart and proceed to the checkout process.
Step Three: After you are prompted to enter your personal information and shipping address, you will have the ability to enter code GGR for 10% off your entire order.
Step Four: Once the GGR promo code is entered, you can proceed to enter your payment method.
When Do Harambe Systems Go on Sale?
After years of experience in the fitness industry, the team at GGR knows top brands often run sales around major holidays. However not all brands follow the same trends. For more information about these major sales, check out our list of the most popular holidays for fitness equipment sales:
Harambe System Highlights
Harambe System K Bundle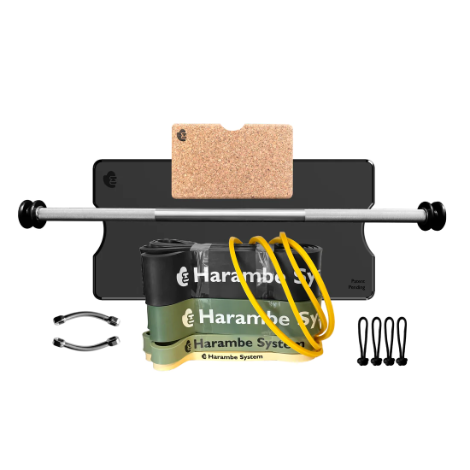 GGR Score: 3.6
Product Highlights
Compact solution to strength training

Resistance bands can offer over 200 lbs of tension

Provides a barbell-like experience with a fraction of the space 

The K Bundle is a complete package of everything you need

Ability to perform bilateral and unilateral exercises
Pros & Cons
Pros
Compact size
Vertisitile uses
Maximizes resistance band training
10-year warranty
Stainless steel bar with knurling
Cons
Expensive price tag
Lots of moving parts
Not the most straightforward piece of equipment
Bottom Line
The Harambe System K Bundle is a compact solution for strength training when you don't have enough space for a full blown home gym with traditional barbells and dumbbells.
When you're on the Harambe System website, you can customize your home gym experience or choose to take out the guesswork and purchase a complete system.
The main difference between the two complete packages Harambe System offers are the barbell specifications. Each complete system comes with a bar, rope attachments, rods, a foot plate, a cork block, and a set of 38-inch resistance bands.
The two different bars you can choose from include The K Bar and The T Bar. The K Bar is the heavier of the two options weighing in at 12 pounds, while The T Bar weighs 2.5 pounds. The K Bar is just over 35 inches long and The T Bar is 28 inches long.
Both bars can tolerate a working load up to 1,000 pounds and are designed to rotate so that your wrist can maintain the correct position no matter what lift you are performing. They are also both constructed from polished stainless steel to provide you with a barbell-like experience.
If you're hoping to get a closer look at the Harambe System before you buy make sure to check out our in-depth video comparison where Coop (OG product tester and founder of GGR) puts the Harambe System head-to-head with X3 Bar, a product with similar features.
Here is a complete list of everything you can find on the Harambe System online store:
Fully customizable sets that include resistance bands, foot plates, and handles
Two complete system options: the K Bundle and The T Bundle
Individual bars, handles, platforms, and bands
Harambe System carrying bag for your entire setup
Slings for connecting resistance bands to the bar (this includes ropes, rods, and spacers)
Workout booklet logs
Clothing and swag
Why Buy From Harambe System?
The Harambe System is a smart solution if you want to lift heavy but can't accommodate the space for a full set of dumbbells. Not only does the brand offer a space-saving solution, here are some other things we appreciate:
Two different bar options
Band lengths in 38- and 41-inch options
Training resources on the website
30-day return policy for like-new products
5-year warranty on the bar, pulleys, rods, and collars
1-year warranty on the rope and bands
Harambe System Codes FAQ
What is the Harambe System discount?
The exclusive Garage Gym Reviews discount code GGR gets you 10% off your entire purchase at harambesystem.com.
Is Harambe System strength equipment worth it?
Truly, the Harambe System won't be for everyone—it will depend on your space, goals, and preferred methods of exercise. The Harambe System is a unique solution for folks who are limited on space to build out a home gym. The resistance bands accompanied by the footplate and bar allow you to mimic a variety of barbell movements in a fraction of the space. The resistance bands also allow you to customize the load for every exercise and your fitness level.
How can I save on Harambe System equipment?
If you're looking to save a little money on a Harambe System, keep your eyes peeled for sales during major holidays (like Black Friday and Memorial Day), or you can use code GGR for 10% off your entire purchase from the brand's website .