We test and review fitness products based on an independent, multi-point methodology. If you use our links to purchase something, we may earn a commission. Read our disclosures.
One of the most overlooked but definitely recommended additions to a home gym is battle ropes. Most people automatically make dumbbells, kettlebells, and resistance bands a part of their home workout regime, however battle ropes rarely get the same respect.
No matter your fitness level, workout ropes should have a place in your workout plan. At first glance, it might seem easy-peasy, but these will seriously have you sweating bullets. They're just what you need to take your cardiovascular exercise to the next level.
Now, before you go out and buy the first battle ropes you can find, I urge you to check out our list. I'm certain that by the time you finish reading, you'll know which one of these will be the best battle rope for you. So whether you're in a small space, on a budget, or a beginner, the Garage Gym Reviews team has you covered.
We've Battled It Out and Found the Best
Our testers love to take a look at the most popular gym equipment and put them to the test. That way, we can see for ourselves if they're really all that the marketing material cracks them up to be. We put a dozen battle ropes to the test to see which ones were best for beginners, small spaces, and much more.
For weeks, GGR personal trainers implemented these battle ropes into their workouts. But that's not all. One of our certified personal trainers also had their clients, many of them just like you, join in on it, too. They slammed, jumped, and did many other battle rope exercises to see how they performed in different scenarios.
Once they recovered from their tedious workouts, we discussed different factors and came up with a realistic perspective of each battle rope below. That's our commitment to you. When it comes to your home gym, we don't want you to buy something that doesn't cater to your individual fitness needs.
The 9 Best Battle Ropes
Best Battle Rope Overall: REP Fitness Battle Rope
Good for: Trainees desiring an attractive and durable battle rope for their home gym that comes at a reasonable price.
Whether you're new to working out or consider yourself very experienced, the REP Fitness Battle Ropes has something for almost everyone. As one of our GGR expert testers noted, they're "great for beginners and hard enough for experienced people." There are four variations you can choose from, with the differences being in the length and diameter of the rope.
In terms of diameter, you can select either a 1.5- or 2-inch rope. The latter will make gripping the battle ropes a bit more challenging, and the former is best for beginners. There are also two rope lengths to choose from, which are 30 and 50 feet. A longer rope is going to be ideal for advanced trainees who do CrossFit or high-intensity exercises.
I love that the battle ropes come in three bold and attractive colors, with your choices being red, black, and blue. The fact that they have a nylon protective sleeve is a bonus, too, because that aids in reducing wear and tear. One of our GGR testers added that they move well and feel sturdy, but some customers noted that the ropes were a little stiff when using them for the first time. Some reviewers also mentioned that the grip was slippery, and a few made adjustments to adapt them to their liking.
Overall, we'd consider the REP Fitness Battle Ropes a great value. They're not priced too crazy (around $80) and are durable. I appreciate that the product qualifies for free shipping and a one-year warranty, as well. But it would've been nice to see a 40-inch length option because some of us are really in the middle, meaning we're not quite a beginner but not an ultra athlete either. Also, I wish the ropes would've come with anchors, but as long as you wrap them around something sturdy, they should still be good to go.
| | |
| --- | --- |
| Options for Thickness and Rope Length | 1.5" or 2" 30′ and 50′ |
| Weight | 18-46 lbs, depending on thickness |
| Protective Sleeve | Yes, nylon sleeve |
Best Battle Rope for Small Spaces: Living.Fit Battle Rope
Good for: Beginner and advanced trainees with limited space but who want a well-designed battle rope that'll challenge them.
If you've been to the gym, you've likely seen just how long battle ropes can be. As a result, you might automatically dismiss them as an option for your home gym. But not so fast! There are battle ropes for small spaces, too. The Living.Fit Battle Rope is an excellent choice for those with limited space who want to switch up their cardio routine with battle ropes.
The Living.Fit Battle Rope is only offered as a 50-foot cord, but variations are available as far as thickness. The brand lets you choose between 1.5-inch, 2-inch, and 3-inch options. As you might assume, the thicker the rope, the heavier it is. So grab the 3-inch one if you're ready for 88 pounds of straight-up hurt-so-good exercise, or start light (22 pounds) with the 1.5-inch rope to get comfortable with it.
In addition to the thickness of the rope, you can also choose whether or not you want a canvas cover. The canvas cover helps protect the well-made braided rope from collecting dirt and debris in its fibers, which is likely to happen if you use it outside. Such things can minimize the quality of your rope and its longevity. Therefore, I'd recommend spending a few extra dollars to get the canvas cover, because no one wants a fraying rope.
Whether you add on a canvas cover or not, you'll still get a portable anchor with your purchase. If you don't know how to use it, the living.fit battle rope website will show you, which is nice.
One other thing worth mentioning is that the living.fit battle rope is braided. Typically ropes are designed using a triple-stranded twist, as it's faster and more cost-effective. A braided rope design, though, is much more durable and easier to control. That, combined with the 2-year warranty, makes this a worthwhile buy.
| | |
| --- | --- |
| Options for Thickness and Rope Length | 1.5", 2", 3" 50′ |
| Weight | 28-88 lbs, depending on thickness |
| Protective Sleeve | Canvas cover option |
Best Budget Battle Rope: AmazonBasics Battle Rope
Good for: Trainees who want a budget-friendly battle rope for basic clockwise maneuvers.
If you love shopping online and want to save a few coins by going with the AmazonBasics brand, here's your chance! This battle rope is an affordable piece of home gym equipment that'll still get the job done, despite its lower cost. This three-strand twist rope is only about 16 pounds and is made of 100% Poly Dacron material. Many battle ropes are designed this way, but this one in particular is on the lighter side. Can you get a full-body workout out of it? Sure, but your best bet is to use it for high reps rather than strength training.
As far as the thickness of the rope goes, you can select either a 1.5-inch diameter rope or a 2-inch one. You also get to choose between a 30, 40, or 50-foot rope, although our testers had trouble being able to select which size they wanted. They ended up having to try the 30-foot rope that was 1.5 inches in diameter.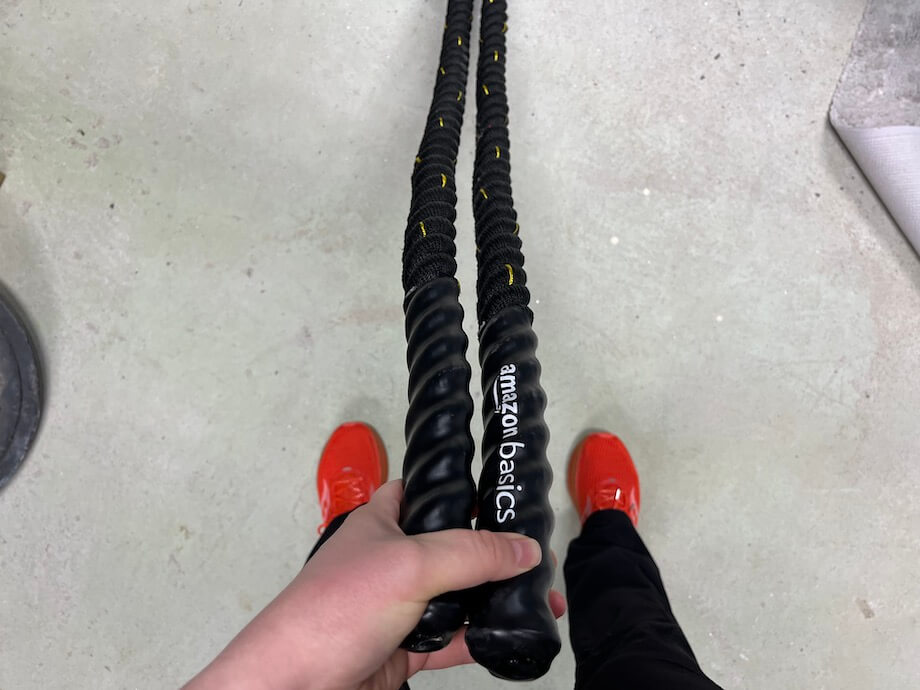 For home use, we found these ropes really good and satisfactory. One of our testers even deemed them a steal! However, if you place them at an actual gym, they'll be worn out in no time, especially the 600D Oxford waterproof heat-shrink handles. If you plan on using the ropes a lot, they'll probably break down a bit quicker than the more expensive options, but you can still get plenty of use out of them.
One thing you'll want to avoid with the AmazonBasics Battle Exercise Training rope is swinging it counterclockwise. These were produced under a clockwise twist, so swinging them the other way will likely cause them to unravel. I wish they were a bit more versatile and included a battle rope anchor, but for the price, it wouldn't be fair to complain too much.
RELATED: The Best Budget Home Gym Equipment on Amazon
| | |
| --- | --- |
| Options for Thickness and Rope Length | 1.5″ and 2″ 30′, 40′, 50′ |
| Weight | 15.84 lbs |
| Protective Sleeve | No |
Best Battle Rope for Beginners: Titan Fitness Battle Rope
Good for: Individuals who are new to using battle ropes but want one that's long-lasting and sure to give them a challenge.
With a name like Titan, you can only assume this rope is going to be as heavy-duty as they come—and such an assumption would be accurate. The black Titan Fitness battle rope offers two thickness levels: 1.5 and 2 inches. You also get to choose from three different lengths, so they cater to beginners, athletes, and everyone in between. Depending on the thickness and length selected, you'll get an 18- to 31-pound rope.
Our GGR testers found these ropes to be sturdy, heavy, and very well made. One of our testers did several variations of rope slams and rear delt movements and was surprised at how the heaviness of the ropes added to their workout. The extra load let them target their muscle groups even more, which might be the perfect approach for a beginner who doesn't want too much equipment to start with and needs more versatility in their equipment.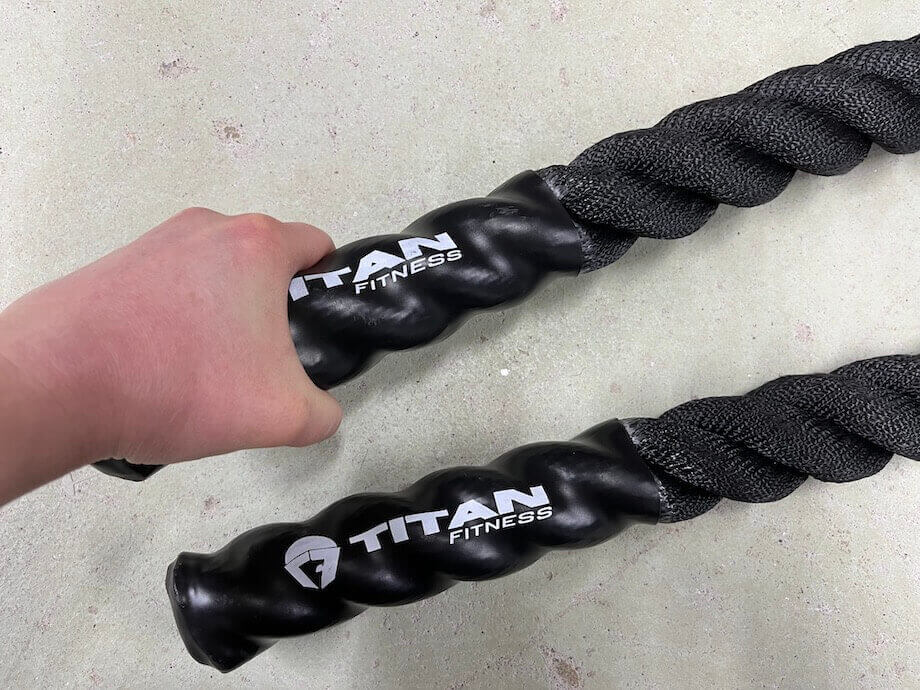 One of our testers did express concern about the 2-inch wide rope being too much for some beginners. Since the whole rope is thick, it makes the 7-inch long polyvinyl chloride (PVC) handles thick, too, which could make it harder for new trainees to grip. Even moving this bad boy around is said to be a bit challenging for some. Others said it was easy to get laid out and ready to use, though, so it varies for everyone and depends a lot on your grip strength.
The Titan rope comes with a one-year warranty and free shipping, which is nice. For the actual rope, you can expect to pay between $65 and $145, depending on the thickness and length you select. Unfortunately, the rope doesn't come with a protective sleeve, but one of our testers said they'd had theirs in the basement for months and it still doesn't look dusty.
| | |
| --- | --- |
| Options for Thickness and Rope Length | 1.5" and 2" 30′, 40′, 50′ |
| Weight | 18-31 lbs, depending on length/thickness |
| Protective Sleeve | No |
Best Battle Rope with Anchor Strap: Stroops Son of the Beast
Good for: Trainees who want two lightweight and portable battle ropes, with an option to add an anchor strap kit.
If you want to double the action and don't mind paying a little more to have that, check out the Stroops Son of the Beast battle ropes. Here, you'll get two lightweight elastic battle ropes that are only between 5 and 11 pounds. But don't let the weight fool you—the ropes allow you to choose the resistance level you'd like, and your options are 15-150 pounds, so there's something for everyone!
The built-in elastic resistance found in these ropes will give you a run for your money, especially if you're expecting them to be like other battle ropes. The elasticity allows for versatility, so you can take these 10-foot ropes and stretch them to 30 feet. You can use them to do exercises like alternating slams, sprints, and lunge rows. However, if you want to do more than that, check out Stroops' library of exercise routines on YouTube.
If you want more than just the ropes, I'd recommend the PRO package, which costs between $150 and $250. It might sound like a lot, but it's honestly worth it because in addition to the Slastix battle ropes, you'll also get:
1 power pull belt
2 Carabiners
2 cloth anchors
2 agility dots
If you purchase these and, for some reason, don't like them, the brand offers a 30-day return policy. One year of warranty comes along with it, too, just in case you have an issue with them. Overall, I'd say they're a really good buy. They're super portable and will offer you a heck of a full-body workout. Sure, they're a bit pricey, but for all that you get in the PRO kit, it's worth it.
| | |
| --- | --- |
| Options for Thickness and Rope Length | Stretches from 10' to 30' |
| Weight | 5.25-11.3 lbs (depends on resistance) |
| Protective Sleeve? | Yes |
Best Freestanding Battle Rope: Hyperwear Hyper Rope
Good for: Workout enthusiasts with limited space who want to ditch the anchors and use a premium battle rope that packs plenty of power.
Raise your hand if you'd prefer not to purchase a battle rope that requires an anchor strap kit! If that's you, it's time to get hyped about the Hyper Rope. These patented 1.25-inch ropes come in 2 lengths (20 and 25 feet) and are ideal for individuals in spaces that are 6 feet or less.
Unlike other ropes, the Hyper rope has a weighted metal core, which might sound bizarre, because, like, it's metal! But trust me, even with metal in the middle, it still works. The metal is just as flexible as the braided battle ropes out there that most of us are used to. In fact, one of our GGR expert testers stated that "it's one of the highest-end braids I've used" and "the weighted metal core is still flexible and hasn't shifted with use."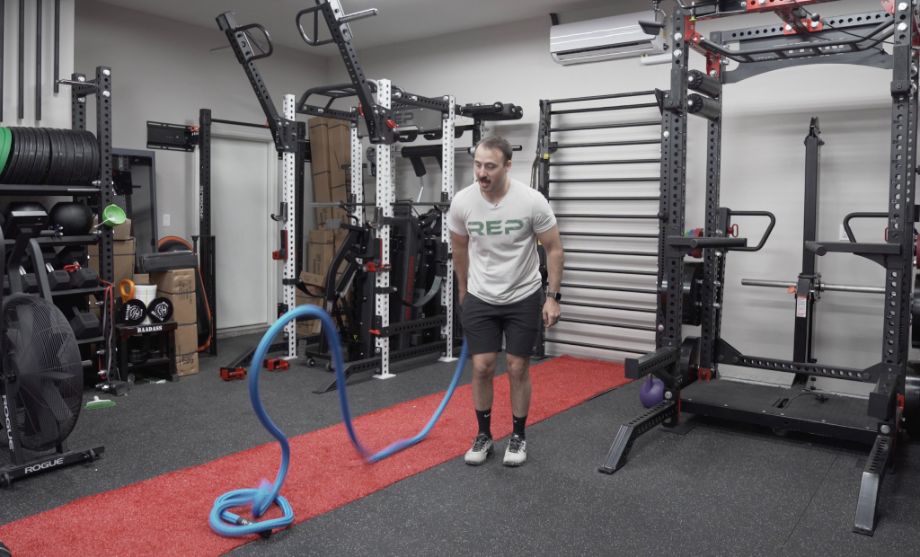 For such a small rope, it's heavy and packs a lot of power, allowing you to do strength training, conditioning, and cardio exercises at home or on the go. There's also an exercise library you can access to get a few workout ideas. However, be warned that the faster you move the rope, the more challenging it'll be to control it.
The Hyper Rope's 100% polyester braided exterior should allow you to use these for indoor and outdoor use for years, but be prepared for your handles to fail before the rope itself. There's no question that the ropes are premium made, but the rubber handles aren't anything to write home about. The handle's heat-shrink rubber tubing will help you maintain a good grip, but it would've been nice if they had a bit more style to them.
Overall are these worth getting hyped about? I'd say yes if you're looking for a well-made, electric blue battle rope for your home gym that doesn't require an anchor. And please don't be tempted to try this out with an anchor—you'll end up snapping the metal core. And I don't know about you, but I'm not going to render my very expensive rope useless just to try an anchor. If you think you'll ever want an anchor, I'd suggest that you don't even consider this one.
For more information, check out our extensive Hyperwear Hyper Rope review.
| | |
| --- | --- |
| Options for Thickness and Rope Length | Approx. 1.25″20′ and 25′ |
| Weight | 15-19 lbs, depending on the length |
| Protective Sleeve | No |
Most Durable Battle Rope: Profect Sports Pro Battle Rope
Good for: Beginners, athletes, and everyone in between who wants a high-quality battle rope kit and the ability to choose from several options.
The Profect Sports Pro Battle Rope is almost perfect, but you'll pay a hefty price for it. With multiple rope lengths and thicknesses available, you shouldn't have an issue finding something specifically for you. Seriously, there are nine different variations for you to choose from, which means as you progress, you can just buy the next most challenging one on the list. However, I must admit that they could get a bit expensive, considering they're between $90 and $240.
In terms of variation, the ropes' diameter ranges between 1.5 and 2.5 inches. Then, for length, you can select either a 30-foot, 40-foot, or 50-foot option. The poly dacron ropes are covered with a DuraMax protective sleeve, which stood out to our GGR expert testers. One tester stated, "The protective covering is really, really high quality. You can tell by the feel." Another said, "The ropes felt good in my hands," so I'm glad to hear that the value matches the price.
In addition to the durable ropes, you get two anchor straps, a stainless steel carabiner, and a poster with 30 battle rope exercises. When you consider those additions, as well as the quality of the ropes, the price is certainly justifiable. You'll be able to open the box and put your cardiovascular endurance to the test—as long as everything is in the box, that is.
One complaint that a few customers had on Amazon was that some of the accessories were missing from their order. For example, some folks were missing the poster, and others were missing the protective sleeve. Fortunately, the brand does extend a money-back guarantee if you're unsatisfied, so if they get it wrong, they should make it right.
| | |
| --- | --- |
| Options for Thickness and Rope Length | 1.5", 2", 2.5" 30′, 40′, 50′ |
| Weight | N/A |
| Protective Sleeve | Yes, DuraMax Protective Sleeve |
Best Battle Rope on Amazon: GarageFit Battle Rope
Good for: Trainees who want heavy battle ropes and are OK with an option they might not be able to travel with.
If you do a quick search for battle ropes, you'll find that most of them are black, which is dull for those of us who want to add a little color to our home gym. Fortunately, the GarageFit battle rope comes in five colors: black, blue, gray, red, and yellow.
In addition to being able to select different colors, you'll have three other length options to choose from, too. You can select a 30-foot, 40-foot, or 50-foot rope with either a 1.5-inch or 2-inch diameter. However, here's the kicker: Sure, you get plenty of options, but some of them are rarely available. The chances are pretty high that you won't get to buy the one you want, but hopefully, that changes in the future.
Besides the out-of-stock issue, these are solid ropes that include anchor straps. Our GGR expert testers found them really tough, so you'd be in for a darn good workout. These are a great way to activate your forearm muscles and more, so if you want easy, don't even bother adding them to the cart. As one tester said, "If you want a hard workout, this is it!"
The ropes are made with the traditional three-strand design and poly-dacron material. Depending on the thickness and length you get, the rope will be between 15 and 46 pounds. So, they're certainly not the lightest on this list and might not be the ones you want to travel with. When testing these out, we were able to experience just how heavy they are, which is why you can feel the pump pretty much as soon as you begin working out.
The ropes come with a nylon protective sleeve, but only if you get it in black. Bummer. Unfortunately, the other colors don't come with the sleeve, which is too bad because the sleeves help with durability.
| | |
| --- | --- |
| Options for Thickness and Rope Length | 1.5" and 2" 30′, 40′, 50′ |
| Weight | 15-46 lbs |
| Protective Sleeve | Yes, but only in black |
Best Battle Rope Alternative: Inertia Wave
Good for: Individuals who aren't entirely sold on battle ropes but want something lightweight, long-lasting, and durable for metabolic conditioning.
The next battle rope on our list is not exactly a battle rope at all. It's more of a rubber-tubed workout band built with a solid steel, double-reinforced O-ring on the anchoring end. Unlike other options, this rope only comes in one length and thickness, but you can choose from various colors.
The Inertia Wave ropes are 2 inches thick, 9.5 feet long, and a mere 2.5 pounds. They're incredibly lightweight and easy to toss in your travel bag and go, but don't let it being a lighter and shorter rope fool you! We tested them out for three months and were able to experience firsthand how powerful they are. Resistance builds up in the tubes when you move them, and you'll find yourself dripping sweat trying to work against that. If you want an even more intense workout, all you have to do is raise the bands higher. Easy-peasy.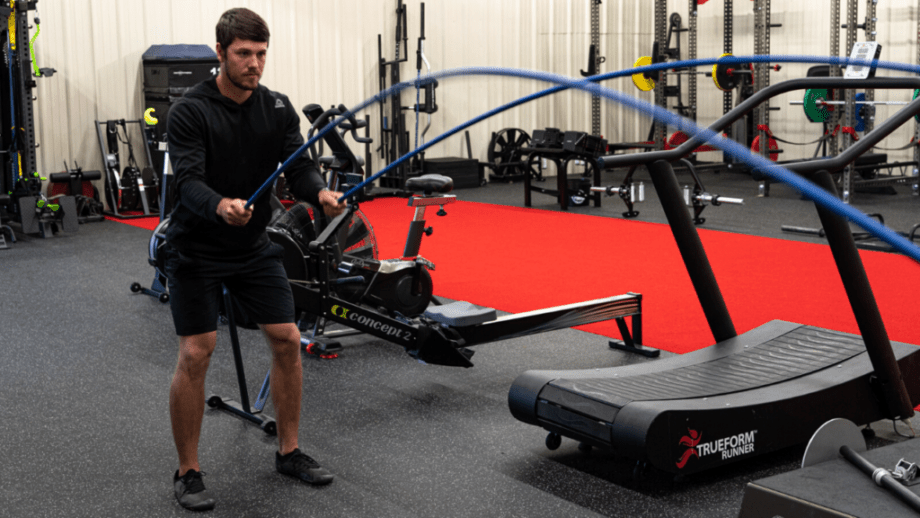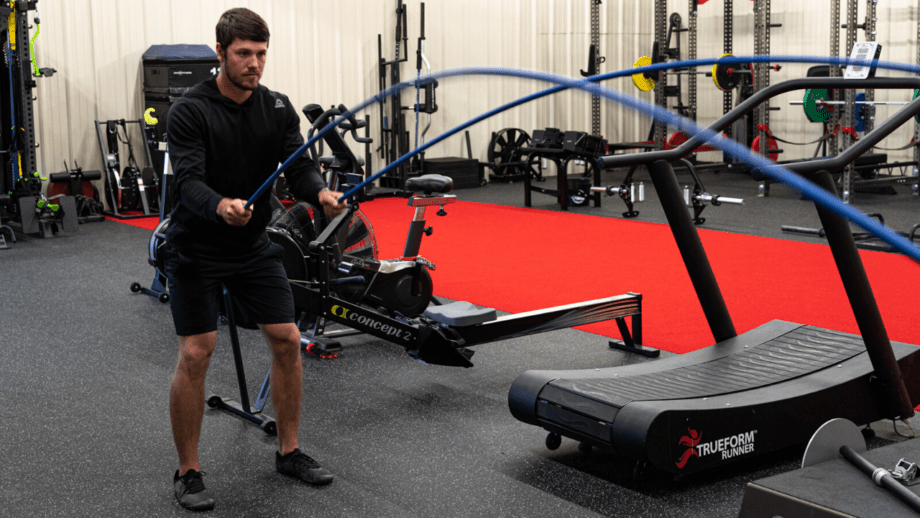 One thing for sure is that these are built differently. Therefore, you don't have to worry about fraying, unwinding, or tearing. As long as you keep them away from sharp objects, you should be able to use them for years to come. It's also convenient that you can attach them practically anywhere. For instance, a tree, the trunk of your car, or a fence are all areas you can place it and get to work. You can even anchor them at different heights, which can't be done as quickly with battle ropes due to their weight and the force created by the trainee.
If you're in a smaller space, these are a good choice. Just make sure you have 11.5 feet from the anchor point, 4 feet of width to your left and right, and 7 feet of height so you can comfortably maneuver them. Ultimately, we enjoyed the Inertia Wave band and can see what all the hype was about, but do be mindful of getting them if you have a latex allergy.
To find out more about this rope, check out our Inertia Wave review.
| | |
| --- | --- |
| Options for Thickness and Rope Length | 2" 9.5′ |
| Weight | 2.5 lbs |
| Protective Sleeve | No |
Other Battle Ropes We Tested:
Geardo Battle Rope: Although this rope didn't make the cut for the best battle rope, it still qualifies for a mention. These are a good choice if you plan on using your rope outdoors since it does have a nylon sleeve cover. However, during testing, we noticed that the sleeve comes off the rope easily, which is a bit inconvenient. Nonetheless, they're available in 30-feet, 40-feet, and 50-feet lengths with 1.5-inch and 2-inch thicknesses. Like many other options, the Geardo rope has the traditional three-strand twist design and heat-shrink handles. For the most part, we found them "OK" but didn't believe the $112 price was justifiable.
How We Picked and Tested the Best Battle Ropes
There are hundreds of battle ropes out there, so we went through an extensive list and identified the ones people typically gravitated toward. You know, the ones purchased often and frequently reviewed by customers. From there, we ordered a bunch of them, had several personal trainers and their clients try them out, and received feedback about every single one. Seriously, what better way to learn how good a battle rope is than by having people use it during HIIT workouts and warm-ups?
From there, our best-of list was born so we can share with you how each rope fared, and you can then determine if it'd be a good choice for you.
Why You Should Use a Battle Rope
So, why in the world should you consider a battle rope when there are tons of other gym equipment out there? There are a number of benefits to using battle ropes.
Ropes Build Skeletal Muscle Strength
A 2022 study1 evaluated the effect of increasing battling rope weight during six weeks of HIIT battle roping among 33 men and women. Within just three weeks, they observed an increase in upper-body skeletal muscle strength. Even increasing the weight of the battle rope by just 10 pounds led to an 8-10% increase in trunk performance. So if you're looking to up your muscle strength, grab the battle ropes.
Ropes Are Low-Impact
Most of us know that ellipticals are an awesome low-impact activity, but no one wants that to be their only exercise choice. So in order to stay motivated and keep working out, we must switch it up sometimes. Fortunately, battle ropes are an option. They allow you to keep your feet planted on the ground, so you don't have to put much stress on your lower body at all. You can even sit down and use them if you want. As long as you're not jumping around, these will give your joints grace.
Ropes May Boost Athletic Performance
A 2018 study2 assessed 30 collegiate basketball players who either took part in battle rope or aerobic training over an eight-week period. The researchers wanted to observe if one form of training was better than the other and if it would impact their overall performance.
They discovered that the group who completed battle rope training had more significant improvements in shooting accuracy, jump height, core endurance, and chest pass speed than the other group. Those who completed aerobic training did have improved upper-body strength and aerobic capacity, but in terms of gameplay, the battle rope group excelled.
Ropes May Enhance Cardiorespiratory Fitness
To clarify, cardiorespiratory fitness 3 is the capacity of one's respiratory and circulatory systems to supply oxygen during physical activity. In a nutshell, it tells us how well our body uses oxygen, so the better it is, the less likely you are to struggle with high blood pressure, coronary heart disease, and more.
If you've ever done battle rope exercises, you know just how intense swinging the ropes is. Before you know it, your heart rate is up and you're panting for breath. But as tough as this is, it's great for building up our cardiorespiratory endurance. The 2022 study1 even noted that the participant's cardiorespiratory fitness improved after three weeks of battle roping.
How to Choose the Best Battle Rope
So, how do you find the best battle rope for you? Here are a few factors you should consider.
Shorter or Longer Ropes?
One thing you probably noticed while going through the list is that most battle rope products came in different lengths. Typically, 30-foot, 40-foot, and 50-foot options. Longer ropes are heavier and more difficult to maneuver as you'll have to use much more force to move your rope.
As a result, in many ways, that makes them more effective. However, not everyone is ready for these longer ropes, and many just don't have the space needed to place them in their home gym. A shorter rope is less fluid and doesn't require as much movement, so they're typically better for beginners or those lacking room space.
Here's one thing you want to note, though, when you think about battle ropes. Remember that most of them have to be anchored, which is like having them folded in half. So a 50-foot rope might sound like a lot, but it's really just 25 feet on each side. When you consider how a 30-foot rope is just 15 feet on each side, it doesn't seem like a lot.
Thicker Ropes Will Kick Your Butt
For some reason, many people want to head straight to the thickest rope they can find, but hold your horses, cowboy. I've seen some pretty strong athletes get their behinds whipped trying to use a 2.5-inch rope.
Most rope products offer 1.5-inch, 2-inch, and 2.5-inch options, but it's not always easy to know which one you should go for. If you're new to working out, go for the 1.5-inch. If you've got some experience under your belt, the 2-inch belt will give you a good challenge. The 2.5-inch diameter ropes are best for those with very large hands. If your hands are small and you try this size, you'll have a hard time gripping the rope, which will compromise the effectiveness of your workout.
Material and Design Matters
Most battle ropes are made with poly dacron, which is really just a blend of polypropylene and dacron plastic fibers. This combination of materials doesn't shed as much, but it depends on the quality used. The more affordable ropes will likely have been created with cheaper materials. As you might imagine, these ropes will probably be less durable and fray much sooner.
You'll notice, too, that a lot of ropes have the classic three-strand twist design. Those tend to work well, but a braided design could potentially last a little longer. If you don't want to worry about your rope fraying or unraveling, look for one designed with rubber or pay more for a protective sleeve.
FAQs About Battle Ropes
Which battle rope is best?
It depends on the amount of space you have in your home gym, the size of your hands, your fitness level, and how much you're willing to pay. Our best battle ropes list includes nine ropes (and a bonus that didn't quite officially make it to the best-of list) that outranked others in their category. So be sure to use that as a guide for selecting the rope that's best for you.
How heavy should a battle rope be?
What's interesting is that some battle ropes are incredibly light, but they pack a lot of resistance. Typically, though, lighter ropes are better for beginners and heavier ones are more advanced, so I recommend you identify how much weight you can handle right now and look for a battle rope that aligns with that.
Is a battle rope worth it?
Absolutely! They're portable, versatile, and offer many health benefits. If you want to improve your muscular strength, boost your cardiorespiratory health, and keep it low-impact, you'll love them.
How do I choose a battle rope?
The best way to choose is to be honest about your current fitness level and be aware of your goals. Then read through our list of the best battle ropes to see which one stands out to you.
References
Bornath DPD, Kenno KA. Physiological Responses to Increasing Battling Rope Weight During Two 3-Week High-Intensity Interval Training Programs. J Strength Cond Res. 2022;36(2):352-358. doi:10.1519/JSC.0000000000003470
Chen WH, Wu HJ, Lo SL, et al. Eight-Week Battle Rope Training Improves Multiple Physical Fitness Dimensions and Shooting Accuracy in Collegiate Basketball Players. J Strength Cond Res. 2018;32(10):2715-2724. doi:10.1519/JSC.0000000000002601
Cardiorespiratory Fitness in youth: An important marker … – circulation. https://www.ahajournals.org/doi/full/10.1161/CIR.0000000000000866. Accessed January 27, 2023.