We test and review fitness products based on an independent, multi-point methodology. If you use our links to purchase something, we may earn a commission. Read our disclosures.
Congratulations, you have decided to ditch the old you and begin the process of taking control of your health and fitness. When you are new to fitness, there is a temptation to go all in and get as much information as possible on cardiovascular exercise and strength training, but this would be a mistake. It would help if you focused on the basics to build a foundation for a new you. If this sounds good, you have come to the right place.
I'm a certified personal trainer (CPT) who has helped many beginners get started in fitness. Here we'll dive into the best cardio exercises for beginners, what cardio is, how much to do when you start, and three beginner cardio workouts to set a solid health and fitness foundation.
Before You Start
Before your start, whether new to exercise or resuming after a break, it pays to check with your physician or advice, because there may be factors that will determine your intensity, like risk factors for heart disease. Regardless of whether your goal is weight loss, building muscle, or just feeling good, you should always make sure you're starting off on the right foot.
According to the American Heart Association1, there are seven risk factors for heart disease. They are:
High cholesterol
High blood pressure
Family history of heart disease
Diabetes
Smoking
Post-menopausal women
Being 45 and older, men and women
Having two or more of these risk factors is a cause for concern, but it doesn't mean you should stop before you get started. But it does mean you should consult with your doctor on the intensity, frequency, and type of cardiovascular exercise you need to do. This is why checking in with a qualified health professional is essential.
Furthermore, find your maximum heart rate (220 minus your age), so you can find out your target heart rate zone to work in and determine whether you have any joint issues. If you have ankle, knee, hip, or low back issues, then low weight-bearing cardio exercises like walking, the recumbent bike, or the elliptical will be your go-to.
It is best to figure this out before strapping on your workout shoes.
What Is Cardio?
Cardio is short for cardiovascular, and cardio exercise involves the heart, blood vessels, and lungs. Cardio exercise, also known as aerobic exercise, is any rhythmic activity that involves the arms and legs that raises your heart rate.
Deoxygenated blood comes back to the heart and picks up oxygen from the lungs to send back to your working muscles. How efficiently this works and the intensity of the cardiovascular activity determines how high your heart rate goes.
How Much Cardio Is Recommended?
The Centers For Disease Prevention And Control2 (CDC) recommend that adults get at least 150 minutes of moderate-intensity aerobic exercise or 75 minutes of high-intensity exercise, or an equivalent combination each week. You can break this up during the week as you please.
For example, you could perform five 30-minute walks per week, or two one-hour brisk walks and a 30-minute brisk walk, or walk every day for at least 22 minutes at a time. When beginning, it's best to focus on aerobic fitness and build a good cardiovascular base before tackling higher-intensity HIIT workouts.
For Absolute Beginners: A Walking Cardio Workout
If you have two legs, a pair of shoes, and the ability to stand up, walking is a great no-equipment low-impact cardio workout for a beginner. It's an exercise you can do, whether young or old, and is simple, easy, and accessible.
Note: This workout is performed on a treadmill or outside your front door. Keep a walking pace of 2 to 3.5 MPH to get the full cardiovascular benefit of this workout.
Perform a few simple hamstrings, hip flexor, and quad stretching exercises and hold each for 10 to 15 seconds.
Walk for 15 minutes initially, and add 1 minute to each workout until you reach 30 minutes.
Cool down with the stretches mentioned above
Elliptical Cardio Workout
The elliptical is a low-impact, full-body cardio machine that trains the glutes, hamstrings, quads, and calves of the lower body and the triceps and upper back of the upper body. It's great for beginners because it's easy on the joints, simple to use, and trains the upper and lower body.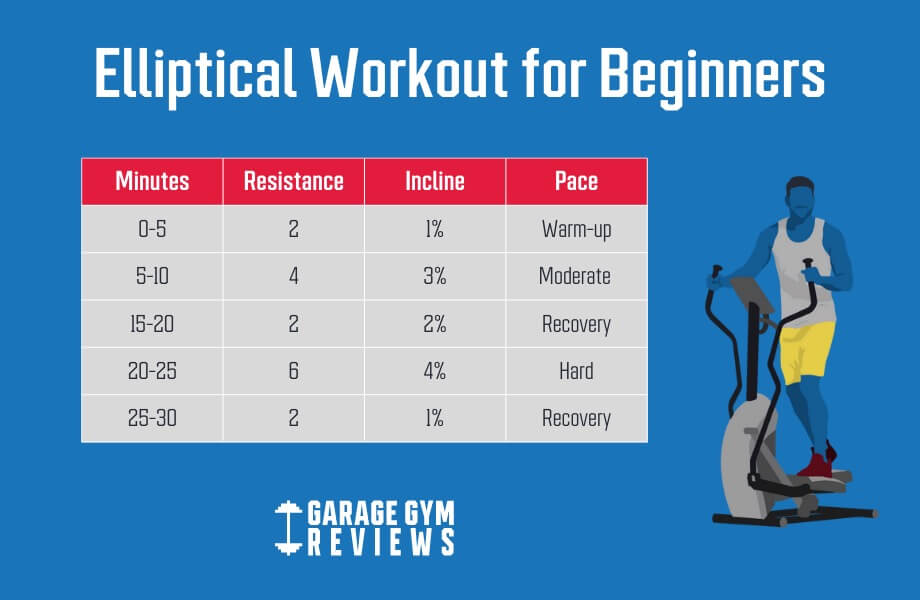 Here is a sample elliptical cardio workout you can do two to four times per week:
| | | | |
| --- | --- | --- | --- |
| Minutes | Resistance | Incline | Pace |
| 0-5 | 2 | 1% | Warm-up |
| 5-10 | 4 | 3% | Moderate intensity |
| 15-20 | 2 | 2% | Recovery |
| 20-25 | 6 | 4% | Harder effort |
| 25-30 | 2 | 1% | Recovery |
Beginner Cardio Workout at Home
You don't need a cardio machine for home workouts when you have the best cardio machine there is: You! A few easy-to-perform bodyweight exercises with adequate rest in between them will increase your heart rate in the comfort of your home. All you need is somewhere to sit and a towel to wipe off your sweat for this cardio routine.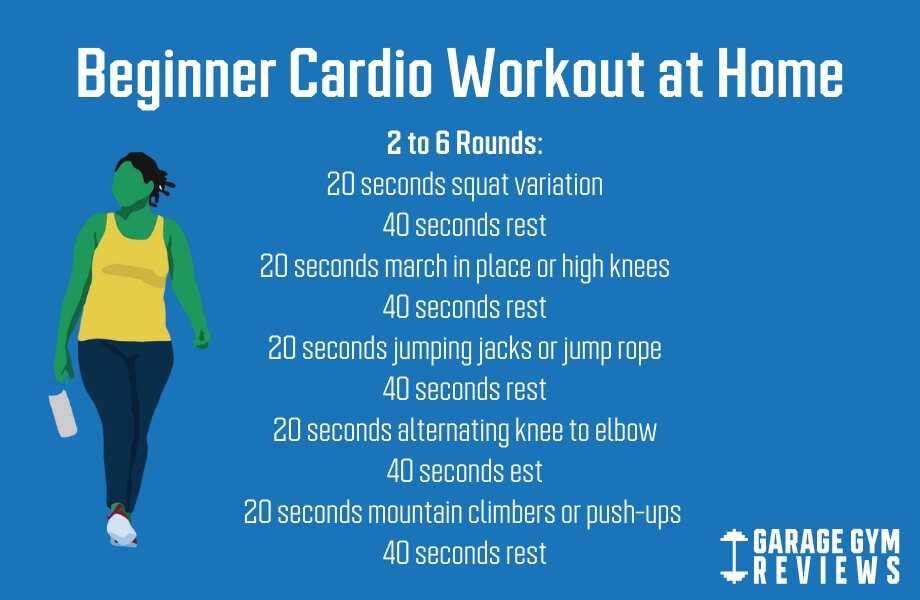 Start with a 20/40 second work-rest interval, and your fitness level improves; go to 25/35, and then when you're ready, a 30/30 work-rest interval.
Keep in mind that you can always substitute in other exercises in place of these, like burpees, inchworms, and squat jumps. You can also add weights, like dumbbells or kettlebells, as your fitness progresses.
2 to 6 Rounds:
20 seconds squat variation
40 seconds rest
10 seconds march in place or high knees
40 seconds rest
20 seconds jumping jacks or jump rope
40 seconds rest
20 seconds alternating knee to elbow
40 seconds est
20 seconds mountain climbers or push-ups
40 seconds rest
Each round lasts five minutes. Do as many reps with the given time frame. Start at two rounds and build up to six rounds for a total of 30 minutes.
Cardio For Beginners: Q&A
What is the best cardio for beginners?
The best cardio for a beginner is an exercise that is low-impact and easy to perform. Walking is a great example, as well as bodyweight exercises. Low-weight dumbbells and free weights can be introduced after four weeks of a consistent bodyweight program.
How long should a beginner do cardio?
When starting, try doing 10 to 20 minutes four or seven days a week, and don't worry about the intensity, only the duration.
How much cardio should a beginner start with?
You should get at least 150 minutes weekly to meet the American Heart Association, CDC, and  Physical Activity Guidelines for Americans guidelines.
Is 10 minutes of cardio enough for beginners?
Yes, but only at the very beginning. If you cannot do more than 10 minutes at a time, try two to three 10-minute sessions per day to build your cardiovascular endurance.
References
American Heart Association. Coronary Heart Disease – Coronary Artery Disease. Last Reviewed: Jul 31, 2015.
Centers for Disease Control and Prevention. Guidelines and Recommendation. Page last reviewed: August 4, 2023