We review free products that we receive and participate in affiliate programs, where we may be compensated for items purchased through links from our site.
See our disclosures page for more information.
Anyone who's ever used a battle rope knows how quickly it can jack your heart rate up and leave you feeling winded. Even the fittest people I know can get their behinds whooped by a battle rope.
You might normally see these long and heavy ropes in use at the gym, but they're also an excellent choice for a home workout. Like most home gym equipment products, there are tons of battle ropes to choose from, spanning a wide range of budgets. Choosing one can get tricky, as you always want to make sure you get the most bang for your buck.
In our Hyperwear Hyper Rope battle rope review, I take a look at the patent-pending design of this unique piece of workout equipment. Is the Hyper Rope one of the best battle ropes? Let's find out.
RELATED: Read My Hyperwear Hyper Vest Elite Weighted Vest Review
Why You Should Trust Us
I've tested many a battle rope in my day. I've used budget options that fray within days of use and high-end ropes that don't show a single sign of wear after years. From traditional battle ropes like theOnnit Battle Ropes to niche fitness rope products like theInertia Wave, I understand what materials, construction, anchoring systems, and designs make a good battle rope.
Hyperwear Hyper Rope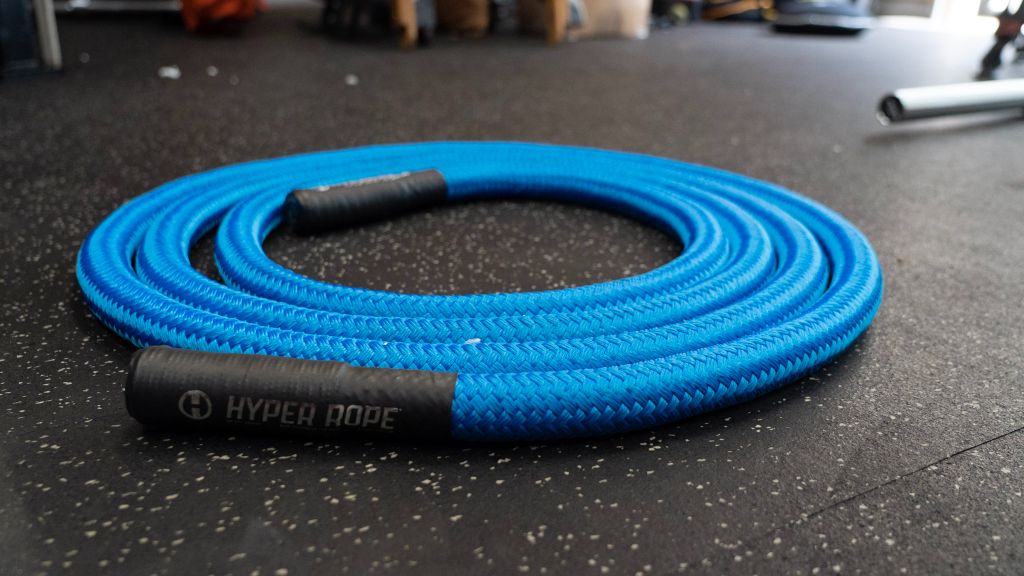 Hyper Rope battle rope
The Hyper Rope offers all the benefits of battle rope training, but in less space, without need of an anchor point, and with a far greater variety of exercises. Get the high intensity cardio, strength building and fat burning benefits of this training tool without the limits of large and bulky ropes.Patent Pending high quality, durable design No need to anchor, take the Hyper Rope with you anywhere DO NOT ANCHOR Get the intensity of 50ft battle ropes in a 6-10ft footprint Standard Model: 15 lbs, 20 ft long unanchored rope* ELITE Model: 19 lbs, 25 ft long unanchored rope* Weighted flexible metal core creates a challenge with less space Premium braided outside is more durable than twisted ropes Unlimited exercises beyond traditional rope training You do not need two Hyper Ropes for battle rope exercises, only one
A Quick Look at the Hyperwear Hyper Rope
My Favorite Things:
Doesn't need to be mounted or anchored
Can be used in smaller spaces, like a home gym
Very high quality materials
Available in two different sizes
My Callouts:
Nothing remarkable about the handles, despite being a premium rope
One of the smallest battle ropes there is, although it is heavier than most
Can become a little unwieldy during intense work despite weighted feature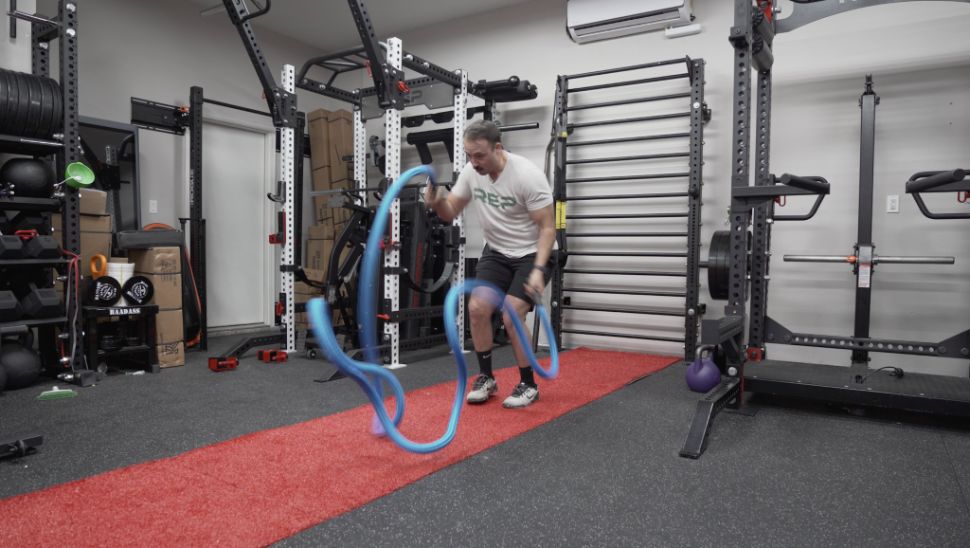 Is the Hyperwear Hyper Rope Worth the Hype?
Depends on who you ask. Here's a look at who should buy the Hyper Rope and who might be better off with something else.
Great for:
People with small spaces for their home gyms
Anyone who doesn't have a place to anchor battle ropes
People willing to pay for a premium product
Anyone interested in conditioning equipment
Not recommended for:
People who haven't tried battle ropes before or aren't sure if they'll like using them
Anyone who may have the space and setup for traditional anchored battle ropes
Anyone not interested in conditioning equipment
What It's Like to Work Out With the Hyperwear Hyper Rope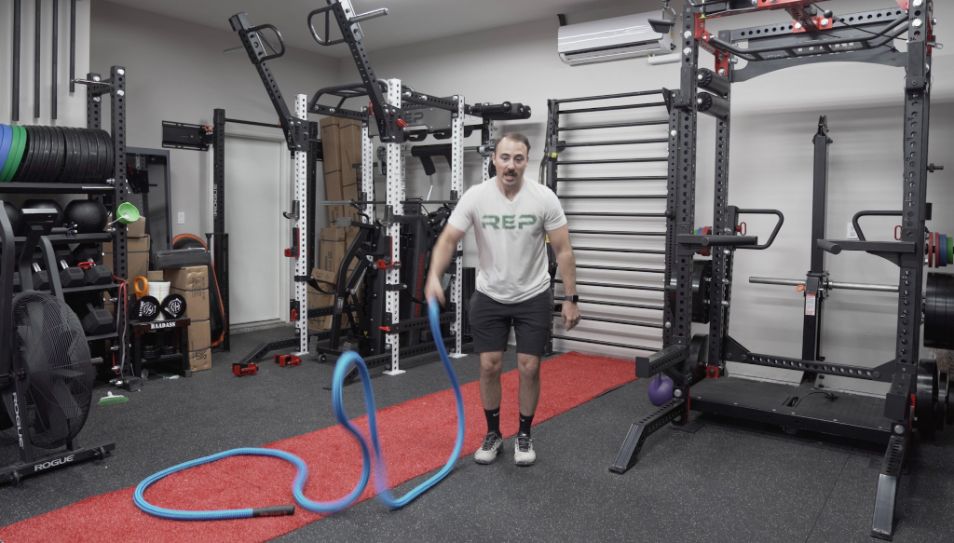 If you've ever done a battle rope workout, you know just how much of a burn ropes can give you. The lactic acid buildup is no joke. And even if you think you're doing an upper body workout, using battle ropes is always a full-body workout.
The Hyper Rope really gets the heart pumping and is a great alternative to running or other outdoor cardio workouts, especially if it's too cold, too hot, or rainy. The Hyperwear battle rope also serves as a great accessory for full-body HIIT workouts or CrossFit. Add it to your usual training with dumbbells or kettlebells.
Because it is innately weighted and portable, you can even use the Hyper Rope for exercises like walking lunges, which you can't do with a normal battle rope.
The weighted metal core design does work well, although if I really get working, it can become a little unwieldy. You can do many of the same movements you can with a normal battle rope, but you'll need not only space in front of you, but also to the side of the rope. Hide yo kids, hide yo wives when you're using it as they could get hit.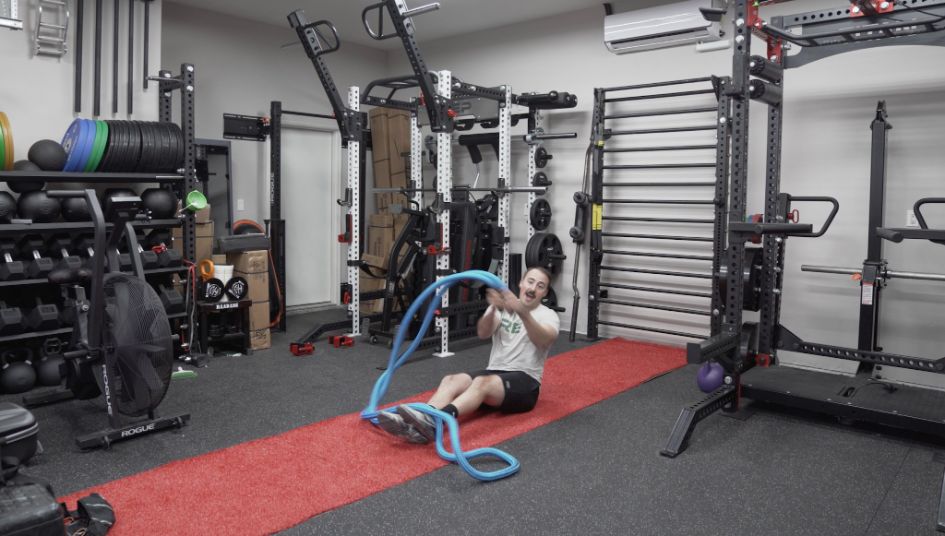 I'd recommend the 19-pound model for most people who are planning on using the Hyper Rope for max effort sets such as in a HIIT workout. I received the 15-pound model—I only know this because the handles are black. On the elite model, which weighs 19 pounds, the handles are blue. I wish Hyperwear would mark the weights despite the different colored handles.
Speaking of the handles, there isn't anything remarkable about them. They're constructed of typical heat shrink rubber tubing, which provides grip and serves as a protective sleeve over the ends of the rope. It should last, but since it's a premium rope, it would have been cool to see a special handle.
Because you use the Hyper Rope unanchored, it offers more versatility in training and more flexibility in your home or garage gym. And since it's so much shorter than a typical battle rope, a single person can lift and carry the entire rope, versus trying to bundle up a 50-foot long rope. This means you can move it around to maximize space in your home gym or take it outside on nice days.
Overall, the Hyper Rope battle rope is less of a strength training modality and more of a conditioning or cardio piece of equipment.
Ordering the Hyperwear Hyper Rope
To order the Hyper Rope battle rope, just go to the Hyperwear website and navigate to battle ropes. Here, you'll find two battle rope options: The standard model Hyper Rope, which is 20 feet long and weighs 15 pounds; and the elite model Hyper Rope, which is 25 feet long and weighs 19 pounds.
The standard model costs about $300 and the elite model costs about $370. This is the most expensive battle rope I've seen anywhere—the only one I know of that comes close is the Rogue Sheathed Battle Rope which costs about $250, and that's still really expensive considering you can get battle ropes in the $50 to $100 range. You can also find the Hyper Rope on Amazon. The price is the same on Amazon, but it's not Prime-eligible so I don't necessarily see a benefit to ordering on Amazon over Hyperwear. Also, big bonus: If you shop on Hyperwear directly, you can pay over time with Affirm.
Hyperwear aims to ship all orders within 24 hours of payment (Monday through Friday) and uses FedEx ground shipping, which can take anywhere from two to seven days to deliver.
When I received my Hyper Rope, the box was in pretty bad shape, but I recognize that things can happen during shipping that aren't the manufacturer's fault. Thankfully, the product was totally fine in the box, likely because it came protected in a double-ply box wrapped with lots of tape.
Because I totally geek out over aesthetic fitness equipment, I absolutely loved opening up the box and seeing the electric blue color the Hyper Rope boasts. This piece of equipment would look phenomenal in any garage gym. If you have blacked out walls and floors, you might have to get it solely for the aesthetics. Kidding. Kind of.
There's no setup required for the Hyperwear Hyper Rope since it doesn't require an anchor point or anchor strap. Simply place it wherever you plan on using it.
RELATED: Read my Hyperwear Sandbell PRO Review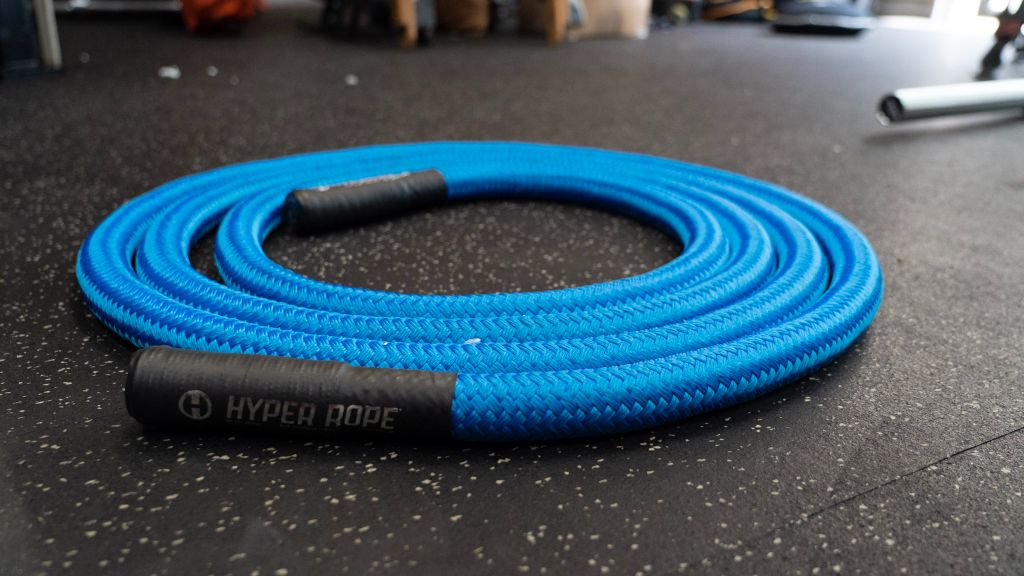 Construction and Durability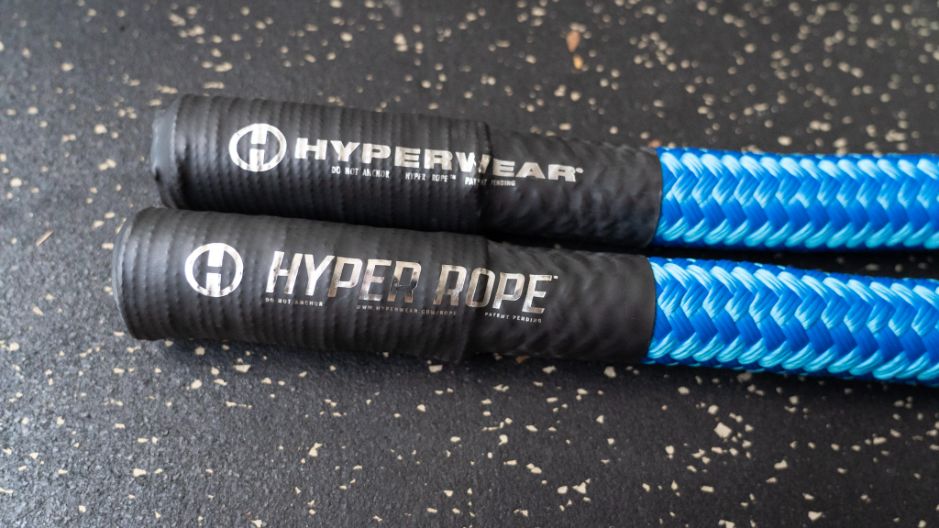 When looking for products for ahome gym, longevity should be a key factor in all purchasing decisions. I think the Hyperwear Hyper Rope fits the bill for longevity due to the premium braided 100% polyester construction. This, combined with the flexible metal core of the rope, results in a more durable product compared to traditional battle ropes constructed of poly dacron or a poly-nylon blend.
Because of the flexible metal core, the Hyper Rope offers the same intensity as 30- and 50-foot battle ropes in just 15 to 20 feet of rope. During use, if you're holding both handles, the Hyper Rope requires just six to 10 feet of floor space.
The rope is approximately 1.25 inches in diameter, but braided ropes can shrink and expand during use—that's totally normal and not a sign of a defect. You may not even notice it happening.
While I wouldn't exactly call it a heavy-duty product, the Hyper Rope is still more durable than many battle rope products out there.
All battle ropes fray over time. The Hyper Rope is one of the highest quality braids I've used though. Because it's braided, instead of twisted, it should resist fraying for much longer than cheaper options. The internal weighted metal core is just as flexible as a standard braided rope, and I haven't noticed any shifting of the weight. The handles have heat shrink rubber that provide grip, but will likely crack and fail quicker than the rope itself (will still take decades of abuse, though).
However, it is really important to note—really, really important—that the Hyper Rope is not to be used with an anchor. Seriously, do not anchor it. Why? Using this rope with an anchor, even one with a smooth edge, could cause the metal core to snap over time, rendering the rope useless.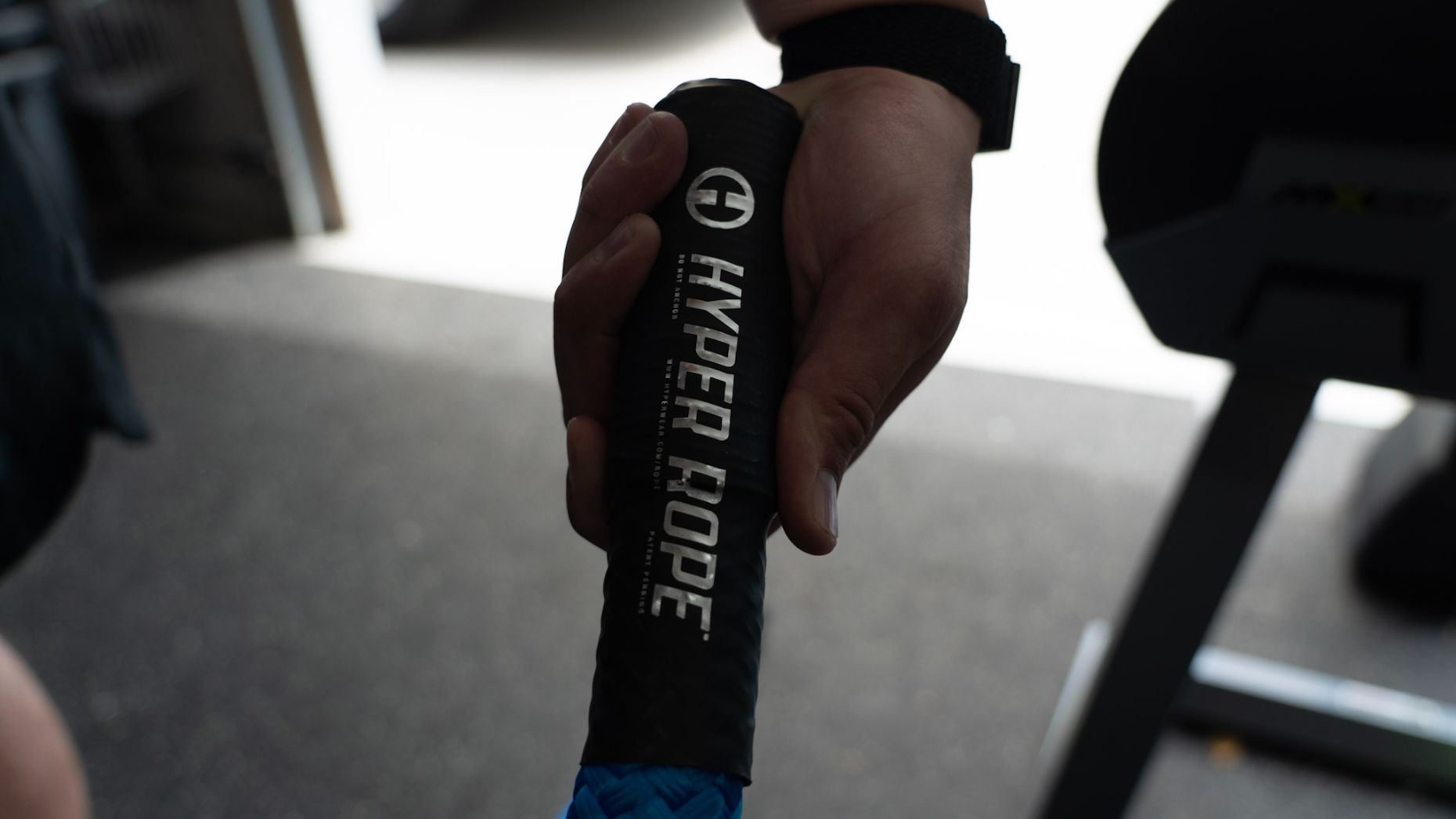 Hyperwear Hyper Rope Compared to Traditional Battle Ropes
This is one of the smallest battle ropes there is, although it is heavier, which makes it a great option for a home gym. Compared to 2-inch thick, 50-foot anchored ropes, the Hyper Rope comes in at an inch and a quarter thick, and 20 or 25 feet.
You don't need an anchor kit for the Hyper Rope, unlike standard battle ropes which must be anchored to a legit system or, at the very least, anchored around a tree or a heavy kettlebell handle.
The undulation feels slightly different training with the Hyper Rope versus a traditional battle rope. Like I mentioned before, it can definitely get a little unwieldy if you're really getting after it, and you don't have the peace of mind that it's anchored to something.
Other than that, I think the experience of working out with the Hyper Rope is more enjoyable overall.
Customer Service
I've never run into any issues with Hyperwear customer service. You can contact them via online chat, email, or phone—whatever suits your fancy. You'll typically get what you need within minutes on chat or the phone, or within a couple of days through email.
For the price of its products, Hyperwear's warranty isn't great. I would want a bit more peace of mind for a $300 battle rope than I can get with its one-year warranty. The warranty covers defects and unusual wear and tear for materials and workmanship.
As for returns and exchanges, you can do either within 30 days of purchase but the cost of return shipping falls to you. This could become problematic with items from Hyperwear, since they're heavy. A 15-pound rope may not be a big deal, but imagine sending back a 70-pound Sandbell. Yikes.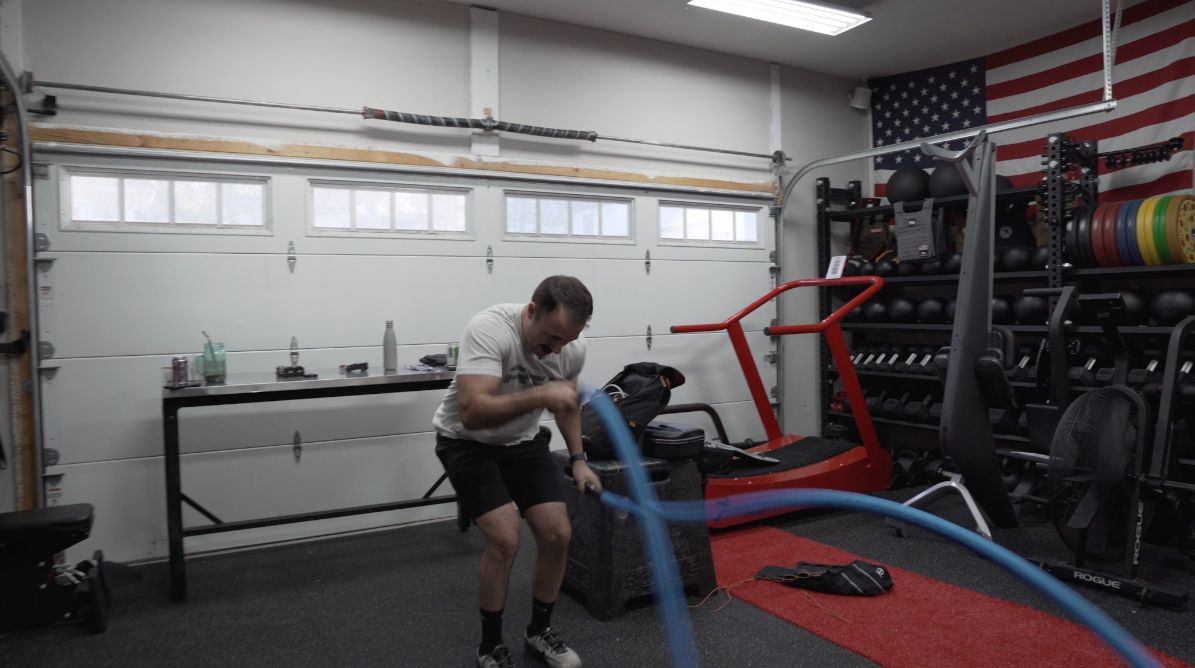 Value
Hyperwear makes durable, high quality products, and the Hyper Rope is no exception. The price may induce a bit of sticker shock but the product is nothing less than high quality. Still, spending $300+ on a rope, especially when you can get a decent standard battle rope for around $100, isn't in the cards for all home gym owners.
For most garage gym owners, if they have the space, I'd recommend a cheaper option first, and if they really like doing battle ropes, maybe they can upgrade to this later on. If someone is short on space, this is a worthy option, although costly.
And again, not that this really matters, but it's a beautiful piece of equipment. It'll certainly add a nice visual touch to your gym thanks to the bright electric blue color.
Ultimately, the Hyper Rope provides a great workout, and if you think that's worth the price, I say go for it.
Customer Reviews of the Hyperwear Hyper Rope Battle Rope
It seems like everyone who buys the Hyperwear Hyper Rope absolutely loves it. I came across virtually zero bad reviews. The lowest rating on Amazon is four stars, and the only bad thing those reviews say is that the rope is expensive. Well, yeah, you knew that when you bought it.
Final Verdict of our Hyperwear Hyper Rope Battle Rope Review
The Hyperwear Hyper Rope battle rope is a unique battle rope with a patent-pending design. It's different from other battle ropes due to the flexible metal core, which adds weight to the rope and thus eliminates the need for an anchoring system. It also takes up less space than standard battle ropes.
I don't necessarily think the Hyper Rope is overpriced, but it's definitely not a budget item. I enjoyed working out with it, and it would be a great addition to a garage gym for people who can afford it, but I wouldn't consider it a necessity.
RELATED: How Much Does a Home Gym Actually Cost in 2021?
Our takeaways:
This is a premium product and it shows in the price
Unique design is great for small spaces
Good alternative to traditional battle ropes, but expensive
Could have small improvements, like marking the weight and using a higher quality handle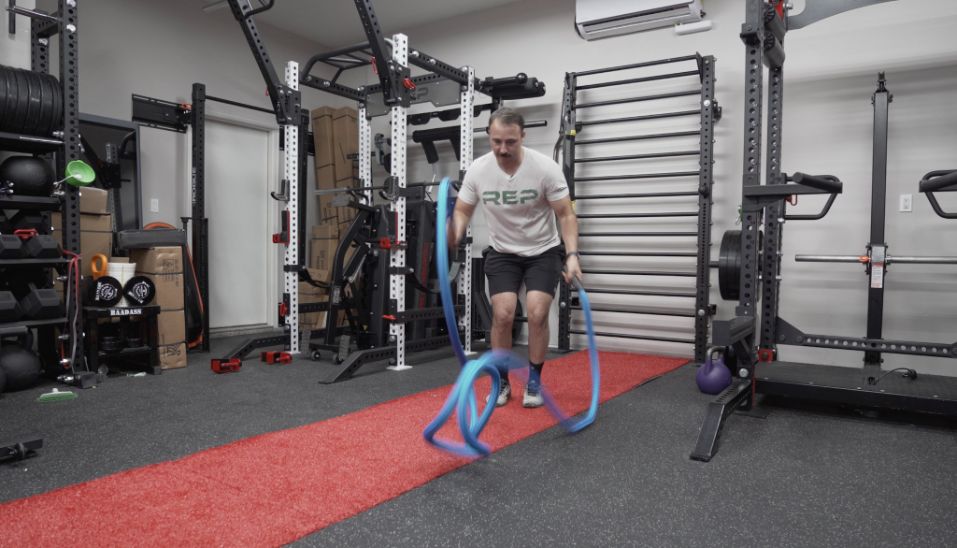 Full Rating
Hyperwear Hyper Rope Battle Rope FAQs
Some of the most commonly asked questions about the Hyperwear Hyper Rope are:
What do you do with battle ropes?
Battle rope training is a good alternative to training with free weights. You can do typical battle rope exercises, such as single-arm or double-arm undulation (commonly called the "biceps wave"). You can also do jumps, squats, woodchops, plank waves, and many other exercises with a battle rope.
Do battle ropes give you a good workout?
Any exercise training rope can be a solid addition to your workout routine. They're a tool for high-intensity fitness training that will undoubtedly leave your heart pumping and your muscles burning.
How heavy is the Hyperwear Hyper Rope?
The Hyper Rope is a heavy battle rope compared to most. There are two options: a 15-pound rope and a 19-pound rope. The 19-pounder is slightly longer and will require more floor space.
Is the Hyperwear Hyper Rope worth it?
Not everyone can justify spending $300 on a battle rope. But fitness enthusiasts with the budget for that will definitely find the Hyper Rope to be worth it, thanks both to the versatility of the product and the space it saves compared to standard battle ropes.