We test and review fitness products based on an independent, multi-point methodology. If you use our links to purchase something, we may earn a commission. Read our disclosures.
While a weighted vest is certainly not a necessity for a good home gym setup, having one at your disposal can be the cherry on top of a lot of workouts. Weight vests are extraordinarily beneficial for people who are just starting to build their home gym, as well as people who have small spaces because you can wear a weighted vest to make any basic bodyweight exercise more challenging.
Why You Should Trust Us
I've tested most of the best weighted vests on the market. The Hyperwear Hyper Vest Elite Weighted Vest is different than most—it's unique in the build and the way it fits. In this Hyperwear Hyper Vest Elite review, I dive into my thoughts on the vest, from my favorite features to its downfalls compared to my other top picks.
Hyperwear Hyper Vest Elite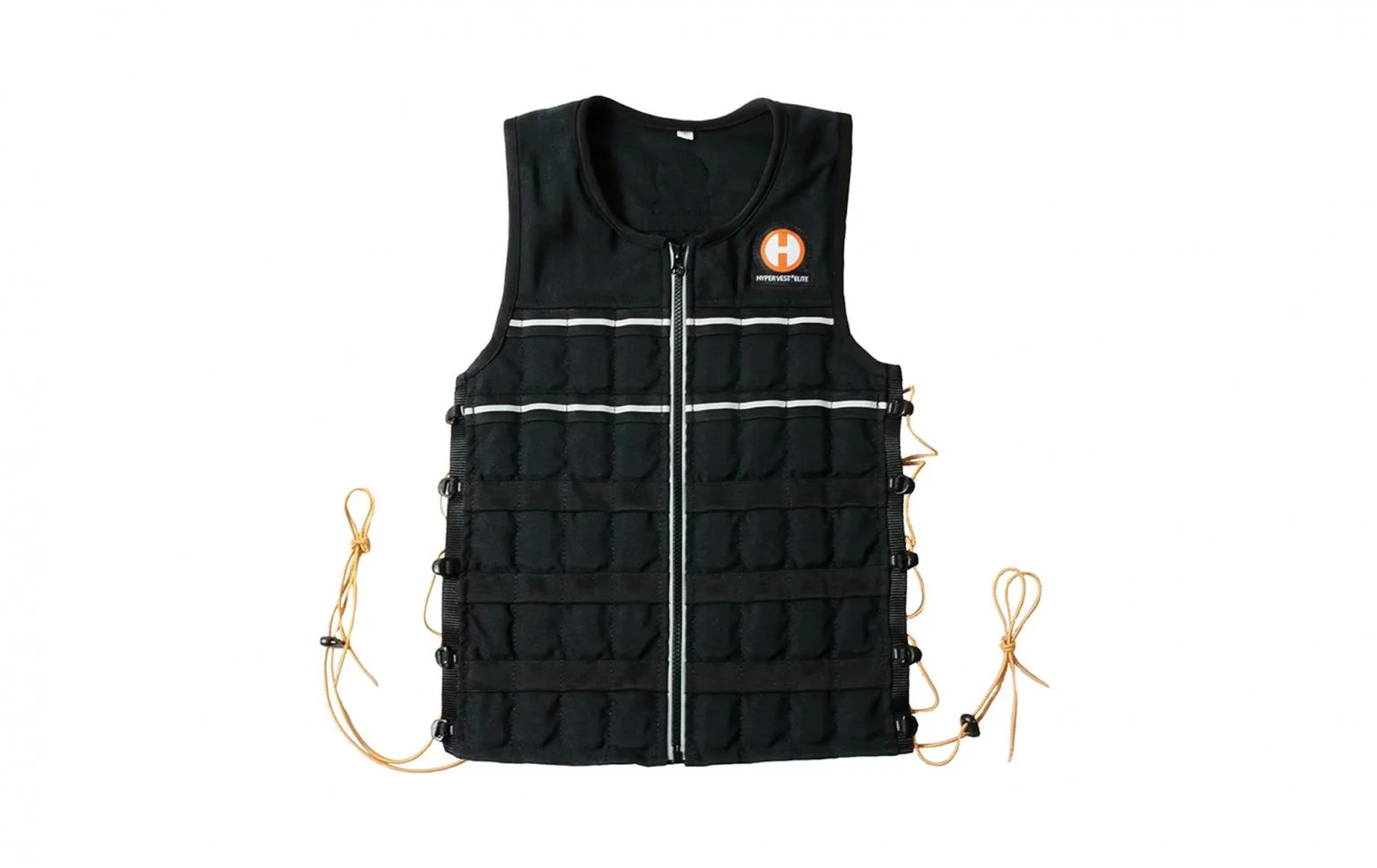 Hyper Vest Elite
Hyper Vest ELITE is the sleek 2.0 to our original durable, adjustable and form-fitting weighted vest. The innovative design features a unique fabric control system that hugs the body for an extremely comfortable fit, but does not restrict range of motion. The heavy-duty CORDURA® material is ready to withstand your toughest workouts.The vest's patented design flexes more in the horizontal plane and less in the vertical plane, allowing for full chest expansion while keeping the weights in place even during vigorous, multi-plane movements.The breathable, odor-resistant fabric and generous open side panels provide superior ventilation, and reflective striping provides added safety during night runs. Its highly adjustable reflective orange side lacing and slim profile allow for exceptional fit and comfort.
A Quick Look at the Hyper Vest Elite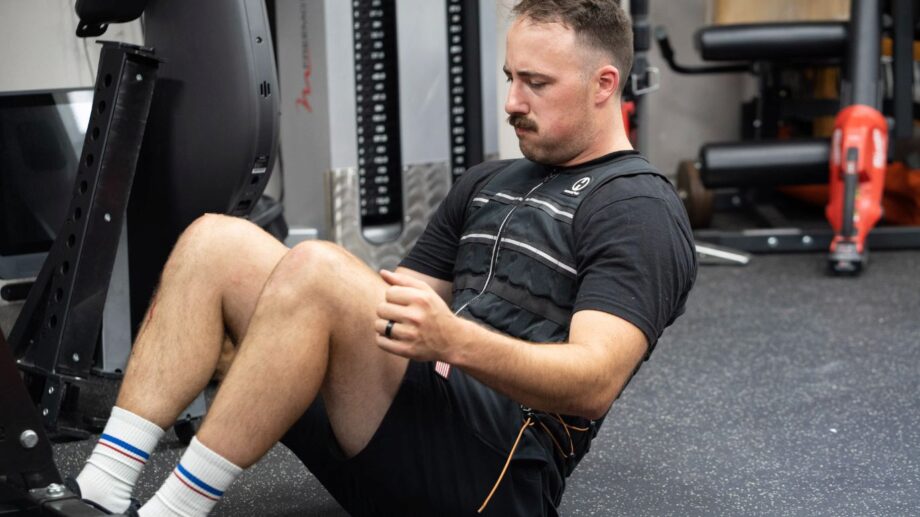 What We Love:
Lightweight, breathable fabric
Vest contours to the body for a snug fit
Thin profile maximizes mobility while wearing the vest
Doesn't jostle around during high-intensity workouts
What You Should Know:
Maximum weight capacity is 20 pounds
Elastic isn't as durable as we'd like
Single-stitching means it may unravel faster than expected
Material isn't super moisture-wicking
Related: The Hyperwear Hyper Vest Elite Weight Vest made our Best Fitness Gifts list!
Who Should Buy the Hyperwear Hyper Vest Elite Weight Vest?
Great for:
Athletes who do a lot of running and high-impact, jostling movements like box jumps
People who like tight-fitting gear
Female athletes, due to the contour of the vest
Not recommended for:
Anyone who wants a vest heavier than 20 pounds
Athletes looking for a looser fitting vest
People who need a vest to wear over winter (or otherwise bulky) training clothes
Ordering, Delivery, and Setup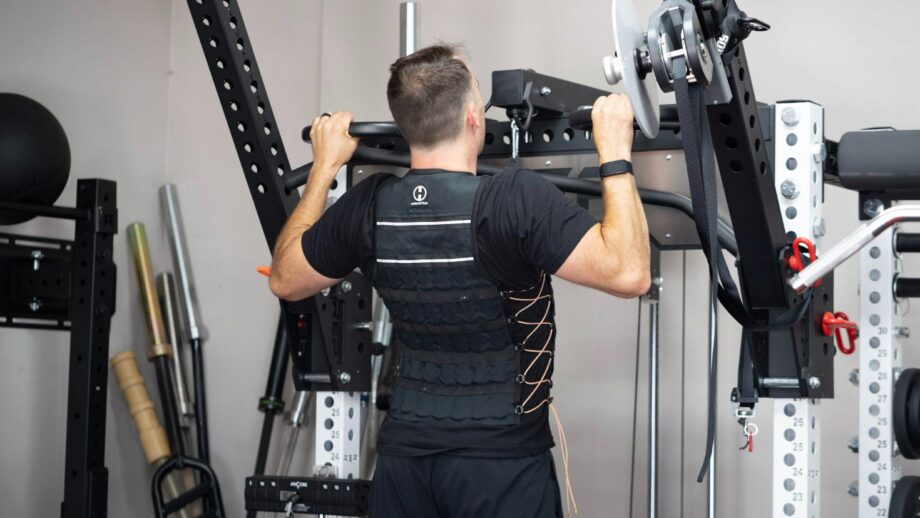 The ordering process for the Hyperwear Hyper Vest Elite is super simple. The Hyperwear website is clean and easy to use. Just navigate to the Hyper Vest Elite, choose your size and weight preferences, and add to cart. When you check out, you can either check out as a guest or log in to your account, or you can use your Amazon Pay account for quicker checkout.
If you purchase through the Hyperwear website, you can choose to check out with Affirm and pay monthly installments with 0% interest (if approved). This might not be a bad idea for a weight vest that runs more than a couple hundred dollars!
There's only one shipping option on the Hyperwear website, which is FedEx Ground. However, you can also find the Hyperwear Hyper Vest Elite weight vest on a few different retail sites, including Amazon,Rogue Fitness,Torque Fitness, and, weirdly,Best Buy.
Just keep in mind if you order from a third-party retailer, you might not find your size or the weight option you want. The manufacturer website is generally more likely to have more options in stock at any given time.
We had our Hyper Vest Elite shipped directly from Hyperwear, and the box was in good condition and wrapped well when it arrived.
What I really loved is that the weights come pre-installed in the Hyper Vest Elite. This is not something you'll find with most vests, and it does take a good amount of time to initially insert all of the individual weights into segmented vests. The fact that the weights are pre-installed is a major plus in my book.
Materials and Durability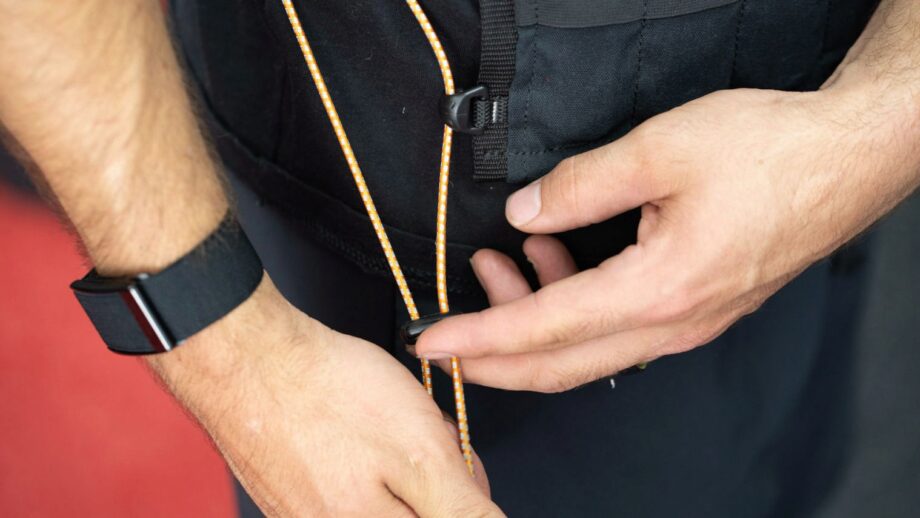 Overall, I think the Hyperwear Hyper Vest Elite is relatively durable and should hold up well if you aren't putting it through hell.
The biggest potential issues with this weighted vest are the zipper and the elastic strings on the sides. The zipper is a YKK zipper, but I wish it was larger. It seems like it may break with a lot of zipping and unzipping, especially if done in typical super fast and aggressive CrossFitter fashion.
The elastic strings will stretch out over time, although they're easily replaceable. The material is a thin cordura that should last, but the seams are only single stitched, and although the seams haven't yet come undone on mine, I can see that eventually happening.
As for the small weight plates themselves, they're steel and tightly pocketed, so the weight distribution feels stable and steady.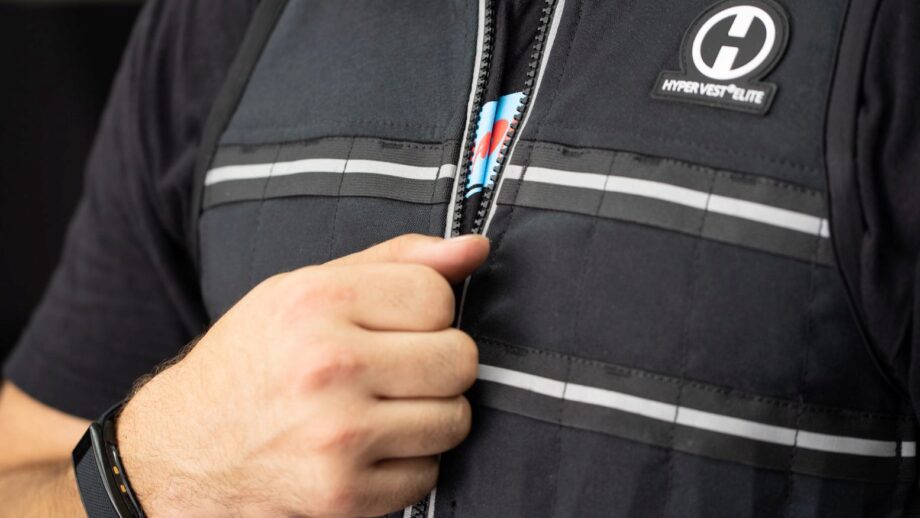 Fit and Comfort
This is easily one of the most breathable weighted vests I've tested. It hugs your body close, but thanks to the thin cordura and open side lacing, I never felt claustrophobic or felt that my range of motion was restricted.
The slim profile of this weight vest makes for an uber-comfortable fit, although that may depend totally on your body type. Athletes with thicker midsections or larger rib cages might find the Hyper Vest Elite far too restricting.
GGR staff writer and personal trainer Amanda Capritto says she loves this vest and knows a lot of other female athletes tend to love this vest even though it's technically unisex. "It's probably because the elastic sides allow the vest to contour to curvier body shapes," she says, "making it less boxy and more comfortable for female athletes overall."
The fabric is somewhat sweat wicking, but it could be better. Hyperwear also claims that the fabric on the Hyper Vest Elite and its other products, such as the Hyperwear Hyper Vest Pro, are odor resistant, but mine does smell a little. Smelliness is kind of expected, though, with any sort of fitness equipment constructed with fabric.
I liked that the vest felt tight all throughout workouts, yet allowed for movement. The zipper is a bit high on the neck though in my opinion. It's extremely mobile—it feels like a weighted shirt. I had no problem doing cardio like running or burpees in the vest.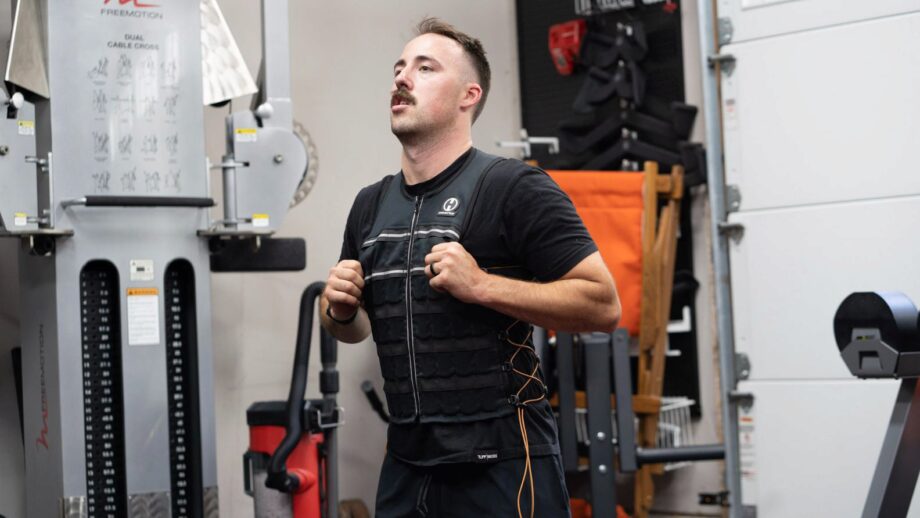 Weight Capacity and Adjustability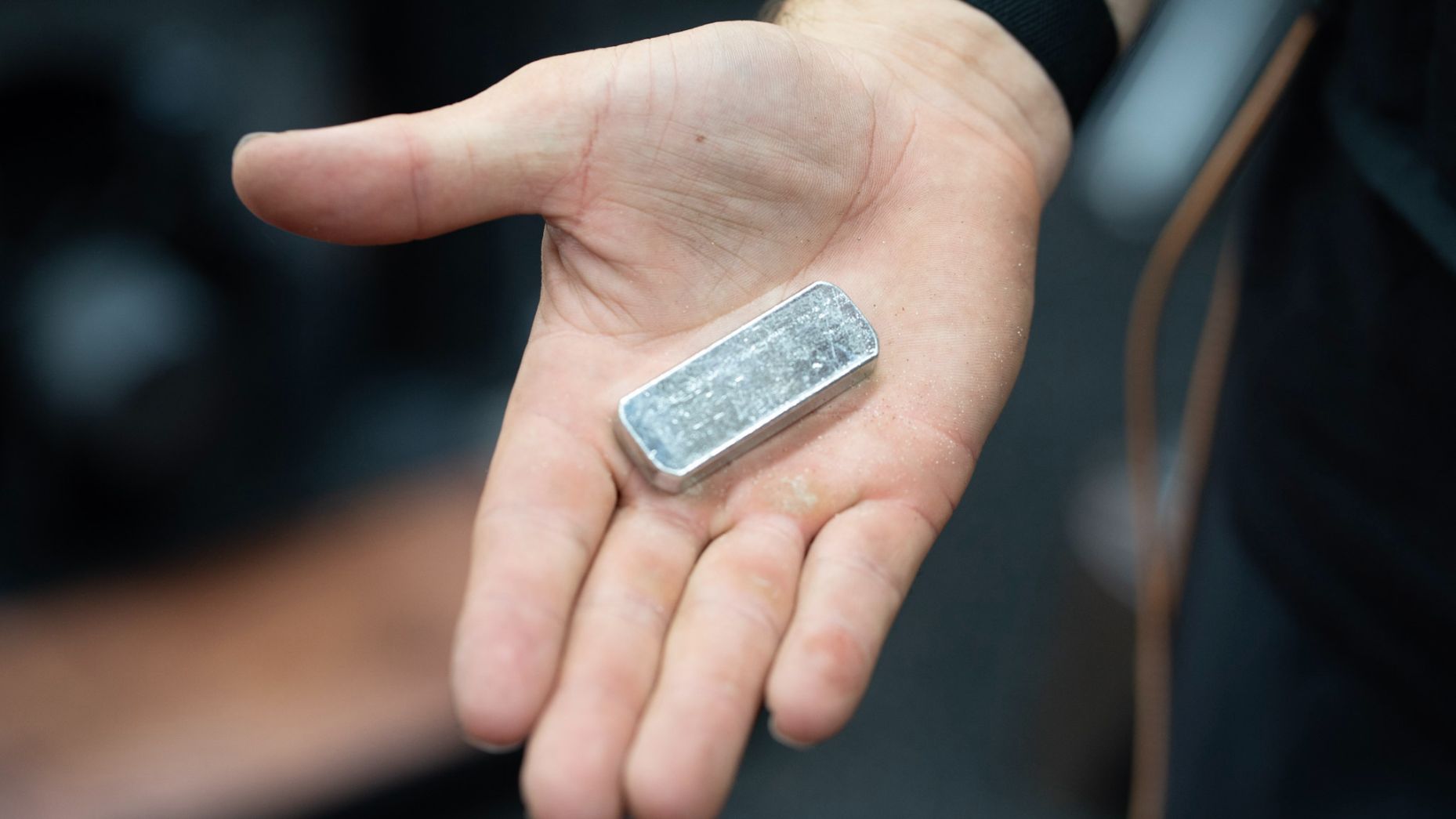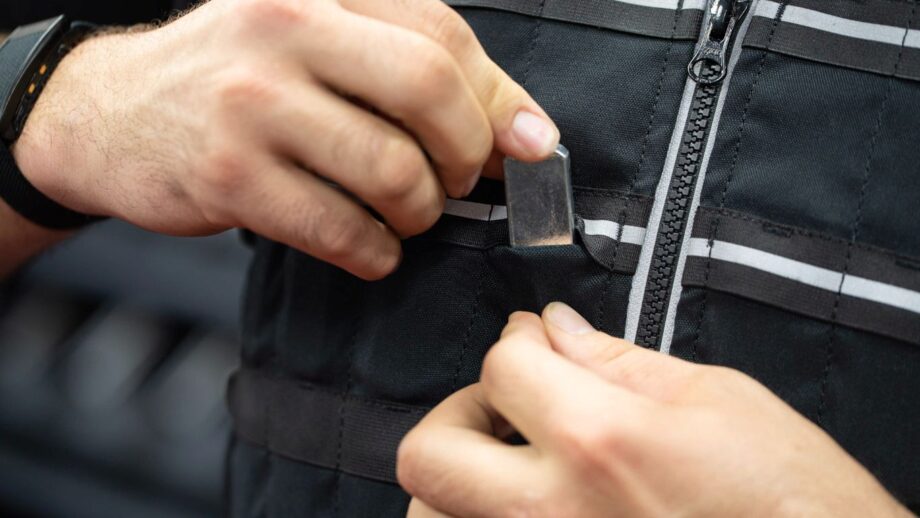 It's pretty much expected at this point for all weighted vests to be adjustable. And while the Hyper Vest Elite is an adjustable weighted vest, I wish it was more so. This vest has a max weight capacity of 20 pounds, which pales in comparison to some other adjustable weight vests, such as the5.11 TacTec Plate Carrier, which can hold up to 30 pounds. That extra weight, even though it's just 10 pounds, makes a big difference.
But wait, there's more: If you're a petite athlete and require a size small in vests, be aware that the small size of the Hyper Vest Elite can only carry a maximum of 15 pounds.
For most people, these 15-pound and 20-pound capacities are fine as they meet the female/male requirements for Hero WODs like Murph, but some may think this is still a bit light for everyday training. Like I said, some other options allow for much higher weights, but this is a trade-off required for the lightweight, breathable, shirt-like feeling you get with the Hyper Vest.
In terms of actually adjusting the weight, the little weight bar increments do take quite some time to remove and replace. It's not something you'd want to adjust for every workout, and definitely not intra-workout.
Working Out With the Hyperwear Hyper Vest Elite Weighted Vest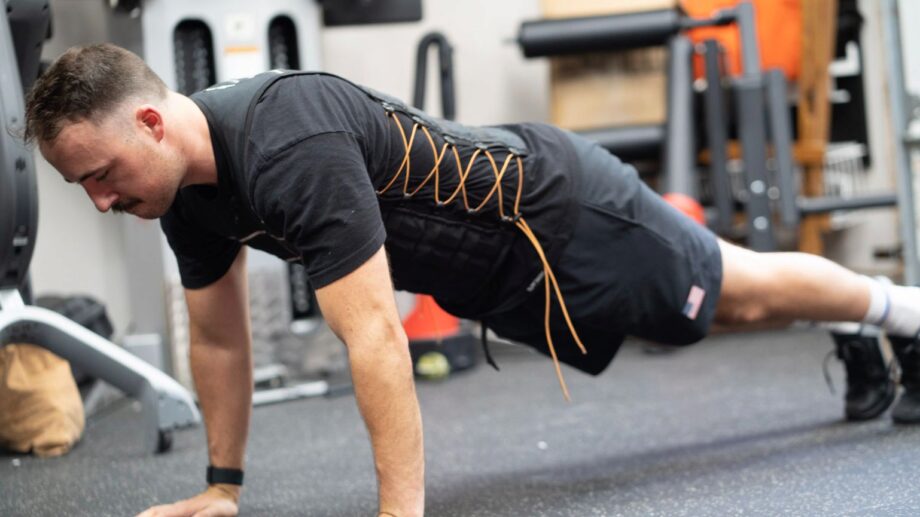 Like I mentioned before, I think this is one of the best weight vests in terms of range of motion and versatility. You won't experience any bouncing, shuffling, or shifting while wearing this weight vest during a workout, thanks both to the tight fit and elastic sides, as well as the high-density weights and tight weight pockets.
The breathability makes it bearable to wear the Hyper Vest Elite even during hot summer weather, whereas some other, bulkier vests feel extremely constricting in 90-plus degree weather.
I did worry slightly about durability during movements that beat up the vest, like burpees. The single-stitching sparks some concern when there's a lot of friction between the vest and the floor.
Customer Service
You can contact Hyperwear at their customer service email, on the phone, or through a website form. The email or form will set you up for at least a 24-hour waiting period, so if it's urgent, definitely call. You'll still probably get put on hold. Still, it's nice that all three customer service options eventually connect you to a real person, so you don't have to deal with some bot chat B.S. that just keeps redirecting you to FAQs.
I personally think the warranty on this vest is lukewarm for the price. Hyperwear offers a one-year warranty on the Hyper Vests (and all of its products) for defects and workmanship. You can get a replacement of the vest if you experience "unusual wear and tear" or a defect within 12 months of your purchase. This applies to vests purchased from Hyperwear directly as well as authorized third-party retailers.
It's never really clear what "unusual wear and tear" means, but Hyperwear does state that punctures and tears are not covered under the warranty. So stay away from sharp objects while wearing your vest, basically.
For returns and exchanges, there's a 30-day customer satisfaction policy. If you don't like the vest, you can return or exchange it within a month after buying it, but the shipping cost falls to you.
Customer Reviews of the Hyperwear Hyper Vest Elite
Most customer reviews of the Hyperwear Hyper Vest Elite weight vest are favorable. Buyers generally seem to think it's worth the price (as do I). Some reviews mention that this particular vest eliminates shoulder pain and upper back pain compared to other styles of vests, largely because of the way the Hyper Vest Elite hugs the body instead of just hanging from the shoulders.
However, several reviews mention issues with durability over the long haul due to the exact things I've raised concerns about: The zipper starts to pull apart, the elastic starts to give out, the stitching starts to come undone, and thus the fit loses its contour after a while.
These details definitely matter when you're paying nearly $300 for a weight vest.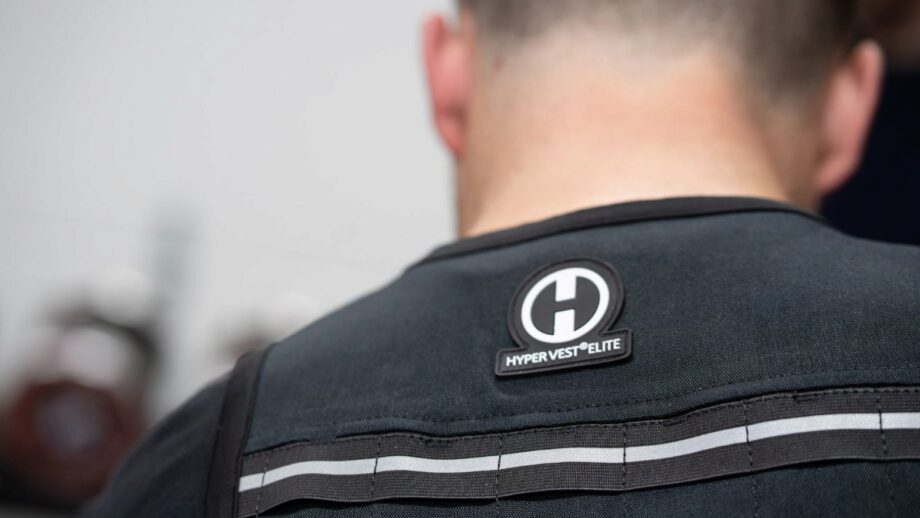 Final Verdict of our Hyperwear Hyper Vest Elite Review
This is certainly not the cheapest weighted vest. All of its unique features culminate in a vest that is unlike any other— and it's priced as such. I don't think the Hyper Vest Elite overpriced, but you can definitely get high-quality weighted vests for less. Some of my other top picks, like theRogue Plate Carrier, cost less yet allow you to carry more weight. It ultimately comes down to your strength level and what you'll be using the weight vest for, as well as your preferences on how a weight vest fits.
Our takeaways:
Probably the most lightweight, form-fitting vest I've ever tried. Feels like a weighted T-shirt
Breathable and flexible for comfort even during high-intensity workouts
Doesn't seem to be as durable as other top weight vests due to single stitching and elastic
Not everyone will like the tight fit and contour
Full Rating
Hyperwear Hyper Vest Elite Weight Vest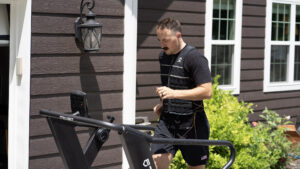 While a weighted vest is certainly not a necessity for a good home gym setup, having one at your disposal can be the cherry on top of a lot of workouts. Weight vests are extraordinarily beneficial for people who are just starting tobuild their home gym, as well as people who have small spaces, because you can wear a weighted vest to make any basic bodyweight exercise more challenging.
Product Brand: Hyperwear
Product Currency: USD
Product Price: 219.99
Product In-Stock: InStock
Hyperwear Hyper Vest Elite FAQs
Is the Hyperwear Hyper Vest Elite a good weighted vest?
I wouldn't say the Hyperwear Hyper Vest Elite is the best weight vest overall, but it is a good weight vest. It would be a good addition to the best home gym equipment if you do a lot of high-impact or high-intensity bodyweight exercise and prefer a form-fitting vest to something looser.
Should I wear the Hyperwear Hyper Vest Elite for the Murph Hero WOD?
The Hyper Vest Elite Weight Vest is a great option for Murph. It allows for full range of motion thanks to its flexible construction. This means you'll remain comfortable during the run, air squats, push-ups, and pull-ups. (And the second, grueling run.)
How heavy is the Hyperwear Hyper Vest Elite Weight Vest?
In the small size, the Hyper Vest Elite can hold up to 15 pounds of weight. The medium, large, and extra-large sizes can hold up to 20 pounds. Unfortunately, there isn't an option to add additional weight.
Can you wear the Hyperwear Hyper Vest Elite without a shirt?
You can wear the Hyper Vest Elite without a shirt and experience minimal rubbing or chafing due to the slim profile and tight fit. However, I'm not sure I would wear the vest without a shirt, because cordura fabric can be a bit scratchy and might irritate your skin.
What do you wear weight vests for?
Weighted vests are a great piece of equipment to have alongside other free weights like kettlebells and dumbbells. You can get a ton of use out of them during certain training styles, such as CrossFit, HIIT, and obstacle course racing (OCR), as well as general bodyweight, plyometric, and strength training. Weighted vests can make push-ups, pull-ups, air squats, lunges, running, and even walking much more challenging. You can even wear a weight vest during barbell movements if ya wanna get crazy.