We test and review fitness products based on an independent, multi-point methodology. If you use our links to purchase something, we may earn a commission. Read our disclosures.
The Rogue Plate Carrier is a simple, well-thought-out weight vest designed to make bodyweight movements more difficult. Run with it, squat with it, do push-ups with it: It's got everything you need, and it cuts out unnecessary components.
In fact, we used to have the 5.11 Tactec Plate Carrier Vest on top of our best weighted vest list, but the Rogue Plate Carrier came along and gave it the proverbial boot. In all honesty, this Rogue vest is one of the absolute best across-the-board that I have ever tested.
Why You Should Trust Us
I don't just test weight vests, I actually use them in my own personal training. From simple garage gym workouts to tackling Murph, one of the most significant tests of fitness in the CrossFit world, I have years of experience buying, wearing, and sweating all over weighted vests from brands across the industry.
Collectively, my team at Garage Gym Reviews has tested more than 50 vests, like the GoRuck Ruck Plate Carrier, the Condor Sentry Plate Carrier, the Hyperwear Hyper Vest Elite and the Fringe Sport WODmaster. It's safe to say I know what to look for in a quality product.
Rogue Plate Carrier Review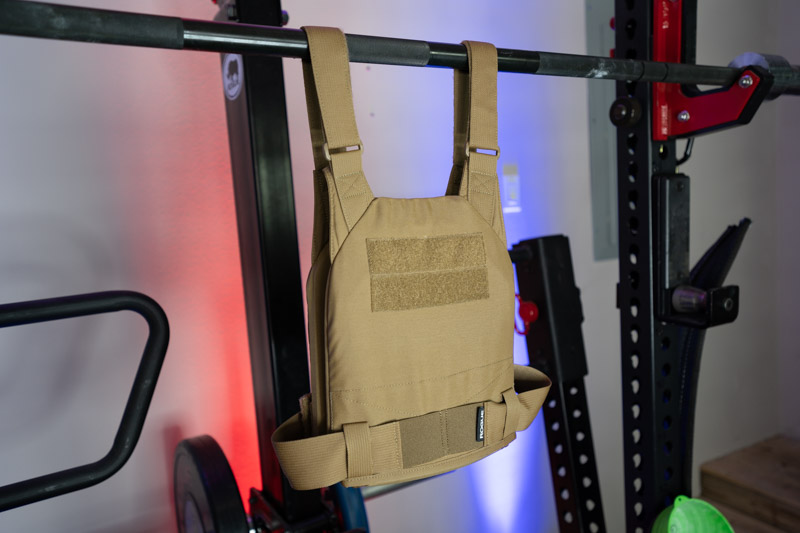 Rogue Plate Carrier
The Rogue Plate Carrier is an American-made, heavy duty weight vest optimized for use with our contoured USA Cast Plates and Echo Cast Plates (up to 20 LBS). This simple but robust design was co-developed with Dave Castro, and features a 1000D and 500D Cordura® construction with USA Velcro® straps/fasteners and X-box reinforced stitching. By delivering functional precision and a stabilized fit without the added bulk of unnecessary bells and whistles, the Rogue Plate Carrier offers high-performance athletes a uniquely streamlined, no-nonsense take on the modern tac-style training vest.We're currently offering the Rogue Plate Carrier in three adjustable sizes and four different colorway options: Black, Ranger Green, Coyote Brown, and Gray. The plate pockets on all versions measure 10.25" (outside width) x 12.25" (outside height), and include a 1000D Cordura® lining. Extra foam padding, stretch woven fabric, and minimized seams on the inside of the vest help prevent chafing and discomfort while on the move, and a short section of elastic at the back of the waist strap makes it easy to facilitate a consistent, snug fit.Specifications:Made In USA Patent Pending Design - Co-Developed with Dave Castro Material Type 1000D & 500D Cordura Weight (Unloaded): 1.12 LB (Medium Size) Size Options: Small, Medium, Large Plate Pocket Width: 10.25" (outside width) Height Plate Pocket: 12.25" (outside height) Compatible with Rogue USA Cast Vest Plates and Rogue Echo Vest Plates Color Options: Black / Ranger Green / Coyote Brown / Gray Care Instructions: Hand Wash, Line Dry USA Velcro fasteners and front/back loops for patches
A Quick Look at the Rogue Plate Carrier
Bringing the concept of a weight vest down to its brass tacks is exactly what Rogue Fitness did with the Plate Carrier. Co-developed with the director of the CrossFit Games, Dave Castro, this Cordura fabric-constructed vest features three adjustable sizes, four color options, and a number of proprietary plate choices. Rogue has succeeded in making a cheaper, sleeker option for those interested in adding a kick to their bodyweight exercises.
It's also worth noting that Rogue donates a portion of the proceeds of this vest to Operator Foundation, which provides education and other types of assistance to members of U.S. special operations as well as their families.
The Rogue Plate Carrier is certainly not a product to be held to a standard of perfection. While I only have a few critiques, they are points to take into consideration before making the in*vest*ment (see what I did there?).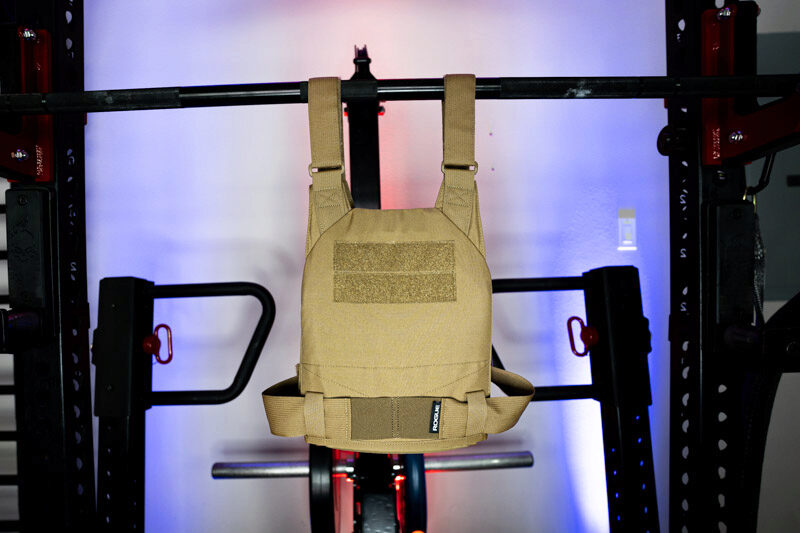 Coop's Tips:
Wear it with a shirt! The straps are a little rough on the body due to a lack of shoulder pads.
Measure twice, buy once: Use the measuring guide on the Plate Carrier website to get the right size.
Rogue offers an optional shoulder pad set you might want to try if you're sensitive to the straps.
My Favorite Things:
Affordable at less than $130
Extremely comfortable fit
Designed with functional fitness in mind
Made in the USA
My Callouts:
Lack of shoulder pads
Buy plates separately
Velcro attachment might lead to durability issues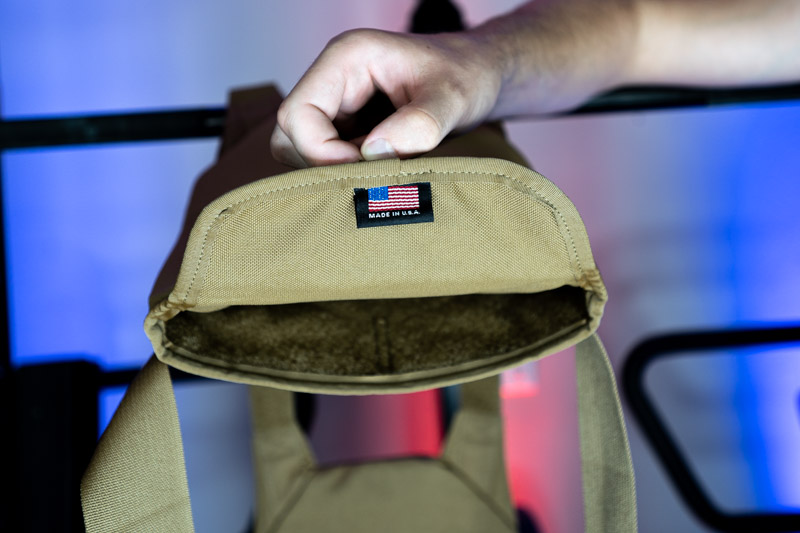 Is the Rogue Plate Carrier Worth It?
Bottom line, I believe this is one of the best weighted vests on the market for most people. But, it may not be ideal for everyone:
Great for:
Functional fitness enthusiasts
People training for the military or ruck events
Not recommended for:
People who want a vest that holds more than 40 pounds
People who want a really cheap weight vest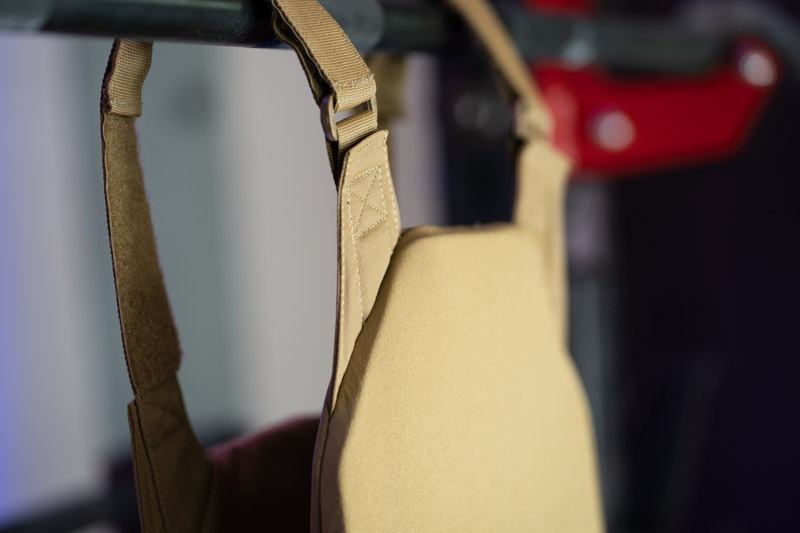 Rogue Fitness Plate Carrier Specs
| | |
| --- | --- |
| Weight Capacity | Holds up to two 20lb plates |
| Materials | 1000D and 500D Cordura |
| Sizes | S, M, L |
| Product Weight | 1.12lb (without weight plates) |
| Colors | Black, ranger green, coyote brown, gray |
| Made In USA | Yes |
| Warranty | 90 days |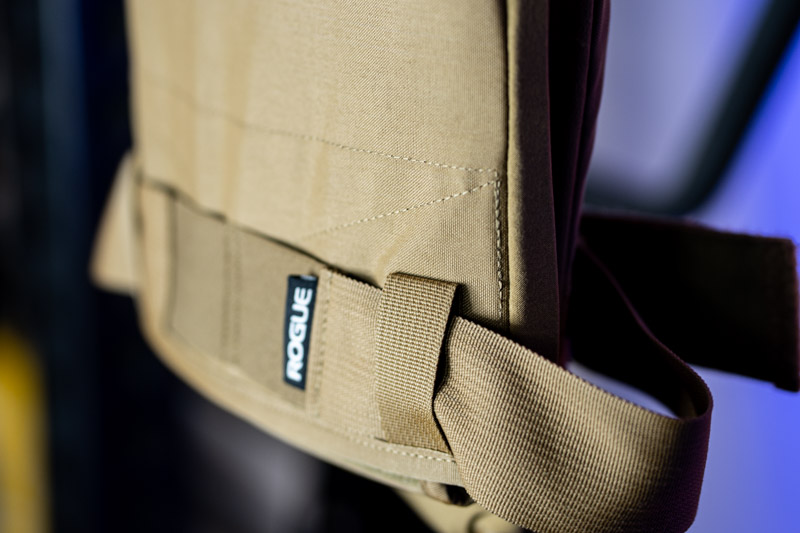 High Quality Construction
Right away, we have to point out that the Rogue Plate Carrier uses 500D/1000D Cordura fabric. If you don't know, Cordura is basically synonymous with durability. It has a high resistance to tears, and it's used in items like military jackets. There is also x-box (not the one you're thinking of) reinforced stitching. Over time, many weight vests and similar products will fade and lose their stiffness or edge. I don't think that will be the case with the Plate Carrier.
Sizing, Comfort, and Aesthetics
The Rogue Plate Carrier has three widely adjustable waist sizes: small, medium and large. To get the right size, measure 12 inches down from your sternal notch (that little dip between your clavicles). That's the point in your waist where you want to take a measuring tape around your torso:
Less than 34 inches: Size small
34-42 inches: Size medium
42-50 inches: Size large
There is some wiggle room thanks to the adjustability of the strap that fastens around your waist. This, alongside the minimized seams on the inside of the vest as well as extra foam padding/stretch woven fabric, make for a comfortable fit and reduced possibility for chafing.
When it comes to appearance, this is a simple, minimalist plate carrier. Honestly, it's kind of missing that "coolness" body armor-like factor you get with something like the 5.11 Tactec Plate Carrier. However, I personally like that the Rogue Plate Carrier doesn't have a ton of unnecessary features (which also helps to keep the price down).
And, it's not like we are totally devoid of aesthetics here. The Plate Carrier comes in four color options, including black, ranger green, coyote brown, and gray. It also features Velcro patches on the chest for personal customization of the base model's appearance.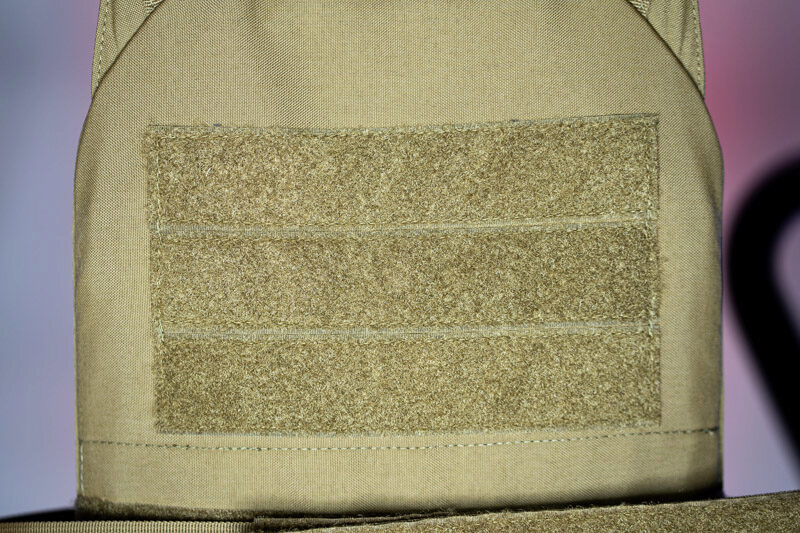 The Velcro
There's few issues I take with this vest, but one area that could be concerning is the Velcro. Sure, it's quite convenient, but Velcro has a nasty habit of wearing out over time. Other similarly priced vests on the market come with different securing mechanisms, such as buckles or elastic bands (which both have their own ups and downs).
I do think Velcro is the best choice that I've seen used thus far for vests. If you have ever owned a weightlifting belt or weightlifting shoes with Velcro, then you probably already know about the upkeep: Keep the Velcro fastened when you aren't using the vest, and try to keep lint and hair out of it as much as possible.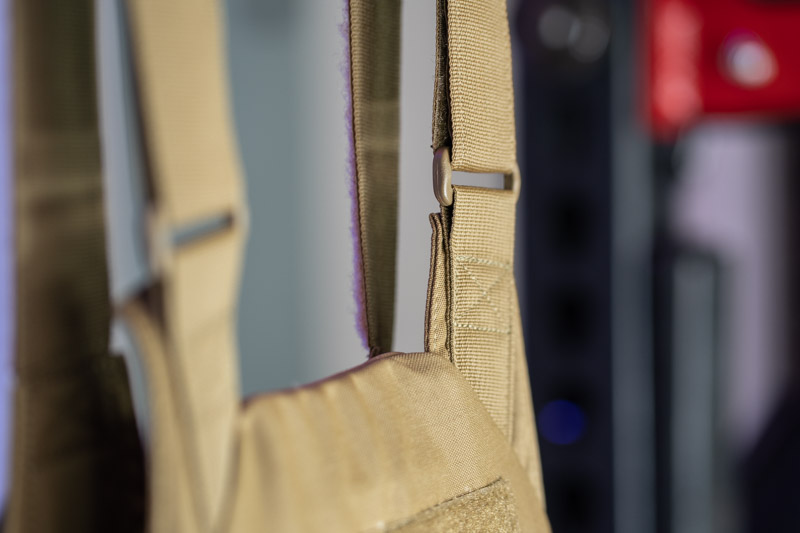 Shoulder Straps
One other small issue I take with the Plate Carrier are the shoulder straps. The straps are just that: straps. No padding. For a quick workout, that might be okay. But for a long, heavy ruck, or if you like to workout without a shirt (which I know some of you do), then you might start really feeling the burn. Since the release of our original review, Rogue now offers the option to purchase shoulder pads for less than $20 (thank you for listening!).
Using the Rogue Plate Carrier
After using this vest myself, I can say that it's comfortable. Of course, you're going to be able to tell that you're wearing a plate carrier (as the entire point is to add weight to your exercises), but the lack of chafing and additional padding on the underside of the plate holders creates the illusion of simply being a heavier person.
Whether I was doing a CrossFit WOD or going for a run, I didn't have to worry about any jostling or unevenness. I really like this vest for push-ups, pull-ups, sit-ups, and the like as there's very little play when strapped tightly to your body.
Loading the Plate Carrier
There are plate pockets on the front and back of the Rogue Plate Carrier, each measuring 10.25 inches (outside width) and 12.25 inches (outside height). You can use either Echo Cast Plates or USA Cast Plates with options that range from pairs of 5-pound weights to up to 20-pound weights in varying increments. Yes, you have to purchase these separately from the carrier, and that's going to increase the overall price. But, you also only pay for what you need, which could keep you from spending money on weights you won't ever use.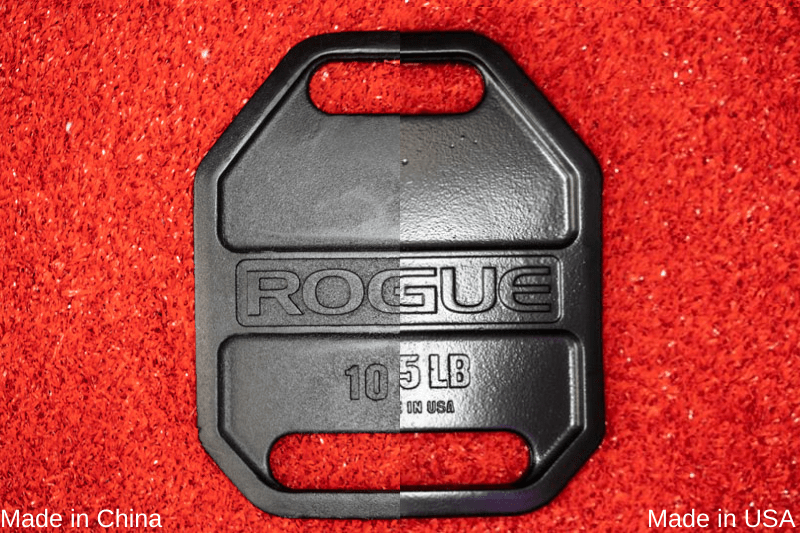 With a front and back pocket used for carrying said plates, and flaps used to fasten them in, the vest itself has tight plate security. I never felt like the plates were going to pop out or come loose.
Switching weights between sets is as simple as it sounds. Remove the vest, switch out the weights, secure them, and put the vest right back on. No endless amount of loops and straps to deal with, and no major adjustments aside from a quick tightening of the waist strap. I like this aspect a lot considering my desire for innovation without complication.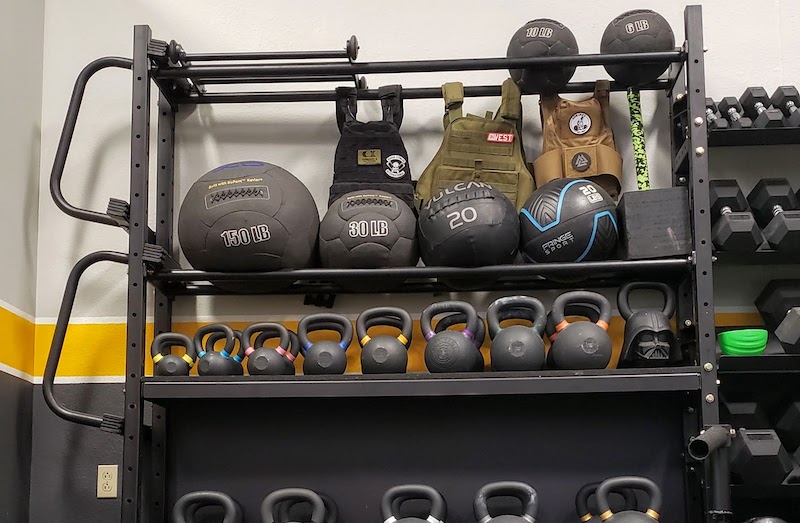 Rogue Plate Carrier vs. 5.11 Tactec Plate Carrier Vest
An aphorism credited to Leonardo da Vinci goes as follows, "Simplicity is the ultimate sophistication." The Rogue Plate Carrier captures the essence of that statement in its streamlined, zero-hassle design. What is the point of a workout, aside from the workout itself? What is the need for an infinite assortment of straps and loops and attachments when all you really need is some extra weight strapped to your body?
This is why we prefer the Rogue Plate Carrier to the 5.11 Tactec Plate Carrier Vest. Don't get me wrong; I still highly recommend the 5.11 tactical vest because 1. You look like a badass wearing it, and 2. It's extremely durable. It has a lot of bells and whistles: drag handle, laser-cut webbing, and airflow channels. And with that comes a higher price tag.
Although not as "tacti-cool" looking, the Rogue Plate Carrier gets the job done holding ballistic plates at a lower price and with a less bulky design.
| | | |
| --- | --- | --- |
| | Rogue Plate Carrier | 5.11 Tactec Plate Carrier |
| Price | Starts at $125 | Starts at $210 |
| Weights | Not included | Not included |
| Size Options | S, M, L | 10, 14, 20 or 30-pound vest |
| Materials | 500/1000D Cordura | 500D nylon |
| Colors | Black, ranger green, coyote brown, gray | Black, navy blue, terrain, camo, storm, kangaroo, and ranger green |
| Made in USA | Yes | No |
| Vest Weight | 1.12lbs | 2.5lbs |
Customer Experience
Rogue Fitness has earned its place at the top of the industry for a few reasons. The brand consistently puts out products of exceptional quality, and their customer service matches it. Returns are possible, but the plate carrier must be in new condition. Also, I have never had an issue with a return, refund or replacement with Rogue.
Customer Reviews
The Rogue Plate Carrier has a 4.8/5 stars on Rogue's website. People love the functionality and the comfort above all else (and I agree). And, as I found as well, the shoulder straps were the main source of complaints. Also, some people felt that the Velcro straps didn't keep the weight secured enough during explosive or total-body movements like burpees. I say, just don't do the burpees (kidding, burpees are good for you).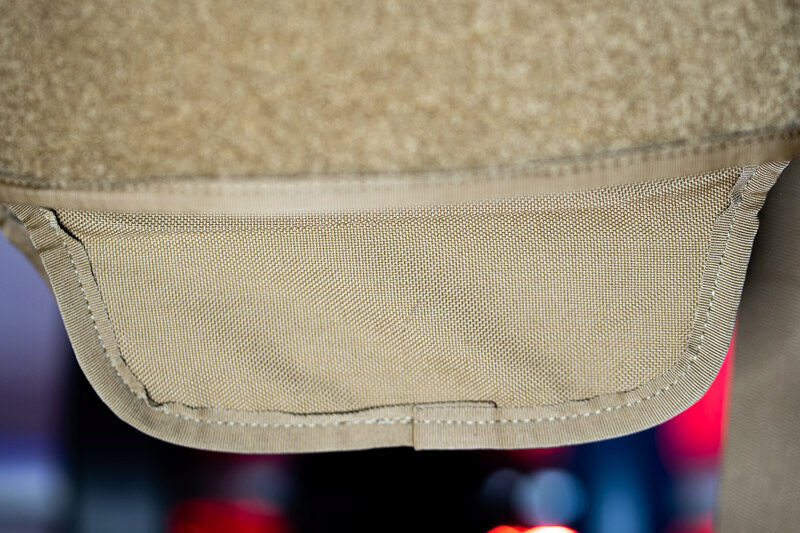 Final Verdict of Our Rogue Plate Carrier Review
At the end of the day, even with my small gripes, I still believe that the Rogue Plate Carrier is one of the absolute best weighted vests you can get for your money. It's a heavy-duty piece of gear that is great for just about anyone, from people who train recreationally in their home gyms to people who are training for a living.
Rogue Plate Carrier Rating
Rogue Plate Carrier
The Rogue Plate Carrieris a simple, yet well-thought-out weight vest designed to make bodyweight movements more difficult. The 5.11 Tactical Weight Vest is our previous favorite weight vest, however, Rogue's Plate Carrier strips unnecessary components from the competition to make one of the best weighted vests we've ever tested.
Product Brand: Rogue Fitness
Product Currency: USD
Product Price: 135
Product In-Stock: InStock
Rogue Plate Carrier FAQs
Are Rogue Plate Carriers bulletproof?
Please, as Rogue Fitness itself warns, do not use the Plate Carrier as a bulletproof vest. Yes, the Rogue Cast Weight Vest Plates are actually designed based on police and military body armor, but in no way should this indicate that you can wear this weight vest as a bulletproof vest. 
Are plate carriers good for working out?
Wearing a plate carrier or weighted vests during a workout can be a great way to easily add resistance to movements like pull-ups, push-ups and squats. Many people who train for the military, police, fire and other labor-intensive work benefit from the added weight the gear provides. While a plate carrier doesn't replace a barbell, it does have a spot in a home gym.
Is it bad to run with a plate carrier?
It can be absolutely beneficial to run with a plate carrier–if you're ready for it. If you haven't done much running, then jumping in on Day One with a weight vest could result in injury. As with any other workout regimen, start slowly. Build up some running endurance before you add weight. When in doubt, speak to a health professional about your plans.