We review free products that we receive and participate in affiliate programs, where we may be compensated for items purchased through links from our site.
See our disclosures page for more information.
The Rogue Plate Carrieris a simple, yet well-thought-out weight vest designed to make bodyweight movements more difficult. The 5.11 Tactical Weight Vest is our previous favorite weight vest, however, Rogue's Plate Carrier strips unnecessary components from the competition to make one of the best weighted vests we've ever tested.
Rogue Plate Carrier Review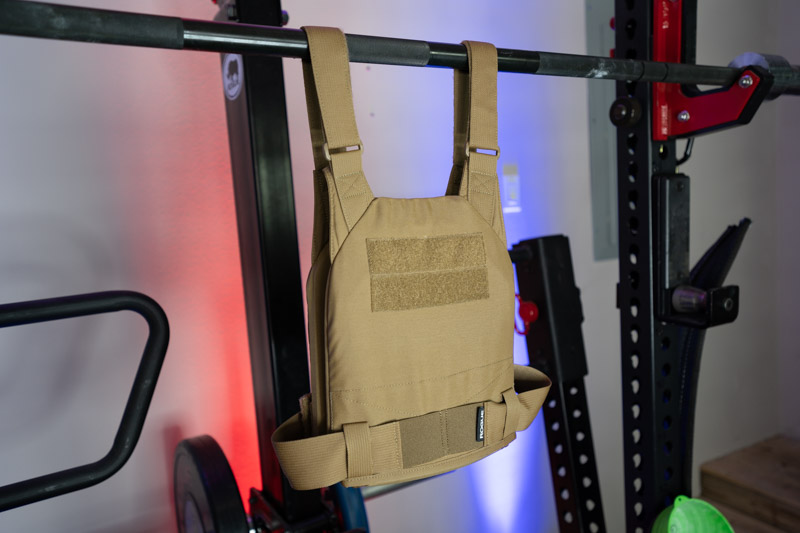 Rogue Plate Carrier
The Rogue Plate Carrier is an American-made, heavy duty weight vest optimized for use with our contoured USA Cast Plates and Echo Cast Plates (up to 20 LBS). This simple but robust design was co-developed with Dave Castro, and features a 1000D and 500D Cordura® construction with USA Velcro® straps/fasteners and X-box reinforced stitching. By delivering functional precision and a stabilized fit without the added bulk of unnecessary bells and whistles, the Rogue Plate Carrier offers high-performance athletes a uniquely streamlined, no-nonsense take on the modern tac-style training vest. We're currently offering the Rogue Plate Carrier in three adjustable sizes and four different colorway options: Black, Ranger Green, Coyote Brown, and Gray. The plate pockets on all versions measure 10.25" (outside width) x 12.25" (outside height), and include a 1000D Cordura® lining. Extra foam padding, stretch woven fabric, and minimized seams on the inside of the vest help prevent chafing and discomfort while on the move, and a short section of elastic at the back of the waist strap makes it easy to facilitate a consistent, snug fit. Specifications: Made In USA Patent Pending Design - Co-Developed with Dave Castro Material Type 1000D & 500D Cordura Weight (Unloaded): 1.12 LB (Medium Size) Size Options: Small, Medium, Large Plate Pocket Width: 10.25" (outside width) Height Plate Pocket: 12.25" (outside height) Compatible with Rogue USA Cast Vest Plates and Rogue Echo Vest Plates Color Options: Black / Ranger Green / Coyote Brown / Gray Care Instructions: Hand Wash, Line Dry USA Velcro fasteners and front/back loops for patches
Bringing the concept of a weight vest down to its brass tacks has led Rogue Fitness to the release of their new Plate Carrier. Co-Developed with The Director of the CrossFit Games Dave Castro, this Cordura fabric constructed vest features three adjustable sizes, four color options, and five proprietary plate choices. Stripping down the bells and whistles from other weight vests, Rogue has succeeded in making a cheaper, sleeker option for those interested in adding a kick to their bodyweight exercises. This is the best fitting, most natural-feeling weight vest that uses.
What is the Rogue Fitness Plate Carrier?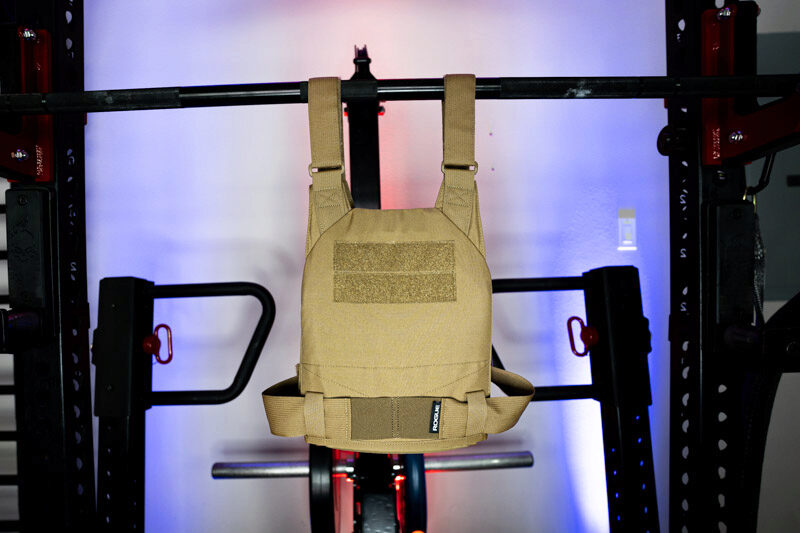 The Rogue Plate Carrier is an American-made, heavy-duty weight vest that has been designed for use with Rogue's own contoured Echo Cast Plates and USA Cast Plates. Varying from 5.75lb to 20lb between the two given options, this vest is made for extenuating your bodyweight exercises without disrupting your workout flow.
This no-nonsense take on the modern training vest is constructed with 500D and 1000D Cordura fabric, USA velcro straps/fasteners, and x-box (not the one you're thinking of) reinforced stitching. With a front and back pocket used for carrying said plates, and flaps used to fasten them in, the vest itself boasts tight plate security and comfortable allowance for movement. Four color options, including Black, Ranger Green, Coyote Brown, and Gray, as well as velcro patches on the chest allow for personal customization of the base model's appearance.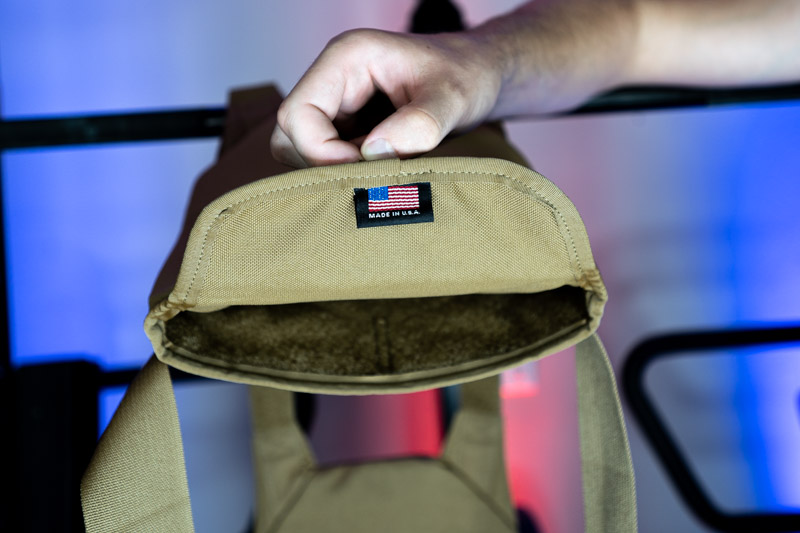 The Rogue Plate Carrier also comes with widely adjustable waist sizes ranging from less than 34" to a maximum of 50". This adjustability alongside the minimized seams on the inside of the vest, and extra foam padding/stretch woven fabric make for a comfortable fit and reduced possibility for chafing.
Other dimensions include a plate pocket width and height of 10.25" x 12.25" and an unloaded (meaning no plates in the vest) weight of 1.12 LB. Alongside the velcro patches on the front, there are front and back loops meant for patches, which may be sought for $5 with the purchase of the Rogue Plate Carrier itself.
What We Like About the Rogue Plate Carrier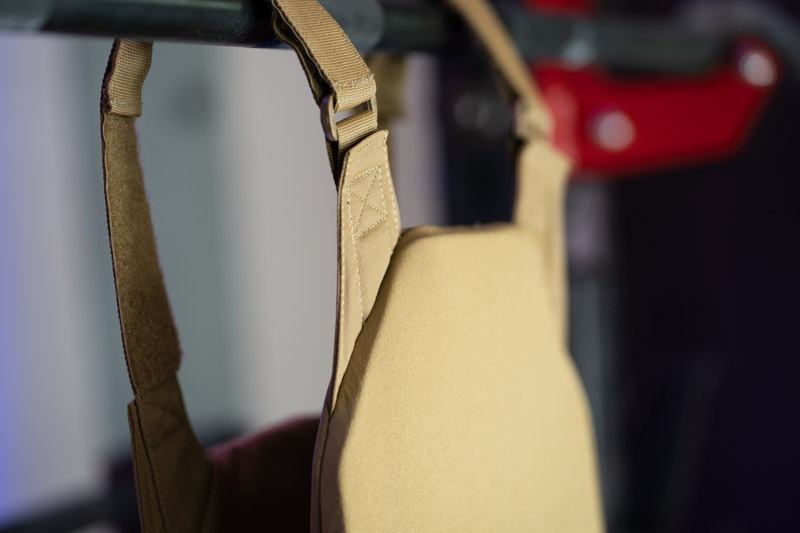 Alongside the stretch woven fabric, padding applied to the right places on this vest serve to facilitate a lasting comfort for the duration of any bodyweight, or heavyweight exercise. This vest provides a free-feeling fit without neglecting the importance of tight security, keeping plates close to the body. One can easily put this vest on, or take it off to make weight adjustments, and get right back to their exercise.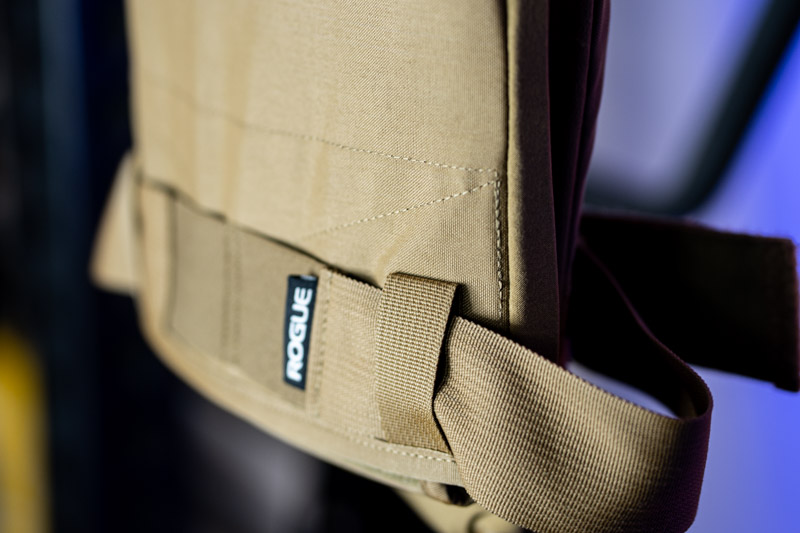 Durability
Over time many weight vests and similar products will fade, and lose their stiffness or edge. Being that this vest is made using 500D/1000D Cordura fabric (medium and heavyweight nylons sporting polyurethane and urethane coatings), tear strength and abrasion resistance should help trainees feel at ease knowing this USA-manufactured accessory should stand the test of time and use. Alongside toughness is resistance to rot or mildew, especially when washed and allowed to hang dry.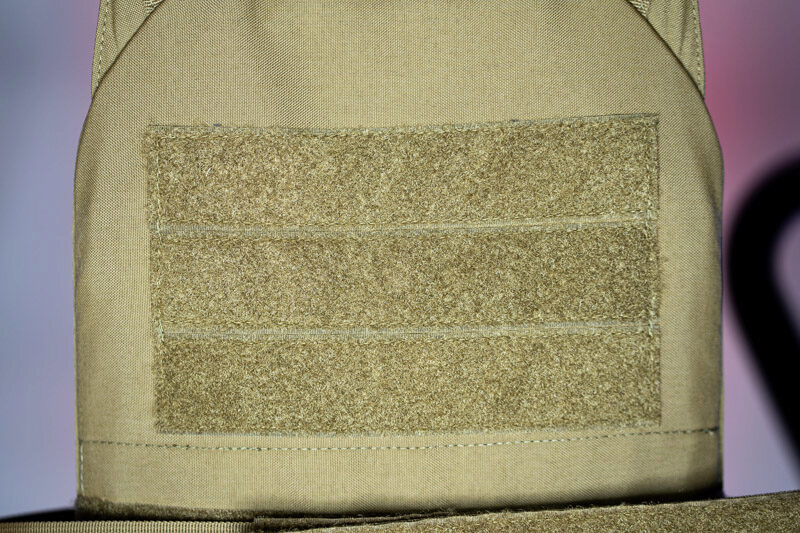 Comfortable Fit:
After using this vest myself, I can say that the comfortable fit it provides is no joke. Of course, this thing is noticeable (as the entire point is to add weight to your exercises), but the lack of chafing and additional padding on the underside of the plate holders creates the illusion of simply being a heavier person. Workouts requiring movement and endurance, like many of those included in CrossFit, benefit greatly from a vest of this type as you don't have to worry about the jostling and unevenness of something like ankle or wrist straps provide. Even something as simple as a pre-workout jog reaps benefit from this sort of accessory, regardless of one's home gym focus.
For those training for the Military, this vest is great for pushups, pullups, situps, and the like as there's very little play when strapped tightly to your body.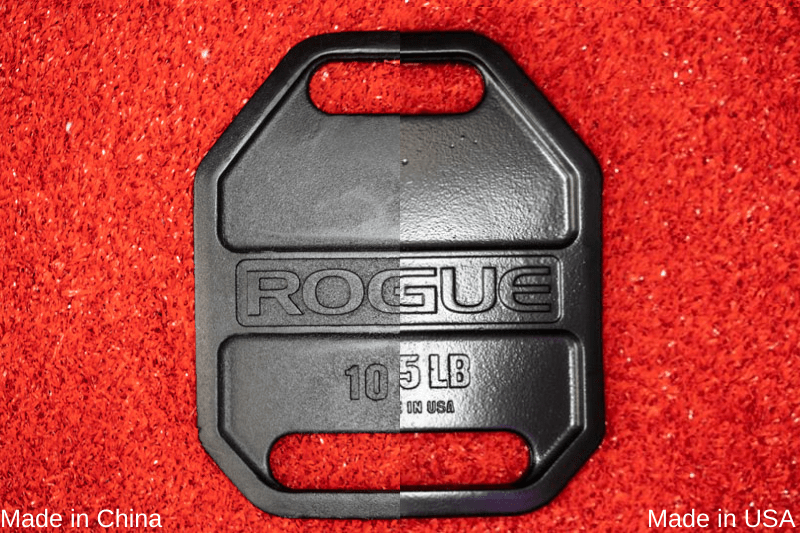 Ease of Use
With a various assortment of weights available for this vest, one would likely buy two pairs relative to their weight preference. With a maximum weight of 20 LB (40 LB total when paired together on the vest) and a minimum weight of 5.75 LB, there is a good selection to choose from.
Switching weights between sets, or work-outs, is as simple as it sounds. Remove the vest, switch out the weights, secure them, and put the vest right back on. No endless amount of loops and straps to deal with, and no necessity of adjustment aside from a quick tightening of the waist strap. I like this aspect a lot considering my desire for innovation without complication.
What We Don't Like About the Rogue Plate Carrier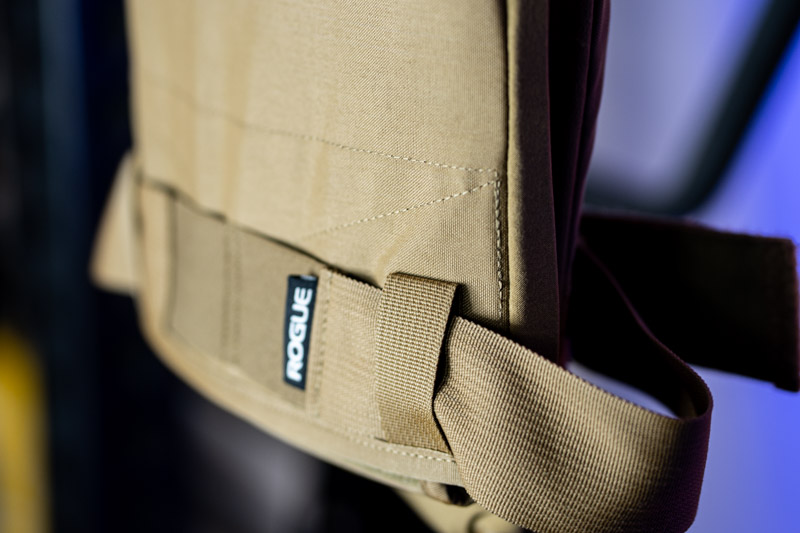 The Rogue Plate Carrier is certainly not a product to be held to perfection. While I only have a few critiques of this weight vest from Rogue Fitness, they are certainly points to take into consideration before making the in*vest*ment (see what I did there?).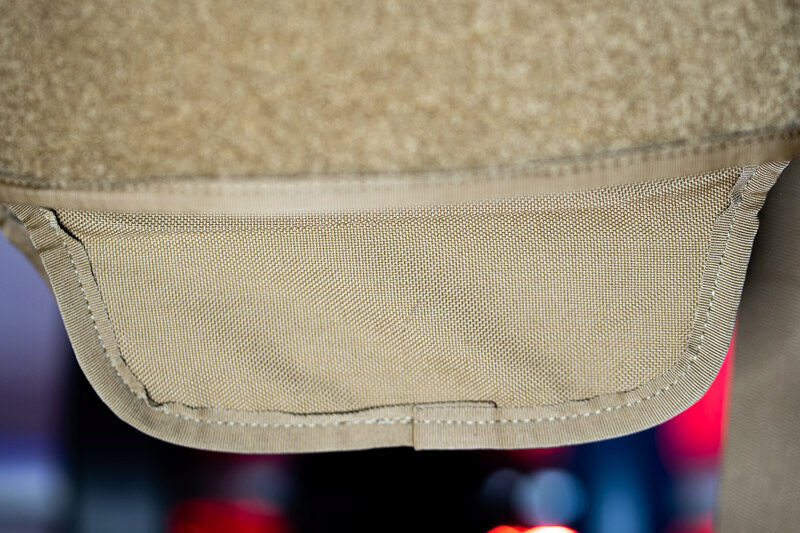 Velcro
As with most aspects of life, the ease-of-use this vest provides comes as a double-edged sword. Sure the velcro straps make my convenience sense tingle, but they also make for a tad bit of concern in the realm of durability. While the rest of this plate carrier requires little worry in terms of lasting use, the Velcro straps hinge on the side of wear and tear. No matter how excellent the craftsmanship may be behind such an addition, Velcro has a nasty habit of wearing out over time. It's just going to happen, no if's, and's or but's about it. Sure, it will most likely stick for years to come, but will that stick truly *stick*? For how much mobility this vest provides, the Velcro will have to co-operate as well.
Seeing as other similarly priced vests on the market come with different securing mechanisms, such as buckles or elastic bands (which may also lose their elasticity over time), this is definitely something the buyer needs to take into account. Durability is certainly an aspect that this vest sports (as does anything with this thick of fabric. It reminds me of a GoRuck Backpack to be honest,) but that may be lacking in this one department. I do think Velcro is the best choice that I've seen used thus far for vests, it's certainly not perfect.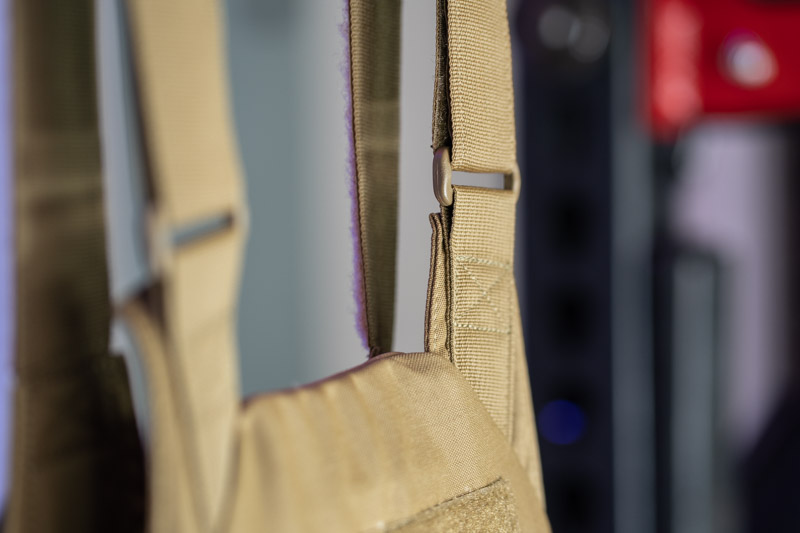 Shoulder Straps
The padding on this vest, while seemingly immaculate, is lacking in one rather important aspect. Understandably, the shoulder straps on this plate carrier match the rest of the product in their leanness, but this is where my problem lies. One of the reasons someone may want this vest is for ruck marches (basically, long walks to train for hiking, backpacking or other weighted treks), and the lack of padding on the shoulder straps would very likely make for an unnecessarily uncomfortable experience.
My suggestion for Rogue is the option of removable shoulder strap pads for such occasions. The usual bodyweight exercise does not necessarily require such extra padding, but if you plan to use this for much running, even something like Murph, it would definitely help the vest feel a bit more comfortable on your bodies yoke.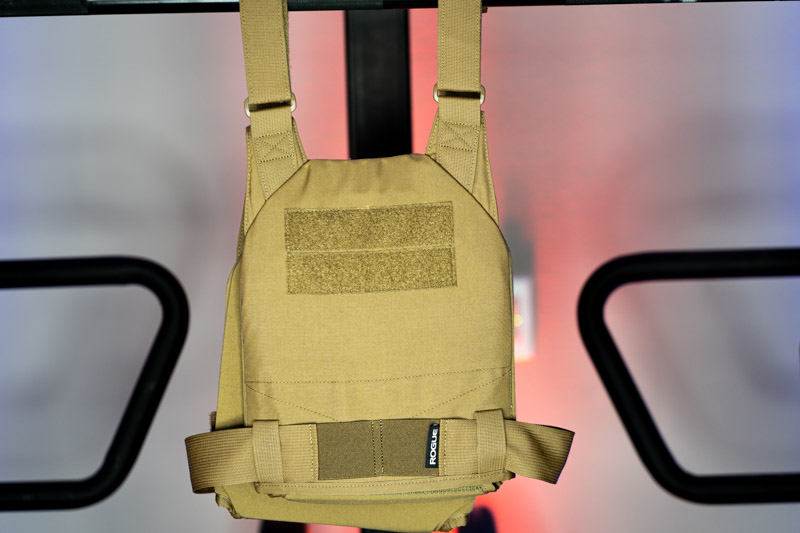 Aesthetics
As any home gym owner knows, the design is an important part of one's surroundings. Sure I love the minimalist look and feel of this vest, but it is missing that certain something that a lot of vests of the same ilk certainly have, which is the "coolness" factor. I prefer function over form in training equipment, so I prefer the design of Rogue's Plate Carrier over something like the5.11 Tactical Weight Vestthat has a lot of extra and unnecessary features. If you want to make it look "cooler" you can simply add patches to the velcro on the chest of the vest.
Rogue Plate Carrier vs. 5.11 Tactical Weight Vest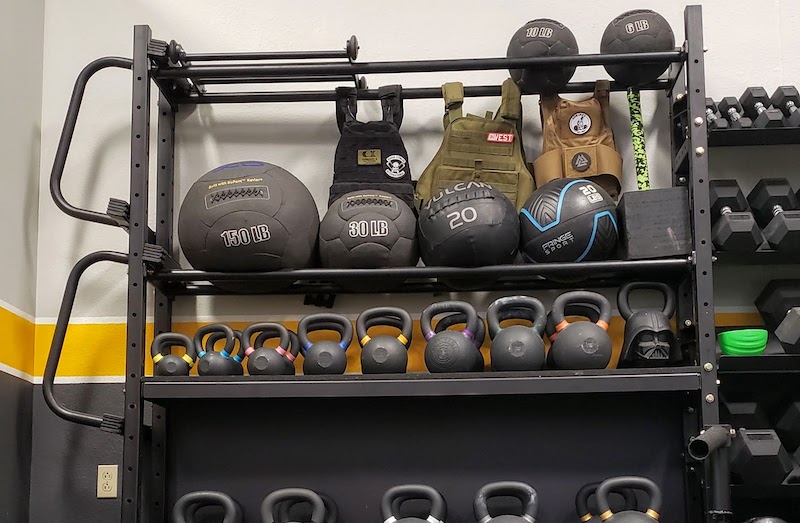 Rogue Plate Carrier vs. 5.11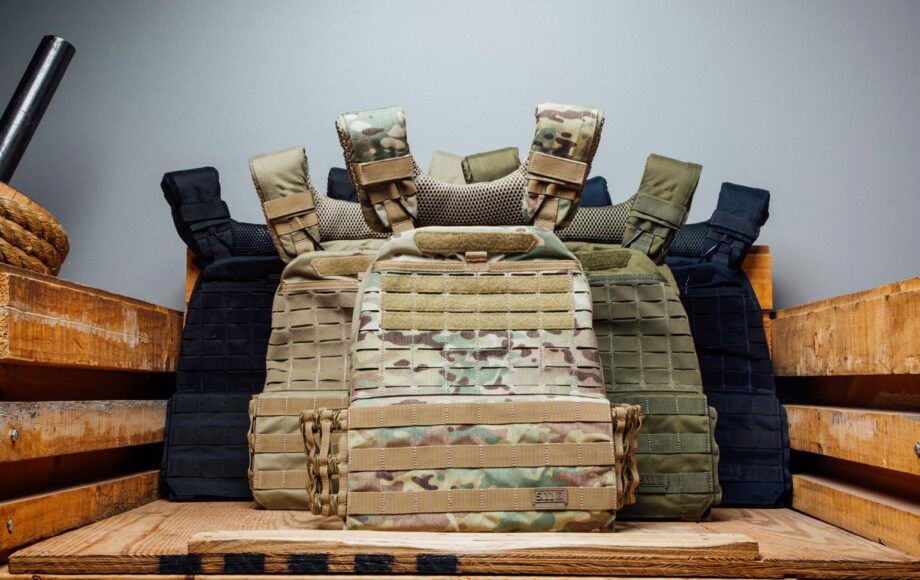 5.11 TacTec Plate Carrier
Made from an ultra-durable, water-resistant 500D nylon, the 5.11 TacTecâ"¢ Plate Carrier Vest is uniquely designed to give the wearer an increased range of motion with a lightweight feel and optimal breathability. Unlike some comparable weighted vests or flak jackets in the industry, the 5.11 Tactical Weight Vest can hold medium and large ballistic plates–front and back–without the restrictive bulkiness. Yoke shoulder pads reduce friction, adjustable tensional bands improve stability, and innovative air flow channels and aerospace mesh ensure sustained comfort. The 5.11 TacTec Plate Carrier Vest weighs 2.5LB on its own, and can be ordered as part of a package with a set of compatible plates–including your choice of the original Rogue Vest Plates or our new USA Cast Weight Vest Plates (you can compare options below). All weight vests come with durable Duraflex® hardware, a laser-cut micro-loop web platform, and an extended drag handle and quick release system. An athlete doesn't need to sacrifice comfort or mobility to get all the benefits of a top-tier weighted vest. 5.11 Tactical has created a uniquely lightweight and body-contoured plate carrier, weighing just 2.5LB unloaded, and capable of holding both medium and large ballistic plates, front and back. The carrier is made from durable 500D nylon, and features yoke shoulder pads to reduce friction, adjustable tensional bands for stability, and innovative air flow channels for sustained comfort.
An aphorism credited to Leonardo da Vinci goes as follows, "Simplicity is the ultimate sophistication." The essence of this phrase is captured by the Rogue Plate Carrier in it's streamlined, zero hassle design. What is the point of a work-out aside from the work-out itself? What is the need for an infinite assortment of straps and loops and attachments when all you really need is some extra weight strapped to your body?
This is why we prefer the Rogue Plate Carrier to the 5.11 Tactec Plate Carrier Vest, which reflects the straps of a Jansport backpack, as well as an assortment of unnecessary features we could simply just go without. Although not as "tacticool" looking, the Rogue Plate Carrier gets the job done at a lower price and with a less bulky design.
Full Rating