We test and review fitness products based on an independent, multi-point methodology. If you use our links to purchase something, we may earn a commission. Read our disclosures.
NordicTrack machines are built for the long haul, but just like any other exercise equipment, they're not immune to the occasional glitch. If your treadmill is acting up, several reasons could be to blame, as all the best treadmills have many moving parts essential to their function.
Issues may arise from the console, walking belt, incline calibration, speed settings, and even the workout app if your machine has one. Thankfully, many of these potentially common problems can be fixed at home with simple NordicTrack treadmill troubleshooting steps.
Although the steps may vary depending on your treadmill model, the troubleshooting process is somewhat consistent across NordicTrack treadmills. So, if you need to troubleshoot NordicTrack treadmills, grab your owner's manuals, and we'll figure this thing out together.
Common Problems
Before doctoring up your treadmill, you'll need to first diagnose the issue. If you're anything like me, make sure you're not overlooking something simple, like a tripped circuit breaker or a missing safety key. Been there, panicked for no reason. Whoops!
Some common problems for NordicTrack commercial treadmills include:
Console Not Working
If your treadmill or incline trainer's console is giving you fits, it might be a result of pinched or disconnected wires, especially if the machine has been moved recently. To solve a console issue, ensure the safety key is in place and the power cord is plugged into a grounded outlet. In addition, if your home recently experienced a power surge, you may need to check the circuit breaker or hit the reset button on your GFCI electrical outlet.
You can also double-check that the power switch is on and that the treadmill is assembled correctly. When we move our fitness equipment, things can get knocked around and need readjusting.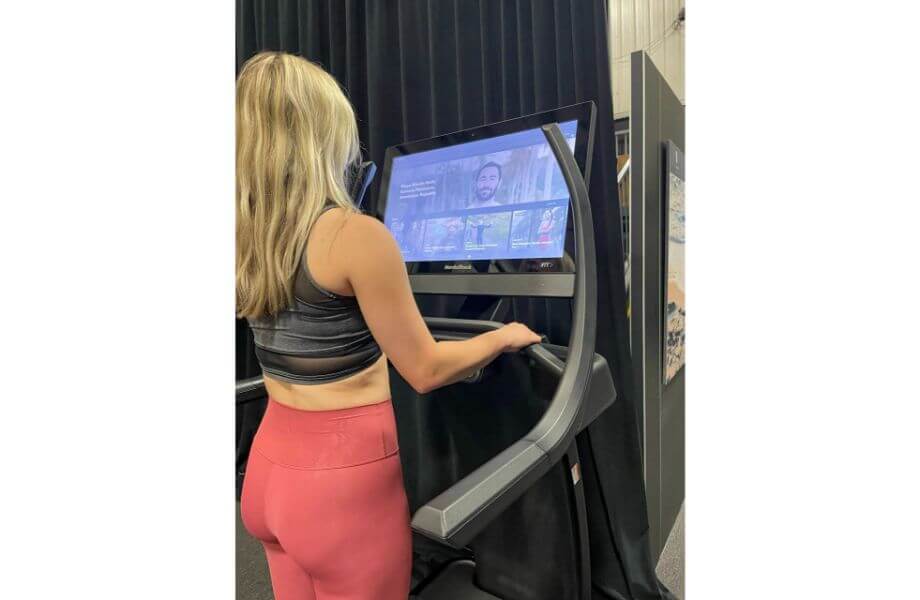 If the "easy fixes" don't seem to work, check that none of the wires are pinched, disconnected, or damaged. Always, always, always ensure that the treadmill is turned off and the power cord is unplugged, and then check each wire one by one. Firmly press the connectors together and gently press the individual wires into their connectors to ensure they're completely seated. Then, of course, replace worn parts right away.
Console Reading All Zeros
Occasionally, customers have experienced a console that reads all zeros or controls that don't work. You may need to adjust the reed switch if this happens to you.
To do so, you'll need to turn off the treadmill and remove its hood with a Phillips-head screwdriver. The reed switch is typically located on the left side of the pulley or belt control.
Rotate the pulley until a magnet appears next to the reed switch. Loosen the screw without removing it, and make sure the gap between the switch and the magnet measures 1/8 inch. Then, replace the screw and reassemble the hood.
Incline Not Working
There's nothing more frustrating than hopping on your NordicTrack treadmill to do a hill workout and finding that the incline isn't working. But it happens. If your treadmill's incline is acting up, try turning off the machine and unplugging it completely. Then, wait a few minutes before plugging it back in and turning it on again. Test the incline, and if it works, get your sweat on!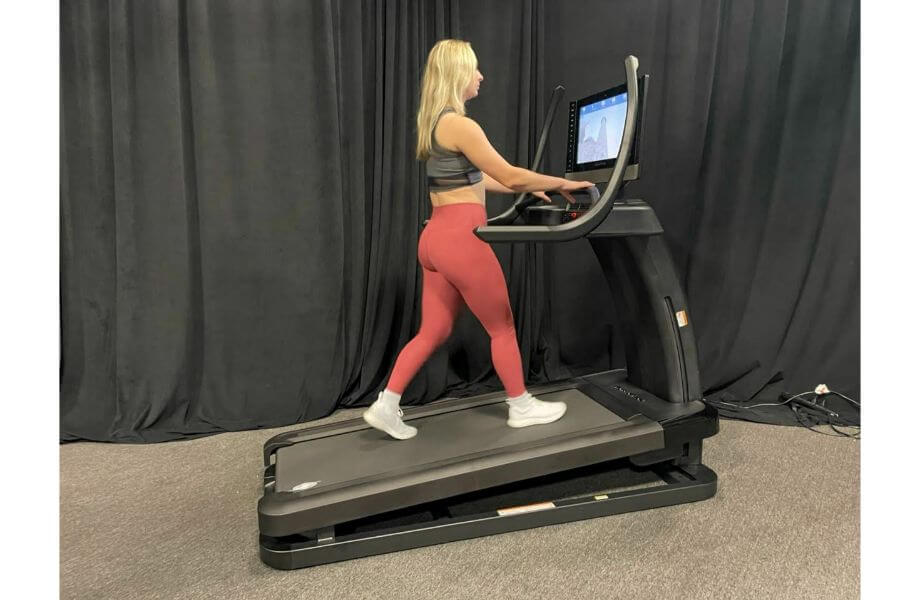 However, if your NordicTrack treadmill's incline still isn't working, it may be time to recalibrate the machine. Calibrating your machine allows it to check and reset the incline function's upper and lower limits.
During calibration, your treadmill will move from one extreme incline to the other and finish at the neutral starting position. Don't stand on the exercise equipment during calibration, and keep curious children and pets away until it is finished. In an emergency, pull the safety key from the treadmill console or unplug the power cord.
Calibration methods will vary depending on your machine's age and model, but your user's manual should walk you through them step by step. If your machine has a touchscreen, search for "calibrate incline" under the maintenance tab. The treadmill should automatically transition to the highest incline and then to the lowest, essentially resetting its incline.
iFIT Not Working
Issues with the treadmill's workout app can leave subscribers feeling frustrated. If the iFIT app on your NordicTrack console isn't working, try resetting your router to ensure your WiFi is working as it should.
Resetting the WiFi didn't work? Now it's time to check for any software updates. For the console to work seamlessly with the iFIT app, subscribers must keep the software up to date. A helpful note: If your NordicTrack treadmill requires a firmware tune-up, do not turn off the machine as it's downloading the update.
If resetting the router and updating the software don't do the trick, the next best step might be a factory reset.
Belt Malfunctioning
If your NordicTrack treadmill belt is malfunctioning, it may need some mechanical help. The treadmill may not function properly if the running belt is too loose or tight. You can try a quick belt adjustment to ease the stress on other parts of the treadmill.
The running belt may also slip or malfunction if it needs lubrication. Most treadmill companies will recommend lubrication as part of the machine's regular maintenance, so check the owner's manual for recommended lubricants.
Inconsistent Speed
If your treadmill isn't responding to your speed requests, or its speed is all over the place, it may be a wiring issue. The speed sensor may not be communicating with the motor control board.
However, if it's a calibration issue, you may need to recalibrate your machine's speed manually. To do so, press the stop button and the increase speed button at the same time. Once the calibration mode is initiated, let go of the buttons and insert the safety key.
Now you can adjust the speed. Increase the speed to the upper limit, remove the safety key from the console, and unplug the machine. Let the machine rest for a few minutes before plugging it back in. It's important to note that no one should stand on the treadmill belt while recalibrating the speed.
Speed still not working? The problem may be under the motor hood, which might require a call to customer support.
How to Reset Your NordicTrack Treadmill
If your troubleshooting needs call for a factory reset, you may need a second set of hands, so grab a friend or workout buddy.
First, you'll need to find the treadmill's power source and turn it off.
Next, find the pinhole on the treadmill console. The pinhole is usually found on the side or the back of your console, but if you have difficulty finding it, check your owner's manual.
Once you've found it, insert a paperclip into the hole and hold it there while your partner in crime flips the power back on.
You can remove the paper clip as soon as the console's screen lights up. After that, you should see the iFIT logo on your touchscreen and something like "system recovery: please wait." It may take over 30 minutes to complete the onboarding process.
Then, if the factory reset was successful, you'll be prompted to reconnect your WiFi and re-enter your personal information.
Then last but not least, your Nordictrack treadmill will automatically update to the latest software.
Of note: Factory resets are only compatible with the latest firmware, specifically firmware versions 7.1 or higher. If your treadmill model has a USB or HDMI port, a factory reset will not work.
How to Troubleshoot NordicTrack Treadmills: Final Thoughts
Technology advancements have opened up a whole new world for runners, allowing us to do all kinds of workouts right from the convenience of our homes. Between treadmills, ellipticals, and other pieces of cardio exercise equipment, we can train rain or shine.
But with these technological advances come potential treadmill problems that may require some troubleshooting help. Common problems with treadmills may involve their incline motors, walking belts, console displays, and motor control boards. Thankfully, it's possible to fix many of these issues at home.
Of course, taking care of your treadmill and proactively protecting it from typical issues that may arise with age and use is beneficial. Keep your treadmill in good shape by practicing regular maintenance and plugging it into a surge suppressor.
Your treadmill model will determine the steps needed for troubleshooting issues.
Don't throw away the machine's user manual! You may need it for troubleshooting one day.
Always turn off the treadmill's power before adjusting the wires.
Many issues can be fixed by simply unplugging the power cord from the electrical outlet and letting the machine sit for a few minutes before plugging it back in.
A factory reset only involves a couple of steps, but you'll need a paperclip and a second set of hands.
How to Troubleshoot NordicTrack Treadmill: Q&A
Why is my NordicTrack treadmill not working?
NordicTrack treadmills, while known for their excellent quality, are not immune to the occasional glitch. If your treadmill isn't working, it could be an issue with its power cord, calibration, walking belt, or even the treadmill motor, among other things.
How do I reset my NordicTrack treadmill to work?
Grab a friend and a paper clip to complete a DIY factory reset. First, turn the power off at the power switch and insert the paperclip into the pinhole on the side or back of your console. You should see something like "system recovery: please wait" appear on the treadmill's touchscreen. Once the reset is complete, you'll be prompted to reconnect your WiFi and re-enter your account information.
Where is the reset button on a NordicTrack machine?
The reset button on a NordicTrack treadmill is actually a tiny pinhole on the side or back of the machine's console. However, most NordicTrack models require two steps to complete a factory reset.
Can a NordicTrack treadmill be fixed?
Many common problems for NordicTrack treadmills can be easily fixed at home through simple troubleshooting steps. However, if you cannot fix a problem on your own, you can rely on the NordicTrack warranty for added support.