We test and review fitness products based on an independent, multi-point methodology. If you use our links to purchase something, we may earn a commission. Read our disclosures.
ProForm and NordicTrack are sister brands, owned by ICON Health and Fitness, aka iFIT. Both brands manufacture some of the most popular at-home cardio machines including treadmills, rowers, exercise bikes, and, of course, ellipticals.
When we compare a ProForm vs NordicTrack elliptical , we see a lot of similarities in design, construction, and conveniences. However, ProForm is a brand that is geared toward more budget-conscious shoppers while NordicTrack features higher-end machines—with extra features and bigger price tags, too.
ProForm vs NordicTrack Elliptical Comparison Chart
| | | |
| --- | --- | --- |
| | ProForm | NordicTrack |
| Price range | $599-$1,799 | $1,299-$2,299 |
| Elliptical models | 5 | 4 |
| Weight capacity range | 250-325 lbs | 350-375 lbs |
| Programming | iFIT | iFIT |
| Automatic trainer control | Yes | Yes |
| Stride lengths | 15"-19" | 17.5"-32" |
| Warranty | 5-10 years on frame, 1-2 years on parts, 1-year labor | 10-year frame, 2-year parts, 1-year labor |
Quick Look: ProForm vs NordicTrack Elliptical
The positive part about comparing these two bands is that you'll have peace of mind with 10-year frame warranties on nearly all elliptical machines (with the exception of the ProForm Hybrid Trainer XT).
With either company you choose you'll have unmatched lower body workouts with iFIT programming, which is one of the best personal training apps available. You'll also have the chance to experiment with other cardio workouts (like running, walking, rowing, and biking) in addition to strength-training sessions.
Who Should Buy ProForm Ellipticals
Anyone looking for a mid-tier cross-trainer
Folks looking for budget-conscious cardio machines
People who want to have trainer-led elliptical workouts with iFIT
Individuals who want the choice between vertical and horizontal stepping patterns
Folks shopping for front- or rear-drive ellipticals
Who Should Buy NordicTrack Ellipticals
Folks looking for high-end elliptical trainer machines for home use
Anyone interested in cardio machines that offer multiple stepping patterns
People shopping for center and front-drive flywheels
People with budgets over $1,000 for an elliptical machine
Key Similarities Between ProForm and NordicTrack
iFIT programming is the same for both brands
iFIT memberships cost the same for ProForm and NordicTrack
Both brands only offer one or two models with cushioned pedals
Financing is available through both brands' websites
More than just elliptical workout programs are included
Important Differences Between NordicTrack and ProForm
ProForm offers two models that feature vertical, stair stepper patterns
NordicTrack has two models that feature multi-directional pedaling
ProForm offers one model that functions as both a recumbent exercise bike and an elliptical
Ellipticals Offered by NordicTrack and ProForm
Technically both brands offer four elliptical models each. However, ProFrom also has a fifth option which is not a traditional elliptical but a hybrid between a cross-trainer and a recumbent bike, called the Hybrid Trainer XT. If you're curious about this unique piece of fitness equipment, you can read all about our hands-on experience in our Hybrid Trainer Elliptical review.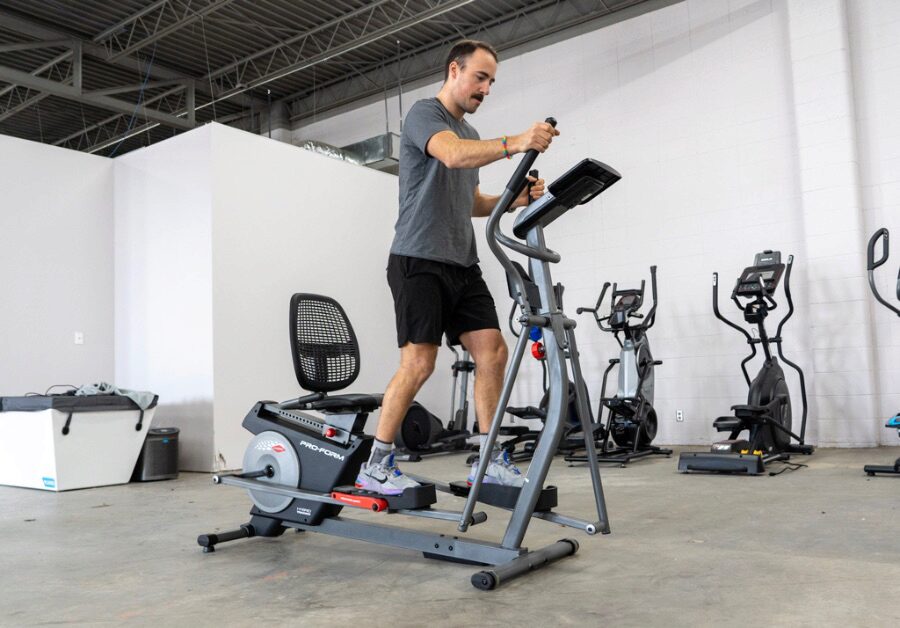 ProForm offers the HIIT Trainer Series, featuring two machines with vertical elliptical paths that mimic stair-stepping (like the Bowflex Max M6) and the Carbon Series which is made up of two front-drive elliptical machines.
The NordicTrack elliptical lineup consists of two series: FreeStride Trainer Ellipticals and Front Drive Ellipticals. Although the NordicTrack doesn't offer a hybrid elliptical-bike combination, the FreeStride machines are designed to have three options to manipulate your stepping pattern to mimic running, stepping, or the traditional elliptical pattern. Our product testers like the FS10i and FS14i machines but thought they are priced a little high for what you get, but you can read all about it in our in-depth reviews on both.
NordicTrack Commercial 14.9 vs ProForm Carbon EL
The NordicTrack Commercial 14.9 is our team's top pick for the best elliptical for home gyms. Although this isn't NordicTrack's most expensive machine, it's well-liked by customers for the solid specs, cushioned pedals, dual handlebars, and iFIT interactive programming options.
ProForm's most comparable machine to the top-rated Commercial 14.9 is the Carbon EL. This is not ProForm's most high-end option, either. It offers an affordable at-home, low-impact training option at a reasonable price point under $1,000.
The lower price point reflects the fact the Carbon EL doesn't have a built-in touchscreen. That means you'll have to use your own device to connect to iFIT, but the Bluetooth capabilities still allow you to take advantage of automatic trainer control, where your resistance levels change based on coaching cues.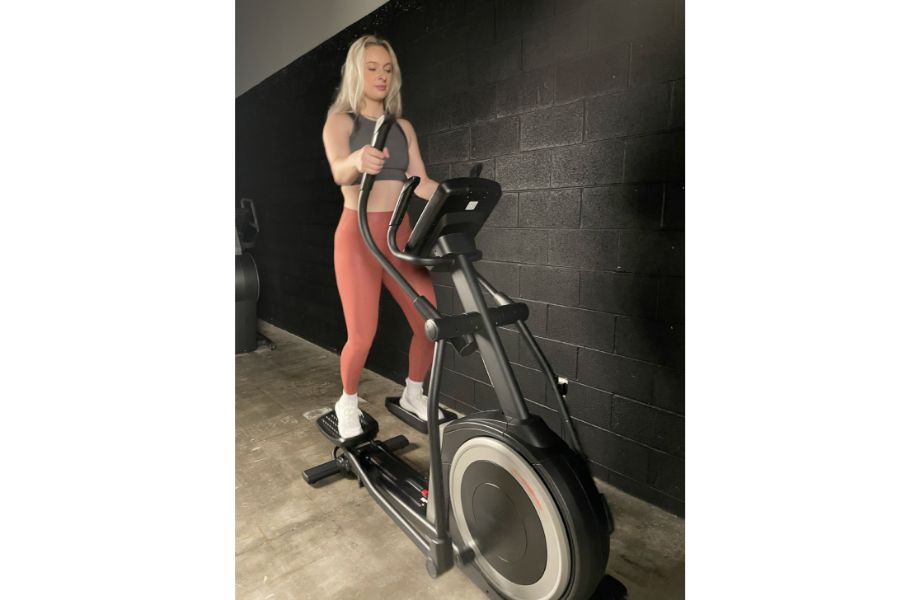 Both machines are front-drive machines with similar footprints and feature silent magnetic resistance. They also have Bluetooth capabilities, however neither have the ability to connect with a heart rate monitoring device (or have pulse sensors built in).
Here is a closer look at how the specs compare:
Comparison Chart For NordicTrack 14.9 vs ProForm Carbon EL
| | | |
| --- | --- | --- |
| | NordicTrack Commercial 14.9 | ProForm Carbon EL |
| Price | $1,799 | $799 |
| Footprint | 67" L x 29" W x 69" H | 68.5" L x 25" W x 67.75" H |
| Weight capacity | 350 lbs | 275 lbs |
| Display | 14" smart HD touchscreen | 5" multi-color display |
| Resistance levels | 22 | 18 |
| Flywheel | 32 lbs | 15 lbs |
| Stride length | 17.5"-18.7" auto-adjustable | 19" power adjustable stride |
| Incline | 20% | No |
NordicTrack Commercial 14.9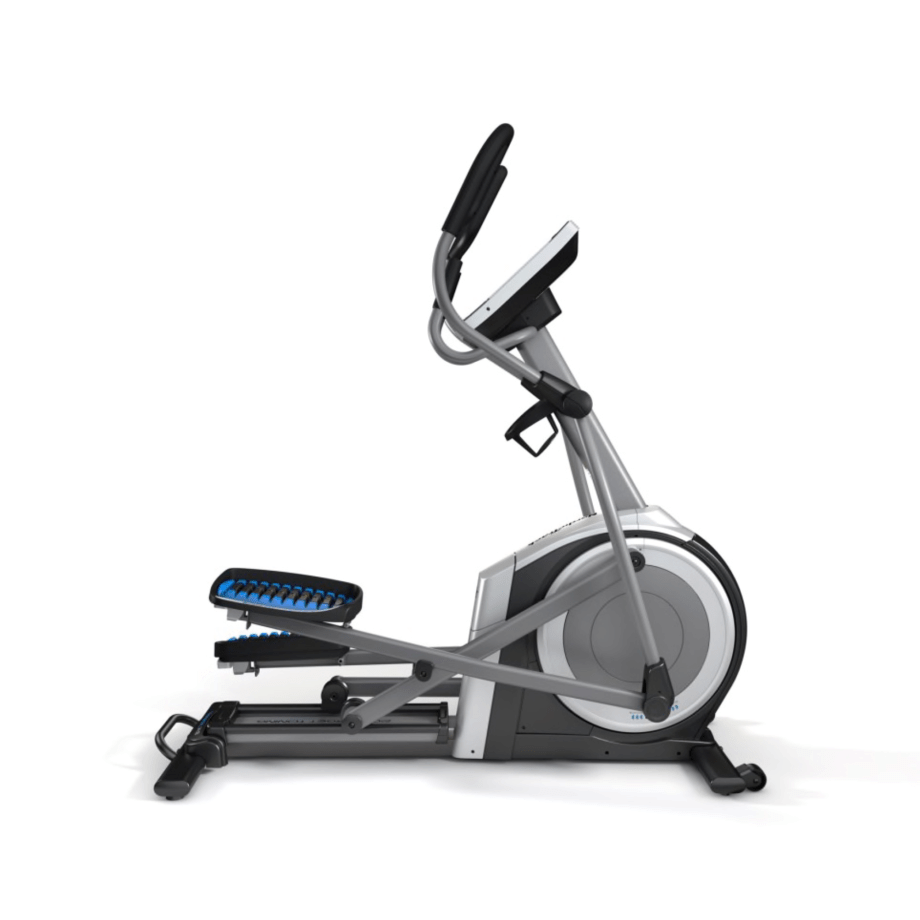 GGR Score: 4.3
Product Highlights
Incline training from 0 to 20%
26 digital resistance levels
32-lb flywheel
Cushioned pedals
Customizable stride length
iFIT-enabled with 30-day free family membership
Integrated with Google Maps
Pros & Cons
Pros
Adjustable stride
Incline training
26 levels of silent magnetic resistance
32-lb flywheel
Cons
Difficult assembly
Will need iFIT subscription to access workouts
Large footprint
Heavy machine
Bottom Line
This luxury machine has an interactive touchscreen, which can be used to view iFIT programming.
ProForm Carbon EL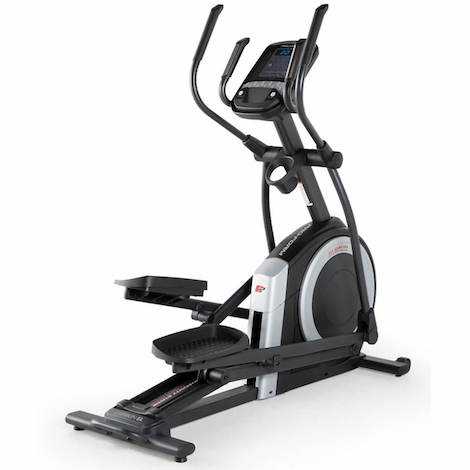 GGR Score: 3.8
Product Highlights
18 levels of silent magnetic resistance 

0 to 20 degrees of manually adjustable incline 

5" high-contrast multi-color display 

Tablet holder 

iFIT-compatible with SmartAdjust technology 

Steel frame 
Pros & Cons
Pros
18 levels of silent magnetic resistance
0-20 degrees of incline
SmartAdjust technology allows iFIT trainer to adjust resistance
Free 30-day iFIT membership
Free shipping
Cons
Incline adjusted manually
275-lb user weight capacity
Long assembly process
Bottom Line
The ProForm Carbon EL elliptical is an affordable machine with both resistance and incline abilities if you're looking for guided workouts. If you don't think you'll use iFIT, there's probably a better machine for you.
Other Ellipticals from NordicTrack:
Other Ellipticals from ProForm:
Pro HIIT H14
Carbon HIIT H10
Carbon E10
Hybrid Trainer XT
Programming and Technology
Both brands have top-notch iFIT programming at your fingertips. Although a lot of the elliptical models offered by both companies are equipped with touchscreen displays, there are a few models that feature an integrated tablet holder instead. However, you'll still get personal trainers cheering you on through workouts and the benefits of automatic trainer control, which allows the resistance and incline levels of your machine to change without taking your hands off the handlebars.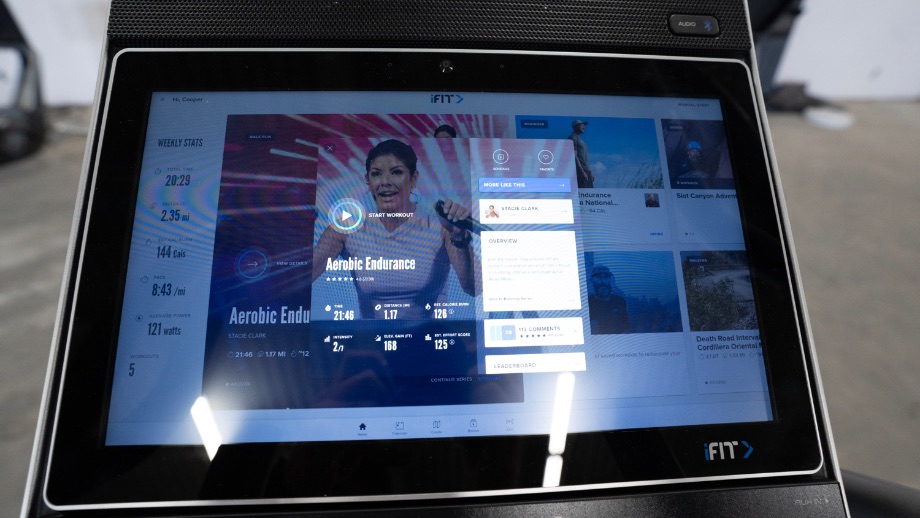 If you're a new customer, you'll even get a free 30-day iFIT trial with your purchase of an elliptical from either NordicTrack or ProForm. Your iFIT subscription can be utilized on and off the elliptical with on-demand classes ranging from machine-based interval training to strength sessions using dumbbells—iFIT even features more restorative work like yoga and meditation.
In addition to on-demand classes and tracking metrics, you'll also have the ability to utilize Google Maps technology, which allows you to drop a pin nearly anywhere in the world and map out a scenic route to view during your elliptical session. What's more, is that this technology will also change incline (when applicable to your machine) and resistance levels based on the grade of the route mapped out. 
Company Policies
Although similar, here is a quick look at the company policies for both NordicTrack and ProForm.
Warranty
With the exception of the ProFrom Hybrid Trainer XT (which has a five-year warranty on the frame) all other elliptical machines manufactured by ProForm and NordicTrack come standard with a 10-year warranty on the frame. This is on-par for other big brands, but some of the best warranties we see on larger exercise equipment like ellipticals lasts at least 15 years.
Additionally, most NordicTrack ellipticals have a two-year warranty on parts and one year on labor while ProForm offers just one year on both parts and labor.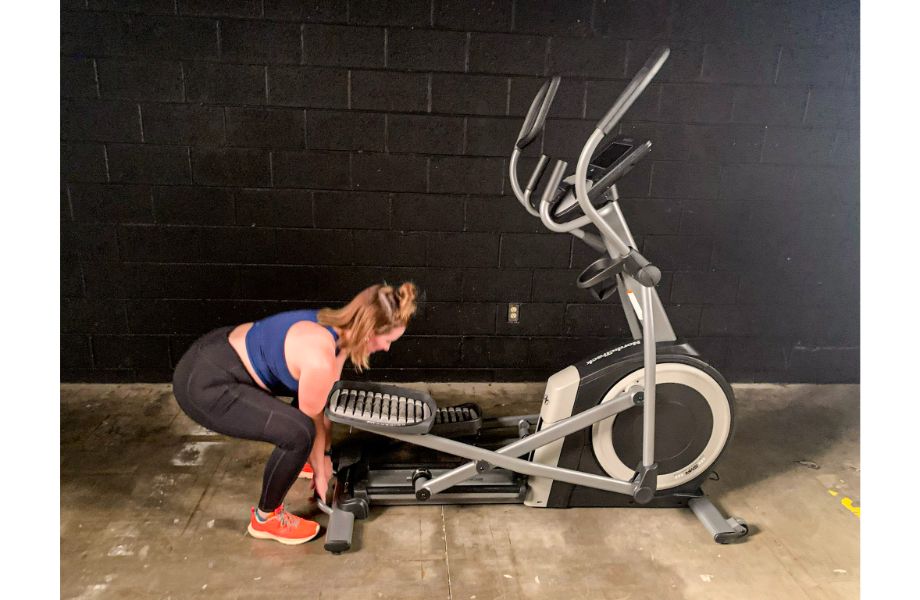 Returns
The fine print on both websites is nearly the same when it comes to the return policies. You'll have a 30-day window to request your return with customer service. However, any upgraded services like in-home assembly cannot be refunded to you when you make a return. You'll also be on the hook for a $250 shipping fee and 10% processing fee.
With our team's experience with both brands, we find that customer service can be hit-or-miss. I've used the live chat function to ask customer service questions and it took a day or two to get a response back via email, but sometimes the chat function chimes on and I have someone answering questions within a few minutes.
Financing
Both NordicTrack and ProForm offer 0% financing options through TD Bank if you qualify. It's easy to apply and you can do it on the website during the checkout process. Loan terms vary slightly between the brands, but both websites offer loan terms that cover at least 30 months, which is what we like to see for financing on the best elliptical machines.
Final Thoughts on ProForm vs NordicTrack Elliptical
With both brands sharing a parent company, you may have noticed there are quite a few similarities when it comes to ProForm and NordicTrack machines. However, there are still a few key differences:
ProForm's price point is slightly more budget-friendly than NordicTrack, which is fairly high-end for home cardio machines.
ProForm offers one model with a hybrid design featuring both a recumbent bike and elliptical.
NordicTrack offers two unique three-in-one machines with the ability to mimic stair-stepping, running, and a traditional elliptical.
All of NordicTack's machines come standard with built-in smart touchscreens, where ProForm has a few models that require your own device.
ProForm vs NordicTrack Elliptical FAQs
Is ProForm better than NordicTrack?
When comparing if ProForm is better than NordicTrack, you'll have to consider what you want and need from your cardio equipment. However, if you're looking for more budget-friendly options, ProForm might feel like a better choice.
Is NordicTrack elliptical worth it?
Our expert product testers at GGR agree that NordicTrack ellipticals are worth the investment and are all around high-quality, stable, and reliable. We also like the fact that NordicTrack has financing options to make such a large investment more doable.
Which elliptical trainer is best?
We've also rated the NordicTrack Commercial 14.9 as our top pick for the best ellipticals for home gyms because of the quality construction, interactive programming, and heavy flywheel.