We test and review fitness products based on an independent, multi-point methodology. If you use our links to purchase something, we may earn a commission. Read our disclosures.
Walking or running on an incline can provide plenty of benefits—and a challenge. And if you're looking to add incline training to your routine, you may be considering an incline treadmill, or the souped-up version, an incline trainer.
So it comes down to incline trainer vs incline treadmill: Which cardio machine would work best for you and why?
Though these types of treadmills are similar, there's usually one major difference, and which one is right for you will depend on your training goals. Let's dive deep into the finer points and explore.
Quick Look: Incline Trainer vs Incline Treadmill
An incline treadmill will typically have an incline range of 10 to 15 percent incline. Incline trainers, on the other hand, can incline to a grade as high as 40%, like the NordicTrack X22i and Nordictrack Commercial X32i—that's some serious hill training!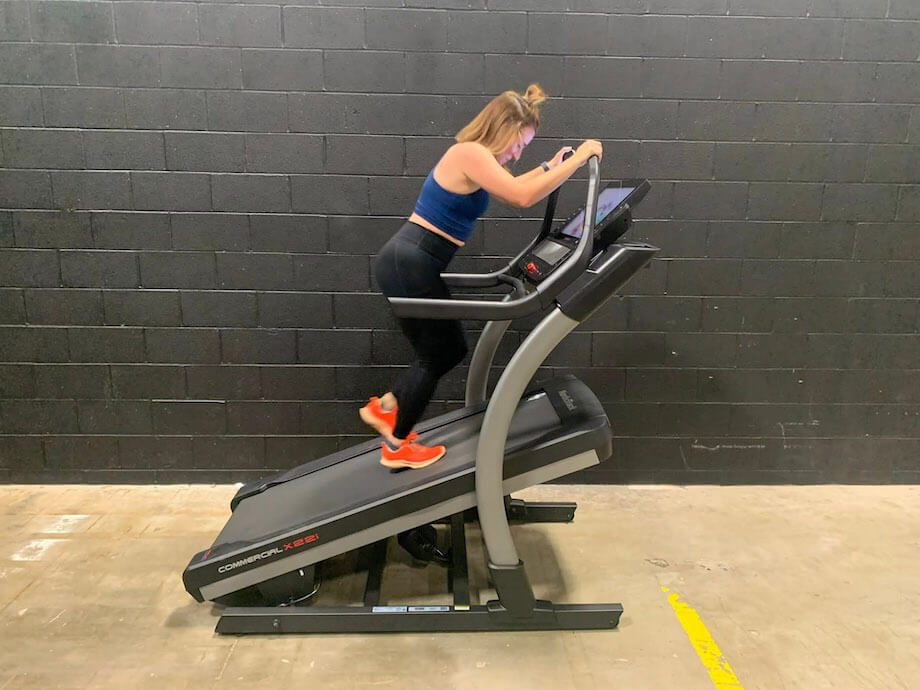 When deciding between an incline trainer vs incline treadmill, the various factors you need to consider are your fitness goals, storage space for the equipment, and, most critically, your budget.
An incline trainer is ideal for people wanting to simulate hill running or even hiking, whereas an incline treadmill will suit the majority of users just fine.
Who Should Buy an Incline Trainer
Athletes who want to focus on hill training
Those who want to train in a sport-specific way
Anyone without a strict budget
Who Should Buy an Incline Treadmill
People looking for running first, incline second
Those who lack storage space
People looking for a more budget-friendly fitness solution
Incline Trainer vs Incline Treadmill: Key Similarities
An incline trainer and an incline treadmill are both treadmills after all. Here's what they have in common:
Both offer the option to walk or run at varying speeds.
Both offer incline training options.
Both the machines provide lower-body workouts that target the leg muscles.
Both machines primarily work on the cardiovascular system and can provide varying levels of high-intensity exercises.
Neither provide particularly low-impact workouts.
Incline Trainer vs Incline Treadmill: Important Differences
While there are quite a few similarities between an incline trainer and an incline treadmill, the differences are worth noting, too.
While most incline treadmills provide from 5 to 15% incline, incline trainers are specific to the purpose and offer steep inclines up to around 40%..
Incline trainers also come with an option for training on declines that aids in cross-training; not all incline treadmills have this function.
Incline trainers often have extra handles or grip options to simulate sled pushing.
Incline treadmills tend to have a higher max speed than incline trainers.
Incline trainers usually don't fold.
Incline treadmills may be more suitable for beginner fitness levels.
Benefits of an Incline Treadmill
An incline treadmill will make sense if you want an easy-to-use, simple machine for running workouts. Since a treadmill is designed specifically for running, it will usually provide plenty of modes to train in and, usually, a greater range of speed to juice out your maximum potential.
An incline treadmill is an excellent tool for runners looking to up their heart rate with speed workouts, as they typically provide faster speeds than an incline trainer and help a runner train to their maximum potential.
In addition, an incline treadmill may have a larger deck to accommodate longer strides that a runner may take, given faster speeds and a flatter surface. They can also come with cushioning that ensures a softer landing, making it easier on your joints no matter the mode you train.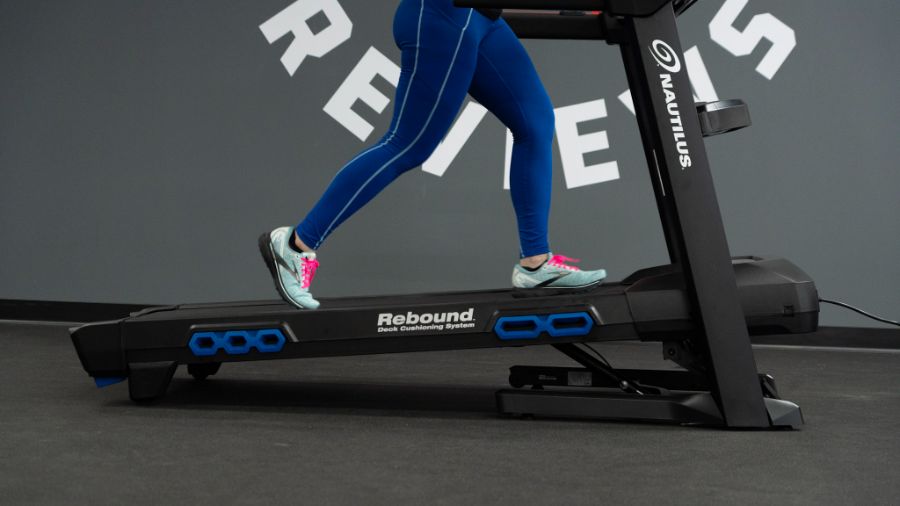 In addition, incline treadmills are usually much easier to store. Due to a sturdy design that can withstand the variability of deck incline or decline, the portability of an incline trainer takes a hit. On the flip side, standard treadmills can oftentimes be easily folded up post-workout and stored to use the area for other purposes until the next workout session.
An incline treadmill is also friendlier to the pocket, with many budget options compared to an incline trainer. Overall, an incline treadmill is an option for someone looking for plain, simple running workouts and enhancing general wellness.
Benefits of an Incline Trainer
An incline trainer, however, has its place as well. If you love the stair-climber and running outside for your cardio workouts, an incline trainer could provide you with a nice challenge that would translate to those modalities.
An incline trainer usually doesn't go as fast as a treadmill and is best suited to walkers, hikers, or trail runners. At the same time, due to the variability of the inclination on an incline trainer, a walker can target different muscle groups even with an incline walking workout vis-à-vis an incline treadmill.
If you're concerned about calorie burn and want to burn fat, you may be better off with an incline trainer. According to data from the American College of Sports Medicine and the Compendium of Physical Activities, someone walking at a 17-minute-mile pace—about 3.5 MPH on a treadmill—will burn about 285 calories per hour. However, if you were hiking up hills over the same amount of time, that same person would burn approximately 500 calories.
Incline trainers can also better simulate sport-specific training, like the aforementioned hiking or mountaineering. But even if you'll be competing in a trail run or the like, an incline treadmill should be just fine for your training needs.
Final Thoughts: Incline Trainer vs Incline Treadmill
When considering an incline trainer vs incline treadmill, you'll mostly want to consider your training goals and your budget.
An incline trainer is an expensive, sport-specific machine with a powerful motor and tends to benefit if you're looking at increasing the complexity of workouts to activate certain muscle groups, like the glutes, hamstrings, and even the upper body, in a more powerful way.
An incline treadmill is more suitable for runners and walkers who don't have ambitions of crazy hill training—you just won't need any higher incline than 15%.
FAQs: Incline Trainer vs Incline Treadmill
What is better for weight loss, an incline trainer or an incline treadmill?
According to the Compendium of Physical Activities, hiking uphill burns a greater amount of calories than walking on a flat surface for the same amount of time. So, an incline trainer could support weight loss efforts better than an incline treadmill. 
Does incline on a treadmill or an incline trainer help?
Running on an incline activates different muscle groups that may remain dormant on flat surfaces. So yes, adding inclination to your running program could benefit you, depending on your goals.
Is an incline treadmill better?
An incline treadmill best suits a runner who wants to spice up their workouts, doing interval training to juice out their maximum potential. A flat treadmill would be fine for treadmill running, too, but you'll be limited in the variability of your workouts.