We test and review fitness products based on an independent, multi-point methodology. If you use our links to purchase something, we may earn a commission. Read our disclosures.
There are two things in this world I want to do––save money and live better. No, wait, Walmart coined that, although both of those things are true (please don't sue me Walmart, I'm just a writer).
If you're on the hunt for a new treadmill, chances are you wouldn't mind saving a few bucks to put towards other home gym equipment. That's where GGR comes in: We've compiled some of the top treadmill coupons on the internet to make the purchasing process a little easier on your wallet.
Shipping and Assembly Discounts
If you're an Amazon Prime member, you probably already know that you can get free shipping on almost any order, even on big-ticket items like treadmills. This is a great perk to take advantage of when buying a treadmill, especially since Amazon carries popular brands like Sunny Health & Fitness and Horizon Fitness (amongst others).
Some major cardio brands will also periodically offer assembly and shipping discounts. I'd recommend frequently checking brand websites that you're interested in purchasing from. If there is a shipping or assembly promotion running, it will likely be broadcast on the front page. This can be a great way to save a few hundred dollars (treadmills aren't light) and loads of frustration. Depending on the treadmill model you choose, assembly can be a complicated process that may require more than one set of hands and quite a few hours of your time.
Financing
Financing is a great way to make the cost of an expensive treadmill a bit more reasonable. Many brands like NordicTrack and ProForm offer excellent financing options, with small payments and 0% APR for the first few months. Check to see if you qualify based on your credit score.
It is worth noting that you should always read the fine print before choosing to finance a machine. You don't want to be stuck with a giant monthly interest fee if you're unable to pay the machine off in a timely manner.
Holiday Sales
Are you overwhelmed with the multitude of equipment sales happening during holiday seasons? Never fear! We do all the hard work for you so you can save time and money. I suggest bookmarking this page to reference whenever you're looking to save money on fitness equipment (particularly a treadmill).
Bundles
Companies like ProForm are introducing a new way to buy treadmills: Through bundling. This essentially means you'd be prepaying for a few years of their interactive programming service, which is iFIT in this case. In return, you'll get to keep the treadmill for no additional fee. If you were already planning to get interactive programming, getting the promotional treadmill alongside of it is an excellent way to save hundreds of dollars. It is worth noting that since this is a new selling structure, not all brands offer it.
Fitness Promo Codes
Check out our favorite coupon codes to get great offers on the treadmill you want most. We have the best ways to save on exercise equipment from brands like Bowflex, Tru Grit, NordicTrack and more.
Tru Grit
Best way to save money today: Enter exclusive code GGR at checkout to save 10% on your purchase for a limited time
Standout treadmill: Tru Grit Runner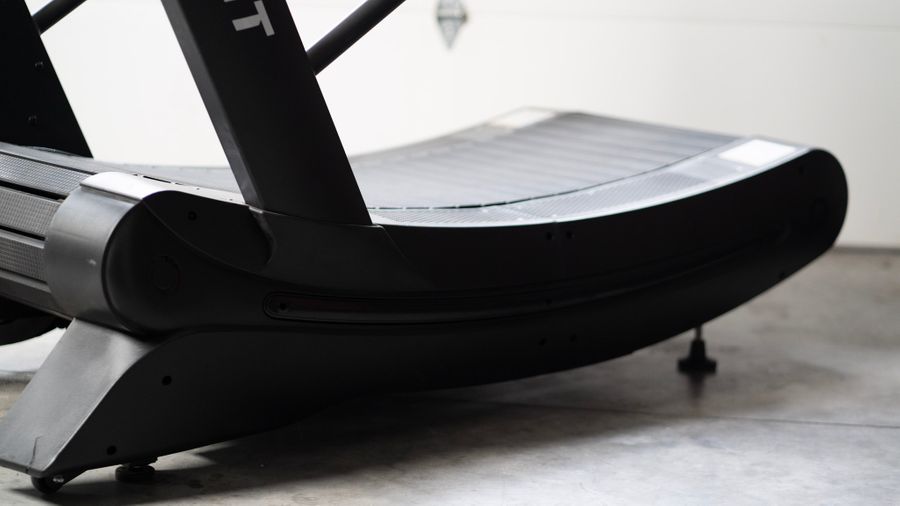 For those who drool over the AssaultRunner Elite, the Tru Grit Runner could be the ticket for your home gym without the hefty price tag. This inexpensive manual treadmill has six levels of resistance and a lifetime belt warranty. How's that for a good deal? Plus, use our exclusive discount code GGR at checkout to get even more big savings.
Save as much as possible with our Tru Grit coupons.
ProForm
Best way to save money today: Wait for a pop-up on the ProForm website and add your phone number for $25 off your purchase sitewide
Standout treadmill: ProForm Carbon T7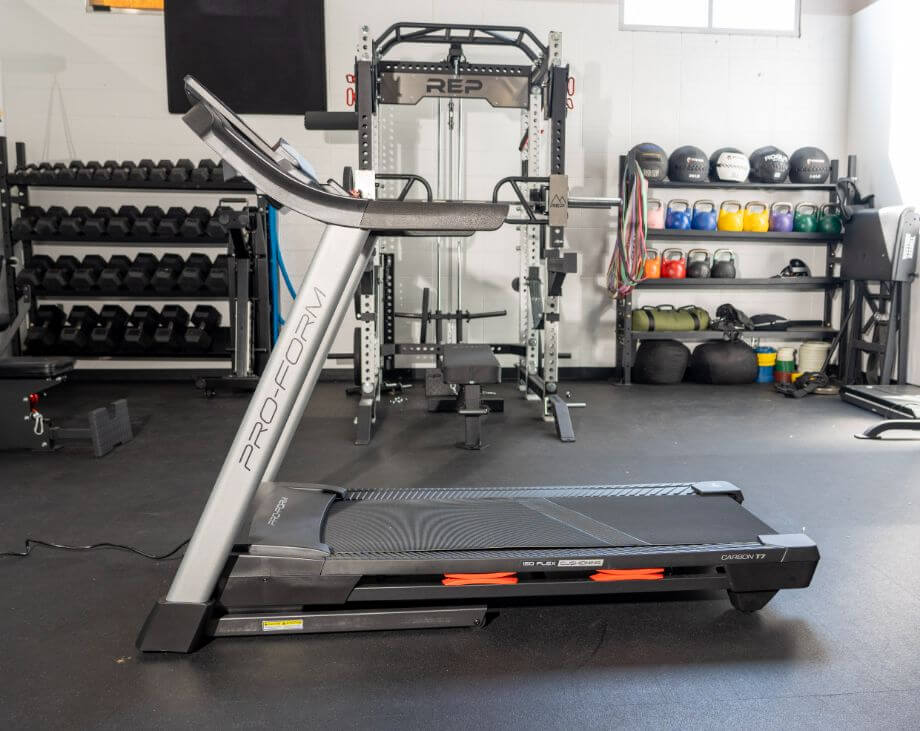 Cushioned, foldable, and compatible with iFIT programming? Sign me up! The ProForm Carbon T7 wows with an expansive deck for running, walking, or jogging. Plus, when you sign up for texts using the ProForm website pop-up, you'll get a special offer for $25 off your purchase.
Take a look at all of our ways to save with ProForm promo codes.
Bowflex
Best way to save money today: Both former and current military members can call 800-618-8853 to get an undisclosed discount
Standout treadmill: Bowflex Treadmill 10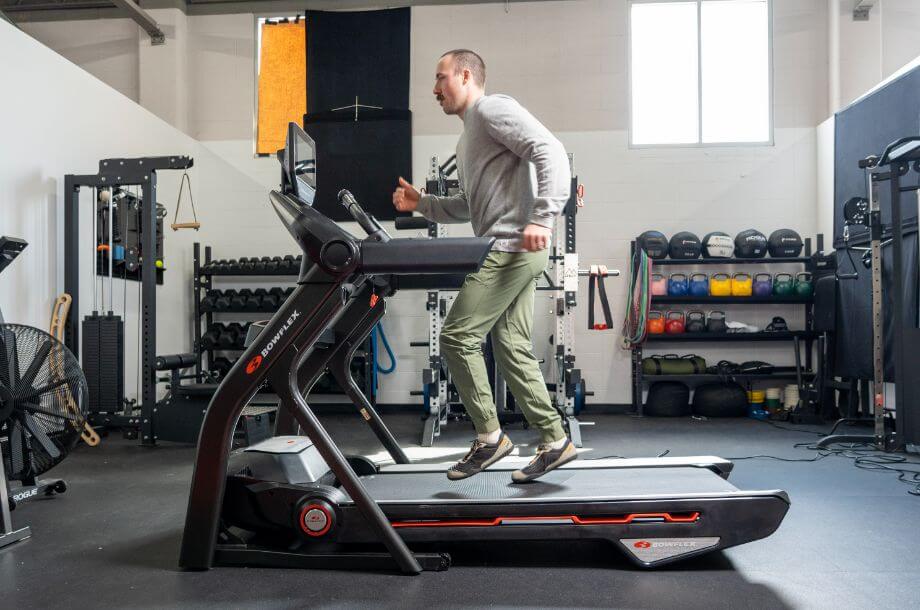 Trust me, you'll want to go ahead and add this treadmill to your shopping cart. With both incline and decline options, the Bowflex Treadmill 10 is an excellent tool for athletes and beginners alike who want to simulate the familiar outdoor terrain. Think of this cardio machine as the Buick of treadmills––durable, large, and extremely comfortable to use.
Get great deals on fitness equipment with our Bowflex coupon codes.
NordicTrack
Best way to save money today: Sign up for NordicTrack emails to get deals and special promos delivered to your inbox
Standout treadmill: NordicTrack Commercial 1750
The NordicTrack Commercial 1750 has my heart: It is foldable, sports a gleaming touchscreen, and has an impressive 3.5 CHP motor. Whether you want to save up and pay for this machine all at once or take advantage of NordicTrack's stellar financing options, you likely won't be disappointed with your purchase.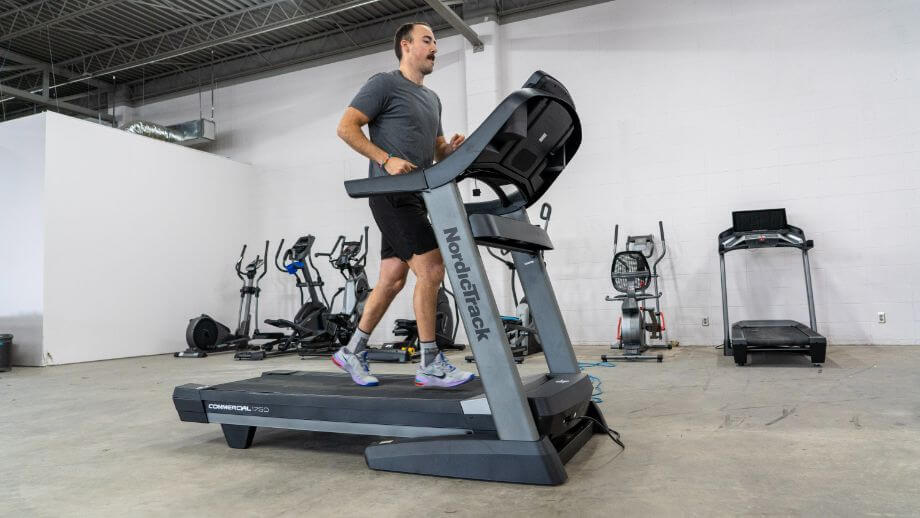 Check out our NordicTrack promo codes.
Sole Fitness
Best way to save money today: Finance the machine of your choice to break up your payments into smaller chunks
Standout treadmill: Sole F63
The Sole F63 comes with a lifetime frame warranty, which is pretty impressive for a machine already under $1,200. Additionally, you'll get a free heart rate monitor with the F63. Still not sure about the price? Consider financing the machine (if you qualify) to make your payments smaller.
Explore all the ways you can save with our Sole Fitness coupons.
Assault Fitness
Best way to save money today: CrossFit boxes can save hundreds of dollars when they purchase Assault Fitness equipment in bulk
Standout treadmill: AssaultRunner Elite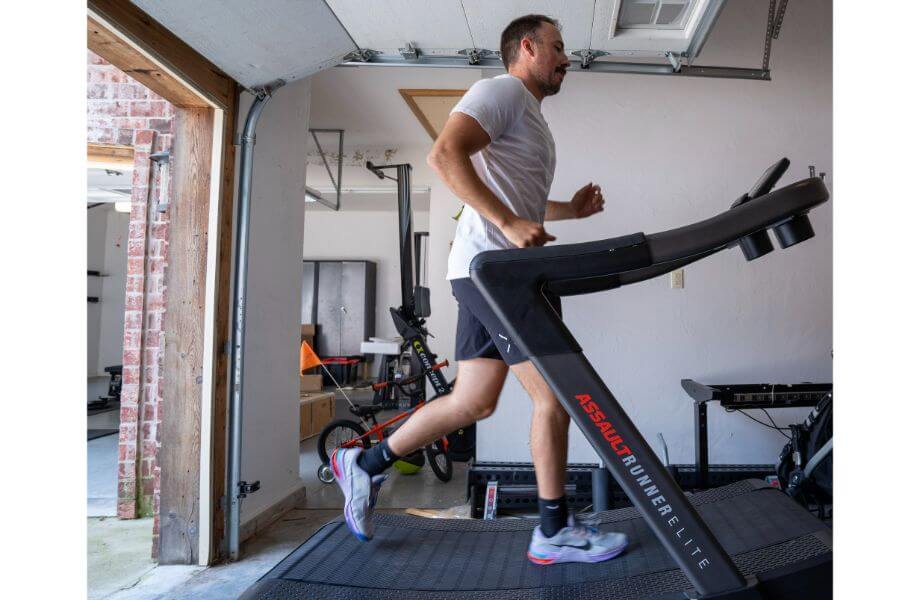 The AssaultRunner Elite is the Crème de la Crème of manual, curved treadmills. The slats are well-spaced to support consistent strides. Want to save on your new Elite? Consider financing the machine at checkout to break up the cost.
Take a look at all of the Assault Fitness discount codes.
Echelon
Best way to save money today: For those who are nurses, doctors, teachers, first responders, or military personnel, you can use your VerifyPass to login and get a single-use discount code
Standout treadmill: Echelon Stride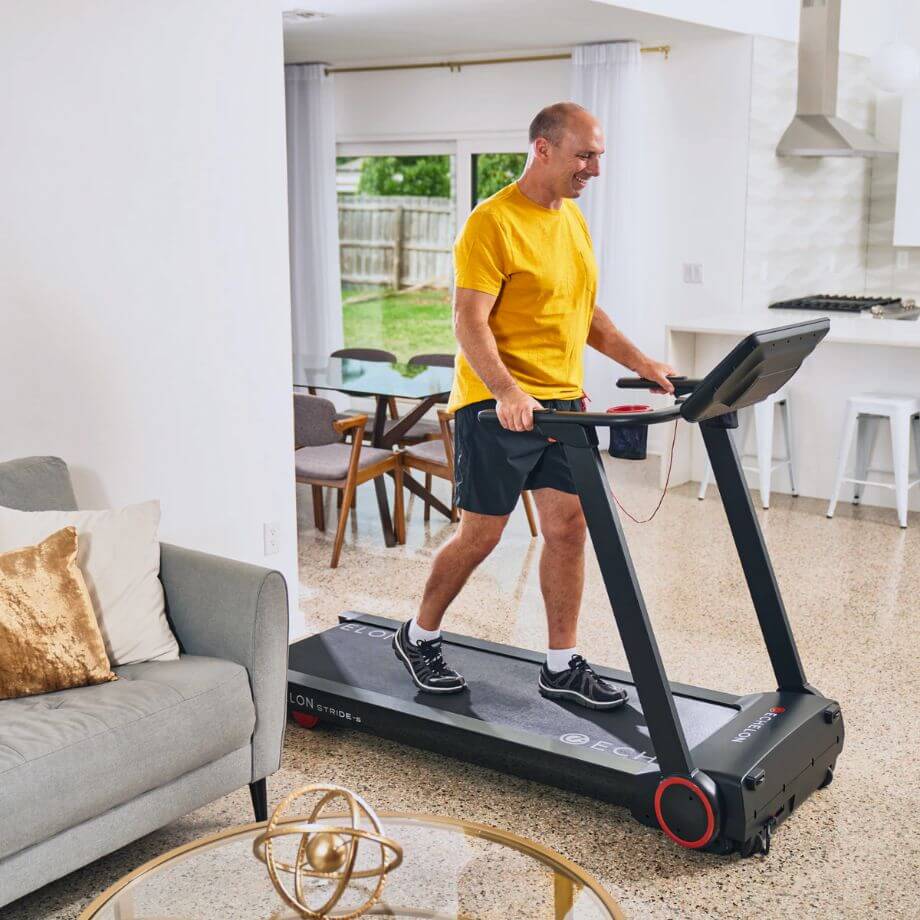 Walking is one of the most underrated forms of exercise, and the Echelon Stride is the ideal machine for the job. It's simple to assemble, foldable, and user-friendly. Plus, you can get an excellent discount code if you're a nurse, police officer, or teacher.
Save even more with additional Echelon discount codes.
Treadmill Coupons FAQ
Where can I get a promo code?
Sites like Garage Gym Reviews receive exclusive discount codes and ways to save for our readers. Frequently check on our coupons page to see the latest deals to save money.
In the military? We've compiled a comprehensive list of the best military discounts for fitness equipment. Enjoy saving lots of money (and thank you for your service).
Do Sole treadmills go on sale?
Yes! Sole Fitness treadmills do occasionally go on sale, usually during traditional holiday sales periods (think Christmas, July 4th, Labor Day, and Black Friday). I also recommend routinely checking the Sole website, because they'll usually advertise any special deals they're running in a banner format at the top of the home page.
Do promo codes actually work?
Yes, promo codes usually work, unless they are expired. Certain promo codes have an expiration date, so it is best to use any you have access to right away.
What piece of cardio equipment is the most expensive: Ellipticals, treadmills, exercise bikes, or rowers?
It all depends on the caliber of machine you're looking for (and if you have a coupon code to save money). Generally speaking, I'd say treadmills are usually the most expensive out of the four mentioned.
Should I buy a used treadmill from Ebay?
Even though I'm an absolute sucker for a great deal (and used things), purchasing a treadmill off of Ebay has risks. First of all, you may be buying a machine that is no longer covered by the original warranty, which could cause major issues for you down the road if something were to go wrong.
Secondly, you may have to front the shipping costs from the seller, which will be much higher than if you purchased the treadmill from the brand website. Lastly, the treadmill could have undisclosed issues you won't know about until it is too late to return to the seller.