We test and review fitness products based on an independent, multi-point methodology. If you use our links to purchase something, we may earn a commission. Read our disclosures.
Save money on some of the best, and most unique, powerlifting and weightlifting equipment!
One of the few things more impressive than Chris Duffin squatting and deadlifting 1,000 pounds for reps is the line of products he's developed at Kabuki Strength. High-quality and unique strength training equipment don't come cheap though. Fortunately, we've been able to secure a Kabuki Strength discount code to help our readers save money on their next order.
We've also been able to find some other ways for you to take some money off at checkout.
Discounts on Kabuki Strength Products
There's more than one way to score a deal when ordering through Kabuki Strength, though we have a personal favorite (see if you can spot it). Here's what you need to know before emptying your online cart.
GGR Discount Code: Our readers get 5% off their entire order at checkout using code GGR5.
Financing: You can either pay in monthly installments, or split the total cost into four bi-weekly payments.
How to Apply the Kabuki Strength Discount Code
Step One: Simply load up your cart with the products of your choosing.
Step Two: Enter GGR5 at checkout to receive 5% off your order.
Step Three: Click "Shop Pay" as your payment method, and choose whether you want to pay monthly installments or four bi-weekly payments.
When Do Kabuki Strength Products Go on Sale?
Like other major companies, Kabuki Strength will offer major sales around holidays. To keep track of all holiday sales you can check out our pages to learn about the best deals.
What We Love About Kabuki Strength
Kabuki Strength Duffalo Bar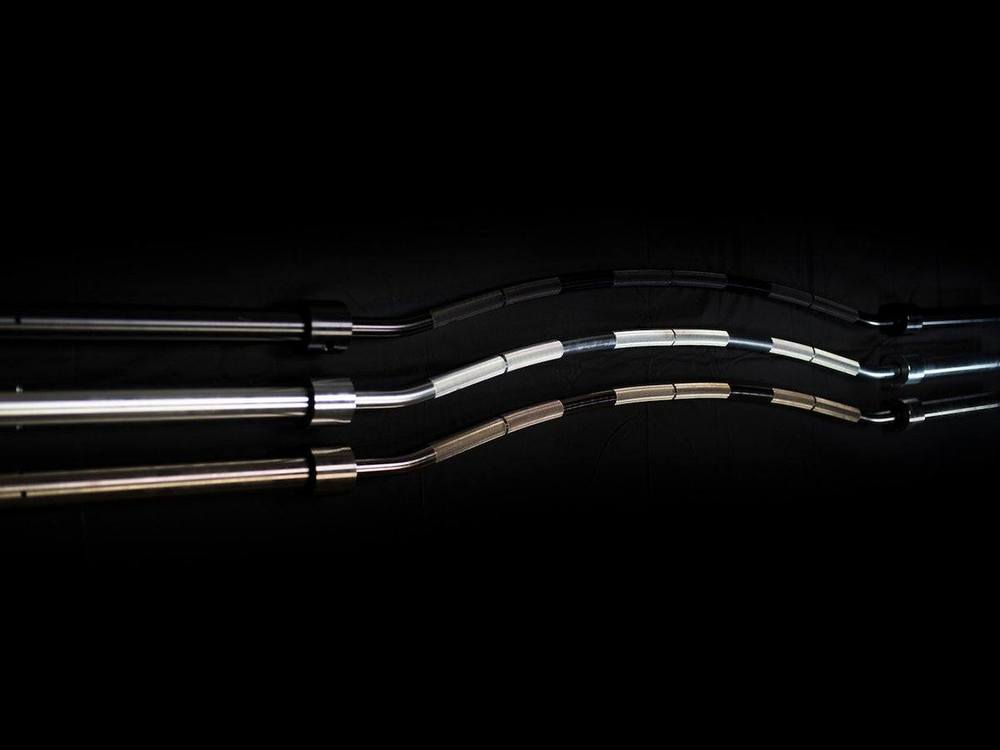 Kabuki Strength Duffalo Bar
The Duffalo Performance Squat and Bench bar is the ultimate bar for squatting and bench pressing, correctly, safely, and for performance. We honestly believe that outside of competition, every lifter would benefit from using the Duffalo Bar vs. a standard barbell. Our proprietary bends allows scapular retraction and also reduce stress on the easily irritated Bicep tendon in the shoulder. It does so while eliminating the counter productive center peak on similar bars. Reducing direct strain on the bicep tendon plus allowing increased back rigidity and proper joint centration through scapular retraction are incredibly important. Additionally our bar improves the ability to improve core stability and conversely improves lumbar stability. Our proprietary bends optimize the wrist angle when held in the pressing positions. This positioning cues proper joint centration in the shoulder while also improving both lat and scapular engagement. Despite the increased ROM of the press users report significantly reduced (eliminated) shoulder pain while gaining increased training effect from the additional range of motion. The improvements in joint centration as well as both lat and scap engagement, grooves the correct pressing patterns, automatically ensuring the proper engrams are programmed.
It's fair to say that Kabuki Strength makes some of the most unique products in the fitness industry (not many other companies are making curved barbells like the Duffalo Bar). But looks aside, their bars, weight plates, dumbbells, and racks are great for amateur to elite powerlifters.
That makes sense, since every part of the company from sales to their advisory board is stocked with competitive competitive strength athletes.
Here's some of our favorite Kabuki Strength products.
With great powerlifting comes great responsibility to prioritize recovery. Here are some Kabuki Strength products focused on soft muscle tissue recovery.
Why Buy From Kabuki Strength?
Kabuki Strength puts many of their products through rigorous testing before unveiling them to the public – after all, they don't call Chief Visionary Officer Chris Duffin the "mad scientist" for nothing. Duffin and the rest of his team look at how certain bars will impact muscles during a lift, and how it can help lifters meet or exceed their goals.
While their products aren't what many would consider "budget-friendly," they do offer financing options which can help many home gym owners purchase their product. Plus, if you use our special Garage Gym Reviews discount code you'll be able to save 5%.
And all their products come with a lifetime warranty against any manufacturer defects.