We test and review fitness products based on an independent, multi-point methodology. If you use our links to purchase something, we may earn a commission. Read our disclosures.
With so much tech-centric gym equipment on the market, it's natural to want to give it a whirl, especially when it comes to cardio machines and engaging interactive programming. However, most treadmills with a touchscreen and fun workout classes are really pricey, and out of many people's budget.
That's where this ProForm Carbon T7 treadmill review comes in: For under $1,000, I was intrigued by a treadmill with a built-in touchscreen that could deliver technology at a reasonable price. But does the machine live up to the hype? Keep reading to find out what I really think.
Why You Should Trust Us
How do I say this? Treadmills are kind of my jam. I've tested dozens of the best treadmills in an effort to find the best of the best on the market today. Whether you're looking for the best budget option or the best home treadmill for runners, I've got you covered.
I dissect everything from the price, to the warranty, to workout performance, and everything in between on each treadmill. It's important to me to give honest reviews you can trust, and I won't recommend a product that I wouldn't regularly use myself.
ProForm Carbon T7 Folding Treadmill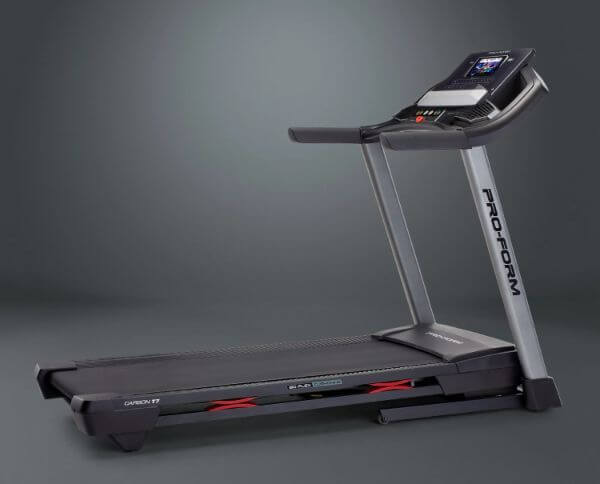 A Quick Look at the ProForm Carbon T7 Treadmill
ProForm is a brand we're pretty familiar with, especially ProForm treadmills. The team at Garage Gym Reviews has tested and reviewed everything from their top-of-the-line treadmill, the ProForm Pro 9000, to their recent foray into smart home gym equipment with the ProForm Vue Mirror. We were excited to test the ProForm Carbon T7 and see how it compares to other products from the brand.
My Tips:
Check out our ProForm Promo Code page to get the best deals on ProForm products!
The Carbon T7 doesn't have floor stabilizers, so I wouldn't recommend putting this machine on carpet.
My Favorite Things:
Included HD touchscreen
Under $1,000
Compatible with iFIT programming
EasyLift assist folding
My Callouts:
Loud while in use
Slightly shaky while running
No floor stabilizers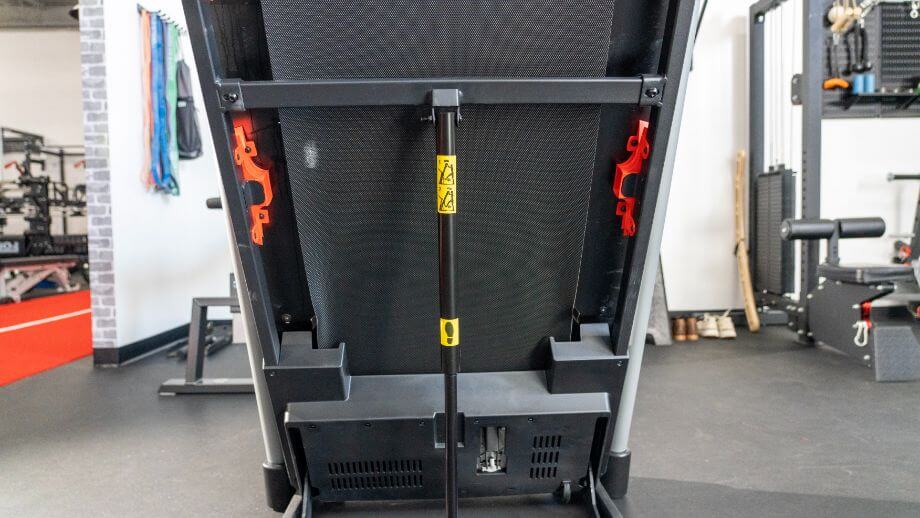 Is the ProForm Carbon T7 Treadmill Worth It?
The ProForm Carbon T7 is a good option for some home gym owners, but not for everyone. Check out who I think should consider ordering this machine, and who would be better off with a different treadmill.
Great for:
An under $1,000 treadmill
Beginners
People who want to fold and store their machine while not in use
Walkers, joggers, and infrequent runners
Not recommended for:
People who need a super quiet treadmill
Those who don't want to pay for interactive programming
Serious, consistent runners
Footprint
Weight
Weight capacity
Warranty
Motor
Speed
Incline Range
Display
Tread Belt
Rollers
Interactive Training
Folding Treadmill
Audio
73.5" L x 35.2" W x 57.5" H
223 lbs
300 lbs
10-year frame, 1-year parts and labor
2.6 CHP motor
0 – 10 MPH
0 – 10%
7" Smart HD Touchscreen display
20" x 55"
1.9" precision-balanced
Yes; iFIT membership required (sold separately)
Yes
Dual 2" speakers
Work It Out with the ProForm Carbon T7 Treadmill
For under $1,000, the Carbon T7 unsurprisingly delivered a pretty average running experience. The deck itself is a little shorter than I'd like for someone taller like myself, but shorter GGR Editor Nicole Davis, who tested the machine, didn't struggle with the 55-inch by 20-inch belt. Generally, when I'm recommending the best treadmill for tall runners, I like to see a 60-inch belt length, but 55 inches is just fine for walking and shorter people running.
If you're someone with bad knees, the cushioning is nice, as it's ProForm's "ISO Flex Cushioning," which is shock-absorbing and can be better on joints.
RELATED: Best Treadmill for Bad Knees
Even though the weight capacity is 300 pounds, and our tester was nowhere near that weight, she complained the machine was rather shaky. After doing further investigation, she found it was likely due to the lack of included floor stabilizers. What does this mean for you, the potential customer? Don't put this machine on carpet, because it likely won't end well for you. We tested the T7 on actual gym flooring and it wasn't super stable, so that is something to be aware of.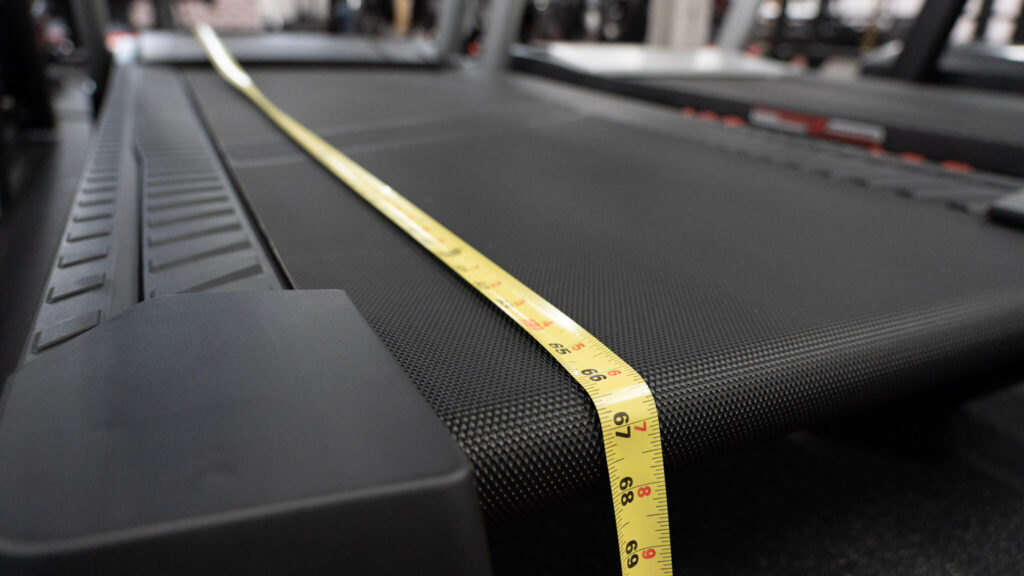 Extras
On the T7, you can find a few different nice extras, like two speakers, dual deep water bottle holders, and Bluetooth connectivity. As of the 2023 model, the Bluetooth adaption is only useful if you're trying to hook up a heart rate monitor to the machine. I was hopeful it meant I could stream my own music via my phone, but I guess I was hoping for too much on a more budget-friendly machine.
If you don't mind blocking the jump buttons for incline and speed, you can lay your phone (possibly an iPad mini, but don't quote me on that second part) across the T7's dashboard. Nicole didn't have any issues with her phone moving while she was on the treadmill, so at least you don't have to worry about your phone flying into the Bermuda Triangle when working out.
Technology
Included on the Carbon T7 is a 7-inch screen, which is tucked above the incline and speed jump buttons. Let's be honest here: 7 inches is small for a touchscreen. For context, an iPhone 11 Pro is 5.67 inches long. You're not even getting a full extra inch and a half, which is wild to me.
I know, I know, the T7 is only $1,000 and I should be grateful to get a screen at all.
For some people, this is a deciding factor to purchase this machine, in which case it checks off the intended audience's "want" list: being a budget-friendly treadmill with an included touchscreen (to be fair, it is one of the only ones of its kind).
Personally, I feel like the overall quality of the touchscreen is subpar. It was slow to load programming, and based on reviews I read, I wasn't the only one who thought that. It reminded me of a super cheap tablet you'd get off Amazon, and ProForm just decided to sling it in there.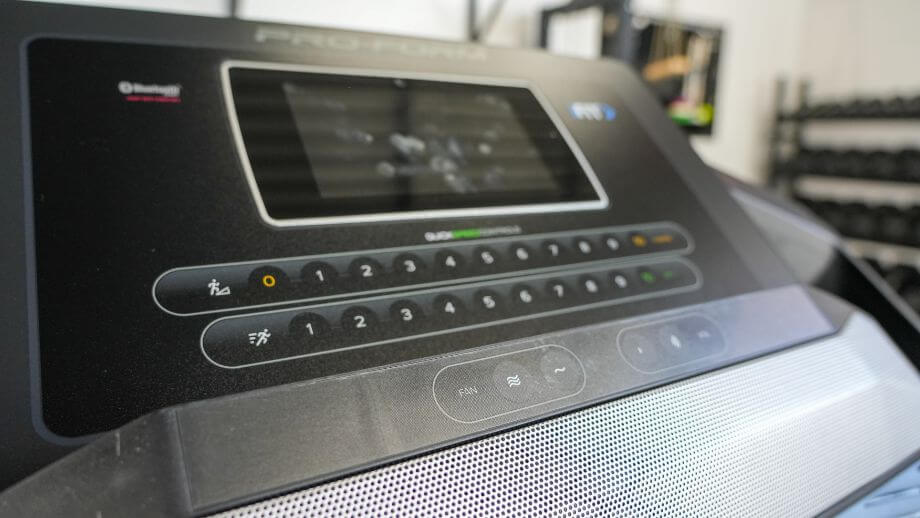 iFIT
As of April 2023, with the purchase of the Carbon T7, you'll receive a free one-month trial of iFIT. Be warned though: If you don't want to continue using the programming after your free month, make sure to cancel it a couple days before it renews the next month, otherwise you'll be on the hook for another cycle.
I actually enjoy iFIT treadmill workouts and think it's the runner-up to my favorite interactive programming, Peloton. For $39 per month, you can get a family subscription to the iFIT app with multiple profiles. I like that if you purchase the subscription for your treadmill, you can also download it onto your phone as well and take it anywhere.
Besides the typical cardio spread of rowing, treadmill walks/runs, and elliptical classes, you'll also find strength training, yoga, mindfulness, and more on the iFIT app, making it almost a personal trainer on-the-go. I personally downloaded it onto my iPhone and enjoyed taking some of the yoga classes off of the tread, which makes it a great option for people who want to do more than just run or walk.
RELATED: Best Treadmill for Walking
I have noticed that iFIT can be glitchy at times, but it usually has to do with the picture freezing or viewing old workout stats.
If you're not looking to actually use iFIT, I think you're better off with a different machine. The draw of the T7 is the touchscreen on a budget treadmill, which is virtually unheard of. However, using this treadmill in manual mode is underwhelming: The machine is loud as heck for no reason and there aren't any free preset workout programs like you might find on the Sole F63.
You're sacrificing better specs for a seven-inch touchscreen, so you'll have to decide if that's worth it to you.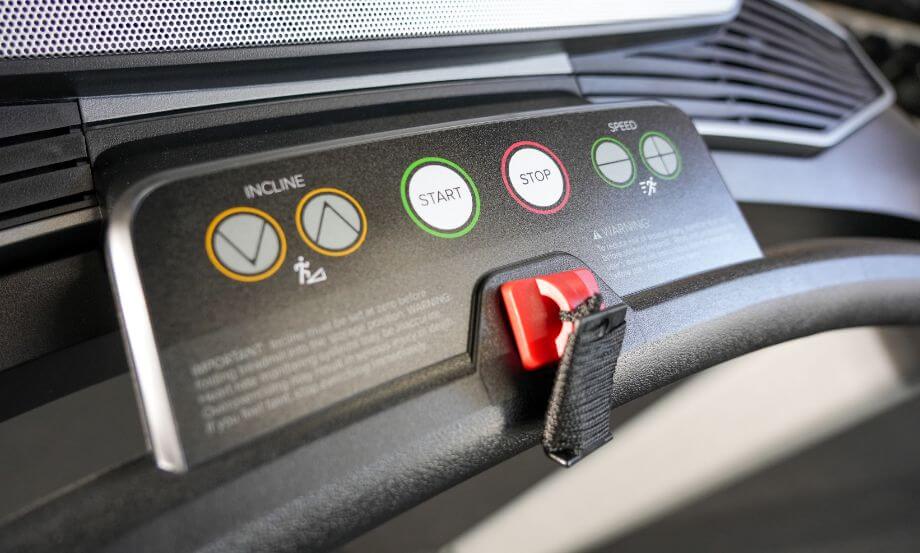 Footprint and Portability
Footprint-wise, the Carbon T7 is fairly average-sized. I think it could be easily moved from room to room, due to the attached wheels. Like most treadmills, you'd definitely need a second person to help you lift this machine up or down the stairs because the T7 does weigh 223 pounds.
RELATED: How to move a treadmill
For just under $1,000, I'm impressed with the T7's folding mechanism. It has an included gas shock to help you easily fold or unfold the machine without endangering yourself or others that might get in the way. Other budget treadmills I've tried in the past haven't always had a gas shock, which can be a safety hazard for pets or small kids.
RELATED: Treadmill Safety
If you're tight on space, I think you'd likely enjoy the ProForm's relative portability and foldability. It could be stored against a wall in a bedroom or office if you don't have a dedicated home gym space.
RELATED: Best Compact Treadmills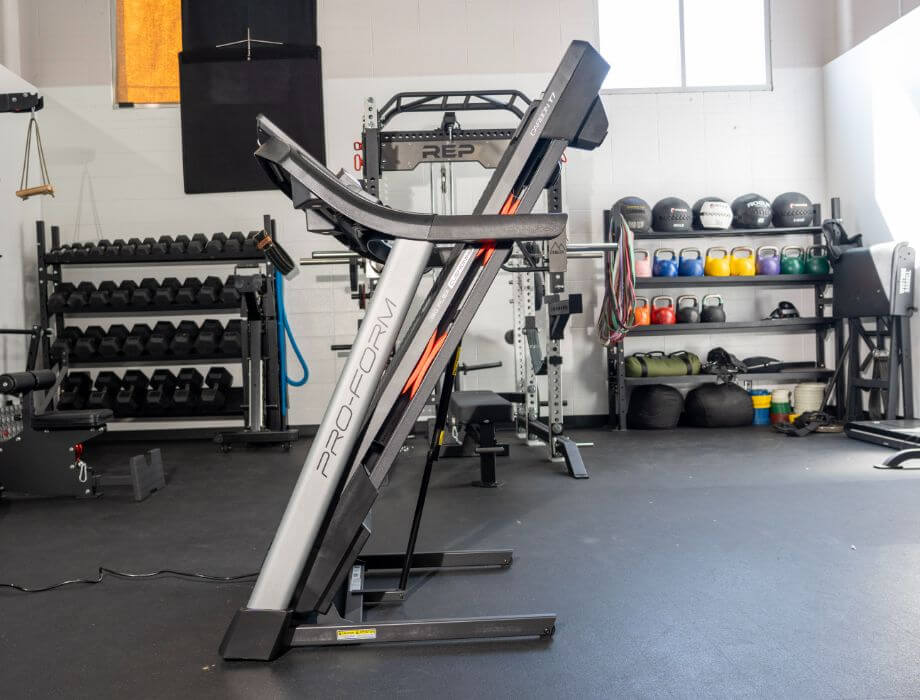 Folding the ProForm Carbon T7
Worried about the folding process? Don't sweat it. I'll break it all down for you here in a few easy steps:
Make sure the T7's incline is set to flat before turning off the machine.
Unplug the T7 (duh) and remove the safety key.
Hold the treadmill's deck with both hands and look for the knob located on the side of the machine.
Pull the knob and raise the deck while continuing to pull said knob.
Make sure the deck goes into the latch pin and release the knob to hold it in place.
Voila! Your T7 is officially folded up, congratulations!
Comparison to the ProForm Carbon T10 and Sole F63
After trying the ProForm Carbon T7, I was interested to see how it compared to its older brother model, the Carbon T10 treadmill, as well as one of my favorite similarly priced treadmills, the Sole F63. I decided a comparison chart was the best way to see all the specs lined up in one place. Check it out:
Treadmill:
ProForm Carbon T10
ProForm Carbon T7
Sole F63
Price:
$1,403
$999
$999
Deck:
20" x 55"
20" x 55"
20″ x 60″
Motor:
3.0 CHP
20" x 55"
3.0 CHP
Touchscreen:
10" smart HD Touchscreen
7" smart HD Touchscreen
No touchscreen
Warranty:
10-year frame, 2-year parts, and 1-year labor
10-year frame, 1-year parts and labor
Lifetime on frame, 3-year parts, 1-year labor
Incline/Decline:
0-12%
0-10%
0-15%
Speed:
0–12 MPH
0-10 MPH
.5-12 mph
Footprint:
74.62" L x 35.24" W x x 64.39" H
73.5" L x 35.2" W x
57.5" H
82" L x 35" W 66" H
Weight:
221 lbs
223 lbs
254 lbs
User Weight Capacity:
300 lbs
300 lbs
325 lbs
After reviewing the specs, I think the conclusion is obvious: The Sole F63 is better on most of the specs compared to the T7 and even the T10, but all of that doesn't matter if you're jonesing for a touchscreen. The Sole F63 only has an LCD screen, which makes it a less tech-y treadmill, even if it is a more durable and powerful machine.
RELATED: Sole F63 Treadmill Review
Customer Experience
For a treadmill under $1,000, the warranty is definitely above average — you get 10 years for the frame and one year for labor plus parts. Pro tip: Once you receive your treadmill, register your machine on the ProForm site (within 30 days) to receive an additional three months' warranty.
If you're not jazzed about the T7 after receiving it, you can return it but be warned: It'll cost you. Provided the machine is in new condition, you'll be charged $250 for return shipping and a restocking fee of 10% of the retail cost of the treadmill.
I was pleasantly surprised by the excellent customer service I received. You can now live chat with a customer service representative by clicking the bubble in the bottom right hand corner of the website. They are quick to respond during regular business hours.
There is also an entire 'Contact Us' page where you can speak to a member of one of the seven sectors of ProForm: Sales, Media Relations, Customer Service, Order Tracking, iFIT Support, Service Plans, and Billing/Returns.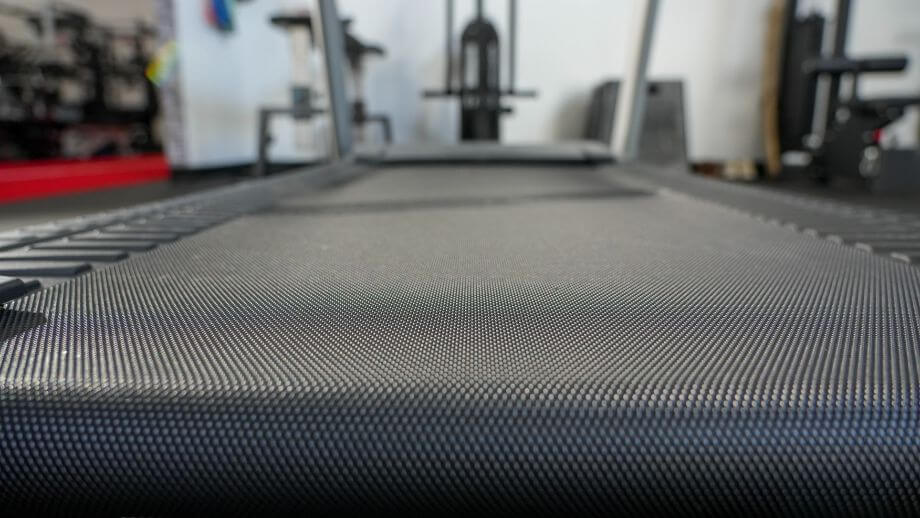 Ordering and Assembling the ProForm Carbon T7 Treadmill
Ordering the Carbon T7 from the ProForm website is pretty seamless. The brand provides free shipping on this machine, but assembly information is difficult to find. After contacting customer service to inquire about assembly, the representative said options vary by price and are not available in every location.
Although this machine is under $1,000, there are still financing options available for $26 per month with 0% APR for 39 months. I like that this option is available through the website versus a third party like Affirm, which can make customers jump through more hoops to qualify for said financing.
The ProForm T7 arrived in a well-packaged box complete with sturdy foam and wood inserts to prevent the treadmill from moving during shipping. This treadmill was not the most complicated cardio machine I've ever built, but I would definitely recommend grabbing a second person to help if you're unwilling to pay for professional assembly.
The main deck comes mostly put together, minus attaching the legs, arms, and control panel. Getting the screen mounted into place was slightly frustrating, as well as attempting to get some of the plastic pieces to lock together. If you've ever assembled a treadmill with a screen, you know how difficult it can be to wire it into place without another person holding the monitor, so I'd definitely recommend help on this part of the process.
Customer Reviews
Interestingly enough, the Carbon T7 only has four reviews on the ProForm website. I usually find this to be a red flag that the brand is deleting negative reviews, especially when a product has been out a long time. I then decided to look on the Best Buy website, where there are 227 reviews with an average rating of 4.1 stars out of 5 when this article was published.
After reading the reviews, most customers love using the compatible iFIT programming and found the machine quiet—an experience our tester did not echo—and simple to use. However, there were some less than complimentary comments. People were generally irritated with the lengthy assembly process and the small attached screen that had trouble connecting to Wi-Fi.
Final Verdict of Our ProForm Carbon T7 Treadmill Review
Overall, I think the ProForm Carbon T7 is a good value. If you're looking for a treadmill under $1,000 that also has an included touchscreen, you'll likely really be into this machine. iFIT's programming is really solid and enjoyable, but be prepared to pay a monthly fee after your free trial is over.
Although I like the T7, I don't think the specs are as top-of-the-line as the Sole F63's for the price. If you're wanting the most high-quality and durable machine for your $1,000 and don't care as much about interactive programming, I'd recommend something else.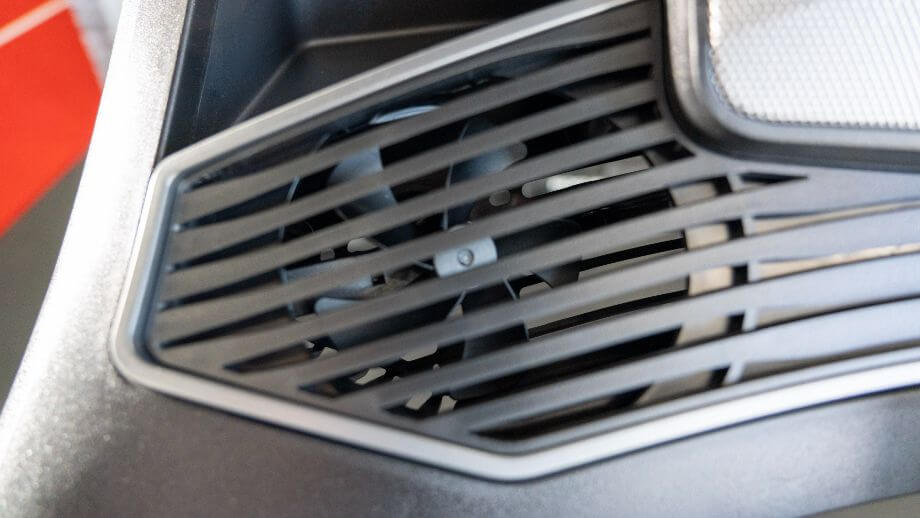 ProForm Carbon T7 Treadmill Rating
ProForm Carbon T7 Treadmill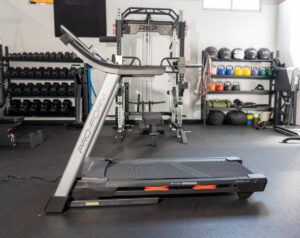 Check out our ProForm Carbon T7 treadmill review for an in-depth look at a budget-friendly machine with interactive programming capabilities.
Product Brand: ProForm
Product Currency: $
Product Price: 999.00
Product In-Stock: InStock
ProForm Carbon T7 Treadmill FAQs
Can you use the ProForm Carbon T7 Treadmill without iFIT?
Yes, you can, but they do not make the manual mode on the Carbon T7 easy to find. If you do not use iFIT programs, the HD touchscreen will be almost useless.
What extras come with the ProForm Carbon T7 Treadmill?
Here are some of the nice extras you can expect to see on the ProForm Carbon T7:
Two cup holders
Cooling fan
Two speakers
7-inch HD touchscreen
What is the monthly cost for iFIT?
Depending on if you want an individual or family membership for multiple people, the pricing will be different. For an individual monthly membership, it'll cost you $15 per month. In terms of a monthly iFIT family membership, you'll be charged $39 each month.