We review free products that we receive and participate in affiliate programs, where we may be compensated for items purchased through links from our site.
See our disclosures page for more information.
The Oak Club Mfg James Hook
is the most over the top sandwich j-cup we've ever tested and reviewed. It's massive, uses a unique Mag Pin to prevent swaying, uses a gigantic, slanted piece of UHMW plastic and is expensive. We think it's completely unnecessary, which is one reason we like it. If you have the money to spend on a special set of j-cups, these are a great option. However, these are not for most people due to the price point.
Squat Rack J-Cups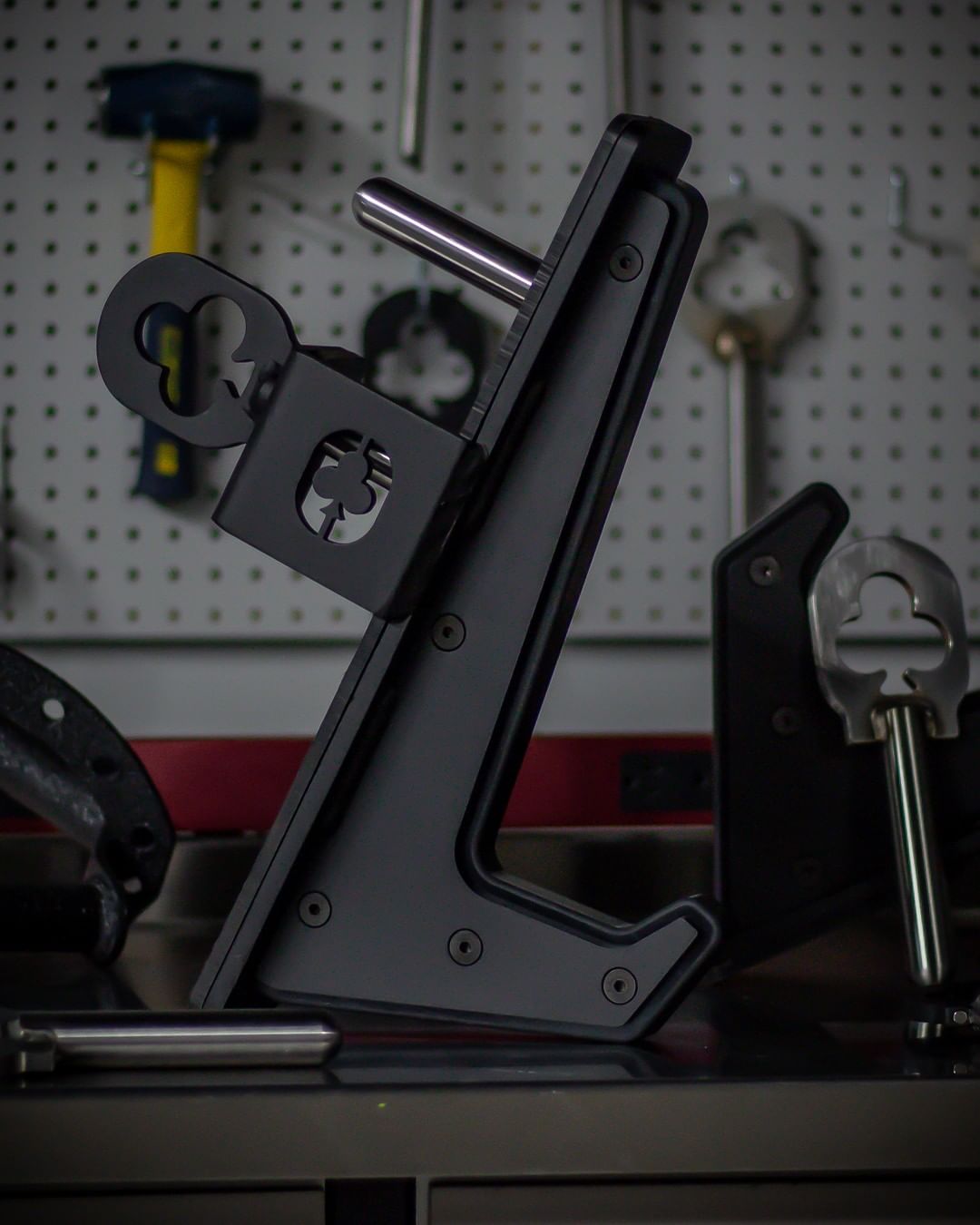 Oak Club James Hook J-Cups
Versatility in a J-Cup, who expected that? "‹ Our James Hook's are manufactured from 3/8" and 1/4" welded steel. The unique shape and size of the 1" UHMW backboard provides more flexibility when re-racking your barbell, as well as offers guidance during balance challenging lifts such as barbell calf raises, or acts as a barrier between you and the barbell during pull lifts such as barbell shrugs. The back and clasp is lined with 1/4" UHMW, providing the ultimate protection to your rack posts. All UHMW is secured using only flush mount hex hardware. Choose to include a set of size matched stainless steel securing pins (MagPins) which utilize magnetic energy to hold securely in place while still allowing easy removal when desired.
The James Hook from Oak Club Mfg is quite possibly the most over the best squat racks j-cup ever created. Not only is it the largest set I've ever held, it's also one of the most well thought out designs. It features an anti-sway design thanks to a locking pin (that's also magnetic,) a huge piece of UHMW plastic for protecting your barbell knurling, inset hardware so nothing gets in the way of reracking your bar, and an aesthetically pleasing hooked lip. It is expensive–very expensive, but it's also their first product and the only one on the market like it.
Who is the James Hook For?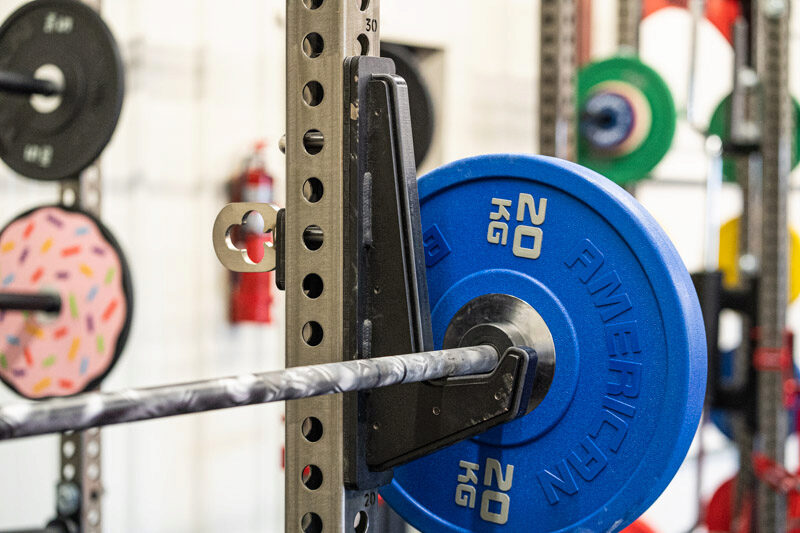 This is not a set of j-cups we would recommend to most people. Far from it. It's only made for 3"x3" racks, has a unique design with a lot of details, and is extremely expensive in comparison to your run of the mill j-cup.
The Oak Club Mfg James Hook is for home gym owners that see products beyond just their functionality. Sure, there's a functionality improvement in that the j-cup doesn't sway and it's oversized, but these aren't common pain points for most people.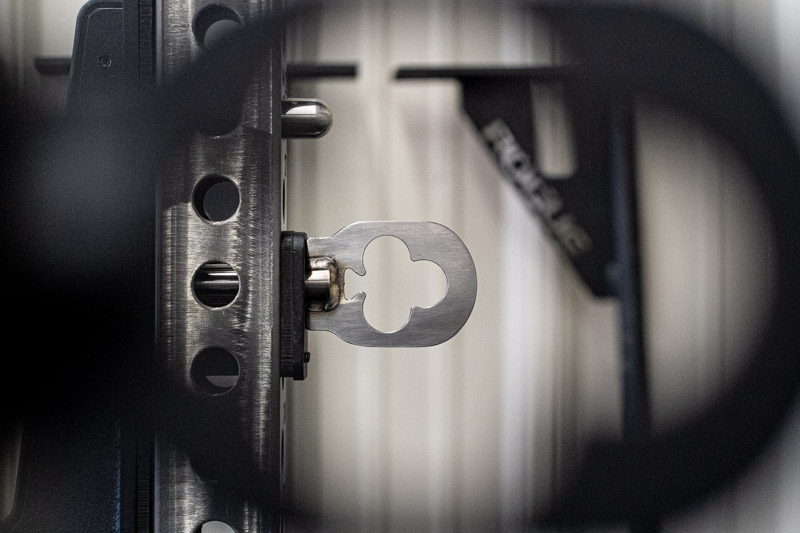 The James Hook is a sandwich j-hook for those that like the aesthetics and want something unique that you won't find in anyone's gym in your city. They're handmade and custom. So, are they unnecessary? Yes. Are they cool? Very much so. If that doesn't speak to you, avoid them.
What We Like About The James Hook J-Cups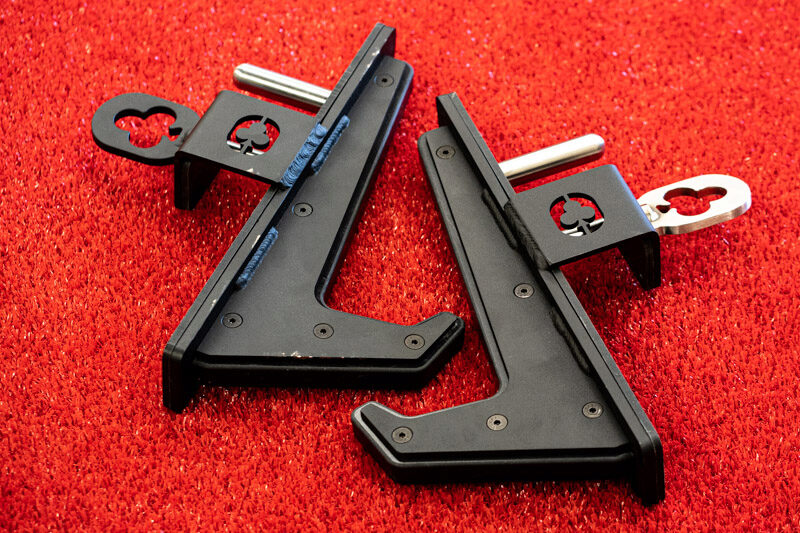 The James Hook was one of those products that when I first came across it, I knew I had to have it. It's unique, functional, and in my opinion, looks downright debonair (typing this while smoking a pipe and wearing a fedora.)
As most of you know, I'm a sucker for unique gym equipment ideas. I don't recommend most of them because they're off-the-wall and don't add a lot of function for the cost, but that doesn't stop me from having an affinity for them.
The James Hook from Oak Club Mfg is just that type of product. It's not for everyone, but the people who like it will love it.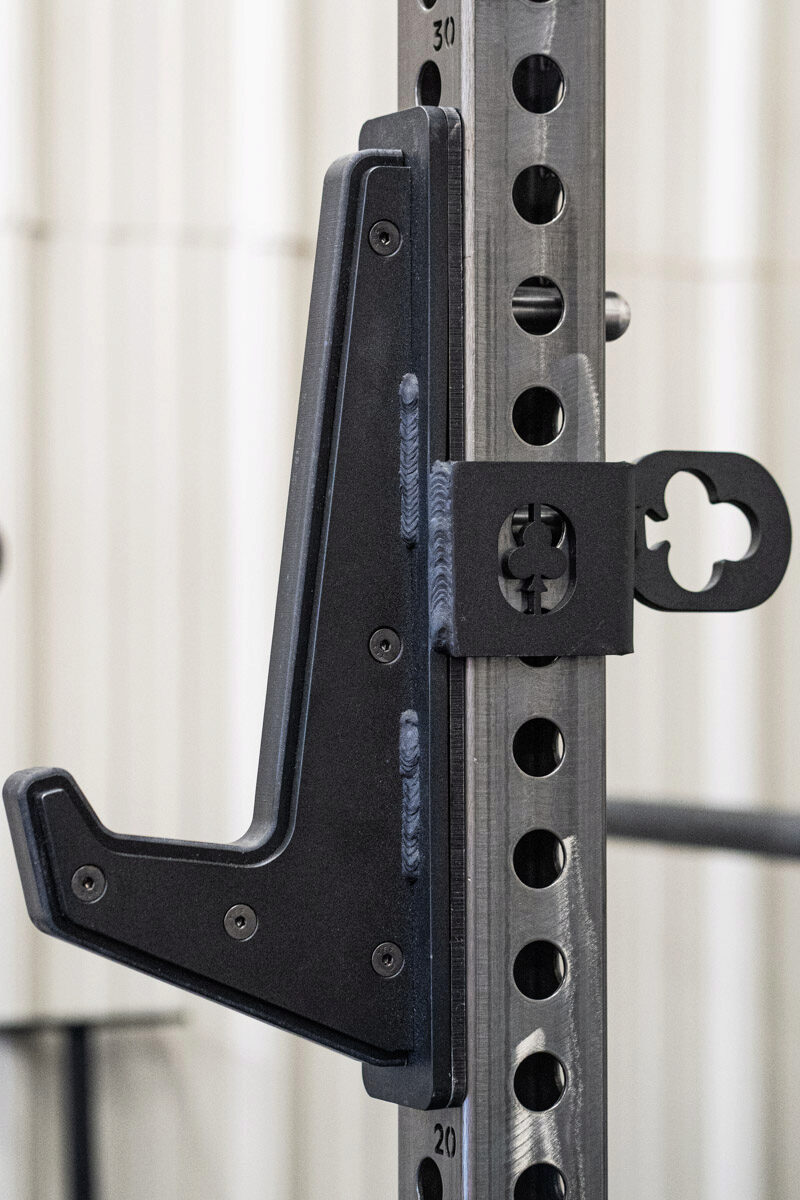 The first standout feature of The James Hook is just how massive it is. It's a bit difficult to grasp how big it is in comparison to a standard sandwich j-hook that you'd find on any high-end squat rack in pictures, but trust me, it's big. The "backboard" which is essentially the back of the j-cup where the bar first makes contact when reracking a squat or bench press is 12" tall which is almost twice as tall as pretty much every other j-cup on the market. This seems excessive, but it does offer some additional functionality that I think many overlook when first seeing it.
First, you're pretty much guaranteed to rack your bar on UHMW instead of metal regardless of where you position the j-hook. This is minor, but it is a benefit.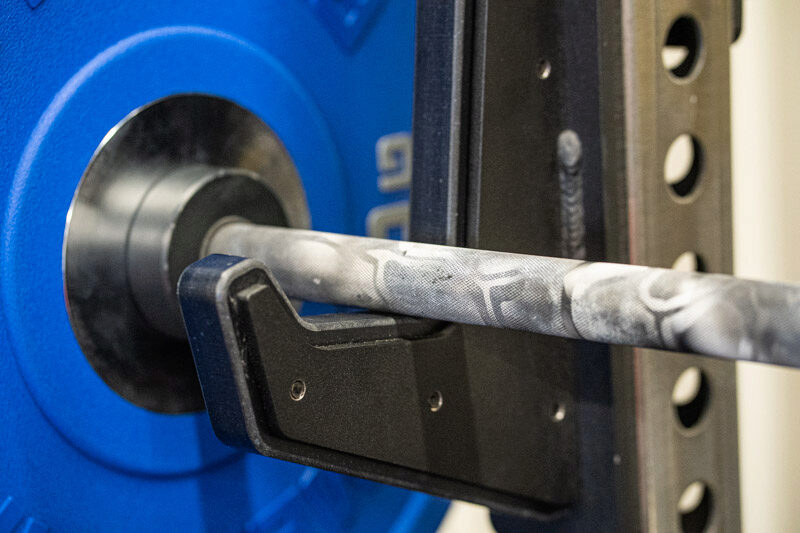 Second, due to it's angle and length, it works great for rubbing up against for movements that traditionally aren't done against something due to the potential for metal on metal contact. For instance, rather than do freestanding calf raises, you can do them against the James Hook. Rather than doing freestanding shrugs, you can pull at an angle against the James Hook. These are both accessory movements and again, not revolutionary changes, but they are nice features.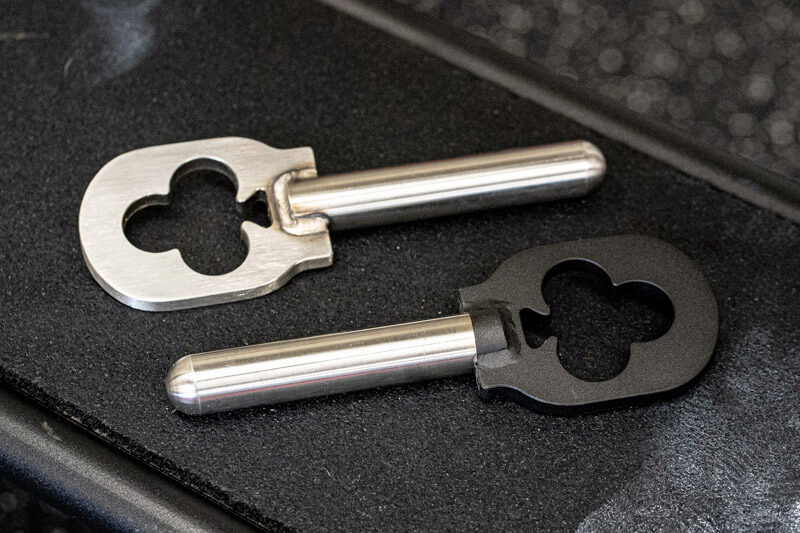 The other big feature of the James Hook is the Mag Pin that prevents the j-Cup from swaying. I haven't ever had many issues with my j-cups swaying while reracking the bar, except for some specialty bars like the Duffalo Bar and other buffalo bars that are extremely annoying to use on standard j-cups. The Mag Pin fits into a hole in the back j-hook clasp that then goes through a hole on your squat rack upright. It's quick to change, has inset magnets so it connects flush to the j-cup ever time and has a cool design. It's essentially a redesigned hitch pin.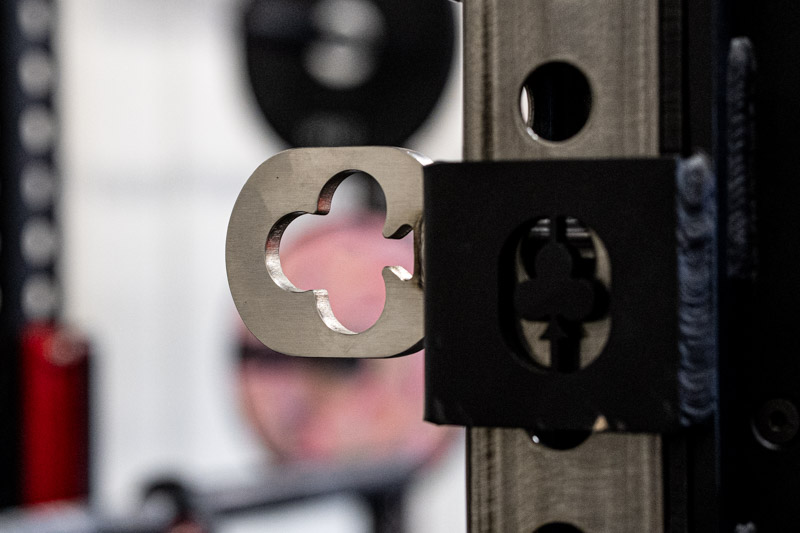 Every part of the James Hook is well designed. The hardware is inset so there's no catching of the barbell on the side, the UHMW is fat and will last for decades of training, the pins come in either stainless or a textured black powder coat, and they have options for both 1" and ⅝" hole racks. There's also UHMW plastic on every part of the James Hook that could potentially touch a squat rack upright. This is often overlooked by companies, but it's nice to see that way your precious rack Powdercoat won't chip due to your j-cups.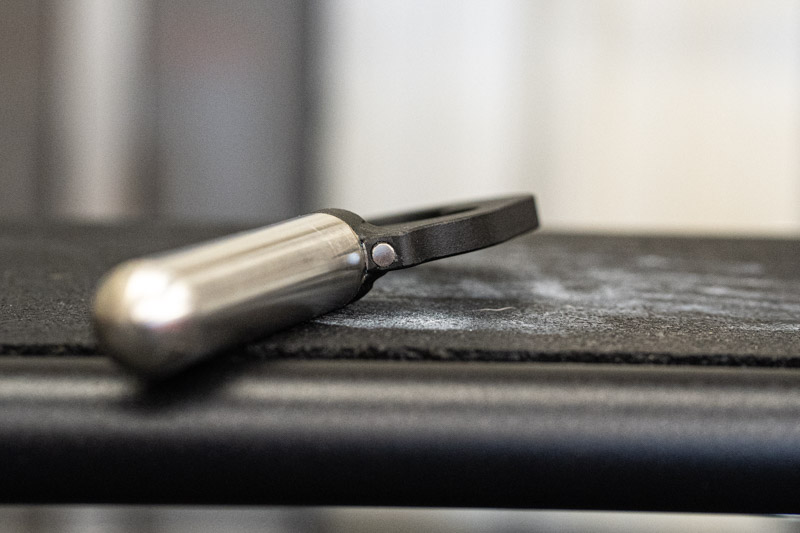 If you want something unique, yet functional, the James Hook is a sweet option.
What We Don't Like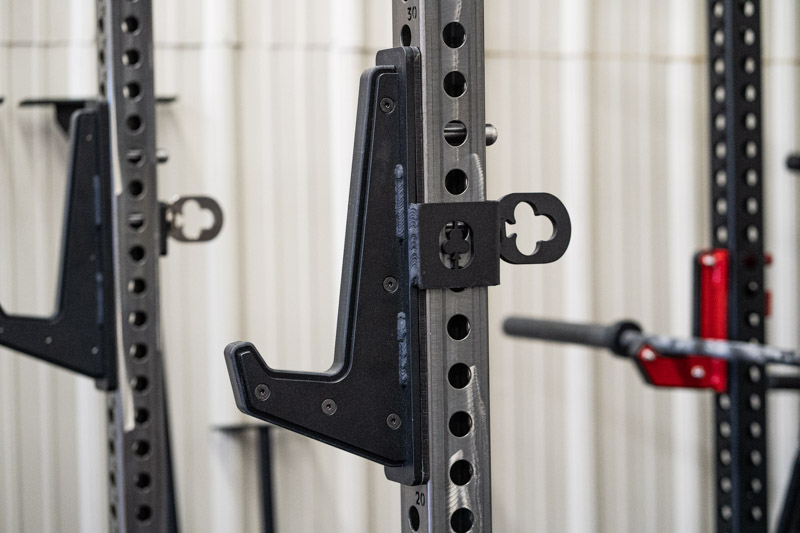 There's really only one thing we dislike about the James Hook and we've already made that clear. We don't like the high price tag. Nobody will. However, we understand it. In developing products as a start-up, prices are forced to be high. The materials used in this are not cheap and neither is the fact that they're making them with a small operation in Canada.
If you're price-conscious, then this isn't a product you would even consider, but hopefully, over time, they can lower the price as they increase production.
Full Rating