We test and review fitness products based on an independent, multi-point methodology. If you use our links to purchase something, we may earn a commission. Read our disclosures.
In fitness, there's always an NBG—next big thing. Right now, that big thing is tech-savvy fitness equipment, or smart home gym equipment. Specifically, smart workout mirrors are all the rage right now. And you know Coop: I must try anything that the fitness community is raving about. This ProForm Vue mirror review is one of many smart workout mirror reviews (find them all in our best workout mirror roundup), and in it, you'll read some unfiltered thoughts.
Personal Trainers Who Have Tested Nearly Every Workout Mirror
My team and I have personally tested all of the best smart workout mirrors available, including the MIRROR, Tempo Studio, the NordicTrack Vault, and a personal favorite, Tonal. With the ProForm Vue (and all of the aforementioned) myself and other product testers on the Garage Gym Reviews team have completed a variety of workouts and analyzed every feature, from the tech specs, to equipment and production quality, and the actual frame builds.
ProForm Vue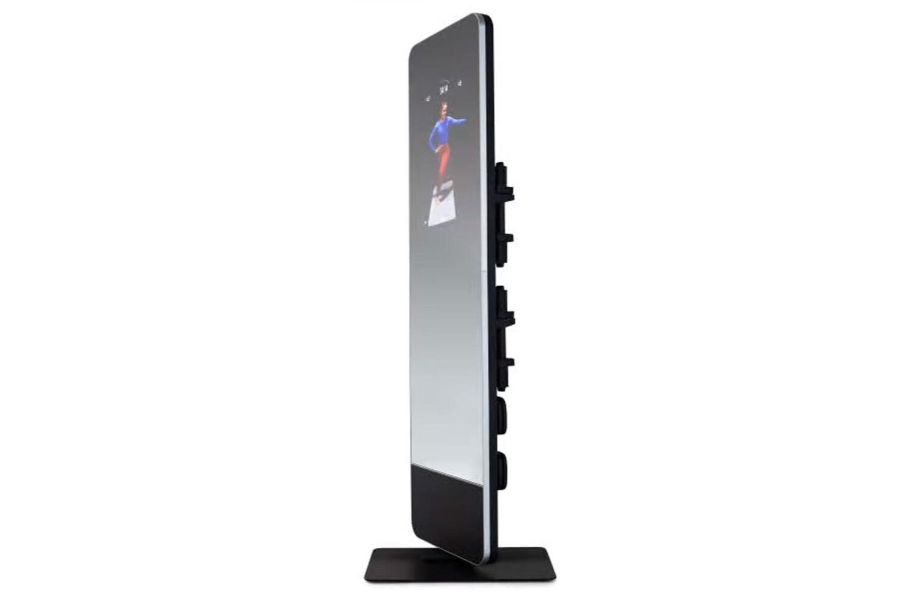 Product Highlights
Sturdy frame
iFIT programming
Sleek-looking screen
Pros & Cons
Pros
Sleek design
Doesn't take up much space
Uses iFit programming
Cons
Screen is small
Equipment is low quality
Expensive for what you get
Bottom Line
We love the ProForm Vue's workout programming, but the included equipment leaves a lot to be desired.
A Quick Look at theProForm Vue
The ProForm Vue is ProForm's smart workout mirror. It's similar to other workout mirrors, most closely resembling the MIRROR and the NordicTrack Vault. The Vue is a pivoting 24-inch by 60-inch reflective surface situated on a heavy base. Embedded in the reflective surface is a 22-inch HD touchscreen where iFit workouts stream.
Before You Buy:
The equipment that comes with the Vue is not great. Consider using your own if you already have some dumbbells, a barbell, or weight plates.
Don't be fooled by the looks of the Vue—the touchscreen portion does not cover the whole reflective surface.
Keep some glass cleaner handy. The touchscreen smudges easily.
My Favorite Things
The frame is very heavy and sturdy, making it solid and safe in your home.
It runs on iFit, so you have a wealth of workouts to choose from.
The reflective screen is aesthetically pleasing when not in use.
My Callouts
The included equipment is very poor.
Touchscreen can be buggy and sometimes slow to load.
No tech for tracking weight, reps, or other stats.
Is the ProForm Vue Worth It?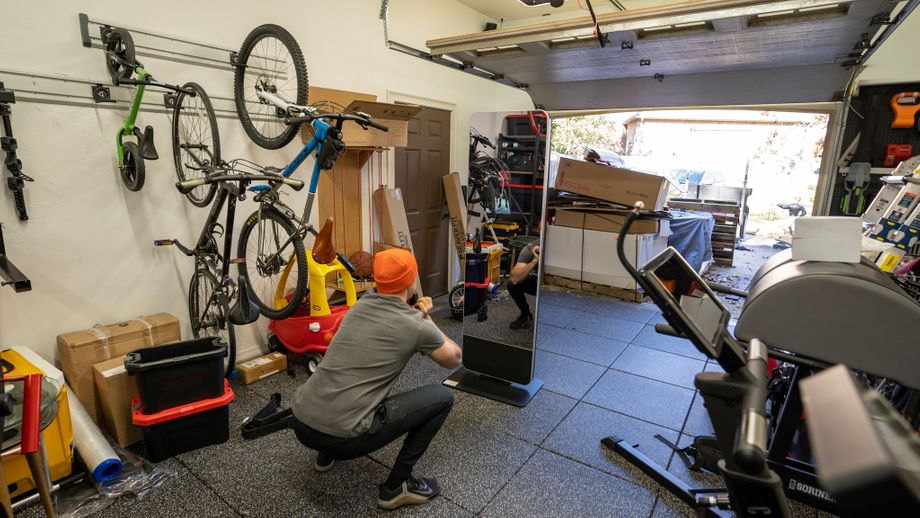 My very straightforward opinion is: not for most people. The ProForm Vue does have some good qualities and is at a lower price point than many higher tech competitors, but with the other workout mirror options out there, I recommend putting your money elsewhere.
After using the Vue for a few weeks, I feel like ProForm was trying to create a value-add over the MIRROR by including gym equipment at the same price point (the MIRROR doesn't come with any equipment).
However, the quality of the included dumbbells, barbell, and weight plates is so poor I think ProForm would've created a better overall product by excluding the equipment and putting those funds into the unit itself.
I'll get into more details about the quality of the equipment and the workout experience below, but for now, here's a quick look at who might enjoy using the Vue and who should look into other workout mirrors.
Great For:
Budget-minded buyers looking to maximize their spend, and don't mind sacrificing a bit of quality to get an all-in-one smart home gym for a lower price.
Not Recommended For:
People who value high-quality equipment and a smooth workout experience over budget.
Anyone who needs more than 30 pounds of weight to lift regularly.
ProForm Vue Specs
| | |
| --- | --- |
| Dimensions | 24.25" W x 14" D x 72.65" H |
| Weight | 140 pounds |
| Frame | 24" W x 60" H pivoting reflective surface on a floor stand |
| Display | 22-inch HD touchscreen |
| Speakers | Dual 3" Bluetooth speakers |
| Microphone | None |
| Camera | None |
| Heart Rate | ActivePulse Technology |
| Connectivity | Bluetooth, WiFi |
| Accessories | 10-pound barbell, two 5-pound dumbbells, four 2.5-pound plates |
| Warranty | 2-year frame, 1-year parts and labor |
Using the ProForm Vue
To be frank, I was a little disappointed with the Vue overall. Maybe my expectations weren't set correctly, but I felt misled when the quality of the product didn't match those expectations. I'll call out the good and the bad, because I think it's worth analyzing every angle of a product to help you make the best buying decision.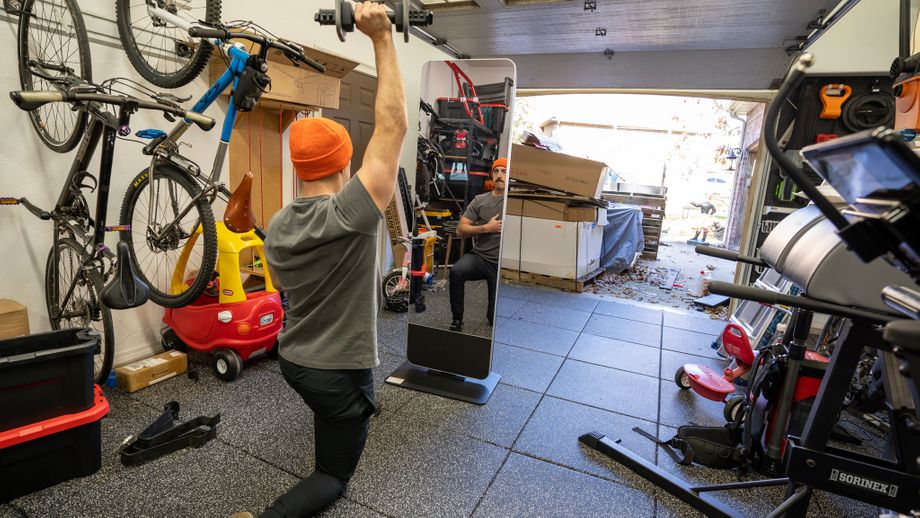 Types of Workouts
The ProForm Vue Home Gym Trainer (and all smart ProForm products like the ProForm Hybrid Trainer) work with iFit, a leading platform for interactive fitness programming. iFit comes preloaded on the Vue—all you have to do is sign up and then log in using the Vue's touchscreen. You get a free year-long iFit family membership when you buy the Vue, which is pretty sweet. Once you're all set up, you'll be able to access workouts across a wide range of categories, including:
Strength training
Bodyweight training
Cardio
Bootcamp and high-intensity interval training (HIIT)
Yoga
Recovery
A lot of iFit programming is centered around endurance sports, such as cycling and running, since iFit also powers a variety of ProForm and NordicTrack exercise bikes, ellipticals, and treadmills. Those classes obviously aren't compatible with the Vue, but if you have other iFit-enabled equipment, you'd be well on your way to building an epic smart home gym.
RELATED: Best Exercise Bike
Personal Training
The Vue doesn't have true personal training capabilities, although iFit classes are pretty instructional. You can select on-demand workout classes at any time, or follow the live schedule to follow along with an instructor in real time. Both types of classes are engaging and super interactive, especially the ones that are filmed in outdoor locations around the world.
Equipment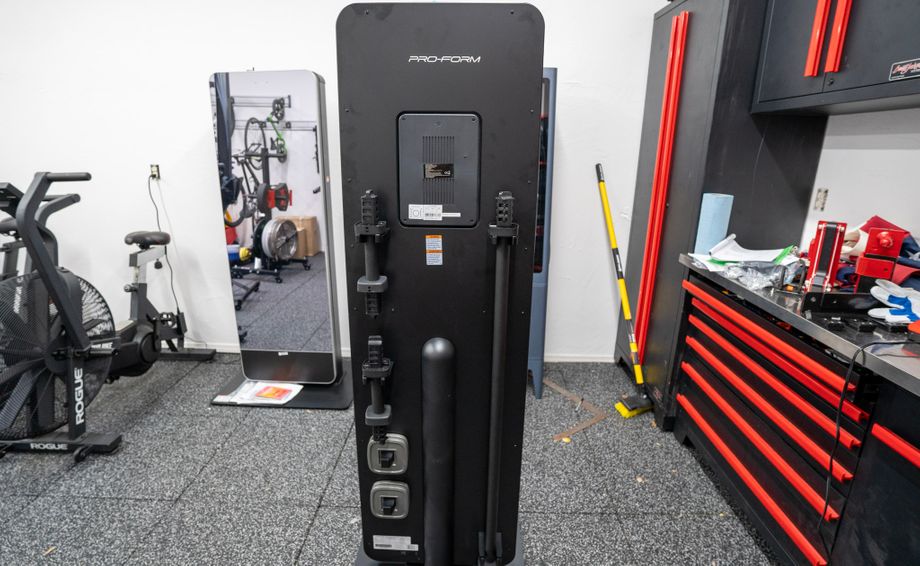 Okay, here we go. I promise I always try to look for the good in every product I test, but I also believe in keeping it real with all of you readers and making sure you know exactly what you're buying.
That said, the fitness equipment that comes with the ProForm Vue is not good. In fact, it's very poor, and my personal opinion is that it takes away from the overall value of the product and probably should've just been left out. ProForm could've lowered the price point even more without it, or used the allocated money to invest more in the production of the mirror itself.
RELATED: Best Home Gym Equipment
First off, the barbell isn't an Olympic barbell. I didn't measure it exactly, but it looks like the diameter of the barbell is 1 inch rather than the standard 2 inches. The sleeves are loadable and designed only to hold the small weight plates that come with the Vue. The bar is also much shorter than an Olympic barbell, and it has squared-off end caps and no bearings or bushings.
Did I mention that it's plastic? Good thing it's only capable of holding a grand total of 10 pounds—in the form of four 2.5-pound cast iron, enamel-coated change plates.
The dumbbells are also plastic and loadable. All of this may not be too bad if I could find a way to purchase more plates online. But most people can lift more than 10 pounds, especially on compound lifts like squats and deadlifts, so I just don't envision this setup being adequate for most home gym owners.
Other equipment, like a yoga mat or heart rate monitor, is sold separately.
My advice? If you have other dumbbells and such already, use that instead.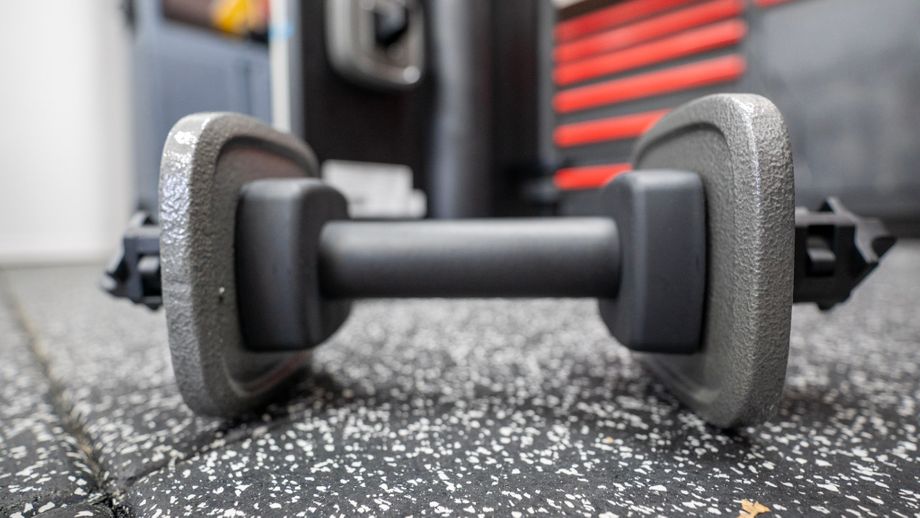 Audio and Visual
Overall, the production quality on the ProForm Vue isn't bad. I can't say it's as good as Tonal, Tempo Studio, or the MIRROR, but it's not terrible. I ran into some minor issues, such as the touchscreen lagging at times and being a bit buggy. But I ran into those same things with higher-end workout mirrors including Tempo.
The display is full HD (1080px). It's not 4K, but it's still good. The speakers could be stronger.
The iFit classes are spectacularly well-done. iFit has long been one of my favorite fitness streaming apps because of the production quality and variety of workout class types.
During use, it did feel alot like I was using an iPad, which I think for many would be a better value when combined with an iFit membership.
Tech Specs
Although the ProForm Vue falls into the "smart workout mirror" category, I wouldn't exactly call it smart compared to others in this realm. While it has the basics—an HD touchscreen display, Bluetooth speakers, heart rate monitor connectivity, and live workout streaming—it has virtually no tech for tracking things like reps, sets, weight, or technique.
Compared to Tempo, which uses advanced AI to provide real-time exercise form correction, and Tonal, which uses AI to automatically adjust the digital weights, the Vue is bare-bones when it comes to tech specs. Not everyone needs the futuristic qualities found in products like Tempo or Tonal, but if that is what you're looking for, you won't find it in the Vue.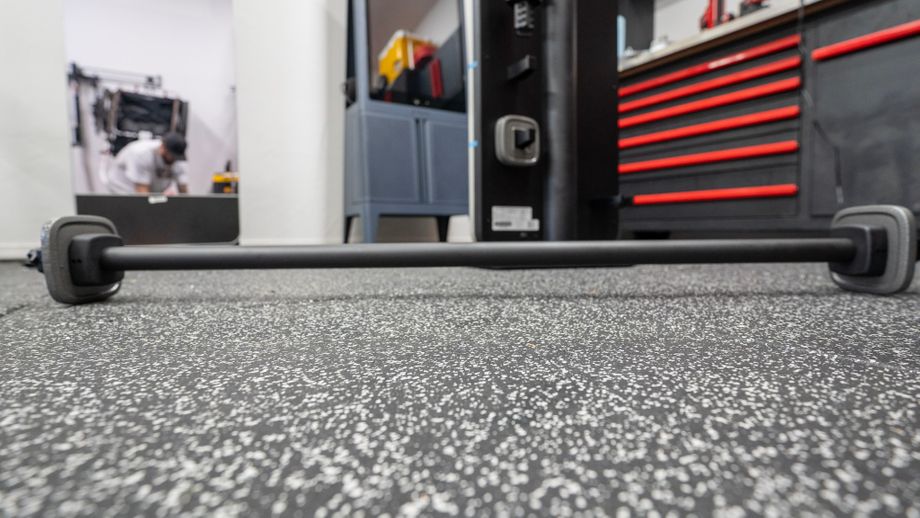 Will the ProForm Vue Fit in a Small Apartment?
One thing the ProForm Vue does have going for it is its compact size. The total footprint is only 24.25 inches wide x 14 inches deep x 72.65 inches tall, so you can easily fit it in a small apartment. You don't need extra high ceilings or a lot of floor space to accommodate it, and you don't need extra storage space for the included equipment. The barbell, dumbbells, and weight plates store neatly on the backside of the swiveling reflective surface.
Will the ProForm Vue Mirror Break Easily?
Another thing I love about the Vue is how sturdy it feels. This thing is heavy, weighing in at 140 pounds, and a lot of that weight is in the solid base upon which the mirror sits and swivels. It won't fall over unless you want it to.
The screen is glass, so treat it like you would treat your TV or any other expensive item with a fragile component. I'm not sure exactly what kind of glass ProForm used with the Vue—it very well could be an ultra-durable type—but I'm not planning on an attempted shatter to find out.
Unboxing the ProForm Vue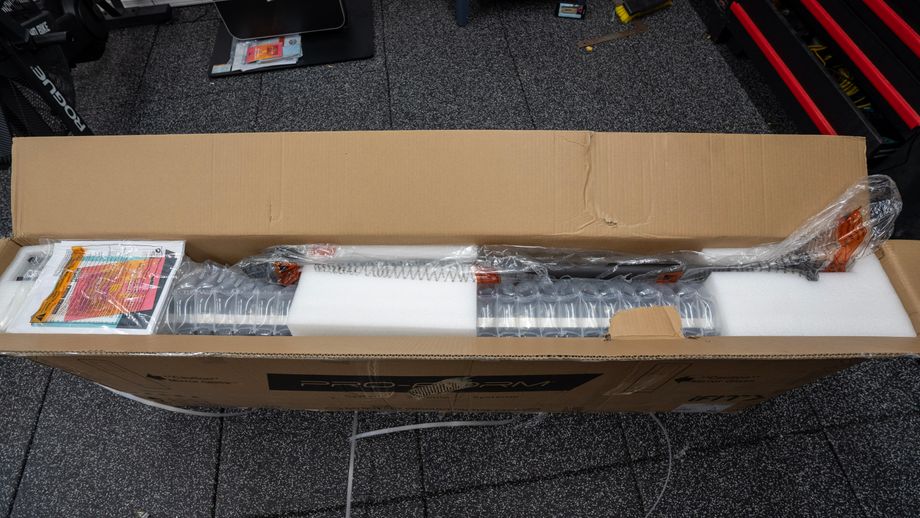 You guys and gals know I'm all about first impressions. When things arrive on my doorstep banged up or damaged, it's not a good start to the experience. Thankfully, delivery of the Vue was smooth. I had no issues with the packaging at all; everything arrived clean and intact.
The assembly was pretty straightforward and simple with the exception of the weight pegs on the back of the machine. The pegs have super small screws and there's not a lot of wiggle room on the back to install them. It's one of those instances where you have to find just the right angle to fully rotate your screwdriver or else you'll be turning them 10 degrees at a time.
Customer Experience and Reviews
There aren't many reviews about the Vue online, and most of what exists is pretty lukewarm. On Reddit, people have complained about continual shipping delays and subpar customer service. One Reddit review reported that a customer service rep said shipping for all Vue units was delayed because there was a problem with the hardware. Another said theirs arrived late and with the box in pretty bad shape.
On Google, there's only one ProForm Vue mirror review, and the customer gave it two stars because they apparently weren't aware they needed a monthly subscription to use it. In case it wasn't clear: You need a monthly subscription to iFit to use the Vue.
The Vue has a decent warranty: two years for the frame and one year for parts and labor. In comparison, the MIRROR has a limited one-year warranty and the NordicTrack Vault has a 10-year frame, two-year parts, and one-year labor warranty. There doesn't seem to be a standard in this class of exercise equipment yet.
One thing you should know is that all iFit-connected equipment, including everything from ProForm, is under a warranty that is completely voided if the equipment is stored in a non-climate-controlled space. So don't put this in your garage unless it's temperature-controlled.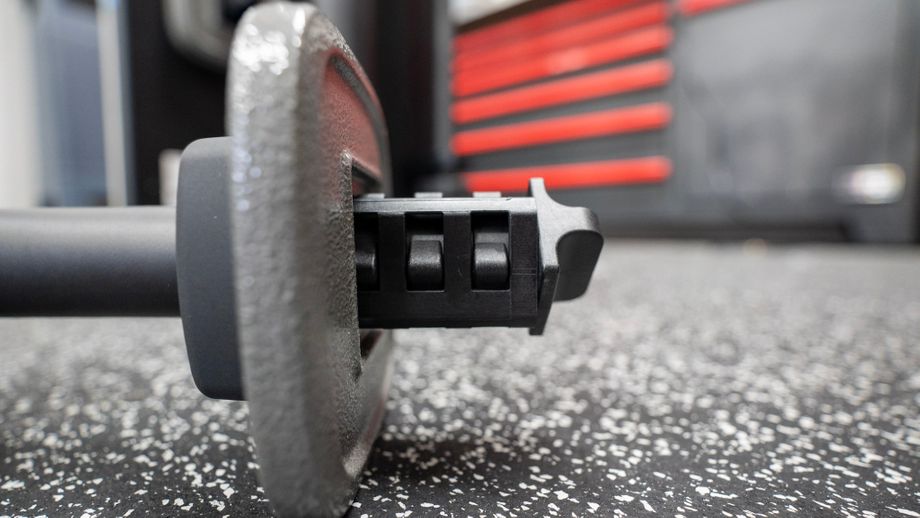 The MIRROR vs. ProForm Vue
I've mentioned the MIRROR a lot in this ProForm Vue mirror review because, to me, the Vue feels like an attempted one-up of the MIRROR. Functionally, they both do the same thing: stream live and on-demand workouts in a variety of categories.
However, the MIRROR's production quality is better, as are the tech specs. The video is sharper and the audio is clearer.
The MIRROR also has more workout categories, such as barre and pre/post-natal workout classes. You can also hire a personal trainer through MIRROR and do one-on-one training sessions in your living room thanks to the two-way camera.
One other big difference is that the Mirror does not have a touchscreen and everything must be controlled through the app, whereas on the Vue, controls are on-screen.
Read our full MIRROR review. 
NordicTrack Vault vs. ProForm Vue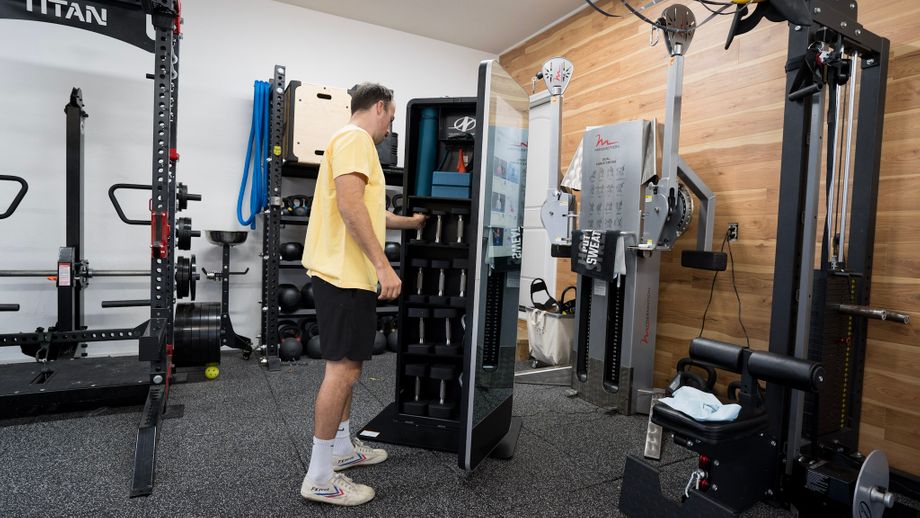 Another common comparison to the Vue is the NordicTrack Vault, and rightfully so, considering both of these devices use iFit for fitness programming. They're extremely similar in some ways and vastly different in other ways. Both are freestanding, full-length mirrors with lots of home workout options, including on-demand classes and live fitness classes.
Notably, the home gym equipment that comes with the Vault is of much higher quality. The Vault also comes with more equipment: If you buy the complete version, it includes kettlebells, resistance bands, loadable dumbbell bars, and an exercise mat.
Read our full NordicTrack Vault review.
ProForm Vue vs. Echelon Reflect
The Vue is also commonly compared to the Reflect, Echelon's version of a smart workout mirror. The Reflect has that same $1500 price point that seems to be a target for these things. I have yet to write a full Echelon Reflect review because the unit I ordered arrived with the screen shattered—talk about poor first impressions. However, Garage Gym Reviews staff writer Amanda Capritto has used the Reflect and wrote about her experience in our roundup of the best fitness mirrors.
RELATED: Echelon Reflect Review
In short, the Echelon Reflect and ProForm Vue have similar production quality: not terrible, but not the best. The main differences are that the Reflect must be wall-mounted, it streams Echelon United instead of iFit, and it doesn't come with any fitness equipment other than the mirror itself.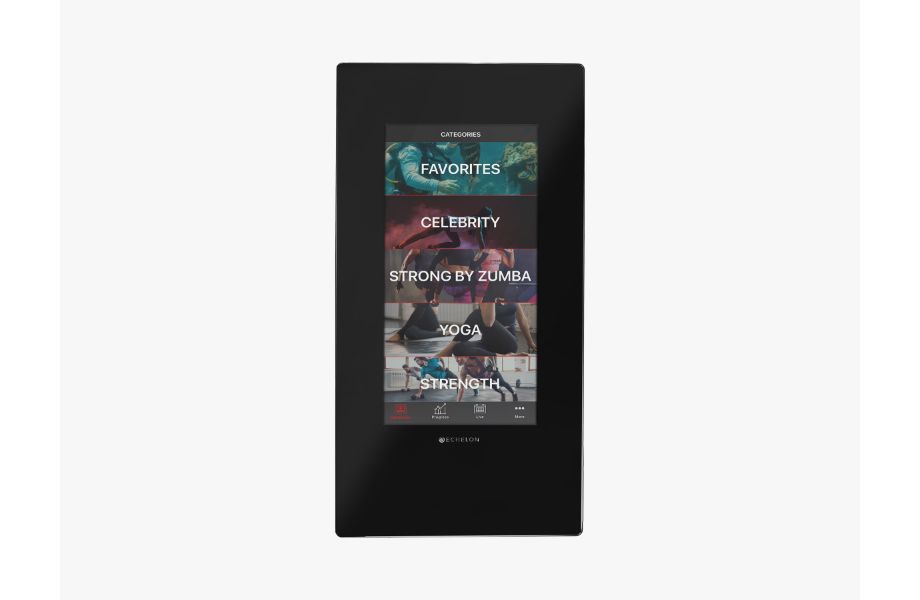 Final Verdict of Our ProForm Vue Mirror Review
Ultimately, there's better out there for the price. The ProForm Vue fitness mirror has some good things going for it, but if it's a smart workout mirror plus equipment you're after, I recommend splurging on the Tempo Studio or NordicTrack Vault—or, to keep costs a bit lower, buy the MIRROR and separately purchase higher-quality equipment to use with the Vue. The downside to that second route is that you can't use the Vue's built-in storage on the back of the swivel surface, so you'll need to budget for more floor space.
It seems ProForm tried to create a better value proposition by including weights with the mirror and maintaining an attractive $1,500 price point, but the quality of the equipment dampens the experience.
If you really want a fitness mirror that streams iFit, the ProForm Vue is an option, but you should also look into the NordicTrack Vault.
If you don't want or need equipment, consider the MIRROR to enjoy better production quality for the same price.
Full Rating
ProForm Vue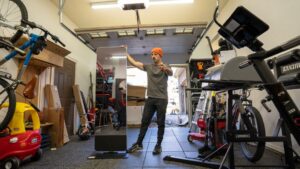 The ProForm Vue is a workout mirror that comes with basic fitness equipment, including dumbbells and a small barbell. The full-length mirror has an embedded 22-inch touchscreen display that streams iFit workouts for interactive programming.
Product Brand: ProForm
Product Currency: USD
Product Price: 1499
Product In-Stock: InStock
ProForm Vue FAQs
How much does the ProForm Vue weigh?
The ProForm Vue weighs 140 pounds. Your package will also come with 30 pounds of additional weight in the form of: a 10-pound barbell, two 5-pound dumbbells, and four 2.5-pound weight plates
Does ProForm Vue have a camera?
No, the ProForm Vue does not have a camera. (The MIRROR is currently the only smart workout mirror that has a two-way camera for personal training purposes.)
What iFit membership comes with the ProForm Vue?
When you buy the ProForm Vue, you'll get a free one-year family membership to iFit.
What kind of workouts can you do on the ProForm Vue?
Because the ProForm Vue works with iFit, you can do any type of workout offered through iFit. There are a number of categories in iFit, including strength, cardio, bodyweight, yoga, Pilates, recovery, high-intensity interval training (HIIT), and more.
Are workout mirrors good for weightlifting?
The truth is, none of the smart fitness mirrors are great for true weightlifting, powerlifting, or CrossFit-style training. They're intended for general, not competitive, fitness and for people who like having more variety in their home fitness training. Mirrors such as the ProForm Vue can help you reach your fitness goals if they involve general things like losing weight, gaining more muscle, or improvising your body composition.