We test and review fitness products based on an independent, multi-point methodology. If you use our links to purchase something, we may earn a commission. Read our disclosures.
We're living the dawn of a new era—the era of the smart home gym. From smart workout mirrors to smart bikes and ellipticals, you can deck out a home gym with much more than barbells and dumbbells these days. Our NordicTrack Vault review will help you decide if this is the right smart home gym system for you.
Why You Should Trust Us
Coop and I have tested all of the major smart home gym systems currently available, including the MIRROR, Tempo Studio, Tonal, Echelon Reflect, Proform Vue, and the NordicTrack Vault, which we cover in this review. We put the Vault through its paces to see how it stacks up against others on the market.
NordicTrack Vault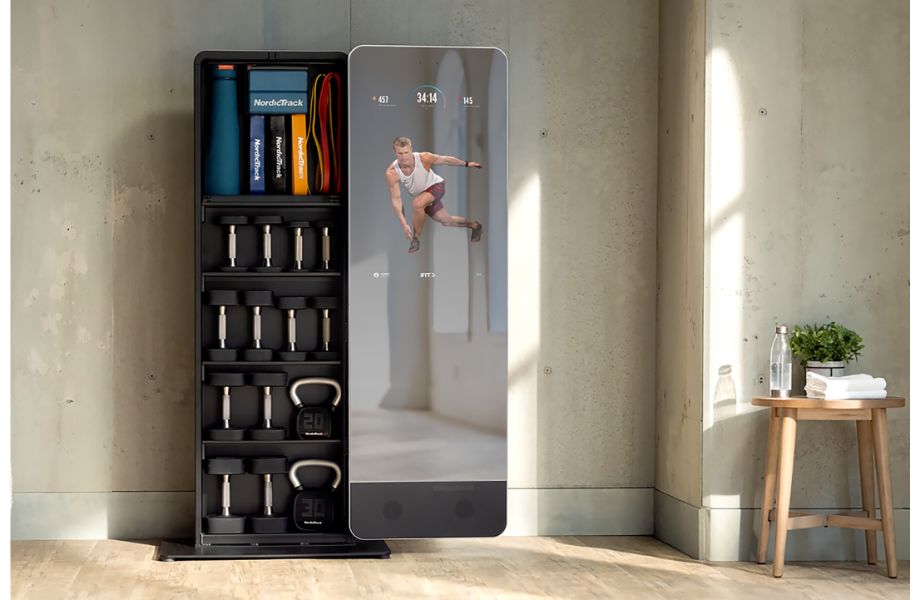 NordicTrack Vault
The NordicTrack Vault is an all-in-one smart home gym system with an HD touchscreen display cloaked by a 6-foot mirror. The Vault: Complete comes with six sets of dumbbells, two kettlebells, six resistance bands, yoga blocks, an exercise mat, and vertical storage for your fitness equipment. The Vault uses iFit programming to bring you immersive and interactive workouts, on-demand and live.
A Quick Look at the NordicTrack Vault
NordicTrack makes a ton of fitness equipment, including some of our favorite exercise bikes (like the Nordictrack S22i exercise bike), treadmills (like the NordicTrack Commercial 1750 treadmill), and ellipticals (like the NordicTrack Commercial 14.9)
The Vault is NordicTrack's foray into smart home gym equipment. It features a full HD touchscreen cloaked by a 6-foot mirror when not in use. The reflective screen allows you to watch and self-correct your form as you follow along with iFit workouts, which is the streaming service the Vault uses to provide live and on-demand fitness classes.
My Tips:
Get the standalone version if you already have dumbbells and kettlebells at home. Or, if you don't need the storage, look into the MIRROR.
The Vault uses iFit, which doesn't have personal training capabilities. If you want feedback and corrections, Vault might not be your best option.
The box is REALLY heavy. Like, 258 pounds heavy. Enlist a buddy to help you get it inside.
My Favorite Things:
Free 30-day iFit family membership included
Slim profile and sleek design make it look good anywhere
Comes with dumbbells, kettlebells, resistance bands, and a workout mat
Uses iFit programming, so there's virtually endless workout options
My Callouts:
Touchscreen smudges easily
Equipment doesn't store as neatly as shown in photos
Equipment isn't of the best quality, but it should hold up for a long time indoors
Cannot be stored in a garage, as the warranty will not be valid if you do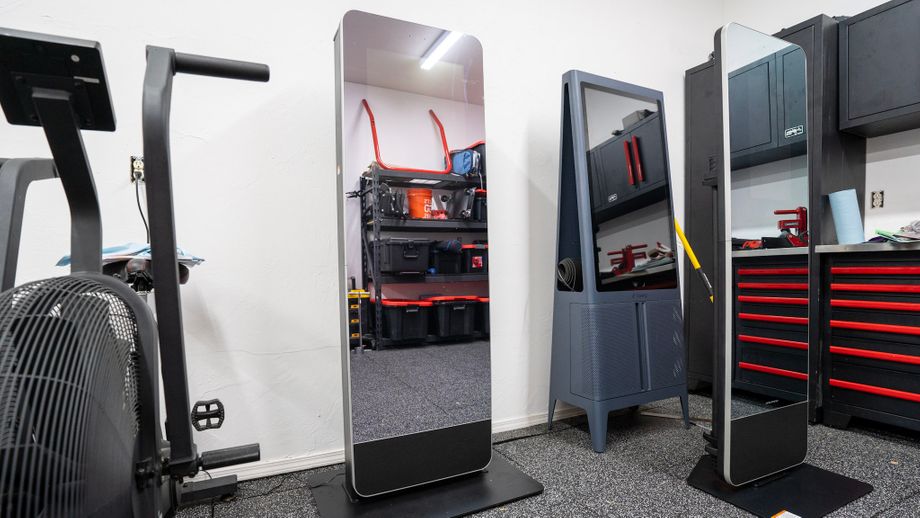 Is the NordicTrack Vault Worth It?
As always, it depends. There are a few different fitness mirrors worth checking out before deciding which one to go with—namely the MIRROR, Tonal, and Tempo Studio. The Vault Complete is not cheap: It costs about $3,000. The Vault Standalone costs about $2,000, but there might be a better option for you if you're not looking for an all-in-one system (that is, if you already have dumbbells, kettlebells, and tube resistance bands).
For the right audience, the Vault is a viable option for completely replacing your gym membership. Here's who we think should look into it and who should skip it.
RELATED: Home Gym vs Gym Membership
Great for:
People who want a workout mirror that also stores equipment
People who want an easy all-in-one solution to start building their home gym from scratch
People interested in general fitness training
People who want a lot of variety in their training to avoid boredom
Not recommended for:
People who want to lift heavy weights or with a barbell
People who already have gym equipment
People interested in Olympic weightlifting, CrossFit, or powerlifting
People looking for periodized fitness programming or personal training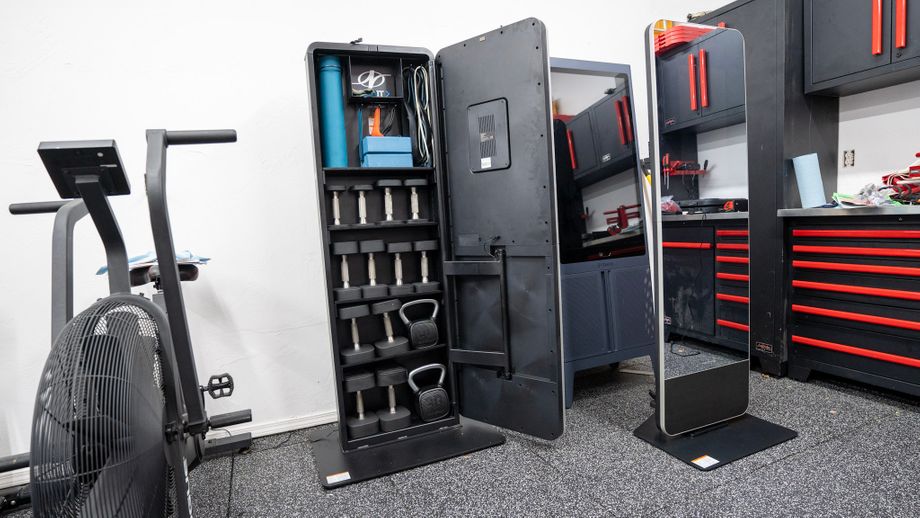 NordicTrack Vault Specs
| | |
| --- | --- |
| Dimensions | 72.65" H x 24.25" W x 14" D |
| Weight | 258 pounds (including equipment) |
| Frame | Carbon steel |
| Display | 32" rotating smart HD touchscreen; 61.5″ x 22.5″ pivoting reflective mirror |
| Speakers | Dual 3" digitally-amplified speakers |
| Microphone | None |
| Camera | None |
| Installation | Freestanding base |
| Connectivity | Bluetooth |
| Personal Training | No |
| Fitness Programming | iFit |
| Warranty | 10-year frame, 2-year parts, 1-year labor |
Using the NordicTrack Vault
My bottom-line impression of the NordicTrack Vault is that it's well-built and super fun to use, but there isn't anything inherently special about it. Compared to other workout mirrors, the Vault isn't very high-tech or smart. It doesn't track your reps or adjust your weight like Tonal, and it doesn't capture your movement to provide coaching like Tempo Studio. The production (audio/video) quality isn't as good as the MIRROR's.
All that said, I thoroughly enjoyed my time with the NordicTrack Vault. Despite the lack of smart features, I found myself more engaged during workouts with the Vault than with most other workout mirrors I tried. I credit this to iFit, which offers some of the most immersive virtual workout classes I've ever tried.
Types of Workouts
The Vault utilizes iFit programming, which has virtually endless workout options. Some iFit workout categories include:
Strength training
High-intensity interval training (HIIT)
Bodyweight training
Bootcamp
Yoga
Pilates
Core
iFit also has tons of rowing, running, and cycling classes, but you'd need an iFit-connected bike, treadmill, or rower to use those.
In addition to on-demand classes, iFit also offers live classes led by certified personal trainers and group fitness instructors. There are also challenges and progressive series, which help you reach specific goals.
Coop and I both think iFit is one of the best fitness apps for interactive programming. Is it the best for periodized training or professional input? No—something like Future or JuggernautAI would be better for that. But for people who just want to move and have fun with their home workouts, iFit is among the best.
Personal Training
There aren't any true personal training capabilities with the Vault. In fact, there isn't much in the way of exercise feedback or form correction at all. During iFit classes, you'll get to follow along with an instructor, which helps, but it isn't like 1:1 training. The closest thing to personal training with iFit and the Vault is the progressive workout series. You can choose to train for goals like running a 5K or learning the fundamentals of strength training.
Equipment
You'll be faced with two options if you decide to buy the Vault. There's Vault: Complete and Vault: Standalone. The complete version is what we tested. It comes with six sets of dumbbells ranging from 5 to 30 pounds, two kettlebells (20 and 30 pounds), three loop bands, three mini resistance bands, a textured exercise mat, two yoga blocks, a microfiber cleaning towel, and, of course, the vertical storage cabinet with hanging shelves to house all of these items.
The standalone version is just the Vault frame and cabinet with the premium shelves. If you already have fitness equipment at home, you could just move it into the Vault storage.
Audio and Visual
The Vault has pretty great production quality. I'm still of the opinion that the MIRROR has the most polished production of all the workout mirrors currently available, but the Vault comes close. The 32-inch touchscreen is full HD, but not 4K, so it's not the most crisp or clear display available. The 6-foot mirror hides the touchscreen when it's not in use.
As for audio, the Vault uses dual 3-inch digitally amplified speakers. I'm no audiophile, but I thought the sound was just fine.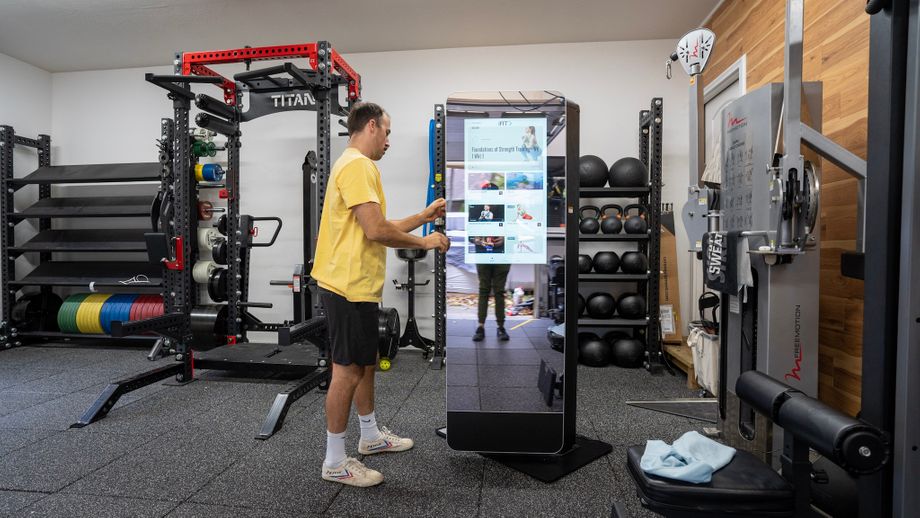 Tech Specs
There's nothing overtly special about the Vault when it comes to the techie stuff. It has Bluetooth connectivity, but that's nothing I'd call high-tech. It works via WiFi, like all of the other smart fitness mirrors, so you'll want to ensure you have a decent connection.
You can connect accessories such as a heart rate monitor, headphones, or a fitness tracker. The website doesn't say anything about which devices it's compatible with, so you may want to check with customer support if you're unsure about any devices you have that you may want to connect.
As Coop put it, the lack of smart features is a good thing for some people, but not for others. " I like the fact that Tempo tracked reps and provided basic movement help. It felt like it had true smart features," he says, contrary to the Vault.
Footprint and Portability
The Vault has a relatively small footprint: It's about 73 inches tall, 24 inches wide, and 14 inches deep. This means standard 8-foot ceilings are high enough, and you need just a few square feet of floor space to house the frame. You'll need more floor space to work out, of course.
None of these smart workout mirrors are truly portable, but I'd say the NordicTrack Vault is one of the more easily movable ones. You can take all of the equipment out of the frame to move it, although the frame itself is still pretty heavy (for me, at least). It would be easy to roll around if it were on casters, but it isn't, unfortunately. I think all fitness mirrors are generally designed to stay put.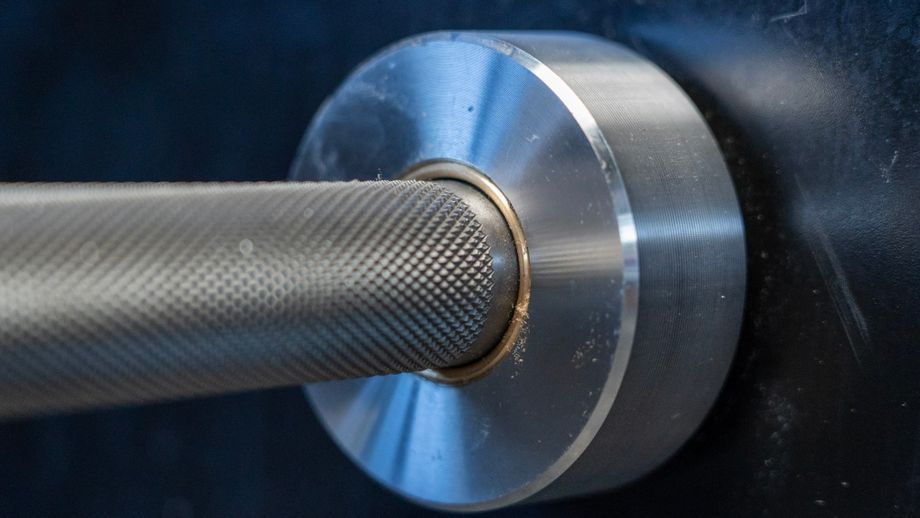 Construction and Durability
The base on the Vault is heavy, making it feel very stable. The strap on the back allows it to be bolted to a wall to prevent tipping, but I don't feel like that's even necessary. The accessories sit solidly on the shelves, although they don't store quite as neatly as what you see in product photos. It has a glass screen that smears and, obviously, is susceptible to scratches, but overall, the Vault is "a beast of a device," Coop says. The swivel feels super solid, and the shelves are strong and capable of holding the dumbbells without worry.
Ordering, Delivery, and Assembly
The ordering process is simple. You can navigate to the Vault either through the NordicTrack website or the iFit website. Once you're there, you can choose to purchase the complete Vault (with equipment) or the standalone version (no equipment). You will also have the option to apply for financing through TD Fit Loan.
NordicTrack doesn't offer white glove delivery for the Vault, but the delivery process was pretty seamless nonetheless. Setup was simple and straightforward. The instructions suggest having two people to complete the setup, but it's simple enough for one person to do it with no issues. The packaging was in great condition and nothing was broken or damaged upon arrival.
Customer Experience
NordicTrack has a few ways to get in touch with customer support. You can call, use the 24/7 live chat, or troubleshoot using the iFit Member Center. You can also use this center to track your order. I don't think NordicTrack is exactly known for their great customer service—seems to be the opposite, actually.
I said it already in the callouts, but please don't store the Vault in your garage. NordicTrack will not honor your warranty if you do so (I agree, it is unrealistic and unfortunate, but it is in the fine print).
Customer Reviews
The Vault has mixed reviews. Because it's a newer product, there aren't many reviews online overall, but from what's available, it seems to be a mixed bag. Some buyers report being happy with the product, while others cite connectivity and software issues. I personally did not experience these problems, but it seems there may be some issues with quality control.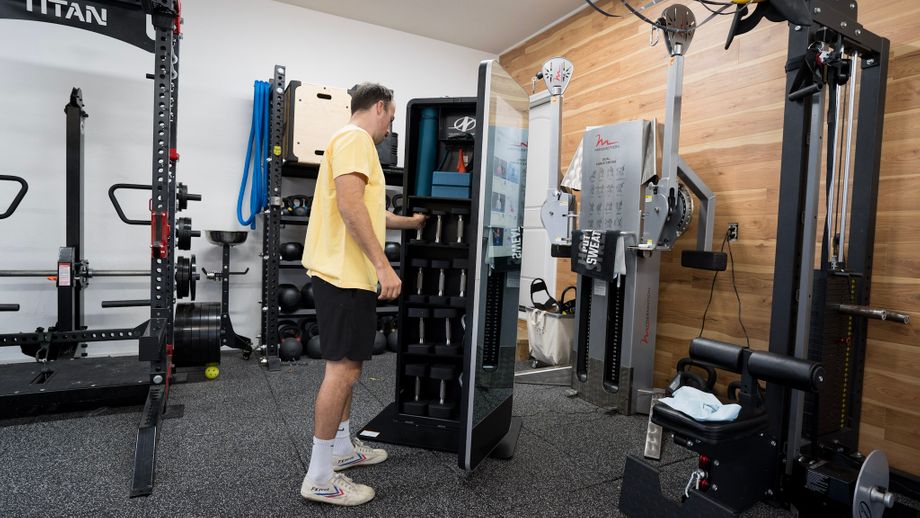 NordicTrack Vault vs. Tempo Studio
The Vault and the Tempo Studio are very similar upon first glance. However, Tempo Studio has a much more robust "smart" element thanks to its artificial intelligence and 3D motion capture technologies. These features allow Tempo to provide exercise feedback and form corrections, whereas the Vault doesn't do any of that.
Aside from the programming, another big difference is the fact that Tempo Studio uses loadable workout equipment instead of regular dumbbells and kettlebells like the Vault. To me, this is actually reason enough to choose the Vault over the Tempo. I just did not enjoy having to load and unload dumbbell handles every time I wanted to change weights during a Tempo workout.
Coop feels the exact opposite, saying that while the Vault equipment is high-quality, he thinks adjustable dumbbells are a better option for this sort of system.
Both are freestanding devices, although the Vault has a carbon steel frame while the Tempo is made of high-tensile aluminum. Both have touchscreen displays and training accessories, and can be a solid all-in-one piece of home gym equipment.
(Pssst: Get the best Tempo discount codes.)
NordicTrack Vault vs. Proform Vue
On the surface, the Vault and the Proform Vue look like nearly identical products. They both use iFit programming, too. However, after using both, our team came to the conclusion that the Vault is a more polished product than the Vue. Coop, who tested the Vue, was actually pretty disappointed in it for the price. The production quality isn't up to par with what's considered standard these days, and the quality of the equipment (specifically the dumbbells and barbell) is unimpressive. Just like with the Vault, you should not store your Vue in the garage. This will void the warranty on either product.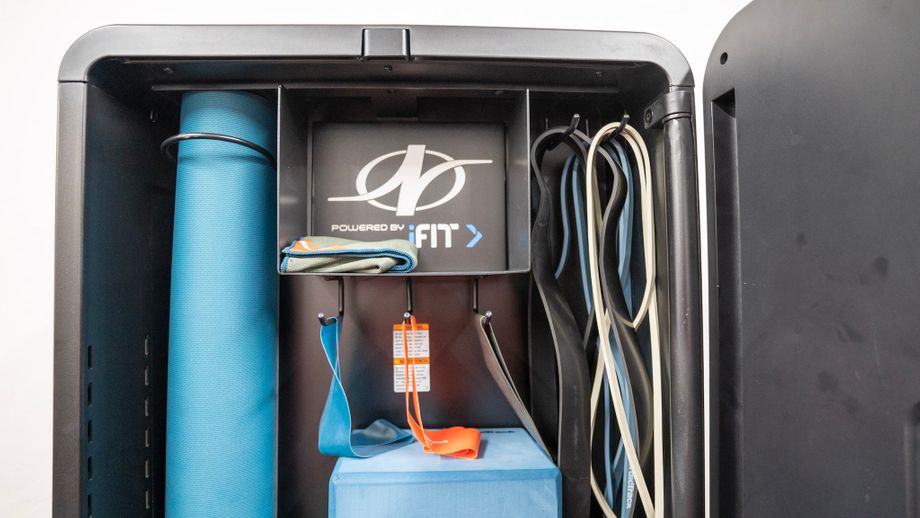 Final Verdict of Our NordicTrack Vault Review
The NordicTrack Vault has potential. With some minor fixes, such as improving lag time on the display, we think the Vault could rival the MIRROR. I think iFit is really the selling point here, because the equipment, while good, isn't anything super special. And, to rival something like Tempo or Tonal, the Vault definitely needs some more smart features.
The device itself is solid, stable, and sturdy
iFit workouts are fun, engaging, and effective—Vault is a no-brainer buy for people who love iFit
Some connectivity issues may arise
NordicTrack Vault Rating
NordicTrack Vault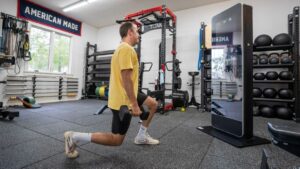 The NordicTrack Vault is a solid machine that's a no-brainer purchase for people who love iFit. With some minor improvements, the Vault could rival the MIRROR.
Product Brand: NordicTrack
Product Currency: $
Product Price: 2999
Product In-Stock: InStock
NordicTrack Vault FAQs
How does NordicTrack Vault work? 
The NordicTrack Vault is a workout mirror that uses iFit programming to provide live and on-demand workout classes. You can watch and correct your form through the mirrored screen. 
Do you need a subscription for NordicTrack Vault?
Technically, you could keep the Vault in your house just to use the mirror and equipment. But, you need a subscription to access iFit workouts.
Does NordicTrack Vault have live classes?
Yes, you can access live classes on the Vault through your iFit subscription.
What workouts can you do on NordicTrack Vault?
You can do a variety of resistance training workouts, bodyweight workouts, cardio workouts, and interval training workouts on the Vault, as well as yoga and mobility flows.
Can I watch TV on the NordicTrack Vault?
Nope, the Vault only streams iFit, not Netflix or HBO, sorry!