We test and review fitness products based on an independent, multi-point methodology. If you use our links to purchase something, we may earn a commission. Read our disclosures.
Looking for a verified coupon code for Marc Pro? Our team at Garage Gym Reviews secured an exclusive discount just for our readers.
As evidenced in our Marc Pro review, the brand makes exceptional recovery tools using electronic muscle stimulation. However, since the price tag on these devices starts around $700, it's understandable why you would be searching for a Marc Pro coupon code. We have you covered with our exclusive deal.
Marc Pro Discount Code
One of the easiest ways to save on Marc Pro recovery tools is by using our exclusive promo code: plugging in the code GGR at checkout saves you 10% off the price. It's also possible that you find Marc Pro devices on sale around the holidays, and for that, check out our sales page links below.
How to Apply the Marc Pro Coupon Code
Step One: Visit the Marc Pro website using the link below.
Step Two: Add items sitewide to your cart.
Step Three: Use the Marc Pro Promo code GGR at checkout to secure 10% off your items.
When Do Marc Pro Recovery Tools Go on Sale?
We don't often see Marc Pro tools go on sale, but, like many other fitness brands, discounts often happen around the holidays. Our team at Garage Gym Reviews compiles every sale we can find throughout the year; check the links below to see if there are any Marc Pro offers:
Black Friday/Cyber Monday Sales Page
What We Love About Marc Pro Recovery Tools
Marc Pro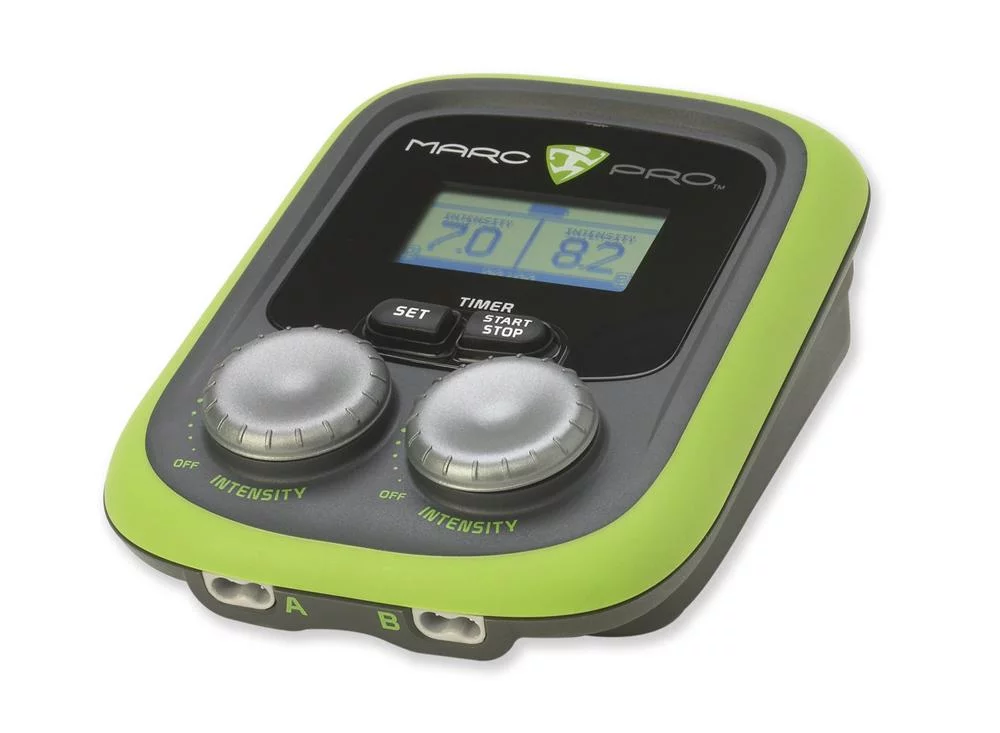 Marc Pro manufactures the Marc Pro and the Marc Pro Plus. Both are electronic muscle stimulation (EMS) tools for muscle recovery, with the difference being that the Plus has a "high frequency" setting to providetarget immediate relief beyond simply treating muscle soreness.
Marc Pro Plus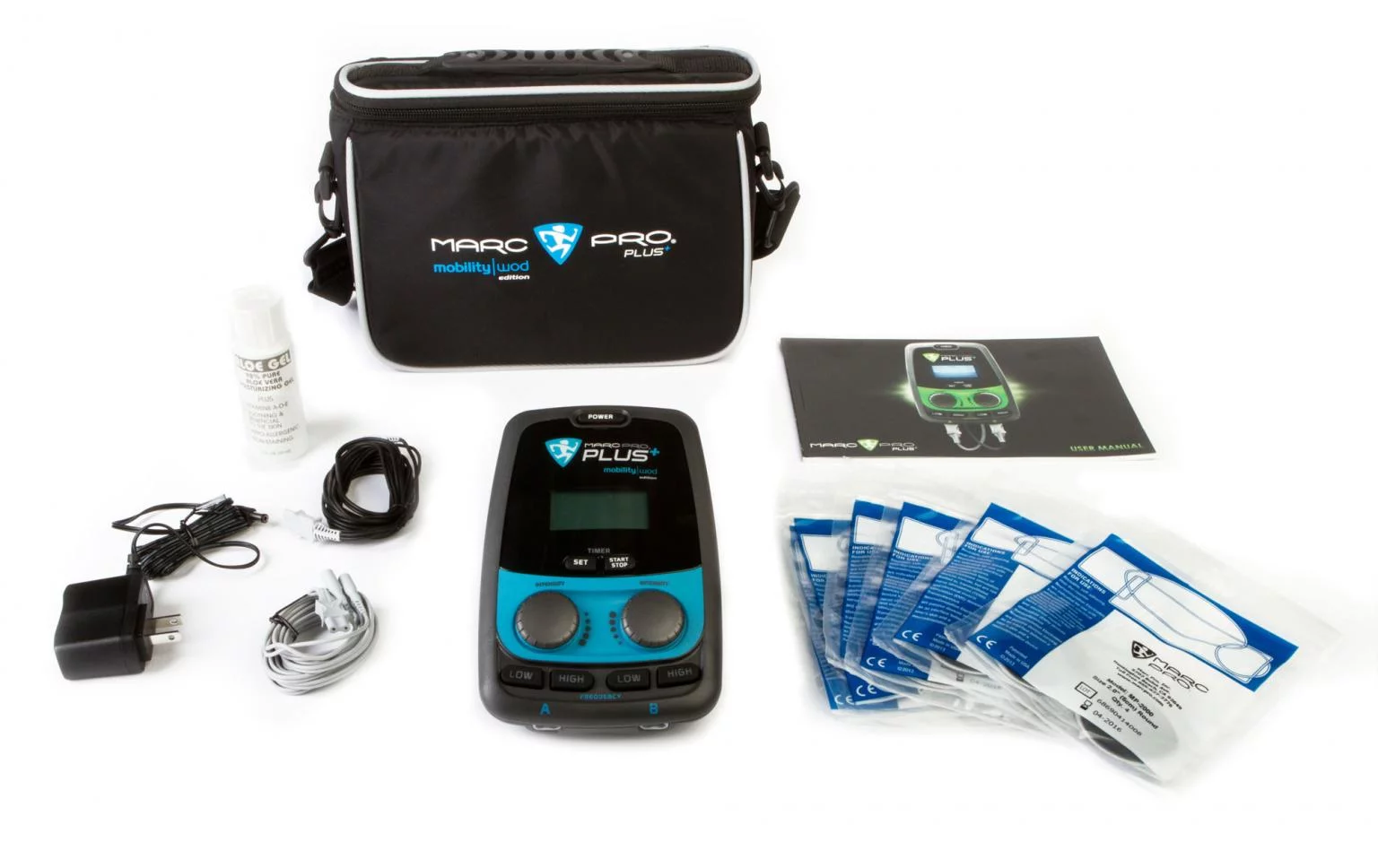 Marc Pro Plus
Kelly Starrett works closely with members of the armed service, past and present, to help them return to their original form. Marc Pro is proud to collaborate with Kelly and MobilityWOD to support this cause. For every five MWOD edition devices sold a device is donated to a soldier or veteran in need.Marc Pro Plus is an electrical stimulation device that elevates performance and recovery through non-fatiguing muscle contractions. The Plus's second mode of operation (not available with the standard Marc Pro) can also shut down stubborn pain associated with exercise and daily life.Identical to the standard Marc Pro, the Plus's low frequency setting doesn't attempt to mask pain or build muscle. Marc Pro Plus's unique technology focuses on feeding more nutrients and clearing more waste from fatigued muscles, accelerating the recovery and conditioning process.Whether you're trying to perform better, train harder, prevent injury, address weak links, or simply feel great, the Marc Pro Plus can help. Advanced technology allows you to warm up, recover, condition, massage and improve performance simultaneously with one extremely comfortable and simple to use mode of operation.During workouts you're breaking muscle down; the improvement comes during the recovery phase. By more fully recovering with Marc Pro Plus's low frequency setting you're able to get more benefit from the hard work you're putting in while also helping to prevent over-use injury. Then when used regularly Marc Pro Plus has shown to improve vascular capacity allowing you do push harder and last longer.The Marc Pro Plus has all of the features and benefits of the standard Marc Pro with additional modes (frequencies) for pain control. When moving nourishment and waste isn't enough the Plus's high frequency setting can calm irritated nerves. Extremely strong, but comfortable pain relief can be achieved in your back, neck, shoulders, arms or legs. Getting rid of pain and related muscle tension can allow recovery and conditioning efforts to be more effective.Specifications:6 packages of electrodes 2 lead wires Battery recharger 1 bottle of Aloe Gel Soft carry case Comprehensive electrode placement guide & user manual Reusable electrodes can be used 15-25 times
A few things we like about both of these tools are:
Solid construction
Really easy to use
Great for anyone, from beginners to elite athletes
It actually does help treat muscle soreness
You get six packages of Marc Pro replacement electrodes with your purchase
For more, check out our Marc Pro review.
Why Buy From Marc Pro?
Marc Pro makes just two muscle stimulator devices, but the brand also has apparel and accessories for sale on its website. There are a few reasons we think using our promotional code and buying from this brand is a good idea:
Free shipping on any device
30-day money-back guarantee
Free coach calls to get advice on how to use the device
3-year device warranty
FAQs
Are there any Marc Pro special offers?
To get the best discount off Marc Pro equipment, use our link and code GGR to save 10 percent on items storewide.
How can I save money on Marc Pro recovery tools?
Our team knows of two verified total offers: Use promo code GGR to save 10% on your orders, or shop holiday sales, where you may be able to save on selected items.
Should I buy Marc Pro devices on Amazon?
You can, but in order to use the best Marc Pro coupon, which we offer, you need to shop at marcpro.com using our link.