We test and review fitness products based on an independent, multi-point methodology. If you use our links to purchase something, we may earn a commission. Read our disclosures.
The Marc Pro is a muscle conditioning device that provides muscle stimulation to improve their performance and speed up recovery time. Through years of use, we found that we felt more recovered after using the device. However, we do recognize that this could be a placebo effect.
In our Marc Pro review, we'll not only examine this device for its durability and functionality, but we'll also do a little research into whether it actually does what it claims to do. Many recovery devices use pseudo science to justify their high price tag, but this one actually seems legitimate to us and we're confident in recommending it to those looking to soothe their body after an intense workout.
A Shocking Number of Recovery Tool Reviews
As fitness enthusiasts who have collectively done hundreds of thousands of workouts, the Garage Gym Reviews team has experienced their fair share of delayed muscle onset soreness, better known as DOMS. Because of that, we've tried just about every recovery device you could think of to help alleviate the pain after the workout.
More importantly, we're a group of certified personal trainers, CrossFit coaches, and our expert panel includes physical therapists and doctors who can let us know whether a product is backed by science or if it's a bunch of baloney.
Small But Mighty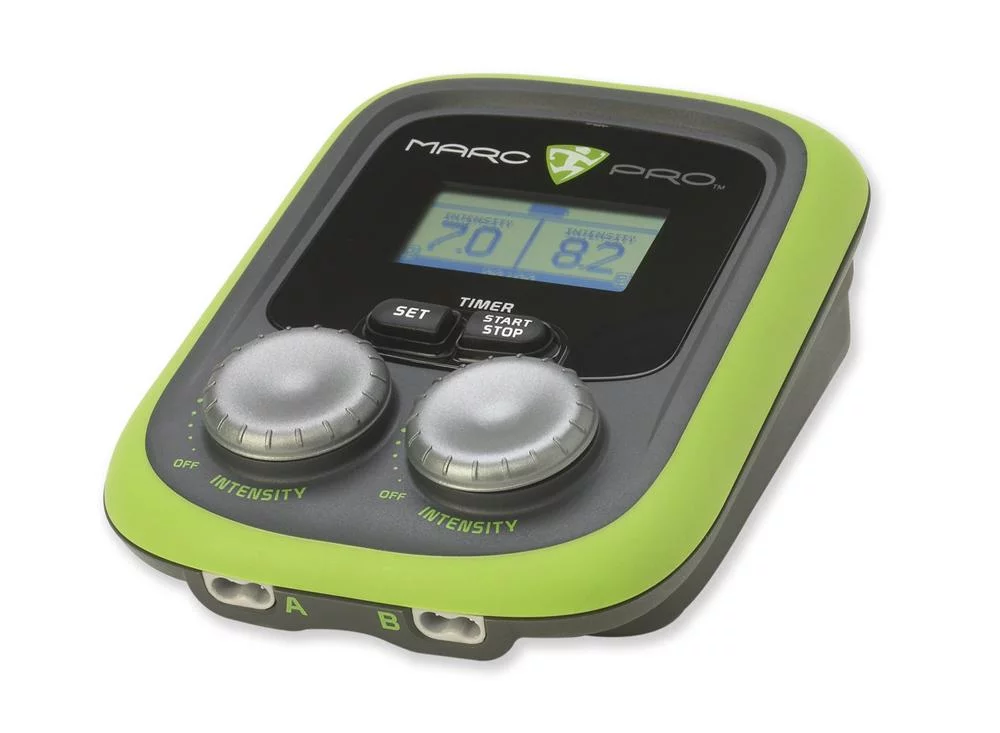 GGR Score: 4.6
Community Score: 4.5
Product Highlights
Easy to use
Backed by multiple scientific studies
Portable
One-hour charge time
Editor's note: Electrical stimulation can be harmful to people with some medical conditions, including those with an implanted device such as a pacemaker, expectant mothers, cancer patients, and anyone with a history of deep vein thrombosis. Check with your physician if electric stimulation is right for you.
Pros & Cons
Pros
Easy to use  
Backed by multiple scientific studies 
Portable 
One-hour charge time 
Cons
Very expensive
Can't be used by people with certain medical conditions
Electrode pads are costly to replace
Bottom Line
The Marc Pro is an effective electric stimulation tool that we use to recover from strenuous training sessions.
A Quick Look at the Marc Pro
Recovery is almost as important as training. The reason it's almost as important is because if you aren't training, then you don't really have much to recover from.
Many of the products involve releasing knots and adhesions with high speed and amplitude, such as with the Theragun, or scraping the muscles to align muscle fibers and increase range of motion, like what you see with HawkGrips.
However, there are very few products that pump blood to your muscles, bring nourishment, remove waste, and increase the production of myokines (more on that later) to help repair tissue. And this is all without you doing little more than lifting a finger.
The device I'm speaking of is called the Marc Pro. This pocket-sized device sends little shockwaves to your muscles to help speed up the recovery process, and similar devices are used in physical therapist offices everywhere.
Coop's Tips
Use code GGR at checkout to secure 10% off all Marc Pro orders.
Pros:
Low effort, high reward
Backed by multiple scientific studies
Portable
Fully charged in just an hour
Cons:
Very expensive
Can't be used by people with certain medical conditions
Electrode pads are costly to replace
Is the Marc Pro Worth It?
The original Marc Pro costs around $699, and the Marc Pro Plus, which allows you to create customized recovery programs, costs around $1,399. That's a lot of money, and to be honest, not everyone needs to spend that much to get long-lasting relief. We truly believe the Marc Pro is meant for high-caliber athletes, and not your everyday strength-training aficionado who may be feeling a little sore after leg day.
If you fall into that first category, then we think this device is worth the price because it can help reduce pain and get you back in the game much quicker than other recovery methods.
Great for:
CrossFit athletes, competitive weightlifters, and other trainees who compete in high-pressure environments
Those with nagging injuries
Anyone who wants low-effort pain relief
Not recommended for:
Trainees who only experience occasional muscle soreness
Those on a budget
Anyone with certain pre-existing medical conditions, including cancer and epilepsy
Who Should Not Use the Marc Pro
Before we dive into our Marc Pro review, it's important to note that there are many people who should not use it for recovery. Although Marc Pro says it's different from other electronic stimulation devices, and it is in many ways that we'll get into in a second, it's still electronic stimulation, and according to the Cleveland Clinic it can be harmful to the following people:
Those with an implanted device such as a pacemaker
Pregnant women
Those with cancer
People with a history of epilepsy
Anyone with deep vein thrombosis
Anyone who has a bleeding disorder
Those with a history of heart disease
People on a tight budget should also steer clear of the Marc Pro, as it's costly to replace the electrodes necessary to use the device.
What It's Like to Use the Marc Pro for Recovery
I'm going to start off with the physical construction of the Marc Pro. It comes in a nice-looking, but cheap lunch bag-style carrying case. I like the way the bag looks and functions, but it does feel very cheap and I don't see the zipper lasting too long.
Inside the bag are:
The Marc Pro device
6 electrodes
2 lead wires
A charger
The user manual
Outside of the bag, everything else is constructed very well. The device itself is solid. Seriously, I was worried it would be light and feel a little cheap as it's mainly made out of rubberized plastic, but this bad boy feels like a brick—which is a good thing.
Whenever you use technology, it's great to feel a device that has some heft to it.Take the iPhone for example—it's slim and little, but when you hold it, it feels substantial. That's how the Marc Pro feels.
The dials that increase the electric stimulation are smooth, the buttons are firm, and the LED display is clear. I can't think of any way the device could have been constructed better outside of it allowing you to play the game snake on the screen like you could on old Nokia phones. I made a visual for you here:
So before I even used the device, I already liked it. I'm kind of a sucker for well-made gear.
The Marc Pro is designed to be a muscle-conditioning device that stimulates your muscle tissue to improve their performance and recover from muscle breakdown.
They make many claims as to the effectiveness of the device including recovering faster, recovering fully, maximizing training results, helping prevent injury, and improving conditioning and performance.
All of these things sound swell. Who doesn't want faster workout recovery? Especially those who compete. Also, who wouldn't want to improve their conditioning? Everybody wants these results, but can an electrical stimulator actually do it?
If the Marc Pro is constructed well and feels like a brick, but doesn't actually do what it's purported to do, it might as well be a brick.
Well, I've been using it for a few years now, and though I can't directly speak to every claim, I can say that the overall idea of the Marc Pro helping me recover from workouts is absolutely true. Could it be a placebo effect? Possibly. But, after a tough workout, I place the electrodes, crank the Marc Pro up to 11 (not actually 11, I'm just a Spinal Tap fan) and wake up the next morning feeling much more refreshed than otherwise.
To use the Marc Pro, you plug the electrodes using the radio wire into the unit, stick the electrodes on the areas that you want to recover most, and crank the dials to the highest level you can stand while still being comfortable.
And, that's one of my favorite parts about the Marc Pro. The simplicity. It's very much a plug-
and-play device, and if you're on a busy schedule, having a device that is easy to use is essential to its continued use.
And that's really where the Marc Pro comes in. Through continued use of the device, your muscles can become better conditioned and you will recover faster, allowing you to work out more or perform better in the training you're already involved in.
The Science From a Non-Scientific Person
The Marc Pro is designed to help you recover. There are lots of other ways to say this, and one such way is that the Marc Pro helps improve blood flow to the muscles through electrical muscle stimulation, and there's research to back this up.
The way this happens is by causing muscle contractions, which engorges the body part you're targeting (let's say the quads after an intense leg day), with blood, providing fresh nutrients and removing any waste.
The wave form used in the Marc Pro is different from that of typical EMS devices. Rather than fatiguing muscles, like many EMS devices do, the Marc Pro helps them recover using their special, super duper revolutionary Dynamic Decaying Waveform.
Is this snake oil? I can't say for sure, but I've used both EMS devices and the Marc Pro and the Marc Pro blows other devices I've used out of the water as far as muscle recovery goes.
The Marc Pro can be used by anyone. Even Marc Joe's (see what I did there?)
But there's a few specific instances that I think the Marc Pro is absolutely killer for.
CrossFit competitors
If you compete in CrossFit and you have a multi-day competition, the Marc Pro can absolutely give you that extra edge over the competition.
There's a reason so many CrossFit Games competitors use the Marc Pro. It helps them recover between events and allows them to feel refreshed for the next day of events. If you're serious about competing, I don't see why you wouldn't want every possible advantage available.
Endurance athletes
Triathletes, Ironman competitors, marathon runners, ultra-marathon runners (crazy people), and any other long-endurance athlete will absolutely benefit from the Marc Pro. After a long race, or training session, throw this on and start your active recovery process.
Marc Pro vs Stim and EMS Devices
This is a comment I see quite a bit: "Why would I get the Marc Pro for $699 when I can get a stim unit on Amazon for much less?"
My suggestion for this, other than telling you that one is better, is simply to get both and try them out for yourself. The Marc Pro comes with a 30-day money-back guarantee, so if you like the stim unit better, send the Marc Pro back. I have a good feeling I know which one you will be keeping.
Financing, Returns, Warranty
Marc Pro offers a one-year financing plan that allows you to pay for the device in 12 installments of around $60.
The company has a 30-day return policy from the time of purchase, and you can send the device back for any reason.
The Marc Pro has a three-year warranty for the device, and two-year warranty for the wires, battery, and charger.
Ordering the Marc Pro
The Marc Pro comes in two different varieties: The Marc Pro and the Marc Pro Plus, the latter of which claims to more directly target the nerves affecting your performance and comes with customizable programming. There are also other models in different colorways sponsored by Driveline Baseball and Andy Potts Racing.
No matter which model you pick, ordering it is as easy as clicking "Add to Cart" and waiting for it to arrive at your door.
Customer Reviews
The Marc Pro only has 5-star reviews on its website, but the company may only be posting positive comments (a common practice in the industry). There are many testimonials about how it helped people who have been living with nagging injuries.
There are some negative reviews if you look on sites like Amazon.
Final Verdict of Our Marc Pro Review
I think as I continue to use it more I will gain a better feel for the best times to use it and how long I should use it.
One thing I dislike about the Marc Pro is the replacement cost of the electrodes. Quite a few come with the unit when you order it, but I'm going to have a hard time paying for the replacement pads. I may have to see if there's alternative electrodes available for cheaper.
Full Rating
Marc Pro
The Marc Pro is a muscle conditioning device that stimulates your muscles to improve their performance and recover from muscle breakdown. Through months of use, we found that we felt more recovered after using the device. However, we do recognize that this could be a placebo effect.
Product Brand: Marc Pro
Product Currency: USD
Product Price: 699
Product In-Stock: InStock
Marc Pro FAQs
Is Marc Pro worth it?
In our experience, the Marc Pro provides excellent muscle relief after intense workouts. It's also been tested and vetted by elite athletes who use it after games, and they say it helps them perform at elite levels.
What does a Marc Pro do?
The Marc Pro does not build muscle, but in aiding recovery and allowing you to workout at higher levels in shorter periods of time it can help quicken the muscle-building process.
Is the Marc Pro a TENS unit?
Marc Pro does use electric stimulation, but unlike most TENS (transcutaneous electrical nerve stimulation) units, it was created with the goal of delivering non-fatiguing electrical impulses to your muscles. Most TENS machines are intended to disguise discomfort while in use, but they have little long-term effect on muscle healing or pain reduction.