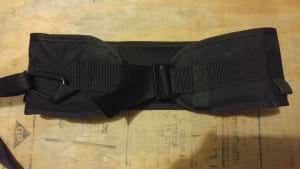 I always like to start off with the looks of the product I'm reviewing.
Believe it or not, it's what causes most people to decide whether they're going to dig further about researching a product.
And, we live in a superficial world. Looks are very important and they are to me too.
The Brute Belt looks much like it's name suggests. Tough.
They offer two colors of the belt, Black and Camo. Both are colors that I really like but not necessarily something that the majority of women would love.
In my opinion, they look awesome. And for those that don't have a garage gym and go to the globo gym, these will not look way out of the ordinary where everybody is staring at you.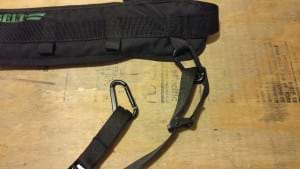 This is the real meat and potatoes of the belt.
A dip belt takes a lot of abuse. Think about it. You sometimes strap upwards of 100 pounds to your waste and defy gravity by hoisting yourself upwards.
If the weight is held with the use of stitching, that stitching better be triple stitched. No, quadruple stitched. Actually, forget that. If the belt is holding weight strapped to my waste by stitching it better be at least 100x stitched!
Now, I don't know how many times the brute belt has it's anchor points stitched, but I have yet to see anything close to a problem with the belt failing while under load.
And the main reason I emphasize this so much is because to be honest, I'm kind of surprised.
Most dip belts use either leather or heavy nylon, rivets, and chain.
I thought the reason they used such heavy duty materials was because they were necessary.
BUT, now that I've had the opportunity to put the Brute Belt through all kinds of tests I can confidently say that without a doubt it is built for whatever you can throw at it.
Brute Belt uses a nylon shell with mesh padding on the inside. On the outside of the belt are loops every few inches where the adjustable "chain" can attach at all different points.
The "chain" is actually a strap with two buckles that is essentially the same strap used with gymnastic rings.
The way the belt attaches to your waist is through a metal buckle and strap. This allows the weight to feel very secure and close to your body.
The belt can also be stored very easily. Since it's made of materials that can be folded up, it makes it the ideal belt for those that don't have a lot of space, or carry a gym bag around.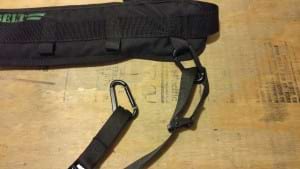 I have used the Brute Belt for a couple months now and have seen no problems other than a couple loose threads. Which, with the amount of stitching that is on this bad boy is pretty stellar. The belt is made up of durable and proven materials so unless there was faulty stitching I can't see much of a problem arising.
I can't see any future problems coming about as of yet, but if they do I will update this review.
I actually use the belt quite a bit. And in all honesty, it could be used pretty well as a weightlifting belt if you forgot yours at home.
I mostly use it for pull ups and dips and have seen a steady increase in the weight I can load on both of those movements.
Since it's so easy to put on, I can run from doing squats, to weighted pullups in mere seconds while feeling secure.