We test and review fitness products based on an independent, multi-point methodology. If you use our links to purchase something, we may earn a commission. Read our disclosures.
The Kabuki Strength Trap Bar is the latest specialty bar from powerlifter and engineering mastermind, Chris Duffin. It combines an open-end design with a built-in deadlift jack, swappable handles, and amazing attention to detail. This is one of the most versatile trap bars we've used and we recommend it to trainees that recognize the quality and utility of the bar.
In this Kabuki Strength Trap Bar review, we'll explain exactly why we recommend this specialty bar over many of its competitors, and what separates it from the pack.
Most Versatile Trap Bar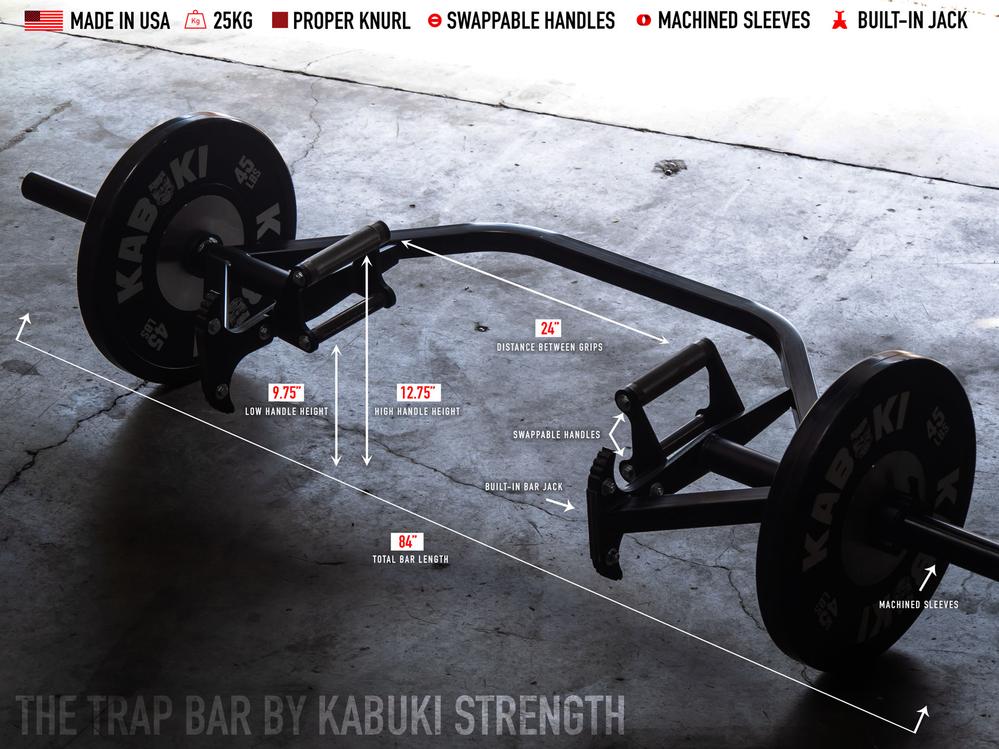 Kabuki Strength Trap Bar
The age-old struggle of loading and unloading plates from your trusty trap bar is over. We are proud to introduce a simple, effortless solution - the built-in bar jack. Our design features 2x nearly inch-thick "legs" with tread to provide grip and stability when the bar is positioned in a vertical orientation for easy loading/unloading. We designed The Trap Bar to allow for an effortless transition from horizontal to vertical position, requiring minimal effort and taking advantage of human kind's earliest discovery - the lever.An industry-first, The Trap Bar by default comes with two sets of machined, knurled grips finished in bright zinc. The grips are easily swappable for your specific training need.Another industry first, the 2" Love Handles are an optional add-on for The Trap Bar that allows for both rolling (the grip will spin freely) or fixed usage. Each set of Love Handles includes adapters to allow for both rolling and fixed use.Visualize a regular trap bar with the low handles (see illustration). The bar is a flat plane, stretching out in the X and Z axis. The handles are typically positioned at the center of mass (COM) and center of rotation (COM), so that if the bar was centrally fixed on two points along the X axis, where the handles are, it would be balanced (assuming its weight distribution is even along the Z axis. In theory, if you hold a regular trap bar perfectly on-center using the low handles, it should feel balanced. Practically speaking, the low handles always feel inherently unstable due to the bar's inclination to dive one direction or another like a teeter-tooter - forcing the lifter to self-balance using their wrists. The higher handles don't have this problem, and the bar is much more difficult to rotate forwards or backwards. For an extreme example of instability, imagine deadlifting on a trap bar with the high-handles, but upside down resulting in the fulcrum, or center of rotation, point being 6" below the center of mass. Any minor shift or movement, and that bar is going to rotate and fall right out of your hands.Our simple solution on The Trap Bar was to introduce a minor 1/2" vertical offset for the low handles, placing them slightly higher than the centerline of the bar. This results in the same effect, but to a lesser extent, as the high-handles - the bar will have a tendency to return to center rather than dive forward or backwards. Think of a teeter-totter - it's an inherently unbalanced mechanism just like a regular trap bar with low handles. Now, think of a swing - with the center of rotation much higher than the center of mass - it will always try to return to center.In an effort to make The Trap Bar as versatile of an implement as possible, we opted to open up one end of the bar while still ensuring it retains a fully-balanced design. This open design allows for much more variation beyond your standard deadlift, including loaded carries, split squats, RDLs, and lunges.Unlike most trap/hex bars on the market, The Trap Bar features machined sleeves with 16.5" of loadable space. To cut costs, many trap bars use off-the-shelf DOM tubing whose diameter is less than a standard olympic sleeve, resulting in them being incompatible with all standard collars. Another side effect of this is that plates fit very loosely on the under-sized sleeves, resulting in lots of shifting, movement, and clanging of the plates.Our sleeves are machined to tight tolerances like any other standard barbell, allowing for a snug fit for plates and compatibility with all standard barbell collars.The Trap Bar is fabricated, manufactured, and assembled in-house at Kabuki Strength Lab, our dual-purpose training space and manufacturing facility in the beautiful Pacific Northwest city of Portland, Oregon. Each bar includes a hand-signed card by the Kabuki Strength employee who assembled it.Built-In Bar Jack to allow easy loading/unloading of plates Swappable Grips with 1" and 1.5" (included), and 2" Love Handles (optional) Balanced Design for both high and low handles. Open Design to allow for a variety of unilateral and carrying movements Machined, full-length sleeves with signature end cap
Why You Should Trust Us
After testing and reviewing the Kabuki Strength Trap Bar, and others like it, we compiled a list of the best trap bars on the market today. We've also done that for Olympic barbells, budget barbells, safety squat bars, and nearly every other fitness equipment category.
The process for our "best of" pieces are just about the same: we try out a bunch of equipment, putting them through various exercises and tests, before sitting down as a team to discuss our favorites and who we'd recommend them for. We look at things like aesthetics, weight capacity, performance, price, and value before giving you our straightforward and unbiased opinions.
A Quick Look at the Kabuki Strength Trap Bar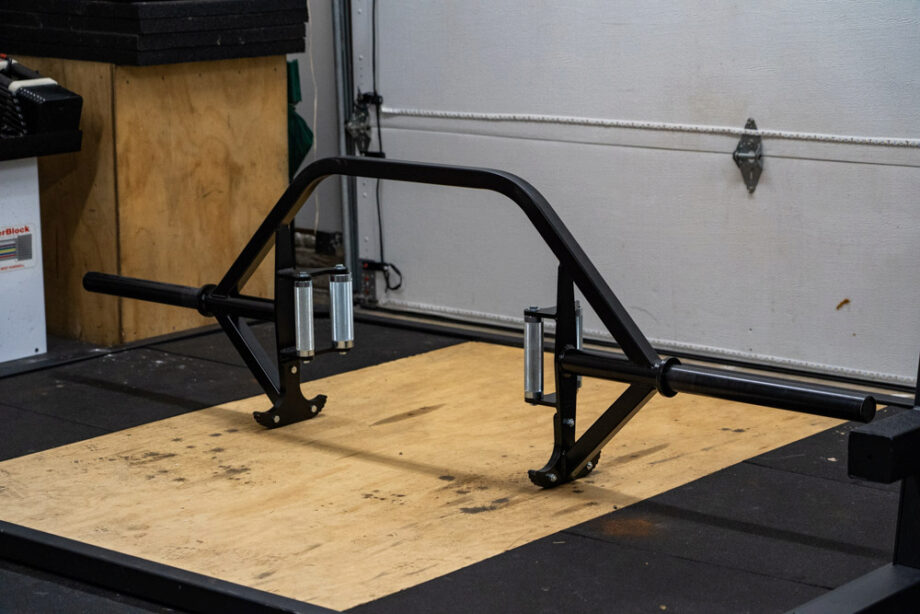 Chris Duffin, the creator of the Duffalo Bar and New Gen Power Bar, has been on an absolute tear since starting manufacturing equipment. The Trap Bar from his company, Kabuki Strength, is one of their premier pieces, and quite possibly the best product they make. The number of useful features that are packed into this bar make you question why it hadn't been thought of sooner.
Combining the open-end design that is by far the best way to make a trap bar along with interchangeable handles that feature the same knurling as their top-of-the-line power bar, this is the last trap bar you'd ever have to buy. The question isn't whether it's a good trap bar or not, the question is, are you willing to spend the money for the versatility?
Coop's Tips
If you're looking to save money, and don't mind a few cosmetic blemishes, you can buy discounted bars.
Order this sooner rather than later because it often takes six weeks to ship (and sometimes longer)
Kabuki updated the Trap Bar design to decrease shipping cost but it now tends to tip forward when not in use.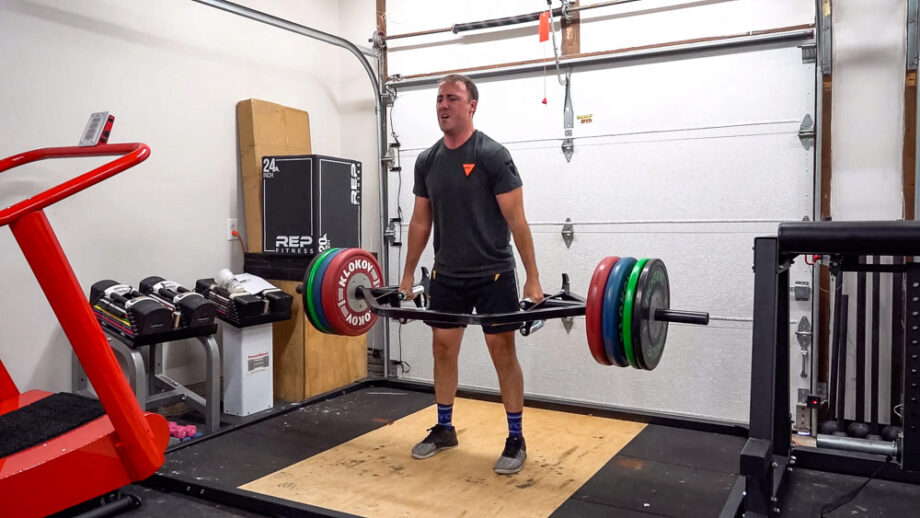 Pros:
Open-end design makes this one of the most versatile specialty bars on the market
Weight capacity of 1,500 pounds
Can be customized with your desired handle bracket width and diameter
Cons:
The feet give it the ability to be stored vertically, but it can scratch up floors (especially if they're made of wood)
You can rack this bar if you have safety arms or straps, but it won't work in the traditional sense with j-cups
The square tubing isn't as comfortable for camber squats compared to round tubing seen on the Eleiko Öppen Deadlift Bar
Video Review
Is the Kabuki Strength Trap Bar Worth It?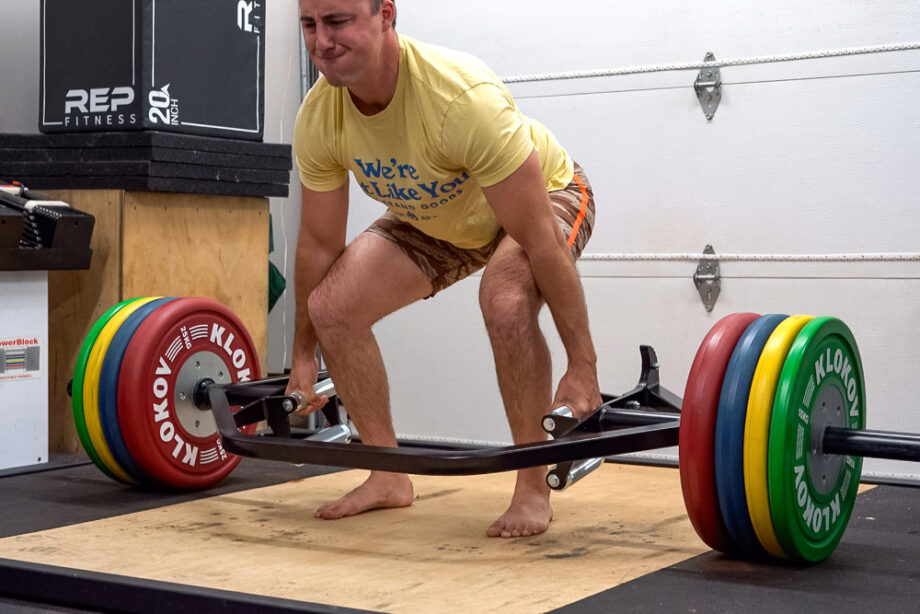 Trap bars in general aren't meant for every type of home gym athlete, and the Kabuki Strength Trap Bar is no different. Here's who I think should invest in one, and who might do better with something else.
Great for:
People who want a versatile, heavy-duty specialty bar
Any lifter who needs a bar with great weight capacity
People who want the optionality to change the handle width, height, and diameter
Not recommended for:
Lifters who like the additional benefit of being able to do camber squats with their open-style trap bar.
Anyone who wants to be able to rack their trap bar using j-cups
Trainees who do rack pulls and overhead presses with their trap bars
Kabuki Strength Trap Bar Specs
| | |
| --- | --- |
| Footprint | 77" L x 9" H x 23.5" H |
| Weight | 66 lbs |
| Weight capacity | 1,500 lbs |
| Sleeve length | 17" |
| Finish | Semi-gloss powdercoat |
| Knurl | Medium |
| Made in the USA? | Yes |
What Is the Kabuki Strength Trap Bar?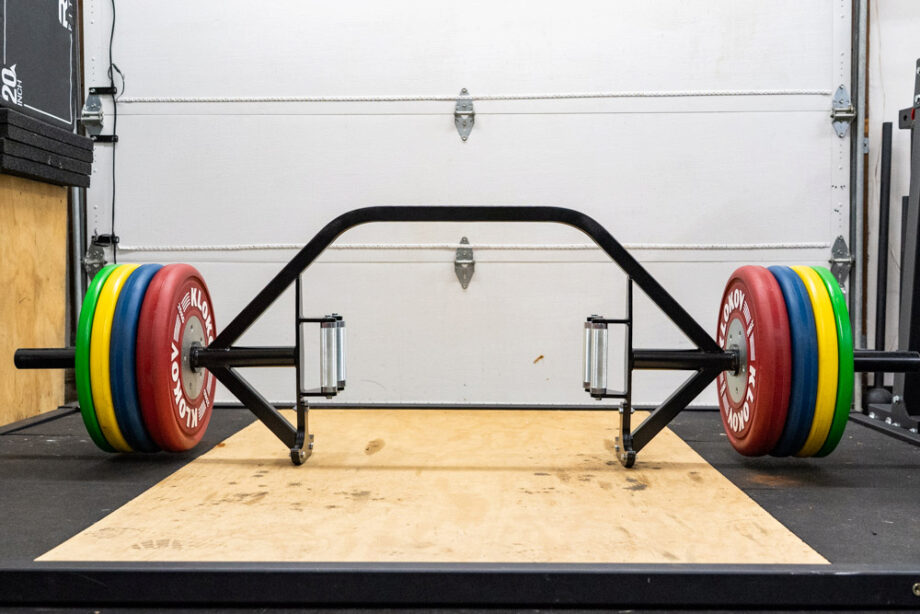 The Kabuki Strength Trap Bar is, as the name suggests, a trap/hex bar that utilizes some unique features to make it more versatile and enjoyable to use.
Although the trap bar is still unknown by many general trainees at the local globo-gym, for the most part just about everyone serious about their training will have used a trap bar in some manner. Despite the somewhat pretentious "trap bar" name, a trap bar is really designed to be used for heavy lifting in the deadlift.
Many of the top strength coaches and athletes in the world use and recommend the trap bar deadlift as the ultimate lower body exercise. For instance, Ryan Flaherty, Senior Director of Performance at Nike had this to say on the Tim Ferriss Show about the almighty trap bar deadlift:
"When I started testing the same athletes with the hex bar deadlift, maxing their body weight, it actually directly correlated to the force plate treadmill study at their max velocity and top speed. And so, I realized quickly that if this is the order in which they ran the 100-meter dash time by their hex bar deadlift maxing body weight, and I improved their hex bar deadlift max without increasing body weight, would I see the same improvement in their speed? Over the past seven years of testing that, I have."
Even the U.S. Military, the largest and in many respects the most advanced military institution in the world, has adopted the trap bar deadlift as one portion of the Army Combat Fitness Test to determine how fit for battle its members are. The trap bar and associated movements are, without a doubt, one of the best overall exercises one can do. However, up until open-ended trap bars like the bar we're reviewing today, the Kabuki Strength Trap Bar, their use was quite limited.
We'll go into this in more detail in the next section, but what separates the Kabuki Strength Trap Bar from previous iterations of the bar is its open-ended design that allows for more movements to be performed, interchangeable handles, upright storage ability, and barbell jack ends that allow weights to be easily interchanged. This isn't the first bar to have some of these features but as we'll discuss, it may be the best.
What We Like About The Kabuki Strength Trap Bar
In short: the Kabuki Strength Trap Bar is one of the best trap bars on the market. First, it features a somewhat revolutionary design, although there's soon to be many other competitors and there is already one doing it at a high-level. The open-end design is the future of trap bars and will likely be found somewhere in just about every equipment manufacturer's line-up that is currently making and selling barbells.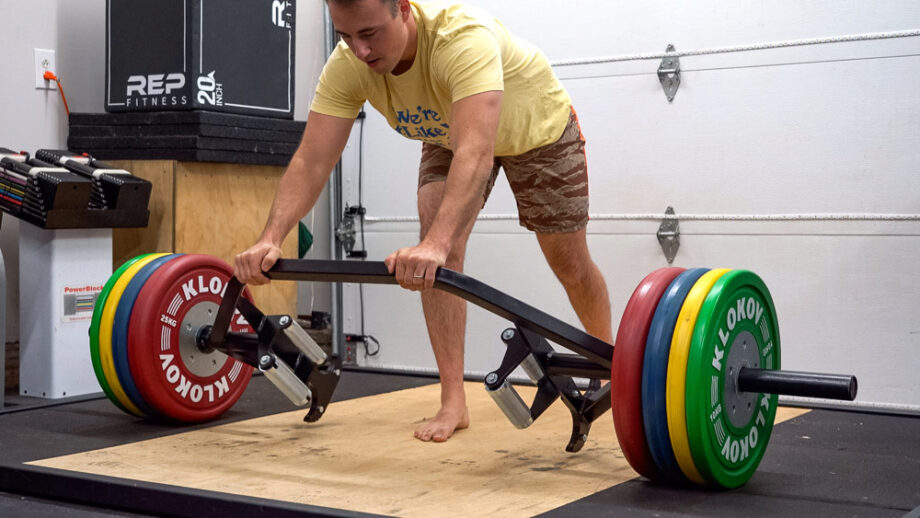 An open-end design simply makes more sense than one that's closed. Although the majority of users, especially garage gym owners, could get by just fine for their entire lives with a more traditional, closed-end hex bar there's little reason to shy away from an open-end design if you're going to buy a new one and want the best. After using multiple open-end trap bars through various movements, including the Kabuki Strength Trap Bar, I see few compromises, but many benefits.
The Kabuki Strength Trap Bar utilizes a bit of a unique frame geometry by employing square tubing that's been bent at the corners to make a somewhat seamless frame. Eleiko, with their latest Öppen Deadlift Bar, uses large, round tubing that has been bent in a similar shape. Rogue's TB-2 Trap Bar, our previously most recommended trap bar, features a similar style of square tubing as the Kabuki Strength Trap Bar but instead of being bent, it's chopped and welded together with extra braces for increased rigidity.
Although we really like round tubing, as it feels better on the back when using the bar for cambered bar squats (more on that in a moment), the square tubing of the Kabuki Trap Bar looks and performs extremely well. The square tubing also lends itself to having incredible rigidity as shown by its max bar capacity of 1,500 pounds, which is similar to even the strongest close-ended trap bars.
On each end of the Kabuki Trap Bar are angled "legs" that feature grooves for tread that allows the bar to be easily stood up. This creates a barbell jack type movement that's built in and is beginning to become standard on all new trap bars coming to market. Honestly, after using the barbell jack on these new trap bars, it makes you think, "why didn't I come up with that?"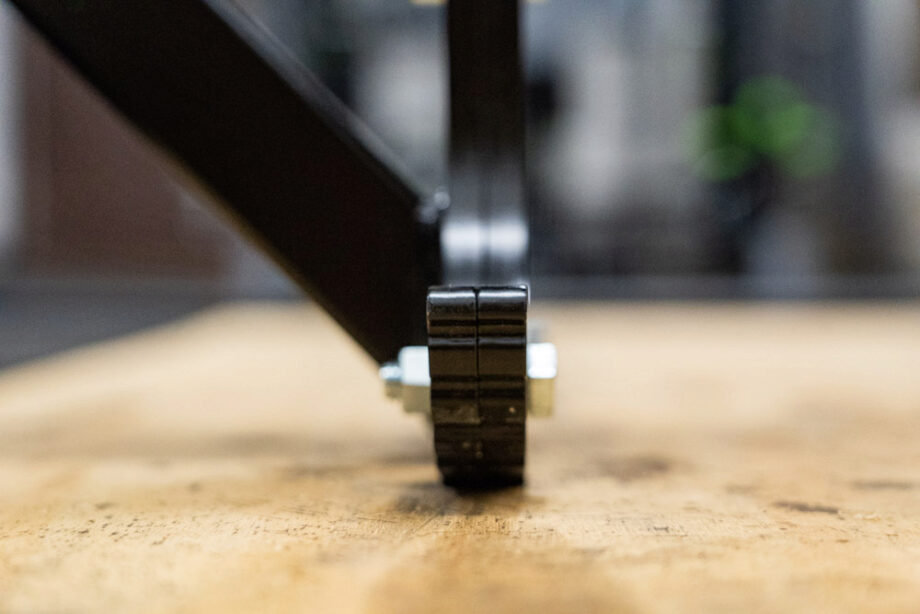 It's that simple and great of an idea. The bar jack on the Kabuki Strength Trap Bar has feet that are similar to those on the Genesis Deadlift Jack that we've reviewed previously, but are nearly 1-inch thick and rock into position easily.
The other feature of the Trap Bar by Kabuki Strength that separates it from pretty much every trap bar currently available is the swappable grips. There are two positions for grips on the trap bar, one set of low handles that are a half-inch above alignment with the bar sleeves and one that is set a few inches higher.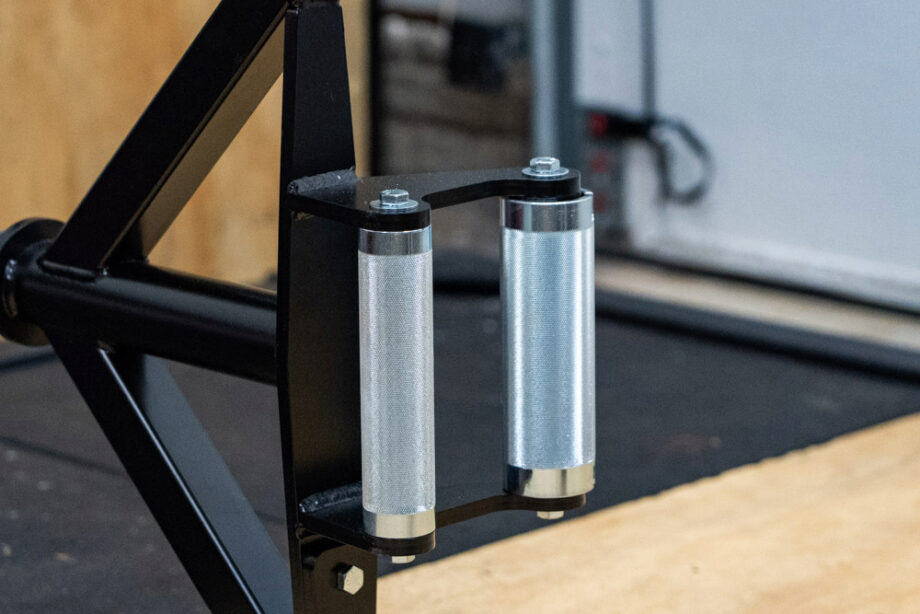 Both of these positions have the ability for any of the three grips Kabuki makes to be inserted. Currently, there is a 1-inch and 1.5-inch handle that is included with every trap bar purchase, and an optional 2-inch handle called the "Love Handle" that can be set to be fixed or rolling.
The handles are knurled in what appears to me to be the same knurling pattern as the upgrade pick on our best powerlifting barbell guide, the Kabuki Strength New Gen Power Bar. In other words, the knurling on the Kabuki Trap Bar is the same as one of the best power bars in the world. This is yet another piece of the puzzle that separates the bar from others on the market.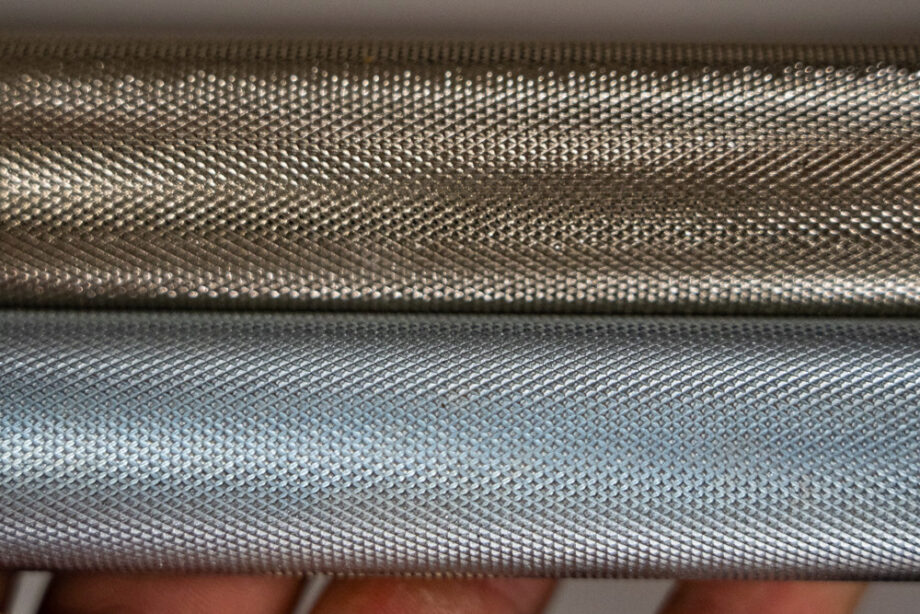 The knurling used on many other specialty bars has largely been an afterthought. Now, however, as consumers begin to wake up to an understanding that good knurling should be available for all implements in which extra grip is needed, companies are starting to answer. Stay woke people.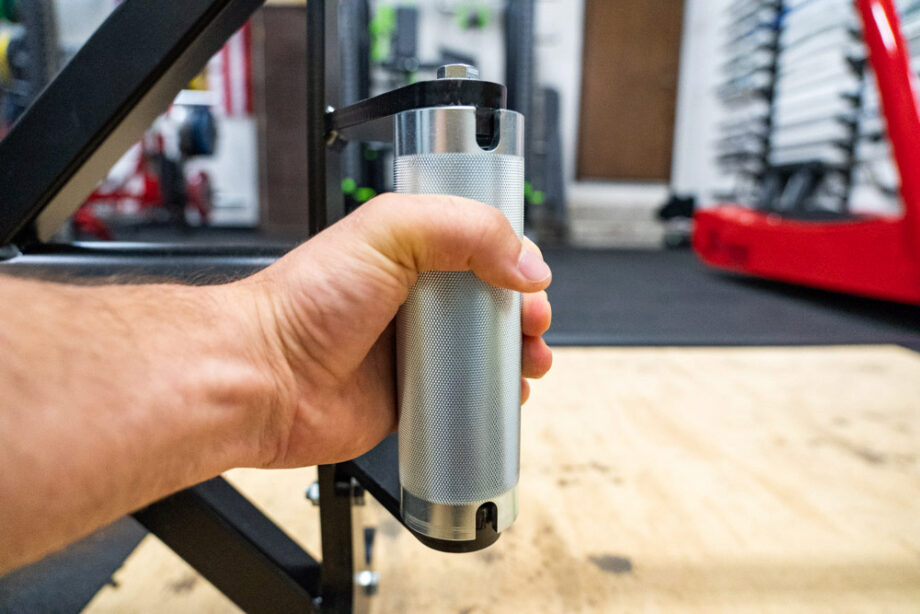 The handles work as well as one would want on a trap bar, and the 2-inch Love Handles with the rotating feature are seriously awesome for taxing the grip during deadlifts or even shrugs. Although the open-end design and bar jack are great features, the attention to detail on the handles is my favorite part of the bar. It's the little things that are done extremely well that lead to a great product.
As previously mentioned, the Kabuki Trap Bar shifts the low handles a half-inch above alignment with the barbell sleeves. This is unconventional, but done for a pretty ingenious reason that could only have been thought of by a 1,000-plus pound deadlifting engineer, namely Chris Duffin. The handles being just a bit higher than parallel makes it easier to balance the bar. Although it wasn't overly noticeable if not told of the feature prior, I didn't experience as many issues balancing the bar as I have with cheaper trap bars in the past.
The last area of focus on the trap bar that we like is the machined sleeves. By now, machined sleeves should be the standard on every bar claiming to be "one of the best." With machined Olympic sleeves, there's no need to buy spare axle collars or for the weight to constantly be jarring against the sleeve due to too much space between the sleeve and plate hub. The 16.5-inch loadable area of the sleeve allows for you to add as much iron as you'd like, or even to get heavy with bumper plates. On the end of the sleeve is a simple and classy etched metal end cap that is in line with Kabuki's other bars. It's a beautiful thing.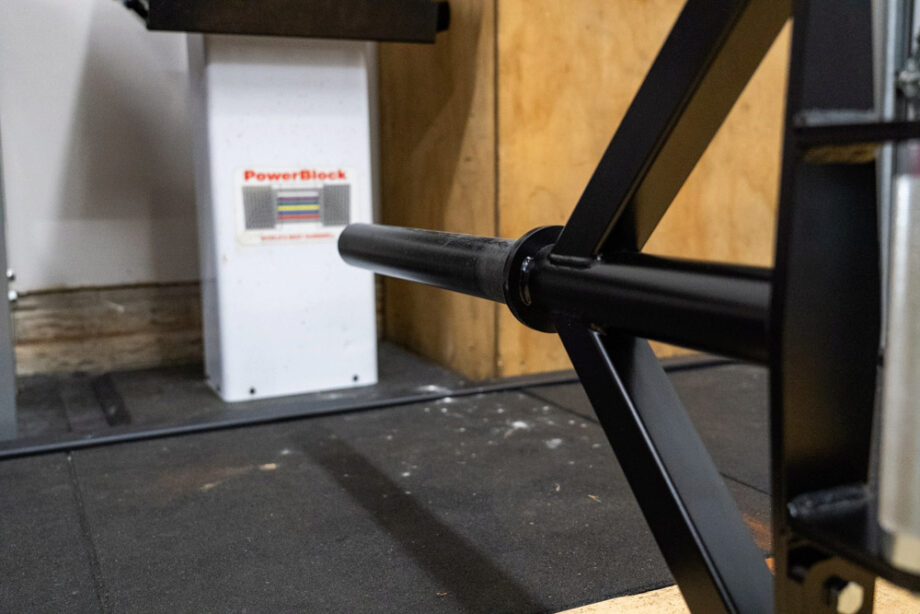 We used the Kabuki Trap Bar for everything from heavy deadlifts and camber squats to lunges and overhead presses (done with a unique method, more on that later.)
Our verdict on the Kabuki Strength Trap bar is that it's the best trap bar for those with money to spend. Seriously, if you want a high-end trap bar that isn't double what other previously great traditional trap bars cost, with many more features, then this is the trap bar for you.
Minor Shortcomings
Although the Kabuki Trap Bar is one of the best on the market, there are a few areas that we feel should be commented on, despite them being far from deal breakers.
First off, the metal feet used for the bar jack have grooves that can dig into a wooden platform over time if used often enough on that surface. This is a catch-22 because the grooves and metal allow it to be stood up and grip the floor, but can potentially damage it if used on something like wood often.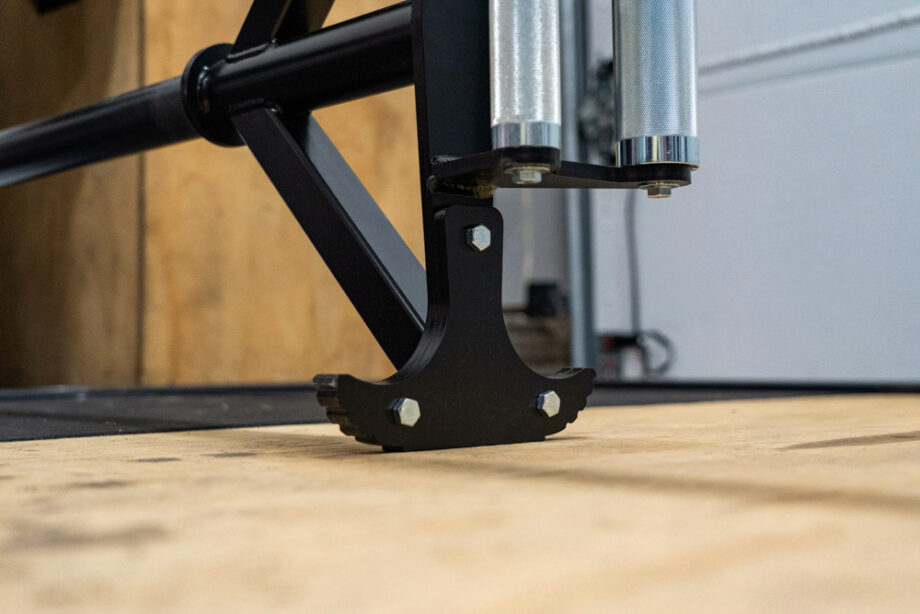 A rubber bumper could be added to the bottom of the feet for both grip and to prevent damage of the platform, but that also leads to something that can easily wear. We don't have a fool-proof solution and don't think it's a big deal for most, but something that's worth mentioning.
Next, the entire bar is powder-coated in a semi-gloss powder coat. The sleeves, on the other hand, have a clear zinc finish.
The biggest gripe of all from most people I'm seeing is the apparent lack of rackability with the bar. This is only somewhat true. Sure, you can't use the bar in j-cups, but if you have safety arms or safety straps, you can use the bar in a rack for presses or deadlifts without too much trouble. I'd definitely prefer it to be rackable in the traditional sense, but this will have to do for now.
Lastly, and this is extremely nit-picky, but the square tubing is a bit less comfortable than round tubing for camber bar squats. This bar isn't designed for this purpose. Just something to consider when purchasing the bar.
Kabuki Strength Trap Bar Vs. Eleiko Öppen Deadlift Bar
The More Expensive Contender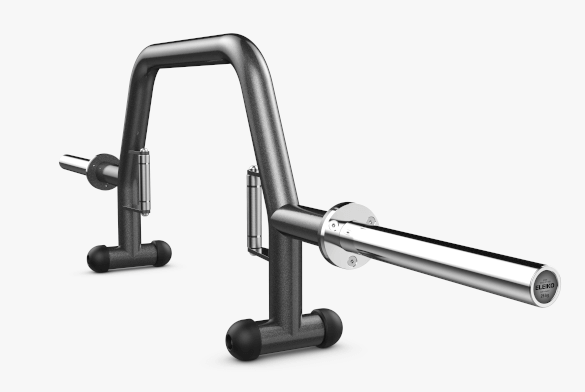 Eleiko Öppen Deadlift Bar
Eleiko's patent pending Öppen deadlift bar is designed for lifting ease, opening the benefits of deadlifting to more people. The open design supports a variety of lunges and carries in addition to deadlifts. The bar easily moves between the upright storage and the horizontal lifting position. It rests on rubber feet which protect the platform and provide ample clearance for unencumbered loading and unloading.Durable chromed sleeves are compatible with all Eleiko discs, and the bar is appropriate for Eleiko platforms and racksSpace efficient vertical bar storage allows facilities to optimize training spacesOpen design, loading system and grip markings make this bar approachable, easy to use and appropriate for more lifters0ur unique system allows bumper plates to be loaded without having to lift the bar.Manufactured in Sweden from the finest materials with our signature attention to detail, the bar rests on durable rubber feet that protect the platform and raise the sleeve off the ground for easy loading and unloading of discs and bumpers plates.The Öppen Deadlift Bar solves many issues common to trap bars on the market today which are often difficult to load, cumbersome to use and challenging to store. Our unique open design is approachable and the bar is counterbalanced so users can easily move between the upright storage and loading position and the horizontal lifting position.Length: 2150 mm/84.65 in.Width: 589 mm/23.19 in.Height: 226 mm/8.9 in.Weight: 25kg/55.12 lbs.Warranty: 5 years
Currently, the Eleiko Öppen Deadlift Bar and Kabuki Strength Trap Bar should be at the top of everyone's list who have the money to spend on an elite trap bar. There are others coming and previous bars that are still good, but as of this writing, these are our favorites.
The Eleiko is the pinnacle of refinement. It's finesse, as are all of Eleiko's products. It reminds me as much of a piece of art as any piece of gym equipment created. The round tubing, great knurling, simply, yet effective jack stand are all impressive. However, as with any great piece of art, it's expensive.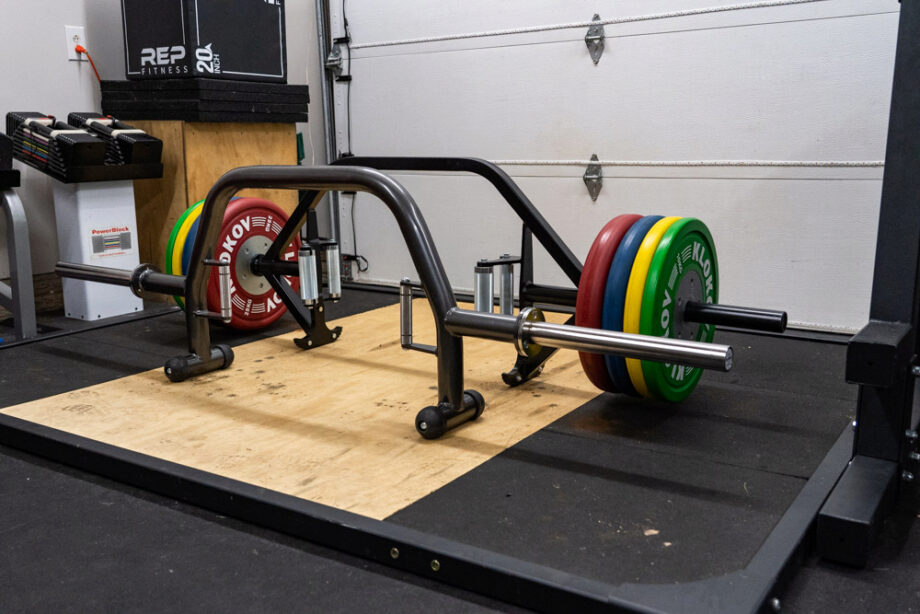 In fact, it's nearly $100 more for a bar that actually has fewer features than the Kabuki Trap Bar, yet, for some that is what makes it better. In a world fraught with a "more is better" mentality, the simplicity and beautiful functionality of the Eleiko Öppen Deadlift Bar make it what it is, and there's little I'd change about it.
However, let's be honest, more is often better. Innovative features that lead to increased versatility without negating the established features of the product are nice to have. Interchangeable handles, offset low handle height, multiple height handle inserts, and an awesome jack feature make the Kabuki Trap Bar truly special. This said, the Kabuki Bar cannot be used in a rack in the traditional way, which is pretty unfortunate for those that like to press with their trap bars.
If I was buying a new trap bar, I would likely purchase the Kabuki Trap Bar, largely based upon features and price. However, this is not an easy decision. The Eleiko is truly special and has the refinement that some would prefer over the brute nature of what else is available.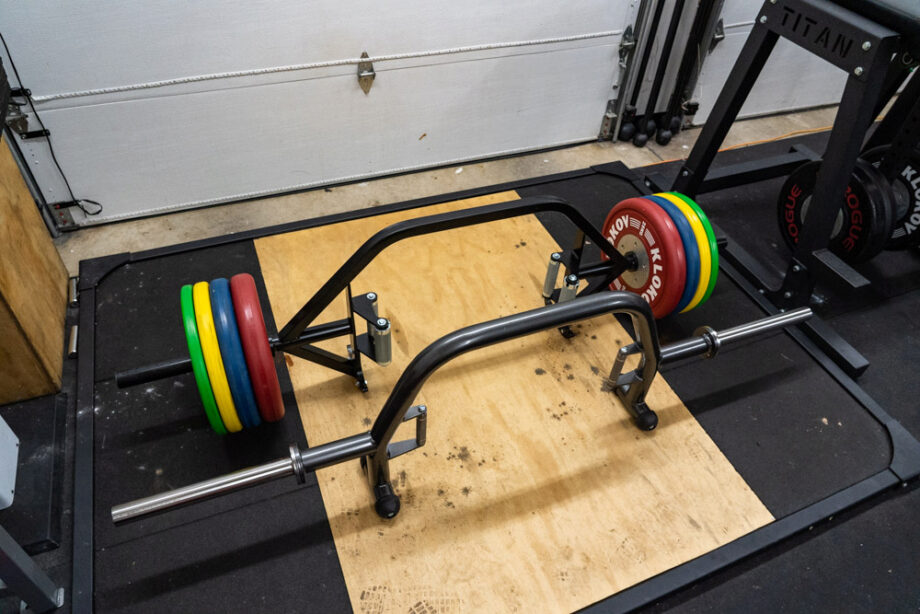 In my opinion, you can't go wrong with either, the main consideration between these two should be budget, actual use of various features, and desire for one aesthetic over the other. We're living in one of the best times for strength equipment.
What Do Others Think About The Kabuki Strength Trap Bar?
Chris Duffin, the creator of the Kabuki Trap Bar is obviously a fan. He deadlifts 1,000-plus pounds, and the bar can hold up to the abuse he could put on it.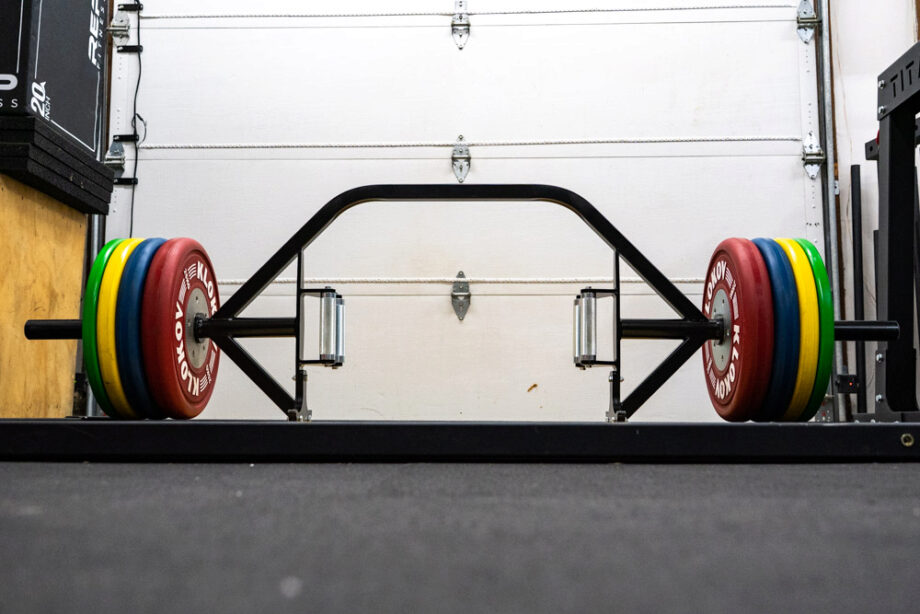 Many Major League Baseball teams have begun using the bar, including the Cleveland Indians, Chicago White Sox, Los Angeles Dodgers, San Diego Padres, Seattle Mariners, Texas Rangers, and the Los Angeles Angels.
A few notable strength athletes have made positive comments on Instagram regarding the bar including from the likes of Mike O'Hearn, Stan Efferding, and others.
As more people begin to receive the bar, we'll report back further opinions.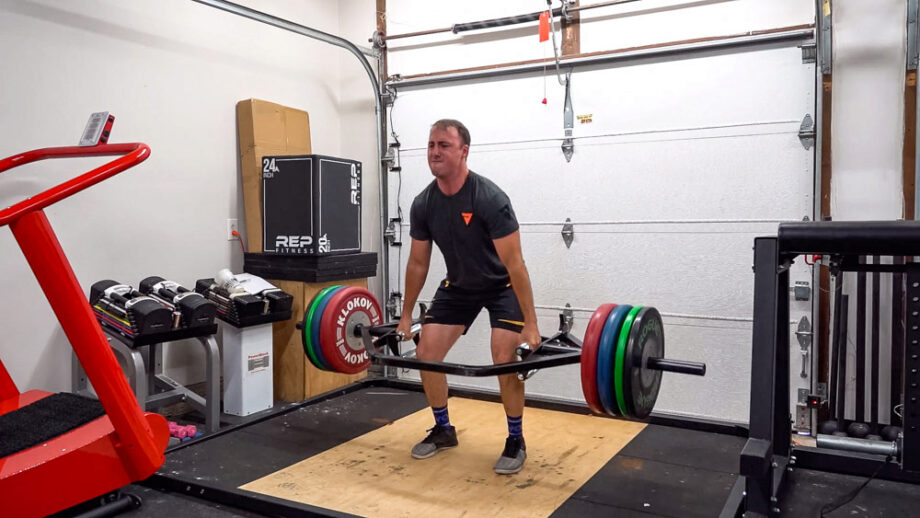 Video Review
FAQs About Kabuki Strength Trap Bar
How much weight can the Kabuki Strength Trap Bar hold?
The bar capacity is 1,500 pounds while the capacity of the bar jack is 800 pounds.
Is the Kabuki Strength Trap Bar rackable?
Not in the traditional sense. It can be used in a rack on safety bars or straps, but it does not fit in j-cups unfortunately.
What handles are included in the bar?
Both the 1-inch and 1.5-inch handles are included standard.
Would you suggest buying the 2-inch Love Handles?
Only if you know you're going to use them. They could easily end up on the shelf collecting dust and never seeing the light of day. They're great to use, but due to their diameter, they're difficult for heavy deadlifts as expected.
Is the Kabuki Strength Trap Bar made in the U.S.?
Yes, in Portland, Oregon.
How much does the Kabuki Strength Trap Bar weigh?
30 kilograms (about 66 pounds)
Would you purchase the Kabuki Trap Bar or Kabuki Duffalo Bar, or Kabuki Transformer Bar first?
I'd probably purchase the Kabuki Trap Bar first, as it's very much unlike a barbell but can be used for lots of different movements. I would then purchase the Duffalo Bar and finally the Transformer Bar. Or if you just have money to burn, buy all of them and enjoy some of the best specialty bars ever made.
Full Rating
Kabuki Strength Trap Bar
The Kabuki Strength Trap Bar is the latest specialty bar from powerlifter and engineering mastermind, Chris Duffin. It combines an open-end design with a built-in deadlift jack, swappable handles, and amazing attention to detail. This is the most versatile trap bar we've used and we recommend it to anyone who doesn't mind spending extra for the quality.
Product Brand: Kabuki Strength
Product Currency: USD
Product Price: 699.99
Product In-Stock: InStock