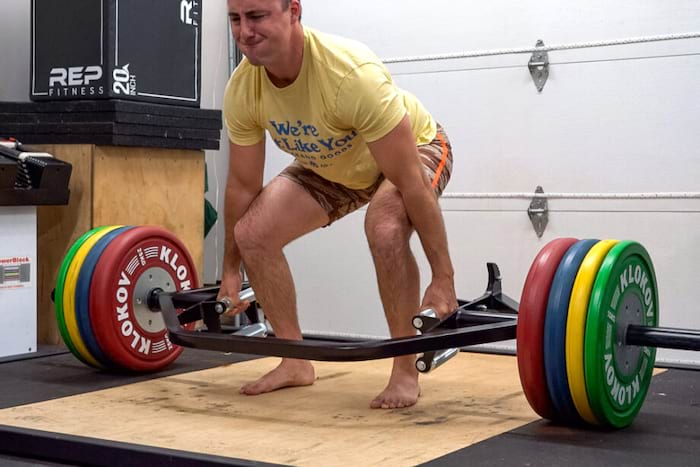 In short: the Kabuki Strength Trap Bar is likely the best trap bar on the market. First, it features a somewhat revolutionary design, although there's soon to be many other competitors and there is already one doing it at a high-level. The open-end design is the future of trap bars and will likely be found somewhere in just about every equipment manufacturers line-up that is currently making and selling barbells.
An open-end design simply makes more sense than one that's closed. Although the majority of users, especially garage gym owners, could get by just fine for their entire lives with a more traditional, closed-end hex bar. In my opinion, if you're going to buy a new one and want the best, there's little reason to shy away from an open-end design. After using multiple open-end trap bars through various movements, including the Kabuki Strength Trap Bar, I see few compromises, but many benefits.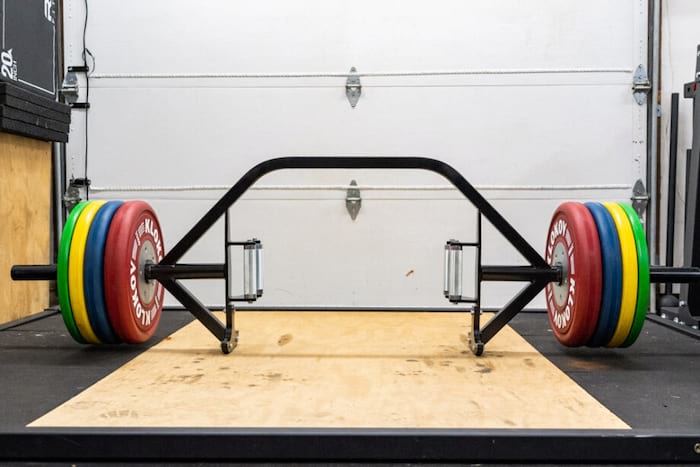 The Kabuki Strength Trap Bar utilizes a bit of a unique frame geometry by employing square tubing that's been bent at the corners to make a somewhat seemless frame. Eleiko, with their latest Öppen Deadlift Bar uses large, round tubing that has been bent in a similar shape. Rogue's TB-2 Trap Bar, our previously most recommended trap bar, features a similar style of square tubing as the Kabuki Strength Trap Bar but instead of being bent, it's chopped and welded together with extra braces for increased rigidity.
Although we really like round tubing as it feels better on the back when using the bar for cambered bar squats (more on that in a moment) the square tubing of the Kabuki Trap Bar looks and performs extremely well. The square tubing also lends itself to having incredible rigidity as shown by its max bar capacity of 1,200 LB which is similar to even the strongest close-ended trap bars.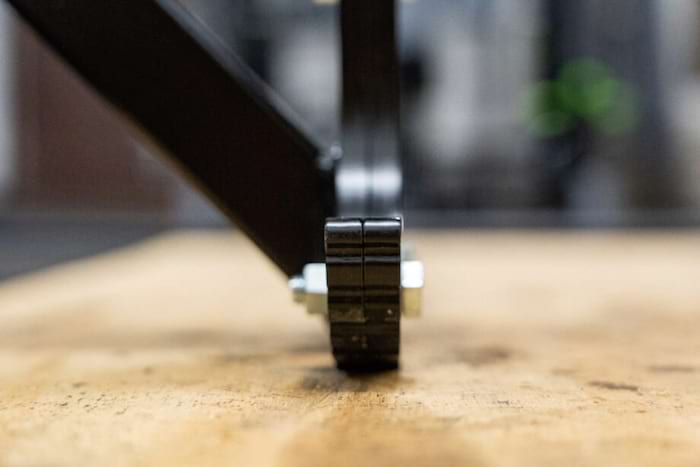 On each end of the Kabuki Trap Bar are angled "legs" that feature grooves for tread that allows the bar to be easily stood up. This creates a barbell jack type movement that's built in and is beginning to become standard on all new trap bars coming to market. Honestly, after using the barbell jack on these new trap bars, it makes you think, "why didn't I come up with that." It's that simple and great of an idea. The bar jack on the Kabuki Strength Trap Bar has feet that are similar to those on the Genesis Deadlift Jack that we've reviewed previously, but are nearly 1-inch thick and rock into position easily.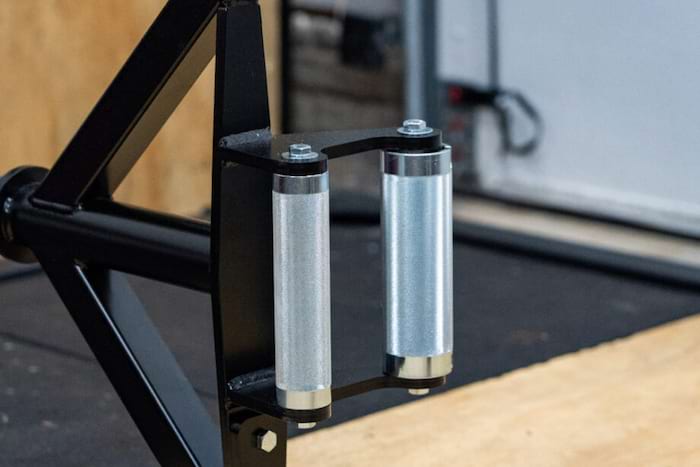 The other feature of the Trap Bar by Kabuki Strength that separates it from pretty much every trap bar currently available is the swappable grips. There are two positions for grips on the Trap Bar, one set of low handles that ½" above alignment with the bar sleeves (more on this in a second) and one that is set a few inches higher. Both of these positions have the ability for any of the three grips Kabuki makes to be inserted. Currently, there is a 1" and 1.5" handle that is included with every trap bar purchase, and an optional 2" handle called the "Love Handle" that can be set to be fixed or rolling.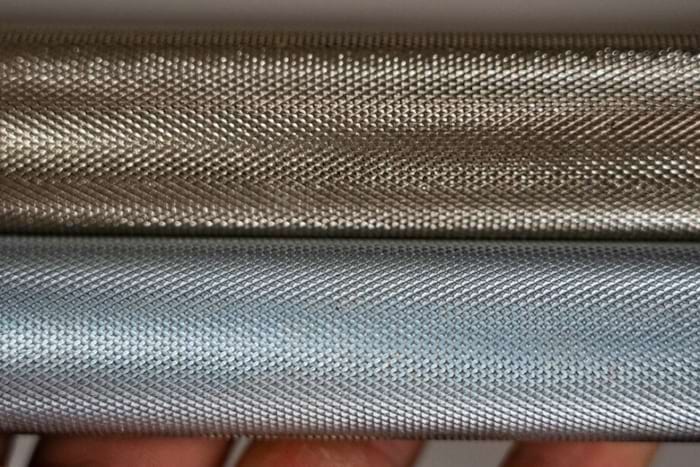 The handles are knurled in what appears to me to be the same knurling pattern as the Upgrade Pick on our Best Powerlifting Barbell guide, the Kabuki Strength New Gen Power Bar. In other words, the knurling on the Kabuki Trap Bar is the same as one of the best power bars in the world. This is yet another piece of the puzzle that separates the bar from others on the market. The knurling used on many other specialty bars has largely been an afterthought. Now, however, as consumers begin to wake up to an understanding that good knurling should be available for all implements in which extra grip is needed, companies are starting to answer. Stay woke people.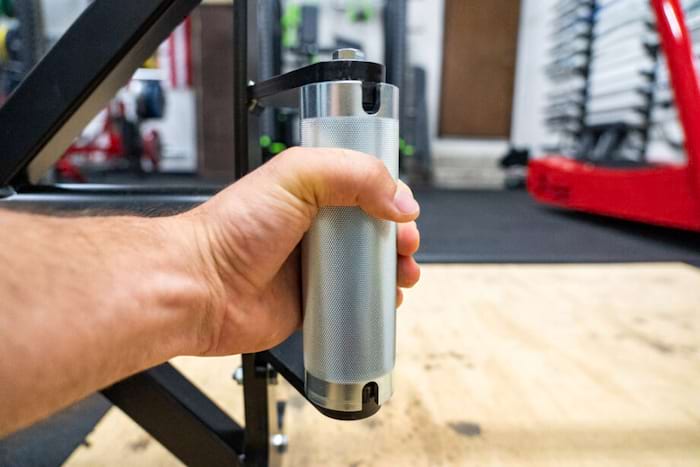 The handles work as well as one would want on a trap bar, and the 2" Love Handles with the rotating feature are seriously awesome for taxing the grip during deadlifts or even shrugs. Although the open-end design and bar jack are great features, the attention to detail on the handles are my favorite part of the bar. It's the little things that done extremely well that lead to a great product.
As previously mentioned, the Kabuki Trap Bar shifts the low handles a ½" above alignment with the barbell sleeves. This is unconventional, but done for a pretty ingenious reason that could only have been thought of by a 1,000+ LB deadlifting engineer, namely Chris Duffin. The handles being just a bit higher than parallel makes it easier to balance the bar. Although it wasn't overtly noticeable if not told of the feature prior, I didn't experience as many issues balancing the bar as I have with cheaper trap bars in the past.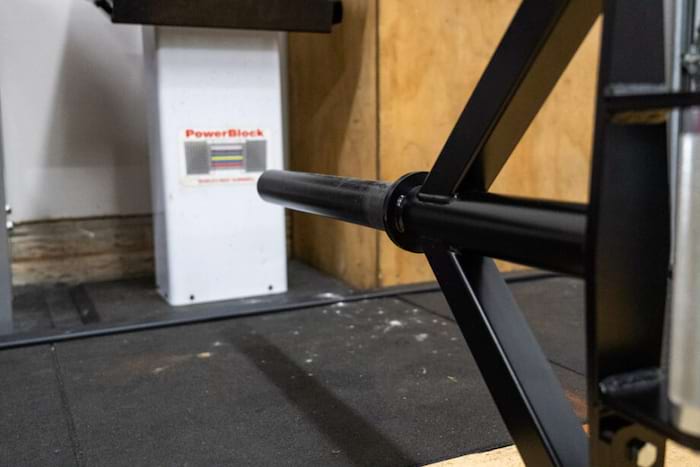 The last area of focus on the Trap Bar that we like is the machined sleeves. By now, machined sleeves should be the standard on every bar claiming to be "one of the best." With machined Olympic sleeves, there's no need to buy spare axle collars or for the weight to constantly be jarring against the sleeve due to too much space between the sleeve and plate hub. The 16.5" loadable area of the sleeve allows for you to add as much iron as you'd like or even to get heavy with bumper plates. On the end of the sleeve is a simple and classy etched metal end cap that is in line with Kabuki's other bars. It's a beautiful thing.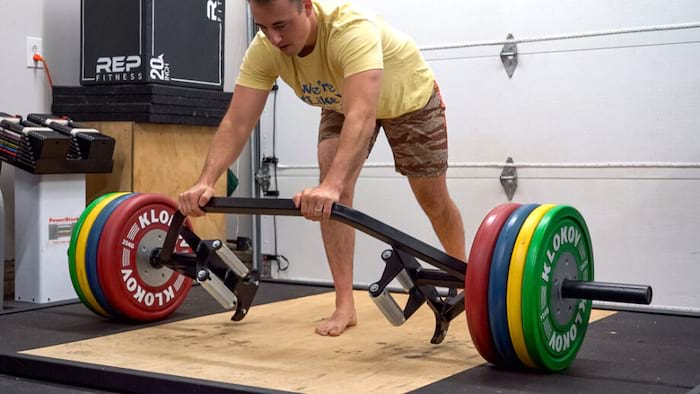 We used the Kabuki Trap Bar for everything from heavy deadlifts and camber squats to lunges and overhead presses (done with a unique method, more on that later.) Our verdict on the Kabuki Strength Trap bar is that it's the best trap bar for those with money to spend. Seriously, if you want a high-end trap bar that isn't double what other previously great traditional trap bars cost, with many more features, then this is the trap bar for you.