We test and review fitness products based on an independent, multi-point methodology. If you use our links to purchase something, we may earn a commission. Read our disclosures.
Let's say you buy a squat stand, and then a few years later you decide to replace it with something a little nicer or bigger. You either have to sell the squat stand (probably at a loss), or find a way to get rid of it. It's a pain, right?
What if there was a way to keep your squat stand, and just build onto it? In our PRx Build Limitless Rack review, we look to see if doing exactly that is worth the price and effort. This rack starts off as a simple squat stand, and with the help of extension kits can be turned into a four- or six-post squat rack.
But does it end up saving you money in the long run? Read on to find out.
Why You Should Trust Us
We not only test and review the best power racks on the market, but we also assemble every one of them on our own. This way, we can give you the most in-depth and thorough review of every piece of home gym equipment. And when it comes time to write our reviews, we're fair but also honest.
Whether it's an Olympic barbell, adjustable dumbbell, or even a weight plate, we let you know what we love about a product, along with what we'd like to see improved. We've been doing that since the very beginning, and we have no plans of stopping now. 
PRx Build Limitless Squat Stand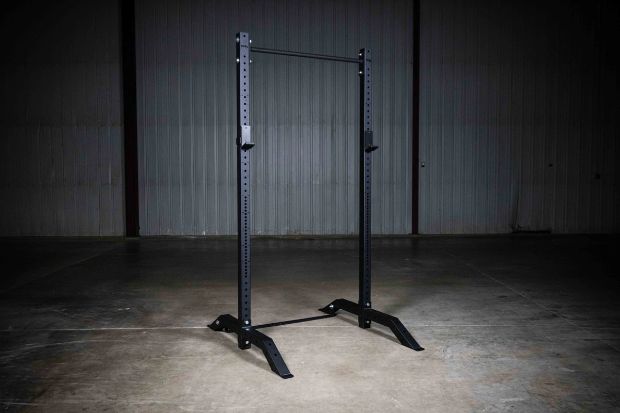 PRx Limitless Squat Stand
Squat racks have become an increasingly popular piece of equipment in the world of home gyms. For those looking to enhance their workout game or strength routine without breaking the bank, the PRx Build Limitless Squat Stand is a fantastic option. This compact rack features 81- or 95-inch uprights to accommodate different ceiling heights, a straight pull-up bar in front, 42-inch crossmembers and angled feet. But, the very best aspect of this bad boy is its ability to transform into a half rack, full cage or six-post power rack with PRx's new expansion packs. So, if you want to start small and upgrade later, this is the perfect rack to meet your needs at every stage of your fitness journey.The Limitless Squat Stand is considered the base model in PRx's Limitless Build Series, but there is nothing basic about it. Made in the USA, this Squat Stand is constructed from 3-inch-by-3-inch 11-gauge steel in a premier powder coat which increases durability and prevents scratching.  All uprights and crossmembers have laser cut holes encouraging limitless accessory placement. Inside the chest press area, the ⅝-inch diameter holes are spaced 1 inch apart which allows for more particular placement of J hooks. Outside this area, the holes are spaced in 2-inch increments with laser cut notches every five holes.The Build Limitless Squat Stand is certainly a durable and versatile option ideal for small spaces or those looking to slowly grow their gym. One drawback to note is that shipping is not included so, essentially, this $600 purchase is closer to $800 with shipping and taxes. And, anchor hardware is not included so factor that cost in when budgeting.
A Quick Look at the PRx Build Limitless Rack
Do you remember those "create your own adventure" books from your childhood? The PRx Build Limitless Rack is basically that, but in squat rack form. With this DIY product, you can start off with a wall mount rack and buy an expansion pack to turn it into a half rack or full cage; or a half rack and turn it into a full cage; or a squat stand and turn it into a half rack. You get the point.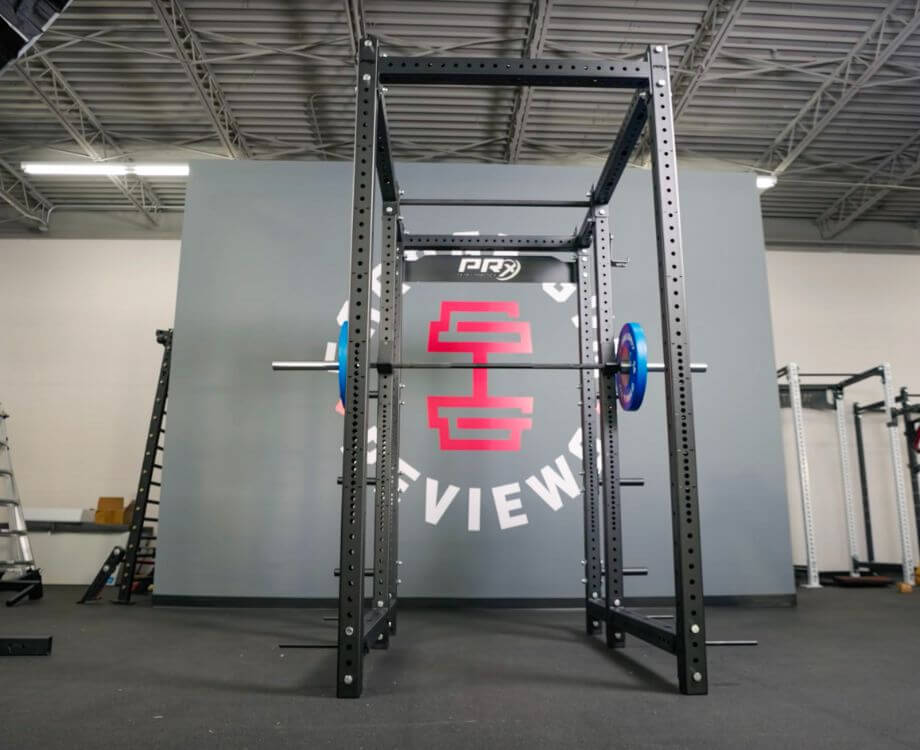 The idea is that people may start off with a squat stand, either because they don't have the space or budget for something bigger. But when they do, they can purchase the conversion kits and get a bigger rack.
This isn't unique to PRx Performance, as brands like Rogue Fitness offer some conversion kits to expand some of their racks. But those are for specific models, and they don't contain quite the range of PRx's.
Coop's Tips
For anyone who buys this, keep an eye out for a possible cable pulley attachment (their racks appear to have the holes for it)
Shipping costs vary by region (it was about $140 to get to me in Missouri)
If you have the space and budget for a half or full rack right now, I'd recommend doing so (but not necessarily from PRx).
Pros:
It's a cool concept I'd like to see expanded on in the future
Reduces amount of steel that needs to be thrown out when building a bigger rack (though it doesn't eliminate waste altogether)
Has plenty of space to add a variety of squat rack attachments
The quality is very high
Cons:
The racks are good, but they don't offer much different from competitors that have been offering them for years
The squat stand lacks some side-to-side stability due to the angled feet, but not enough to be a major concern
Only one color option (black)
No 1" hole options (This would be the ultimate in modularity)
Video Review
Is the PRx Build Limitless Rack Worth It?
This might be the ultimate "it depends" case, but I wouldn't recommend this rack for most people. If you're someone who, like us, starts with the squat stand and goes all the way to the 6-post rack, the PRx Build Limitless rack ends up costing around $2,000, plus shipping.
That'd be OK if the racks were revolutionary, but to be honest, they don't offer anything special compared to less expensive racks that have similar quality levels, like the REP Fitness PR-400, which comes in under $2,000 (depending on how you customize it).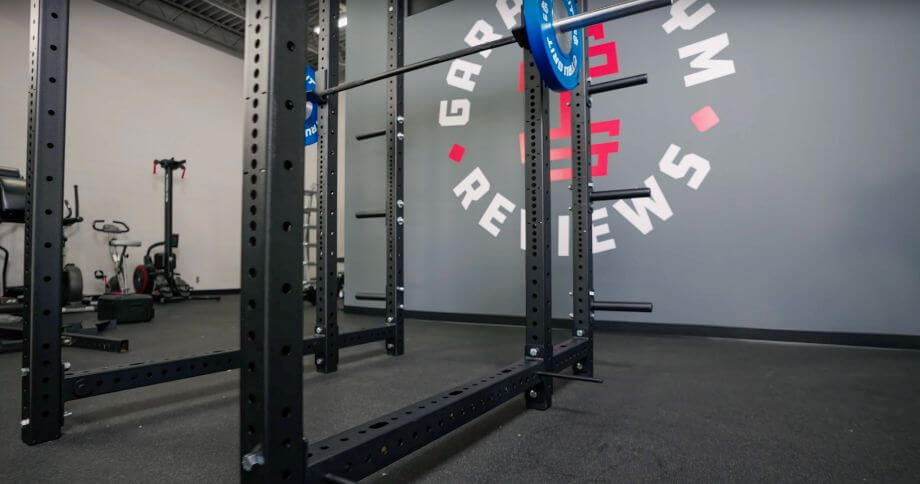 The squat stand itself is fine, but even that is more expensive or about the same price as some higher-quality squat stands (PRx's is $599, plus shipping, compared to $525 for the Rogue SML-2 squat rack, or $300 for the Titan Fitness T-3 Squat Stand).
Personally, I'd recommend most people go with a competitor that has good resale value (such as Rogue), rather than going this route, unless PRx releases more of their attachments (which are said to be in the works).
I'd really only recommend it to someone who doesn't mind not having the best of the best, absolutely needs a squat stand now, but also wants the easy accessibility of a bigger one in a few years. I also would've liked to see PRx offer a bigger discount for staying with the racks, but in the end it's not that cost-efficient.
Great for:
Those in small spaces right now, who may want a bigger rack in the future
People who want to reduce waste
Anyone looking for a rack that can fit multiple attachments
Not recommended for:
Those who don't plan on upgrading over time
People who want squat racks in different colors
Those who don't want to pay a premium for Made-in-the-USA equipment
PRx Build Limitless Rack Specs
| | | | | | |
| --- | --- | --- | --- | --- | --- |
| | Limitless Wall Mount Rack | Limitless Squat Stand | Limitless Half Rack | Limitless Full Cage | Limitless 6-Post Power Rack |
| Upright Options | 81", 95" | 81", 95" | 81", 95" | 81", 95" | 81", 95" |
| Width and Depth | 48" W; 18" or 42"* | 48" W; 42" D | 48" W; 42" D | 48" W; 42" D | 48" W; 60" D |
| Construction | 3×3″ 11-gauge steel | 3×3″ 11-gauge steel | 3×3″ 11-gauge steel | 3×3″ 11-gauge steel | 3×3″ 11-gauge steel |
| Finish | Black powder coat | Black powder coat | Black powder coat | Black powder coat | Black powder coat |
| Weight Capacity | 1,000 lbs | 1,000 lbs | 1,000 lbs | 1,000 lbs | 1,000 lbs |
| Hole Spacing | 1" in bench area, 2" outside bench zone | 1" in bench area, 2" outside bench zone | 1" in bench area, 2" outside bench zone | 1" in bench area, 2" outside bench zone | 1" in bench area, 2" outside bench zone |
| Cost** | $539 | $599 | $1,199 | $1,299 | $1,799 |
* If you plan to grow your wall mount rack to a half rack or full cage, choose the 42-inch depth option
** Cost of the rack as is– not the cost of the corresponding expansion kit
Our Thoughts on the PRx Build Limitless Rack
For this review, we started off with the PRx Build Limitless Squat Stand, moved onto the Limitless Half Rack, and finished with the 6-Post Power Rack. We did some basic moves with each, such as the bench press, pull-ups (when able), squats, and more.
RELATED: Best Weight Bench
We'll essentially be doing three reviews in one, looking at each that we tested and giving you our full thoughts on the workout experience, construction, assembly process, functionality and more.
Oh, but a quick note first. If you start with the wall mount rack and know you'll want to get the half rack or full cage sometime in the future, make sure you choose the 42-inch depth option. If you pick the 18-inch depth option, the expansion kits won't work.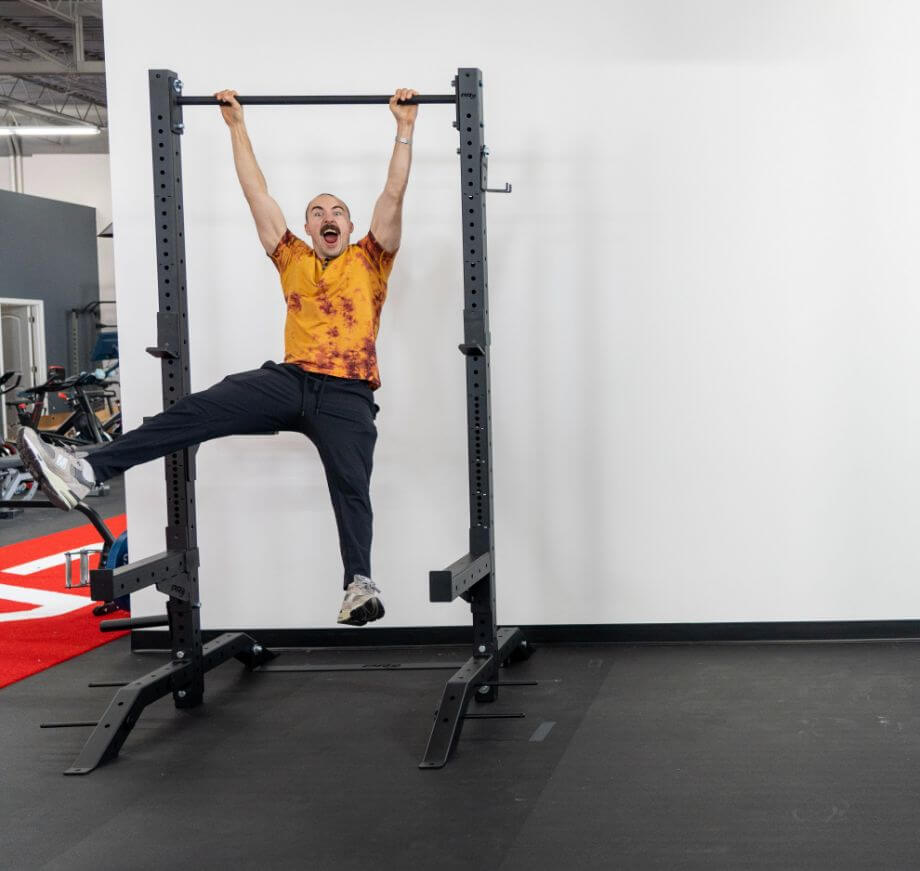 Build Limitless Squat Stand
Tbe Build Limitless Squat Stand is your typical squat stand, but it has angled feet and a flat plate connecting the two steel uprights. This results in a bit of side-to-side instability, but for the most part, you'll want more front-to-back stability and it has plenty of that. I don't see the angled feet being a problem, even if you're kipping on pull-ups.
This will essentially be your shell for all other racks, as well. With the exception of a handful of parts, everything you see on the squat stand will be included in the six-post rack (if you decide to go that far).
The powder coat on the uprights is gritty, especially on the pull-up bar (which provides plenty of grip). It comes with a standard pair of J-cups that actually look more like an L-cup due to the angle. It's not a bad thing, just a little different.
My problem with the Limitless rack series is that there's nothing really too special about it. Don't get me wrong, it's a good squat stand and would serve most home gym owners well, but you can find ones of similar, or even better quality for less—the Rogue SML-2, Titan's T-3, and the REP SR-4000 being good examples.
It'd be different if PRx's was of better quality, or even offered more attachments for the price, but the only value here is that you get to keep the base when you decide to go for a bigger rack.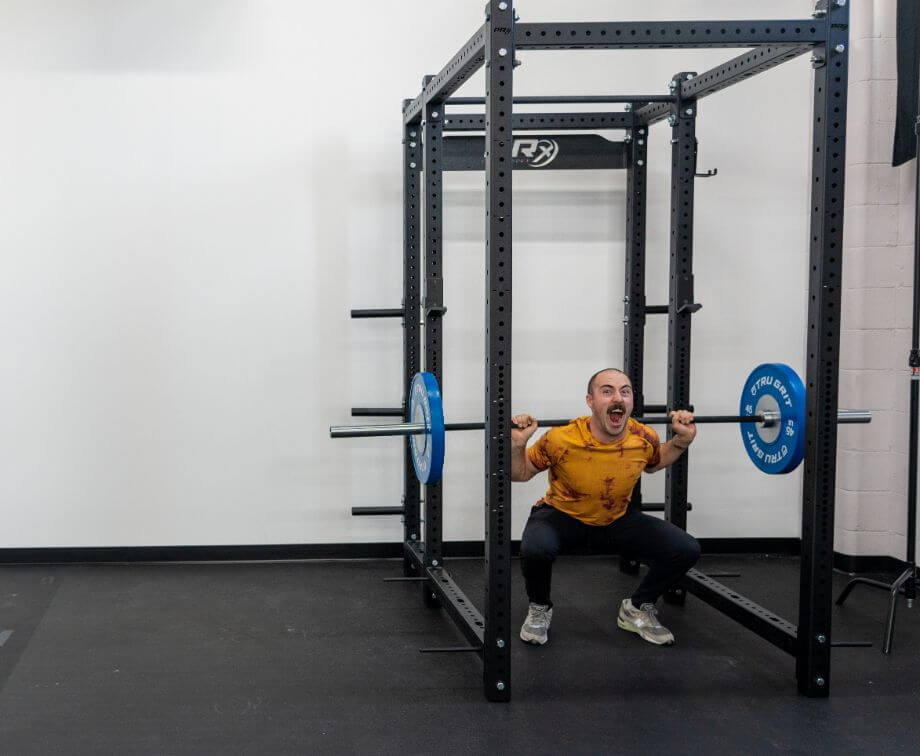 Build Limitless Half Rack
After assembling a few extra crossmembers, two additional uprights, and an arch logo (which is separate from the expansion pack), our Build Limitless Squat Stand was now a Build Limitless Half Rack. The only part we had to throw out was the flat plate that connected the two uprights on the squat stand.
The outside-to-outside width is 48 inches, so Titan accessories are the only one that would work with it (Rogue's is 49 inches, and REP's is 47). Speaking of accessories, I noticed the uprights had cutouts that appear to be for a cable attachment that PRx may release sometime in the future.
Again, this rack is good and has all the features you'd want: 1-inch hole spacing through the bench zone, plenty of room for attachments, and it's stable. But that's all I can say about it. I wish PRx offered a deeper discount for staying with the company, but the cost of the squat stand and the expansion pack ended up being around the same as a better-quality rack.
On top of that, accessories such as spotter arms are not included in the base model or any expansion pack, making this even more expensive.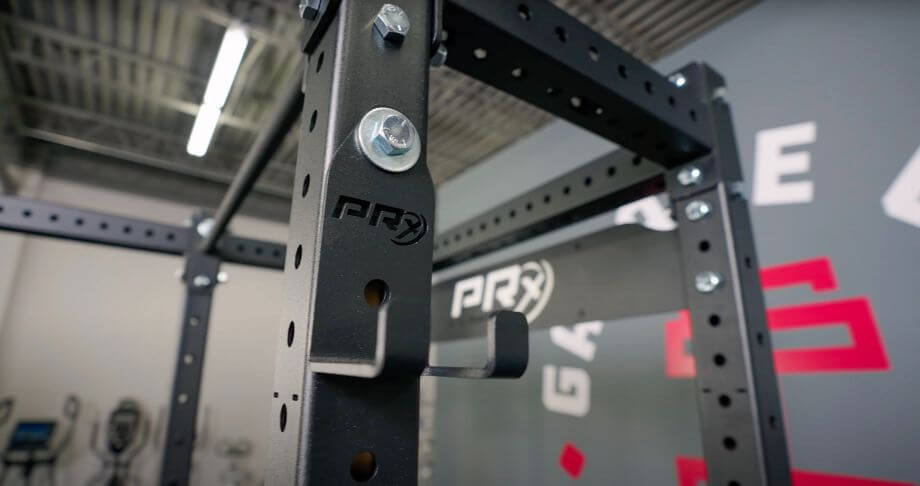 Build Limitless 6-Post Power Rack
A few more crossmembers and uprights, along with new straight feet instead of the angled ones that were on the squat stand, and we had ourselves the Build Limitless 6-Post Power Rack.
Not to sound like a broken record, but at this point we've spent around $2,000 (not including $140 in shipping each time we ordered an expansion pack), and we still have just a pretty average rack.
Other racks offered at a similar price, like the REP PR-4000, at least offer something different, whether that be a center mount lat pulldown attachment or different color options. PRx offers neither, as all attachments cost extra and the only color option is black.
It would've been cool if they offered the ability to add a kipping bar, like we see on their PRx Profile Pro Squat Rack.
Footprint and Construction
All PRx Build Limitless racks are made in the USA with heavy-duty 3-inch by 3-inch 11-gauge steel, have ⅝-inch diameter laser-cut holes, and black powder coat finish. This means they should last a while in your garage gym. They also come with laser-cut numbers on every fifth hole on the uprights, and 1-inch hole spacing through the bench zone.
The footprint will, of course, depend on what rack you start with and how you progress. Let's say you start with the squat stand, for example. Depending on your ceiling height, you may go for the 81- or 95-inch height option. The outside-to-outside width will always be 48 inches, and the depth will be 42 inches (except for the 6-post rack, which has a depth of 60 inches).
With each expansion pack, you'll be able to choose how much bigger you want your next rig to be. So you can take a 81-inch-high squat stand and turn it into a 95-inch-high full cage–remember, the choice is yours.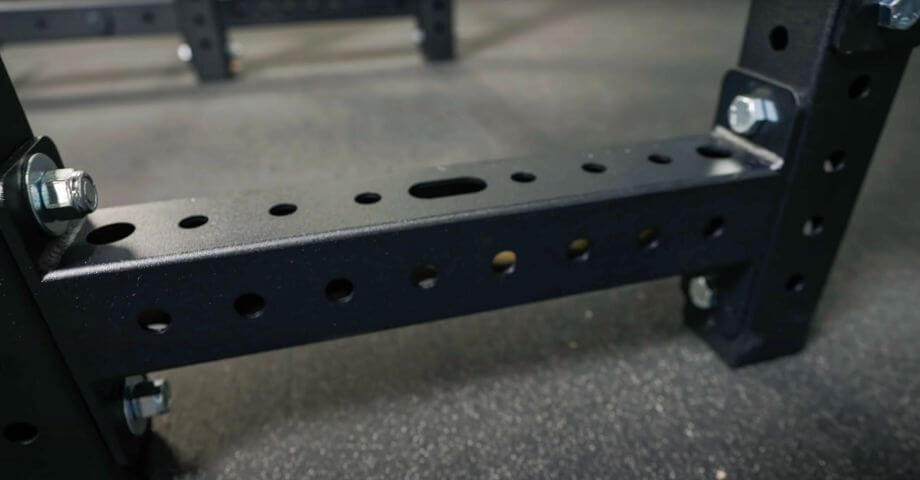 Ordering and Assembling the PRx Build Limitless Rack
Again, this is going to vary depending on which rack you start with and how you want to progress. But essentially you start with your first model and order that, and assemble it when it gets there. Shipping costs vary depending on where you are in the country, but I had to pay $140.
Assembly is as easy as putting together the uprights and connecting them with the crossmembers.
When you're ready to buy an expansion pack, pick the dimension you want and all the hardware and necessary parts will be shipped to you. For the most part, you'll simply be putting up more uprights and crossmembers and will have to throw away two or three parts, at most, as you progress.
Customer Experience
PRx can be reached via telephone, email, social media, or a contact form on their website.
Returns, Financing, Warranty
Believe it or not, it doesn't appear that the PRx Build Limitless Racks come with a warranty–their website offers information about the PRx Profile and Profile Pro racks, but there is no information about a warranty on the Build Limitless series.
As for returns, you have 30 days from the date of delivery to return your order for a full refund, minus shipping. It also must be unused, and in the original packaging or you will not be issued a refund.
You can finance your order through different companies to find a monthly payment that works best for you.
Customer Reviews
There are no reviews on PRx's website for any of their power racks, but when some are added we'll update this page to reflect that.
Final Verdict of Our PRx Build Limitless Rack Review
As much as I like the quality of the PRx Build Limitless Rack, there is just very little to point to that makes it superior to the MANY (and I mean many) competitors that are offering similar power racks. In order for me to really recommend this over Rogue, Titan, REP, and others, there needs to be some truly revolutionary attachments because although the quality is high, the price is, too.
The idea of keeping a squat stand base and building on top of it is cool, but I don't think PRx is offering a good enough discount to make this product worth it when compared to other racks.
PRx Build Limitless Rack Rating
PRx Build Limitless Rack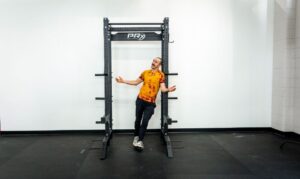 Our PRx Build Limitless Rack review will help you decide if this expandable squat rack is worth the money.
Product Brand: PRx
Product Currency: $
Product Price: 599
Product In-Stock: InStock
PRx Build Limitless Rack FAQs
Is PRx worth the money?
There are some PRx products that we're fans of, such as the PRX Profile PRO Squat Rack, but we would not recommend the PRx Build Limitless Racks for most home gym owners.
Is PRx equipment good?
PRx equipment is Made-in-the-USA with heavy-duty, and high-quality materials that should last in a home gym for many years. They should also handle whatever workouts you throw at them.