We test and review fitness products based on an independent, multi-point methodology. If you use our links to purchase something, we may earn a commission. Read our disclosures.
Wrecked is a pre-workout supplement used for its surge of long-lasting energy without the jitters. Offered by Huge Supplements, this ergogenic aid contains pre-workout ingredients with multiple functions, from fat-burning to blood flow enhancers to boost exercise performance.
But is it worth the hype? The customer reviews are a bit mixed, so we at GGR decided to try Wrecked ourselves and give you the full rundown on this potent product.
Read our full Wrecked Pre-Workout review to see for yourself whether Huge Supplements Wrecked is the best pre-workout for your training needs.
Medical disclaimer: This article is intended for educational and informational purposes only. It is not intended as a substitute for medical advice. For health advice, contact a licensed healthcare provider. GGR also recommends choosing a product that has been third-party tested for quality.
We Test It Before You Try It
We make it our mission at Garage Gym Reviews to provide you with real, honest product assessments to help you make an informed choice about which supplements to take. Thus, we always try the products we review and report to you with our raw feedback—because we're a team of certified personal trainers and nutritionists, but we're also fitness enthusiasts like you!
For more information, check out our GGR Supplement Testing Methodology.
Huge Supplements Wrecked Pre-Workout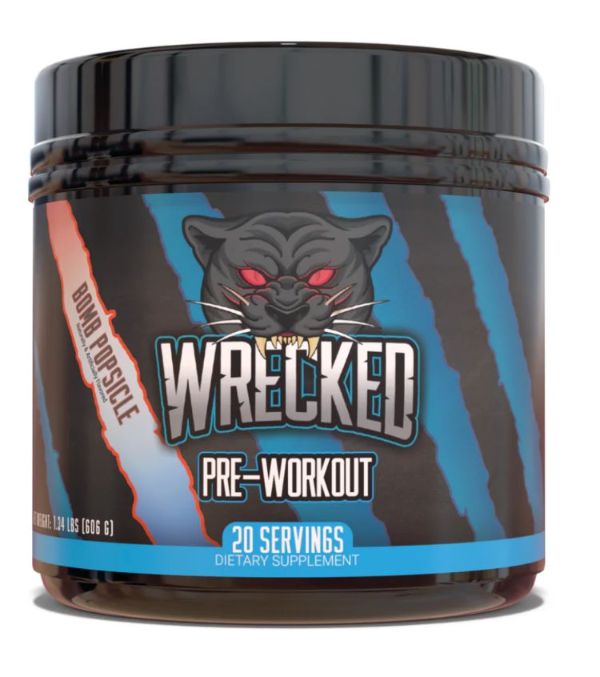 GGR Score: 3.9
Product Highlights
4 flavor options
435mg of caffeine (from various sources)
Clinically dosed ingredients
$2.50 per serving
Pros & Cons
Pros
Clinically-dosed ingredients
Customer reviews state it's great for pumps
Uses whole food sources
Cons
Expensive, at $2.50 per serving
Very high caffeine content
No creatine
Bottom Line
Huge Supplements Wrecked is a high-caffeine pre-workout supplement that uses clinically-dosed ingredients to support increased energy levels and pumps.
A Quick Look at Wrecked Pre-Workout
Huge Supplements offers several supplements for both pre- and post-workout as if their main mission is to hand out as many muscle pumps as possible. Huge Supplements Wrecked Pre-Workout is popular for the key ingredients it has to boost energy before your bodybuilding or gym session. Just be wary if you're used to third-party tested supplements or are sensitive to caffeine.
RELATED: Best Stim-Free Pre-Workout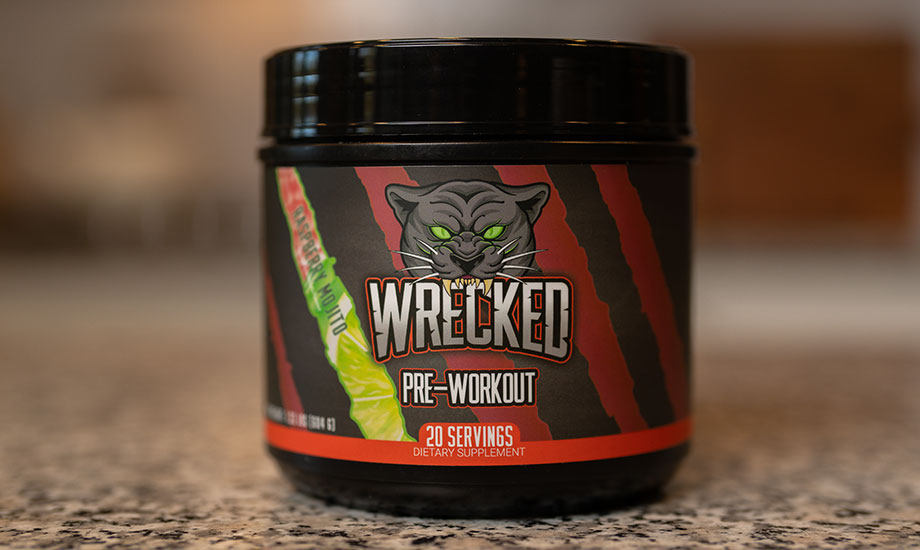 Before You Buy
Check the shipping price to your location and look into subscribing or building a stack if you want to save a few bucks.
Huge Supplements also has Wrecked Enraged, their strongest pre-workout, so don't get this one confused as Enraged is significantly more high-stim.
Understand that if you don't like the product, you are not guaranteed a refund, so order cautiously.
Visit our Huge Supplements discount code page for the latest promos and savings.
Is Wrecked Pre-Workout Worth It?
Huge Supplements has crowned Wrecked Pre-Workout as "the strongest pre-workout supplement," with over 16 active ingredients. Just one scoop of Wrecked is sure to boost your energy levels.
One item of note: There is no creatine included in this product, so you may want to choose another product if creatine is a factor in your bodybuilding goals. Wrecked is also not third-party tested, likely because it contains some ingredients that aren't currently approved by the NCAA and WADA.
RELATED: Best Pre-Workout with Creatine
That said, it's a reasonably priced pre-workout at about $1.25 per serving—a lot of pre-workouts that we've tested are well over the $2-per-serving mark—that our team generally enjoyed and features fun flavors like Peach Rings and Raspberry Mojito.
Great for:
People who want to boost energy levels before the gym
Those who want the benefits from beta-alanine without the tingles
Individuals who want a product with a variety of flavors to cycle through
Not recommended for:
Elite athletes who submit to regular or random drug testing
Those who are sensitive to caffeine
People who avoid artificial sweeteners in their supplements
Wrecked Pre-Workout Specs
| | |
| --- | --- |
| Price per serving | $1.25 |
| Flavors | Orange Burst, Blue Razz, Raspberry Mojito, Bomb Popsicle, Rainbow Burst, Peach Rings, Sour Gummy |
| Caffeine dose | 175 milligrams |
| Creatine dose | None |
| Citrulline dose | 4 grams |
| Beta-alanine dose | 1.75 grams |
| Other active ingredients | Hydromax, Betaine Anhydrous, Malic Acid, Agmatine Sulfate, L-Tyrosine, Alpha Gpc 50%, Lion's Mane Mushroom Powder, Theobromine, Rauwolscine, N,N-DMPEA |
| Sweeteners | Sucralose |
Experience Using Wrecked Pre-Workout
Certified personal trainer, nutrition coach, and GGR Performance Editor Anthony O'Reilly tried Wrecked Pre-Workout himself and had good things to say about the flavor and the solubility.
"This tastes so refreshing, like the drink you'd want to order on a hot summer day at a Caribbean beach bar," he says. "Serve it with really cold water for the best taste. No issues with solubility either, both with one or two scoops. I have absolutely no complaints about this product. I normally use two scoops, but the one time I tested it with just one scoop, it was still an amazing pre-workout. Pumps were thicker than extra-pulp orange juice, and I don't get the beta-alanine itch."
Price Per Serving
Each tub contains 40 servings, and a tub goes for $49.95 on the Huge Supplements website. You can save about $5 by signing up for their subscribe and save program, which will automatically send the pre-workout to you every 30, 45, or 60 days.
However, as you begin to build a tolerance to the supplement, Wrecked recommends taking 2 scoops per serving, which would then bring the cost to about $2.50 per serving. Anthony gave Wrecked a 3 out of 5 in this category due to the value discrepancy of the serving sizes.
RELATED: Best Cheap Pre-Workout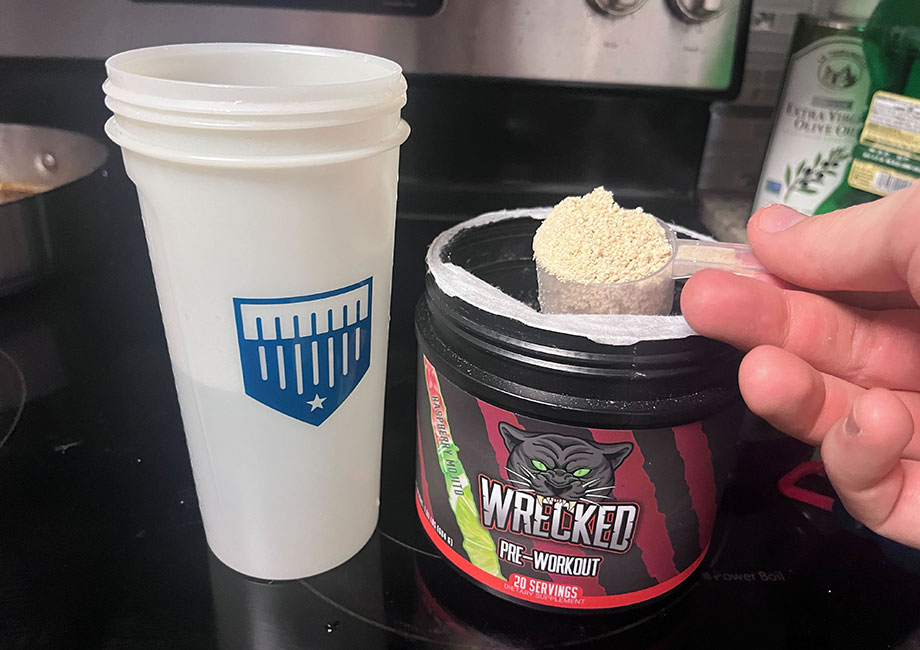 Formulation
Wrecked contains several pre-workout ingredients that cover a variety of functions, including a fat burner for weight loss, key ingredients to help blood flow, nootropics and some killer stimulants to take your exercise performance to the next level.
Caffeine Anhydrous & Di-caffeine Malate: Wrecked contains two types of caffeine, which has been shown in several studies to promote mental focus7. Di-caffeine malate in particular is made with malic acid, which is also used to boost cognitive function.
Sodium (as Himalayan Pink Sea Salt): Though the source isn't super important (Himalayan, pink, or otherwise), sodium can help maintain hydration status. Researchers have discovered that dehydration negatively affects mental focus, attention, cognitive function, reaction time, and mood8.
N,N-dimethylphenethylamine – Eria Jarensis Extract (also known as N-Phenethyl Dimethylamine) is a stimulant, but athletes should be wary. It is chemically similar to methamphetamine, DMAA and ephedrine which are all listed as banned substances and is even banned in Australia. Though its regulation is looser in the USA, the NCAA does list it as prohibited and thus college athletes should avoid this ingredient in their chosen pre-workout formula.
Taste and Solubility
When we tested Wrecked for ourselves, the taste and the solubility were both solid performers, as Anthony scored it 5 out of 5 in each category. However, the customer reviews for both of these factors have mixed responses.
Side Effects
To avoid any negative pre-workout side effects, it's important to follow the instructions carefully. If you have heart problems, you should probably avoid pre-workout due to its effect on blood pressure. In addition, if you take prescription medications or if you have liver or kidney problems, consult your physician before starting any supplement regimen.
Anthony didn't experience any side effects during his testing but also isn't prone to beta-alanine itch.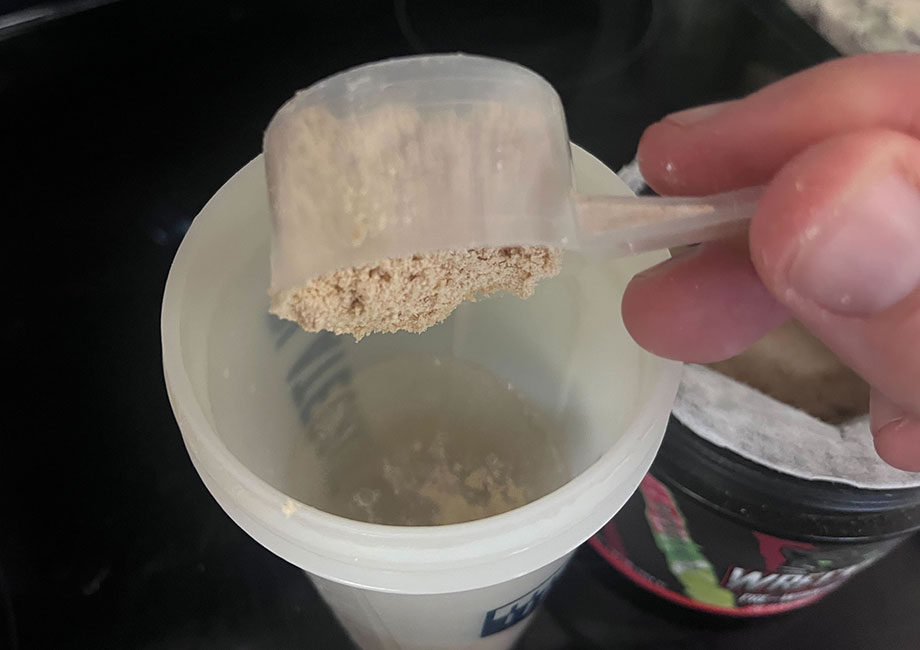 Third-Party Testing
As of now, Wrecked pre-workout has not been tested by a third-party. It is, however, manufactured in a cGMP-certified and FDA registered facility. That said, there are substances it contains that would be considered banned, especially for NCAA athletes and Olympic athletes.
Comparison to Transparent Labs BULK 
Transparent Labs BULK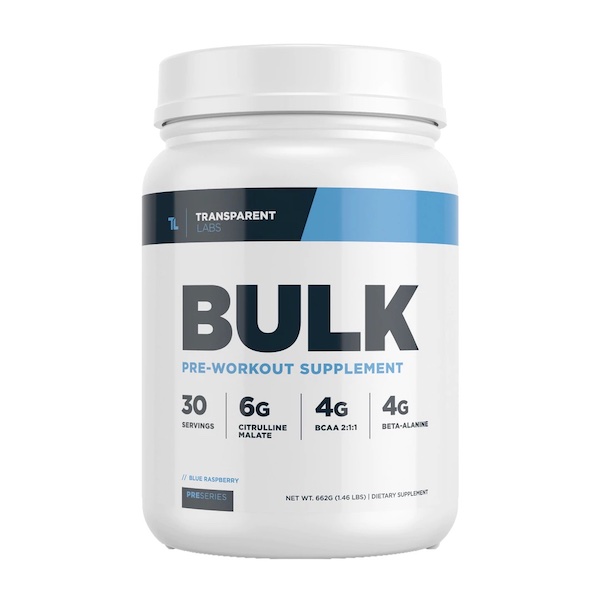 GGR Score: 4.6
Product Highlights
Formulated to help support muscle gain 

20 grams of research-based active ingredients per serving 

8 flavor variations are available
Pros & Cons
Pros
Transparent ingredient list
No artificial sweetener or color
Moderate dose of caffeine
8 flavor options
60-day money-back assurance
Cons
No creatine
Some users report it tastes bad
Bottom Line
Transparent Labs' BULK supplement is attractive to those whose primary focus is split between potential muscle gain and a pre-workout pump. While the taste is questionable, the product works well for most users.
Transparent Labs is known for their natural ingredients and third-party tested products. Thus, Transparent Labs' pre-workout may be more appropriate for athletes. If you're not an athlete, though, Wrecked is more affordable. BULK, like Wrecked, doesn't include creatine, but has slightly more caffeine and beta alanine. Therefore, it will likely give you the tinglies that many reviewers have said they didn't miss from Wrecked.
Read our full, in-depth Transparent Labs BULK review.
| | | |
| --- | --- | --- |
| Features | Wrecked | Transparent Labs BULK |
| Price per serving | $1.25 | $1.67 |
| Creatine | None | None |
| Beta Alanine | 1.7 grams | 4 grams |
| Caffeine | 175 milligrams | 210 milligrams |
| Flavors | Orange Burst, Blue Razz, Raspberry Mojito, Bomb Popsicle, Rainbow Burst, Peach Rings, Sour Gummy | Strawberry Lemonade, Strawberry Kiwi, Pina Colada, Blue Raspberry, Black Cherry, Peach Mango, Tropical Punch, Sour Grape, Watermelon, Watermelon Peach, Cherry Splash, Orange |
| Sweetened with | Sucralose | Stevia |
| Third-party tested? | No | Yes |
Customer Experience
If you need support from Huge Supplements while using their Wrecked pre-workout, you can contact customer service by filling out the contact form on their website. You can also reach them by email at support@hugesupplements.com. Unfortunately, there's no way to contact Huge Supplements by chatbot or phone at this time for customer service.
Ordering Wrecked Pre-Workout
To purchase a product, you do not need an account. Huge Supplements uses Shopify to process orders, similar to most retail websites. Adding items to your virtual cart, filling in your shipping information, and selecting a payment method are all you need to do.
Shipping is…a little bit expensive, to be honest. It likely varies by location, but when I went to place my order to be delivered to California, these were my pricing options:
4 business days – $10.12
3 business days – $11.88
2 business days – $13.17
1 business day – $51.15
As you can see, even the cheapest option costs 25% of the product, so be prepared for that. However, if you buy $100 worth of products from Huge Supplements, you can qualify for free shipping. You also can take advantage of 5% and 10% discounts when you stack your pre-workout order with their whey protein and/or non-stim pre-workout formula, called Pump Serum.
The refund policy held by Huge Supplements is a bit ambiguous. It lasts 14 days from the date of purchase. So, even if you return your product after this time frame, they can't offer you a refund or exchange.
Upon return, you must have the item in its original condition. Even then, you have to submit for "approval" to receive a refund, and once approved, Huge Supplements will decide if you will get a cash refund or a store credit.
Customer Reviews
Currently, Wrecked is rated 4.7 out of 5 stars based on 4,738 reviews on the Huge Supplements website. These customers enjoy the effects, taste, and the fact that they don't get jitters or crashes after taking it.
The Amazon feedback is a little more mixed and the product is rated 3.9 stars out of 5 based on 1,144 reviews. Most of the reviews are critical of the taste, with many saying it's hard to get down. While many users appreciate the fact that they don't get jitters, others don't like the lack of solubility or texture.
Final Verdict of Our Wrecked Pre-Workout Review
Despite the scary looking amount of stimulants, this pre-workout is safe for general use, but could be risky for athletes. After performing our testing and overall formulation review, here are our key takeaways of Huge Supplements Wrecked Pre-Workout:
Decent tasting with decent solubility, but reviews are mixed
Diverse formulation with a range of benefits and functions
Acceptable pricing, but can get expensive if you build a tolerance
Not third-party tested
Customer service may be difficult to reach if you have an urgent issue
Full Rating
Huge Supplements Wrecked Pre-Workout
Huge Supplements Wrecked Pre-Workout packs more than 400 milligrams of caffeine in each scoop. There are also 8 grams of L-citrulline to support oxygen and nutrient delivery to muscles, which can lead to a good pump and decreased muscle fatigue.
Product Brand: Huge Supplements
Product Currency: USD
Product Price: 49.95
Product In-Stock: InStock
Wrecked Pre-Workout: FAQs
Is Wrecked the best pre-workout?
Though it isn't third-party tested and therefore not appropriate for all athletes, a scoop of Wrecked pre-workout can be good for some long-lasting energy due to its high caffeine content. However, many customers wouldn't consider it the best due to mixed feedback on the flavor and solubility. 
What is the highest-rated pre-workout?
We have our favorites, see our Best Pre-Workout list. As for the most popular, Cellucor C4 Original Pre Workout Powder ICY Blue Razz is the #1 best selling pre-workout on Amazon. 
RELATED: C4 Pre-Workout review
Does Huge Wrecked have creatine in it? 
No, Huge Wrecked pre-workout does not contain creatine. 
These statements have not been evaluated by the Food and Drug Administration. This product is not intended to diagnose, treat, cure, or prevent any diseases.
References