We test and review fitness products based on an independent, multi-point methodology. If you use our links to purchase something, we may earn a commission. Read our disclosures.
When it comes to having a productive workout, you technically only need to rely on yourself. But if you've ever taken one of the best pre-workout supplements, especially when energy is running low, you know it can be the difference between an okay workout and one that'll have you pumped up and flexing like Mr. Olympia himself.
That's great and all, until bedtime comes and that caffeinated pre-workout is keeping your eyes and mind wide open. Or you smash the pre in the morning hours then follow it up with a protein coffee or two, only to leave you with an anxious mind, irritable bowels, and clammy hands.
But what if we told you that you could still channel your inner "C Bum" without those pesky caffeine symptoms? Yep, a stim-free pre-workout may help maximize your time in the gym without needing to risk it for the biscuit grit.
Even if you're pro caffeinated pre-workouts, don't leave us just yet… Our best stim-free pre-workout picks might just give you a new buzz you didn't know you needed or wanted—until now!
Medical disclaimer: This article is intended for educational and informational purposes only. It is not intended as a substitute for medical advice. For health advice, contact a licensed healthcare provider.
We Get Amped About The Data—Stim-Free or Not
With registered dietitians and sports nutritionists rostering our expert team of testers, reviewing all angles of the products we test truly excites us. We look at allll of the scientific details, and you'll find academic sites like Google Scholar pinned in most of our bookmark tabs.
Of course, we get excited about products that can best benefit our own workouts and health journeys. But we get equally, if not more, buzzed about how they can elevate yours!
8 Best Stim-Free Pre-Workout for 2023
Best Stim-Free Pre-Workout Overall: Transparent Labs Stim-Free Pre-Workout
Good for: Those looking for a high-quality pump without the stim and fluff
Transparent Labs Stim-Free Pre-Workout is a non-caffeinated performance formula developed to be "the most exceptional stimulant-free pre-workout supplement available" that relies on clinically effective ingredients and dosages. And if there's one thing we know about Transparent Labs supplements, besides their commitment to transparency, they're strategic about their formulation and only use purposeful ingredients.
The "star child" of Transparent's stim-free formula is the 6,000 milligrams—or 6 grams—of citrulline malate, which is the combination of L-citrulline (a non-essential amino acid) and malate. A 2021 critical review1 suggests citrulline malate directly influences nitric oxide (NO), which may improve skeletal muscle function and performance by enhancing blood flow, contractility, and mitochondrial respiration—or just a fancier word to describe energy production with the help of oxygen.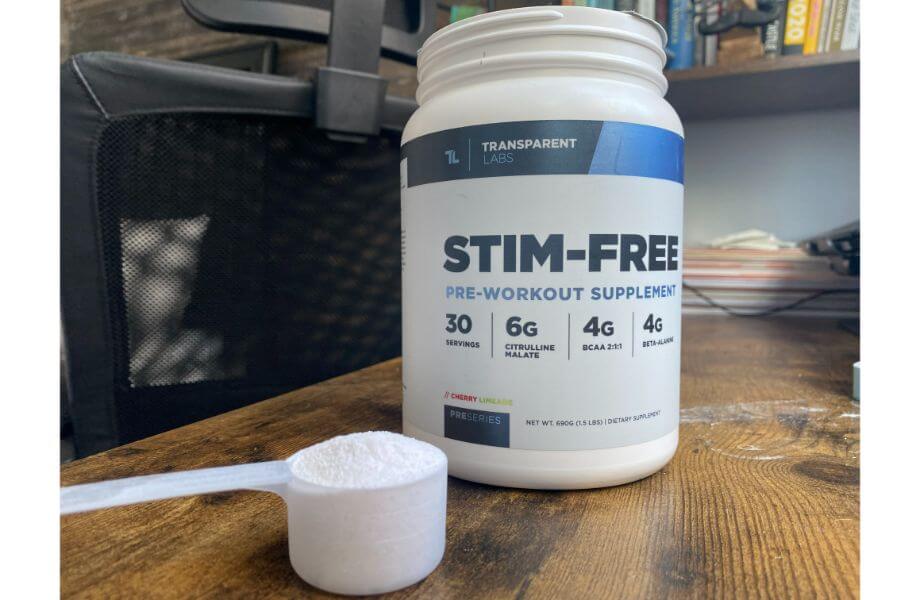 Other key ingredients of the formulation—like 4 grams of beta-alanine2, 2.5 grams of betaine anhydrous3, 1.3 grams of taurine4, 1 gram of L-tyrosine5, and 500 milligrams of choline bitartrate6—help delay the onset of physical fatigue, increase overall strength, enhance overall muscle endurance and focus, support muscle growth, improve body composition, and delay next-day muscle soreness. It also contains branched-chain amino acids (BCAAs)—specifically 2:1:1 of leucine, isoleucine, and valine—that prove to be the ideal ratio and what the GGR team looks for in the best BCAA supplements.
But there's more: The stim-free pre-workout supplement contains other unique ingredients such as Huperzine A to increase cognition and focus, as well as BioPerine® to enhance the absorption of other available nutrients. It also provides sodium and potassium7 to boost the pump even more and promote hydration.
The stim-free pre-workout contains beetroot powder intended for natural color according to the product label. However, research8 tells us beetroot can also stimulate NO production and improve exercise performance.
So, we guess you could say Transparent Lab's stim-free pre-workout is stacked with research-backed ingredients. If you enjoy reviewing the data just as much as we do, be sure to check out their site's "Ingredients" tab to access more research on their selected ingredients.
Ingredients aside, all eight delicious flavors are naturally flavored, colored, and sweetened with stevia. This means no use of artificial sweeteners, artificial coloring, and no artificial preservatives—just high-quality and third-party-tested ingredients.
Both GGR Senior Editor Nicole Davis and GGR Senior Staff Writer Amanda Capritto have tried Transparent Labs Stim-Free pre-workout. Nicole tried Fruit Punch (which isn't currently available) and thought that it had a slightly chemical taste—plus it also got very foamy when shaken, which she thought was weird. Amanda tried Cherry Limeade and thinks that it's tart but not overly sweet, which is something she appreciates. She did have some issues with solubility though, getting persistent chunks even with a shaker bottle.
"Also, this contains 4 grams of beta-alanine so the tingles are intense," Amanda says. "I get really itchy lips and fingertips for 10 to15 minutes before it dies down. I'm used to it now, but at first I was taken aback and it took some courage to try it a second time."
| | |
| --- | --- |
| Key ingredients | Citrulline malate, beta-alanine, BCAA 2:1:1, BetaPure™ betaine anhydrous, taurine, L-tyrosine, choline bitartrate |
| Flavor option(s) | Cherry Limeade, Sour Grape, Blue Raspberry, Green Apple, Orange, Peach Mango, Strawberry Lemonade, Tropical Punch |
| Cost per serving | $49.99/30 servings = $1.67/serving |
Best Budget Stim-Free Pre-Workout: Cira Pump
Good for: Fitness fanatics who don't want to compromise quality for cost
Cira Pump is our top budget-friendly non-stim pre-workout, especially when you apply the subscribe and save option for 25% off your routine orders. While the price point is great and all, it's still wise to know what you're paying for—and that the quality of the product isn't as cheap as its cost.
Like Transparent Labs, Cira Pump supplies betaine anhydrous3 (1,250 milligrams) and taurine4 (2,000 milligrams) to maximize your pump and recovery. This might be a slightly low dose, as betaine anhydrous shows to be safe in doses of up to 3,000 milligrams twice daily while 3,000 milligrams per day of taurine shows to be safe and effective.
Aside from betaine and taurine, Cira provides patented and trademarked ingredients like:
Nitrosigine® (L-arginine that has been stabilized by inositol): Research published in the Journal of the International Society of Sports Nutrition9 shows that inositol-stabilized arginine can significantly increase pre-workout energy and muscle pump post-workout while decreasing muscle damage.
CITRAPEAK® (glucosyl hesperidin, which is hesperidin without solubility issues): Recent 2022 data10 suggests hesperidin—a beneficial flavonoid mainly found in citrus fruits—can improve exercise performance and muscle recovery by optimizing oxygen and nutrient supply to muscles, stimulating muscle contraction, and decreasing post-exercise inflammation.
AstraGin™ (a blend of Astragalus membranaceus and Panax notoginseng roots): AstraGin™ is a 100% plant-based compound that helps increase the absorption of nutrients and, in Cira's case, helps the body absorb the bioactive ingredients in Pump.
The non-stim pump powder provides the minerals and electrolytes sodium and potassium7, as well as vitamin C. Vitamin C11 acts as a powerful antioxidant to fight inflammation, promote recovery, and convert nitrates into nitric oxide.
While Cira's stim-free Pump powder provides some pretty rad ingredients (and flavors), it's worth noting that it does contain artificial flavors and sweeteners. Overall, your mileage will vary depending on whether you want to consume or avoid artificial ingredients.
Amanda, GGR senior staff writer, tried the Pop & Rock flavor and said it was much too sweet for her liking, but she just diluted it with a bit more water. Because there's no beta-alanine, she didn't experience any tingles, and in fact, didn't feel much different after taking it—that could be both good and bad.
| | |
| --- | --- |
| Key ingredients | Taurine, betaine anhydrous, Nitrosigine® (L-arginine stabilized with inositol), CITRAPEAK® (glucosyl hesperidin) |
| Flavor option(s) | Pop & Rock, Peach Bellini |
| Cost per serving | $34.99/30 servings = $1.16/servingOr $0.87/serving with 25% subscribe and save discount |
Best All-Natural Stim-Free Pre-Workout: Naked Nutrition Stim-Free Naked Energy
Good for: Those who are hyper-conscious about their product sourcing
Nothing screams "all-natural" more than Naked's stim-free, pure pre-workout formula. And the "Naked Difference" is that it contains only 11 high-quality ingredients, so let's give them a rundown.
Naked Nutrition's official website tells us Nitrosigine® arginine silicate inositol and CarnoSyn® beta-alanine are the sources of energy in their non-stimulant pre-workout. Recall that Nitrosigine®, also found in Cira Pump, significantly increases pre-workout energy and muscle pumps9. CarnoSyn® helps reaffirm the quality, safety, and effectiveness of beta-alanine2 through continuous testing—there are now over 55 clinical studies supporting the athletic benefits of the patented beta-alanine.
Other functional ingredients of the stim-free pre-workout include L-citrulline malate1 (1 gram) and B vitamins—like niacin, vitamins B6 and B12, and folate. While B vitamins are key for energy production, some evidence12 rebuttals that niacin for exercise is poorly understood and may even impair performance.
And that tingling sensation often caused by pre-workout supplements? Unlike popular belief, caffeine is not the culprit. Along with beta-alanine, research13 points out that pre-workout powders with niacin can cause skin reactions.
All things considered, this all-natural stim-free pre-workout contains no added sweeteners (artificial sweeteners included), colors, and flavors—because, well, there's no flavor specified. It's also non-GMO, vegan, soy-free, and certified gluten-free, along with independently third-party testing for heavy metals.
While we haven't tried the stim-free version, GGR Senior Staff Writer Amanda Capritto loves the Citrus flavor of Naked's regular pre-workout. "It has become my go-to because I always feel energized and focused when I take it."
| | |
| --- | --- |
| Key ingredients | CarnoSyn® Beta-Alanine, niacin, Nitrosigine® (L-arginine stabilized with inositol), L-citrulline malate |
| Flavor option(s) | Not specified |
| Cost per serving | $59.99/50 servings = $1.20 |
Best Stim-Free Pre-Workout With Creatine: Kaged Pre-Kaged Stim-Free
Good for: Creatine consumers looking for a more inclusive pre-workout
Kaged Pre-Kaged Stim-Free might be stim-free, but it is stacked with ingredients that can help take your workouts to the next level. It also bundles and breaks down the intended function of the ingredients—like "pump" and "muscle fuel matrix"—so you better understand what to expect out of your workout.
L-citrulline1 will provide your "pump," while the branched-chain amino acids—leucine, isoleucine, and valine—will act as "muscle fuel." BetaPower® (betaine anhydrous), Carnosyn® (beta-alanine), and Creatine HCl® (patented creatine hydrochloric acid) activate strength and power.
Although creatine monohydrate is the most common creatine on the market, creatine HCl is up and coming. Growing data14 suggests that while both forms of creatine can improve athletic performance and strength, creatine HCl is 41 times more absorbable and promotes favorable changes in body composition.
The non-stim pre-workout also provides "neuro-focus" ingredients—like taurine4 (2 grams) and L-tyrosine5 (850 milligrams)—and "hydrate and defend" blends using coconut water powder and SPECTRA™ Total ORAC Blend. The SPECTRA™ is supposedly a premium antioxidant of 20+ fruit and veggie extracts—like tomato concentrate, carrot concentrate, blackberry concentrate, and kale concentrate—to fight inflammation and support metabolic health.
This caffeine-free pre-workout is naturally flavored and contains 1 gram of sugar. It is likewise free of artificial flavors, colors, gluten, and GMOs.
GGR Performance Editor Anthony O'Reilly has the Cherry Bomb flavor of Pre-Kaged Stim-Free, and while he says that the flavor could be better, the effects are worth it. "The pump is strong with this one! Holy hell, I was working to a heavy top set after taking this, and the after-effects were very apparent. I hate that there are only 20 servings and the scoop is VERY large compared to other pre-workouts, but that's because there are quite a few compounds in here. I love having this for afternoon workouts."
At $2.24 per serving, Pre-Kaged Stim-Free is pricey, but it's worth it for all of the benefits it provides.
| | |
| --- | --- |
| Key ingredients | BetaPower® betaine anhydrous, Carnosyn® beta-alanine, L-citrulline, BCAAs, creatine HCl, taurine, L-tyrosine, SPECTRA™ antioxidants |
| Flavor option(s) | Fruit Punch, Cherry Bomb |
| Cost per serving | $44.99/20 servings = $2.24/serving |
Best Stim-Free Pre-Workout for Pump: Huge Supplements Pump Serum Non-Stim
Good for: Lifters who get pumped up about their own pumps
Huge Supplements Pump Serum Non-Stim is claimed as a "powerful stim-free pre-workout supplement formulated to optimize pump, muscle fullness, training capacity, and focus." It's intended to intensify your workout performance thanks to the combination of 13 potent and some active ingredients. But you know how we operate at GGR—let's see for ourselves…
Starting with the more familiar ingredients, the non-stim pre-workout supplies L-citrulline1 (a whopping 8,000 milligrams) and choline6 (980 milligrams). Choline is an essential nutrient needed to produce acetylcholine, an important neurotransmitter for brain and nervous system functions like memory, mood, and muscle control. Because intense exercise can stress the pathways of choline, research6 suggests that choline supplementation may increase exercise endurance.
The non-stim pre-workout contains a variety of patented ingredients like Nitrosigine®, GlycerPump, VasoDrive-AP, Huperzine A, and Bioperine. GlycerPump is a glycerol powder, and glycerol supplementation15 shows to have a positive effect on aerobic and anaerobic performance.
Also new to our line-up, the non-caff pump powder also contains agmatine16 that can help boost nitric oxide. Other nutrients—like L-tyrosine5, sodium7, and pomegranate and beetroot extracts8—are also used to enhance exercise performance and recovery.
VasoDrive-AP helps increase the production of endothelial nitric oxide synthase (eNOS)17, which is responsible for most of the nitric oxide produced in the body. This vasodilation action may boost exercise performance by providing an intra-workout pump, reducing muscle soreness and exercise-related fatigue, and improving recovery.
Huge Supplements Pump Serum Non-Stim also meets quality standards and is manufactured in an FDA-registered facility based in the U.S. But with exotic flavors like Strawberry Mojito and Island Dream, you'll feel as if you're transported to the tropics!
Our tester, USA Weightlifting Level 1 Coach and member of GGR's expert panel Jacob Penner, tried Cherry Berry and liked the experience overall. "It isn't incredibly tart, but it is definitely sweet. Instructions say to mix it with 8 to 12 ounces of water; that made the taste too concentrated, so I mixed it with about 20 ounces and it was better. You definitely feel a pump!"
| | |
| --- | --- |
| Key ingredients | Choline, L-citrulline, betaine anhydrous, Nitrosigine®, GlycerPump™ (Glycerol Powder), beet root extract, L-Tyrosine, pomegranate extract, VasoDrive-AP (Casein Hydrolysate) |
| Flavor option(s) | Jungle Juice, Strawberry Mojito, Cherry Berry, Island Dream |
| Cost per serving | $54.95/25 servings = $2.20/serving |
Best Stim-Free Pre-Workout With Beta-Alanine: GAT Sport PMP Stim-Free
Good for: Pre-workout seekers on the prowl for a "beta" non-stim alternative
GAT Sport PMP Stim-Free is a stim- and creatine-free formula claiming to provide intense performance gains, mental focus, and rapid vascular muscle pumps. It contains three major proprietary blends*, including:
NO Enhancers: Beta-alanine (as CarnoSyn® beta-alanine), L-arginine malate, L-citrulline malate, and L-norvaline
Pump Accelerators: Agmatine sulfate, glycerol monostearate, L-arginine alpha-ketoglutarate, and calcium lactate
PMPTM Focus & Cognition Modulators: N-acetyl L-tyrosine, L-theanine
We generally warn against proprietary blends—which are supplements with a mixture of ingredients—because some companies can dilute more effective (and expensive) ingredients with [often harmless but pointless] fillers. But GAT Sport products are third-party tested, which eases our mind that the supplement undergoes rigorous testing to verify potency and purity.
Some new ingredients to explore include L-norvaline and arginine alpha-ketoglutarate. A recent 2022 study18 suggests that L-norvaline supplementation is beneficial for increasing the bioavailability of nitric oxide, while arginine alpha-ketoglutarate19 can increase nitric oxide production and promote vasodilation during resistance exercise.
The pump formula does contain fruit and vegetable juice for natural flavor. Conversely, it also uses artificial ingredients like the artificial sweetener acesulfame potassium and food dyes.
It's also worth noting that the stim-free pre-workout is bundled on the same product page as their caffeinated pre-workout supplement. Make sure to select the right product for you, or you might be blasted with over 300 milligrams of caffeine.
Members of GGR Head of Content Kate Meier's weightlifting team tried out GAT Sport PMP stim-free before a few sessions, and the consensus was a good one. "The team trained really well on this—the pump is really good. One of our weightlifters hit a 160-kilogram jerk PR on this! We can't credit the preworkout alone, but it gives you a good pump without being overstimulated."
| | |
| --- | --- |
| Key ingredients | CarnoSyn® beta alanine, L-arginine malate, L-citrulline, L-citrulline malate, L-norvaline, agmatine sulfate, glycerol monostearate, L-arginine alpha ketoglutarate, calcium lactate, N-acetyl L-tyrosine, L-theanine |
| Flavor option(s) | Green Apple, Blue Raspberry |
| Cost per serving | $34.99/30 servings = $1.17/serving |
Best Stim-Free Pre-Workout With Citrulline: Raw Nutrition Pump
Good for: Those searching for a citrulline-forward option with other bells and whistles
Raw Nutrition Pump is designed to just do that: pump up your muscles and maximize your performance. The pump formula sports a fairly slim list of active ingredients, so let's see how it stacks up amongst the others on our list.
Raw Nutrition Pump ranks as the top stim-free pre-workout with citrulline1, which isn't a new ingredient featured on our list. But we will continue hyping it up, as research20 shows L-citrulline can improve heart health and exercise performance. While L-citrulline is naturally sourced from watermelon, particularly the white rind, it's much easier and more efficient to consume beneficial dosages from supplementation.
The non-stim pre-workout also contains the familiar ingredients Nitrosigine®, agmatine sulfate16, and L-taurine, along with unfamiliar ones like lion's mane and alpha GPC. We'll first point out that both lion's mane and alpha GPC are considered nootropics21—also known as "smart drugs"—that help improve cognitive functions like thinking, learning, and memory.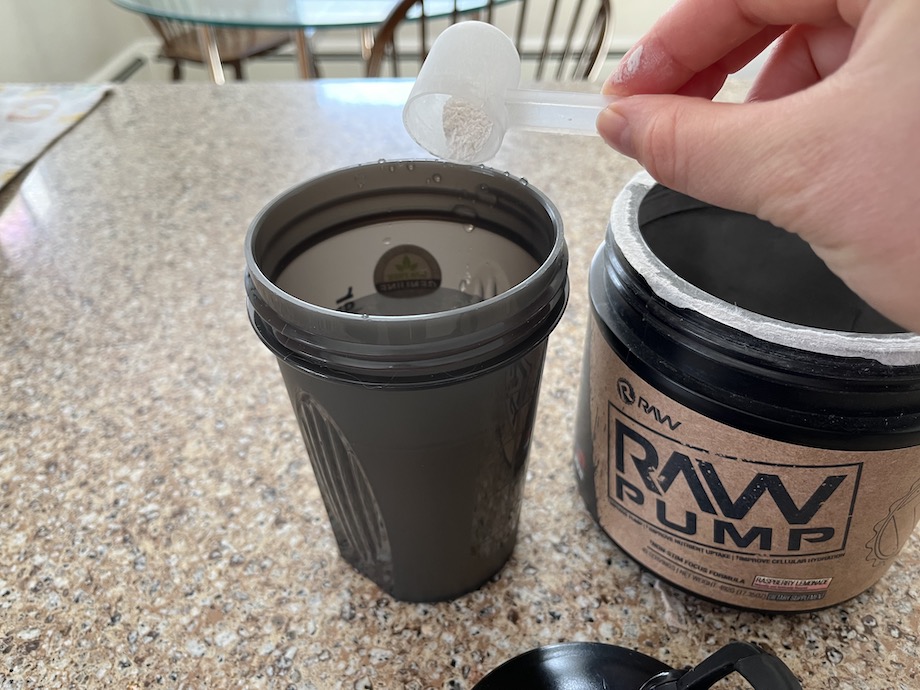 Lion's mane22—a culinary and medicinal mushroom—is a trendy nootropic that offers cognitive benefits, as well as anti-inflammatory and anti-hypertensive that may help with blood flow and recovery. Research23 also shows alpha GPC (L-alpha-glycerylphosphorylcholine) facilitates neuro-muscular interaction, augments acetylcholine levels, and enhances muscle performance.
Thanks to the addition of sodium and potassium7, you'll also help boost your hydration levels and balance electrolytes. However, we still recommend checking out the best electrolyte drinks on the market for your overall electrolyte needs.
Raw Nutrition Pump is third-party tested through ABC Testing, an ISO-accredited lab. While ABC is not an FDA drug-registered facility, many of the same standard practices and procedures are followed.
GGR staff writer and product tester Lauren Strong tried Raw Nutrition Pump and appreciated that it's not ultra fake-tasting or made-up flavors like "Unicorn Dust."
"No tingles (yay)!," Lauren says. "I got a good pump, but I don't like this for my fasted morning workouts, so my husband has been using it mostly. He lifts after work and used to have a hard time falling asleep from CNS stimulation on top of preworkout effects. The stim-free has actually been a decent solution for him."
| | |
| --- | --- |
| Key ingredients | Nitrosigine®, L-citrulline, Lion's Mane, agmatine sulfate, Alpha GPC, L-taurine |
| Flavor option(s) | Lemonade, Raspberry Lemonade, Pineapple, Watermelon, Strawberry Lemonade |
| Cost per serving | $39.99/40 servings = $1.00 |
Best Stim-Free Pre-Workout for Endurance: 1st Phorm Endura-Formance
Good for: Endurance athletes ready to take their performance to the next level without digestive troubles
If you're an endurance athlete, you've likely enjoyed the energy boost from a pre-run coffee. But you've also likely experienced those unwelcomed gurgles that run you right into the bathroom (and hopefully in time).
Leave those bathroom runs in the dust with the help of proper running fuel and 1st Phorm's Endura-Formance non-stim pre-workout. It's formulated to energize muscle fibers with more power and stamina—and truly surge endurance performance—thanks to the coupling of creatine monohydrate14 and beta-alanine2 synergized with other well-studied ingredients.
Aside from creatine and beta-alanine, Endura-Formance includes a powerful blend of betaine anhydrous3, Peak02™️, and S7® ingredients. Peak02™️ is a mushroom blend—like Lion's Mane and Reisha—while S7® is a blend of various antioxidant extracts like blueberry, broccoli, and kale. This combination is said to maximize oxygen and nutrient delivery to the muscles and fight muscle fatigue for optimal muscle power output and endurance.
The non-stim formula also provides sodium and potassium7 to enhance hydration and muscle function. It's also worth noting that while the active ingredients are sourced from natural products, it does contain artificial flavors and the artificial sweetener sucralose.
And if you're wondering about the testing protocols, you'll have to dig a bit deeper beyond the product page. However, 1st Phorm's official process page clears the air regarding their commitment to quality and expresses, "All 1st Phorm products have been, and will continue to be, produced only in facilities that are FDA-inspected, SQF Level-3 certified, & cGMP (Current Good Manufacturing Practices) compliant." Dig even more and 1st Phorm confirms that all of their supplements are third-party tested.
GGR senior staff writer and expert product tester Amanda really enjoys Endura-Formance, and that's saying something, as we've tested supplements out the wazoo! She loves the taste and solubility, and says overall, this pre-workout has been a great addition to my supplement stack. "I love taking this before all types of workouts, but especially endurance workouts since it has ample sodium."
| | |
| --- | --- |
| Key ingredients | Creatine monohydrate, beta-alanine, betaine anhydrous, L-tyrosine |
| Flavor option(s) | Berry Lemonade, Grape, Green Apple, Orange |
| Cost per serving | $44.99/30 servings = $1.50/serving |
Other Stim-Free Pre-Workouts We Researched
We do our best to showcase the supplement industry's top products, but we also realize how challenging it can be to capture every great find. Other stim-free pre-workouts we researched and approve include:
Bare Performance Nutrition Endopump
Jacked Factory Pump Surge Stim Free Pre-Workout
Flex Stimulant-Free Pre-Workout
Blackwolf Stimulant-Free Pre-Workout
Genius Pre Caffeine and Stimulant-Free Pre-Workout Powder
How We Picked and Tested the Best Stim-Free Pre-Workout
We take our product testing far from lightly. The job may be tedious at times, but boy, do we get the most bang for our fitness buck when we are thorough!
Formulation
While obvious, we ensured the best stim-free pre-workout powders were free of any stimulants like caffeine. With stims out of the picture, a non-stim pre-workout should contain ergogenic ingredients proven to enhance nitric oxide levels, focus, endurance, and recovery such as:
Beta-alanine
Betaine
Branched-chain amino acids (BCAAs)
Citrulline
Creatine
Glycerol
Taurine
Tyrosine
We also look for products that focus on using clinically effective dosages, like Transparent Labs. While also not a necessity, we review and include formulated products that contain other beneficial ingredients—such as electrolytes and nootropics—that consumers may want to (safely) try out.
Flavors
Some exercisers might relish Fruit Punch and the nostalgic childhood memories it walks them down, while others might find the fun in puckering up to Sour Grape. To capture such a large array of personal preferences, we made sure to fill our top pick list with an assortment of flavors.
Cost
Of course taking a pre-workout is not mandatory to make gym gains, especially compared to the necessity of eating high-protein foods. But once you've dipped your toes in the pre-workout waters, you may never want to sit on the dry sidelines again.
We always believe that cost shouldn't have to dictate your fitness fuel and falter your fitness goals. So, we always make sure to offer a variety of products to fit a variety of budgets!
Product Verifications and Certifications
If the product is claimed to be gluten-free, is it stamped with the Certified Gluten-Free label? Has the product been third-party tested? Because supplements are not tightly regulated, we always review verifications and certifications of the products we test.
Customer Satisfaction
Of course, we lean on our own personal experiences with the products we test but we also like to see what other customers are saying. Did users hype up or warn about certain flavors? What about their interactions with customer support?
Discovering general patterns in customer satisfaction—or dissatisfaction—can provide additional and beneficial insight into a product and brand.
Benefits of Stim-Free Pre-Workout
Still toying with the idea of switching from a caffeinated pre-workout to a non-stim? Consider these benefits of a stim-free pre-workout to help you make an informed decision:
Caffeine-free energy and focus: The most obvious and notable benefit of stim-free workouts is providing an energy boost and increasing focus without the use of caffeine.
Eliminates stimulant side effects: No stim means no stim-related side effects, including those unwanted caffeine crashes, headaches, and heart palpitations.
Enhances exercise performance and recovery: Non-stim pre-workouts help pump oxygen and nutrients into the muscles, in turn enhancing exercise performance and recovery.
Promotes hydration: Because pre-workouts should be mixed with at least 6 ounces of water, you can sneak in some extra fluid intake. Some pre-workout products also contain electrolytes, which help promote hydration even more.
Enhances blood flow and pumps: Thanks to the use of nitric oxide boosters, non-stim pre-workouts can enhance blood flow and your muscle pumps. Improvements in blood flow can also benefit your heart and blood pressure levels.
Improves sleep hygiene: This especially serves true if you're taking a caffeinated pre-workout in the late afternoon and evening hours, as caffeine has a half-life of about 5 hours. What this means is that half of the caffeine will still be in your system at 10:00 p.m. if you took it at 5:00 p.m. for your post-work workout. A non-stim pre-workout shouldn't interfere with sleep and can promote a better night's rest.
Enhances overall health: Pre-workout supplements are intended to benefit your workouts, which can trickle into your overall health and well-being. But even exercise benefits aside, some of the added ingredients in non-stim pre-workouts contain health-promoting ingredients. For instance, NO-stimulating ingredients8 can help improve immune function while Lion's Mane22 offers neuroprotective properties.
Still on the fence? You can actually have the best of both worlds! Non-stim pre-workouts are often stacked with caffeinated options, just with half the caff. Mix about half of a serving of each into your shaker bottle and voila: a slight caffeine boost with a major pump!
Dosing and Contraindications
So, how much stim-free pre-workout should you be taking? Should anyone avoid taking it? Let's quickly debrief.
Dosages
Luckily for consumers, pre-workout powders come with a handy scoop to measure how much you should take. You might just have to do a little fishing if it's sunk to the bottom…
Overall, most pre-workout powders instruct mixing one scoop or two with at least 10 ounces of water 30 to 45 minutes before your workout. But you should always follow the directions specified on your non-stim pre-workout of choice.
If you start experiencing any unpleasant symptoms, try reducing the amount taken and slowly building up to the recommended amount. You can also always stop taking the product and perhaps giving to a fitness friend so it doesn't go to waste.
Contraindications
Especially compared to highly caffeinated pre-workouts, non-stim alternatives are generally considered to be safe. However, these products often warn some populations and instances should approach with extra caution such as:
Individuals under the age of 18 years old
Women who are pregnant and/or lactating
People at risk of or managing a variety of health conditions like high blood pressure, anxiety, depression, seizure disorders, and kidney disease
Anyone taking a prescription medication
Before taking any supplement, we always recommend consulting with your doctor. They can also help you determine if the supplement of interest might negatively interact with other supplements and/or medications.
Buying Guide: What to Look for in Stim-Free Pre-Workout
Now that you've decided to join the stim-free pre-workout club, what should you be looking for? Of course, you can lean on our top picks, but we also encourage factoring in these considerations before sealing the deal.
Ingredients
There's quite a bit to consider when reviewing the ingredients, but we'll try to keep things simple. First and foremost, the stim-free pre-workout should, well, contain no stimulants like caffeine. Instead, a non-stim supplement should supply pump and focus-inducing ingredients—like L-citrulline, beta-alanine, choline, and, really, any of the ingredients that landed on the list of our top picks.
Also, consider if you're looking for a product solely containing natural ingredients or if you're comfortable with artificial ones. Some products also provide additional "bells and whistles" for enhanced benefits, including coconut water for electrolytes and lion's mane as a nootropic.
Overall, select a product that offers the benefits you're seeking and feelings you're not. This includes products with beta-alanine and niacin that may cause that notorious tingling sensation—some don't mind but others certainly do.
Flavor Options
Speaking of preferences, and while this should go without saying, pick a flavor you'll actually enjoy. (Besides, who likes to choke down their pre-workout? Definitely not any of us at GGR…)
Most pre-workouts offer a variety of flavors, ranging from classic to unique flavors like Orange and Strawberry Mojito. And when in doubt, perhaps try avoiding adventurous flavors and those notorious for tasting like cough syrup. Side-eyeing you, [Medicinal] Cherry…
Personal Budget
Because a budget is not one-size-fits-all, consider how much you're willing to pay for a non-stim pre-workout and what you might want out of it (beyond the initial pump). If you just want to test the stim-free waters, maybe try a more budget-friendly product before going shoulder-deep.
Or, let's say you want to bundle some supplements into one tidy package. You might be willing to splurge a bit more upfront on a more robust formula. For instance, if you're already supplementing with BCAAs, you might switch to Transparent Lab's stim-free pre-workout with BCAAs—the same benefits, just one less container in your pantry.
Pro tip: Most companies offer new customer discounts (in exchange for your email) and free shipping for all U.S. orders. Take advantage of these offers to save some moolah—it may not seem like much but a few savings here and there can add up!
Product Testing
While supplements can be safe and effective, they are not tightly regulated and we always recommend reviewing whether or not the supplement of choice meets certain quality standards. A third-party tested supplement is great to look for, which verifies the pre-workout formula has been carefully reviewed under tight safety, quality, and performance standards.
Also look out for a GMP (Good Manufacturing Practice) seal, as well as certifications for being gluten-free, vegan, non-GMO, kosher, etc. And especially important if you're an athlete, look for the Informed Sport or NSF Certified for Sport logos that ensure each tested batch is free of banned substances.
You can generally find testing protocols on the product itself or on its website. If you're having trouble identifying the product testing specs, you should receive an answer after reaching out to customer service. If no avail, you might reconsider that product and brand…
Brand Reputation
Brand reputation is totally a subjective opinion, but we do encourage reviewing these key areas beyond product testing:
Offered money-back guarantees and return policies
Track record of positive customer reviews such as on their official website and (if available) third-party selling sites like Amazon
Convenient access to customer service teams and forms
Again, while these standards are at your own discretion, we do suggest all consumers do their due diligence on the chosen brand since supplements are not tightly regulated.
FAQs About Stim-Free Pre-Workout
What does stim-free pre-workout mean?
Stim-free pre-workout means there are no stimulants added to the pre-workout supplement formula. Instead, non-stim pre-workouts are formulated with ingredients that help improve blood flow to the muscles to enhance performance, stamina, and recovery.
Does non-stim pre-workout make you stronger?
A non-stim pre-workout on its own will not make you stronger, as strength is built by consistently applying principles of progressive overload. However, because a stim-free pre-workout can help you push harder in the gym while promoting muscle recovery, using it will assist your efforts alongside a structured workout plan and balanced diet.
When should I take stim-free pre-workout?
Most stim-free pre-workouts instruct taking it about 30 to 45 minutes leading up to your workout. Unlike a caffeinated pre-workout that should ideally be taken in the first half to mid-hours of the day, a stim-free pre-workout can be taken at just about any time with little to no impact on sound sleep.
Are non-stimulant pre-workouts better?
While a non-stimulant pre-workout is not "better" per se, they tend to be equally as effective for athletic performance and recovery compared to caffeinated products. Non-stim options are also more inclusive, meaning they're generally regarded as safe for a wider net of consumers without great worry about experiencing the negative side effects of caffeine.
Does non-stim pre-workout make you tingle?
Non-stim pre-workouts formulated with beta-alanine and niacin can make you tingle, which is a personal preference on whether you want to experience this or not. If you'd rather not get those tingly feelings, go for a product without beta-alanine and niacin like Huge Supplements Pump Serum Non-Stim or Cira Pump.
These statements have not been evaluated by the Food and Drug Administration. This product is not intended to diagnose, treat, cure, or prevent any diseases.
References