We test and review fitness products based on an independent, multi-point methodology. If you use our links to purchase something, we may earn a commission. Read our disclosures.
Have you ever wanted to get more out of your treadmill? Did you know that you could use it to help warm up your body for just about any workout, from strength training to HIIT to traditional cardio? Have you been skipping a warmup because you think it will take too long and just don't want to think about how to add one more thing to your to-do list?
It doesn't have to be long or complicated! There are multiple ways you can add treadmill warmups to your regular routine. When done properly, an efficient treadmill warmup can have your muscles primed and ready to work.
Why Warmups Matter
According to one study, an effective warmup can improve performance in both aerobic and anaerobic activities. How? It gently raises your heart rate and primes the muscles for what they are preparing to do.
One other key finding from the study was that if the warmup was not tailored to the workout, the participant actually experienced adverse effects. Therefore, a good warmup routine isn't just anything that gets you moving, but rather, something that is specific to your workout plan. For example, if you're going to be running on a treadmill, an effective warmup should target lower-body muscles such as the hip flexors, quads, glutes, and hamstrings.
The American Heart Association points out that a good warmup also:
Increases oxygen to the muscles
Raises muscle temperature for better flexibility
Raises the heart rate to prime the respiratory and circulatory systems
Studies have shown that performing dynamic stretches prior to exercise will increase your range of motion, which may prevent injury or increase performance.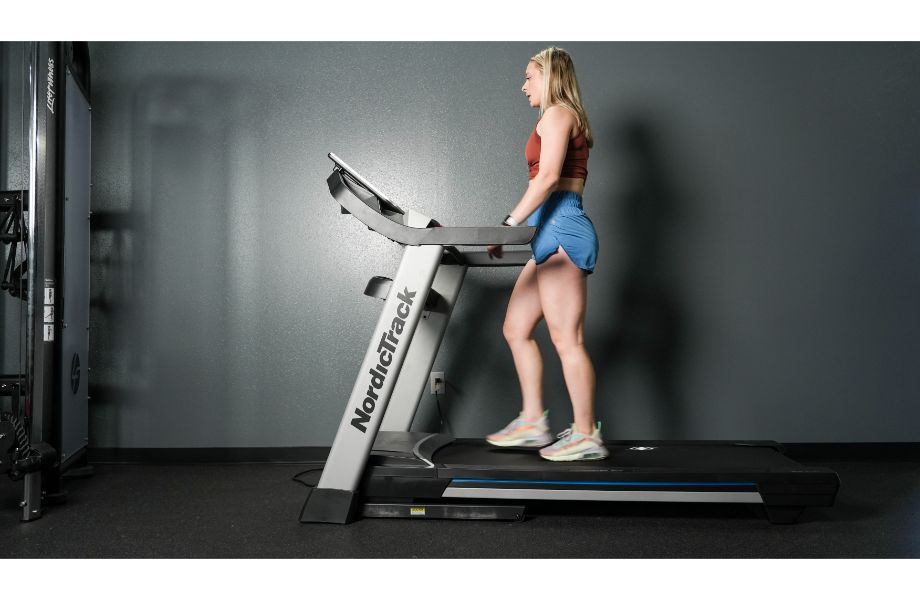 How Long Should You Warm Up?
If you have put off adding in a warmup because you think you don't have time we encourage you to rethink this myth. You can complete a solid, total-body warmup in just 5-10 minutes. Going longer than that could potentially have negative effects on your workout, but cutting your warmup too short may mean you aren't prepared to exercise. Simple and effective are all you are looking for here. Don't overcomplicate it.
Treadmill Warmup for a Running Workout
A treadmill warmup is a perfect addition to your routine before completing a steady-state or high-intensity running workout. It helps simulate the movements your body will be completing later as well as elevates your heart rate. This fires up all of the muscles and systems needed for running without just going from 0 to 100.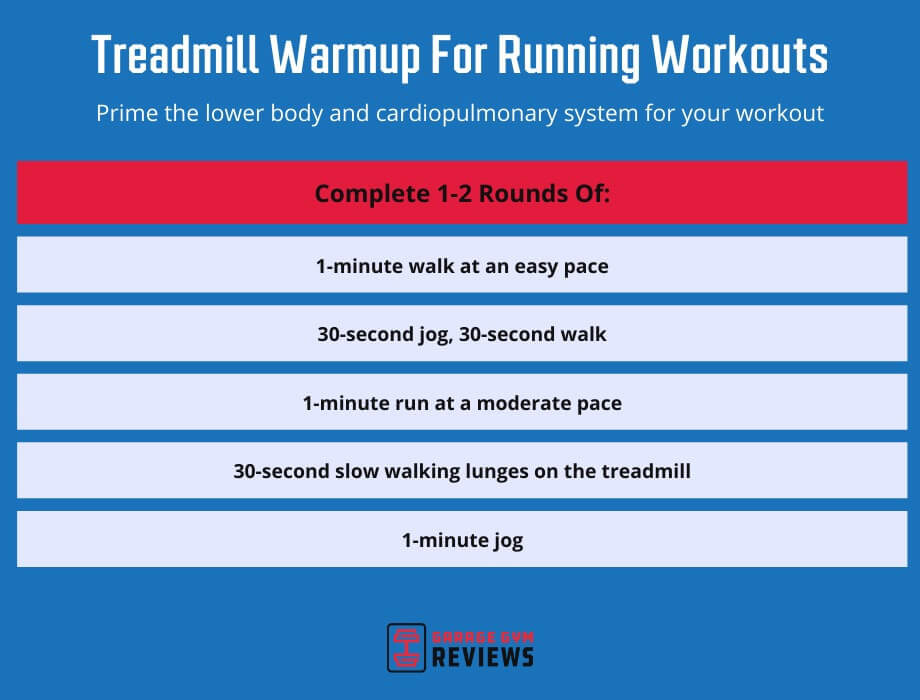 Whether you are completing a treadmill running workout, hopping on the elliptical, or hitting the pavement, we know you will find your running movements to be smoother if you give the following a go before your run.
Try This:
1-minute walk at an easy pace
30-second jog
30-second walk
1-minute run at a moderate pace
30-second slow walking lunges on the treadmill
1-minute jog
Treadmill Warmup for a HIIT Workout
A treadmill warmup can also be great prep for a HIIT (high-intensity interval training) workout. Other than hitting key muscle groups, running on a treadmill also elevates your heart rate before the intense workout, which means you won't suffer from a major spike at the start of your exercise.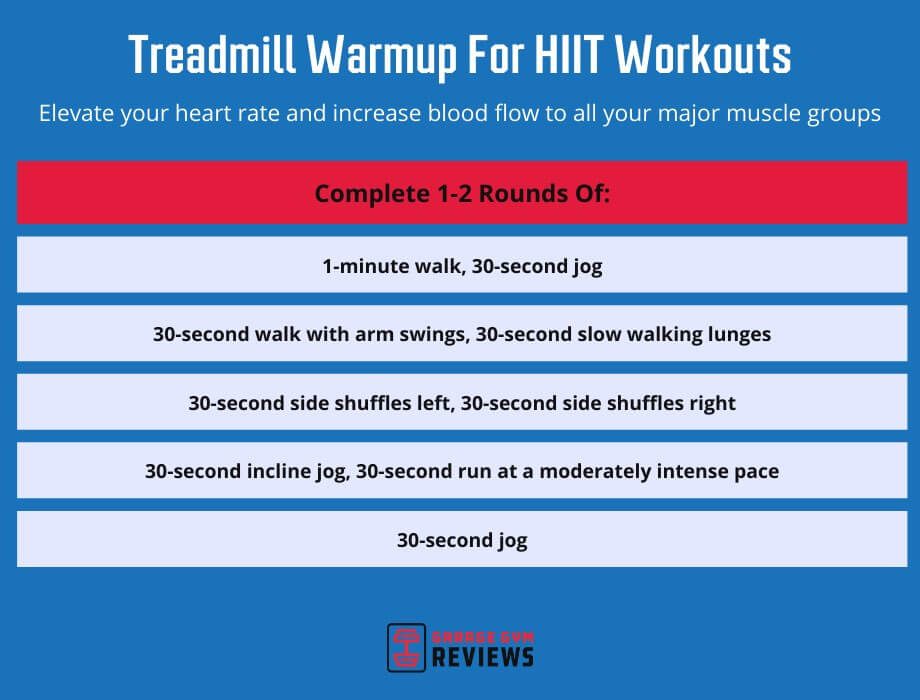 For something like HIIT, your goal is likely to get your entire body ready to go: legs, arms, and heart rate. You will get the most out of your warmup if you are able to do movements that are similar to what you will be doing in your workout. For example, if there are lunges or squats in your workout, you can target your glutes and quads with movements on the treadmill like walking lunges and walking on an incline.
If the workout has more upper body movements such as push-ups or kettlebell swings, add in arm swings or even body twists by grabbing one arm of the treadmill and stretching it across the other.
Try This:
1-minute walk 
30-second jog 
30-second walk with arm swings
30-second slow walking lunges
30-second side shuffles left
30-second side shuffles right
30-second incline jog
30-second run at a moderately intense pace
30-second jog
Best Treadmill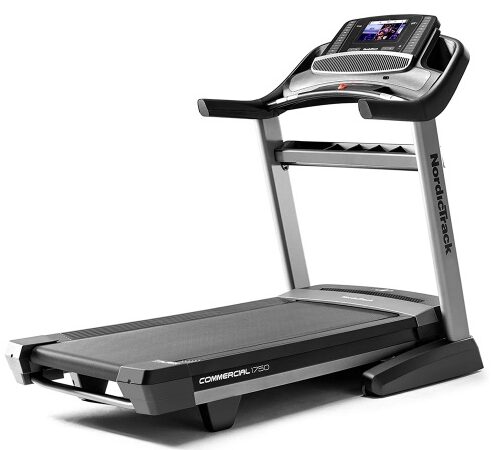 GGR Score: 4.5
Product Highlights
Spacious running deck
Compatible with iFIT
14-inch touchscreen
Incline and decline training
Financing available
Pros & Cons
Pros
Compatible with iFIT
3.5 CHP motor
Free trial of iFIT subscription with purchase
Treadmill with incline and decline training
Foldable to save space (EasyLift Assist)
Run that feels similar to road running
Financing options available through NordicTrack
Generous speed range
Wide running deck
Cooling fan
Cons
Big footprint
Heavy and not the easiest to move
Price is around $2,000
Warranty is voided if the treadmill is used/stored in a garage
Bottom Line
If you're looking to add a workhorse of a treadmill to your home gym, we recommend the NordicTrack Commercial 1750.
Treadmill Warmup for a Strength Workout
It may sound counterintuitive to get on the treadmill before a strength training session, but getting in some easy movement preps the body and even the mind for what you're about to do. As you walk on the treadmill, you can mentally prepare for the weight training movements in your workout as your muscles are primed for the activity.
Consider that a proper warmup can increase the range of motion in all of the reps of your workout. This means deeper squats, locked out presses, and smoother cleans.
*Note: We aren't suggesting that the treadmill be the only warmup you have before hitting heavy weights, but a good way to get your body ready for loaded movements.
Try This:
2 Rounds:
1-minute walk on an incline
30-second walk backward on an incline
1-minute slow walking lunges
30-second side shuffle left
30-second side shuffle right
30-second walk with arm swings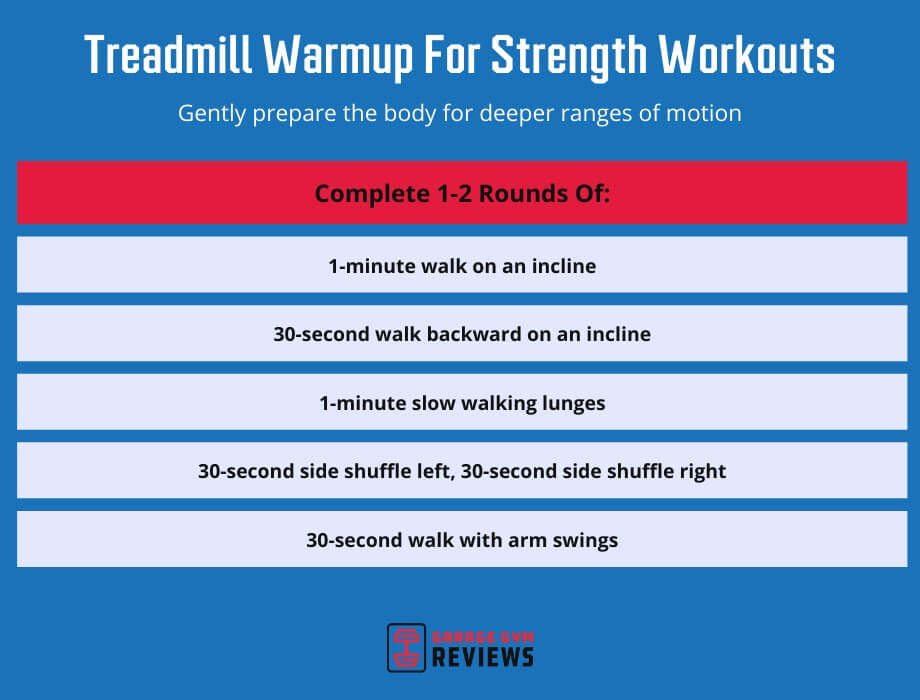 Other Components of an Effective Warmup
We have shown you how adding a treadmill warmup to different types of workouts can help prep your body, but there are some other components you need to keep in mind when building your workout routine.
Hydration: Water is an essential part of any warmup or workout routine. If you don't have enough water in your system, your body and your workout are going to suffer.
Dynamic Stretches: Adding in dynamic stretches helps reduce the risk of injury and prepares your muscles to be the most receptive to the movements in your workout. A dynamic stretch incorporates movement instead of static holds to get the muscles ready.
Static Stretches: You may find that static stretching prior to a workout is what your body needs. Long holds typically aren't recommended, but holding some positions for 20 seconds at a time may gently lengthen muscles and prime them for your workout.
Routines are personalized for a reason. There are no two people who train exactly the same way, therefore each individual will want to create a routine that works for them.
Why Cooldowns Matter
It's important that after a solid workout you try and get your body back to its resting state to help prevent muscle soreness and to try and prevent injury. According to this study, the increased blood flow you get to muscles with a proper cooldown can prevent muscle soreness. A cooldown can be as simple as taking a brisk walk or holding static stretches for a few minutes after your exercise.
One option for a cooldown following your workout is to hop on a treadmill: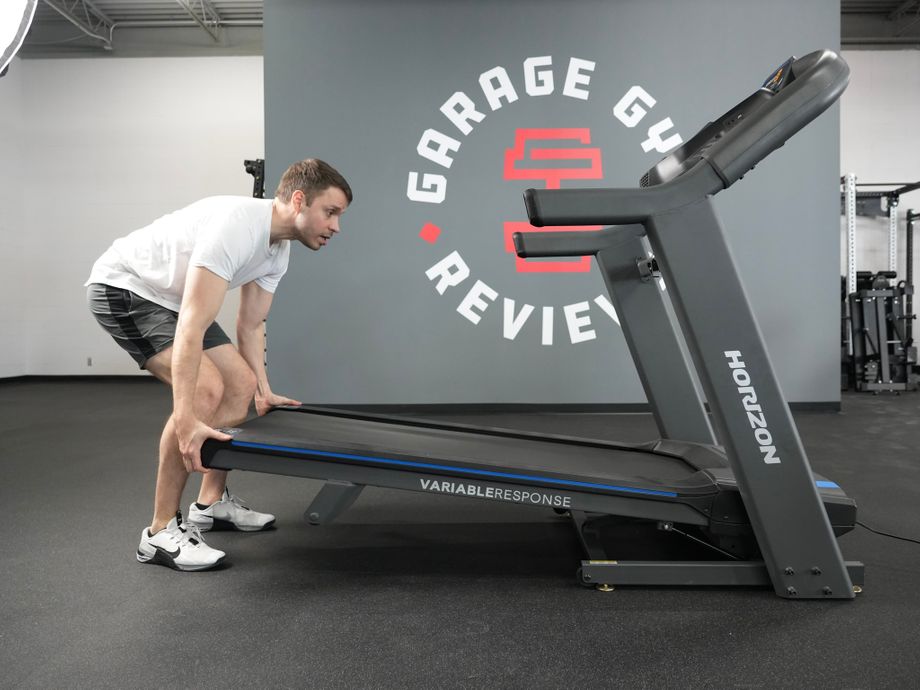 Treadmill Cooldown
Try This:
Start the treadmill at a brisk walking pace (3.5 MPH) and drop 0.5 MPH each minute.
Minute 1 (3.5)
Minute 2 (3.0)
Minute 3 (2.5)
Minute 4 (2.0)
Minute 5 (1.5)
Best Treadmill Under $1,000
GGR Score: 4.3
Community Score: 3.2
Product Highlights
Folding treadmill
Costs around $1,000

Heart rate chest strap included

Bluetooth speakers, USB port, and cooling fan

Powerful 3.0 HP motor
Pros & Cons
Pros
Financing is available
Bluetooth speakers
USB port
Device holder
15 different levels of incline
Cushioned deck
20" W x 60" L belt
325-lb weight capacity
Lifetime frame and motor warranty
Cons
Heavy machine
No touchscreen
Bottom Line
The Sole F63 Treadmill is an affordable option for people who want a powerful, reliable machine without breaking their budget.
FAQs About Treadmill Warmups
Is the treadmill a good warmup?
A treadmill is a great option for a warmup if you have one available to you. With so many different ways to use it as well as the ability to change up your warmup depending on what kind of workout you will be completing, it makes it a very versatile warmup option. 
How should I warm up before treadmill?
If you are going to be completing a treadmill workout, start with some walking and dynamic stretches before going all out for a run. Also, remember to stay hydrated before and during any workout. 
Is 10 minutes on the treadmill a good warmup?
Yes, 10 minutes is great for treadmill warmup. This will give you plenty of time to get your heart rate elevated and blood pumping to all of the muscles in your body. Incorporate more than just walking; swing your arms, do walking lunges, and side shuffles. 
Is a warmup necessary before treadmill?
Adding in a warmup before using the treadmill will make your workout more effective and could help prevent injury. It's important to get your ankles, knees, quads, and glutes prepped before just taking off on your treadmill at full blast. If you skip the warmup, you might find that you struggle to recover after your workout or you might end up with a twisted ankle or tweaked knee before you are even able to complete the workout.