We review free products that we receive and participate in affiliate programs, where we may be compensated for items purchased through links from our site.
See our disclosures page for more information.
If the Rogue Ohio Power Bar and Texas Power Bar had a baby, it would be the FringeSport Lone Star Power Bar. Featuring a high-quality knurl, high tensile strength, lifetime warranty, and being made in the USA of US-sourced steel, the FringeSport Lone Star Bar is a beast.
FringeSport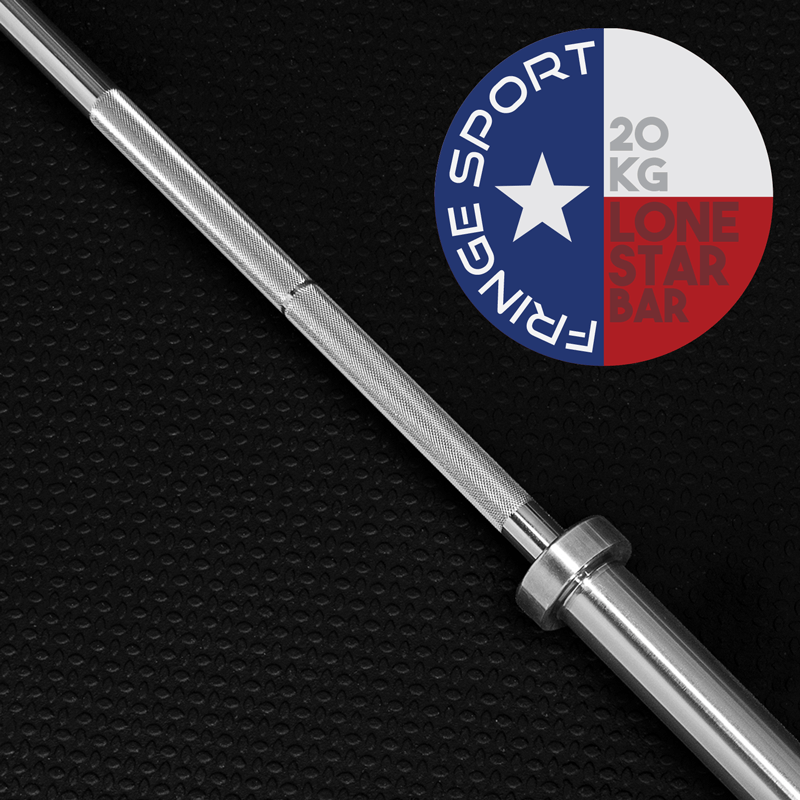 FringeSport 20KG Lone Star Power Bar
The 3 colors on the Texas flag represent loyalty (blue), purity (white) and red (bravery). The colors resonate with the soul of Texas to such a degree that the Texas flag is the only state flag allowed to fly at the same height as the American flag. After lifting with the Lone Star power bar, you'll want to offer it the same respect. Salute your bravery for breaking up with your gym membership. That's what Texas did. Texas was originally part of the Mexican province called Coahuila y Tejas, which was represented by 2 white stars on its flag. After the nasty breakup you may have heard about, Tejas became Texas, and the 2 stars got pared down to the lone star. A bold American titan was born. Now it's time to welcome that same attitude to your garage. Start your own strength training revolution and create your story with the Lone Star Power bar. Weight: 20 kilograms / ~45 pounds Weight Tolerance: +/-.01 lb nominal Full Diameter: 28.5mm Material: 4000 series turned, ground and polished steel Knurl: Aggressive/alligator; deep IPF knurling with toothy center knurl. *Expect road rash on your UHMW and J-cup liners Weight capacity: 2,000 pounds Tensile strength: 190,000 PSI Yield strength: 165,000 PSI Whip: Stiff Spin: Steady and smooth; 4 Oilite bushings Best Use: Slow lifts, power Lifting: squatting, bench pressing, deadlifting Length: 86.50" long Sleeve Specs: 16.50" loadable sleeve with 50 mm; Steel bright zinc plated Shaft Specs: 28.5mm diameter meets IPF spec Origin: 100% American made Warranty: Lifetime Warranty against manufacturer's defects.
FringeSport has been on the market for sometime, and although they've produced a Power Bar previously, this, in my opinion, is the best power bar they've released to date. It really is like the Rogue Ohio Power Bar and Texas Power Bar made love and out popped the Lone Star Power Bar. Featuring the same shaft diameter as the ever-famous Texas Power Bar and a similar knurl as the Rogue Ohio Power Bar, this is sure to be a favorite among many…if you can stomach the price difference.
What We Like About the FringeSport Lone Star Power Bar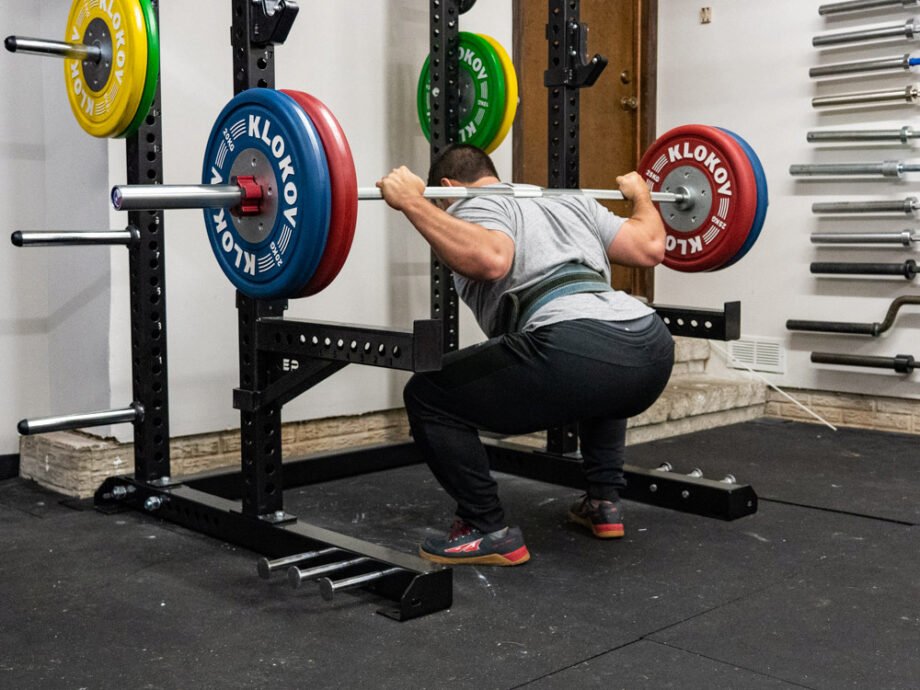 The FringeSport 20 kg Lone Star Barbell is one of the latest Power Bars to come to market. FringeSport has been around for a little over a decade now and has been a great thing for the garage gym community. They have refined and sharpened themselves over the years, dedicating themselves to being one of the top suppliers for the "garage gym functional fitness movement."
Over the years, they have learned a thing or two about what makes a barbell a good barbell. In this case, with the FringeSport Lone Star Power Bar, we believe that it goes with the saying – "Imitation is the sincerest form of flattery." Basically, the 20 kg Lone Star Power Bar can best be described as being a child both of the Buddy Capps Texas Power Bar and the Rogue Ohio Power Bar. It is a very well done merging of Texas and Ohio in several respects, from knurling to the feel of the steel.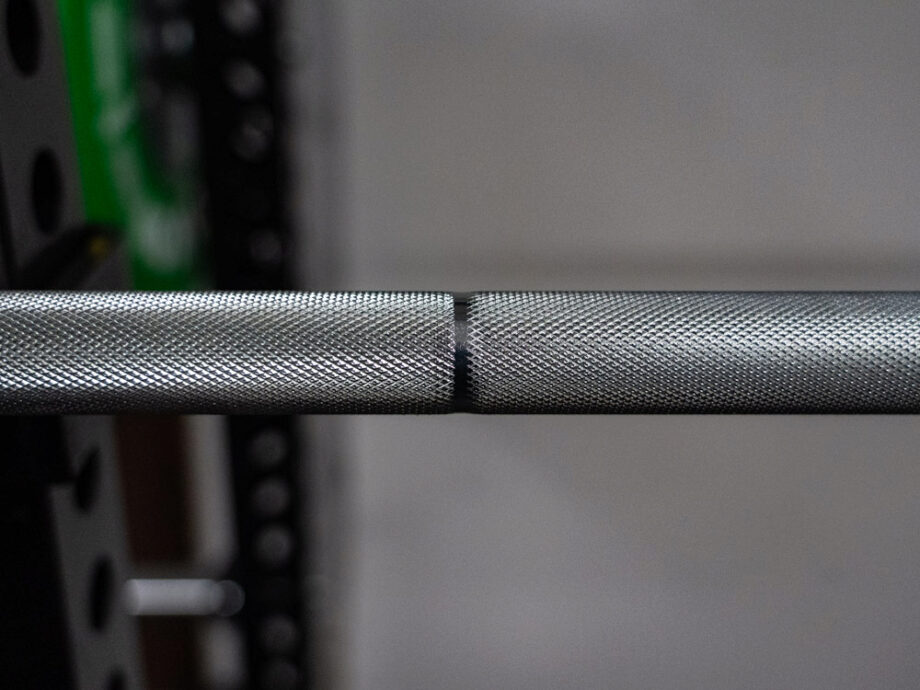 The knurling quality of the Lone Star Power Bar is the best we've experienced coming out of FringeSport. It's the new classic "volcano" style of knurl which has become one of the most popular knurl types among power bars. It's very consistent and machined quite well, however, it's not the most aggressive volcanic style of knurl we have experienced on a power bar.This style of knurl creates an appearance of tiny and evenly placed volcanoes throughout the shaft of the barbell. In this respect, it looks like Fringe took a lesson from Rogue and decided to go with what most people would nowadays agree with is the best knurl style for a power bar. Also, this is where the Lone Star Power Bar most resembles the Rogue Ohio Power Bar.The FringeSport Lone Star Bar's knurling is certainly grippy, though not as aggressive as volcanic craters of the Rogue.
Basically, volcano knurling is formed by taking an additional pass during the knurl scoring process, chopping off the peaks of the mountains that were formed during the first couple of passes. The benefit of the volcano knurling is that each individual knurl's volcano ridge grabs onto your hands or the back of your shirt with more contact than if it was just one peak. The ridges of the knurl "crater" add up to more contact surface area with the skin of your hands.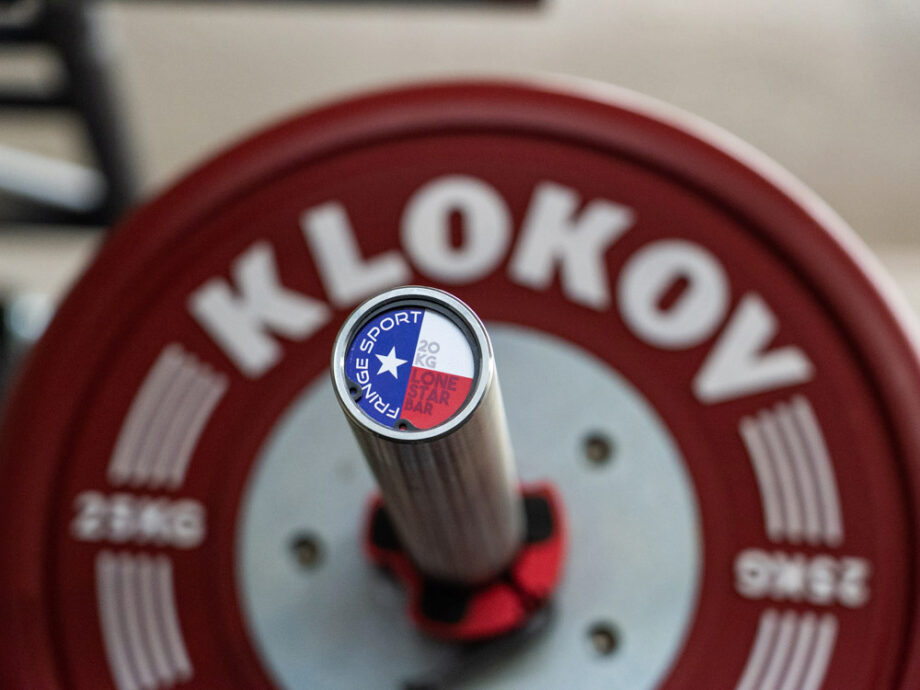 With your hands on the knurl and around the bar, it will seem that the Lone Star Power Bar is slightly smaller than most power bars on the market. And that assumption would be correct. On our list the Best Powerlifting Barbells, you will find nearly every bar measures in at a diameter of 29mm. Highly ranked and valued on that list however is the Buddy Capps Texas Power Bar, which measures in at a 28.5mm diameter. This is where we believe the FringeSport Lone Star Power Bar gives homage to the Buddy Capps Texas Power Bar and is actually a great idea.
Many powerlifters still like and even prefer a 28.5mm barbell, so the FringeSport Lone Star Power Bar, with volcanic knurling and thinner diameter shaft will be a unique plus for many lifters. The overall length of the FringeSport Power Bar is 86.5", which is longer than the Texas Power Bar. This stat, in line with the 28.5" diameter, is a plus for deadlifts. Typically, we would say that the thinner diameter feels better in your hands during a deadlift and a thicker diameter is preferable for the squat and press movements. In the end, whether a thinner or thicker bar feels preferable or not all depends on the stature of the individual using the barbell.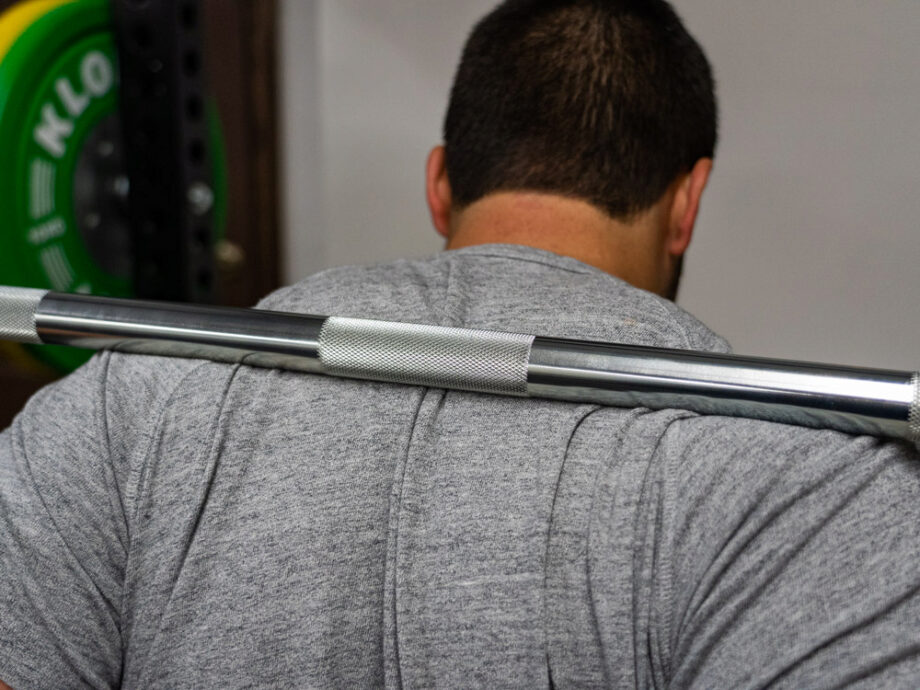 The sleeves of the Lone Star Power Bar look great in the aesthetics department and also come with some nice features. The ends of the sleeves are rounded off precisely, to make it much easier to slide plates onto the barbell. The sleeves themselves are also ribbed and grooved uniformly and deep enough to help, but not overly so like FringeSport's previous power bar. The ribs on the sleeve help in keeping the plates from sliding back and forth and also give a nice ring when plates are placed on the bar.
FringeSport utilizes bronze bushings for it's rotation system, which gives the Lone Star Power Bar an adequate spin with minimal maintenance required. Bronze bushings aren't exactly necessary for a power bar (as bushings are primarily used to help the wrists turn under the bar during Olympic movements), but we would say that there is potential for the bushings to aid in keeping the barbell/lifter system in an optimal and near linear path with gravity.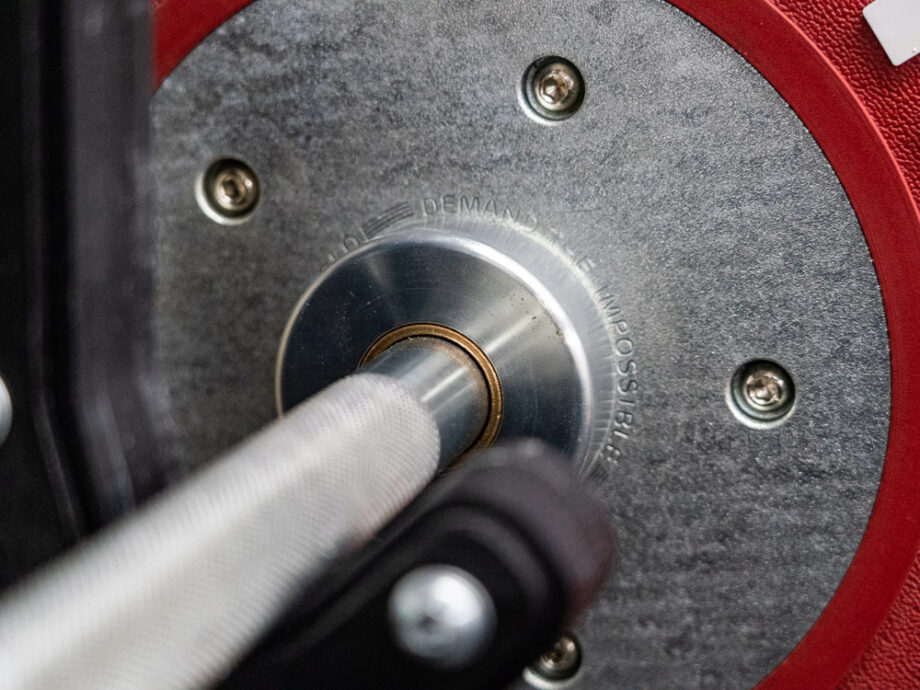 The FringeSport Lone Star Power Bar is Made in the USA, and uses US-sourced 190k PSI Tensile Strength Steel. This is a higher strength steel than the Buddy Capps Texas Power Bar, but both are rated at much more than enough to handle any load that it could ever be subjected with. Power bars in recent years have begun using extremely high tensile strength steel (see the Kabuki Strength New Gen Power Bar) but 190K should be more than enough for most applications. However, due to the thinner diameter shaft and lower tensile strength steel, expect the Lone Star Power Bar to flex more than something like the Rogue Ohio Power Bar.
The FringeSport Lone Star Power Bar comes in at an F2 on the F Scale rating. A barbell rated at F2 can be regarded as being proven for high-stress usage. Basically, this means that a garage gym or facility focused on powerlifting shouldn't worry much about whether or not the barbell will last through the years. The FringeSport 20 kg Lone Star Power Bar also has an outstanding lifetime warranty against manufacturer's defects. FringeSport has been around for almost a decade now, so we are confident that this warranty will be one that can be relied upon for years to come.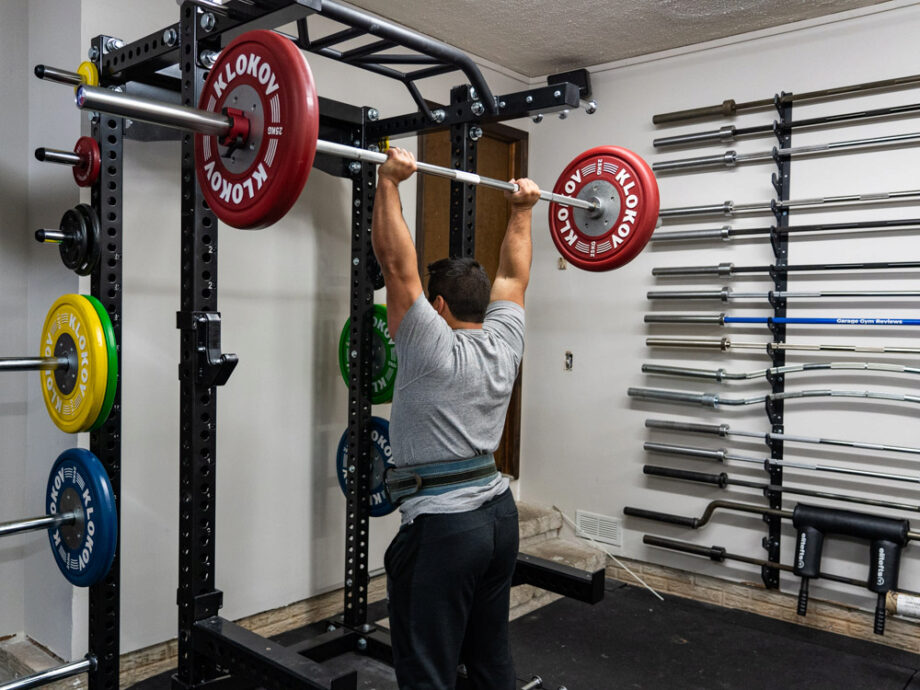 There is only one coating option with the Lone Star Bar currently, and that is the bright zinc coating. Bright zinc is a great option that both looks good and will prevent corrosion for a long time. Price wise, you can purchase the FringeSport Lone Star Bar for $369.00 with free shipping. This is definitely on the higher end of what you can find with several high valued power bars that can be purchased today, but the specs will definitely be well worth it for some.
To summarize the specs of the FringeSport Lone Star Power Bar:
| | |
| --- | --- |
| Plating | Bright Zinc |
| Price | $369.00 |
| Weight | 20kg (44 LB) |
| Diameter | 28.5mm |
| Bar Length | 86.5" |
| Sleeve | 16.5" (Bushing) |
| Knurling | Volcano |
| PSI Tensile Strength | 190K |
| F Scale Rating | F2 |
| Warranty | Lifetime |
Minor Shortcomings
Overall, we were very pleased reviewing the Lone Star Bar. Areas we see that FringeSport could improve upon is the knurling machinery. For the most part, the knurling is quite consistent, but upon closer inspection you could see some feathering at the ends. And although the knurl is consistent and crater like, it is still somewhat a little too passive and not as deep as it could be.
Price is another hard spot for us. With the FringeSport Lone Star Bar being priced at $369 and even with free shipping, this is still almost $80 to $100 more than even most of the plating options for both the Rogue Ohio and Texas Power Bars which have become industry standards. We're happy to see another Made in the USA option, but it is pricey. This said, FringeSport often has sales so the price difference could end up being lower.
FringeSport Lone Star Power Bar vs Texas Power Bar vs Rogue Ohio Power Bar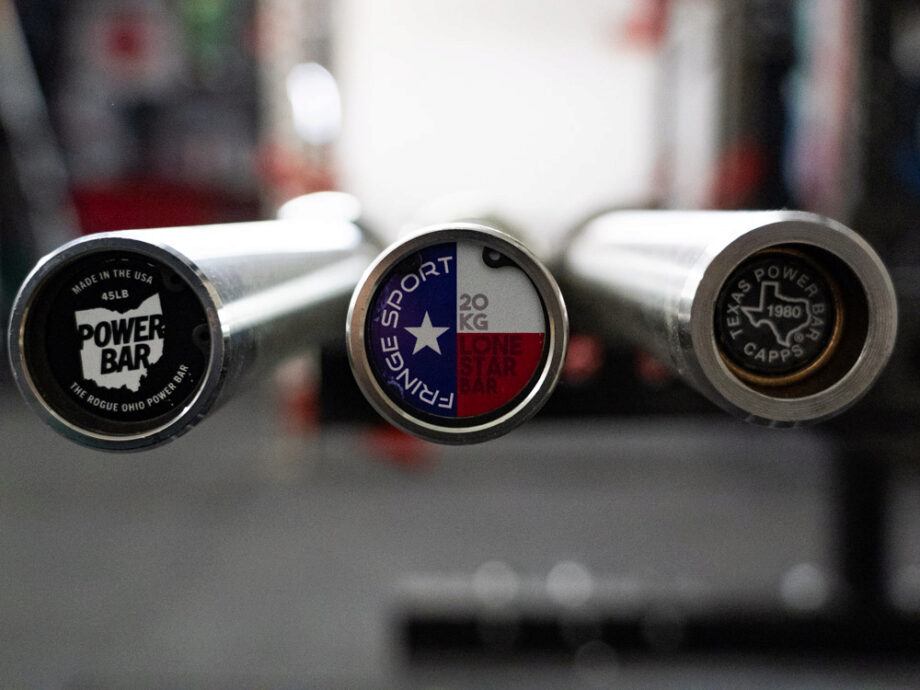 There are several similarities between the FringeSport Lone Star Power Bar and the Buddy Capps Texas Power Bar. They are both based out of the great state of Texas, use similar USA steel, and are the same diameter at 28.5mm.
But the FringeSport Lone Star Power Bar also shares several similarities with the Rogue Ohio Power Bar. They are both 86.5" long, utilize similar knurling, and come with a lifetime warranty.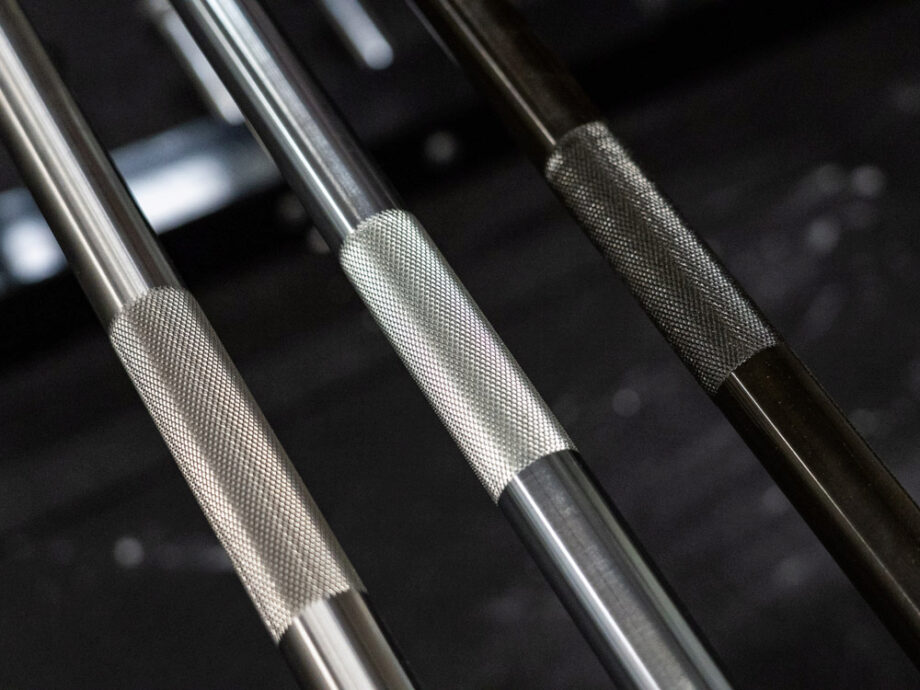 It really does seem that the Lone Star Power Bar is the lone child of Texas and Ohio by specs alone. This is a great hybrid in our opinion and many lifters have said for years that they wish they could have a Texas Power Bar with the Rogue Ohio Power Bar knurling. we believe FringeSport did a great job at producing a barbell similar to what one could envision with just that description.
Where they are different is not favorable for Fringe, however. The Buddy Capps Texas Power Bar is priced at $264 to $299 (depending on plating option). The Rogue Ohio Power Bar is priced at $265 to $285 (or $395 if you decide to upgrade to stainless steel). The lone option of the FringeSport Lone Star Power Bar is markedly higher at $369. This does, however, include free shipping and doesn't include any sales (and they run sales much more than the other two companies.)
All three of these bars are great value options.
Full Rating