We test and review fitness products based on an independent, multi-point methodology. If you use our links to purchase something, we may earn a commission. Read our disclosures.
While I have no problem with a scoop of protein powder and almond milk, I know many people who aren't down with the shaker bottle life, even if they use one of the best-tasting protein powders.
Whether you're looking to stack your post-workout shake with more superfoods or you want to add whole foods to make it a meal, you've come to the right place. After testing countless protein powders, consulting with registered dietitians, and pursuing my own sports nutrition certification, I've got you covered with this guide to the best protein powder for smoothies.
Medical disclaimer: This article is intended for educational and informational purposes only. It is not intended as a substitute for medical advice. For health advice, contact a licensed healthcare provider.
Best Protein Powder for Smoothies in 2023
Best Overall Protein Powder for Smoothies: Kaged Whey Isolate
Good for: Anyone looking for a high-quality, tasty protein powder that mixes well into any smoothie
Our team likes Kaged Whey Isolate for a few reasons, with two notable ones being that it contains whey protein and whey protein alone—no fillers or blends—and it contains ProHydrolase, an enzyme thought to increase muscle protein synthesis, aka the process by which your body uses protein to create new muscle tissue and repair damaged muscle tissue.
Research on this is limited and new, and the effects may be minimal according to a 2020 double-blind study on ProHydrolase in the journal Sports1. However, even small effects can add up over the long run.
Additionally, Kaged Whey Protein Isolate is third-party tested and certified to be free of banned substances. Kaged also prides itself on using clinical dosages of ingredients in its supplements, which is somewhat hard to come by.
As for how this all affects your smoothies, it doesn't, really… But you'll be glad to know that we chose Kaged Whey Protein Isolate as the best protein powder for smoothies because it has a rather thin consistency that won't overpower the texture of your smoothie.
It's available in a few yummy flavors, but we recommend chocolate or vanilla for versatility in regard to smoothie-making. The chocolate reminded product tester and GGR editor Nicole Davis of a Carnation Instant Breakfast shake, and I liked the vanilla for its mild but sweet taste.
Kaged Whey Protein Isolate is sweetened with stevia and sucralose, but I don't notice the typical sucralose aftertaste. It shouldn't affect the flavor of your smoothies in that sense.
| | |
| --- | --- |
| Protein per serving | 25 g |
| Flavors available | S'Mores, Cinnamon French Toast, Chocolate Peanut Butter, Vanilla, Chocolate |
| Sweeteners | Stevia, sucralose |
Best Budget Protein Powder for Smoothies: Optimum Nutrition 100% Whey Gold Standard French Vanilla Creme
Good for: People searching for a tasty protein source that goes with any flavor smoothie and won't empty their wallet
Optimum Nutrition 100% Whey Gold Standard consistently makes an appearance on our various guides, such as the best whey protein powder, because it tastes great, mixes easily, and is budget-friendly. While it's not the "cleanest" protein powder available, we realize that not everyone can pay top-dollar for third-party tested, organic, grass-fed, all-the-other-things protein powder.
All of our product testers have used Optimum Nutrition whey protein at some point in their fitness journeys, and I currently still use it on a regular basis. We've even debated over the best Optimum Nutrition flavor (there are more than 20!). My go-to is Double Rich Chocolate, but I recommend French Vanilla Creme for smoothies since it's much more versatile.
The French Vanilla Creme also, to me, seems slightly "fluffier" than the other Optimum Nutrition flavors I've tried, which gives smoothies a frothy, milkshake-like consistency. Plus, the vanilla flavor is mild but tasty, and it doesn't overpower the fruit or other ingredients in a smoothie. If you want a chocolate smoothie, you can always add cocoa powder.
Still, if vanilla isn't your game, you can easily pick up one of the 20-plus flavors on Amazon or from your local supplement shop and experiment until you find the right one.
Despite being a wallet-friendly pick, Optimum Nutrition 100% Whey Gold Standard is Informed Choice-certified, meaning that it's been independently verified to be free of banned substances for athletes.
| | |
| --- | --- |
| Protein per serving | 20 g |
| Flavors available | More than 20 options |
| Sweeteners | Acesulfame K, sucralose |
Best Chocolate Protein Powder for Smoothies: XWERKS Grow Chocolate Protein Powder
Good for: Chocolate fanatics who'd fancy a shake reminiscent of a chocolate Yoohoo
If you're searching for a yummy and high-quality chocolate protein powder to add to your smoothies, consider XWERKS Grow, which is one of the best protein powders for muscle gain and one of the best keto protein powders.
All flavors of XWERKS Grow contain 25 grams of protein per serving, except for Peanut Butter, which contains 23 grams per serving. To produce its whey protein isolate, XWERKS uses only grass-fed cattle in New Zealand, where, according to XWERKS, cattle laws are extremely strict regarding dairy quality.
Because XWERKS Grow goes through a microfiltration process, it contains only trace amounts of dairy, carbohydrates, and fat. Plus, per 30-gram serving, there are 6 grams of branched-chain amino acids (BCAAs).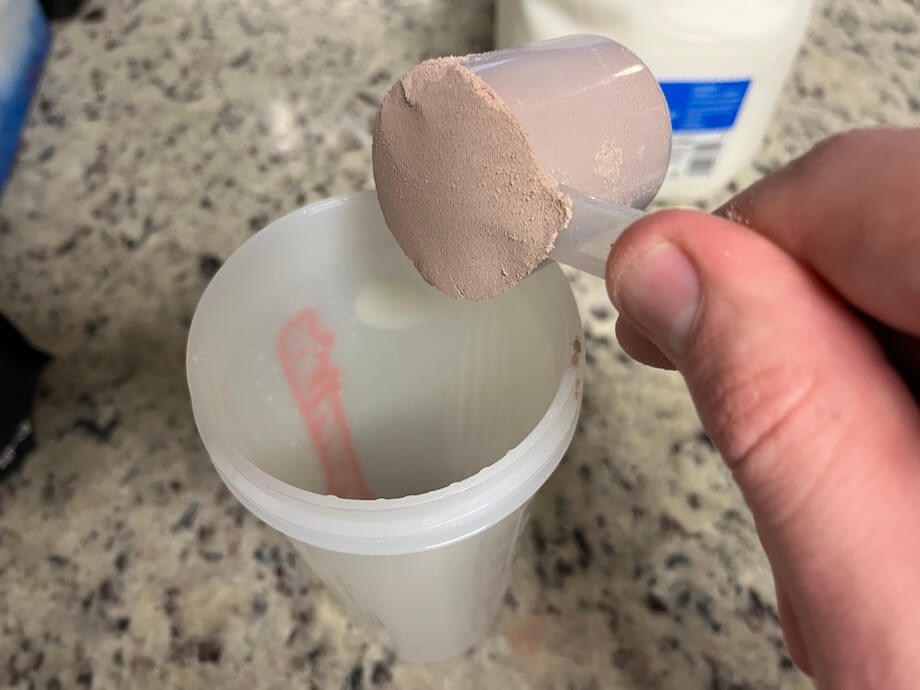 This protein powder is on the pricey side at just under $2 per serving, but we think the quality, taste, and consistency make it worthwhile. With XWERKS, we think you'll find yourself using this protein time and time again in smoothies and on its own in a shaker bottle.
| | |
| --- | --- |
| Protein per serving | 25 g (Peanut Butter has 23g) |
| Flavors available | Chocolate, Vanilla, Peanut Butter, Strawberry |
| Sweeteners | Stevia |
Best Casein Protein Powder for Smoothies: Transparent Labs 100% Grass-Fed Micellar Casein
Good for: People who crave an ultra-rich, thick shake that's almost like custard
Casein protein in general is a great choice for those who want their smoothies or shakes to have a thick consistency. The explanation for its thickness? During processing, casein separates from whey and forms curds, while whey is left behind as a watery liquid. According to registered dietitian Sydney Lappe, who authored our guide to the best casein protein, casein is actually the predominant protein found in cow's milk.
That said, Transparent Labs 100% Grass-Fed Micellar Casein is one of the most palatable casein protein powders I've personally tried. It doesn't feel as gooey as some other options, which makes it great for smoothies. It'll still definitely create a very thick shake, unless you use upward of 12 ounces of water.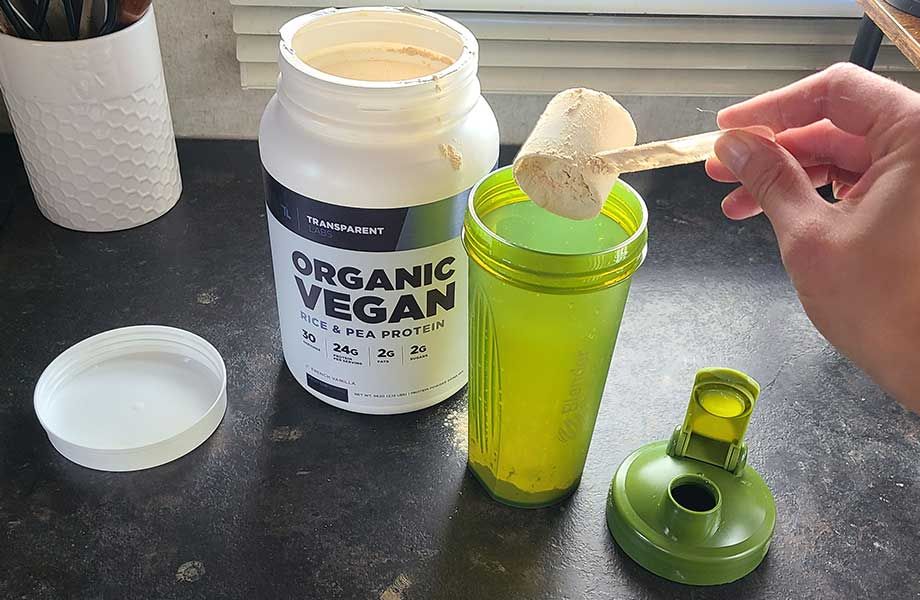 The chocolate flavor is rich, almost like cocoa, but still allows other flavors to come through in smoothies. One of my favorite ways to have this protein powder is in a smoothie with very ripe strawberries and cherries. It's like sipping on Valentine's Day.
Bonus points: Transparent Labs has all of its products—each and every batch—tested for various substances and for ingredient accuracy by independent labs. The brand even posts certificates of composition and certificates of analysis for each batch of products.
| | |
| --- | --- |
| Protein per serving | 25 g |
| Flavors available | Chocolate |
| Sweeteners | Stevia |
Best Collagen Protein Powder for Smoothies: Vital Proteins Original Collagen Peptides
Good for: Those who want an unflavored but nutritious addition to their shakes to support connective tissue and hair, skin, and nails
Although collagen lacks one essential amino acid, tryptophan, it's still a great addition to smoothies for those looking for hair2, skin3, nail4, and joint5 support. Collagen is a very abundant protein found in such connective tissues in the human body, according to the Cleveland Clinic6, and supplementing with collagen protein powder makes it easy to support your body's collagen production. Collagen supplements may also help improve bone mineral density7 in menopausal women and relieve symptoms of osteoarthritis8.
Vital Proteins Original Collagen Peptides contain collagen types I and III; according to the Cleveland Clinic, type I collagen is the most abundant, constituting about 90% of collagen in the body.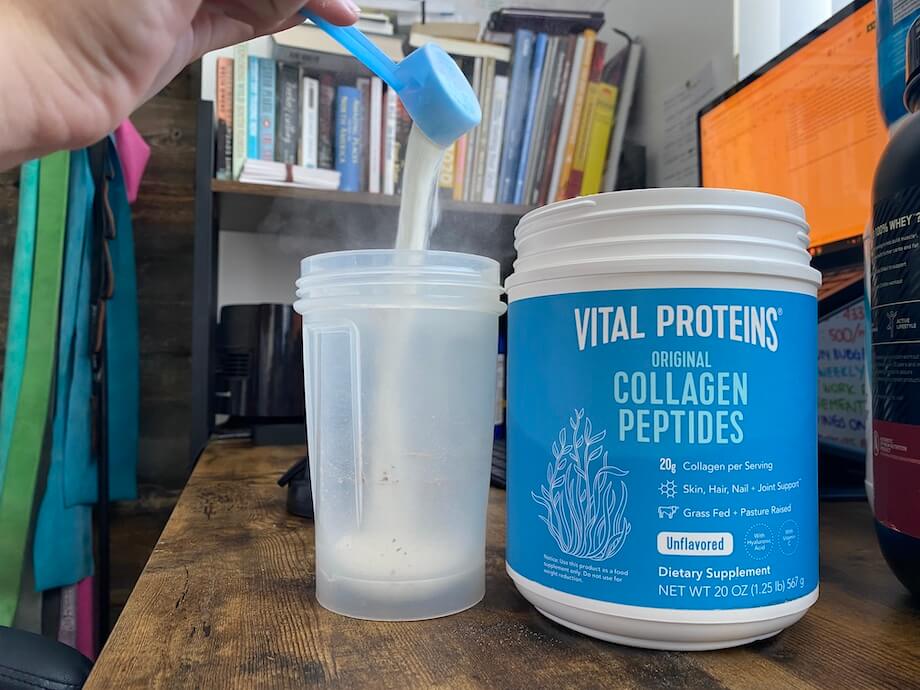 This unflavored collagen peptide powder won't alter the taste or texture of your smoothies at all—it barely even alters the taste or texture of plain water. In fact, as I point out in my Vital Proteins review, I can't pick up on a taste at all, although some customer reviews do indicate there is a slight flavor.
Upon opening the canister (which doesn't come with a sealed inner lid or a plastic scoop due to Vital Proteins' sustainability efforts), you'll immediately notice how ultra-fine the texture of the powder is. This should give you a good indication of how well it mixes with fluids.
In a smoothie with fruit, chia or flax seed, vegetables, juice, or whatever your taste buds desire, the 18 grams of protein and 20 grams of collagen peptides in this supplement will go completely unnoticed.
| | |
| --- | --- |
| Protein per serving | 18 g |
| Flavors available | Unflavored |
| Sweeteners | None |
Best Unflavored Protein Powder for Smoothies: NOW Sports Whey Protein Isolate
Good for: Those who just want the extra protein without altering the taste of their smoothie
For those who are dead-set on not altering the taste of their beloved smoothies, unflavored whey protein is a good choice. (We do not recommend unflavored whey protein with just water or milk, and we definitely judge those who do that.)
GGR product tester and staff writer Lauren Strong tested the unflavored NOW Sports Whey Protein Isolate and concluded that there is "definitely a 'whey' taste, which is not good or bad, really.
"This is certainly not gag-worthy, but I did mix this with water to get the full effect," she continues. "It would actually be pretty good with a sports drink or in a smoothie. It blends just like you would want a protein powder to—no clumps, and it's not too thick or thin."
Lauren reports no side effects like bloating, just a "strange aftertaste from the 'non-flavor.'" As mentioned already, though, such 'non-flavor' is undetectable when blended with fruit, cocoa powder, yogurt, etc.
With 25 grams of protein per serving, the NOW Sports Whey Protein Isolate will add substantial protein to your smoothie and your daily intake. Plus, since it's unflavored, it's free from sweeteners, including sugar, sugar alcohols, artificial sugar, and alternative sweeteners.
RELATED: Best Low-Carb Protein Powder
| | |
| --- | --- |
| Protein per serving | 25 g |
| Flavors available | Unflavored |
| Sweeteners | None |
Best Vegan Protein Powder for Smoothies: Vega Sport Premium Protein
Good for: Individuals who follow a plant-based diet and want to add a substantial amount of protein to their diet
Available in five simple flavors to suit all taste buds, Vega Sport Premium Protein is one vegan protein powder that our whey-loving, meat-eating product testers can get behind. In fact, we dubbed it the best-tasting vegan protein powder in our guide to the best-tasting protein powders.
In our full Vega Protein review, writer and registered dietitian Sydney Lappe calls this protein a "worthy option for anyone focusing on a plant-forward diet." Sydney goes on to say that Vega Sport Premium Protein is a good choice for plant-based dieters who want a gluten-free or athlete-friendly (free of banned substances) protein powder, and anyone looking for a well-balanced protein supplement that's free of added sugars.

Vega Sport Premium Protein contains added probiotics, which may help or hurt your tummy depending on your current digestive health. While probiotics in general are safe and beneficial, you should explore the specific strains—and the amount per serving—to better understand how it might affect your digestion.
What we really love about this protein is that it contains a blend of plant-based ingredients to create a complete protein product. The protein blend includes pea protein, pumpkin seed protein, organic sunflower seed protein, and alfalfa protein. Together, these proteins provide all nine essential amino acids.
Additionally, one serving of this protein powder offers a whopping 30 grams of protein—but beware that one serving is two scoops, which can be hard to mix and extremely filling.
RELATED: Best Vegan Protein Powder
| | |
| --- | --- |
| Protein per serving | 30 g |
| Flavors available | Mocha, Peanut Butter, Chocolate, Vanilla, Berry |
| Sweeteners | Stevia |
Best Organic Protein Powder for Smoothies: Truvani Plant-Based Protein Powder
Good for: People who prioritize organic ingredients but don't want to sacrifice taste or texture
Not only is Truvani Plant-Based Protein Powder one of the best organic protein powders available in general, but it is the only vegan protein powder that I am willing to drink of my own accord.
Usually, when I test plant-based protein powders for our various best-of guides, I drink just enough to understand the taste, texture, solubility, consistency, and side effects, if any, of a given product. But I'm almost done with my bag of Truvani protein powder! For me, that says a lot.
What's more, Truvani's formula is insanely simple. It contains just six ingredients in the chocolate flavor: pea protein, chia seed protein, pumpkin seed protein, alkalized cocoa, vanilla powder, and monk fruit extract. Chia seeds are a complete protein, while the other ingredients are low in or lack some essential amino acids.
The flavor of the chocolate powder is extremely rich, and it mixes into quite a thick shake on its own. In smoothies, chocolate Truvani tastes incredible with a variety of ripe berries and/or banana. With almond milk, chocolate Truvani, a banana, and ice, you'll have a smoothie reminiscent of Nutella toast with sliced bananas. It's so good it should be illegal.
Additionally, Truvani protein powder is USDA-certified organic, vegan, dairy-free, soy-free, and a non-GMO product, making it suitable for many diet types.
RELATED: Best Clean Protein Powder
| | |
| --- | --- |
| Protein per serving | 20 g |
| Flavors available | Chocolate, Vanilla, Chocolate Peanut Butter, Banana Cinnamon, Peanut Butter, Unflavored |
| Sweeteners | Monk Fruit Extract |
Best Vanilla Protein Powder for Smoothies: Quest Nutrition Vanilla Whey Protein Powder
Good for: Anyone who wants their protein shake to taste like a frothy vanilla milkshake
Kate Meier, GGR head of content, tried the Quest Nutrition Vanilla Milkshake Whey Protein Powder and says it has a "rich taste that is very vanilla!"
"You don't need to mix this with anything else, as it's totally awesome on its own," Kate says, but it's sure to elevate your smoothies with its frothy, creamy taste and texture. In fact, based on Kate's notes on this product, I'm inclined to think that it would taste insanely good blended with milk and ice—like a real milkshake, but protein-packed.
In our full Quest protein powder review, writer and registered dietitian Megan Toomey says that Quest protein powder is a good choice for individuals who want a low-fat and low-carbohydrate powder or a gluten-free option, as well as cost-conscious buyers. (The cost per serving for this protein powder is lower than many other top brands.)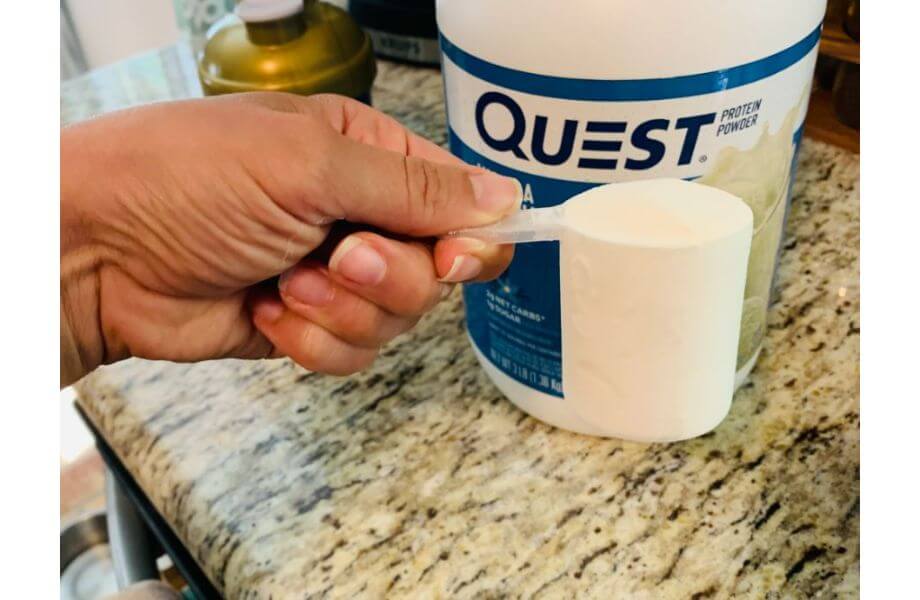 Depending on the flavor, Quest protein powder offers 20 to 26 grams of protein per serving, as well as 20 to 25% of the daily recommended calcium intake—so it's not only good for your muscles, but your bones, too.
Kate, like all of our product testers, has tried many different protein powders to bring our readers our expert opinions around which are purchase-worthy. Quest protein powder is one she keeps returning to for its great taste and solubility (and she says her kids love it, too).
RELATED: Quest Protein Bar Review
| | |
| --- | --- |
| Protein per serving | 24 g |
| Flavors available | Vanilla Milkshake, Chocolate Milkshake, Salted Caramel, Peanut Butter, Cinnamon Crunch, Cookies & Cream, |
| Sweeteners | Sucralose, stevia |
Other Protein Powders We Researched
At this point, our product testers have tried so many protein powders that it's getting impossible to list them all out. We've tested protein powders from all of the well-known brands, as well as from lesser-known, newer, and more niche brands. We've tested countless whey proteins, casein proteins, vegan-friendly proteins, organic proteins, unflavored, unsweetened, pea protein, hemp protein—the list goes on. We've tested any type of protein powder you can think of.

RELATED: Best Pea Protein Powder
How We Picked and Tested the Best Protein Powders for Smoothies
As of this writing, our team of certified personal trainers, nutrition coaches, and athletes has tested upward of 60 different protein supplements. During our testing, we look at several criteria that help us determine whether or not a certain product belongs in a certain guide. Here are some of the questions we ask ourselves as we evaluate all of the different types of protein powder.
Protein source: Does the protein come from plant sources, or is it a dairy derivative (whey protein concentrate, whey protein isolate, hydrolyzed whey, or casein)? If it's a plant-based protein blend, does it contain all of the essential amino acids needed to make it a complete protein?
Solubility: Does it dissolve quickly and easily? Are there any chunks or flecks? Is it chalky or smooth?
Taste: How does it taste with plain water? Milk or a milk alternative? In a smoothie or oats?
Grams of protein per serving: Are there at least 20 grams of protein per serving?
Calories per serving: Is there enough protein for the calorie count, or does it seem high-calorie relative to the protein content?
Carbs and fats per serving: Do these nutrients seem in line with what's standard, or do they seem to be high for the protein content or calorie amount? If the carbohydrate content is very high, for instance, the product may be better categorized as a mass gainer.
Sweeteners: Is the product unsweetened, or does the protein contain added sugar, artificial sweeteners, sugar alcohols, or natural alternatives to sugar?
Third-party testing: Is the product vetted by any agency outside of the manufacturer? We look for NSF Certified for Sport, US Pharmacopeia verifications, allergen testing, heavy metal testing, and individual dietary certifications, such as USDA Certified Organic or Non-GMO Project Verified, when applicable.
Other ingredients: Are there any ingredients that are clearly there as fillers; or are there proprietary blends that don't allow us to know what's really in the product?
Benefits of Protein Powder
The benefits of protein powder are many, as protein is an essential macronutrient that supports all sorts of body functions from hormone regulation to muscle growth and appetite.
Keeps You Full
Several studies have shown that protein, both from whole food sources and in the form of supplements, can assist with appetite regulation and promote satiety, or the feeling of being full from food. For instance, in a 2022 study in the Journal of Obesity and Metabolic Syndrome9, researchers point out that protein consumption triggers the excretion of three anorexigenic (appetite suppressant) hormones and "is a good method to reduce total energy intake by increasing satiety in comparison to that gained from carbohydrates and fats."
May Help With Weight Loss
A 2020 review in the Journal of Obesity and Metabolic Syndrome10 concluded that higher-protein diets (defined as "consuming more protein than the recommended dietary allowance") is linked to reduced body weight and less fat mass compared with lower-protein diets. Of course, protein intake is just one factor of many that can affect weight loss.
Helps With Workout Recovery
Time and time again, researchers have shown that consuming protein powder after a workout can enhance and expedite muscle recovery. A 2019 study in the Journal of Sports Science and Medicine11 pointedly states, "Protein supplements facilitate muscle repair and mitigate muscle damage markers during recovery," although it's important to know that meeting protein intake minimums over the long-term is more important than simply consuming a protein shake after each workout, according to a 2018 report in Frontiers in Nutrition12.
Assists Muscle Growth Process
If your goal is to gain muscle, a high-quality protein powder should be one of the very first supplements you reach for, along with creatine and pre-workout. Dietary protein is one of the most important nutrients for maintaining and building muscle tissue, according to a 2019 study in the journal Nutrients13. Additionally, as evidenced by a 2018 study14 in the same journal, supplementing with protein after workouts is one way to maximize hypertrophy potential from resistance training sessions.
RELATED: Best Creatine for Packing on Muscle
Dosing and Interactions
Protein powder is generally recognized as safe by nutritionists, registered dietitians, doctors, and other healthcare professionals. With protein powder, the important thing to look out for is allergens. Those with a gluten allergy will need to look for a protein powder that is certified gluten-free; those with lactose intolerance will need a certified dairy-free protein or one with enzymes that can help them digest the dairy protein.
Third-Party Testing
Third-party testing refers to independent verification of the ingredients in a supplement. If a company has third-party testing performed on their products, it assures the consumer that what's on the ingredients list is actually what's in the product.
For our part, we prioritize independently vetted supplements in our guides to the best products, and that's why you'll see us consistently recommend products from brands like Transparent Labs, Kaged, XWERKS, Vega, and Orgain.
However, we remain aware that a lack of third-party testing doesn't always indicate shadiness on the part of a brand. For instance, budget picks rarely boast third-party verification, but it's nearly impossible to find a protein powder under $1.50 per serving that is thoroughly tested by independent agencies.
FAQs About Protein Powder
To wrap up, here are the answers to some common questions about protein powder.
How much protein do I need?
Your ideal protein intake is determined by many factors, including your body weight, age, activity level, and fitness goals. For the most part, the recommended amount of protein per day is 1.2 to 2 grams of protein per kilogram of body weight. Your individual protein needs can change depending on the aforementioned factors; for instance, a bodybuilder will need more protein than someone who is just trying to meet the recommended intake for health and longevity. We dive deeper into this topic in our guide, "How Much Protein Do I Need?"
Which protein powders are best for muscle growth?
Any protein powder that contains at least 20 grams of protein per serving and is a complete protein source—meaning it contains all nine essential amino acids—will be a great aid as you try to build muscle mass.
What should I look for in protein powder?
Well, firstly, it should have a high protein content relative to the amount of calories in the product. If it contains more than 200 calories but less than 25 grams of protein per serving, it may be better classified as a meal replacement shake. Additionally, be sure to check the ingredients label for allergens and any sweeteners you want to avoid. Third-party testing is ideal, too.
These statements have not been evaluated by the Food and Drug Administration. This product is not intended to diagnose, treat, cure, or prevent any diseases.
References