We test and review fitness products based on an independent, multi-point methodology. If you use our links to purchase something, we may earn a commission. Read our disclosures.
Weight loss is a goal that's notoriously a struggle. However, weight gain, though a less common struggle, can be just as difficult. This is especially true for individuals who are extraordinarily active, often burning way more calories than they can consume. Even when active people have high caloric requirements, the matter of having the budget, time, and appetite to actually meet those requirements is a totally different obstacle.
When taken during a resistance training program, a large number of studies, including one published in The Journal of Sports Medicine and Physical Fitness1, have demonstrated that calorie-rich supplements, such as the best mass gainer protein powder, can have a significant impact on muscle gain.
It can also be more cost-efficient. If it costs you $20 to buy a 1,200 calorie meal, but only $5 per serving of 1,200 calorie protein powder, this will save you a ton of money in the long run when increasing your calories.
Let's be very clear here, though: Food is still the most important part of your diet! Whey protein, maltodextrin, and stevia aren't going to give you the nutrients you need to maintain health and perform at your best. So, just keep in mind that mass gainers are purely meant to supplement the calories in your diet, not make up the majority of them.
And it makes no difference whether you're trying to regain weight after an illness or injury, or you are simply trying to put on some extra pounds of lean muscle—our team of sports dietitians, nutritionists, and certified personal trainers wanted to provide you with the best choices that our testers picked from the most popular protein powders for weight gain on the market.
Medical disclaimer: This article is intended for educational and informational purposes only. It is not intended as a substitute for medical advice. For health advice, contact a licensed healthcare provider.
Best Protein Powder for Weight Gain
Best Overall Protein Powder for Weight Gain: Transparent Labs Mass Gainer
Good for: People who want transparency in the ingredients of their mass gainer
The Transparent Labs promise is to offer quality sports nutrition products that are transparently labeled. The ingredients you find in each scoop are of the highest quality, with clinically effective doses that won't contain any proprietary blends, artificial sweeteners, GMOs, artificial colors, or flavors.
That's a big reason why it is our pick for the best overall protein powder for weight gain. However, I want to also point out a bonus feature of this mass gainer and that's the addition of creatine monohydrate to the ingredient list.
A review done in 2022 concluded that, given all the evidence that's come out in the last decade, creatine is the most established and well-researched sports supplement for strength gain and muscle growth in young adults who engage in regular training2.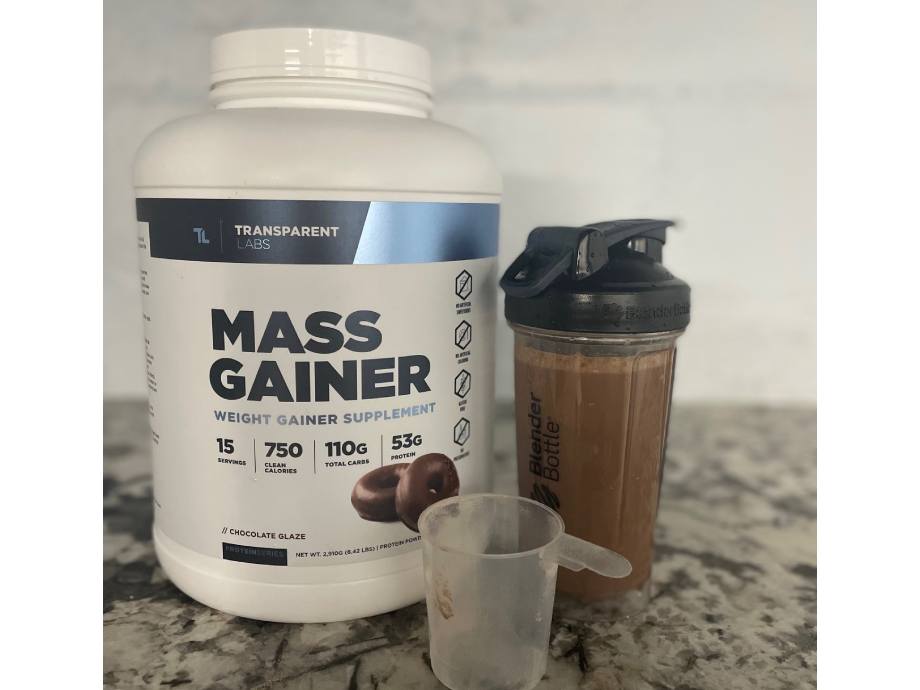 So, it seems like a no-brainer to include it in a supplement often used by people trying to put on lean muscle, right?
More than half of the weight of a serving of Transparent Labs Mass Gainer is maltodextrin, which is a super common ingredient in products like these. It digests quickly in the body and packs your scoops with more calories. What we really love, though, is that the other carbs and fats are sourced from whole food sources including oats, sweet potatoes, and coconut milk.
Despite providing a good amount of carbohydrates, it must also be noted that this mass gainer contains a fair amount of saturated fat, which is not harmful in the case of active individuals who have a healthy diet in general. However, it's advised that you be wary of how much and how often you are ingesting it if you have heart problems or are concerned about getting heart disease.
GGR Senior Editor Nicole Davis taste-tested the Chocolate Glaze donut flavor of this mass gainer and said it was yummy. "It was definitely giving donut!"
Read our full Transparent Labs Mass Gainer review for even more information about this product.
| | |
| --- | --- |
| Price Per Serving | $5.33 |
| Flavors | Chocolate Glaze Donut, Sweet Vanilla |
| Ingredients | Organic Tapioca Maltodextrin, Grass-fed whey concentrate, coconut milk powder, natural chocolate flavor, cocoa, medium chain triglycerides, VitaFiber®, creatine monohydrate, sodium chloride, oat flour, sweet potato powder, stevia, monk fruit. |
| Calories Per Serving | 790 |
Best Natural Protein Powder for Weight Gain: Legion Whey+
Good for: Individuals in need of a plant-based, super high-calorie serving of protein powder
Legion Whey+ is an all-natural protein powder that packs anywhere from 22 to 25 grams of protein, depending on the flavor, per scoop. It's Truly Grass Fed, meaning the dairy is sourced from cows that spend most of their lives outdoors eating grass (as nature intended). They use a whey protein isolate that's easier to digest and contains the clinically-recommended amount of branched-chain amino acids (BCAAs) for muscle growth and weight gain.
And if you're wondering, yes, grass-fed dairy makes a difference. Studies have shown that milk from grass-fed cows had a higher amount of antioxidants than milk from grain-fed cows. Grass-fed dairy also has a better ratio of Omega-3/Omega-6 fatty acids.
Certified nutrition coach, GGR performance editor, and certified big guy Anthony O'Reilly loves this as a mid-day snack. He gave the Cinnamon Cereal flavor a 5 out of 5, describing it as the milk at the bottom of a bowl of Cinnamon Toast Crunch. "If you, like me, let your cereal sit for a bit so the milk soaks up all the flavor, you'll love this," he says.
If a protein shake is a little too low-calorie for your liking, Anthony provides a protein cinnamon French Toast recipe in his Legion whey protein review.
| | |
| --- | --- |
| Price Per Serving | $1.99 |
| Flavors | 17 |
| Ingredients | Whey protein isolate, natural flavors, salt, sunflower lecithin, xanthan gum, stevia |
| Calories Per Serving | 110-120 (varies by flavor) |
Best Vegan Protein Powder for Weight Gain: KOS Vegan Protein
Good for: Vegans who want a mass gainer with additional health-promoting ingredients
KOS Vegan Protein is a great plant-based protein powder because it contains 160 calories and 20 grams of high-quality plant protein. The company ensures you're getting all the essential amino acids and branched-chain amino acids (BCAAs) needed for muscle growth by combining pea protein, flax seed protein, quinoa protein, pumpkin seed protein, and chia seed protein.
It's also one of the few protein powders that may just as much attention to micronutrients (vitamins and minerals) as macronutrients (protein, carbs, fat). KOS has a superfoods and vitamins and minerals blend that provides high quantities of compounds needed for optimal health, such as iron for creating new red blood cells.
Certified sports nutrition coach and GGR senior staff writer Amanda Capritto awards this a 3 out of 5 on taste. She says it's not super earthy-y or plant-tasting like many other vegan protein powders and has a rich chocolate taste. "It's not great but it's not horrible, and what more can you ask for when you're drinking vegan protein powder?" she says.
There's also a digestive enzyme blend that may aid digestion.
RELATED: Best Vegan Protein Powder
| | |
| --- | --- |
| Price Per Serving | $1.99 |
| Flavors | Blueberry Muffin, Chocolate, Chocolate Chip Mint, Chocolate Peanut Butter, Salted Caramel Coffee, Vanilla, Unflavored, |
| Ingredients | Organic Protein Blend (Pea protein, flax seed protein, quinoa protein, pumpkin seed protein, and chia seed protein), Organic Superfoods Blend, Vitamins and Minerals Blend, Digestive Enzyme Blend |
| Calories Per Serving | 160 |
Best Casein Protein Powder for Weight Gain: Legion Casein
Good for: People who want a protein powder to help prevent muscle loss
With only 130 calories per serving, Legion's micellar casein powder isn't on the high end of the calorie spectrum when compared to the other products on our list. Despite this, using casein as the protein source of this protein powder still makes it possible to contribute to gaining weight from lean muscle mass.
Studies have shown4 that ingesting 40 to 48 grams of casein 30 minutes before sleep could help with muscle recovery and performance. The repeated practice of this might also cause intramuscular adaptation, which means your muscles become more efficient at recovering over time.
Finally, the study proposes that casein helps with muscle recovery by increasing the amount of amino acids that stay in your blood because casein digests so slowly. In turn, this results in more protein synthesis, prevents muscle breakdown, and weakens exercise-induced muscle damage.
So, to get these benefits in the spirit of gaining weight, you could consume two scoops of protein powder for 52 grams of casein protein and 260 calories. Legion's Casein, like all of Legion's protein products, is 100% natural, uses no artificial flavors or sweeteners and, quite frankly, is pretty consistently tasty. The addictive flavors of this protein powder is enough to pack on some pounds alone.
RELATED: Best Casein Protein Powder
| | |
| --- | --- |
| Price Per Serving | $1.79 |
| Flavors | Banana Cream Pie, Cinnamon Cereal, Dutch Chocolate, French Vanilla, Strawberry |
| Ingredients | Non-GMO micellar casein protein, cocoa powder, natural flavor, sea salt, stevia leaf extract, soy lecithin |
| Calories Per Serving | 130 |
Best Protein Powder for Weight Gain with Lower Carbs: Kaged Re-Kaged
Good for: Someone who's calorie- and carb-conscious but still wants to add size
Unlike most of the other protein powders on our list, Kaged's post-workout protein has only 2 grams of net carbs per serving. This makes it an excellent option for people scouring this list for a low-carb option either out of preference or because they need to gain some mass on a low-carb diet.
This formulation also includes creatine, which we covered earlier as being a proven way to help with gaining muscle mass when ingested consistently. It also contains a substance called Prohydrolase, which is a mixture of digestive enzymes called proteases that break down proteins during digestion.
By combining Prohydrolase with whey protein, you'll be able to increase the amount of BCAAs (branched chain amino acids) in your blood more rapidly, which in turn will allow your muscles to absorb these amino acids more efficiently. You can also benefit from it by ensuring that your protein supplement is digested more smoothly.
The results of a study conducted in 20205, which administered ProHydrolase to male strength-trainers, seem to support these findings. Based on the results, ProHydrolase did indeed increase blood levels of amino acids more rapidly than a placebo that did not contain digestive enzymes.
According to clinical studies like the one cited above, the effective dose of ProHydrolase is 10 milligrams per gram of protein, and the makers of Re-Kaged apparently took close note of the science! There are 28 grams of protein and 280 milligrams of ProHydrolase in each serving of Re-Kaged. So, even though the calories in this protein powder is low for a mass gainer, it contains other compounds that are powerful tools for hypertrophy.
The last thing you need to know is that Kaged Re-Kaged has been third-party tested by Informed Choice, which means that it has been tested by an independent lab in order to ensure that it is safe, pure, and free from banned substances like performance-enhancing drugs.
| | |
| --- | --- |
| Price Per Serving | $2.25 |
| Flavors | Iced Lemon Cake, Orange Kream, Strawberry Lemonade |
| Ingredients | Whey protein isolate, cocoa powder, natural flavor, sea salt, guar gum, gum acacia, xanthan gum, ProHydrolase, steviol glycosides, sucralose |
| Calories Per Serving | 140 |
Best Protein Powder for Weight Gain and Muscle-Building: Muscle Milk Pro Series
Good for: Anyone who wants a mass gainer that can be consumed at any time of the day
Muscle Milk is a company owned by Gatorade (bet you didn't know what, did you), so it's been formulated specifically for athletes and athletic performance. One serving of the Pro Series protein powder contains 50 grams of milk protein and 20 vitamins and minerals including iron, calcium, potassium, and Vitamin A.
In addition to that, Muscle Milk Pro Series offers a blend of high-quality slow-release and fast-release proteins to enhance amino acid levels and promote muscle growth. It achieves this by having milk protein isolate as the main source of protein. Unlike whey protein isolate, milk protein contains both casein and whey in proportions of 80% and 20%, respectively6.
So, with 50 grams of protein per serving, this is a mass gainer that would work best as a general use for weight gain and building lean mass rather than a pre- or post-workout protein supplement.
An important note for those who normally drink the ready-to-drink Muscle Milk protein shakes: Unlike those products, this protein powder is not lactose-free. So, if that's something you're sensitive to, this is not the version of Muscle Milk you're going to want.
Finally, all Muscle Milk Protein Powders are NSF Certified for Sport, a qualification that indicates the products have been screened for more than 270 substances that are prohibited by most major athletic organizations.
Read our Muscle Milk review to learn more about the sister product to the Pro Series, regular Muscle Milk.
| | |
| --- | --- |
| Price Per Serving | $2.16 |
| Flavors | Chocolate, Vanilla, Strawberry |
| Ingredients | Dairy Derived Protein Blend (Milk Protein Isolate, Calcium Sodium Caseinate [Milk], Whey Protein Concentrate [Milk]. Whey Protein Isolate [Milk], Whey Protein Hydrolysate [Milk]), Maltodextrin, Alkalized Cocoa Powder, Non Dairy Creamer (Sunflower Oil, Maltodextrin, Sodium Caseinate [A Milk Derivative], Mono- and Diglycerides, Tocopherols), Natural and Artificial Flavors, Soluble Corn Fiber, Potassium Chloride, Medium Chain Triglycerides, Canola Oil, Magnesium Oxide, Potassium Bicarbonate, Acesulfame Potassium, Lactoferrin [Milk], Sucralose |
| Calories Per Serving | 310 |
Best Budget Protein Powder for Weight Gain: Body Fortress Whey Protein
Good for: People who need a thrifty choice they can afford to take long-term
Body Fortress is a mass gainer that absolutely gives you a bang for your buck. Seriously, we were shocked to see how affordable it was compared to other similar products on the market. We've included two prices here because Body Fortress gives two suggestions for what you can make a serving: one scoop or two scoops.
Which one you choose really depends on how many calories you need to supplement your diet with. One scoop contains 180 calories, while two scoops contain 370. Either way, the price per serving, even if you plan on using two scoops, comes out to about $2.42, which is significantly lower than most of the other mass gainers on this list.
Body Fortress also includes an "immune support blend" with 100+% of your daily value of Vitamin C, D, and zinc. These are three micronutrients that are key to maintaining a strong immune system. This is important because, sometimes when you're training very intensely and frequently, your immune function can decline7.
It is even stated in a 2020 study8 that infection burden is high among high-performance athletes and it is second only to injuries when it comes to the number of training days lost during preparation for major competitions. Arduous exercise may suppress immunity and increase infection risk. So, an immune support blend in your protein powder can be a good bonus if you're someone who trains at an extreme level.
As a final note, this is a mass gainer that's gluten-free! Good news for those who are sensitive to gluten. However, there is a heck of a lot of milk proteins in this tub, so there's less luck if you have a dairy allergy.
Read our full Body Fortress whey protein review for the rest of our thoughts on this supplement.
| | |
| --- | --- |
| Price Per Serving | $1.21 or $2.42 |
| Flavors | Vanilla, Chocolate, Chocolate Peanut Butter, Cookies & Cream, Strawberry |
| Ingredients | Dairy Derived Protein Blend (Milk Protein Isolate, Calcium Sodium Caseinate, Whey Protein Concentrate. Whey Protein Isolate , Whey Protein Hydrolysate ), Maltodextrin, Alkalized Cocoa Powder, Non Dairy Creamer (Sunflower Oil, Maltodextrin, Sodium Caseinate, Mono- and Diglycerides, Tocopherols), Natural and Artificial Flavors, Soluble Corn Fiber, Potassium Chloride, Medium Chain Triglycerides, Canola Oil, Magnesium Oxide, Potassium Bicarbonate, Acesulfame Potassium, Lactoferrin, Sucralose |
| Calories Per Serving | 180 or 370 |
Best-Tasting Protein Powder for Weight Gain: Rival Nutrition Clean Gainer
Good for: Anyone who wants a high-calorie supplement that tastes great and is sourced from whole food ingredients
A protein powder that comes in Campfire S'mores flavor? Yes, please! There are many things to love about Rival Nutrition's Clean Gainer, and two of them are that it tastes great, and a lot of the ingredients are sourced from whole foods.
It still has the rather ubiquitous maltodextrin high on the ingredient list, but other carb sources include quinoa, blueberry, and bran. It also has some fat from avocado, coconuts, and flax seed.
A state-of-the-art, U.S.-based, cGMP facility manufactures this mass gainer, so you can rest assured that each ingredient in this mass gainer is of the highest quality and is third-party tested by Informed Choice to ensure safety and accuracy.
There are 30 grams of whey and milk protein per serving. However, most of the calories from this protein powder come from carbohydrates, with there being 97 grams in every two scoops and the carbs coming from eight different sources. That, and the relatively low amount of fat, would make this a great pre-workout and post-workout along with a delicious mass gainer. In fact, Rival Nutrition suggests you take this after a workout and once before bed.
| | |
| --- | --- |
| Price Per Serving | $2.96 |
| Flavors | Campfire S'mores, Cinnamon Toast Cereal, Cookies and Cream, Toasted Cinnamon Cereal, Chocolate, Chocolate Peanut Butter, Soft Serve Vanilla |
| Ingredients | Clean Carbohydrate Blend (Glucose Polymers (Maltodextrin), Fructose, Organic Quinoa, Blueberry Powder, Ginger Powder, Monk Fruit, Organic Rice Bran, Oat Fiber), Clean Protein Blend (Whey Protein Concentrate, Whey Protein Isolate, Milk Protein Isolate, Micellar Casein), Clean Lipid Blend (MCTs (From Coconut), Flax Seed Powder, Avocado Powder, Sunflower Powder), Cocoa (processed with Alkali), Natural and Artificial Flavors, BCAAs (L-Leucine, L-Isoleucine, L-Valine), Salt, Guar Gum, Sucralose, Acesulfame Potassium, Stevia |
| Calories Per Serving | 560 |
Best High-Calorie Protein Powder for Weight Gain: Dymatize Super Mass Gainer
Good for: People who don't mind drinking a high volume shake for a higher-calorie diet
This monster of a protein powder is a popular pick for a reason. There are approximately 1,300 calories contained in every serving of Dymatize Super Mass Gainer, in addition to 52 grams of whey and milk protein, as well as 245 grams of carbohydrates. What I really appreciate is, even though there are 10 grams of fat per serving, only 2 of them come from saturated fat.
This mass gainer also contains 14 vitamins and minerals and 1 gram of creatine monohydrate. We do have to note that, for weight gain, the clinically effective dose of creatine is about 3 grams to 5 grams a day.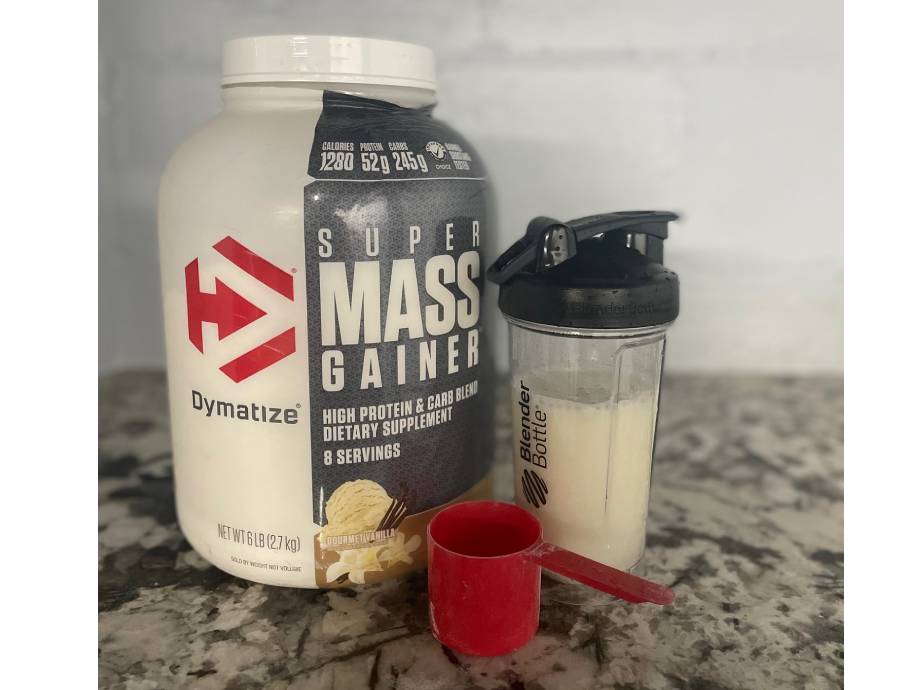 As is a common feature of mass gainers with a calorie count this high, the serving size is very large. There are about 2.5 cups of powder and can make a concoction that's quite thick. Sure, you can definitely add in some more liquid to help it out (and if it's a calorie-dense liquid like whole milk, even better for gains).
However, you should be prepared for a very high volume of shake if you do this. We're talking like more than a liter of protein shake. If this is something you don't mind, Dymatize is an extremely efficient way to help out your daily calorie surplus.
| | |
| --- | --- |
| Price Per Serving | $4.57 |
| Flavors | Gourmet Vanilla, Rich Chocolate |
| Ingredients | Maltodextrin, Protein Blend (Whey Protein Concentrate, Milk Protein Isolate, Whey Protein Isolate, Whey Protein Hydrolysate, Micellar Casein), Sunflower Creamer (Sunflower Oil, Maltodextrin, Sodium Caseinate, Mono & Diglycerides, Natural Tocopherols And Tricalcium Phosphate). Less Than 2% Of: Creatine Monohydrate, Fructose, Natural And Artificial Flavors, Vitamin & Mineral Blend (Tricalcium Phosphate, Sodium Ascorbate, D-Alpha Tocopheryl Acetate, Niacinamide, Vitamin A Palmitate, Calcium-D-Pantothenate, Potassium Iodide, Folic Acid, Maltodextrin, Pyridoxine Hydrochloride, Thiamine Hydrochloride, Riboflavin, Cyanocobalamin), Gum Blend (Cellulose Gum, Xanthan Gum, Carrageenan), Potassium Chloride, Soy Lecithin, Acesulfame Potassium, Sucralose, Sunflower Lecithin |
| Calories Per Serving | 1,280 |
Other Protein Powder for Weight Gain We Researched
Other protein powders on the market can sure be used as a tool to gain weight, including these two:
BSN True Mass: The taste of this one is OK, but it tends to get clumpy easily, and its macronutrient profile wasn't quite as impressive.
Optimum Nutrition Serious Mass: We haven't tried this one yet, though we're a fan of Optimum Nutrition products in general.
How We Picked and Tested the Best Protein Powder for Weight Gain
Why are we here? To provide you with our expert opinions on the best-tasting, most effective protein powders for weight gain that are made with high-quality ingredients and, most of all, will help you put on some weight safely. Here is the criteria we went with:
Calorie Content
This is the most obvious one, so let's get it out of the way first. Though not all of the supplements on this list are super high in calories, ingesting plenty of calories is absolutely non-negotiable if you want to build muscle—it's not just about protein intake! So, we wanted to help you choose a gainer protein powder that can help you easily boost your daily calorie intake.
Trusted Brands
Our goal is to recommend brands that are not only well-known in the sports nutrition world, but also trusted for their integrity in making the best protein powders. All of the companies on this list were either personally used by us as dietitians, trainers, athletes, or in other capacities in our practice. We've seen them in action! In other words, we would be remiss if we did not mention the best protein powders available on the market, based on firsthand experience.
Sugar Content
There is usually a great deal of caution in people's minds when it comes to supplements that contain preservatives and synthetic ingredients. However, even though the goal is weight gain, inflammatory ingredients like sugar also have to be taken into account. Luckily, most of the protein powders on this list are naturally sweetened.
However, if you are consuming a large amount of sugar, especially if it isn't timed correctly to benefit performance, you may be negating the health benefits of all the other work you're doing to build lean muscle mass.
Protein Amount
The protein content of a mass gainer doesn't mean much when you're trying to build muscle if you're not consuming enough daily calories, just to be clear. However, it's both the combination of a calorie surplus and eating enough protein that is going to give you the gains you're looking for. So, we didn't just choose mass gainers that had crazy amounts of calories; we paid attention to the protein content as well.
Benefits of Protein Powder for Weight Gain
Whether you're looking for a meal replacement, a post-workout drink, or you're just on a hardcore mission to gain muscle, there are plenty of benefits and applications to a gainer protein powder—if you use it correctly.
Excellent for Hard Gainers
If you identify as a "hard gainer," that's probably why you're even reading this right now. The term "hard gainer" refers to a person whose primary hobby is bodybuilding, but who has a difficult time putting on muscle despite intense training and being in a dramatic calorie surplus. Hard gainers find they cannot eat enough food to reach the surplus they need to build muscle and some even make themselves sick trying.
So, a supplement like the best whey protein powder can be a useful way to get in a ton of calories much faster and in a much smaller volume than it would take to consume the same amount of calories from food.
Boosts Daily Calorie Intake
Similarly, even if you aren't a hard gainer, there are some people who can benefit from a protein powder for weight gain. It can be used as a meal replacement for people who can't eat food properly due to a recent surgery, dental work, or health condition. Since it can be ingested in a liquid form, almost anyone who is struggling to eat enough calories to maintain their health can consume a mass gainer safely and efficiently.
Helps Intake After Injury
Following an injury, athletes commonly find that they don't have much of an appetite, especially if they've had a surgery to help repair that injury. However, I also often find athletes immediately panic when they find out how often they'll be out of play and how long their break from training will be due to an injury. Some of this panic comes from fear of losing their muscle mass and strength.
Luckily, this loss can be mitigated by continuing to keep calorie intake high and, even in the absence of an appetite, mass gainers can be a terrific help due to the high amount of calories they contain. Bonus points if the mass gainer also includes creatine, since creatine is also used in sports to supplement an injured athlete to further mitigate muscle catabolism12.
Dosing and Interactions
When taken as directed, whey protein is likely to be safe for most adults. Several side effects can be experienced with high protein doses, including bowel movement changes, acne, nausea, thirst, bloating, sleep issues, and headaches. Generally, unless you have sensitivities to whey or milk, protein powder with these sources are generally very safe.
RELATED: Does Protein Powder Cause Acne?
Third-Party Testing
Protein powder brands proudly bearing the seal of third-party testing are also letting you know an unbiased source has cleared the protein powder of containing heavy metals, banned substances, and other harmful ingredients that may have been accidentally added during processing or even put there intentionally.
Seriously, I've seen athletes lose out on draft placements because they were taking a protein powder that lacked third-party testing and ended up containing a banned substance, which caused them to fail a drug test. This harmless mistake can be catastrophic for a college or professional athlete's career.
In my opinion, the danger of being exposed to banned substances, performance enhancers, and other weird ingredients goes up exponentially with mass gainers. The reason these things are added in the first place is because some sleazy supplement companies care about you buying more of their product and raving to all of your gym bros about how big it helped you get.
That's why some supplement companies will add whatever they can to make this a reality and, since the FDA does not regulate supplements, this is a much more common practice than you may think.
So, while third-party testing isn't a requirement for most people just trying to find a protein product for casual use, I always tell my athletes to exclusively choose third-party-tested protein powder to protect themselves. Luckily, there are plenty on our list to choose from.
Buying Guide: What to Look for in Protein Powder for Weight Gain
Don't spring for the budget protein powders in your local convenience store that are all maltodextrin, preservatives, and cheap fillers. Here's what to pay attention to while you shop around:
Calories Per Serving
As you've seen, the sheer amount of powder you have to drink with some of these brands to get in a serving can be staggering. So, you want to make sure it's worth your while. Check the serving size in terms of how many scoops and how many grams per scoop are in a mass gainer.
If it has you taking 4 scoops in a serving, but that will only get you 500 calories, it's a no. You may as well make yourself a big old meal and, at that point, is a mass gainer supplement really serving its purpose?
Saturated Fat
Healthy fats are usually necessary in a gainer protein powder. Compared to protein and carbohydrates, which both have 4 calories per gram, fat has 9 calories per gram, making it a really effective way to boost the calorie content of a mass gainer supplement.
Scoops Per Serving
It's important to be aware of what your threshold is in terms of how much volume you can consume at one time. In spite of the fact that there are some people who can drink a literal liter of a chocolate concoction that has thousands of calories, there are others who are likely not as enthusiastic about it.
Remember, the more scoops there are per serving, the more liquid you'll have to mix it in to make it drinkable. These mass gainers typically come in massive tubs! So, don't waste your hard-earned money committing to something you won't be able to consume the way it is designed to be consumed for maximum benefits.
Additional Ingredients
This is less important than the other guidelines above. However, they can definitely increase the value of a mass gainer supplement. If it contains other ingredients that can help you put on lean muscle mass or protect against muscle breakdown, that's a major plus. Ingredients like creatine, HMB, or glutamine can do nothing but help your weight gain goals.
FAQs About Protein Powder for Weight Gain
Can protein powder help me gain weight?
When used to help boost your daily calorie intake in addition to a high-calorie diet, protein powder can help with weight gain. If this is your goal, just be sure to select a protein powder that contains a large amount of calories in a single serving for efficiency.
What is mass gainer?
A mass gainer is a dietary supplement that is usually a high-calorie protein powder designed to supplement the diet to increase your daily calorie intake and promote healthy weight gain. Mass gainers typically contain fast-digesting carbohydrates and proteins along with some fats.
How much protein should I eat in a day if I want to gain weight?
As far as weight gain is concerned, there is no guideline for how much protein to consume since protein does not stand alone as a macronutrient that can induce weight. A surplus of calories from protein, carbohydrates, and fat are needed if one wants to gain weight.
These statements have not been evaluated by the Food and Drug Administration. This product is not intended to diagnose, treat, cure, or prevent any diseases.
References