We test and review fitness products based on an independent, multi-point methodology. If you use our links to purchase something, we may earn a commission. Read our disclosures.
I don't know about you, but I love talking about and looking at the best Olympic barbells on the market. Maybe it's the Olympic weightlifter in me, or the feel of a steel bar and bumper plates over your head, but I relish and delight in barbells. So when I heard REP Fitness was releasing some new barbells, I got excited.
Along with powerlifting and Olympic lifting barbells, REP Fitness has released their Colorado Bar, a multipurpose bar designed to do it all, and REP's new flagship bar. As their signature bar, a lot of pressure is on this barbell to perform, so how does it stack up? In this REP Fitness Colorado Bar review, we'll take a look at its specs, construction, and performance to see how it competes with other high-end barbells.
We've Tested So Many Barbells
Seriously, I have nightmares about the number of barbells we've tested (OK, not so seriously).
Hyperbole aside, it's no joke; our team of certified personal trainers, coaches, and athletes has tested lots of Olympic barbells, specialty bars, and curl bars since Coop Mitchell founded the website in 2014. Coop himself has had his hands on nearly 100 bars, and researched double that amount. We have the experience and knowledge to help you find quality products and gym equipment.
For the REP Colorado Bar, Coop was able to see and test it at REP's headquarters, as well as at our testing site, taking the multi-use barbell through a wide range of uses—squatting from a power rack, dropping from overhead, heavy deadlifts, and more.
REP Fitness Colorado Bar
GGR Score: 4.5
Product Highlights
20-kg Olympic barbell for mixed use

Hard chrome or cerakote coating with Duracoat sleeves

28.5 mm shaft diameter

Dual knurl markings for IPF and IWF

190 KSI tensile strength

Composite bushing
Pros & Cons
Pros
Durable composite bushings reduce noise when dropping
Medium volcano knurling
Dual knurl markings for IPF and IWF
Designed for versatile use
Free shipping
Different color options
28.5 mm shaft provides great grip
Cons
No center knurling, which may be important for some
Shaft diameter not to IWF specs
Bottom Line
The 20-kilogram Colorado Bar from REP Fitness is a durable, versatile Olympic barbell made for heavy powerlifting, Olympic weightlifting, and cycling weights in CrossFit workouts. The barbell has two knurl markings for IWF and IPF specs. The bar is available with a hard chrome finish or different-colored cerakote finishes with Duracoat on the sleeves. With composite bushings, the barbell provides decent spin and durability that helps dampen noise when dropping weights.
A Quick Look at the REP Fitness Colorado Bar
REP Fitness has recently released some new Olympic barbells, including the Alpine, Helios, and Hades bars. Each barbell is made for a specific purpose—weightlifting or powerlifting—but the Colorado Bar is a multi-use barbell, meaning it can be used pretty well for powerlifting, weightlifting, and high repetitions and drops.
The Colorado Bar is REP's signature bar, named after the state where REP headquarters are located, and where they engineered the barbell and its specs. However, it and other fitness equipment from REP are built and constructed overseas using imported materials. The imported materials help keep costs down while making high-quality equipment like this bar.
Being a multi-use barbell, the Colorado Bar is suited to be the only barbell you'd need in your home gym—aside from specialty bars, perhaps. It does it all: heavy lifting, Olympic lifts, repetitions, and drops from overhead.
RELATED: How to Deadlift Heavier
Before You Buy
Shots fired! With its name, REP has made the Colorado Bar a direct competitor to the Rogue Ohio Bar, each named after their respective headquarter's location.
To suit the versatile use of the bar, the shaft's diameter is right in between typical Olympic weightlifting and powerlifting specs, and there are dual knurl markings for IWF and IPF specifications.
The bar comes in two finishes, hard chrome or cerakote with Duracoat sleeves. For only $10 more, the cerakote and Duracoat finish will provide more lasting corrosion protection.
We'll mostly be discussing the 20-kilogram version in this article, but the Colorado Bar also has a 15-kilogram variation, with a 25-millimeter diameter suited for Olympic weightlifting, making it a great option as a barbell for women.
While the Colorado Bar has a lifetime warranty attached to it, it's not as robust of a warranty as other bars, only covering defects.
Video Review
Is the REP Fitness Colorado Bar Worth It?
The REP Fitness Colorado Bar is a well-made barbell with a lot going for it, but because of its name and specs, it's a direct competitor to Rogue's Ohio Bar. And while it is a close competition, it will mostly depend on your specific preferences on barbells.
One notable difference between the two bars is in durability. Looking at Rogue's F-scale ratings for barbell durability, REP's hard chrome and cerakote finishes are on the lower end of the ratings at F1-R and F2-R, respectively. They aren't rated to last in a CrossFit gym very well with so many repeated drops—only a few years for an F2-R rating. However, for garage gym use, both types of bars should last for a long time, 30 and 50 years, respectively.
Coop is a fan of the bar, but still leans toward the Rogue Ohio Bar as the barbell to go with if you're looking for one multipurpose barbell for your gym. Still, with a comparable price at just over $300 and nice features, he understands the appeal for the Colorado Bar, and predicts a lot of people will have a tough choice between the two barbells.
"This bar is fantastic," he says. "From REP's previous bars, this blows those away. This is now a true contender. There are many of you out there who I think are going to have a really hard time deciding between the Colorado Bar and the Ohio Bar, and if you're looking for a general purpose bar within that price range, these are the two you should be looking at."
Great for:
People looking for one barbell that can do it all
Lifters who want a quieter barbell for dropping
Those wanting a more aggressive medium knurling
Not recommended for:
Olympic weightlifters or powerlifters needing a dedicated bar
Gym owners who need longevity from their barbells
Those who prefer a stainless steel finish
REP Fitness Colorado Bar Specs
| | | |
| --- | --- | --- |
| | REP Colorado Bar, 20 kg | REP Colorado Bar, 15 kg |
| Price | $319 or $329 | $269 or $279 |
| Weight | 20 kg (44 lbs) | 15 kg (33 lbs) |
| Length | 86.6" | 79.1" |
| Loadable sleeve length | 16.1" | 12.4" |
| Shaft diameter | 28.5 mm | 25 mm |
| Shaft coating | Hard chrome or cerakote | Hard chrome or cerakote |
| Sleeve coating | Hard chrome or Duracoat | Hard chrome or Duracoat |
| Bushing/bearing | Composite bushings | Composite bushings |
| Tensile strength | 190 KSI | 190 KSI |
| Warranty | Lifetime | Lifetime |
Using the REP Fitness Colorado Bar
The Colorado Bar is made for versatile use; for a well-rounded athlete, it should be the only barbell you need in your garage gym. The shaft diameter sits at 28.5 millimeters, which is split between the 28 millimeters common for Olympic lifting and 29 millimeters used in powerlifting.
RELATED: How to Squat Heavier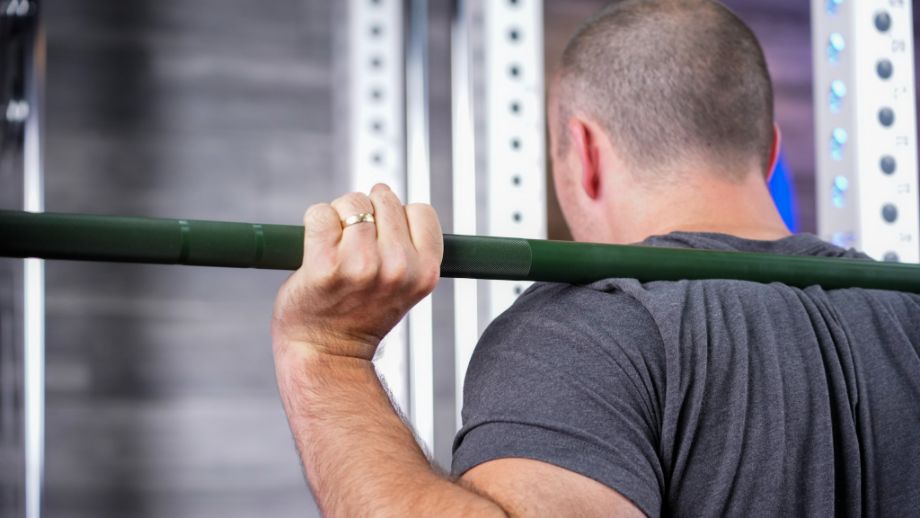 Additionally, the bar has dual knurl markings, made for both weightlifting and powerlifting federations (IWF and IPF) specs. There's no center knurl, however, to keep the bar feeling comfortable on the neck throughout high-rep CrossFit exercises like power cleans.
The bar uses composite bushings to provide a smooth spin as well as provide durability for drops. The composite bushings make for tighter tolerances, and less give or wobble between the sleeve and shaft. Not only does this help protect the bar on drops, but it also keeps the bar quieter during drops.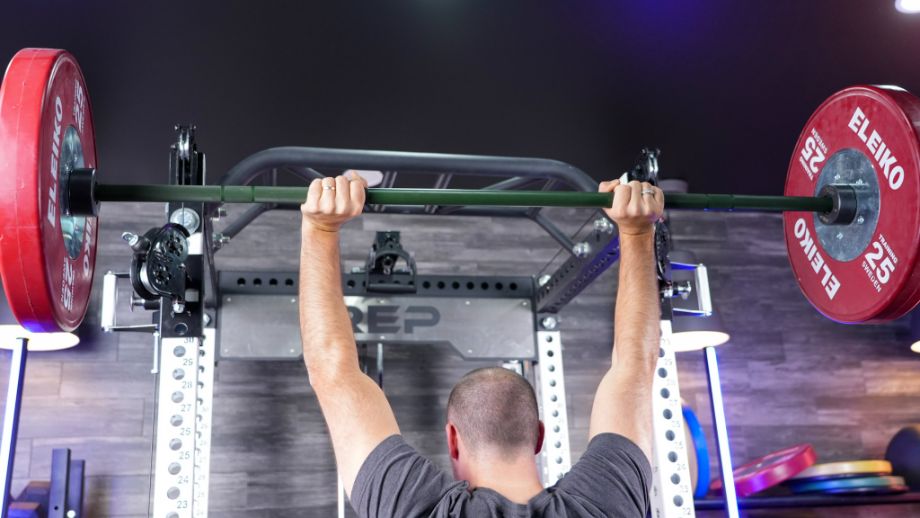 The tensile strength of the bar is rated at 190,000 pound-force per square inch (psi), which is a good middle-of-the-road tensile strength. It has a bit more bend and bar whip than a power bar, but not so much as to cause too much whip.
Construction
The REP Colorado Bar comes in two different coatings: hard chrome with hard chrome sleeves, or a cerakote shaft with Duracoat sleeves. Coop mentions that a third-party test done by Rogue found that chrome coatings can actually reduce the durability of a barbell by up to 50%. While the chrome bar should still last for years in a home gym setting, it may be best to go with the cerakote for corrosion resistance. Plus, they have color options!
The Duracoat on smooth sleeves is made to be durable. Not only does it provide corrosion resistance, but also wear resistance. Coop explains, "It's a coating that hardens the steel…it doesn't just go on top, which means when you put plates on this, you're not going to wear this out like you would with cerakote. What will happen is it will look silver, but all that is the metal flaking off of the plates…you wipe it off and it's good to go."
The cerakote is thin enough to not negatively affect the knurling, which is medium volcano knurling, and pretty good according to Coop. For a medium knurling, it's still a fairly aggressive knurling—more so than the Ohio Bar. Coop also notes that the knurling is finely done, with no imperfections, and stops short of the bushings so as to not wear them down.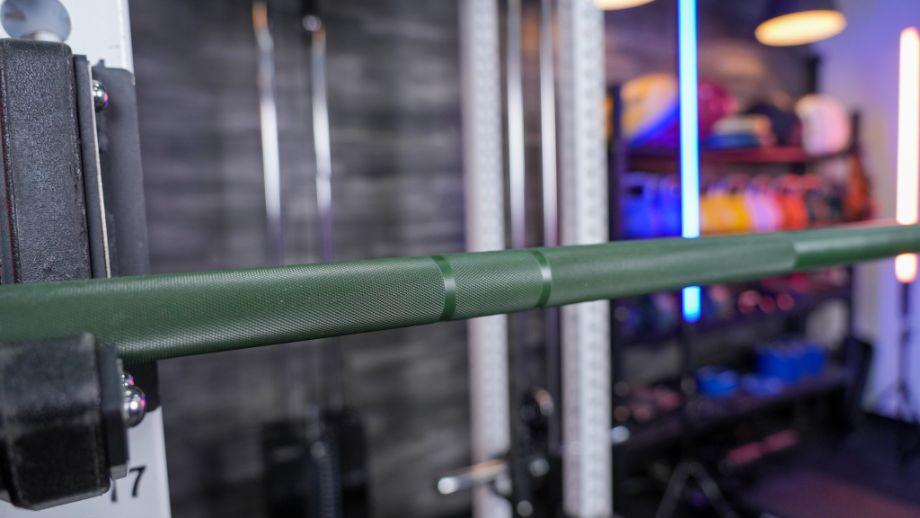 With composite bushings, the barbell has a tighter tolerance, which is much less wiggle on the sleeve, but it still provides good spin. Because of it being tight, the sound is quieter when dropped; you'll mostly just be hearing the impact of the weights against the floor and bar instead.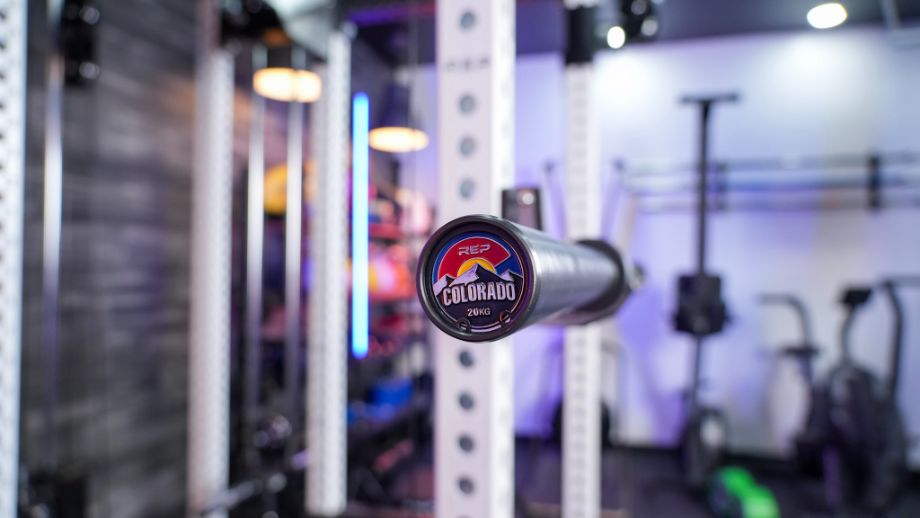 Because this is REP's signature premium bar, they made an effort to add those finer details. Along with a solid construction, the bar has the company logo laser-etched on the inside of the sleeve, as well as the name and weight of the bar. Coop was also excited to see the end caps of the barbell, as it's multi-layered and intricate. It's little details like this that make the bar like a premium, high-end barbell.
Durability
Coop had a few questions about the durability of the barbell, mostly looking at the F-scale research provided by Rogue Fitness, a measurement designed to measure durability. While not everyone is a fan of F-ratings, Coop likes to use it as it does seem pretty accurate.
When inputting the specs of the Colorado Bar into the F-rating calculator, the hard chrome bar was rated their lowest rating, F1-R, and the cerakote option was F2-R. In a home gym setting, this probably won't make a big difference, being that those bars are rated for 30 and 50 years of high repetitions and dropping, respectively. However, in a commercial CrossFit gym, they are rated for only 2 and 4 years.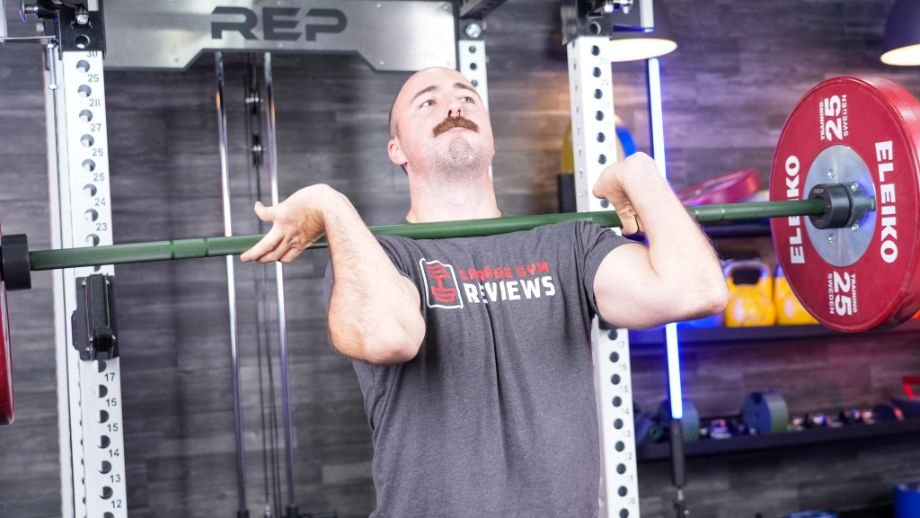 Again, for personal use in your own space, this shouldn't be a problem, but if you own a CrossFit box, it may be wise to look at the longevity of barbells.
Comparison to the Rogue Ohio Bar
Rogue Ohio Bar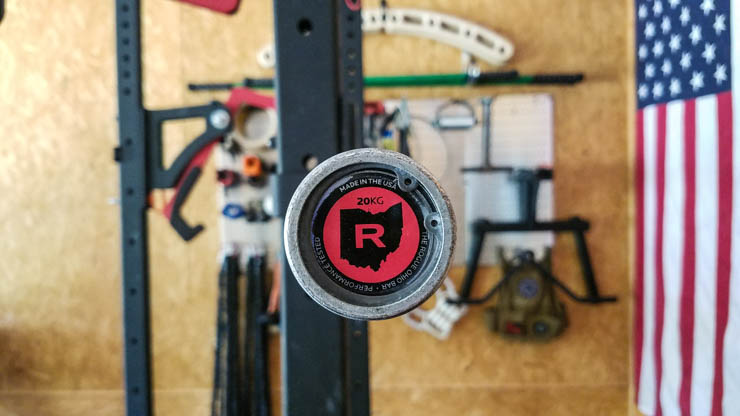 GGR Score: 4.6
Community Score: 3.2
Product Highlights
190K PSI tensile strength
Multipurpose bar with great versatility
Lifetime warranty
Bushing sleeves
Snap ring design
Made in USA
Pros & Cons
Pros
Made in the USA of US-Sourced Steel
Somewhat passive knurling
Grips with chalk
Great for a variety of training styles
Dual knurl marks
28.5-mm shaft
Bronze bushings
Lifetime warranty
Coatings include stainless steel, Cerakote, black zinc, and more.
190K tensile strength
Cons
Not outstanding for powerlifting or weightlifting in comparison to more specialized bars
Expensive
Diameter doesn't meet IWF standards
No center knurl, which may matter to some
Bottom Line
The Rogue Ohio Bar is one of the most iconic barbells in the world. It's been used at the CrossFit Games by some of the fittest athletes in the world and is just as well suited in your garage gym. The Ohio Bar is priced well despite its features and being made in the USA. Although we prefer the Rogue 2.0 Bar for its price, we don't blame you if you decide to spring for the Ohio Bar, although we'd suggest getting the Stainless Steel or Cerakote version.
It's hard not to talk about the Rogue Ohio Bar when we talk about the REP Colorado Bar. Not only do the bars have similar specifications, but the inspiration for their names is the same, based on each company's headquarters' location. Coop calls the Colorado Bar "a shot across the bow to Rogue Fitness," putting itself in direct competition with the Ohio Bar.
Looking at the specs, the barbells are very similar, with matching shaft diameters, tensile strengths, and knurl markings. They have a similar price point, as well, although Rogue offers a stainless steel option of the bar that raises the price significantly.
The composite bushings give the REP Colorado Bar a tighter tolerance and quieter sound when dropped. Coop noted it doesn't have the slight wiggle between sleeve and shaft that other bars have, like the Ohio Bar. Additionally, the Colorado Bar's knurling is a bit more aggressive, which Coop prefers in his bars.
Using the F-scale formed by Rogue, the Ohio Bar will be a more durable bar, although the Colorado Bar is still rated to last for years with home use. Additionally, the warranty from Rogue is a bit more robust, covering bends as well as defects, unlike REP's defects-only lifetime warranty.
The biggest difference between the two bars is where they were manufactured. While both are named after their headquarters, Rogue's Ohio Bar is made in the USA, whereas REP imports their fitness equipment from China. If you're looking to support American-made products, Rogue is the choice here. However, if that isn't a deciding factor, it will mostly come down to preference as to which one is best for you, since they are both high-quality bars.
Read more about the barbell in our in-depth Rogue Ohio Bar review.
| | | |
| --- | --- | --- |
| | REP Colorado Bar, 20 kg | Rogue Ohio Bar |
| Price | $319 or $330 | $295, $350, $370, or $465 |
| Weight | 20 kg (44 lbs) | 20 kg (44 lbs) |
| Length | 86.6" | 86.75" |
| Loadable sleeve length | 16.1" | 16.4" |
| Shaft diameter | 28.5 mm | 28.5 mm |
| Shaft coating | Hard chrome or cerakote | Black oxide, stainless steel, black zinc, E-coat, or cerakote |
| Sleeve coating | Hard chrome or Duracoat | Chrome, proprietary matte black, bright zinc, or stainless steel |
| Bushing/bearing | Composite bushings | Bronze bushings |
| Tensile strength | 190 KSI | 190 KSI |
| Warranty | Lifetime | Lifetime |
Customer Experience
REP Fitness provides a lifetime warranty on the Colorado Bar, although it only covers defects in the materials, functionality, or workmanship of the barbell. It won't cover bends like some other companies do.
Returns are accepted up to 30 days after receiving the product, unused and undamaged. You don't have to send it in the original packaging, but REP will charge you a 15% restocking fee…so it's best to return it in the original packaging and condition.
If you have questions about orders or products, REP is pretty easy to reach, as they have a phone number available during business hours, as well as an email address and contact form on the website.
Ordering the REP Fitness Colorado Bar
The REP Fitness Colorado Bar can be ordered directly from REP's website, and shipping is free for all online orders. The bar is shipped in a sturdy cardboard tube with plastic end caps; inside the tube, the bar is wrapped with plastic and foam is wrapped around the sleeves. This is pretty standard practice for shipping most Olympic barbells, and there was no damage on our bar when we received it.
Financing options are available through Affirm, although only on cart values over $650. So purchasing the Colorado Bar by itself won't qualify for financing.
Customer Reviews
At the time of this writing, there aren't many reviews for either the 20-kilogram or 15-kilogram version of the Colorado Bar, but reviews are overall positive, with the 20-kilogram bar having 4.6 out of 5 stars, from five reviews. Most people are happy with the product and its quality.
Complaints were mainly based on preference, as one person wished for more aggressive knurling and a 45-pound version, and another didn't like that the cerakote color didn't match his squat rack.
Final Verdict of Our REP Fitness Colorado Bar Review
The REP Fitness Colorado Bar is a fantastic piece of workmanship and engineering. Finer details were added to make this bar really feel like a premium barbell. It makes me excited to see the other barbells they've released.
Whether or not this is a better barbell for you than the Rogue Ohio Bar will ultimately depend on what's most important in your barbell. Because of the durability and warranty of the Ohio Bar, Coop favors Rogue in this debate. Still, with comparable pricing and durable composite bushings and Duracoat sleeves, the REP Colorado Bar is still a solid choice.
REP Fitness Colorado Bar Rating
REP Fitness Colorado Bar
REP's newest signature bar is here; in our REP Fitness Colorado Bar review, see how it stacks up to the competition.
Product Brand: REP Fitness
Product Currency: USD
Product Price: 319
Product In-Stock: InStock
REP Fitness Colorado Bar Review: FAQs
Who does REP Fitness ship through?
Currently, REP Fitness ships through two different carriers, UPS and FedEx.
What is the warranty on the REP Fitness Colorado Bar?
The REP Colorado Bar is covered by a lifetime warranty, although this warranty only covers defects in manufacturing.
What are the dimensions of the REP Fitness Colorado Bar?
The REP Fitness Colorado Bar is 86.6 inches long with a loadable sleeve length of 16.1 inches. It has a shaft diameter of 28.5 millimeters and a sleeve diameter of 50 millimeters, able to accept Olympic weight plates.