We test and review fitness products based on an independent, multi-point methodology. If you use our links to purchase something, we may earn a commission. Read our disclosures.
When it comes to treadmills, the expert product testers here at Garage Gym Reviews know a thing or two. Not only have we tested dozens ourselves, but we're also a group of fitness industry professionals—from certified personal trainers to Olympic athletes.
We think our eye for details when testing a cardio machine, reviewing specs, and reading user manuals allows us to help you when you're humming and hawing over your next home gym purchase.
That said, you're probably landing on this Horizon 7.4 AT vs Sole F80 showdown because you're toward the final stages of the treadmill buying process. Have no fear, we're going to lay out all the pros and cons of these two models so you can make a smart decision for your personal budget, space, and fitness goals.
Sole F80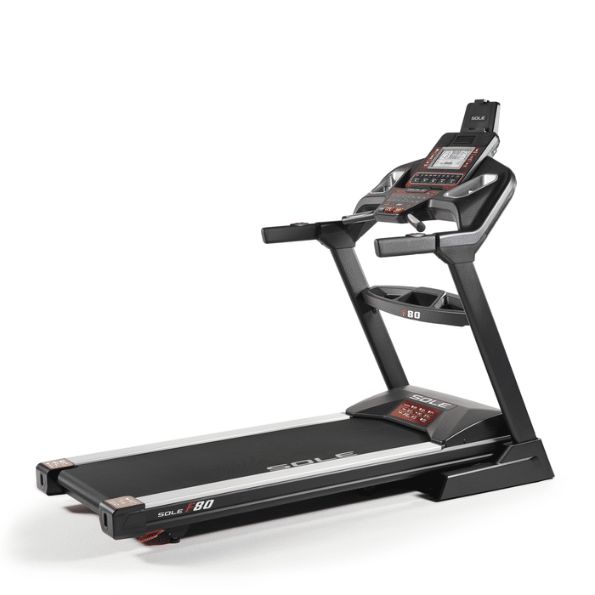 GGR Score: 4.0
Community Score: 4
Product Highlights
Foldable design
3.5 HP
12 mph max speed
Incline training up to 15%
60" L x 22" W running deck
350 lb weight capacity
Lifetime frame and motor warranty
Pros & Cons
Pros
3.5 horsepower motor supports heavy running
Extended running surface measuring 60 inches by 22 inches
Incline ranging 0-15%
Weight capacity: 375 pounds
4 transport wheels (most folding treadmills have 2)
Integrated Bluetooth speakers
USB port
Tablet holder
Heart rate chest strap included
Armrest controls
Strong and durable 3.5-horsepower motor
Lifetime warranty on frame and motor
Low step-up height
Cons
Users report cushioning not as shock absorbing as others
Small and basic display
Bottom Line
What the Sole F80 lacks in technology, it more than makes up for in durability and performance. With a 3.5 horsepower motor and a 60 inch long running deck, the Sole F80 is a great option for dedicated endurance athletes.
Horizon 7.4 AT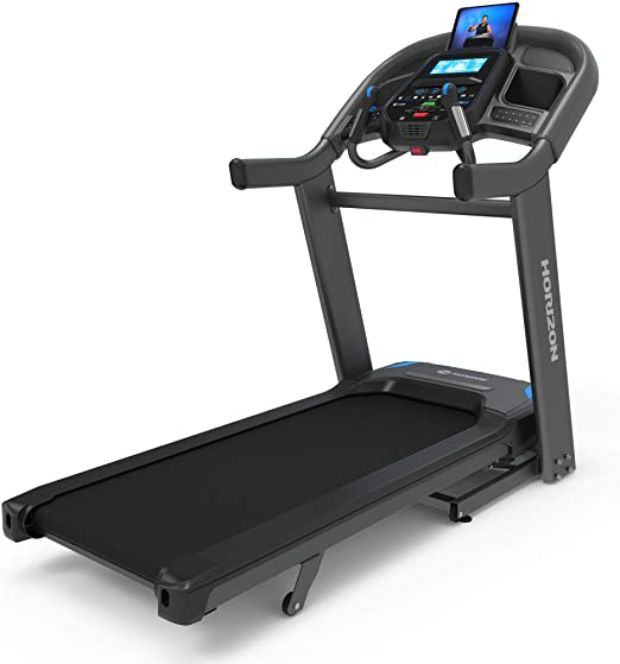 GGR Score: 4.2
Product Highlights
Foldable design
Deck cushioning
12 mph top speed
Incline up to 15%
350 lb use weight capacity
22" W x 60" L running area
Built-in workout programs
Lifetime frame and motor warranty
Pros & Cons
Pros
Generously sized running deck of 60 inches
User weight capacity of 350 lbs
Foldable
Sturdy and doesn't shake much while in use
Powerful 3.5 CHP motor
Cons
Large and not made for compact spaces
Heavy at 318 lbs
Lack of touchscreen/interactive programming
Bottom Line
If you're a serious runner and want a foldable treadmill you can trust, I would strongly recommend the Horizon 7.4. Although it doesn't have all the extra technology features (like interactive programming or a touchscreen) it is a well-build machine with a powerful motor.
Horizon 7.4 AT vs Sole F80 Comparison Chart
| | | |
| --- | --- | --- |
| | Sole F80 | Horizon 7.4 AT |
| Price | $1,799 | $1,599 |
| Footprint | 82.5" L x 38" W x 66" H | 76″ L x 37″ W x 63″ H |
| Running surface | 60" L x 20" W | 60" L x 22" W |
| Weight | 274 lbs | 318 lbs |
| Weight capacity | 350 lbs | 350 lbs |
| Foldable | Yes | Yes |
| Incline range | 0-15 levels | 0-15% |
| Top speeds | 12 mph | 12 mph |
| Motor | 3.5 HP | 3.5 CHP (not verified by Horizon) |
| Display | 10.1" touchscreen panel | 8.25" LCD screen |
| Built-in training programs | 10, plus fitness tests | 10 |
| Workout fan | Yes | Yes |
| Bluetooth speakers | Yes | Yes |
| USB port | No, wireless charging pad | Yes |
| Warranty | Lifetime frame and motor, 3-year parts, 2-year labor | Lifetime frame and motor, 3-year parts, 1-year labor |
Quick Look: Horizon 7.4 AT vs Sole F80
Calling all tall runners! Both the Horizon 7.4 AT and Sole F80 feature 60-inch-long running decks, giving you the ability to take your full and natural stride with those long legs.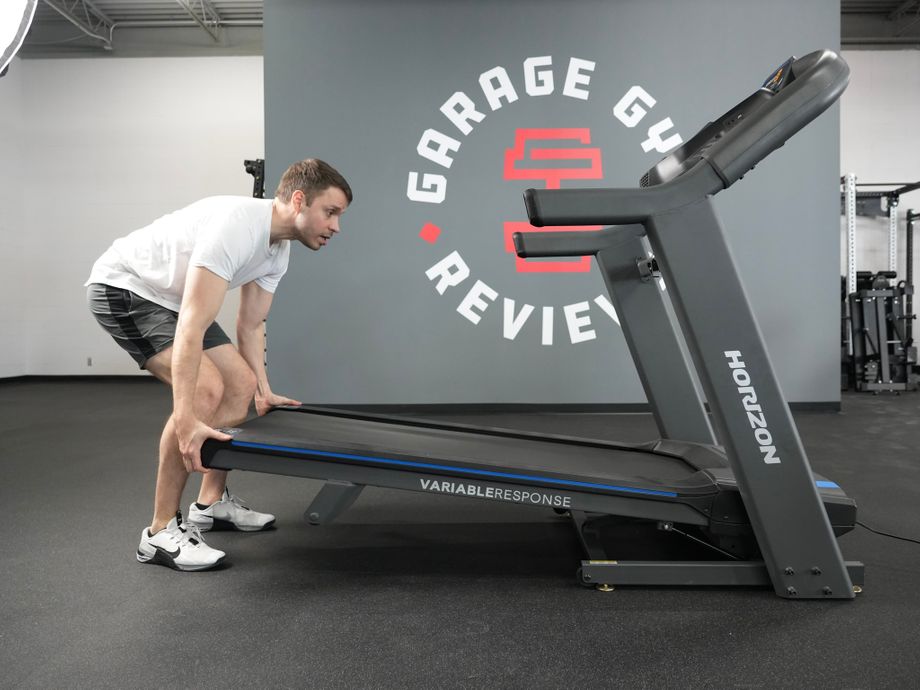 In addition to roomy running decks, both treadmills are designed to encounter serious miles with powerful motors, incline training options, and cushioned running decks. The Horizon 7.4 includes the brand's signature 3-zone variable response cushioning while the Sole F80 features a Cushion Flex Whisper Deck, which the brand claims can reduce the impact of running on asphalt up to 40 percent.
Additionally, it's worth mentioning that one of the standout features on the Horizon treadmill is the QuickDial control with rapid speed and incline adjustments. These dials, which are situated on upright handlebars perpendicular to the console, let you quickly make adjustments so you can follow along with interval training sessions on your favorite app. Although this feature is not quite like the automatic trainer control featured on iFIT-enabled treadmills, we think it's a convenient option.
The Sole F80 stands out as an overall high-quality treadmill machine equipped with built-in running programs and fitness tests geared toward military personnel. The F80 also recently underwent a redesign and now features a sleek new Z-shape aluminum frame and 10-inch touchscreen display (we'll get into the details of the F80 touchscreen a little later though). 
Who Should Buy Horizon 7.4 AT
Runners who want shock absorption with a 3-zone variable response cushioning system
Home gym owners looking to connect with popular fitness apps like Peloton, Zwift, and Nike Running Club
Folks who train HIIT and want to quickly change incline levels and speed with the QuickDial control wheel
Folks who want two methods for heart rate monitoring: pulse grip handlebars and included chest strap
Who Should Buy Sole F80
Folks looking for a touchscreen display and separate a tablet holder
Anyone looking for a low-profile folding treadmill
Runners looking for a powerful motor to keep up with top speeds and interval training
Anyone who wants to jam out to their own music during runs with Bluetooth speakers
People who are OK with using their own smartphone or tablet and setting it on the tablet holder that won't cover your workout metrics
Key Similarities Between Horizon 7.4 AT and Sole F80
Foldable design
Deck cushioning
Top speeds of 12 mph
Incline training up to 15 levels 
350-lb user weight capacity 
Includes 10 preset workout programs 
Console features built-in cooling fans
Bluetooth speakers
Lifetime frame and motor warranties
Sizable 60″ running decks
Pulse grip sensors for quick heart rate monitoring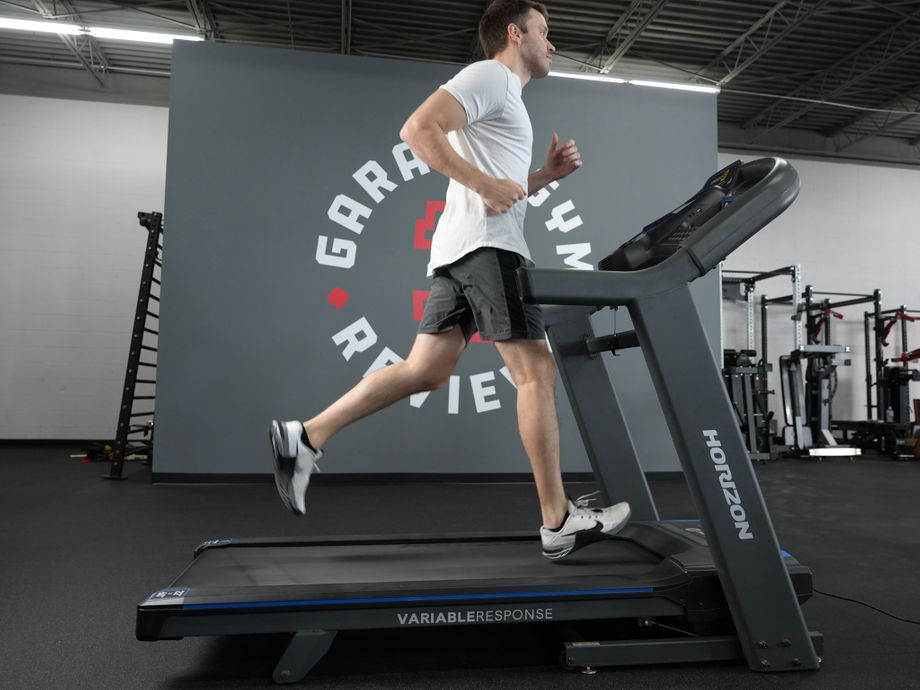 Important Differences Between Sole F80 and Horizon 7.4 AT
The Sole F80 has a 10-inch touchscreen display
Running deck on the Horizon is 2 inches wider
F80 has built-in fitness tests geared toward military training
F80 has wireless charging pad, 4.7 AT has a USB port
The Horizon is heavier than the Sole by 44 pounds
Horizon 7.4 AT comes with a Bluetooth 4.0 chest strap heart rate monitor
Sole F80 vs Horizon 7.4 Technology Comparison
At first glance it might seem like both the F80 and 7.4 AT lack the bells and whistles you might see on high-end treadmills like Peloton and NordicTrack. However, if you use your own smartphone or tablet, you can use Bluetooth connectivity to utilize several different popular fitness apps on either machine.
Our product testers agree that having the option to use nearly any app is appealing, rather than being stuck paying the membership on just one (that you might not love!).
The redesigned Sole F80 features a 10-inch touchscreen display that allows you to create multiple user profiles, save settings, and track your workout progress. Although we haven't personally tested the revamped F80, the website states that the touch screen will also allow you to mirror your smart device to the F80 screen so you can enjoy all the features of your own device. The website states you will also be able to use the built-in apps to watch shows or news (although it does not list out the apps featured). 
I also think it's worth mentioning that Sole F80 comes with a 90-day STUDIO fitness app free trial. This app features over 3,000 on-demand cardio workouts for treadmills, ellipticals, rowers, exercise bikes, and even strength-training sessions. However, after the trial, your membership will automatically renew monthly at $19.99.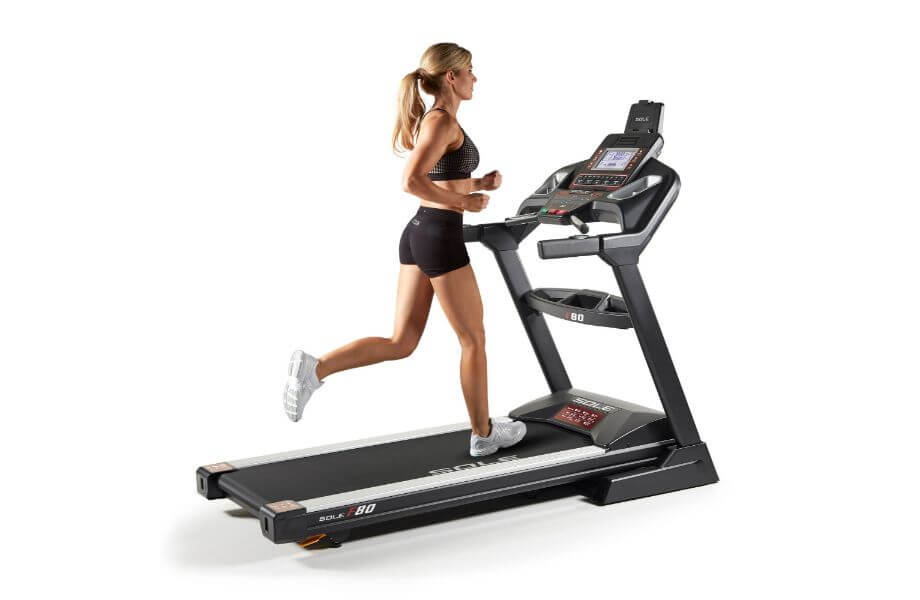 The 7.4 AT is part of the Horizon Studio series, which are engineered to connect with popular fitness apps like Peloton, Daily Burn, Apple Fitness, and Nike Running Club. You will also be able to stream entertainment apps like Spotify, Netflix, Hulu, and YouTube. When it comes down to it, both machines allow for flexibility when it comes to app use and entertainment streaming.
Sole F80 vs Horizon 7.4 Construction
Product tester and reviews writer, Anthony O'Reilly noticed while testing the Horizon treadmill, that it felt like a solid machine. "The maximum user weight is 350 pounds, so it should withstand frequent use even if run on by multiple people," he said.
He also liked the fact the running area was 60 inches long to accommodate his long strides and 22 inches wide to offer more room than usual in the width department. Even though there is a spacious running deck equipped with deck cushioning, Anthony does mention that there are quite a few plastic parts, which don't always hold up well to wear and tear.
Anthony is a fan of the Horizon, but thinks it's worth mentioning that although foldable, it's still pretty big saying that, "even folded it takes up more than 3 feet in width, and close to 6 feet in height." 
Speaking of the overall footprint, if you're worried about that, I will say that the Sole F80 is about 6 inches shorter in length and 3 inches less in height.
Although we haven't yet tried the redesign, we're already fans of Sole treadmills and believe it will be a solid (and sleek) home treadmill option. It now features a stylish Z-shape aluminum frame with a low-profile motor hood.
Although Horizon does not disclose the horsepower of its treadmill motors, based on our experience with the brand and other similar treadmills, we believe it has a 3.5 CHP motor, which is ideal for sprinting and long distance running alike. The Sole F80 also has a 3.5 HP motor that will also suit all your running needs.
Company Policies
We're going to break down important company policies for both Horizon Fitness and Sole Fitness so you know what to expect with a purchase from either brand.
Treadmill Warranty
Our product experts agree that both Sole and Horizon Fitness have some of the best treadmill warranties on the market, with lifetime frame and motor warranties to protect your purchase.
The industry standard we typically see for big name brands is around 15 years on the frame alone, however some brands even fall below that standard with 10-year policies (looking at you, NordicTrack and ProForm).
In addition to a lifetime warranty on the frame and motor, the Horizon 7.4 AT treadmill also offers three years on parts and two years on labor. Sole Fitness is similar with three years on parts and only one year on labor.
Treadmill Return Policy
The return policy is another similar feature to both brands—you'll have a 30-day guarantee from the date of your treadmill delivery. If you find that you're not totally thrilled with your new treadmill, you'll have this 30-day window to request a return from the manufacturer.
Sole Fitness offers a convenient service that will pick up your treadmill in the same method you had it delivered. That means Sole won't charge you for shipping, handling, or restocking fees.
Horizon on the other hand will require customers to pay for shipping and handling, and return it in the original packaging, too. It's also worth mentioning that some items might even get hit with a restocking fee when you make a return.
Financing Your Treadmill
The good news about buying a really expensive treadmill like the 7.4 AT or the F80 is the fact you can use pay-over-time methods. Both brands use Citizens Bank to provide loan options for fitness equipment.
With either brand, you will need to apply for treadmill financing during the checkout process. If you qualify, Sole Fitness allows you to get 0% on the first 12 months while Horizon offers 0% with terms ranging from 6 to 36 months. Loan terms can vary and rates can range up to 29.99% depending on your credit history.
Final Thoughts on Horizon 7.4 AT vs Sole F80 Treadmill Review
You may have noticed by now that the Horizon 7.4 AT and the Sole F80 have a lot of similar features including price range, weight capacity, and top speeds. We know this is confusing, so we decided to leave you with the key differences to help you make your decision:
The running area on the Horizon 7.4 AT treadmill offers 2 inches more width to the running belt for a spacious experience.
The Sole F80 has a built-in Android touchscreen display that allows you to use built-in apps or mirror your phone or tablet onto the display.
Horizon is designed to connect with popular fitness apps like Peloton, Daily Burn, and Nike.
Although both machines offer built-in pulse grips for monitoring your heart rate, the Horizon 7.4 comes with a Bluetooth 4.0 chest strap heart rate monitor so you have hands-free options, too.
FAQs: Horizon 7.4 AT vs Sole F80
Is Horizon or Sole a better treadmill?
Horizon and Sole are two brands with a variety of treadmills that can fit a wide range of budgets. There are multiple models from each brand that are highly comparable in price, footprint, and overall specs. We've actually compared the Horizon 7.0 vs Sole F63 in a matchup of affordable treadmills. Ultimately, the best treadmill depends on your space, budget, and your goals. 
What treadmill is comparable to a Sole F80?
Not only is the Sole F80 comparable to the other treadmills in the Sole lineup (like the F60, F63, and F85), but several Horizon treadmills, as well. The Sole F80 more similarly compares to the Horizon 7.4 AT treadmill that we break down in the comparison treadmill review. 
Is Horizon a good treadmill company?
Horizon Fitness is a solid option when it comes to buying a home treadmill. The brand offers lifetime warranties on the frame and motor of the treadmill along with powerful motors, cushioned decks, and app integration with Bluetooth technology. 
Which Sole treadmill has decline?
The Sole TT8 offers both incline and decline training. You will be able to decline the treadmill six levels and set the incline up to 15 levels.