We test and review fitness products based on an independent, multi-point methodology. If you use our links to purchase something, we may earn a commission. Read our disclosures.
The treadmill buying process can get complicated with all the specs, high-tech screens, and varying price ranges. The thing is, buying a treadmill shouldn't have to feel like such a chore. I'd even like to take a moment to congratulate you for starting your journey to better cardiovascular health!
That said, you've probably stumbled on this comparison because you've been shopping for a while and you've finally narrowed it down to two models: Sole F63 vs Horizon 7.0.
Both the Sole F63 and Horizon 7.0 are relatively affordable and offer a lot of power for a home treadmill. Neither machine offers a touchscreen display, however that doesn't mean either machine is archaic—you'll still have the option to use your smartphone or tablet to connect to popular fitness apps.
Sole F63
GGR Score: 4.3
Community Score: 3.2
Product Highlights
Folding treadmill
Costs around $1,000

Heart rate chest strap included

Bluetooth speakers, USB port, and cooling fan

Powerful 3.0 HP motor
Pros & Cons
Pros
Financing is available
Bluetooth speakers
USB port
Device holder
15 different levels of incline
Cushioned deck
20" W x 60" L belt
325-lb weight capacity
Lifetime frame and motor warranty
Cons
Heavy machine
No touchscreen
Bottom Line
The Sole F63 Treadmill is an affordable option for people who want a powerful, reliable machine without breaking their budget.
Horizon 7.0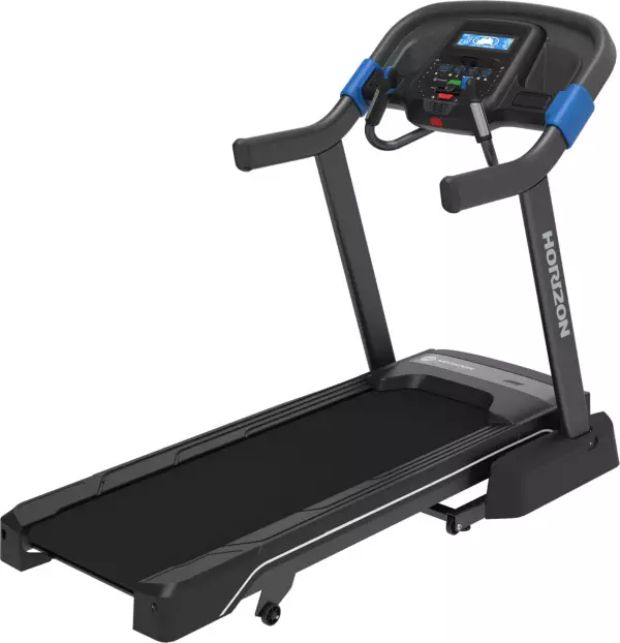 GGR Score: 4.0
Product Highlights
Priced under $1,000
Spacious 60-inch running deck
Bluetooth connectivity
QuickDial controls for both the speed and incline
Pros & Cons
Pros
60" running surface
3.0 CHP motor
Bluetooth connectivity with apps like Zwift, Peloton, and Nike Running Club
325 lb weight limit
Cons
Heavy machine at over 250 lbs
No included touchscreen
3-year parts warranty and 1-year labor warranties are less than the Horizon 7.4 AT Treadmill
Bottom Line
For under $1,000, the Horizon 7.0 AT is a great option for people who want to use their treadmill to run.
Sole F63 vs Horizon 7.0 Comparison Chart
| | | |
| --- | --- | --- |
| | Sole F63 | Horizon 7.0 AT |
| Price | About $1,000 | About $1,000 |
| Footprint | 82" L x 35" W x 66" H | 76" L x 35" W x 66" H |
| Running deck | 60" L x 20" W | 60" L x 20" W |
| Weight | 254 lbs | 277 lbs |
| Weight capacity | 325 lbs | 325 lbs |
| Foldable | Yes | Yes |
| Incline range | 0-15 levels | 0-15% |
| Top speeds | 12 mph | 12 mph |
| Motor | 3.0 CHP | Not disclosed |
| Display | 6.5" LCD screen | 7.25" LCD screen, 4 LED windows |
| Built-in workout programs | 10 | 7, plus manual mode |
| Cooling fan | Yes | Yes |
| Bluetooth speakers | Yes | Yes |
| USB port | Yes | Yes |
| Warranty | Lifetime frame and motor, 3-year parts, 1-year labor | Lifetime frame and motor, 3-year parts, 1-year labor |
Quick Look: Sole F63 vs Horizon 7.0
Sole Fitness and Horizon Fitness cater to budget-conscious shoppers who are willing to omit high-tech features for more affordable prices. Both machines are suitable for runners, reach top speeds of 12 mph, and feature incline training—all features we see in some of the best treadmills for home use.
Additionally, the Sole F63 and Horizon 7.0 AT have similar qualities—neither model features a touchscreen, both brands offer a lifetime warranty on the frame and motor, and the tread belts are 60 inches long, which will be suitable for short and tall runners alike.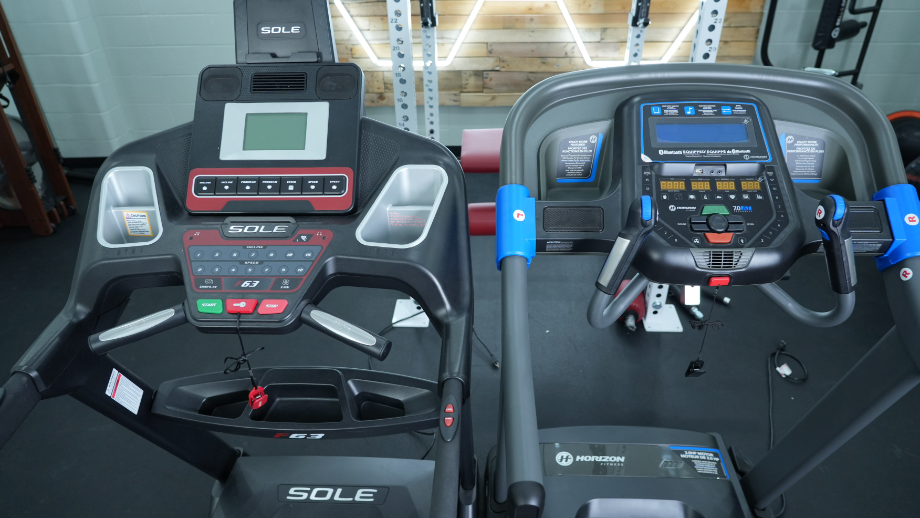 Our expert product testers here at GGR have tested and written in-depth reviews on both the Sole F63 and the Horizon 7.0 AT. Both treadmills offer a solid option for beginners, folks who are not super tech-savvy, and anyone whose budget is right around $1,000. Be sure to check out our detailed reviews on either treadmill before you click add to cart.
Who Should Buy The Sole F63 Treadmill
Anyone who wants two methods for monitoring heart rate: pulse grip handlebars or the included chest strap
Taller folks who need a 60-inch-long running deck for a full stride
Folks looking for a powerful motor that can withstand top running speeds
Anyone looking for a separate tablet holder that does not interfere with the metrics displayed on the LCD screen
Who Should Buy Horizon 7.0 AT Treadmill
Home gym owners looking for a folding treadmill
Folks looking for a budget machine with the ability to connect with popular fitness apps like Peloton, Zwift, and Nike Running Club
Anyone who want a method to quickly change speed and incline with Horizon's QuickDial control wheel
Anyone who wants or needs deck cushioning
Key Similarities Between Sole F63 and Horizon 7.0
12 mph top speeds
15 levels of incline
325-lb user weight capacity
Basic LCD displays
Built-in programs
Built-in cooling fans
Bluetooth speakers
Lifetime frame and motor warranties
60″ running decks
Both can connect to Studio fitness app
Comes with chest strap heart rate monitor
Important Differences Between Horizon 7.0 and Sole F63
Motor horsepower is not disclosed on the Horizon 7.0, while the Sole F63 features a 3.0 CHP motor
Horizon 7.0 has a unique rolling dial for speed and incline changes called QuickDial
The Sole F63 has a slightly larger footprint than the Horizon 7.0 (about 6″ longer)
The LCD screen on the Horizon is a half inch larger than the Sole F63
Tablet holder on the F63 does not cover workout metrics
Horizon 7.0 AT features deck cushioning, while the Sole F63 does not
Horizon 7.0 vs Sole F63 Tech Comparison
Here's the thing: Neither the Sole F63 or the Horizon 7.0 offer a built-in touchscreen, on-demand classes, jovial personal trainers, and perfectly synced metrics like you might see on an iFIT-enabled machine like NordicTrack or ProForm.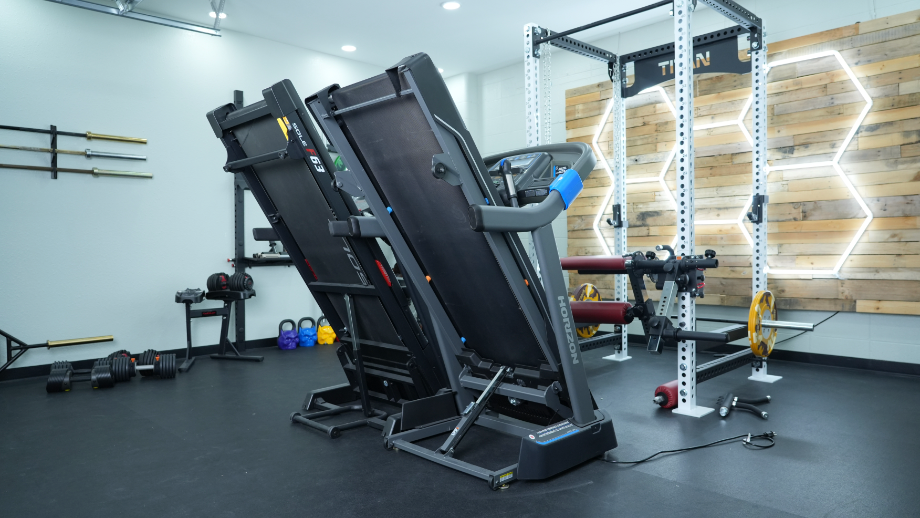 That said, neither of these machines are completely void of tech—you will just be required to use your own device. The Horizon Studio series treadmills (which includes the 7.0 AT model) are engineered to connect with popular fitness apps like Peloton, Daily Burn, Apple Fitness, and Nike Running Club.
However, not all apps have the same connectivity options—some apps will be able to use the Bluetooth connection for audio and media center controls, while other apps will be able to do more (like transmit more data like speed, distance traveled, elapsed time, and heart rate). If you have a preferred app, it's worth checking to see if it's fully compatible with the Horizon Studio series treadmills.
The Sole F63 comes with a 90-day trial to STUDIO fitness app, which features over 3,000 on-demand cardio workouts for treadmills, ellipticals, rowers, exercise bikes, and even strength training sessions. After the trial, the membership for STUDIO will cost about $20 per month.
It's also worth noting both treadmills have a handful of built-in workout programs you can cycle through like fat burning runs, hill climbs, and target heart rate sessions.
Sole F63 vs Horizon 7.0 Construction
Both treadmills offer spacious, 60-inch-long and 20-inch-wide running decks that can accommodate anyone with a long stride. They also both feature 325-pound user weight capacities, which makes both machines suitable options for heavier folks.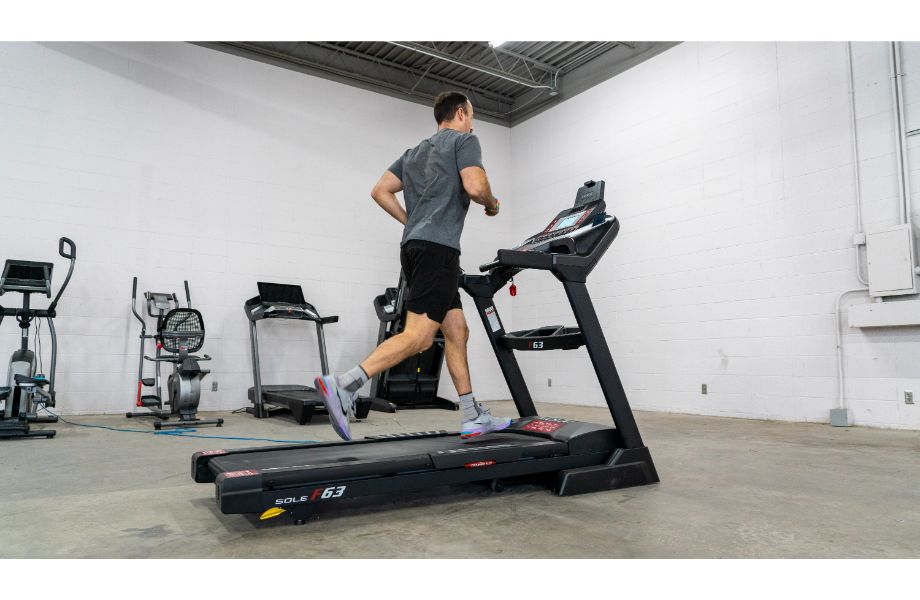 In our Sole F63 treadmill review, OG product tester and founder of Garage Gym Reviews, Coop Mitchell, notes that the F63 does shake slightly at running speeds. Coop also notes that for the price, some amount of shaking is to be expected.
However, a former GGR product tester who put the Horizon 7.0 to the test did not have any trouble with shaking but did notice the construction on the 7.0 features a lot of plastic. I mention this because Coop is not a fan of plastic sheathing and counterparts and often calls out plastic and its inability to stand up to heavy wear and tear.
It's also worth mentioning that the Horizon website does not disclose the horsepower of the motor in the 7.0 treadmill, which I find a bit odd. Sole Fitness, on the other hand, boasts about the 3.0 CHP motor in the F63, which is powerful enough for continuous running.
Company Policies
Here is an overview of the policies you want be aware of when buying a treadmill and a breakdown of what to expect with both brands:
Treadmill Warranty
Both machines have exceptional warranty policies, offering you extra peace of mind with a lifetime warranty on both the frame and motor. For reference, the industry standard for warranties typically does not exceed 15 years on the frame.
You'll also be covered with a 3-year warranty on parts and 1-year warranty on labor with either brand. It's worth noting that Horizon Fitness does allow you to purchase warranty boosts to enhance your coverage on parts and labor for up to five years for an additional fee.
Additionally, it's important to mention that both brands will require you to register your treadmill on the website in order to make a warranty claim if an issue arises.
Treadmill Return Policies
Both Sole and Horizon offer a 30-day guarantee window from the date of delivery. That means if you are not fully satisfied with your treadmill you'll have 30 days to contact the manufacturer and get your return in motion. It's important to note that each brand has a different method of requesting return authorization (Sole requires email contact and Horizon has a specific form to fill out).
If you need to return your treadmill, both brands only accept returns during the first 30 days after delivery. Horizon Fitness requires you, the customer, to return the treadmill in the original packaging, in like-new condition, and pay for shipping and handling fees back to the manufacturer. You may even be on the hook for a restocking fee.
Sole Fitness has a slightly different method and (in most cases) will pick up treadmills in the same method as they were delivered, so you won't be on the hook for all the hassles of shipping it back, which we find is pretty uncommon.
Financing Your Treadmill
Before we get into the financing options, I think it's worth mentioning that I have seen both the Sole F63 and the Horizon 7.0 fluctuate a little in price, which is usually related to a holiday sale. That said, both machines are around $1,000 but if you head over to one of the websites and see a different price tag, just remember I'm giving you a ballpark!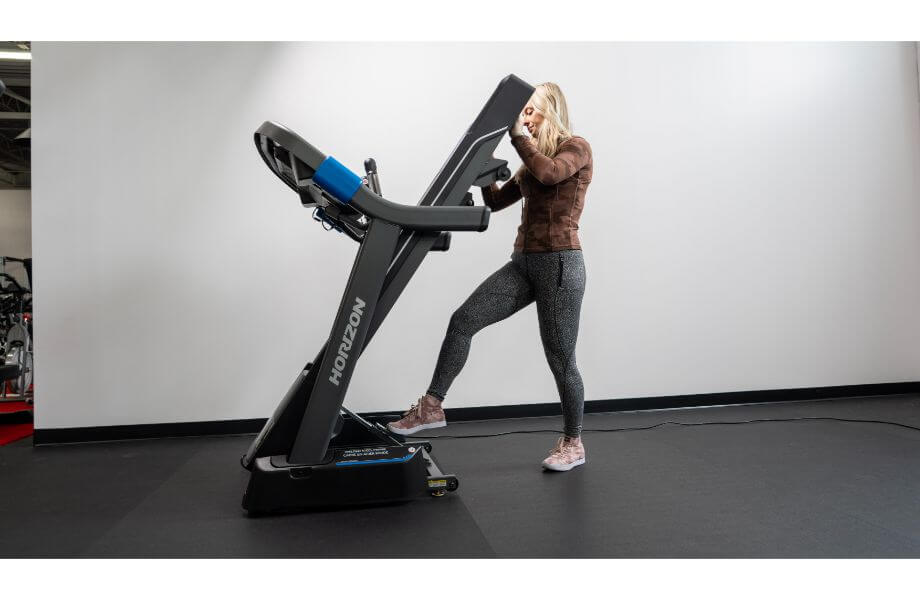 All that said, both brands offer 0% financing options if you qualify. Sole offers financing with a Citizens Pay Line of Credit with Citizens Bank. If you qualify, you can receive the first 12 months at 0% APR, while the standard rate is 29.99% APR. Your rate depends on your credit score.
Horizon also uses Citizens Bank for lending options and allows you to have 0% APR with terms ranging from 6 to 36 months if you qualify, with the same 29.99% as the standard purchase rate.
Final Thoughts
If you read through this comparison, you may have noticed the Sole F63 and Horizon 7.0 AT are nearly identical treadmills. They have the same deck size, weight capacity, price range, and top speeds.
If you're still on the fence, here is a quick rundown on the difference between the Sole F63 and the Horizon 7.0 AT:
The Horizon 7.0 AT features QuickDial controls, which are unique controls that look like vertical handlebars off the console with dials for rapid speed and incline changes.
Horizon Fitness does not disclose the motor horsepower of the 7.0 AT treadmill.
While nearly the same in width and height, the footprint of the Sole F63 is about 6 inches longer in length.
The Sole F63 does not feature deck cushioning, while the Horizon 7.0 has a three-zone cushioned deck.
The LCD screen is slightly larger on the Horizon 7.0, but the Sole F63 features a tablet holder that does not cover up the display.
FAQs
Is Horizon or Sole a better treadmill?
The best treadmill for your home gym will depend on your space, budget, and your fitness goals. That said, it's a tough choice between Horizon and Sole. The Horizon 7.0 AT and the Sole F63 offer a lot of similar specs for home gym owners, including the fact they are priced similarly. Both brands offer lifetime warranties on the frame and motor, which is pretty exceptional for a home treadmill. 
Does the Horizon 7.0 AT treadmill have a fan?
Yes, the Horizon 7.0 AT features a built-in workout fan. 
How long does the Sole F63 last?
Our experts at Garage Gym Reviews expect a quality treadmill like the Sole F63 to last a long time, even upwards of 10 years. However, the longevity of a treadmill is dependent on how much use it gets, how much time is spent at top speeds, and how you maintain your machine. 
What are the top 5 home treadmills?