We test and review fitness products based on an independent, multi-point methodology. If you use our links to purchase something, we may earn a commission. Read our disclosures.
When it comes to low-impact, full-body workouts, an elliptical trainer can be a terrific option for your home gym. I like the fact that ellipticals put your body in a position similar to walking, which can help strengthen and lengthen your hip flexors that shorten from long durations of sitting (like during an eight-hour day at your desk). I also like that the best ellipticals have incline training options to give you an even more customized workout experience and help to train different muscle groups.
Sole Fitness ellipticals are not super high-tech with built-in touchscreens, but if you don't care about the latest and greatest in fitness tech, perhaps the simple, easy-to-read LCD displays are up your alley.
Sole ellipticals are made from heavy-duty steel and feature electromagnetic resistance, which is powered by eddy current brakes (this is a high-quality detail that I'll explain later). What you need to know right now is that Sole Fitness has a roster of seven different cross trainers to choose from. In this collective Sole elliptical review, I plan to help you determine the best machine for your home gym.
We Test Cardio Equipment So You Don't Have To
Our expert product testers have tried just about every type of fitness equipment you can buy from Sole Fitness. Collectively, we've had our hands on Sole Fitness treadmills, ellipticals, and rowers. Not only do we test equipment, we're also a group of fitness fanatics including former college athletes, CrossFit Level 1 Trainers, certified personal trainers, and nutrition coaches.
Sole Fitness Elliptical Lineup
Sole Fitness Elliptical Comparison Chart
| | | | | | | | |
| --- | --- | --- | --- | --- | --- | --- | --- |
| | Sole E25 | Sole E35 | Sole E55 | Sole E95 | Sole E98 | Sole E95S | Sole E20 |
| Price | $1,099 | $1,399 | $1,499 | $1,699 | $2,299 | $2,199 | $799 |
| Footprint | 70" L x 24" W x 71" H | 82" L x 31" W x 71" H | 71" L x 27" W x 71" H | 82" L x 31" W x 71" H | 82" L x 31" W x 71" H | 84" L x 32" W x 71" H | Not listed |
| Weight | 212 lbs | 231 lbs | 214 lbs | 236 lbs | 249 lbs | 265 lbs | Not listed |
| Weight Capacity | 350 lbs | 375 lbs | 375 lbs | 400 lbs | 400 lbs | 400 lbs | Not listed |
| Display | 6.5" LCD | 7.5" LCD | 9" LCD | 10" LCD | 10" LCD | 10" LCD | 5.5" LED |
| Incline | 20 levels | 20 levels | 20 levels | 20 levels | 20 levels | No | Manual incline |
| Drive | Front | Front | Front | Front | Front | Front | Front |
| Flywheel | 20 lbs | 25 lbs | 20 lbs | 27 lbs | 32 lbs | 30 lbs | 14 lbs |
| Resistance | ECB | ECB | ECB | ECB | ECB | ECB | ECB |
| Stride length | 20" | 20" | 20" | 20" | 20" | 18-24" | 18" |
| Preset workouts | 10 | 10 | 10 | 10 | 10 | 10 | 8 |
| Warranty | Lifetime frame, 3-year parts and electronics, 1-year labor | Lifetime frame, 5-year electronics and parts, 2-year labor | Lifetime frame, 5-year electronics and parts, 2-year labor | Lifetime frame, 5-year electronics and parts, 2-year labor | Lifetime frame, 5-year electronics and parts, 2-year labor | Lifetime frame, 5-year electronics and parts, 2-year labor | Lifetime frame, 3-year electronics, 1-year parts and labor |
| Bluetooth | Yes | Yes | Yes | Yes | Yes | Yes | No |
Which Sole Elliptical Should You Buy?
The Sole Fitness elliptical lineup is made up of seven options, the E20 being the least expensive (coming in well below $1,000) and the Sole E98 being the most expensive (priced over $2,000). While shopping for a Sole Fitness elliptical, it's good to know that the specs are much the same.
Each machine has similar features (like front-drive systems, built-in speakers, water bottle holders, and cooling fans), but you will notice the less expensive models will have a lighter flywheel, and tolerate less for maximum user weight. Each of the ellipticals are similar in size and all come with preset workouts built-in to the machine. You will also notice all models have a lifetime frame warranty, but offer different warranty policies on electronics, parts, and labor at each price range. 
RELATED: Elliptical Workouts for Beginners
Sole E25
Good for: Anyone looking for a solid elliptical machine at a economical price
Sole E25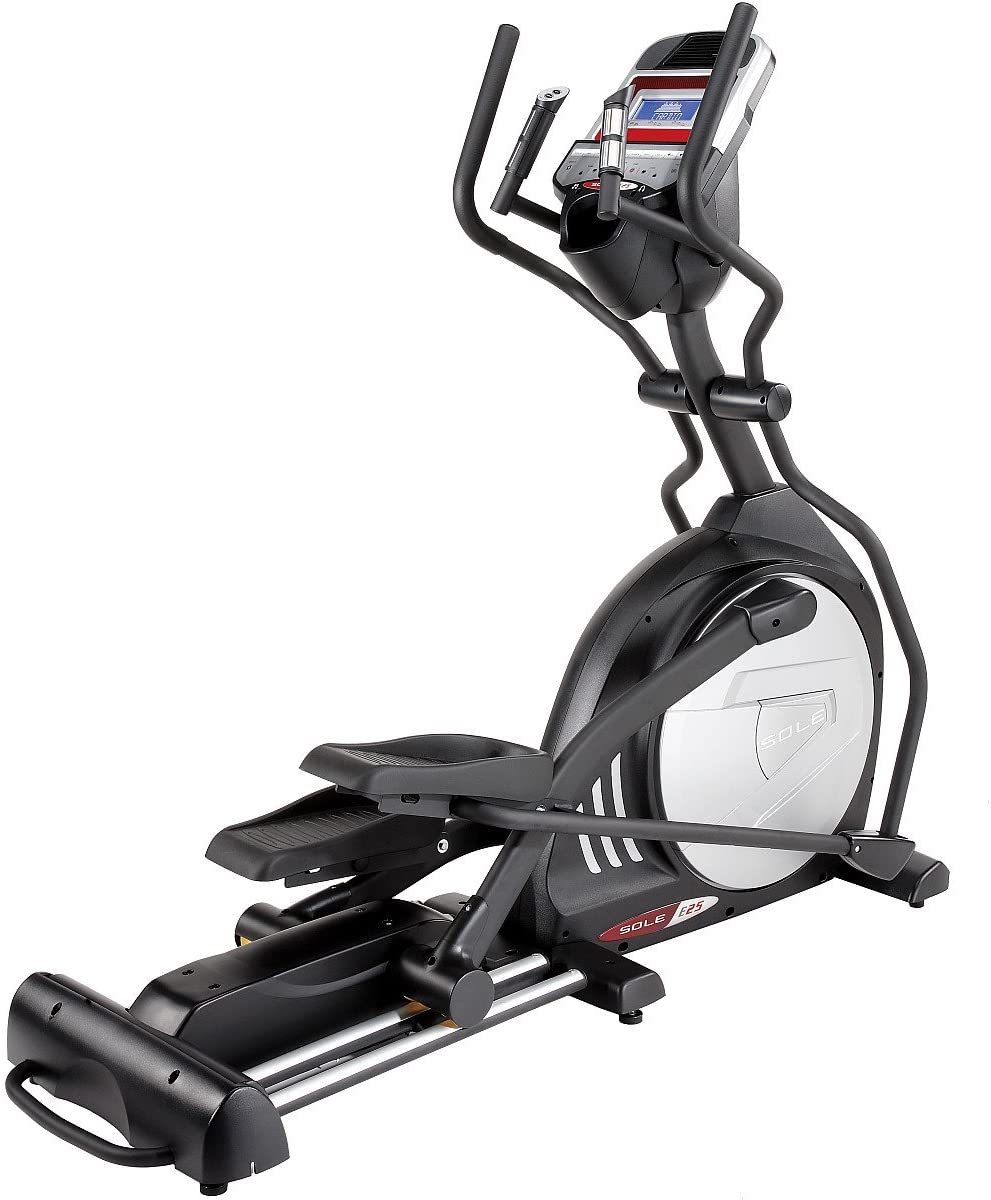 Sole E25
The SOLE E25 Elliptical provides effective workouts through its use of comfort and natural feel. The quiet front drive system, inward foot pedal design, and heavy duty steel frame all create a smooth, effective workout. In addition to the challenging workout programs, the E25 also now includes blue tooth audio and technology. Plus, enjoy a 30-day free trial of STUDIO with the purchase of a a SOLE machine. STUDIO is $19.99 per month and allows users to view a variety of workout classes on-demand.
Pros:
Heart rate monitor chest strap included
Lifetime frame warranty
350-lb user weight capacity
Cons:
Difficult assembly process
Bulky footprint
Non-cushioned pedals
The Sole E25 has a lot to like, including a reasonable price point right around $1,000 and a lifetime warranty. Although it does not feature the heaviest flywheel, the 20-pounder will do well for most people. And what's more, the 20 levels of resistance will give you enough intensity and variation to keep your training routine challenging.
The Sole E25 features a super quiet front-drive system with a solid build. The machine is stable, heavy, and won't have you rocking side-to-side while you workout. According to the Sole website, the combination of a heavy 20-pound flywheel and a high gear ratio gives you a smooth ride during steady state cardio sessions or HIIT workouts.
Although this model has a slightly smaller footprint than the other Sole elliptical trainers, it's not a small piece of equipment by any means. Even with transport wheels, the E25 will need a designated space in your home gym since it weighs 212 pounds. You can move it on your own, but going up and down stairs will require an additional set (or two) of hands.
RELATED: How to move an elliptical
Read our full review on the Sole E25.
Sole E35
Good for: People who want a quiet workout with incline options to keep the sweat pouring
Sole E35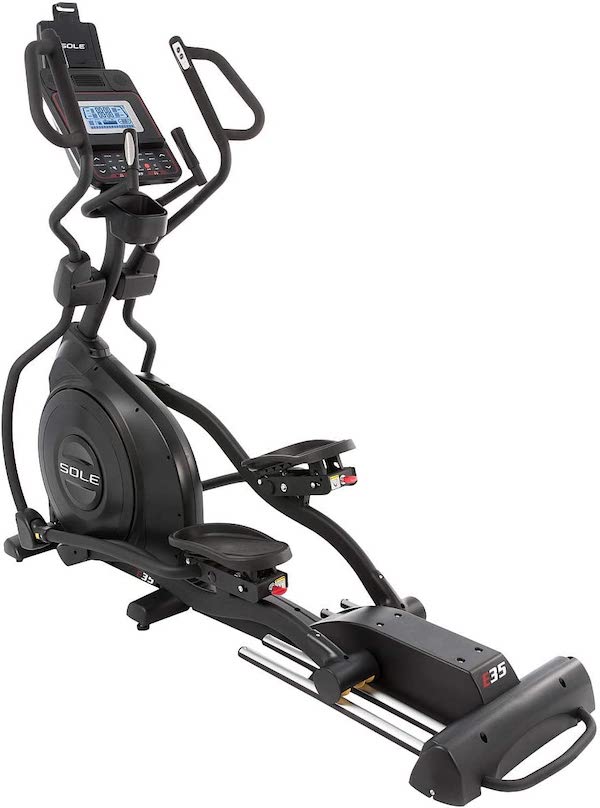 Sole E35 Elliptical
Reviews say that the Sole E35 elliptical is a quiet machine providing a smooth ride. This can be partially attributed to the 25-pound flywheel and weight of 231 pounds. According to Sole, engineers designed the adjustable 15-inch foot pedals at a 2-degree inward slope to reduce stress on your ankles and knees. These pedals move forward and backwards to help make your workouts more versatile. This elliptical has some notable features. For instance, it comes with built-in speakers that enable you to play music via Bluetooth from your audio device. It also comes with an integrated tablet holder so you can follow your own workout routines or watch TV. No worries about your device dying, because this elliptical also comes with a USB port. If this technology is not for you, it also comes with a 7.5-inch LCD console that has 10 built-in workouts that you can follow. The built-in fan will also keep you cool as you glide through the 20 different levels of resistance that allow you to find the perfect level for you. 
Pros:
Adjustable foot pedals
Compatible with Studio, Sole's programming app
25-lb flywheel
Cons:
Non-adjustable stride length
Studio app requires a monthly fee
Heavy machine
The Sole 35 is priced about $300 more than the E25, but with that you get a heavier, 25-pound flywheel and 375-pound maximum user weight capacity. Both of these factors add to the sturdiness and durability of the machine, preventing it from any unnecessary shaking.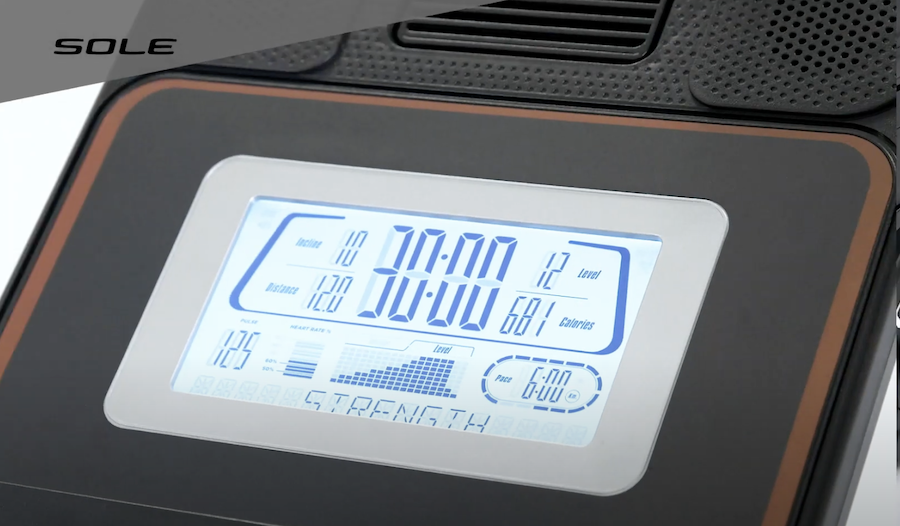 A 25-pound flywheel exceeds industry standards of what we typically see in home treadmills. We also like that this model has power incline training options. Like every elliptical the brand offers, the Sole E35 elliptical features electromagnetic resistance.
Electromagnetic resistance (aka eddy current brakes or ECB) are most often seen in high-end or commercial equipment. The eddy current works without a motor and uses an aluminum disk that spins between magnetic fields. It makes for an extremely quiet, dare I say silent, workout.
Check out the full Sole E35 elliptical review.
Sole E55
Good for: Low-impact workouts and the ability to connect to Studio fitness app
Sole E55
Sole E55 Elliptical
The Sole E55 elliptical is a sturdy and thoughtfully designed product from a highly reputable manufacturer. Like Sole's other ellipticals, the E55 is equipped with 2-degree inwardly sloped adjustable foot pedals designed to reduce stress on the ankle and knee.Featuring six standard, two custom, and two heart rate programs, users have a lot of variability in training options. Twenty levels of power incline enables a wide range of intensities suited for beginner and experienced cardio junkies alike. In conjunction with all this, the 15-inch pedals have a generous 20-inch stride length and glides both forward and backwards so users can target different muscle groups. The Sole E55 comes equipped with many notable conveniences. Built-in cooling fans, a water bottle holder, Bluetooth speakers, an integrated tablet holder, and USB port keep you cool, hydrated, and entertained. Monitor your fitness metrics on the 9-inch LCD backlit display then download the Sole app for free and transfer the information to FitBit, Record, MapMyRun, or Apple Health. Users find that the Sole app is not very user-friendly but still a nice perk.Weighing over 200 pounds, this compact machine supports a maximum user weight of 375 pounds.The E55 is not easily assembled so you may consider recruiting some friends or hiring a professional.
Pros:
Built-in programs
375-lb user weight capacity
Quiet while in use
Cons:
Studio app is a separate monthly fee
Large footprint
Not super portable
The Sole E55 is priced just about $100 more than the E35, with a lot of similar features. The main difference is a larger, 10-inch LCD display and a slightly smaller footprint. Oddly enough, this model has a 20-pound flywheel, which is five pounds less than the E35.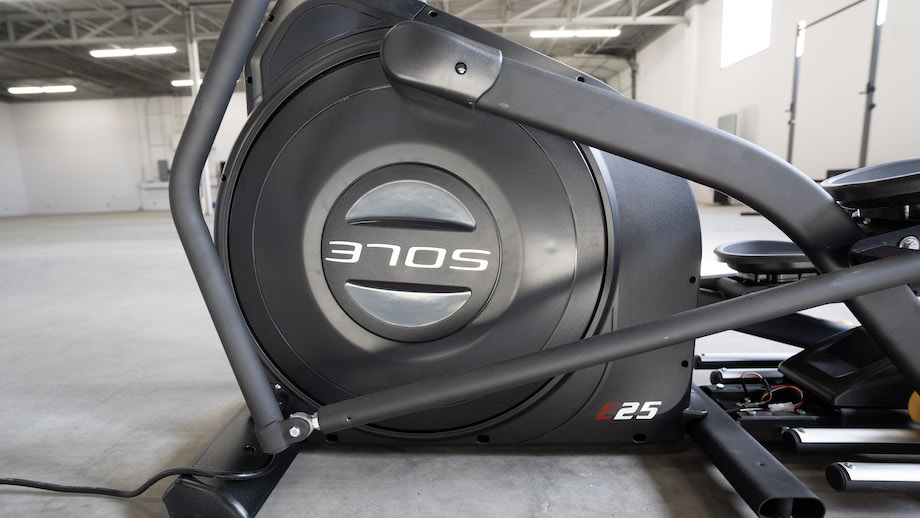 A 20-pound flywheel is what we like to see for home ellipticals, but it's worth mentioning that the E35 is slightly less expensive and has a 25-pound flywheel. Although the combination of a larger screen and lighter flywheel weight might not constitute a $100 price increase, we still think this is a solid machine with a 375-pound user weight capacity and ECB resistance.
This machine, along with other ellipticals in the Sole lineup, are compatible with Studio, Sole's interactive programming app. Although you'll need to use your own device to stream the app, there are community leaderboards and the ability to track your heart rate by connecting to any Bluetooth heart rate monitor (sold separately) to get real-time metrics.
Read the full review for the Sole E55.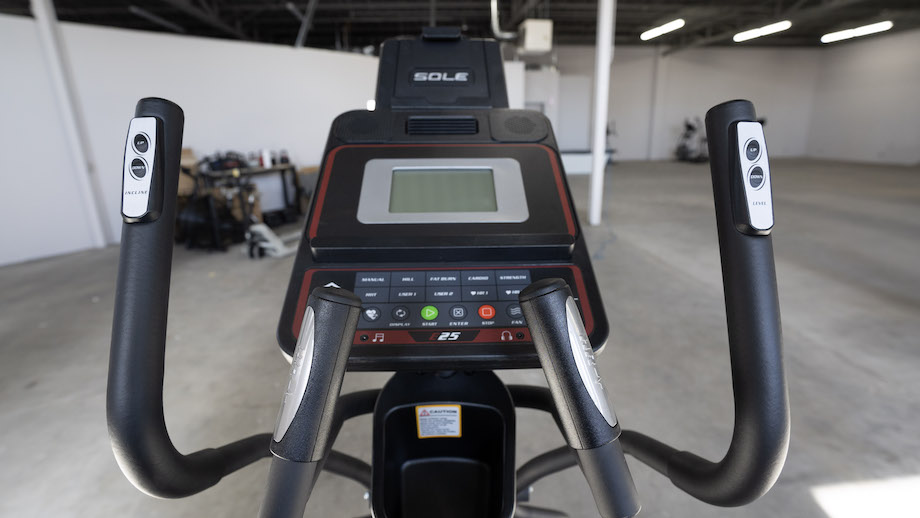 Sole E95
Good for: Heavier individuals who want a low-impact, customizable workout
Sole E95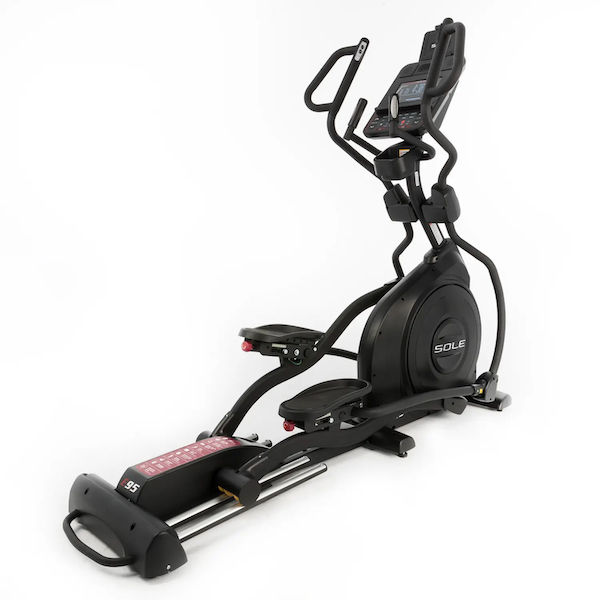 Sole E95 Elliptical
The Sole E95 elliptical is a substantial machine at 82 inches long and 71 inches high. It comes equipped with 20 different levels of incline and resistance, you're able to target different muscle groups and vary your workouts. The Sole E95 comes with competitive additions such as a 10.1-inch TFT display used to track metrics, and a tablet holder with a USB port to charge your device. If none of that works for you, there are also Bluetooth audio speakers that you can use to listen to music. The machine itself provides a fluid and natural motion all while remaining quiet due to its heavy, 27-pound flywheel. The machine can also move in both forward and backward motions. Sole highlights the E95's pedals, which use a "worm drive." This feature allows you to adjust the pedal angles to fit how you specifically walk, which supposedly can help reduce injury.
Pros:
27-lb flywheel
Heart rate chest strap included
Impressive 400-lb user weight capacity
Cons:
Heavy machine
Large footprint
Not exactly budget friendly
The Sole E95 is going for $200 more than the E55 and has an impressive 400-pound user weight capacity. We think the inclusive weight capacity could be the extra money for some home gym owners. The high weight capacity gives an additional locked-down feeling along with the 27-pound flywheel and the fact the machine weighs 236 pounds.
Much like the other Sole Fitness ellipticals, the E95 has two sets of handlebars. One set is stationary (good for getting on and off the machine) and the second moves with the foot pedals so you can work both your lower body and upper body. Both handles are equipped with heart rate monitoring sensors to get a fast reading. For a more accurate reading of your heart rate, you can use the chest strap that comes with the purchase of the E95.
Read our full Sole E95 elliptical review to get a more detailed sense of this machine.
Sole E98
Good for: Anyone who is interesting setting a target heart rate for vigorous workouts
Sole E98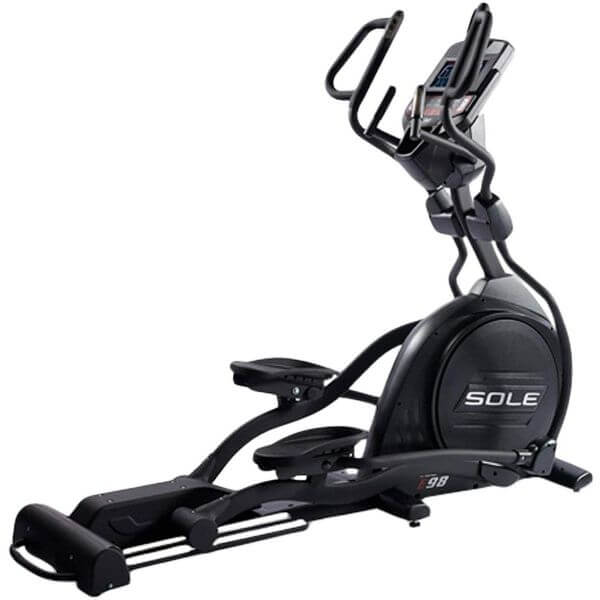 Sole E98 Elliptical
Sole continues to engineer cardio machines made with high-quality components and conveniences. The Sole E98 Elliptical is engineered for light commercial and residential use, able to withstand up to 5 hours of use per day. This tank of a machine stomps out a hefty footprint which measures 71-inches high, 82-inches long, and 31-inches wide and a weight of 249 pounds. Its size is a testament to its sturdy build and durability. You will not find any immersive training on this elliptical, but it does come with 10 pre-programmed workouts and the option to join STUDIO, a virtual training platform that houses thousands of workouts. With the new integrated tablet holder, users can stream a workout from STUDIO. The E98 has the ability to transfer fitness metrics from Sole E98 to the Sole app or the following third party apps: Fitbit, Record, Mapmyrun, and Apple Health. A 10.1-inch LCD monitor is easy to read and use but definitely basic. The 400-pound user weight capacity and 20-inch stride length makes the E98 an option for users of varying heights and weights. Designed in conjunction with physical therapists, users appreciate the comfortable and ergonomic foot pedals. The E98 offers variability in training with its combination of a 32-pound flywheel, power incline, EMS resistance, and moving handlebars. Track your heart rate on the stationary hand pulse grips or utilize the Bluetooth connectivity and use a chest strap.
Pros:
Pulse grip and chest strap heart rate monitoring
Built-in speakers with Bluetooth connectivity
Impressive 32-lb flywheel
Cons:
Non-adjustable stride
No built-in touchscreen
Additional fee for interactive programming
The Sole E98 is one of two light-commercial elliptical machines the brand offers. The E98 is priced almost $600 more than the E95 but has a stand-out 32-pound flywheel, which is well beyond industry standards for what we expect in a home gym machine. This model also has a 400-pound user weight capacity which we find impressive for a large range of home gym owners.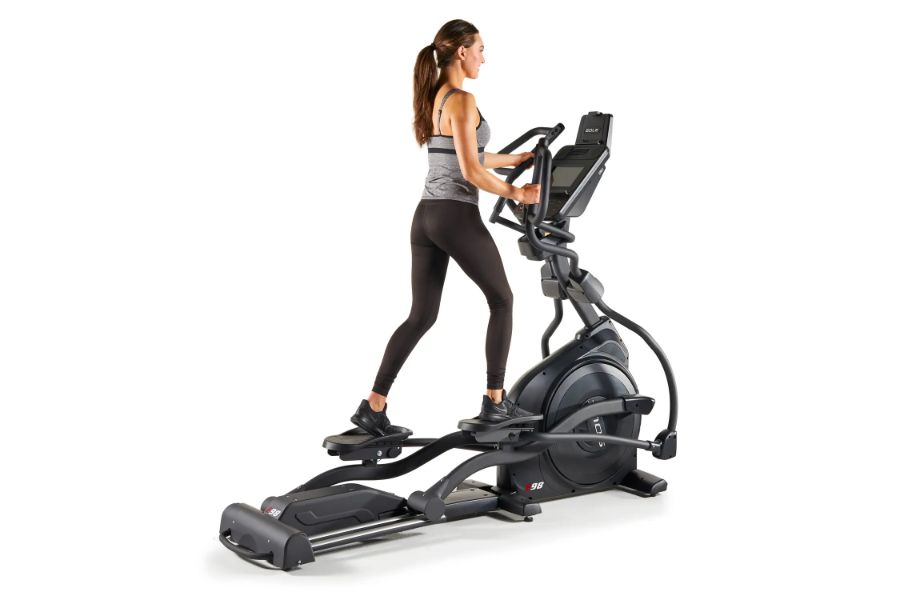 In addition to 10 preset programs hardwired into the elliptical, the E98 also includes a fitness test program that automatically makes adjustments to the resistance levels depending on your heart rate response. Although I love this idea, I did notice it's not completely clear if the E98 comes with a heart rate monitoring chest strap—the website only mentions it is compatible with chest straps.
Check out our full review of the Sole E98.
Sole E95S
Good for: Anyone who needs an adjustable stride up to 24 inches long
Sole E95S
Sole E95s
Featuring a power-adjustable stride, with stride lengths ranging from 18 inches to 24 inches, the Sole E95S makes it easy to have your best workout, especially if you're on the taller side. It also comes with 15-inch pedals and a two-degree inward slope for comfort and pain reduction.One of the main highlights of this machine is its Bluetooth capabilities. With Bluetooth connectivity, users are now able to transfer any of their workouts from other Sole equipment to their smartphones and can track their progress on the Sole app. You can also view all of your workouts on the 10-inch TFT LCD display and charge your phone with the USB port. If you don't want to do one of the provided programs, there is a tablet holder for your devices.The Sole E95S has a heavy duty flywheel, smooth front-wheel design, and also has a lifetime frame warranty, so you can most likely enjoy this machine for years to come.
Pros:
30-lb flywheel
Built-in cool system
Power adjustable stride
Cons:
Expensive price point
No incline training
Heavy and bulky machine
The Sole E95S is the second light-commercial model available for purchase on Sole's website and is priced $100 less than the E98. The standout feature on this machine is the power adjustable stride from 18 to 24 inches, which is a feature not seen on the other Sole ellipticals. We like this customization detail for tall and short users alike.
The heavy-duty 30-pound flywheel and smooth ECB resistance will get even the most trained individual breathing heavily and breaking a sweat. And for that reason it's good there is a built-in cooling fan with a surprising amount of power.
This model's heavy flywheel paired with the 400-pound user weight capacity makes this another durable option from Sole. However, unlike the E98—which is the other light commercial model in this lineup—the E95S lacks incline level options.
Sole E20
Good for: A shorter individual looking for a budget elliptical
Sole E20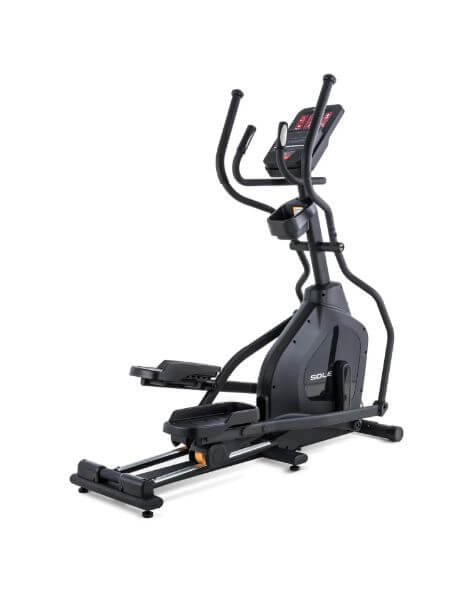 Sole E20 Elliptical
The Sole E20 Elliptical is one of the less expensive options to come out of Sole's elliptical lineup. According to the company, the E20 was designed to meet both your needs and your budget.The Sole E20 is designed with comfort in mind. It has 15-inch oversized foot pedals that have a two-degree inward slope that is supposed to help reduce the impact on your ankles and knees. The incline is adjusted manually so you can work at your own pace. The maximum stride length is 18 inches, and while that will work for most individuals, it may not work for someone who is 6 feet tall or over.There is a 5.5" LED display and Bluetooth speakers so you can watch one of the 10 built-in programs. There is also a tablet holder, so if you are wanting to watch a different workout or something else, you can easily do so.Given the price point, this is definitely a budget elliptical. The machine is good for the price point, but if you are wanting something with a longer stride length, newer technology, and a good amount of digital workouts, you may want to look elsewhere on the market.
Pros:
Priced well under $1,000
Smooth ECB resistance
Lifetime warranty on the frame
Cons:
18-inch stride length
14-pound flywheel
No Bluetooth speakers
We have not personally had our hands on the E20—the budget elliptical from Sole—but based on our research and the specs, we have a few things we like about this machine. It's even less tech-heavy than the other Sole models, but it has an excellent price point at $799.
This budget model still features the eddy current brake (ECB) resistance found on the other Sole models, which is smooth and silent. The Sole E20 also features built-in workout programs, multiple levels of resistance, and manually adjustable incline settings.
While some specs on the E20 were conspicuously missing from the brand's website, the E20 differs from the rest of the Sole ellipticals because the flywheel is below the industry standard at 14 pounds. And while the 18-inch stride length on the E20 does meet industry standards, it won't work well if you're tall.
The Sole E20 does not feature Bluetooth speakers, but the budget elliptical trainer does have an auxiliary and USB charging port to plug in your own MP3 player or iPod.
What to Look For in Sole Ellipticals
We think the Sole Fitness elliptical offerings are super similar. To determine what model best suits you, I would suggest first determining your budget. With machines ranging from $799 to $2,299, it's a good idea to stay firm on what you are willing to spend. Next, I would look at the user weight capacity you need, and then determine what flywheel weight will best work for your fitness goals. Each model is going to provide quiet and smooth ECB resistance, but not each model will provide incline training, so it's important to know what level of customization you want.
Sole Fitness Policies
A company's policies are almost as important as the quality of its product. Here's a look at Sole's.
Warranty
Sole has some of the best warranties in the industry. We like the fact that they offer lifetime warranties for the elliptical frame. Depending on the model, you'll have anywhere between two to five years on the electronics and other parts, and at least one year on the labor. Sole Fitness is known for not penalizing customers for regular wear and tear on cardio machines—the warranty policy aims to help you make use of your elliptical by actually using it!
Returns
When you purchase directly through Sole Fitness, the company offers a free 30-day trial to make sure you love your elliptical purchase. We also appreciate that you won't have to pay for shipping or a restocking fee like some other popular brands that put those costs on you.
Financing
Sole Fitness teams up with Citizens Bank to offer you financing with a Citizens Pay line of credit. If you qualify, most Sole cardio equipment has the option to finance—some with 0% financing for the first 12 months while others machines offer Sole's standard at 29.99% APR, depending on your credit score.
Our Bottom Line For Sole Ellipticals
With prices on the Sole Fitness roster of ellipticals ranging from $799 to $2,299, I think there is a suitable machine for a wide range of users. The thing about exercise equipment is that not every piece of equipment works for every individual. The GGR team likes that Sole ellipticals feel effortless (and silent) with ECB resistance in addition to the no-frills, easy-to-read console.
For an additional monthly membership, you'll be able to use Studio, which is Sole's interactive fitness app. Although you'll need your own device, you can utilize the tablet holder and it won't block any metrics displayed on the LCD screen.
FAQs About Sole Ellipticals
Is Sole a good brand elliptical?
Sole is a reputable brand that offers lifetime frame warranties on most of its equipment. Although there is no live chat customer service feature, the company is available over the phone or via email.
Is a Sole or NordicTrack elliptical better?
This depends on your expectations, budget, and overall preferences. NordicTrack offers some of the most robust interactive programming through iFIT. Although Sole ellipticals do not feature built-in touchscreens, it's a personal preference on what level of technology you want in your home gym equipment.
How long do Sole ellipticals last?
This depends on how much (and how hard) you use your elliptical. Two factors that make ellipticals durable for the long haul: A weight capacity of 275 pounds or more and a flywheel weight of at least 16 pounds. These two factors help reduce shaking and unnecessary movement, which can help extend the life of the machine.