We test and review fitness products based on an independent, multi-point methodology. If you use our links to purchase something, we may earn a commission. Read our disclosures.
Say what you want about commercial gyms—they often have nice equipment. And when you go to a commercial gym, you naturally expect the cardio machines to perform at a high level so you can get a good workout.
What if you could bring commercial-grade equipment right to your home gym? The Sole E98 elliptical is designed for light commercial use, meaning it should be durable and withstand significant use.
But at $2,500, is this model worth the price? In this Sole E98 elliptical review, we'll take a look at everything this product has to offer so you can decide if it's the best elliptical for you. Though we haven't personally tested the Sole E98, we did get a chance to use a product from the same line, the Sole E25, which should give you a good idea of what you can expect from the product.
Sole-ly the Best For Our Readers
Aside from that headline being exceptionally punny, it's also true. Our dedicated staff has spent hundreds of hours testing ellipticals of all kinds from popular brands like Sole, Echelon, Schwinn, NordicTrack, and more. We do this so we can provide expert testimony on what it's like to use these products and give you all the information you need to make the right decision for your home gym and fitness goals.
Sole E98 Elliptical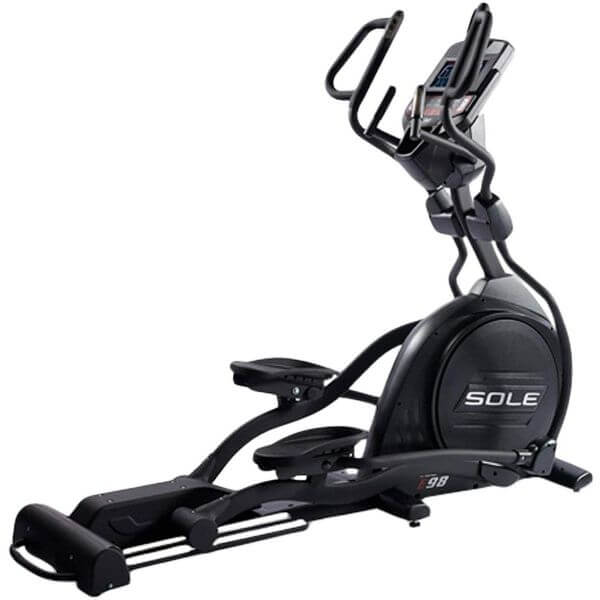 Sole E98 Elliptical
Sole continues to engineer cardio machines made with high-quality components and conveniences. The Sole E98 Elliptical is engineered for light commercial and residential use, able to withstand up to 5 hours of use per day. This tank of a machine stomps out a hefty footprint which measures 71-inches high, 82-inches long, and 31-inches wide and a weight of 249 pounds. Its size is a testament to its sturdy build and durability. You will not find any immersive training on this elliptical, but it does come with 10 pre-programmed workouts and the option to join STUDIO, a virtual training platform that houses thousands of workouts. With the new integrated tablet holder, users can stream a workout from STUDIO. The E98 has the ability to transfer fitness metrics from Sole E98 to the Sole app or the following third party apps: Fitbit, Record, Mapmyrun, and Apple Health. A 10.1-inch LCD monitor is easy to read and use but definitely basic. The 400-pound user weight capacity and 20-inch stride length makes the E98 an option for users of varying heights and weights. Designed in conjunction with physical therapists, users appreciate the comfortable and ergonomic foot pedals. The E98 offers variability in training with its combination of a 32-pound flywheel, power incline, EMS resistance, and moving handlebars. Track your heart rate on the stationary hand pulse grips or utilize the Bluetooth connectivity and use a chest strap.
A Quick Look at the Sole E98
Sole Fitness is a brand with a reputation for producing high quality rowers, bikes, treadmills, climbers, and yes, elliptical trainers. Sole Fitness ellipticals are priced from around $1,000 to well over $2,000. The E98 is their highest-end model priced at just under $2,500.
On the Sole website, it's stated that the E98 is designed for light commercial use, meaning it's a great fit for places like apartment complexes or non-due-paying gyms. It is without a doubt a luxury elliptical, and should be expected to perform as such.
The E98 is a massive front drive machine that comes with a slew of add-ons, extras, and tech features. You'll get a luxury workout experience, but is the elliptical workout you'll get the money you'll have to sink into it? That's what we're here to help you find out.
My Tips
Consider utilizing the fitness test program that can adjust the intensity of your workout based on your body's responses.
Try out the wireless chest strap to keep track of your heart rate while you work out.
Pros
Heavy flywheel at 32 pounds
Lots of great add-ons and tech features
Electromagnetic resistance
Offers 20 incline levels
10 preset workout programs available
400-pound weight capacity
Compatible with Studio, Sole's interactive programming app
Cons
Expensive, but financing is available
Large footprint
Pedals aren't adjustable
Heavy at 249 pounds
Is the Sole E98 Worth It?
If you're itching for a top-of-the line, luxury, commercial-grade workout experience right in the comfort of your home gym and have the money to spend to get it, then this could be the right elliptical for you. If you're shopping on a budget or dealing with a space constraint, I'm not sure this model will fit your needs.
Great for:
People looking for a luxury workout experience
People with plenty of space in their home gym
People with a large budget
Sole E98 Specs
| | |
| --- | --- |
| Footprint | 82" L x 31" W x 71" H |
| Weight | 249 lbs |
| Weight capacity | 400 lbs |
| Flywheel weight | 32 lbs |
| Incline | 20 levels |
| Resistance | Electromagnetic |
| Maximum stride length | 20" |
| Step-up height | 14" |
| Display | 10.1" TFT |
| Add-ons | Water bottle cage, USB port, cooling fans, sound system, Bluetooth compatibility, device holder |
| Drive system | Front |
| Preset workouts | 6 standard programs, 2 custom programs, 2 heart programs |
Workout Experience on the Sole E98
We haven't gotten to use the E98 yet, but we have significant experience with one of the other ellipticals in this line, the Sole E25. Though the Sole E25 is a far more affordable option than the E98, they do come from the same line of products and are therefore similarly constructed and provide similar workout experiences.
GGR Head of Content Kate Meier spent a fair amount of time testing the E25 and was a fan of the machine's add-ons (all of which are included with the E98) as well as its low noise level.
"You have great built-in workouts, as well as a place to hold a table if you want to watch something," Kate says. "Conveniences like a fan and Bluetooth speakers are amazing. It also comes with the wireless heart strap, which works great. It was quiet—a lot quieter than I expected for such a big machine."
She also noted that the sound quality on the built-in speakers was exceptionally clear.
Customer Reviews
I was pretty curious about what the customer reviews on this model would say, considering how expensive it is and that it's mainly designed for light commercial use. On the Sole website, there's only one review for the E98, which was five stars and headlined "Came promptly and like we expected."
"This time seems like a proper machine for what we need thank you," user Gwnunley said.
On Amazon, there were only 6 total reviews to read from, which I guess makes sense considering the elliptical is more meant for commercial use. Even so, I understand how this could be discouraging for potential customers looking to learn as much as possible about the product before they buy.
The most detailed review from a user called Lawman was headlined "Solid build quality."
One of the other users wasn't so fond of their E98, saying the technology was outdated and some of the metric tracking features didn't function properly.
Either way, I would take these reviews with a grain of salt. There simply aren't that many to choose from, so you won't get the most accurate gauge of what it's like to use the machine based on this limited selection.
Footprint and Construction
I won't mince words here: The E98 is a beast of a machine. With a length of 82 inches and a height of 71 inches, it's sure to take up a lot of space in your home gym and may be difficult to move, so be sure to keep that in mind before you purchase.
However, this model is undeniably well-built. Weighing in at 249 pounds with a 32-pound flywheel, a maximum user weight of 400 pounds, and a heavy-duty steel frame, this is far from a rinky-dink piece of fitness equipment. If you do choose to buy, you'll be getting a sturdy elliptical machine that could easily be sitting in the fitness center of your apartment complex for public use.
The Ergonomics
The E98 has power adjustable incline that's controlled by pushing buttons on the console. This easy-access method makes the E98 a great option for cardio workouts of varying intensities, including HIIT elliptical workouts as well as more endurance-based exercises.
As with all Sole ellipticals, the E98 comes with foot pedals that are sloped 2 degrees inward to take pressure off the Achilles and other parts of the lower body. My one callout here is that the E98 doesn't feature the adjustable articulating foot pedals that the Sole E35, E85, and E95 have.
Technology Benefits and Conveniences
The Sole E98 comes with just about every tech feature this line of ellipticals has to offer:
10.1-inch TFT display
Bluetooth speakers that are compatible with your smart device
USB port, power incline
pulse grip and chest strap for heart rate monitoring
cooling fans
10 preset workout options.
There's also a fitness test program that can shift the intensity of your workout based on how your heart rate responds to various exercise levels.
These add-ons are great and exactly what I'd expect from a product priced at around $2,500. Anything less and I'd be skeptical of the value here (I'm still a little skeptical), and the tech specs make even more sense when you consider the fact that the E98 is described as a light commercial elliptical.
The E98 is also compatible with Studio, Sole's fitness app and Peloton alternative that provides access to over 3,000 workout classes at a cost of $20 per month. There are different options to purchase the Studio membership at checkout on the Sole site, although it's not required to order the machine.
Sole E98 vs Sole E25
Sole E25 Elliptical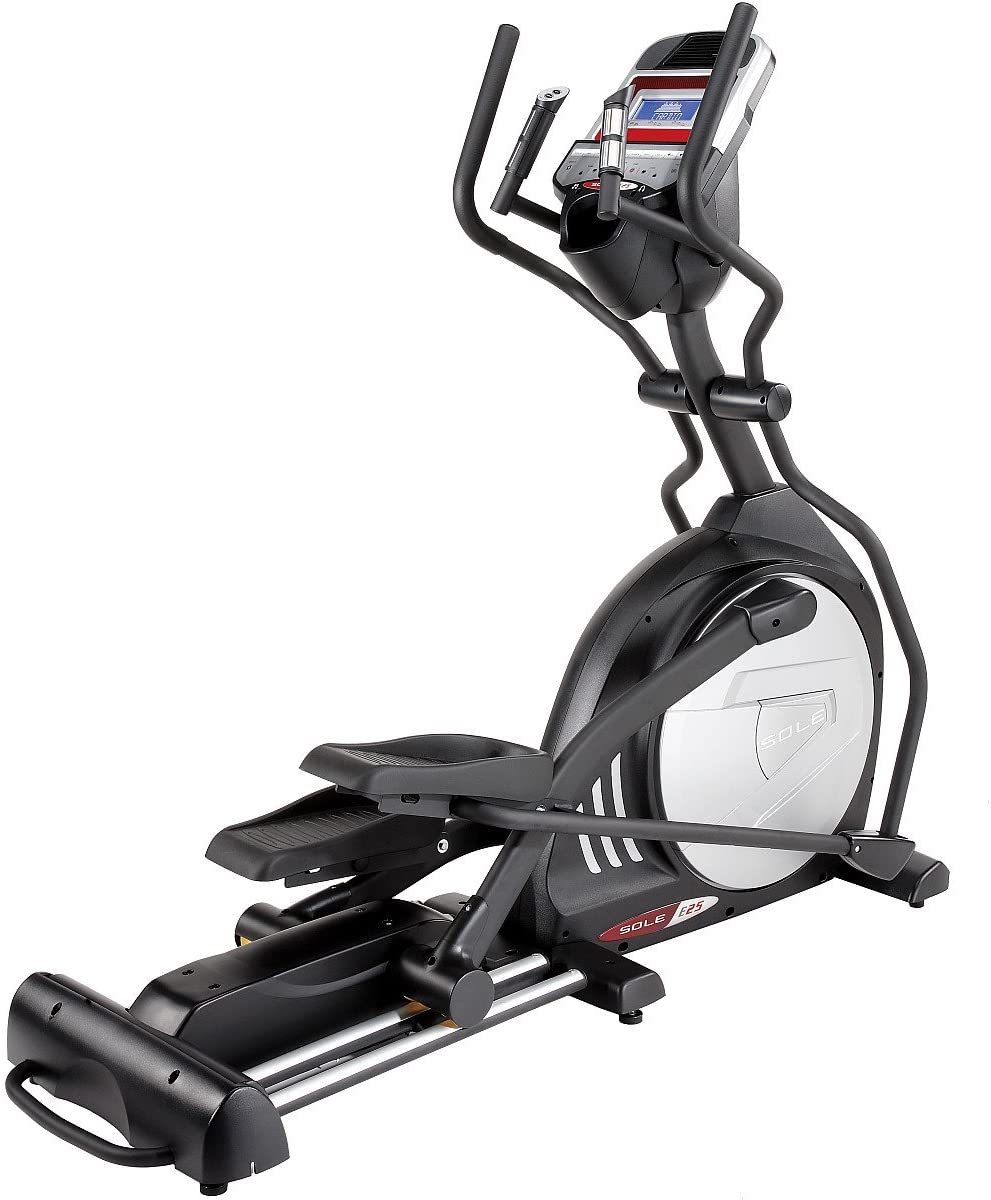 Sole E25
The SOLE E25 Elliptical provides effective workouts through its use of comfort and natural feel. The quiet front drive system, inward foot pedal design, and heavy duty steel frame all create a smooth, effective workout. In addition to the challenging workout programs, the E25 also now includes blue tooth audio and technology. Plus, enjoy a 30-day free trial of STUDIO with the purchase of a a SOLE machine. STUDIO is $19.99 per month and allows users to view a variety of workout classes on-demand.
Though the Sole E25 and Sole E98 come from the same product line, there's a lot that's different about them. The E25 is significantly smaller and lighter than the E98 with a much lighter flywheel, and a smaller LCD display instead of a TFT one.
However, the E98 and E25 have many of the same add-ons: Bluetooth compatibility, chest strap, the same preset workouts, cooling fans, water bottle holder, tablet holder, and USB charging port. This tells me that what you're paying for in the E98 is mainly more sturdy construction and a bit more elegance in some areas.
In the end, it's up to you whether it's worth it to shell out the extra $1,400 for the E98 vs the E25.
Customer Experience
There are two different warranties listed for this product: one for personal use and one for light commercial use. The personal warranty is as follows:
Lifetime frame
5 years electronics and parts
2 years labor

Since light commercial use is a bit more intense, the warranty for those circumstances changes a bit:
Lifetime frame
3 years electronics and parts
1 year labor
For personal use, this warranty exceeds expectations in all facets. I love to see the lifetime frame warranty as it shows Sole is confident in their construction process and the durability of their product.
There's a 30-day return policy for the E98 on both the Sole website and Amazon, which gives you a little leeway if you aren't sure about your elliptical right off the bat.
Since there aren't many customer reviews for this model, I wasn't able to find a ton of first-person accounts of what Sole customer service was like. I will say that for the other Sole products we've reviewed, people have generally said that customer service is pretty responsive in helping with assembly or anything else you might need, although there were some outspoken critics.
Ordering and Assembling the Sole E98
The E98 is available for purchase on both Amazon and the Sole website, along with Dick's Sporting Goods. There are financing options available on all three sites: $86.94 per month at Dick's, $135 per month through the Sole website, and $86.97 per month through Amazon. Depending on where you order from, the machine should ship within 3-10 business days.
There were a couple mentions of difficult assembly in the few customer reviews I could find, which makes sense since the E98 is so large. Kate also mentioned she had a lot of trouble assembling the much smaller E25.
"The instructions are so bad," Kate says. "They have one picture that shows what they call one step but is really like 30 steps, so it's hard to see what's what. This is definitely one to opt for professional assembly if/when possible."
The professional assembly she mentions is available on Sole's website for an additional $300. A team of technicians from a company that partners with Sole will come a few days after the machine is delivered and put it together for you. Definitely something to consider with an elliptical as large as this one.
Final Verdict of Our Sole E98 Review
In the end, this isn't really an elliptical that's designed for home gym use. It's meant to be put in a more commercial setting, though if you have the space and money it could be an option for you.
That said, I wouldn't recommend this model to home gym owners on a budget or facing any sort of space constraint. I think there are more budget-friendly options available that still provide many of the same features and benefits as the E98.
This is a luxury machine, no two ways about it. You're paying for a sturdy, well-built machine with a ton of add-ons, and in the end it's up to you if you want to spend the extra money for a commercial grade elliptical workout experience.
Sole E98 Rating
Sole E98 Elliptical
The Sole E98 is a great option for those looking for a commercial-grade workout experience right in their home gym.
Product Brand: Sole Fitness
Product Currency: $
Product Price: 2,499.00
Product In-Stock: InStock
Sole E98 FAQs
Are Sole elliptical machines good?
Sole ellipticals are generally very highly rated both on Amazon, with many models scoring well over four stars in customer reviews.
Is Sole elliptical better than NordicTrack?
Neither is inherently better than the other. Both brands have a reputation for producing high-quality elliptical machines.
How long does a Sole E35 last?
Sole offers a lifetime frame warranty, a 5-year parts and electronics warranty, and a 2-year labor warranty on the E35.
Does the Sole E25 elliptical fold up?
No. The Sole E25 is not a foldable elliptical.