We test and review fitness products based on an independent, multi-point methodology. If you use our links to purchase something, we may earn a commission. Read our disclosures.
Pre-workout is like food: Just because it costs more doesn't mean it's better. So, the best pre-workout supplements aren't always the most expensive ones. In fact, many people in the bodybuilding world prefer a low-cost pre-workout because they may use it daily or even multiple times a day. 
The picks on this list are our favorites because they include brands that contain most of the same ingredients of the best pre-workout supplements that cost a bit more. If you're the type who has to maintain a stack or otherwise take multiple supplements, keeping recurring costs low is probably a priority.
Likewise, if you're just dipping your toe in the sweet waters of pre-workout, it makes sense that you don't want to spend a fortune on something you may not even like once you try it. So, after careful review, we came up with a list of the best cheap pre-workouts supplements with a solid balance of quality and value for when carbohydrates just aren't doing it for your daily energy boost. 
Our team of registered dietitians, certified personal trainers, and competitive weightlifters still want to make sure your cheap pre-workout helps you in the gym, which is why we look at these important factors when deciding our top picks:
Ingredients: Does it have science-backed compounds, vitamins, and minerals?
Taste: Can you swallow it without wincing?
Price: Is it truly affordable?
Medical disclaimer: This article is intended for educational and informational purposes only. It is not intended as a substitute for medical advice. For health advice, contact a licensed healthcare provider.
Best Cheap Pre-Workout
Best Cheap Pre-Workout Overall: Jacked Factory NitroSurge
Good for: People who want a basic pre-workout that doesn't overdo it on the stimulants
We're a fan of Jacked Factory NitroSurge for a few reasons, the main one being that it's a super approachable pre-workout whether you're a seasoned weightlifter or just getting started. In a nutshell, it has great flavors that our team loves, but the beta-alanine and other active ingredients are substantially lower than those found in comparable products…and this is actually great for beginners.
Our product testers, GGR head of content Kate Meier and her weightlifting teammate Jacob Penner, also a member of the GGR expert panel, agree and gave it a 4 out of 5 for effects.
"I took this in the morning and just did one scoop, which really only gives you a half dosage of the active ingredients you'd find in other pre-workouts, aside from caffeine," says Jacob, a USAW Level-2 weightlifting coach. "I don't feel itchy or hype, because ingredients like beta-alanine are halved. This is what makes it really good for a beginner who isn't ready to get the mad-hype feeling you get with other pre-workouts."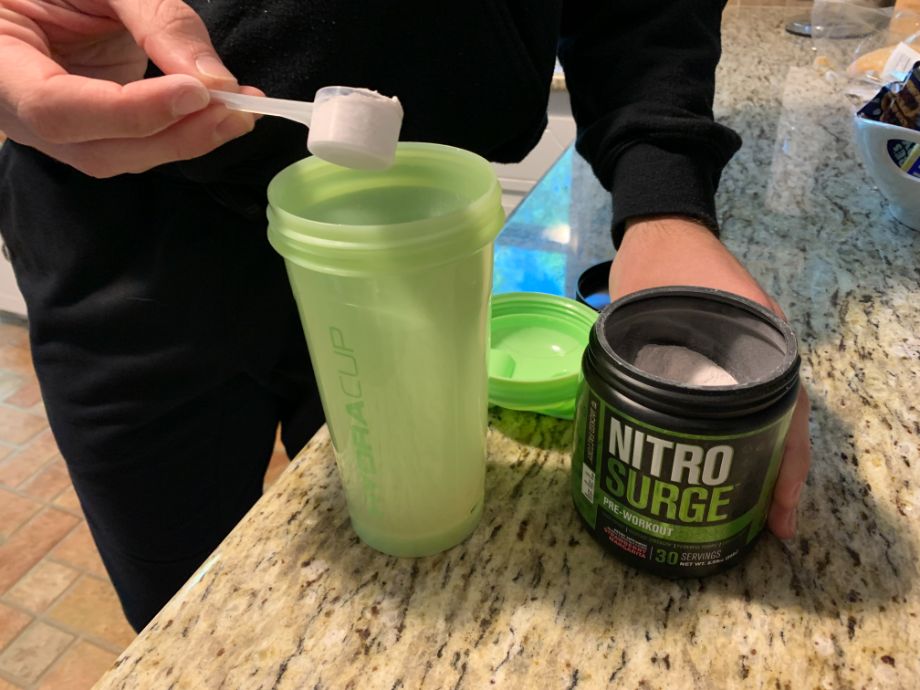 Beta-alanine is the biggest ingredient we want to call out here. It's a very common pre-workout ingredient, and when it gives you a tingly feeling, it's a sign you're experiencing the nerve-stimulating effects of this compound.
An itching or burning sensation—called paresthesia—is typically felt in the arms, head, and neck within 10 to 15 minutes of taking a pre-workout that contains beta-alanine. However, if a person is highly sensitive to it, it may occur everywhere. Don't worry, it's not harmful, just weird. So, if you can overlook this sensation, studies show you may be able to perform 22% more reps than if you had not taken beta-alanine1.
All in all, for a reasonable price, NitroSurge provides all the usual suspects of pre-workout ingredients in amounts that aren't at all intimidating. If you need something skin-ripping and rush-inducing, you can probably find something more intense, but NitroSurge is a solid pre-workout supplement overall.
Oh, and it tastes amazing, too. Kate and Jacob tried Strawberry Margarita and said it's wildly delicious. "Like, I'd drink this by the side of a pool over ice," Kate says, giving it a 5 out of 5 on taste.
| | |
| --- | --- |
| Price per serving | $1 |
| Flavors | Arctic White, Fruit Punch, Cherry Limeade, Blue Raspberry, Strawberry Margarita, Pineapple, Watermelon, Grape, Cotton Candy, Sour Peach Rings, Blueberry Lemonade, Black Cherry |
| Contains caffeine? | Yes |
Best Cheap Pre-Workout for Building Muscle: MuscleTech Vapor X5
Good for: Those who want to get a solid pump on a budget
What does 67 cents per serving get you with MuscleTech's Vapor X5? Creatine monohydrate, betaine, taurine, l-theanine, beta-alanine and Nitrosigine®. Right off the bat, though, we have to highlight a catch. Vapor X5 promises 3 grams of creatine, 3.2 grams of beta-alanine and 2.5 grams of betaine, but that's only if you plan on taking two scoops at a time.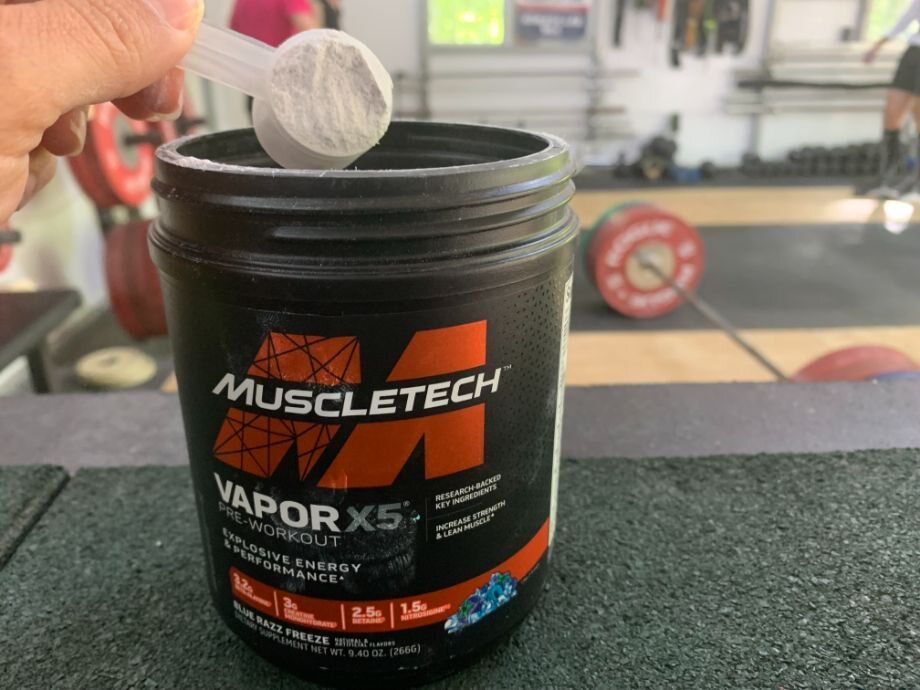 Now, this is likely safe if it's promoted on MuscleTech's product page, but the problem is you may not have the tolerance for that much powder and the ingredients within. Furthermore, if you do have the tolerance, you now have a tub that's only going to last 15 days (assuming daily use) instead of 30.
That said, 2.5 grams of betaine is exactly how much was used in the study with athletes that showed betaine can aid in improving muscular endurance and the quality of reps performed3 after 15 straight days of supplementation. 
It worked well enough for Jacob Penner, a USA Weightlifting Level-2 coach and GGR expert panel member who gave the powder a 4 out of 5 for effects. "I don't get the tingling you normally get with pre-workouts, I just feel more energized," Jacob says. He gave the Blue Raspberry flavor a 4 out of 5 on taste—"Tastes like your standard berry-flavored drink," he says—and a 5 out of 5 for solubility.
Additionally, Vapor X5 contains Nitrosigine, a form of l-arginine, which was originally developed as a heart disease treatment but is now commonly used as a vasodilator in pre-workout products due to its ability to lower blood pressure and help increase blood flow4. It's even been touted in recent research as superior to traditional l-arginine in its ability to help reduce fatigue.
The combination of ingredients that help with blood flow and can help you perform more reps, can aid in providing a pump and, even indirectly, can support some of that muscle gain you're looking for. 
| | |
| --- | --- |
| Price per serving | $0.83 |
| Flavors | Fruit Punch Blast, Blue Razz Freeze, Miami Spring Break |
| Contains caffeine? | Yes |
Best Cheap Pre-Workout for Energy: Kaged Purcaf Caffeine Pills
Good for: People who just take pre-workout for the quick energy boost
Unlike Pre-Kaged, which is a product we've tried several times in the past, this is a different kind of pre-workout. With 200 milligrams of caffeine per serving, taking these capsules is like downing a 16-ounce cup of coffee. That's a "grande" for those here who speak Starbucks. At $0.15, it's also far cheaper than a cup of coffee, so that's something to consider, especially if you don't even like the taste of coffee and just drink it out of necessity.
According to Kaged, the capsule form in lieu of a pre-workout powder provides a purer and cleaner boost of energy. Logically, it makes sense considering the ingredient list is short with only one ingredient: caffeine.
Since the supplement contains no other compounds like BCAAs, stimulants, and neurotransmitters that the body has to simultaneously process in powders, you just end up with a potent dose of pure caffeine, which is derived from organic green coffee beans.
GGR expert panel member and product tester Jacob Penner agrees. "These pills would be great for someone who just wants caffeine and nothing else. I'd use this to take away the chore of making coffee/mixing pre-workout. It won't have the effects of pre-workout, obviously, but it does energize you."
That's one of the downsides to using this supplement as a "pre-workout," as there's only one ingredient and, although caffeine does have proven benefits to athletic performance8, you aren't getting the same value as the multi-ingredient pre-workout powders with multiple compounds that serve multiple functions8.
However, if you really only need pre-workout to raise your energy levels, this is a pretty smart substitute. Additionally, it has been third-party tested by Informed Sport, and the capsules have been made from plant-based ingredients, making it suitable for vegans.
| | |
| --- | --- |
| Price per serving | $0.15 |
| Flavors | None |
| Contains caffeine? | Yes |
Best Stim-Free Cheap Pre-Workout: Raw Nutrition Pump
Good for: Caffeine-sensitive athletes and gym goers who want performance benefits without the jitters
This caffeine-free pre-workout gives you so much good stuff for a pump without the jitters for those who are sensitive to any sort of dose of caffeine. Raw Nutrition's pre-workout also contains betaine and beta-alanine to help delay fatigue during your workouts, along with l-citrulline to help promote the blood flow you need for a pump.
RELATED: Best Pump Pre-Workout
Raw Nutrition's pre-workout formula also contains lion's mane extract, which has been purported to help reduce fatigue in animal subjects, but we were not able to find any published studies that showed significant benefits to humans. 
GGR staff writer Lauren Strong's husband Matt—a competitive powerlifter— tried Raw Nutrition Pump, as he used to have a hard time falling asleep from drinking pre-workout before his after-work session. "This stim-free has actually been a decent solution for him," Lauren says. Matt gave it a 4 out of 5 on effects, saying the one-point deduction came because it's not the best on an empty stomach.
One thing I really want to point out here is the electrolytes. There are 210 milligrams of sodium from sea salt, but then also 500 milligrams of Himalayan pink salt. This, along with the 12.5 milligrams of potassium, make this supplement a solid tool for helping with hydration as one serving contains more sodium than even a standard Gatorade.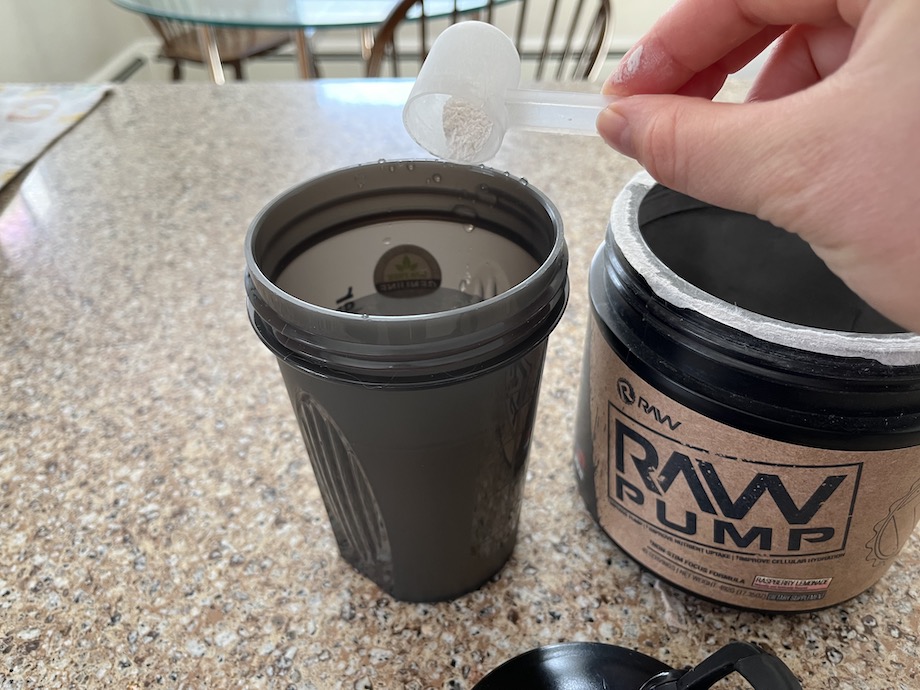 Finally, Raw Nutrition Pump also contains agmatine, which studies suggest can alter the metabolism enough to aid in fat loss5 when taken on a long-term basis. If you are on a weight loss journey, Raw Nutrition Pump may actually prove to be a helpful addition to your toolkit in the event you decide to stick with it as a consistent part of your supplement regimen over the long haul.
All in all, if you're a late-night exerciser, having a stimulant-free pre-workout on deck is probably a good idea to keep you from staying up half the night jacked on Green Apple-flavored supplements. 
| | |
| --- | --- |
| Price per serving | $0.99 |
| Flavors | Lemonade, Pineapple, Raspberry Lemonade, Watermelon, Strawberry Lemonade |
| Contains caffeine? | No |
Best-Tasting Cheap Pre-Workout: Pro Supps Mr. Hyde
Good for: Athletes who need to take a pre-workout that's safe and a steal
With flavors like Lollipop Punch and Pixie Dust, ProSupps Mr. Hyde lands on our list for its great taste, but the perks don't stop there. Mr. Hyde is also vegan-friendly, soy-free, gluten-free and contains zero added sugar. It should be noted, though, that it is sweetened with sucralose, an artificial sweetener you may know as Splenda. 
Certified personal trainer and nutrition coach Anthony O'Reilly tried the Blue Razz Popsicle flavor and gave it a 5 out of 5 on taste. "It really tastes like those sticky ice pops you got from an ice cream truck on hot summer days," he says.
Along with 1 gram of creatine and about 200 milligrams of caffeine, Mr. Hyde also contains something called choline bitartrate. Researchers found that choline-based supplements, such as pre-workout, can improve explosive power6 during resistance training, allowing test subjects to maintain their power even when they are fatigued.
Another huge reason why I am so excited about this supplement is the fact that ProSupps Mr. Hyde boasts a seal of third-party testing certification from Informed Choice, which is a third-party lab that tests supplements to confirm that they are safe and do not contain banned substances. Not to be dramatic, but this just makes my sports dietitian heart just sing with delight.
At $0.66 per serving it's one of the best cheap pre-workout supplements on our list in terms of the combination of taste, value, and ingredient quality. This is an especially good choice if you're an athlete who is strapped for cash, but needs a pre-workout that'll keep you drug-test ready without skimping on active compounds.
| | |
| --- | --- |
| Price per serving | $0.66 |
| Flavors | Lollipop Punch, Watermelon, Pixie Dust, Blue Razz Popsicle |
| Contains caffeine? | Yes |
Best Cheap Pre-Workout for a Pump: Six Star Pre-Workout Explosion
Good for: Those who want a big pump that comes in a small scoop
With 1.1 grams of arginine per serving and a pump complex, Six Star's pre-workout earns its spot on this list for frugal fitness fanatics. Arginine has been shown not only to be a nitric oxide booster to help blood flow to the muscles7, but can also be uniquely helpful at stimulating muscle growth. Plus, with only 7 grams of powder per scoop, Six Star's pre-workout is pretty manageable. 
GGR performance editor Anthony O'Reilly, who is a connoisseur of pre-workouts, tried Six Star Pre-Workout Explosion and said it's definitely not a bad budget pick. "It provides a good energy boost. The pump is a 5 out of 5 when comparing it to other affordable pre-workouts—if you're on a budget, this is your best option."
Now I do have to note what seems to be a proprietary blend of taurine, l-citrulline, l-citrulline malate and more l-arginine. However, all of these compounds are grouped under something called the "advanced pump complex" on the label and come out to a total of 500 milligrams.
This makes it unclear how much of each compound the supplement actually contains, but definitely much less than the other cheap pre-workout supplements on this list. Now, if you'd like more of the good stuff in this supplement, including beta-alanine, betaine anhydrous, and l-arginine, you can take two scoops and double up on the liquid.
RELATED: Six Star Creatine X3 Review
However, you do not want to take more than two scoops in a 24-hour period for safety. Also, if you are caffeine-sensitive or get a good dose of caffeine from other sources throughout the day, look out. Two scoops of Six Star will have you consuming over 500 milligrams of caffeine in a single sitting, which is definitely going to give that boost of energy, but should be consumed responsibly. 
| | |
| --- | --- |
| Price per serving | $0.53 |
| Flavors | Icy Rocket Freeze, Pink Lemonade, Fruit Punch |
| Contains caffeine? | Yes |
Best Natural Pre-Workout: Naked Energy
Good for: People looking for an economical workout with all-natural ingredients
The problem with cheap supplements? A lot of times, they're also made with cheap ingredients and "proprietary blends" with labels so vague and confusing you barely know what you're taking most of the time. Not with Naked Energy, though.
In terms of workout products, Naked Energy is one of those brands that people get when they want to supplement their workout with a more minimalist approach. Their pre-workout maintains these standards by being made without using GMOs or additives, artificial colors, or artificial sweeteners, and it's able to provide a great taste even while being naturally flavored. All of this at only $0.90 a serving, too.
GGR senior staff writer Amanda Capritto is training for a triathlon and reaches for Naked Energy among other pre-workouts. "This one has become my go-to because I always feel energized and focused when I take it."
Those who are sensitive to stimulants can take advantage of the Naked Energy stim-free variation. It is also the version of the product that does not contain beta-alanine for those who would also like to avoid the tinglies.
RELATED: Best Stim-Free Pre-Workout
It's worth noting that, since Naked wants to keep all its ingredients natural, but still make sure they are delicious, one of the major ingredients in the flavored version is cane sugar. In other words, if you're looking for a pre-workout that is 100% sugar-free, then this is not for you.
With regards to the active ingredients included in this pre-workout formula, they can be summed up very simply as the common players: beta-alanine, creatine monohydrate, l-arginine with some vitamins and minerals thrown in. Other than that, as well as being third-party tested, Naked Energy is one of the few pre-workout powders on the market with a formula that is as simple and natural as it is for the cost.
| | |
| --- | --- |
| Price per serving | $0.90 |
| Flavors | Unflavored, Fruit Punch, Citrus, Stim-Free |
| Contains caffeine? | Yes/No |
Best Cheap Pre-Workout for Beginners: Cellucor C4
Good for: People who want a pre-workout powder that's on the mild side
Cellucor is a household name in sports nutrition. I remember in my personal training days, "C4" was basically synonymous with any pre-workout because it was such a common favorite among the trainers. This is especially true considering many of us new trainers were on a considerable budget, but still had to get our pump on! So C4 was the go-to.
A combination of creatine and citrulline malate, which science says can help increase blood flow to the muscles2, can help you get a decent pump. I will say though, the amount of these active ingredients, which also include caffeine, vitamin C, and beta-alanine, is pretty small compared to most conventional pre-workout supplements.
This can be great for those who are scared off from pre-workouts because of the intensity they may feel from all of the ingredients. However, the tricky thing about pre-workouts of a moderate-to-lower potency is that, when some feel like they need a little more, they may take multiple servings to bump up the energy levels and ingest more active ingredients.
That said, as Cellucor C4 says on the package, you really want to take this pre-workout (any any pre-workout for that matter) as directed. If the formulation isn't doing it for you, there are other, more potent formulas, right on this list. Last but not least, Cellucor C4 uses artificial flavors, colors, and sweeteners in its product, so those looking out for these should keep that in mind.
We've written a full C4 pre-workout review if you'd like to learn more about this supplement.
| | |
| --- | --- |
| Price per serving | $0.70 |
| Flavors | Cherry Limeade, Watermelon, Strawberry Watermelon, Fruit Punch, Grape, Frozen Bombsicle, Icy Blue |
| Contains caffeine? | Yes |
Other Cheap Pre-Workouts We Tested
We've researched and tested more than 50 pre-workouts, and there were a few that we considered for this list but ultimately didn't include.
Optimum Nutrition Gold Standard Pre-Workout: We like this pre-workout, but it comes in at about $1.10 per serving, so just missed the cut.
Huge Supplements Wrecked: Same here, we like this pre-workout but it comes in at about $1.25 per serving.
Alani Nu Pre-Workout: This is a good formula for beginners, and those who like super sweet drinks. It also comes in at about $1.15 per serving.
Cira Pre-Game: This formula is aimed at women, and in general, we like it. A couple of the ingredients are slightly underdosed, but for the $1.16 price per serving, it's a solid option.
How We Picked and Tested the Best Cheap Pre-Workout
When shopping for pre-workout on a budget, you definitely want to be on high alert. It's so easy for a company to slap a flashy label on a supplement that's essentially pixie stix powder with a couple of milligrams of cheap, synthetic caffeine sprinkled in to give you just enough of a kick to keep coming back. So, we compiled this list of the best pre-workout supplements all under $1 per serving using the following criteria:
Price
Well, duh. This was the biggest factor in terms of which brands we chose to include on this list. "Cheap" does not mean "low-quality" as far as we are concerned, but affordable is probably a better term. There are some people in the bodybuilding community who insist on spending hundreds of dollars on supplements and that's totally their choice.
In spite of this, we believe there are plenty of brands out there that are also capable of offering the best pre-workout supplements at a price that is affordable for everyone regardless of their budget. The good news is, all of the quality supplements that we have included above will cost you no more than $1 per serving.
Ingredients
As much as we wanted to make sure that these pre-workout supplements were wallet-friendly, we also wanted to make sure they contained at least the most basic ingredients that could be found in similar, but generally more expensive, products.
Generally speaking, citrulline, beta-alanine, l-tyrosine, creatine, caffeine and maybe betaine are the most common pre-workout ingredients and many picks on this list feature most of these and then some. Depending on your individual fitness goals, this may be all you need without the extra cost.
RELATED: Best Pre-Workout With Creatine
Benefits of Cheap Pre-Workout
Great for Daily Use
Probably the greatest benefit of using a cheap pre-workout is saving money. After that, the second best is the fact that you can use the supplement on a regular basis without discretion.
Most of the performance-enhancing compounds you'll find in pre-workout supplements have to be taken consistently for you to see the benefits, so keeping the cost low of something you're going to run through super fast with daily use is never a bad thing.
Energy Boost
Not saying a cup of coffee is expensive (well, it may be, depending on who you ask and how important coffee is to their morning quality), but if you're looking to increase energy levels before you head out to the gym, pre-workout can come in handy.
Many pre-workouts, even the cheap ones, contain a combination of caffeine and other stimulants. They may even have nootropics to help you focus when you're still trying to wake up. In any case, a cheap pre-workout can be a practical way to not only achieve that morning pick-me-up, but get some other potentially pump-inducing ingredients in you at the same time.
Increases Blood Flow
The words "pre-workout" and "pump" are so intertwined that most people almost expect every pre-workout to give them a muscle pump. While this isn't always the case without fail, most pre-workouts do contain ingredients known as nitric oxide boosters.
By boosting your body's production of nitric oxide, you can increase blood flow9 to the muscles, which can translate to a more dramatic muscle size post-workout, possible increased muscle gain and better endurance.
Aids in Muscle Recovery
Speaking of nitric oxide, there are nitric oxide boosters and creatine that can be found in even cheap pre-workouts, helping to pump blood into the muscles. In the same way that the body floods a wound or other injured area with blood, the body supplies the injured area with antibodies and other healing compounds in order to assist in the healing process.
RELATED: Best Muscle Recovery Supplements
Since your muscles also count as body tissues, the same mechanism applies here. So, it's likely that your muscles can recover faster after intense exercise if they're saturated with blood because the muscle tissue can repair itself from the damage caused by the exercise.
Dosing and Interactions
It's always important to use sports nutrition supplements exactly as directed on the label. However, it is arguably the most important to do so when taking pre-workout. Unlike supplements like protein powders, which have a generally straightforward ingredient list, there are various substances like amino acids, nitrates, stimulants and, occasionally, unknown fillers often contained in pre-workout.
These ingredients can change your heart rate, blood pressure, and require an extraordinary amount of processing and metabolization on the part of your liver and kidneys. This can cause unwanted side effects that can cause your health to be seriously compromised if you take them incorrectly, or if these body systems/organs are already compromised and not working optimally.
Make sure you track your caffeine intake from other sources, such as green tea and coffee, if your chosen pre-workout contains stimulants such as caffeine. You may overdo it on the caffeine if you consume too much within a 24-hour period, and this can also be harmful.
Generally speaking, if you have heart problems, you should not take pre-workout due to the supplement's ability to alter blood pressure in dramatic ways. Furthermore, taking pre-workout supplements is not recommended if you suffer from liver or kidney disease.
It is recommended that any new dietary supplement be discussed with your physician, especially if you're concerned about any side effects. In particular, if you take prescription medications, this is recommended, since several dangerous interactions may occur.
Third-Party Testing
Using pre-workout powder increases your risk of being exposed to illegal stimulants or banned substances, since this type of supplement is often adulterated with them. It is especially important if you are an athlete who gets drug-tested that you choose supplements carefully since the FDA does not regulate them.
The multiple ingredients that pre-workout supplements contain also give too much room for mysterious proprietary blends that give sneaky companies a loophole to make labels confusing to either get away with including less active ingredients than it should.
Whenever possible, GGR recommends purchasing supplements that bear a certification of third-party testing. Having been third-party tested, your pre-workout has been examined by a laboratory independent of the manufacturer and has been found to contain no banned substances.
If this is a concern for you, then it is advisable to choose a pre-workout supplement that has been third-party tested and is endorsed with a label from NSF for Sport of Informed Choice. Whether you are drug-tested or not, third-party testing verifies to you, the consumer, that the product contains what is said on the label and in the amounts described.
FAQs About Cheap Pre-Workout
What is the cheapest and best pre-workout?
The cheapest pre-workout on our list that contains the most active ingredients for the price is ProSupps Mr. Hyde, which runs at $0.66 per serving. The best pre-workout, however, is one that both fits your budget and contains the ingredients you need to meet your individual fitness goals. 
What pre-workout is the most effective?
The most effective pre-workout is the one that contains the clinically effective doses of ingredients that will help you meet your fitness goals be it fat loss, muscle gain or athletic performance. 
How much should I pay for pre-workout?
If you are on a budget while shopping for pre-workout, you'll likely find the best value for the price in pre-workouts that cost around $1 per serving. If you can afford $1.50 per serving, that will allow you access to some of the best pre-workouts on the market.  
Can pre-workout affect your thyroid?
If you have an existing thyroid condition, you should not take pre-workout due to its possible ability to alter metabolism. If you are concerned about the bodily effects of pre-workout, you should consult with your physician before beginning a pre-workout regimen. 
These statements have not been evaluated by the Food and Drug Administration. This product is not intended to diagnose, treat, cure, or prevent any diseases.
References