We test and review fitness products based on an independent, multi-point methodology. If you use our links to purchase something, we may earn a commission. Read our disclosures.
It's a common sequence of events: You nail down your pre-workout ritual equipped with the best pre-workout powder to boost energy and blood flow to the muscles. You then crush all of your lifts with the help of the best workout playlist and anxiously await until you can do it all over again. And then two days later everything hurts.
Muscle soreness is a common side effect of training, but luckily you can maximize your post-workout recovery in the meantime. That's where the phrase "Train hard, recover harder" comes from.
Our group of competitive triathletes, registered dietitians, weightlifting coaches, and certified sports nutrition coaches know a thing or two about muscle soreness, and as a result, we've tried hundreds of the best muscle recovery supplements. (We're also big fans of the best muscle recovery tools).
After putting ourselves through rigorous training sessions to get our muscles nice and sore, we examined the best protein powders, sleep aids, and multivitamins based on the following factors:
Formulation: Does the supplement have research-backed ingredients?
Dosage: Does it have enough of all the important ingredients?
Flavor: Does it taste good?
Experience: Did it work for our tests?
Price: Is it affordable?
Medical disclaimer: This article is intended for educational and informational purposes only. It is not intended as a substitute for medical advice. For health advice, contact a licensed healthcare provider.
Best Muscle Recovery Supplements
Best Overall Muscle Recovery Supplement: Transparent Labs Sleep Aid
Good for: Tossers and turners who struggle to get adequate sleep each night
Transparent Labs Sleep Aid helps you do the one thing that's guaranteed to promote muscle recovery—sleep. It's well-known that a good night's rest is critical in the recovery process, as it's a time when the body does most of its muscle-building and recovery. Unfortunately, while the Sleep Foundation recommends at least sleeping seven hours per night, about 35% of U.S. adults in the U.S. report sleeping less than that.
Certified personal trainer GGR staff writer Lauren Strong said she felt a bit groggy after taking this, but attributes that to the amount of melatonin in a serving—that dosage gives it a 5 out of 5 on formualtion. "I was out like a light, which I now realize is because there's 3 milligrams of melatonin in each serving!"
Transparent Labs Sleep Aid claims itself to be non-habit-forming while containing clinical doses of sleep-inducing ingredients. And unlike other sleep aids, it's formulated so you feel rested rather than still feeling tired the next morning, but let's get cozy with the ingredients.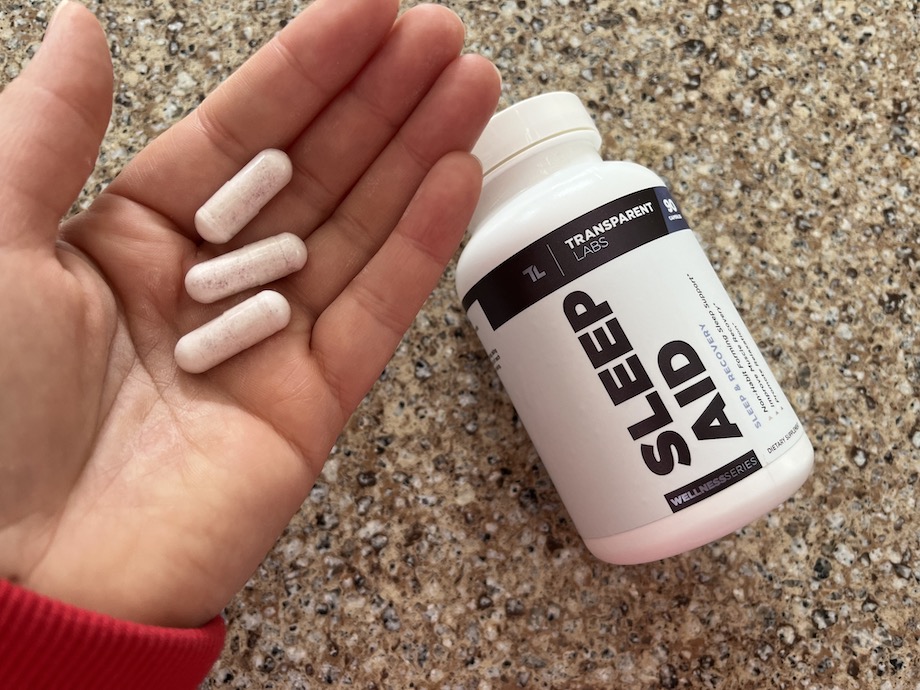 The sleep aid contains more familiar science-backed ingredients related to sleep duration and quality, including melatonin1, magnesium2, and theanine3. Glycine4 also not only shows to improve subjective sleep quality but lessens daytime sleepiness and improves cognition.
Within the capsules, you'll also be welcomed with VitaCherry®—a tart cherry powder—and rutaecarpine—an alkaloid, which is a naturally occurring organic compound found in plants. Tart cherries contain the sleep compound melatonin, while rutaecarpine5 may mitigate the effects of caffeine that could inhibit sleep onset and quality.
As a Transparent Labs product, the sleep aid contains no artificial sweeteners, coloring, or preservatives. It's also vegan-friendly and packaged in a vegetable hypromellose capsule6 for controlled release and to enhance solubility.
| | |
| --- | --- |
| Key ingredient(s) | VitaCherry®, L-theanine, L-glycine, rutaecarpine, melatonin, bioavailable minerals (like Magnesium and Zinc) |
| Main recovery benefit(s) | Promotes a restful night's sleep |
| Supplement form | Capsules |
| Cost per serving | $19.99/30 servings = $0.67/serving |
Best Post-Workout Supplement for Muscle Recovery: Crazy Nutrition Mass Gainer
Good for: Those who want to quickly recover from a strenuous training session
Most people may reach for a protein powder after a strenuous workout, but science says supplements like Crazy Nutrition Mass Gainer might be a better pick for those who want to recover in time for their training session. Several studies have pointed out that the two macronutrients work better together at promoting muscle recovery than protein alone.
"We conclude that essential amino acids with carbohydrates stimulate muscle protein anabolism by increasing muscle protein synthesis when ingested 1 or 3 h after resistance exercise," says an older study7.
This mass gainer contains clean carbs from oat flour, has digestive enzymes, and piperine to help with nutrient absorption. The protein front, however, could be better and brought this mass gainer's formulation score down to a 3 out of 5 because it uses whey protein concentrate instead of whey protein isolate.
Why does that matter? Registered dietitian nutritionist Destini Moody, who specializes in sports dietetics, explained in our full Crazy Nutrition Mass Gainer review, "Whey protein isolate is about 95-97% protein by weight compared to concentrate's 80% by weight." Whey protein concentrate also contains more lactose, which could cause some digestive issues.
That's exactly what happened to USA Weightlifting Level 2 Coach Jacob Penner when he tried this post workout supplement for recovery.
| | |
| --- | --- |
| Key ingredient(s) | Oat Flour, Whey Protein Concentrate, MCT Oil Powder, Piperine |
| Main recovery benefit(s) | Promotes post-workout muscle recovery |
| Supplement form | Powder |
| Cost per serving | $89.99/20 servings = $4.50 per serving |
Best BCAAs for Muscle Recovery: Transparent Labs BCAA Glutamine
Good for: Fitness fanatics looking to fine-tune their athletic performance and recovery
Transparent Labs BCAAs was created to be one of the best BCAA supplements on the market and they sure do deliver. So much so we even detailed a comprehensive Transparent Labs BCAAs review filled with a few 5 stars—and it's not every day we hand those out!
Although it gets great customer reviews, our tester, certified personal trainer and GGR Senior Editor Nicole Davis, didn't care for the Strawberry Lemonade flavor she ordered. "It tastes a bit bitter with a weird aftertaste."
The branched-chain amino acids8 (BCAAs)—leucine, isoleucine, and valine—are building blocks of protein and are mostly metabolized in skeletal muscle. BCAAs act as an energy source during exercise, promote an anabolic environment, and impact L-glutamine metabolism. The amino acids may also improve the speed of recovery of fatigued skeletal muscle.
Specific to Transparent Labs BCAAs, we'll first point out that the BCAA supplement offers 8 grams of BCAA 2:1:1—this is the ideal ratio of leucine, isoleucine, and valine. Specifically, the BCAA supplement provides 4 grams of leucine (and 2 grams each of isoleucine and valine), and research9 shows about 3 to 4 grams of leucine per serving can maximize protein synthesis.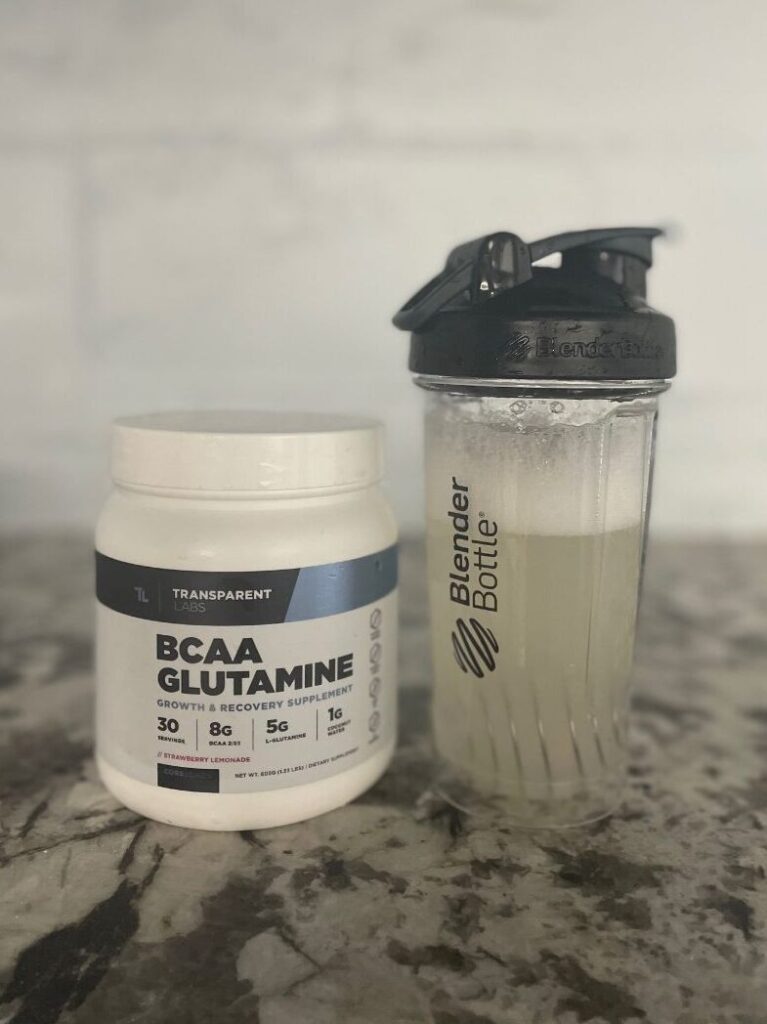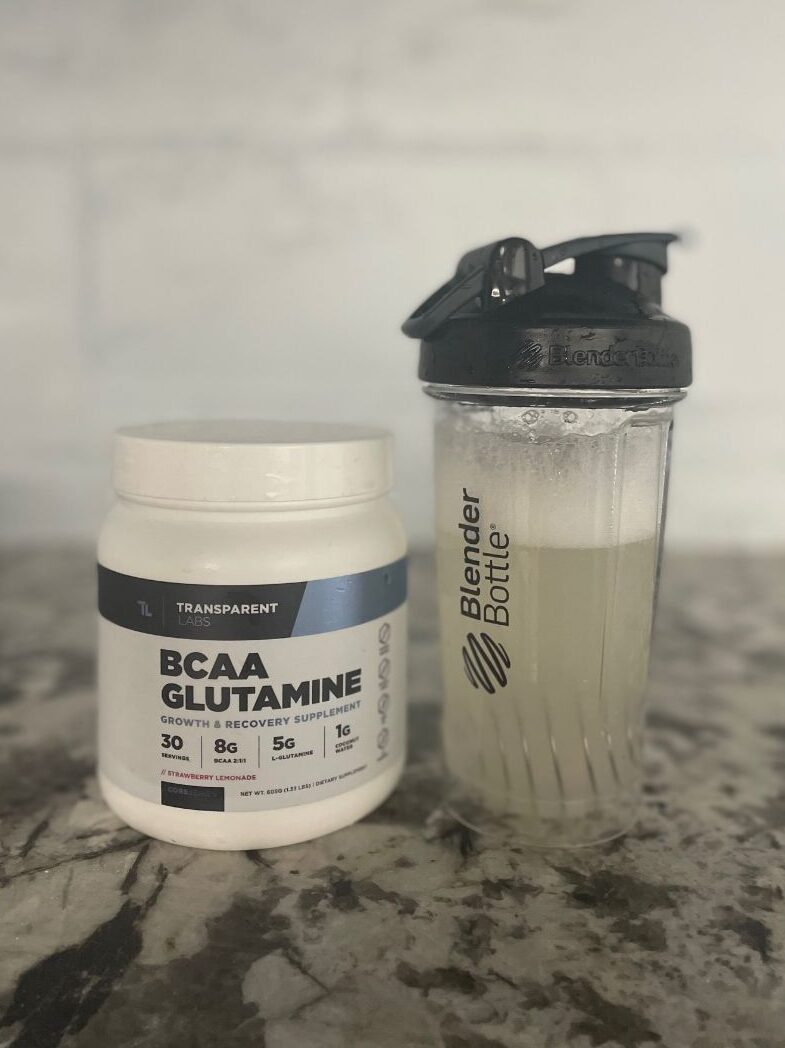 In addition to BCAAs potentially spurring glutamine metabolism, the BCAA supplement also provides us with 5 grams of glutamine. While a non-essential amino acid, glutamine becomes conditionally essential during times of illness, infection, and stress like following an intense workout. The amino acid may bolster immune, intestinal, brain, and nerve health, along with aiding in athletic recovery.
RELATED: Benefits of Glutamine
You'll also be taking in 1,500 milligrams of vitamin C10, which may aid in muscle recovery thanks to its antioxidant and anti-inflammatory properties. The BCAA supplement also provides 1 gram of coconut water to enhance hydration and the recovery process.
Transparent Labs BCAA powder comes in four hydrating flavors—like Blue Raspberry and Sour Green Apple—that are all naturally flavored and sweetened with stevia. Also like all Transparent Labs products, the BCAA supplement is free of artificial sweeteners, coloring, and preservatives.
Transparent Labs BCAA powder was also our top pick for the best BCAA for women.
| | |
| --- | --- |
| Key ingredient(s) | BCAA 2:1:1 (4 g Leucine, 2 g isoleucine, 2 g Valine) |
| Main recovery benefit(s) | Reduce muscle breakdown while speeding up muscle recovery time |
| Flavor option(s) | Blue Raspberry, Sour Green Apple, Strawberry Lemonade, Tropical Punch |
| Cost per serving | $39.99/30 servings = $1.33/serving |
Best Creatine for Muscle Recovery: Legion Recharge
Good for: Those searching for high-quality recovery supplements actually supported by sound data
Among the hundreds of dietary supplements, creatine is one of the few that actually has a glowing track record. And even out of the countless creatine supplements available, Legion Recharge ranks as one of the best creatine powders on the market because it contains micronized creatine monohydrate—micronized means the creatine molecules have been sized down to enhance its absorption.
It also provides the recommended 5 grams of creatine per serving, which 2021 research11 shows taking up to 5 grams of creatine daily is sufficient enough to exert greater strength and build lean muscle tissue. That's an instant 5 out of 5 for formulation. It also gets a 5 out of 5 on solubility due to the micronized powder.
GGR senior editor and certified personal trainer Nicole Davis really likes Strawberry Lemonade Recharge, saying it's sweet and tart—a good combo—plus helps with her post-workout muscle soreness.
Specific to recovery, creatine appears to positively influence recovery following bouts of intense and intermittent activities like HIIT workouts. Creatine supplementation may also reduce post-exercise inflammation—like easing muscle damage and soreness—and be an effective post-injury intervention.
And now for the less obvious, but highly appreciated, factors: Legion Recharge also provides 2.1 grams of L-carnitine L-tartrate12 that can protect against muscle soreness and improve muscle repair. It also contains 10.5 milligrams of corosolic acid13 to enhance post-workout nutrient absorption and ward off inflammation.
Legion's robust post-workout drink comes in four flavors—like Fruit Punch and Strawberry Lemonade—but you can also get unflavored if you wish. All flavors are 100% naturally flavored and sweetened so you won't find any added sugars, artificial food dyes, or "other chemical junk."
We also truly appreciate that Legion supplements undergo third-party testing and you can even view the latest lab results of each product. Legion also relies heavily on evidence-based data, even referencing over 40 peer-reviewed scientific studies to support Recharge's combination of ingredients and doses.
| | |
| --- | --- |
| Key ingredient(s) | Micronized creatine monohydrate |
| Main recovery benefit(s) | Eases post-exercise inflammation, muscle damage, and soreness |
| Flavor option(s) | Fruit Punch, Strawberry Lemonade, Unflavored, Watermelon |
| Cost per serving | $39.99/30 servings = $1.33/serving |
Best Whey Protein for Muscle Recovery: Xwerks Grow
Good for: Protein seekers looking for a pure whey protein isolate to maximize muscle gains and recovery
Xwerks Grow is a whey protein isolate powder sourced from naturally raised grass-fed cows from New Zealand, which is said to be one of the strictest countries in the world when it comes to dairy quality. This means you won't have to worry about consuming hormones, antibiotics, or pesticides.
Compared to concentrates, whey protein isolates offer higher protein concentrates—typically offering a protein content of 90% or more—and Xwerks Grow provides about 28 grams of protein per one scoop serving. Due to its high protein purity, whey protein isolates are used widely in nutritional supplements and for good reason.
Xwerks Grow is also free of artificial sweeteners, flavors, and coloring, as well as soy and gluten. All four flavors—including chocolate, peanut butter, strawberry, and vanilla—are naturally sweetened and flavored with ingredients like cocoa and vanilla beans.
GGR performance editor and expert product tester Anthony O'Reilly is a huge fan of Xwerks Grow—he finds the chocolate flavor tastes like a "protein Yoo-hoo" and with 25 grams of protein per serving, plus 0 grams of fat and 1 gram of carbs, he really feels like he's getting a lot for his buck. "I wish I could score it higher than a 5 out of 5," he says. "This is a perfect 10 when it comes to flavor and solubility."
Whey protein14 and whey protein isolates are complete proteins because they provide all essential amino acids—the building blocks of protein—to help grow and recover muscles. It also provides the body with branched-chain amino acids (BCAAs) to replenish depleted levels and build muscle mass following a workout.
RELATED: How to Build Muscle
Whey protein is also an excellent source of the essential amino acid leucine, which plays a key role in protein synthesis and growth. Compared to soy protein isolate, whey protein isolate shows to provide 50% more leucine.
2020 research15 also suggests whey protein and whey protein isolates may assist in reducing blood pressure and cholesterol levels. Also, compared to casein-based proteins, which we'll dig into shortly, whey isolates show to increase glutathione16 that plays critical roles in tissue building and repair, immune function, and more.
Due to its lower lactose content, whey protein isolates may be a better-tolerated protein source compared to other whey proteins if lactose-intolerant. Also because it's an isolated protein, meaning it contains very little carbohydrate and fat, it's a suitable option for those following a low-carb diet—but also please remember your body thrives on a balance of nutrients.
Xwerks costs almost $2.00 per serving, though you can save 5% using their subscribe and save option. They also offer free shipping, as well as a 100% money-back guarantee if you aren't completely satisfied.
| | |
| --- | --- |
| Key ingredient(s) | Whey protein isolate |
| Main recovery benefit(s) | Aids in muscle repair so you can recover more quickly |
| Flavor option(s) | Chocolate, Peanut Butter, Strawberry, Vanilla |
| Cost per serving | $59.00/30 servings = $1.97/serving |
Best Carb Drink for Muscle Recovery: Jacked Factory Carb Surge
Good for: Intense and endurance exercisers needing to quickly replenish glycogen stores on the go
These aren't your sugar bomb carb drinks (looking at you, soda). Jacked Factory Carb Surge is formulated to enhance athletic performance and recovery by providing 23 grams of clean, complex carbs from Carb10® Pea Starch and Cluster Dextrin—without the use of refined, ultra-processed sugar.
Before and as you exercise, especially during an intense workout or endurance events, your body relies on carbohydrates as its main source of energy. Without readily available carbs, your body will start tapping into glycogen—the storage form of glucose in muscles—for energy.
Carb drinks can help replenish muscle glycogen after a workout. Not only does this help avoid muscle breakdown, but it allows you to enhance your recovery.
GGR staff writer and certified personal trainer Lauren Strong says Carb Surge definitely gives her more energy for morning workouts as opposed to the fasted state that she normally works out in.
The taste, however, left a little to be desired and came in at a 3 out of 5. The taste itself wasn't the problem, Lauren notes. "There's a noticeable aftertaste that I didn't like," she says. "It has a sweet, fruit-like flavor. "Consistency is totally fine, thin, and the whole thing reminds me of a pre-workout."
Now you might be wondering, "Can't I just eat a sugary cookie?" Well, you could, but you risk spiking blood sugar levels, and Jacked Factory's carb drink minimizes such risks thanks to its use of Carb10® Pea Starch and Cluster Dextrin.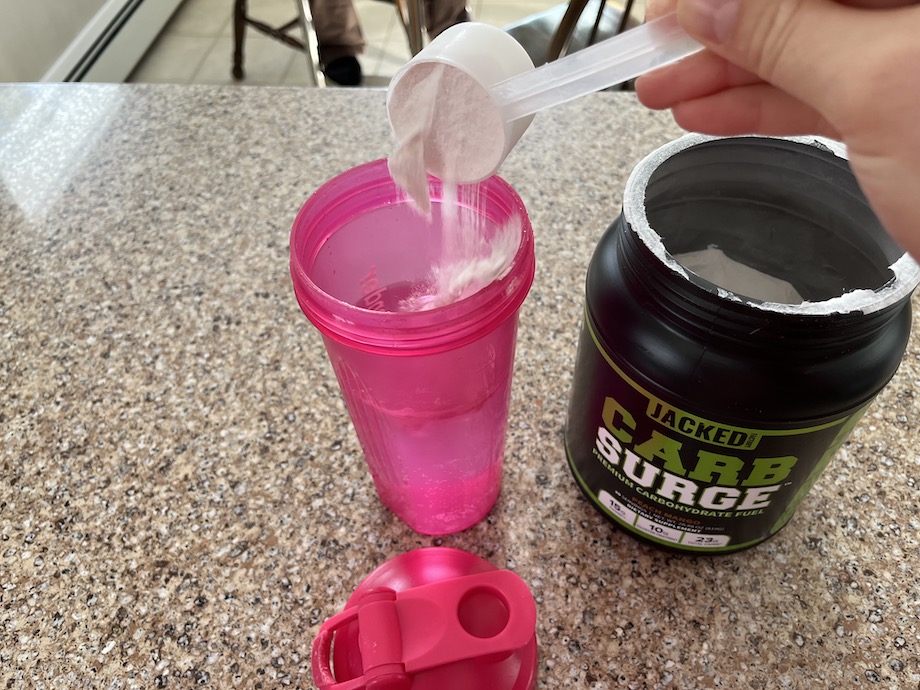 Unlike sugar that elicits insulin and blood sugar spikes, Carb10® Pea Starch provides a slow and controlled glycemic response to supply steady energy. A review published in the British Journal of Nutrition17 tells us that amylose18—a component of starch—in peas is what contributes to its lower glycemic index and reduced starch digestibility.
Cluster Dextrin®—also known as highly branched cyclic dextrin (HBCD)—is a relatively new carb source that has gained popularity in the sports nutrition world. In fact, according to a 2021 review19, HBCD is claimed as the "gold standard" of recovery and performance drinks. The review further adds HBCD may increase performance and endurance compared to other carb sources like maltodextrin and glucose. (GGR staff writer and expert product tester Lauren Strong says Carb Surge definitely gives her more energy for morning workouts as opposed to the fasted state that she normally works out in.)
Carb Surge is also said to be easier to digest and friendlier on the stomach, which is ideal while you're training. It's also prepared with no fillers or dyes, although it does contain artificial flavors and the artificial sweetener sucralose. Lauren thinks Peach Mango is a bit too sweet for her liking, but diluting it with more water helps.
And like all Jacked Factory products, Carb Surge is manufactured in a cGMP (Current Good Manufacturing Practice) Certified Facility based in the U.S. Because supplements are not tightly regulated, cGMPs provide a formal system that helps assure identity, strength, quality, and purity of products.
| | |
| --- | --- |
| Key ingredient(s) | Carb10® Pea Starch, Cluster Dextrin® |
| Main recovery benefit(s) | Replenish muscle glycogen stores |
| Flavor option(s) | Peach Mango, Unflavored |
| Cost per serving | $34.99/30 servings = $1.16/serving |
Best Protein for Muscle Recovery and Energy: Momentous Recovery
Good for: Those who need a good pick-me-up after a morning training session
If you're an early riser or prefer to hit the gym first thing in the morning, you may find yourself craving post-workout recovery with a little bit of an energy boost. Have you considered mixing your post-gym protein into your morning coffee? It sounds like an innovative solution, but not all protein powder is created equal when it comes to solubility (or its ability to dissolve in liquid).
Luckily, GGR Performance Editor and certified personal trainer Anthony O'Reilly did the testing for you when it comes to a solid protein coffee and recommends Momentous Recovery, saying, "The powder is as fine as sand, and I was able to mix 85% of it just with the straw. The other 15 required a brief shake. The powder creates a high-protein vanilla 'latte' that is delectable. New favorite morning beverage!" Anthony rates Momentous Recovery a 5 out of 5 for solubility and taste.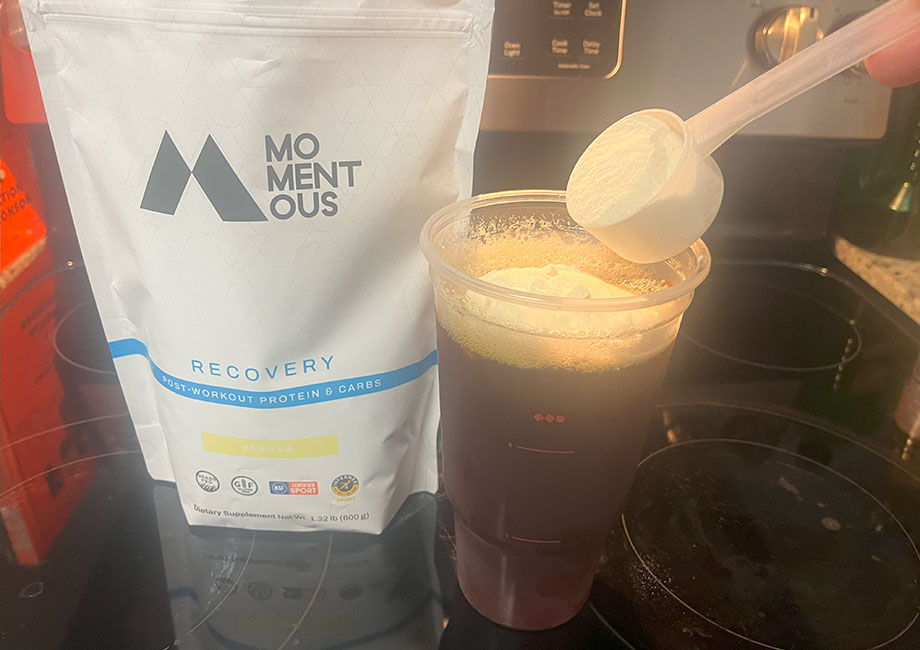 Another advantage of this NSF-certified product for your post-workout recovery is the 2:1 protein-to-carb ratio of 22.97 grams of whey protein isolate sourced directly from grass-fed Irish cows and 10 grams of carbs to help restore glycogen20 after breaking down your muscles during training. A protein and carb one-two punch has also been shown in studies21 to play an important role in reducing muscle damage after a tough workout. Momentous Recovery also contains L-carnitine, L-glutamine, magnesium, and electrolytes for hydration.
Where Momentous Recovery falls a little short is in the cost category. This protein powder is definitely on the spendier side and receives a 1 out of 5 from Anthony in terms of cost. But if cost isn't a factor, your post-training morning coffee may benefit from a protein upgrade.
| | |
| --- | --- |
| Key ingredient(s) | Grass-fed whey protein isolate, L-glutamine, L-carnitine tartrate, Dimagnesium malate, ProHydrolase® |
| Main recovery benefit(s) | Blend of protein and carbs for recovery |
| Supplement form | Powder |
| Cost per serving | $54.50/15 servings = $3.63/serving |
Best Casein Protein for Muscle Recovery: Muscle Feast Premium Whey Casein Blend
Good for: Protein buffs on the hunt for a hybrid protein powder with slow and fast-digesting properties
Muscle Feast Premium Whey Casein Blend is a premium protein blend of whey isolate, hydrolyzed whey, and micellar casein. The proteins work together to help maximize protein synthesis and muscle growth while minimizing recovery times.
Kate Meier, a competitive weightlifter and GGR head of content, loved this protein's versatility and often uses it for protein pudding but the taste fell a little flat at a 3 out of 5. "I actually thought maybe I'd gotten the unflavored instead and had to check the label," Kate says of the chocolate flavor. "It certainly isn't a bad taste by any means; just not much of a taste."
Let's talk a little more about why you might want to incorporate some of the best casein protein powders into your supplement regimen.
Like whey, casein22 is a protein found in milk but occurs in greater amounts (80% to be specific) and is considered to be a highly nutritious protein rich in amino acids. Casein exists in milk as micelles—which have been separated from skim milk and whey—that consist of casein molecules, calcium, inorganic phosphate, and citrate ions.
Unlike whey, casein is slowly digested and absorbed and namely also known as the "slow protein." This allows for a sustained increase in amino acids (for about 7 hours!), in turn prolonging muscle protein synthesis.
Due to its slow digestion and absorption, casein is often recommended before bed to promote an anabolic environment. In fact, research published in the Medicine & Science in Sports & Exercise23 found consuming casein protein right before sleep is effectively digested and absorbed and improves post-exercise overnight recovery. A more recent 2022 study24 shows that pre-sleep casein accelerates functional recovery in professional soccer players, which could make it a practical recovery supplement following exercise.
Beyond the function of the ingredients, Muscle Feast is committed to and proud of providing a natural protein blend sourced from pasture-raised, well-treated, grass-fed cows. Also rest easy knowing the premium protein is free of fillers, added sugars, and artificial sweeteners while being certified gluten-free, vegetarian, and kosher.
Muscle Feast's protein comes in two- (34 servings) and five-pound (87 servings) options as well to best meet your protein needs. You can also choose to "Subscribe & Save" for 10% off your routine orders—all based on your schedule.
Overall, Muscle Feast suggests their blend is "best for individuals who want to reap the benefits from having multiple sources of protein included in one powder." And a "casein point" as to why this is our top pick: we also recommend diet diversity!
| | |
| --- | --- |
| Key ingredient(s) | Micellar casein, whey protein isolate, hydrolyzed whey protein |
| Main recovery benefit(s) | Facilitate an anabolic and post-recovery environment for up to 7 hours |
| Flavor option(s) | Chocolate, Vanilla, Unflavored |
| Cost per serving | $59.99/34 servings = $1.76/serving |
Best Electrolyte Drink for Muscle Recovery: Transparent Labs Hydrate v3
Good for: Those looking to elevate their hydration status to optimize performance and recovery
Because of its commitment to high-quality and intentional ingredients, Transparent Labs lands on our list as the best electrolyte drink. Electrolytes are electrical producers in the body that help maintain fluid balance, prevent muscle cramps, regulate blood pressure, and so much more.
Certified personal trainer and GGR performance editor Anthony O'Reilly is partial to the fruit punch flavor, which he likens to Hawaiian Punch, and says it's a 5 out of 5 on taste. "I've tried this for pre-workouts and post-workouts and in both instances I've noticed increased hydration. As a pre-workout it's a great way to increase muscle endurance."
Proper hydration is vital for health and during all points of training, recovery included. And this concept isn't new, as earlier research25 emphasizes that rapidly and completely restoring fluid balance is an essential part of the recovery process—especially in hot and humid conditions when sweat loss tends to be greater.
Successfully restoring fluid balance requires consuming moderately high levels of sodium, the most important electrolyte to maintain fluid balance while being the main electrolyte lost in sweat. Transparent Labs electrolyte drink provides 500 milligrams of sodium, and the American College of Sports Medicine26 (ACSM) recommends consuming 500 to 700 milligrams of sodium if exercise lasts longer than one hour.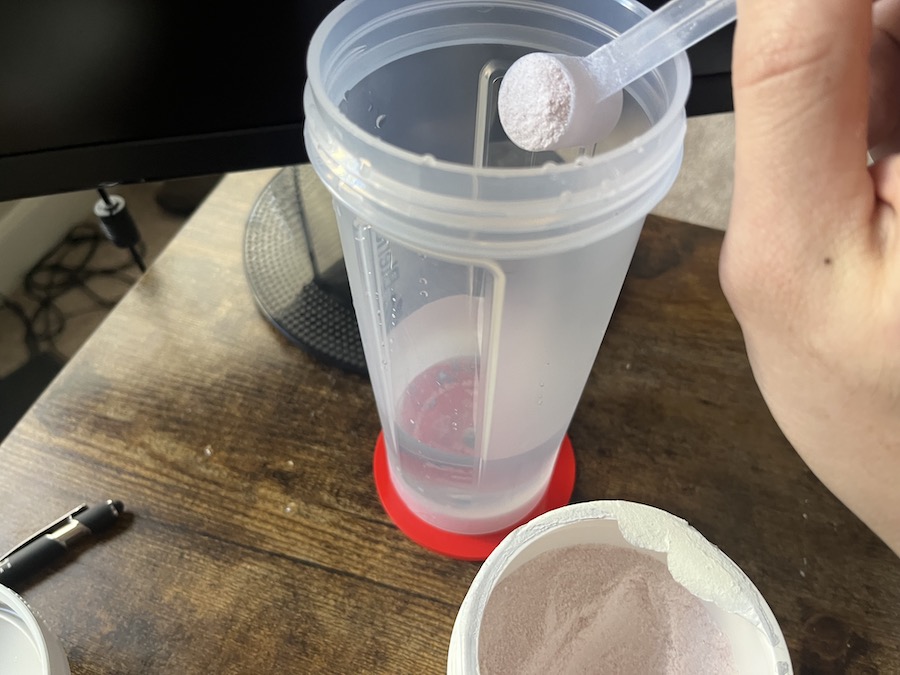 While the other electrolytes in the powder—like potassium, magnesium, and calcium—aren't lost in sweat as much as sodium, they still promote fluid and electrolyte balance. Transparent Labs Hydrate v3 also provides taurine—an amino acid especially abundant in skeletal muscle—and research27 shows taurine may enhance exercise performance and alleviate exercise-induced oxidative stress for optimal recovery.
Also to promote proper recovery, it's wise to avoid or limit sports drinks filled with low-quality sugars and artificial ingredients that could promote inflammation. Luckily, Transparent Labs Hydrate formula is free of artificial sweeteners, coloring, and preservatives and is instead naturally sweetened, flavored, and colored with stevia extract, beetroot powder, and beta-carotene.
| | |
| --- | --- |
| Key ingredient(s) | Sodium, potassium, magnesium, calcium |
| Main recovery benefit(s) | Replenishes electrolytes, especially following an intense or long workout that induces great sweat loss |
| Flavor option(s) | Tropical Punch |
| Cost per serving | $28.99/40 servings = $0.72/serving |
Best Greens Powder for Muscle Recovery: Athletic Greens AG1
Good for: Nutrition and fitness warriors who want to take their health and recovery to the next level
Let's first emphasize that by no means should you skimp out on your daily fruits and veggies. But if you do fall shy of the daily five, or just want more micronutrients as a supplemental insurance policy, Athletic Greens AG1 might just be for you.
There are two types of people: Those who swear by AG1 and those who don't get the hype. Certified personal trainer and GGR senior editor Nicole Davis is the latter, and she married a competitive endurance athlete who loves the stuff.
"I didn't notice any negative side effects, but also can't say that I noticed any huge positive side effects either," Nicole says of her personal experience. "I just like the peace of mind knowing that I'm intaking more micronutrients than are in my diet already, and it's a healthy habit that I can feel good about daily."
The couple agreed the taste is almost perfect, but scored it a 4.5 out of 5. "It's mild and a bit grassy (to be expected), but I get a pineapple vanilla flavor predominantly. It's very pleasant," Nicole says.
Brought into the fitness world as Athletic Greens and recently rebranded as AG1, the powdered green supplement continues to be rooted in science. AG1's Scientific Advisor is also the one and only Dr. Andrew Huberman, a neuroscientist and professor at Stanford School of Medicine, so the grass is already green—and it might just get a bit greener.
(And, no, we aren't talking about the green Benjamins that AG1 costs. However, we do recognize its higher price point and have already covered that in our Athletic Greens review.)
While the amount of ingredients on the label is impressive, it's likewise overwhelming. I mean, when's the last time you were welcomed with 75 ingredients on a Supplement Facts label?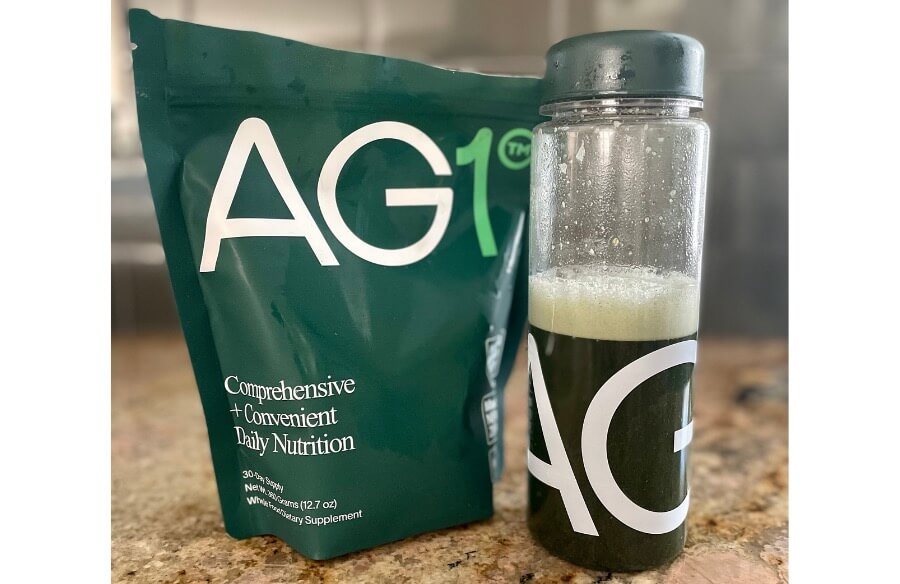 Overwhelm aside, one scoop serving of AG1 provides 50 calories and 2 grams each of protein and fiber. Digging into the wide array of micronutrients, you'll essentially be sipping what a multivitamin supplies but with more bells and whistles.
Fortunately, AG1 packages the nutrients into four tidy categories to help us break down their functions:
Alkaline, Nutrient-Dense Raw Superfood Complex
Nutrient-Dense Extracts, Herbs, and Antioxidants Complex
Digestive Enzyme and Super Mushroom Complex
Dairy-Free Probiotics Complex
The official AG1 website also helps you understand more about the functions and benefits of the carefully selected ingredients, letting us know that they provide whole-body benefits. More specifically, the ingredients support gut and cardiovascular health, bolster the immune system, enhance nutrient absorption, and help you adapt to stress.
The manufacturing process of AG1 is tightly regulated in NSF GMP-registered facilities and all packs are 100% traceable. It's also NSF Certified for Sport®, which verifies the product does not contain unsafe levels of contaminants, prohibited substances, or masking agents.
Again, Athletic Greens AG1, or any of the best greens powders for that matter, should replace wholesome fruits and veggies. AG1 can, however, be a great supplement to a balanced diet.
| | |
| --- | --- |
| Key ingredient(s) | 75 high-quality vitamins, minerals, and whole-food sourced nutrients |
| Main recovery benefit(s) | Provides essential nutrients to support a healthy immune system, fight inflammation, and enhance the absorption of muscle-building protein |
| Flavor option(s) | Not specified |
| Cost per serving | $99.00/30 servings = $3.30/serving |
Best Multivitamin for Muscle Recovery: Legion Triumph Multivitamin
Good for: Men and women who want a nutrient insurance policy for their balanced diets
Legion Triumph Multivitamin is a sports multivitamin that captures just how we feel about supplements and multivitamins. While it won't transform and turbocharge your overall health, it will "plug in nutritional holes in your diet." What this means is that it can help as a nutrient insurance policy to supplement a wholesome diet, not take the place of one.
"I take this at night, and I think the magnesium and zinc blend helps my sleep," says GGR staff writer and certified personal trainer Lauren Strong. "Other than that I didn't notice much, but I did reduce my serving size by half because I'm supposed to take eight pills!"
Yes, one serving size for each the men's and women's multivitamins is eight pills—yowza. Even if you do a half-dose, that's still a 3 out of 5 when it comes to swallowability. The women's formulation, while thorough, gets a 4 out of 5 from us because it contains iron, one of the few micronutrients that has an upper limit. If your diet contains a lot of iron-rich foods, such as red meat or spinach, this might not be the right multivitamin for you. (The men's version does not contain iron and gets a 5 out of 5 from us).
RELATED: Best multivitamin for women
Let's dive deeper into the Legion's high-quality multivitamin. First, know that there are two Legion Triumph options: a men's and women's option to target both genders' unique nutrient needs and enhance athletic performance, mood, and overall health.
The men's multivitamin contains 21 essential vitamins and minerals in clinically effective doses, including those that are often overlooked and under-dosed. These include vitamins K1, K2, and D, as well as zinc, magnesium, iodine, and chromium.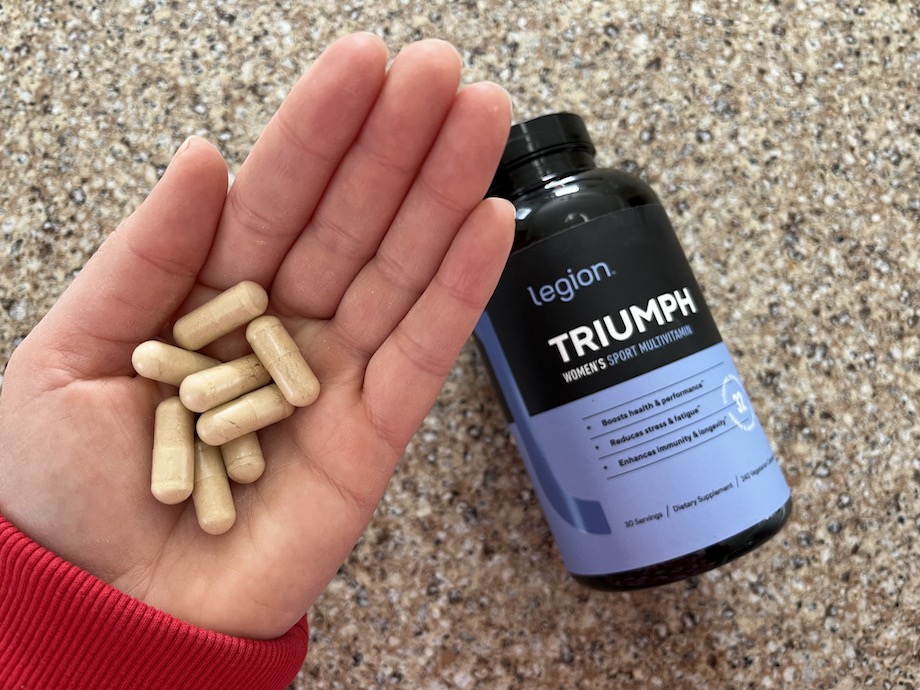 Let's look at Legion's inclusion of both vitamins K1 and K228 as an example. While both forms of vitamin K are beneficial, vitamin K1 is most helpful for blood clotting and vitamin K2 has more pronounced roles in heart, bone, and really overall health. Despite the emerging benefits of vitamin K2, it shows to be under-consumed but supplying in high doses via supplementation could help consumers reach the required daily intake and improve their health.
The women's multivitamin provides 22 essential vitamins and minerals, including those in the men's, but with the addition of iron after cross-referencing the supplement labels. While iron is still an important mineral for men, women require more iron to support their menstruation cycles and childbearing years. Don't worry, we still have rounded up the best iron supplements suitable for all!
Vitamin and minerals aside, both men's and women's multivitamins offer other beneficial ingredients—like alpha-lipoic acid29, olive leaf extract30, and lutein31—to enhance the antioxidant profile and improve heart, bone, and brain health.
Each also provides unique ingredients to support their hormone health and sex drive. For example, Legion's women's multivitamin contains vitex agnus-castus32 that can help reduce menstrual side effects while the men's multivitamin provides pumpkin seed extract33 to support prostate health.
RELATED: Best multivitamins for men
In terms of muscle recovery, each nutrient offers unique roles—like vitamin C5 to fight inflammation and zinc34 to repair muscle tissue. But providing the body with adequate amounts of all nutrients helps it function and recover at its best (and that's truly when the most magic happens)!
Being a Legion product, and if your curiosity is piqued like ours, you can sift through the data with ease on their main product page. There you'll quickly find the research Legion uses to support the selection of each natural ingredient used and learn Triumph does not contain "chemical junk," including artificial and synthetic substances.
Also like all Legion products, Legion Triumph is made in the U.S. in NSF-certified, FDA-inspected, and cGMP-compliant facilities. This means you'll receive a lab-tested product for potency and purity—you can even view the latest lab results on the product page.
| | |
| --- | --- |
| Main recovery benefit(s) | Fights inflammation, aids in tissue repair |
| Supplement form | Capsules |
| Cost per serving | $49.99/30 servings = $1.67/serving |
Best Plant-Based Protein For Muscle Recovery: KOS Organic Plant Protein
Good for: Those looking for a vegan source of protein to supplement their diet
If you're vegan or prefer plant-based protein, KOS (pronounced K-aw-ss) offers an excellent organic option. The KOS Organic Plant Protein provides 20 grams of plant-based protein per serving. What we really like is that this product features a comprehensive superfood, vitamins and minerals, and digestive enzyme blends, making it one of the best vegan protein powders on the market. Its organic protein blend contains pea protein, flaxseed, quinoa, pumpkin seed protein, and chia seed.
During testing, Amanda Capritto, CPT, CES, CNC, CF-L1, and GGR Senior Staff Writer found KOS relatively soluble (dissolves easily) and says, "It mixes decently in water, milk, and almond milk. It seems that the thicker the liquid, the tougher it is to mix. I mixed it with a typical shaker bottle and a stainless steel shaker ball. It definitely had some small chunks, but nothing extraordinarily bad."
Amanda also enjoyed the chocolate flavor, adding, "It's pretty rich, which I feel is rare with plant protein powders. I tried it three separate times: with almond milk, regular 2% milk, and water. Even with water the taste is decent. It's not great but it's not terrible, and honestly, what more can you ask for when you're drinking vegan protein powder?" Aside from Chocolate, KOS Organic Plant Protein is available in Blueberry Muffin, Chocolate Chip Mint, Chocolate Peanut Butter, Salted Caramel Coffee, Vanilla, and Unflavored.
Overall, Amanda had a pleasant experience using KOS Organic Plant Protein and rated the product a 4 out of 5 overall.
For more from Amanda, read her in-depth KOS Vegan Protein Review.
| | |
| --- | --- |
| Key ingredient(s) | Pea protein, pumpkin seed protein, flaxseed, quinoa, superfoods blend, vitamins and minerals blend, digestive enzyme blend |
| Main recovery benefit(s) | Plant-based protein to aid in muscle repair |
| Supplement form | Powder |
| Cost per serving | $1.99/serving |
Best Sleep Aid for Muscle Recovery: LifeForce PeakRest
Good for: People who want to promote rest and rebuild their muscles tissues
LifeForce Peak rest is a two-in-one supplement that can help promote recovery through a good night's sleep while providing your body with the substances it needs to build muscle. Anthony O'Reilly, GGR's performance editor and a certified personal trainer, has been using it for three weeks and called it "life-changing."
"I was knocked out the first night I tried this," says Anthony. "I've started taking this on nights when I really have to get a good night's sleep or when I'm just feeling a little sore and want to wake up the next morning feeling refreshed."
Anthony, who's also a certified nutrition coach, gave this muscle recovery supplement a 5 out of 5 for its formulation and ingredients. On the sleep front, it contains ashwagandha and melatonin—two substances that have been linked to longer and deeper sleeping cycles. Sleep, as you know, is vital for muscle and strength gain.
RELATED: Best Ashwagandha Supplement
Speaking of strength and muscle, PeakRest also contains 1.5 grams of creatine monohydrate—which, yes, is lower than the research-backed amount of 3-5 grams daily. However, keep in mind this likely won't be someone's only creatine supplement. And even if it was, multiple studies have found that even low-dose creatine supplementation could lead to improvements in strength and muscles.
The powder comes in a Lemon Tea flavor—Anthony scored this a 3-out-of-5 on taste. "Imagine if you found a really old iced tea powder in the back of your pantry…that's what this tastes like. It's not offensive but it does taste as if it's lost some of its flavor."
| | |
| --- | --- |
| Key ingredient(s) | Creatine monodhydrate, Rosemary extract, L-Theanine, Melatonin, Ashwagandha |
| Main recovery benefit(s) | Helps promote a good night's sleep and muscle growth |
| Supplement form | Powder |
| Cost per serving | $105/30 servings = $3.50 |
Other Muscle Recovery Supplements We Researched
Proper muscle recovery takes a village—you need adequate protein, a good night's rest, and the list goes on. Needless to say, there are also other great post-workout supplements that we have researched and approve of like:
How We Picked and Tested the Best Muscle Recovery Supplements
We picked and tested the best muscle recovery supplements just as we do any other product: based on objective data sprinkled with personal experiences we encountered. Yep, we actually do try out our selections! Here's what we are explicitly evaluating:
Supplement function: As you can see, there's a lot that goes into proper muscle recovery—nutrition, hydration, and beyond. We did our best to capture recovery at its essence and matched it with a respective function like a good night's rest with the best sleep aid.
Formulation: Is the supplement formula based on sound data? Are the ingredients supplied in effective doses? We first look at the data and then personally trial whether or not the product elicited any noticeable changes.

Testing: Is the supplement party third-party tested? What other certifications and verifications—like Certified Gluten-Free and USDA Organic—has it undergone? Because supplements are not tightly regulated, tested products help consumers know they are handled at a high standard.
Brand integrity: We're honest in our reviews and value brands who do the same. That said, we also address whether or not the brand at hand is transparent with their formulations, easily accessible to contact, responsive to consumer feedback, and truly committed to providing the best of the best.
Benefits of Muscle Recovery Supplements
The benefits of muscle recovery supplements obviously support muscle recovery, but let's review the specifics:
Delay muscle fatigue
Aid in tissue and muscle repair
Speed up recovery time
Rebuild muscle breakdown and promotes muscle protein synthesis
Lessen delayed onset muscle soreness (DOMS)
Reduce the risk of injuries
Replenish glycogen
Show to be safe with little to no side effects (although we always recommend consulting with your doctor before taking any supplement)
And that's really just scratching the surface, as the benefits of the supplements we selected go beyond muscle recovery. For instance, whey and casein protein may also benefit body composition goals, sleep aids can enhance sleep quality and cognition, etc.
Potential Side Effects of Muscle Recovery Supplements
Too much of a good thing can be bad for you, and that goes for supplements for muscle recovery and growth. Excess creatine, for example, could cause intestinal discomfort and bloating. Products with caffeine may lead to heart issues and sleep disruptions if consumed in excess.
Consult with your physician to ensure a supplement doesn't contain ingredients that may interact with any other supplements or medication you may be taking.
Buying Guide: What to Look for in Muscle Recovery Supplements
There's a lot that goes into optimizing your muscle recovery, so what exactly should you be looking for? Allow us to guide you in your search!
Consider Your Unique Recovery Needs
Before you evaluate any specific product, first assess where your recovery might fall short and select the product(s) that could benefit you the most. What we mean by this is let's say you already get great sleep. So, perhaps a sleep aid isn't your most beneficial investment. But if you fall short on your daily protein targets from high-protein foods, purchasing a protein supplement is [very likely] worth the spend.
Factor Your Preferences
Of course, we stand by these muscle recovery supplements but they might not accommodate your personal preferences in some areas. These include factors like intake method and available flavor options.
For instance, while a great product, Transparent Labs Hydrate v3 formula is only available in Tropical Punch flavor—and you're not going to be as likely to drink if you don't enjoy a Tropical Punch flavor. And if you venture outside of our top picks, don't skip over the next couple of steps!
Review the Supplement Label and Packaging
It's on the inside that matters most and reviewing the product specs can give you great insight into what's in it. Analyze the product like a GGR expert tester by looking out for:
Third-party testing to help validate the probiotic's safety, purity, and quality.
Verifications that are important to you, including being gluten-free, vegan, and kosher-friendly.
Informed Sport or NSF logos, especially if you're an athlete, to ensure the product is free of banned substances.
Evaluate the Brand
In addition to reviewing the product of interest, evaluate the brand behind it. Doing so is helpful for gaining a deeper understanding of the brand's standards and reputation, specifically helping you decide if you're willing to support them. Beneficial areas to examine include:
Return policies and if they offer them, including a 100% money-back guarantee
Customer reviews on the company's main webpage and on third-party seller sites (such as Amazon) if applicable
Easily accessible customer service, or at least a contact form you can fill out
Luckily, with endless info readily available at our fingertips, it's not a huge challenge to learn about the reputation and integrity of a brand. Taking the extra step, in our humble opinion, is always worth it!
Dosages
Even the best supplements for sore muscles won't do much if the main ingredients aren't found in proper dosages. While this number may be different for people based on their exercise levels and body types, here's a general guide on dosages.
Protein Powder: At least 20 grams of protein, and moderate carbs and fat.
Sleep aids/melatonin: The magic number for melatonin is around 3-5 grams per serving.
Electrolytes: At least 230 to 690 mg/L of sodium
Creatine: 3-5 grams
FAQs About Muscle Recovery Supplements
What do muscle recovery supplements do?
Muscle recovery supplements work to repair, rebuild, and grow muscles to maximize your effort and time spent in your workouts. They also help speed up recovery time and reduce muscle soreness so you feel refreshed for your next training session.
What is the best supplement for muscle recovery?
The best supplement for muscle recovery is the one (or a few) that you don't already take or need the most. For instance, if you don't already take creatine, you could enhance your performance and recovery by taking 5 grams per day. If you struggle with getting a good night's rest, you could benefit from a sleep aid. Also, because recovery supplements come with next to no side effects, you could try one or some out to see what might work best for you and your post-workout needs.
What helps muscles recover faster?
While adequate rest is the ticket to recovery, you can help speed up the process by adopting a post-workout recovery routine that could include supplements. Overall, ensure you nail down the recovery basics—like adequate protein, nutrient-dense foods, and optimal hydration—and fill in the gaps where you see fit.
Are muscle recovery supplements worth it?
Mileage will vary on whether or not recovery supplements are worth it for you, as everyone has their own unique needs. But if there are areas you might need assistance with, such as getting in enough protein each day, they can certainly be worth it—or at least worth trying!
What is the best time to take muscle recovery supplements?
This will vary based on what muscle recovery supplement you're taking. For example, electrolytes can be taken before, during, or after a workout, whereas something like pre-workout is best taken about 30-45 minutes before you plan on training.
These statements have not been evaluated by the Food and Drug Administration. This product is not intended to diagnose, treat, cure, or prevent any diseases.
References: