We test and review fitness products based on an independent, multi-point methodology. If you use our links to purchase something, we may earn a commission. Read our disclosures.
The BCAA (branched chain amino acid) supplement is a pretty standard member of any bodybuilder's supplement stack these days. The reason for this is that these amino acids1, which are a building block of protein, have been demonstrated to support muscle gain and recovery.
The fact that females have higher levels of estrogen and lower levels of testosterone than men makes this information kind of vital in the sports nutrition world. This difference in hormone profiles makes it significantly more difficult for females to build muscle and strength, and we may need a little extra help in our diets to keep up.
Now, I would be remiss as a sports dietitian to overblow the hype of any sports nutrition supplement. It's important to know that you can also get BCAAs and EAAs (essential amino acids) by eating a constructed, balanced meal plan that includes plenty of meat, dairy, and whey.
However, if you don't partake in animal products, eat a low-calorie diet, or just don't want to have to worry about the type and quantity of the amino acids you're eating, BCAA supplements can be a convenient tool in your fitness toolbox.
In this roundup of the best BCAA for women, I curated seven picks based on my experience and important factors like taste, price, and formulation from our expert product testers, which include personal trainers, certified nutrition coaches, and athletes. Let's dive in.
(Editor's note: For the purposes of this article, from here on out, we will use the words "women" and "woman" to refer to woman-identifying individuals, and will use the word "female" for any statements specifically regarding female biology and physiology.)
Medical disclaimer: This article is intended for educational and informational purposes only. It is not intended as a substitute for medical advice. For health advice, contact a licensed healthcare provider.
7 Best BCAA for Women
Best BCAA for Women Overall: Transparent Labs BCAA Glutamine
Good for: Ladies looking for a robustly formulated BCAA supplement with minimal ingredients
Transparent Labs is no stranger to our favor when it comes to our discussions about supplements. A fairly new company founded in 2015, it's been making a big splash due to the high quality of the supplements, transparency of ingredients, and evidence-backed products with clinically effective doses.
Transparent Labs' BCAA supplement contains a whopping 8 grams of BCAAs that are 100% vegan, but also 5 grams of l-glutamine. Glutamine is an amino acid involved in the synthesis of protein in the body and has been shown2 to hinder muscle breakdown.
Studies3 have also shown that l-glutamine can boost athletic performance and help with endurance in exercise that lasts longer than an hour, which can be key if you're a woman who performs sports.
In the study cited above, it was concluded that women would need to consume about 70 to 100 milligrams per kilogram of body weight to see these benefits. The beauty of Transparent Labs' amino acid powder is that it contains 5 grams of l-glutamine, which would give most active women that clinically effective dose they need for a performance boost.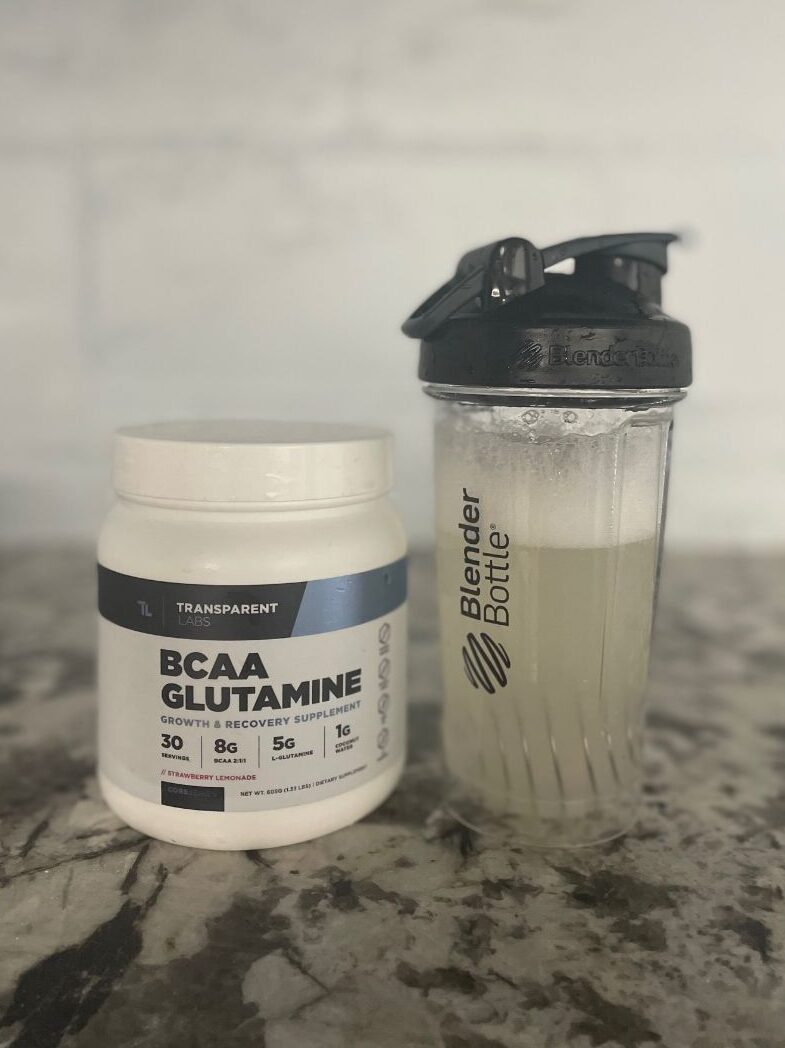 The final ingredient to mention is coconut water powder, which is a compound that can help with maintaining hydration due to the electrolyte content. Staying hydrated can greatly reduce the discomfort that some people experience when they first begin taking a BCAA supplement due to mild stomach upset.
GGR Senior Editor Nicole Davis and GGR Senior Staff Writer Amanda Capritto have both tried the Strawberry Lemonade flavor of Transparent Labs BCAA Glutamine. They both had to dilute it with water, Nicole citing it was a bit bitter and Amanda saying it was too sweet (potentially due to the stevia), but it got high marks for solubility.
Lastly, we do have to point out that this is a pricey BCAA supplement. But, if you're down with paying for quality, aminos from Transparent Labs are some of the best on the market. If you're on a tight budget, however, one of our other picks may be a better fit.
Read our full Transparent Labs BCAA Glutamine review for more in-depth thoughts.
| | |
| --- | --- |
| Price Per Serving | $1.33 |
| BCAAs | 8 g (Leucine: 4 g, Isoleucine: 2 g, Valine: 2 g) |
| Dosage | 1 scoop |
| Flavors | Sour Green Apple, Tropical Punch, Strawberry Lemonade, Blue Raspberry |
Best Unflavored BCAA for Women: Kaged Muscle BCAA
Good for: Those looking for a versatile powder that can be easily mixed in most liquids
If watermelon and fruit punch-flavored supplements aren't your thing, never fear. Kaged Muscle's BCAA supplements are here. The only ingredients are BCAAs and sunflower lecithin, which is a compound that's added just to make the amino acids more mixable in water.
Erin Chancer, GGR senior editor and certified nutrition coach, can attest to the lack of flavor. She says that she mixed the Kaged BCAAs in water, and while she noticed a very slight taste of something she couldn't quite put her finger on, it was, for the most part, tasteless. She recommends mixing these in a smoothie or with something other than water.
The lack of flavoring and easy dissolvability make this BCAA powder more versatile than most. So, if you want to stir some into your morning matcha, evening tea, or just your favorite water bottle, just add a scoop and you can check your BCAAs off the list for the day.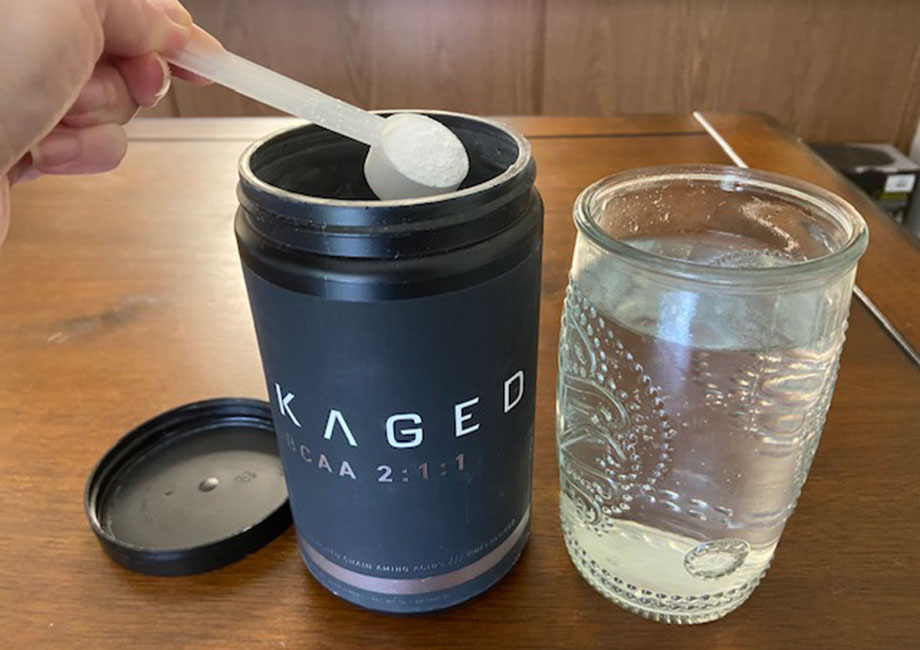 Furthermore, you can also blend some with your collagen or post-workout shake, rather than having to remember to take three different supplements every time. Kaged also promises their BCAAs won't cause the foaming you get when mixing other amino acids powders.
Kaged Muscle BCAAs are also plant-based, non-GMO, halal, kosher and third-party tested through both NSF and Informed Choice. Kaged even gives instructions on how to verify your tub of BCAAs by using the serial number on the packaging.
Kaged BCAAs make our list as the best unflavored BCAA supplement due to the sheer simplicity of its formulation and the transparency of its labeling. We don't have a lengthy ingredient list to sift through or allergens to be concerned about.
| | |
| --- | --- |
| Price Per Serving | $0.42 |
| BCAAs | 5 grams (Leucine: 2.5 g, isoleucine: 1.25g, valine: 1.25g) |
| Dosage | 1 scoop |
| Flavors | Unflavored |
Best-Tasting BCAA for Women: Cira Amino Intra Workout
Good for: Girls who want some yummy BCAAs during their workout
Cira Nutrition is a brand that's dedicated to making supplements for women by women. We typically don't buy into this type of marketing, but Cira makes some good products, including the best protein powder for women.
Amino Intra Workout comes in three flavors: Pop & Rock, Pink Candy, and Glow-jito. Senior editor Nicole Davis tried Pink Candy, and she liked it—it's sweet, but the flavor is definitely there. Senior staff writer Amanda has tried the Pop & Rock flavor of Cira's pre-workout and also liked it, although she had to dilute it with water to cut the sweetness.
Their amino intra-workout supplement is meant to be taken in the middle of a workout to give you that extra boost of energy along with the amino acids you need. It contains taurine4, which is a main ingredient in Red Bull, and acts to nourish your mitochondria to provide you with more energy.
In addition to aminos, you will also find coconut water powder in this product, which can help you stay hydrated.
According to the ingredients list, Cira's amino acids powder contains a mixture of BCAAs and EAAs, but the amounts of each are unclear, so, without this information, it may not be ideal to rely on this brand as a muscle growth supplement.
| | |
| --- | --- |
| Price Per Serving | $0.83 |
| BCAAs | 3 g (histidine, isoleucine, leucine, lysine, methionine, phenylalanine, threonine, valine, tryptophan) |
| Dosage | 1 scoop |
| Flavors | Pop & Rock, Pink Candy, Glow-jito |
Best Budget BCAA for Women: Xtend Original BCAAs
Good for: Those looking for a highly rated, but reasonably priced, BCAA supplement
Xtend's Original BCAAs aren't ranked no. 2 in the category of Branched Chain Amino Acids Nutritional Supplements on Amazon for nothing, with most reviews praising how easily it mixes and how ever flavor manages to taste pretty dang good.
Most BCAA supplements contain about 5 grams of amino acids or less, but not Xtend. Xtend's Original BCAAs contain 7 grams of branched chain amino acids, which gives the supplement a good value for your money. Just one scoop gives you the recommended amount of leucine needed to optimally maintain your lean muscle mass.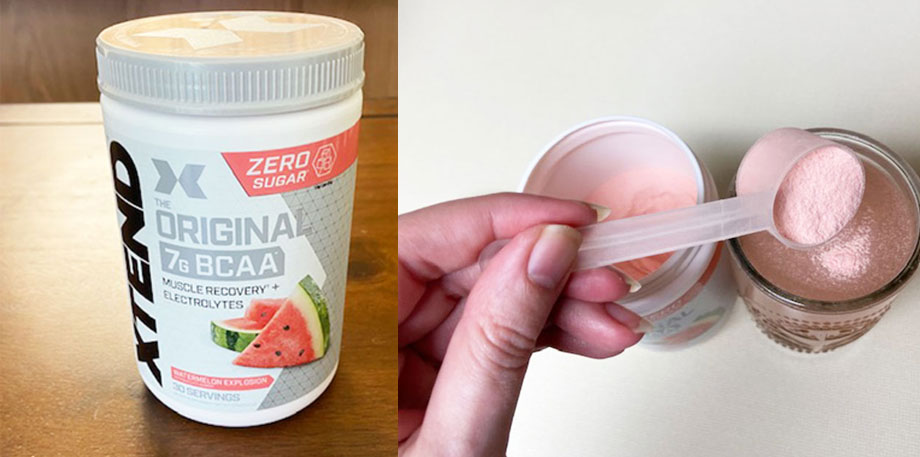 Xtend does recommend that you use two scoops per day rather than one for best results, so, that's something to keep in mind if you need to ration your supplements for budget reasons. That said, even though Xtend's BCAAs are affordable, they aren't filled with cheap fillers.
In fact, these BCAAs provide more than just amino acids. It also contains glutamine and a hydration blend of sodium and potassium, all in a great-tasting powder that contains no added sugar, but has 13 different flavors to choose from.
GGR's head of content and expert product tester Kate Meier is partial to the Watermelon Explosion flavor, saying it's the perfect thing to sip on during and after a workout. She doesn't like super sweet things, but mixed with 12 to 16 ounces of water, Xtend is perfect.
That's some good news for us ladies who like a supplement that's not only effective, but a refreshing treat at the end of a workout. It also means that you can use these BCAAs as a casual hydration tool, especially if you're the type who have trouble keeping up consistent hydration with plain water.
| | |
| --- | --- |
| Price Per Serving | $0.70 |
| BCAAs | 7 g (leucine: 3.5 g, isoleucine: 1.75g, valine: 1.75 g) |
| Dosage | 1 scoop |
| Flavors | Blue Raspberry Ice, Freedom Ice, Glacial Grape, Italian Blood Orange,Knockout Fruit Punch, Lemon Lime Squeeze, Mango Madness, Orange Cream, Smash Apple, Strawberry Kiwi Splash, Strawberry Mango, Tropic Thunder, Watermelon Explosion |
Best BCAA Pills for Women: Pure Encapsulations BCAA Capsules
Good for: Women who would rather take a pill than drink an amino acid cocktail
Coming from a company that is trusted by and marketed towards healthcare professionals, we have a lot of confidence in the quality of Pure Encapsulations BCAA Capsules. Pure Encapsulations ensures that their supplements contain ingredients sourced from trusted suppliers, carefully tested to ensure their potency and purity by nutritional experts.
All of their products are also free of common allergens like wheat, eggs, tree nuts, peanuts, and gluten. Additionally, no artificial flavor, artificial colors, sweeteners, coatings, shellacs, or GMOs are used, nor are unnecessary binders, fillers, and preservatives added.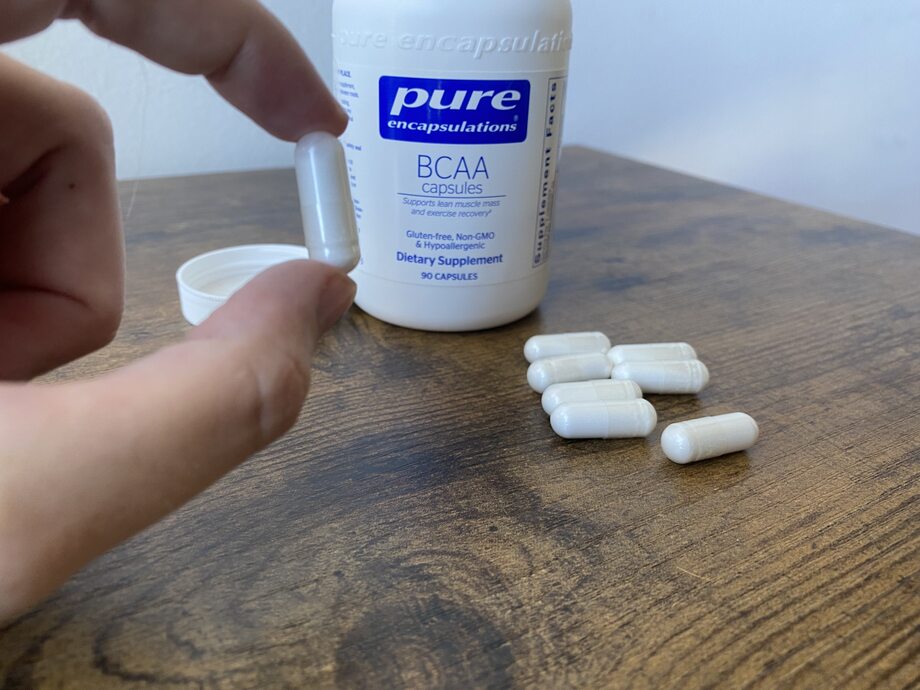 Although most BCAA supplements do come in fun powders with exciting flavors, if that's not your vibe, you can take comfort in knowing that taking them in pill form is just as effective. The added benefit of taking BCAAs in pill form is that it's easier to avoid artificial ingredients you may not want to consume.
The one downside is that one serving is two capsules, but only provides 1.2 grams of BCAAs. That's approximately six pills to achieve a sufficient dose—yowza! So, if you have issues taking pills, you may be better off going with an amino acids powder. This is particularly true if your training requires you to consume more amino acids than others, since the amount of amino acids in this supplement is on the lower end compared to our other choices.
| | |
| --- | --- |
| Price Per Serving | $0.56 |
| BCAAs | 1.2 g (Leucine: .6 g, isoleucine: .3 g, Valine: .3 g) |
| Dosage | 2 capsules |
| Flavors | Unflavored |
Best Vegan BCAA for Women: Naked BCAAs
Good for: Ladies who hold plant-based principles and value a simple supplement
What makes Naked BCAA stand out among natural BCAA supplements is that the container holds 100 servings, where the typical industry average is 30 servings. So, not only do you get more bang for your buck, but that means less trips to the online store.
Not only is this convenience factor an attractive feature, but if you do adhere to a vegan diet, you may need to supplement with more branched chain amino acids than people who eat meat. Thus, it's a good idea to have a hefty supply of them on hand.
The problem with most plant-based amino acids is that they are typically sourced from corn or soy. Luckily, these amino acids are non-GMO and are also certified vegan and certified gluten-free.
Bad news for my girls out there who have a preference for flavored BCAA supplements. As part of Naked's commitment to providing the purest formulations of supplements possible without additives, artificial flavor, ingredients, or sweeteners, this product can only be purchased unflavored.
The Amazon reviews suggest that it does not taste the best when mixed with plain water—and GGR Senior Editor Nicole Davis agrees, saying they're slightly bitter— so we recommend mixing this product in your favorite beverage or protein smoothie in order to enhance its taste.
| | |
| --- | --- |
| Price Per Serving | $0.35 |
| BCAAs | 5 g (Leucine: 2.5 g, isoleucine: 1.25 g, valine: 1.25 g) |
| Dosage | 1 scoop |
| Flavors | Unflavored |
Best BCAA for Women for Hydration: Cellucor Alpha Aminos
Good for: Women who heavily sweat or exercise in warm climates
Despite the fact that it is a bit more expensive in comparison to the other supplements on this list, Cellucor's Alpha Aminos supplement also contains several synergistic compounds that are not present in our other picks. In addition, it contains phenylalanine, which may be problematic for those who are sensitive to that particular essential amino acid.
Along with BCAAs, it also contains essential amino acids in a formulation you can get in three fun flavors: Watermelon, Icy Blue Razz, and Fruit Punch, all without any added sugar.
The reason Cellucor Alpha Aminos are the superior BCAA supplement for hydration is its inclusion of a specially formulated hydration blend. It is important to have the right amounts of sodium, potassium, and magnesium for optimal hydration, and this BCAA supplement contains all of these electrolytes.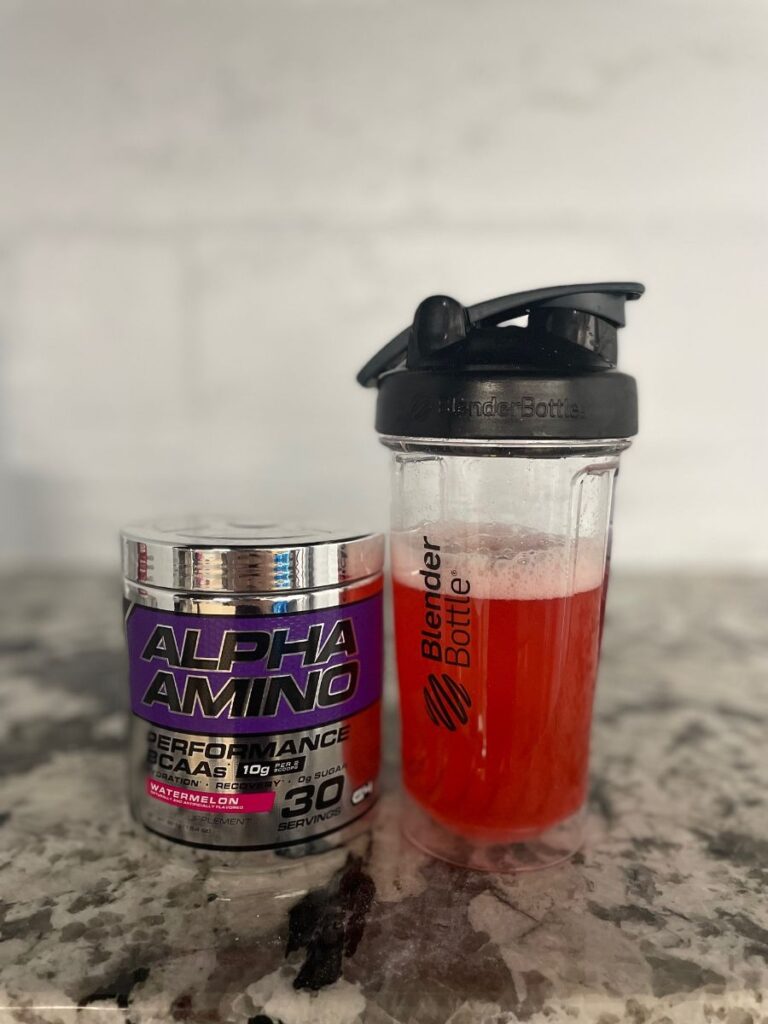 The hydration complex also contains betaine5, which is a compound that has been shown to prevent hydration, especially in athletes who exercise in a hot environment.
Interestingly, science6 has also suggested that betaine has the ability to lower body fat percentage in women, according to a study done on female collegiate athletes.
One downside is the sheer length of the ingredient list could put off women who value some purity and simplicity in their BCAA supplement. It also contains the artificial sweetener sucralose, which is known as Splenda to most people. However, GGR Senior Editor Nicole Davis tried Watermelon, and liked the taste—while it is a little sweet, it's not bitter like other BCAA supplements can be, and it dissolves well.
| | |
| --- | --- |
| Price Per Serving | $0.88 |
| BCAAs | 5 grams (Leucine: 2.5 g, Isoleucine: 1.25g, Valine: 1.25g) |
| Dosage | 1 scoop |
| Flavors | Watermelon, Icy Blue Razz, Fruit Punch |
Other BCAAs We Researched
There are a number of other BCAA supplements that are marketed for women out there, but these didn't quite make our list because of factors such as high prices, unreliable formulations, and other factors:
How We Picked and Tested the Best BCAAs for Women
After browsing and testing many BCAA supplements we thought might be beneficial for active women, the ones on our list didn't disappoint. We wanted to make sure we highlighted those that were great in taste and had women's needs in mind.
As always, we wanted health to be a priority, too. So our team carefully selected amino acid supplements that were minimally processed and without an overabundance of unnecessary ingredients that don't belong in a sports nutrition supplement.
Benefits of BCAAs
As a registered dietitian, my motto will always be "food first." To their disdain, I am constantly lecturing my athletes that physical fitness is like a cake: Supplements can be the icing on top, but if the cake is a cruddy cake, the icing won't matter. To put it into regular-people terms: even a good dietary supplement regimen cannot make up for a bad diet and suboptimal training.
So, if you feel confident you're putting your all into these areas and want to turn to BCAA supplements to aid your performance, then I want you to hear from me what you can expect to get out of them.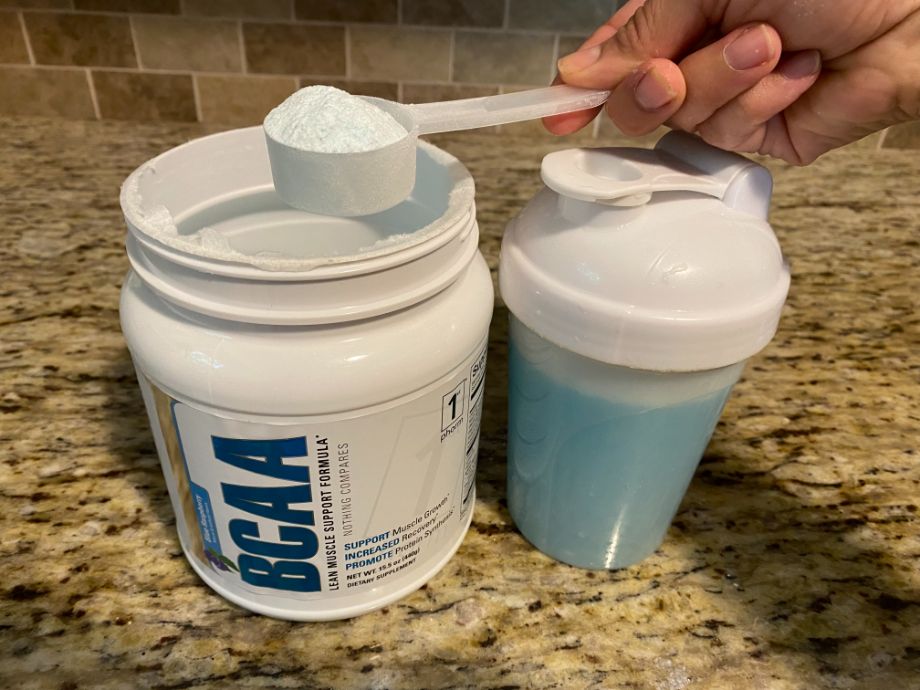 Nourishment for Vegan Athletes
In general, vegan athletes tend to consume less protein than their omnivorous counterparts, especially if they do not receive nutrition guidance from a registered dietitian to make sure they get all the nutrients they need in adequate amounts.
Protein derived from plants7 is often incomplete, lacking essential amino acids, and tends to contain fewer BCAAs than those derived from animals. Or at least BCAAs in amounts significant enough to impact muscle protein synthesis.
That's where a good vegan BCAA supplement can help vegan athletes, weight lifters, and bodybuilders keep up with adequate intake of the right amino acids without compromising their values.
Reduce Muscle Soreness and Muscle Fatigue
A study published in The Journal of Sports Medicine and Physical Fitness8 showed that athletes given BCAA powder experienced a 12% reduction in muscle soreness and muscle fatigue following an intensive training program compared to the athletes given a placebo. The theory is that the BCAAs helped minimize the muscle damage and inflammation induced by intense exercise.
Helps Maintain Lean Muscle Mass During Fasted Training
The research is mixed, but some studies9 have shown that fasted training (exercising on an empty stomach) can be better for fat-burning than fed training. Even if that fact isn't 100% proven, it's still an attractive fact for those of us who like to work out first thing in the morning, but don't have the time or the stomach for breakfast beforehand.
So, if fasted training is something you choose to partake in, you should know there's a catch. You see, fat-burning is cool and all. However, when you exercise without any fuel in your muscles (which is likely the case if you're exercising first thing in the morning or if you've gone four hours without a carb-containing meal), that poses a problem to your muscle tissue.
Without any glycogen available, your muscle tissue is in serious danger of being broken down for fuel in your body, resulting in muscle and strength loss over time. Now, do any of you reading this want to give yourself a case of muscle loss? I don't think so.
Science conducted10 in ill individuals suffering from conditions that resulted in muscle loss showed that, when these individuals were given BCAAs, that loss of muscle was greatly hindered.
Thus, a BCAA supplement is often recommended by sports dietitians to people who train fasted either out of preference or for the goal of weight loss, due to the fact that BCAAs don't usually raise blood glucose enough to break you out of a fast.
Dosing and Interactions
When used as directed, supplements containing branched chain amino acids and essential amino acids do not seem to cause significant side effects. Given that these powders and pills do contain predigested, chemical compounds, however, we do recommend paying close attention to the dosing instructions and following them carefully.
If you are on any prescription medications for diabetes or neurological disorders, ask your physician before adding BCAA supplements into your regimen as they can have dangerous interactions.
It is recommended that people with diabetes avoid taking BCAAs in general, since they can alter blood sugar levels in unpredictable ways. This is also true for people less than two weeks out from surgery as BCAA supplements can affect blood sugar levels during and after the procedure.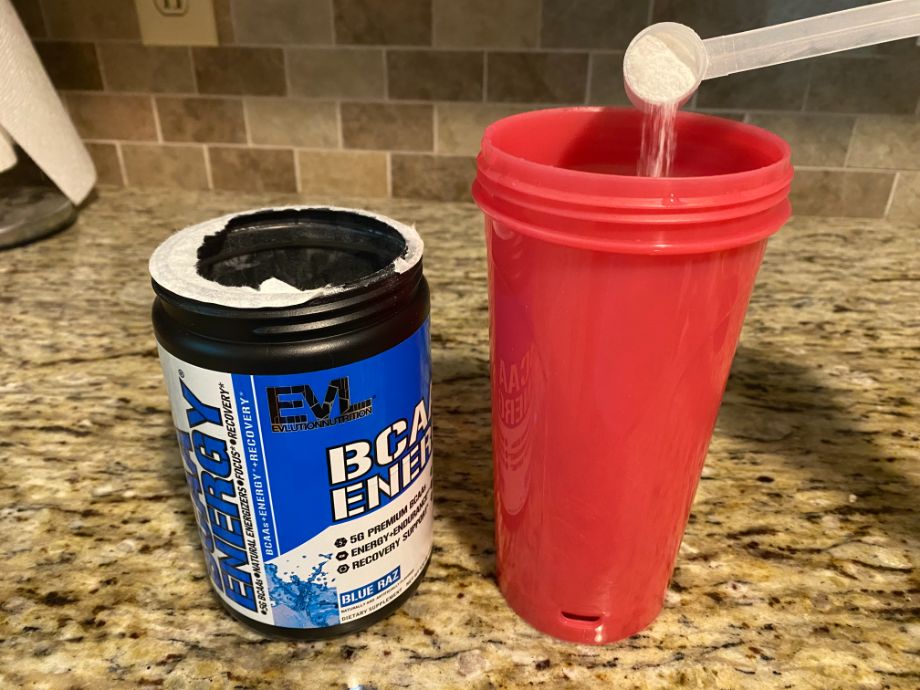 Third-Party Testing
Any supplement that is labeled as third-party tested means that a company has voluntarily submitted samples of their product to a third party to be tested for purity and safety.
For supplements like protein powders, this means it can assure you that the amount of protein in the powder is the same amount that is listed on the label.
For other supplements, third parties test to be sure there are no harmful ingredients or additives like heavy metals or other toxins that often sneak into supplements that use fillers. Supplements are not foods, so remember, the FDA does not regulate them. This results in toxic substances appearing in supplements more often than you may think.
However, with a certification of third-party testing, you can rest assured that what you're consuming is on the label and only what is on the label. The most well-known third party testing companies are NSF and Informed Choice, so if this is something that is of concern to you, look for those logos or simply do a little research before you buy.
Buying Guide: What to Look for in BCAAs
There are a few important criteria we like to recommend when you're shopping for BCAA supplements.
2:1:1 Ratio
Science11 appears to indicate that consuming BCAAs in a 2:1:1 ratio is optimal to reap the benefits since leucine is one of the most influential branched chain amino acids in terms of muscle growth. This BCAA ratio is where all three amino acids work synergistically at their maximal level, so the best BCAA supplements are careful to include this BCAA ratio.
To put it simply, if you're eyeing one of these supplements that contains 3,000 milligrams of leucine, you want it to also contain 1,500 milligrams of isoleucine and 1,500 milligrams of valine. Luckily for you, all of the brands on our list contain their amino acids with this ratio.
Minimal Ingredients
If we've said it once, we've said it a thousand times. Reaching your fitness goals is super cool and all, but we never want to compromise health in order to reach them. So, if possible, you want to choose amino acid supplements that contain amino acids, but little else.
If they have extra compounds that can help do things like boost energy, especially if the brand is meant to be a pre-workout supplement, that's fine as long as there is research to back up its presence. However, if the ingredient list seems to be super long with not a lot of compounds you recognize, you're likely better off going with something else.
Serving and Scoop Size
In that vein, a lot of consumers aren't aware of how to measure the value of a supplement powder by the serving size. Ladies, they can wrap up your BCAA supplements in a pretty bow with shiny, pink packaging to pull you in, but please be sure to read your labels no matter what.
In cases where a serving/scoop size states that it contains something like 30 grams of powder, but the nutrition facts label says it only contains about 3 grams amino acids, watch out. Something is amiss and it probably contains a ton of unlisted fillers.
The bottom line is you paid for a tub of amino acids and if only 10% of that tub is actual amino acids, you aren't getting the best value for your money.
Targeted Ingredients
You should always be sure that the supplements you're taking reflect the goals you're trying to meet. If you're just taking amino acids to prevent muscle breakdown or promote muscle recovery, you can just get a supplement that contains BCAAs and BCAAs only.
However, if you're turning to branched-chain amino acid supplementation for the amino acids and an energy boost or some help with hydration, it would be a great value for you to choose an amino acid supplement that has all of those compounds in one.
FAQs About BCAAs for Women
Should I take BCAA everyday?
The body does need to get BCAAs everyday, especially if the body belongs to someone who exercises regularly. This ensures your muscles are getting all the nutrients they need to stay strong and prevent atrophy. You can consume enough BCAAs from food, or also consider supplementation if needed.
When should you take BCAA?
The beauty of BCAA supplements is you can take them any time of the day, as long as you take them! Research does not show that any time of day is more superior than another to reap the benefits of consuming BCAAs.
Does BCAA help lose belly fat?
While BCAAs can't directly help you lose belly fat, they can support the integrity of your lean muscle mass, which, in turn, can support your metabolism and make workouts more effective.
These statements have not been evaluated by the Food and Drug Administration. This product is not intended to diagnose, treat, cure, or prevent any diseases.
References