We test and review fitness products based on an independent, multi-point methodology. If you use our links to purchase something, we may earn a commission. Read our disclosures.
Never thought I'd see the day where doing cardio made me feel calm. Stressed, yes. Sweaty and begging for mercy, also yes. Surprisingly, the CITYROW GO Max Rower makes it easy to zen out due to the peaceful water noise the machine makes when in use. It also might make you need to go to the bathroom, but that's more of a personal problem.
In this CITYROW GO Max review, we explore the interactive programming, as well as the good things and challenges you might have with a water rower.
CITYROW GO Max Review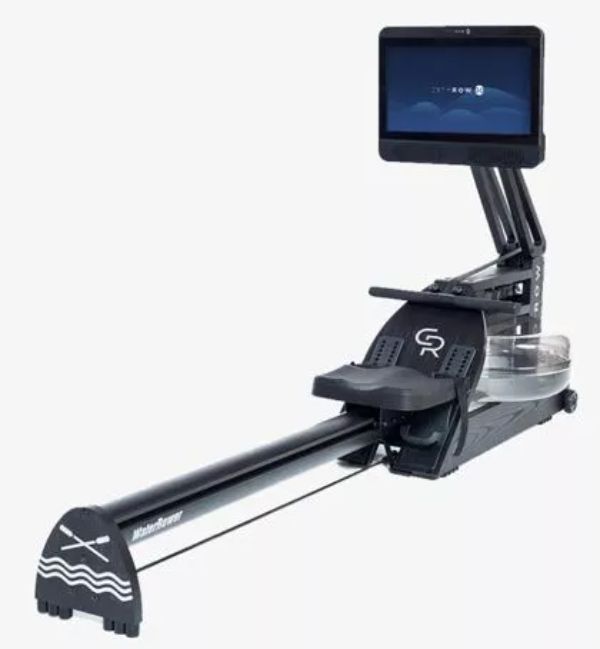 CITYROW GO Max Rower
Looking to up your cardio game? Look no further than the CITYROW GO Max Rower. This water powered rowing machine has stellar interactive programming you won't want to miss.With the traditional body of a water rower and an attached touchscreen, this cardio machine combines the best of old and new. You'll get the familiar sound of the water moving as you follow along to one of many engaging classes.
Why You Should Trust Us
Throughout the years, I've really begun to enjoy and appreciate rowing for my cardio workouts. I've tested rowing machines like the tried and true Concept 2 Model D Rower and more Peloton-esque options like the Hydrow Rower.
I've even compiled the best rowing machines on the market after trying quite a few. Each machine is evaluated based on things like warranty, overall value, durability, and interactive programming. This helps give a sort of standardized process to my ratings and reviews.
RELATED: WaterRower vs Concept2
A Quick Look at the CITYROW GO Max
I love a good, lightweight piece of cardio equipment–and by lightweight, I mean only 61 pounds when not filled with water. This makes the CITYROW GO Max Rower easy to move, which is a real plus in my opinion. Nothing like trying to move a piece of gym equipment and slipping a disk. Not like I've done that or anything…
Coop's Tips:
Check out the variety of programming the CITYROW GO offers–besides rowing, you can do strength, yoga, and HIIT classes through your subscription.
If you want to make the "resistance" go up, you can add more water to the tank.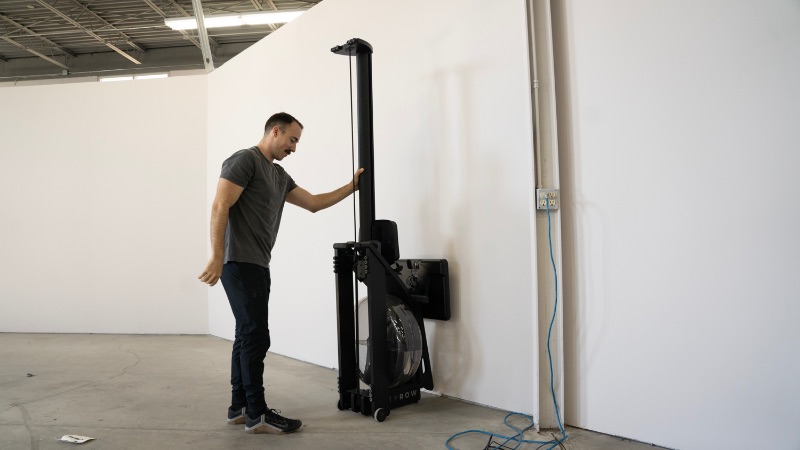 My Favorite Things
Smooth rowing experience
Quality interactive programming
Rower comes pre-assembled
Fairly portable; screen is able to be folded down
My Callouts
Water has to be replaced every so often
Resistance isn't adjustable
Expensive at almost $2,200
Should I Buy the CITYROW GO Max Rower?
Depending on personal preferences, the CITYROW GO Max Rower might be a great fit for your home gym. However, like anything else, not everyone will fall in love with this machine. Check out who I think should look into purchasing this and who should pick something else.
Great for:
People who love interactive programming
Those who want a large touchscreen monitor
Individuals who don't mind the price tag
Not recommended for:
People who don't want to have to worry about replacing the water in the tank
Those on a budget
Individuals who would rather use their rower as part of a CrossFit workout and aren't really interested in the programming.
CITYROW GO Max Specs
| | |
| --- | --- |
| Footprint | 85" L x 22.25" W x 45.25" H |
| Weight | 112 pounds |
| Weight capacity | 375 pounds |
| Warranty | 5-year warranty on frame, 3-year on non-electrical parts, 1-year on the tablet |
| Monitor | 19.5" touchscreen |
| Materials | Aluminum and wood |
| Speakers | 10-watt |
| User Max Height | 39" inseam |
Rowing With the CITYROW GO Max
As someone who is a rowing enthusiast, I was excited to give the CITYROW GO Max a try. After unboxing your mostly pre-assembled rower (bless), you'll only need to hook up the attached touchscreen. This isn't very hard and just requires you logging into your CITYROW GO account. This subscription can either be paid on a monthly or yearly basis–$348 for a year or $29 per month.
It is definitely worth noting that you really need to be willing to pay for this subscription to get the most out of this machine. The price per month is actually fairly reasonable as far as interactive programming is concerned. With your subscription, you'll be able to take advantage of (obviously) rowing classes, yoga, strength training, HIIT, and more. You'll also have the option to just row and view your metrics on the 19.5-inch screen.
The speaker is high-quality and better than I expected. However, you can also connect your own headphones via Bluetooth if you need a quieter workout. Although I've personally only tried the GO Max, CITYROW does have a Classic version of their rowing machine. It is cheaper with the same build, but without an interactive touchscreen. Personally, if you're going to spend $1,500 for a rower without a touchscreen, you'd be better off with the Concept 2 RowErg rower and spending $500 less.
With a max user weight capacity of 375 pounds, this rowing machine hits well above the industry standard of 300 pounds. I found the seat and handles to be about average in terms of comfort, but didn't see anything necessarily wrong with them. Plus, this rower seems like it will work for a variety of different heights because there is a bit of adjustability.
The rower, sans the technology, is made by a company called WaterRower, which has been making tremendous rowers for decades. The WaterRower is a beautiful design that's popped its head up in pop culture multiple times (it's the preferred rower of Kevin Spacey in House of Cards) and is also loved by those who appreciate the water feel.
Personally, I really enjoy rowing on a water-resisted rower like the CITYROW GO Max. I don't think it's as versatile as an air or magnetic resistance rower, but it certainly has a great feel and sound that is hard to mimic by other methods.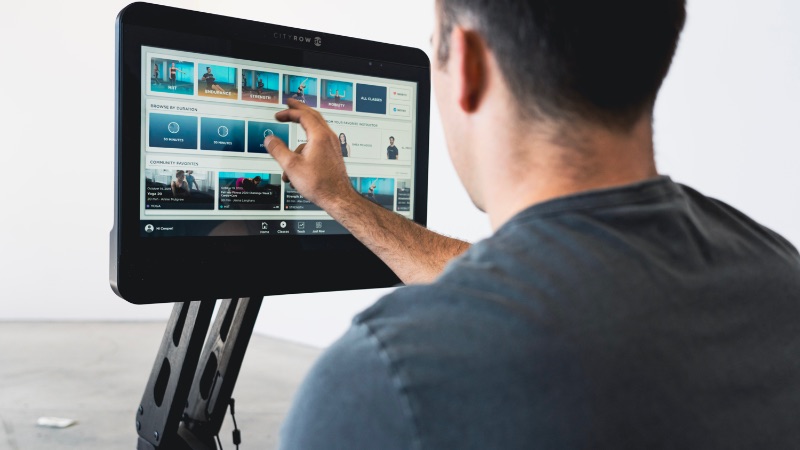 Wood and Water?
The CITYROW GO Max is constructed with wood, similar to the Ergatta Rower, which is also a WaterRower rowing machine. Made with sustainable American Ash Wood, the CITYROW is an aesthetically pleasing piece of cardio equipment, which you can't often say. This is helpful if you're someone who wants to be able to leave your rowing machine out in your home without it sticking out like a sore thumb. I will say, I do think the usual metal construction of a typical rower will last longer over time, but as of now, I don't have any complaints about the construction and love the aesthetics.
Technology Benefits and Conveniences
The CITYROW GO Max is really interesting; they've simply taken a very popular rower and retrofitted their tech to it. The technology primarily resides in the attached touchscreen, with which you can view the interactive programming. Since it is a WaterRower, the resistance is self-powered and isn't adjustable. If you want to have more of a challenge, either add more water for the tank or pull harder.
The actual touchscreen of the GO Max is very responsive with a clear picture. I love that the screen can swivel if you are wanting to do a class off of the rowing machine. It reminds me of the Peloton bike, which has the same capacity. On the screen, you'll be able to view various performance data alongside your workouts. I like that there are new classes added frequently, so I don't feel like I'm getting bored of the same thing over and over.
RELATED: Peloton Bike Review
The ability to do workouts off the rower speaks to the goal of the company. Unlike the Hydrow, the CITYROW GO Max is designed to be a hub of sorts for your training that goes beyond just rowing. With this in mind, I love that they made the screen swivel and provide lots of different types of programming.
CITYROW GO Max Rower vs. Hydrow
It's no secret that the Hydrow Rower is one of my favorite rowing machines I've ever tried. This lends itself to the question: how does it compare to the CITYROW GO Max Rower? To start off, the price tags are virtually the same – the Hydrow is about $2,300 and the CITYROW is right around $2,200.
The Hydrow has extremely smooth magnetic resistance and some of the best on-water programming you could ask for. The CITYROW is essentially a screen retro-fitted to a water rower, which isn't necessarily a bad thing. I think it is genuinely well done, and the programming is also fun.
This comparison comes down to deciding what it is you're really looking for in a rowing machine. If you just want to row, I would pick the Hydrow. If you're looking for a rowing machine with programming beyond just rowing, the CITYROW is your best bet, since it offers things like HIIT classes and yoga with your monthly subscription.
RELATED: Hydrow Review
CITYROW GO Max Rower vs. WaterRower Natural
The WaterRower Natural looks very similar to the CITYROW at first glance. Both machines are (obviously) water rowers, and both are made from wood. However, the WaterRower is only about $1,500. This is because of the lack of touchscreen and no options for interactive programming.
If you're someone who doesn't really care about following along to a pre-programmed class and instead like to do your own thing, this might be a better option for you. The monitor that is included on this will track the basic metrics like duration, distance, stroke rate, and calories per hour.
Customer Experience
Surprisingly, it is not the easiest to get a hold of the CITYROW team. On the website, there isn't a live chat option or a phone number to call. The only way to contact the brand is via email if you have any questions or concerns.
Returns
The return policy for this rower is pretty much as good as you could hope for. If you're not in love with your purchase within 30 days of delivery, you can return it for a full refund. The brand even will pay for return shipping, which is virtually unheard of for heavy cardio machines. The only catch? Save the original packaging if you think you might return the rower. CITYROW will charge you between $200-300 if you don't box the product back up in the original packaging.
Warranty
The warranty is pretty standard for this rower – you get 5 years on the frame, 3 years on non-electronic parts, and a year on the attached tablet.
Ordering the CITYROW GO Max
When ordering the GO Max Rower from the CITYROW website, you'll be charged around $2,200 plus tax. You'll be given the option to add additional weights and a mat to your purchase for an additional cost at checkout. If you're interested in this rowing machine but think the price is a bit out of your budget, I hear you. CITYROW offers financing options through Affirm, where you can pay over 6,12, or 18 months with 0% APR and no interest.
I like that shipping is included within the price, so you're not paying a few hundred dollars to get the product shipped to you. Once you've placed your order, expect to get your rowing machine within about 5 weeks. You'll receive an email from FedEx confirming when it will be dropped off at the address you provided.
I loved that the rower came pre-assembled. Any time I don't have to spend a few hours of my day struggling to read and execute assembly instructions is a good day. The only things you need to do to get the machine ready for use is to fill the water component and get the tablet connected.
Customer Reviews
On the CITYROW website, there are about 50 reviews, with an average score of 4.5 out of 5 stars. Customers generally had very positive things to say about the machine and praised the instructional programming, ease of storage, and comforting noise.
On the negative side, there were a few complaints about the upfront cost of the machine and ongoing subscription fees, as well as the tablet occasionally freezing in the middle of a class.
Final Verdict of Our CITYROW GO Max Review
Overall, I really enjoyed using the CITYROW GO Max Rower. Would I generally recommend it over the Hydrow? No, because the Hydrow's interactive rowing classes are second to none. However, if you're someone who is interested in doing a variety of workouts through streaming in tandem with a high-quality machine, then I would recommend the CITYROW GO Max Rower to you.
Final Rating
CITYROW GO Max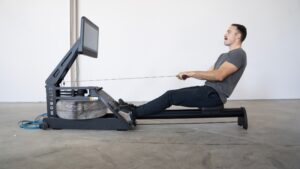 Overall, I really enjoyed using the CITYROW GO Max Rower. If you're someone who is interested in doing a variety of workouts through streaming in tandem with a high-quality machine, then I would recommend the CITYROW GO Max Rower to you.
Product Brand: CITYROW GO
Product Currency: USD
Product Price: 2195
Product In-Stock: InStock
CITYROW GO Max FAQs
What is the difference between the CITYROW GO Classic and the GO Max?
The max rower has the same water tank that the classic does. The only difference lies in the touchscreen–the Max has one and the Classic does not. This means if you want to access the CITYROW GO App for rowing workouts, you'll need to use your own personal tablet or device with the Classic.
Is rowing on the CITYROW GO Max Rower a low-impact way to workout?
Yes, rowing is considered a low-impact form of cardio, especially when compared to something like jump roping or a treadmill run.
Can any fitness level use the CITYROW GO Max Rower?
Yes, there is something for every fitness level with this home rowing machine. Need to go a bit slower? No problem. Want to sweat like a sinner in church? You got it! Since the rowing machine is powered by you, you're in control of how hard you go.
What is the difference between the water resistance of the CITYROW and a typical chain drive flywheel system?
Although both will give you a great full-body workout, classic rowers usually require maintenance on the chains. This would mean you occasionally would need to lube and grease the chains in order to keep the rower running smoothly.
Does this rower feel like a machine I might find in a rowing studio?
Actually, yes it does. The CITYROW GO started off in New York in real fitness classes back in 2014. You'll get the same feel on the rower that you might in a typical in-studio workout class.