We test and review fitness products based on an independent, multi-point methodology. If you use our links to purchase something, we may earn a commission. Read our disclosures.
Especially when applying progressive overload, adequate rest and protein are pillars of muscle growth and recovery. This might just make casein—often referred to as the "sleep protein"—the ultimate synergist for taking your fitness goals to the next level.
But don't just take our word for it! A 2020 systematic review published in Physical Activity and Nutrition1 suggests that pre-sleep casein intake, after a bout of resistance exercise, might facilitate muscle recovery.
If your interest is piqued, join us as we explore what casein is and its potential benefits. We're also revealing the best casein protein powder supplements that you shouldn't be sleeping on!
Medical disclaimer: This article is intended for educational and informational purposes only. It is not intended as a substitute for medical advice. For health advice, contact a licensed healthcare provider.
We're Registered Dietitians & Nutrition PROs
GGR might've started with fitness-forward gym equipment reviews, but we truly want you to get the most out of your money, time, and performance. This means chatting about all things nutrition and supplements, because there's much truth to the sayings "abs are made in the kitchen" and "you can't outrun a bad diet."
That said, our team of testers is equipped with registered dietitians and nutrition professionals who will always have your back when it comes to diet recommendations. And because we recognize nutrition is ever-evolving with new data and respective guidelines, we're constantly forming—and even altering—our suggestions based on the most current research.
Best Casein Protein Powder for 2023
Opening the Case(in)
Before diving into our top casein picks, let's open the case of what casein is and how it compares to whey. Thanks to the nursery rhyme that says, "Little Miss Muffet sat on her tuffet, eating her curds and whey," we've all likely been introduced to casein at an early age—yep, those "curds" are actually casein proteins.
Casein and whey are types of protein found in cow's milk and are considered complete proteins, meaning they contain all essential amino acids. Casein is the predominant protein in cow's milk and makes up about 80% of its total protein content.
The milk proteins are produced during cheese production, in which acids or enzymes are added that cause the casein to coagulate into curds and separate from the liquid whey. Recognizing that casein forms into curds and whey is left as the watery liquid can also be helpful for understanding their key difference: absorption rate.
Whey protein is fast-acting and absorbed quickly, similar to how liquid can pass through the gut quite quickly. On the other hand, casein—also nicknamed "slow protein"—curdles during digestion, prolongs the absorption process, and adds to the benefits of casein protein powder (more on that near the end, so be sure to stick with us).
Casein Protein Powders
After casein and whey are separated from one another, they are washed and dried for use in food products or protein powders: so either whey, casein, or mixes of these make up protein powders.
Casein protein powders mostly contain micellar casein or casein micelles, which are naturally-formed aggregates and are considered to be the least processed version of casein. Casein micelles are rich in protein and calcium, as well as magnesium and phosphorus in smaller amounts.
Casein may also be produced and processed into casein hydrolysate via hydrolysis—a digestive process that breaks down proteins into smaller peptides or amino acid chains. Research published in The American Journal of Clinical Nutrition2 tells us that protein hydrolysates are digested more quickly compared to intact proteins, which would make casein hydrolysate more comparable to whey protein powder.
While both forms of casein have their time and place, we'll be focusing on casein in its purest micellar form. That all said, let's hop into our top casein picks!
Best Casein Protein Powder Overall: Transparent Labs Casein Protein
Good for: Anyone searching for casein protein formulated with high-quality and natural ingredients
Because Transparent Labs takes pride in transparency, it's not so surprising they focus on sourcing only high-quality and pure ingredients. In fact the Transparent Labs Whey Protein Isolate is featured on our best protein powder list. The Transparent Labs Casein Protein is no different, as its casein protein is also sourced from 100% grass-fed cattle.
The protein powder provides 25 grams of protein per serving sourced by instantized micellar casein protein. And since casein protein is slow-acting, they suggest their blend is the ideal nighttime protein powder to promote both satiety and a slow release of amino acids.
Transparent Labs also suggests drinking 1-3 scoops daily, although we still encourage you to focus on consuming high-protein foods. Of course supplements can and do have their time and place, but protein powders often lack other nutritional and health benefits that whole foods provide.
The casein protein is also free of added sugars, fillers, and so-called "artificial junk" like artificial sweeteners, coloring, and preservatives. Instead, the casein product is naturally sweetened and flavored with cocoa powder, Himalayan rock salt, and stevia extract.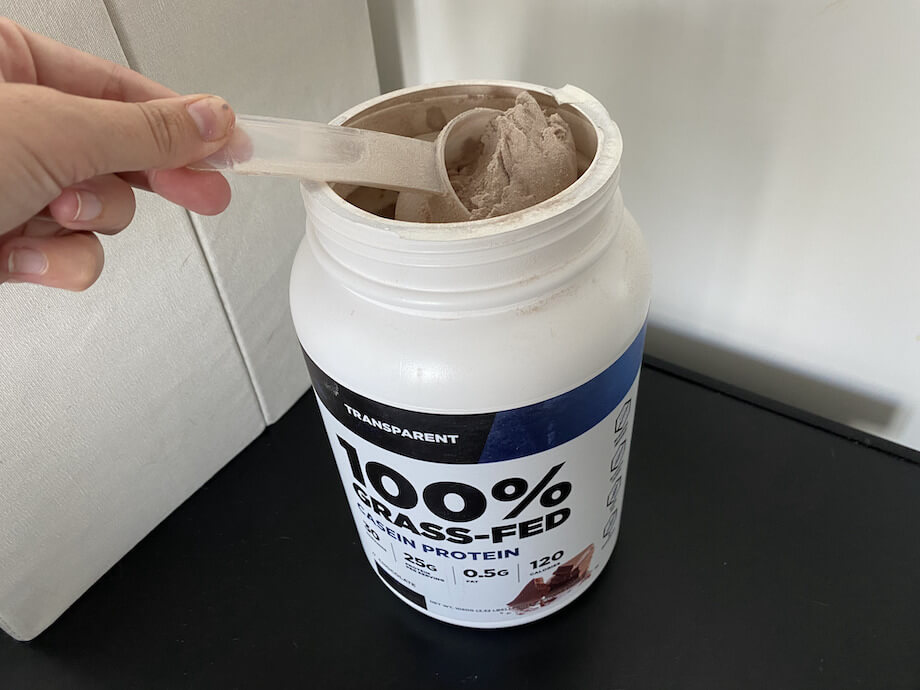 Like all Transparent Labs products, you can even view the protein's Certificates of Analysis and Composition that truly capture their commitment to transparency. And while it goes without saying, all Transparent Lab products are third-party lab tested.
In regards to taste and mixability, GGR staff writer and product tester Amanda Capritto says, "Once upon a time, when I was obsessed with clean eating and macros, I learned to make pudding with casein. All you do is mix it with less liquid than usual. Let me tell you: This stuff tastes damn near like Jell-O chocolate pudding out of the little plastic tubs when mixed to mimic pudding. It's so good! I actually crave this."
| | |
| --- | --- |
| Protein Content | 25 g per 1 scoop (35 g) serving |
| Flavor Option(s) | Chocolate (Vanilla is also pictured on the site but not currently an available option to select from) |
| Cost | $59.99/30 servings = $2.00/serving |
Best Budget Casein Protein Powder: Optimum Nutrition 100% Gold Standard Casein
Good for: Those who want a quality casein protein without breaking the bank
Optimum Nutrition is no stranger to GGR and our readers—so much so, we even set out to find the best Optimum Nutrition flavor! Optimum Nutrition Gold Standard 100% Casein's flavor repertoire might not be nearly as robust as the whey collection, but it still doesn't disappoint with decadent options like Chocolate Supreme and Cookies & Cream. Kate Meier, GGR's head of content, says, "I have used both the Chocolate Peanut Butter and the Chocolate Supreme for protein pudding, and they are both incredibly smooth and delicious. I think the chocolate supreme is almost as good as real chocolate pudding."
While flavor is important (at least we think so), the casein content and quality are mostly what we're concerned about here—and each scoop serving provides 24 grams of protein sourced by micellar casein. It also provides 9 grams of essential amino acids and nearly 5 grams of branched-chain amino acids (BCAAs) to further support muscle recovery and endurance.
It's also rich in other essential nutrients and supplies 100% DV of zinc, 40% DV of calcium, and 20% DV of magnesium. The zinc and magnesium were added, but the calcium is sourced all-nat-u-ral from casein.
While flavor-dependent, Optimum Nutrition's casein blends do collectively contain artificial ingredients such as artificial colors and the artificial sweetener sucralose. (With a lower price point, there's bound to be a compromise somewhere.)
But ingredients aside, you can rest easier knowing that Optimum Nutrition's products are manufactured in current Good Manufacturing Practices (cGMP) compliant facilities that are also Informed-Sport and Informed-Choice registered. This means the protein meets quality and purity standards while being free of banned substances by athletic organizations.
The casein protein also comes in 25-serving and 53-serving options, so you can choose what's best for you depending on your protein needs. But pro tip: stocking up with the 53-serving tub will save you about $0.40 per serving!
| | |
| --- | --- |
| Protein Content | 24 g per 1 scoop (33-34 g) serving, depending on flavor |
| Flavor Option(s) | Chocolate Peanut Butter, Chocolate Supreme, Cookies & Cream, Creamy Vanilla |
| Cost | $53.99/25 servings = $2.16/serving$91.99/53 servings = $1.74/serving |
Best Whey Casein Protein Blend: Muscle Feast Premium Whey Casein Blend
Good for: Anyone who wants to combine slow and fast-digesting properties into one protein powder
Muscle Feast Premium Whey Casein Blend is the one and only casein protein on our list that provides both whey and casein. Together, the premium blend of proteins—featuring whey isolate, hydrolyzed whey, and micellar casein—help maximize muscle protein synthesis and minimize recovery times.
RELATED: Best Muscle Recovery Supplements
Recall that whey protein is absorbed faster than casein, which makes it attractive for situations of metabolic stress—including those caused by physical exercise, muscle mass loss, neurological disorders, and immune deficiencies—explains a study published in Food Research International.3 BCAA concentrations (especially leucine) are also higher in whey protein, which may boost muscle protein synthesis and recovery.
Rather than isolating whey and casein, research4 suggests consuming them together may be ideal for optimizing an anabolic, muscle-building environment. This is because you could get an immediate dose from whey, which is then sustained for a few hours thanks to casein.
Beyond the function of the ingredients, Muscle Feast is committed to and proud of providing a natural protein blend sourced from pasture-raised, well-treated, grass-fed cows. Also rest easy knowing the premium protein is free of fillers, added sugars, and artificial sweeteners while being certified gluten-free, vegetarian, and kosher.
Muscle Feast's protein comes in two sizes—34 servings and 87 servings—and offers a Subscribe & Save option for 10% off your routine orders. Both options help you get enough protein for your schedule while keeping more dollars in your pocket.
Overall, Muscle Feast suggests their blend is "best for individuals who want to reap the benefits from having multiple sources of protein included in one powder." And we also think of this blend sort of like dehydrated cottage cheese (ew?) that's complete with both casein and whey.
| | |
| --- | --- |
| Protein Content | 21 g per 1 scoop (26 g) serving |
| Flavor Option(s) | Chocolate, Unflavored, Vanilla |
| Cost | $53.99/34 servings = $1.59/serving |
Best Sugar-Free Casein Protein: Legion Athletics Casein+
Good for: People looking for a low-carb, high-casein protein with decadent flavor options
Legion Athletics Casein+ is a no-sugar-added micellar casein protein powder made with pure Truly Grass Fed™ casein protein. Truly Grass Fed™ refers to milk sourced from family farms in Ireland, in which the hormone and antibiotic-free cattle are raised outdoors with the freedom to roam and graze on the pasture.
Truly Grass Fed™ milk is what provides each serving with 26 grams of protein and about 5 grams of branched-chain amino acids. Legion also claims Casein+ is the highest quality casein you can buy and has a "stellar" amino acid profile, specifically providing 11.4 grams of essential amino acids per serving.
The casein protein provides only 3 grams of carbs without any added refined sugars, including sucrose and corn syrup, and artificial sweeteners. Each salivating flavor—like Banana Cream Pie, Cinnamon Cereal, and Dutch Chocolate—is naturally flavored and sweetened with stevia and monk fruit. Anthony O'Reilly, GGR performance editor and product tester, thought the Banana Cream Pie flavor tasted more like a "slightly underripe banana," but he still thought it was really good. He also says it takes a bit of power to thoroughly mix this casein powder, but it's doable.
Along with being sugar-free, Legion is free from any B.S., and we truly commend their honesty. I mean, look what's written on their casein protein powder's product page:
Wow! Not only are they NOT making artificial claims to make a buck, but they are so confident in their product, they'll give you your money back if you aren't a satisfied casein consumer. Oh, and apparently you only have to let Legion know if you don't absolutely love their product for the money-back guarantee—yep, no forms or returns are necessary.
And to place the cherry on top, the casein protein is made in the U.S. in NSF-certified, FDA-inspected, and cGMP-compliant facilities. It's also third-party lab tested for potency and purity—meaning analyzed for (and free of) heavy metals, microbes, allergens, and other contaminants—with the latest lab results available for your viewing online.
| | |
| --- | --- |
| Protein Content | 26 g per 1 scoop (28.79 g) serving |
| Flavor Option(s) | Banana Cream Pie, Cinnamon Cereal, Dutch Chocolate, French Vanilla, Strawberry |
| Cost | $53.99/30 servings = $1.80/serving |
Best Grass-Fed Casein Protein: Naked Nutrition Naked Casein Protein
Good for: Consumers who place great emphasis on grass-fed products
Naked Nutrition Naked Casein Protein is a high-quality, one-man casein show. That's right, Naked Nutrition's casein formula contains only one ingredient and you can very likely guess what that is…
If you guessed 100% pure micellar casein, you're 99.99% right. But as our top grass-fed casein pick, of course we have to mention that the micellar casein is specifically growth hormone-free and exclusively sourced from U.S. farms.
The unflavored, 100% pure casein protein powder only provides the macronutrient protein—26 grams of protein per serving, to be exact—with 0 grams of carbs and fat. For those extra interested in the details, you can also peek at the complete amino acid profile on the product label.
If you're seeking the quality of Naked Nutrition's casein and flavor, you still can have the best of both worlds with endless customization options. While the nutrition will be altered (and boosted!), you can simply blend with any other colorful fruit and veggie you enjoy or have on hand—like banana, berries, kale, pineapple, or spinach—and even mix it into the batter of baked goods. GGR writer and expert product tester Amanda says she likes to mix it with chocolate syrup, and it's also good mixed with cinnamon, nutmeg, vanilla, and a splash of coffee. She also says, "it makes for a FANTASTIC chocolate mug cake!"
Because the casein protein only contains one ingredient, it goes without saying that it does not contain artificial sweeteners and additives. OK, we had to say it anyway… And it's also free of soy, gluten, and GMOs.
All Naked Nutrition products are processed and packaged in GMP-certified facilities, and their casein protein is no exception. They also are certified Informed-Choice Trusted by Sport, so you can have peace of mind knowing that the casein is free of any banned substances.
| | |
| --- | --- |
| Protein Content | 15 g per 2 scoop (30 g) serving |
| Flavor Option(s) | Unflavored |
| Cost | $24.99/15 servings = $1.67/serving |
Best Unflavored Casein Protein: NOW Sports Unflavored Casein Protein Powder
Good for: Anyone who'd rather not taste the protein powder
NOW Sports Unflavored Casein Protein Powder is another great casein-based, tasteless option. It contains 19 grams of protein, which is a touch lower than other proteins, but is based on one 24-gram scoop serving—and is only 90 calories. GGR expert product tester Anthony says, "It doesn't taste like anything, but because of casein's thicker nature, the shake coats your tongue, which gives it a very slight 'protein' taste."
Unlike Naked Nutrition, NOW Sport's casein formula is a two-man casein show joined with sunflower lecithin—which only comprises 1% of the formula—that can help stabilize, preserve, and prevent clumping of the protein. Still, its addition only adds less than 1 gram each of total carbohydrate and fat.
Beyond the more obvious, NOW's casein formula meets high industry standards and has an impressive stack of certifications. For starters, it's packaged in the U.S. by a family-owned and operated company while meeting high-standard GMP (Good Manufacturing Practice) regulations.
The casein protein also sports a "No Artificial Sweeteners" seal to verify no synthetic sweeteners have been added, including aspartame, sucralose, and acesulfame-K. It is also Certified Non-GMO and Kosher, specifically "Triangle K with Dairy" to signify the product is certified kosher but contains dairy.
And to top off the certifications, the NOW casein rocks the Informed-Sport seal, meaning it's been tested for banned substances by LGC. It also bears the Steroid-Tested logo, a testing system developed by NOW, that focuses on banned substances found in the World Anti-Doping Agency (WADA) banned substance like androgenic anabolic steroids, Selective Androgen Receptor Modulators (SARMs), beta-agonists, estrogen inhibitors, and weight loss drugs.
| | |
| --- | --- |
| Protein Content | 19 g per 1 scoop (24 g) serving |
| Flavor Option(s) | Unflavored |
| Cost | $28.20/34 servings = $0.83/serving |
Best Casein Protein for Baking: Dymatize Elite Casein
Good for: Protein seekers who enjoy appetizing flavors and baking with their protein powder
Dymatize Elite Casein is much more than a casein protein powder, although we first need to acknowledge that it provides 25 grams of protein per serving. To enhance protein insight for consumers, Dymatize also itemizes the amino acid profile: 44% (11.2 g) essential amino acids, 31% (7.8 g) conditionally essential amino acids like glutamine, and 25% (6.2 g) non-essential amino acids.
Of course the protein content matters, but the flavor options and utility of Dymatize's casein powder is something to write home about—or at least share with our readers! With four decadent flavors—including Cinnamon Bun, Cookies & Cream, Rich Chocolate, and Smooth Vanilla—crush cravings by simply mixing the powder with water or milk for a quick protein shake. Amanda says, "Like other casein protein powders, this one takes some vigorous shaking to rid it of all clumps. To ensure a smooth consistency, I recommend first shaking it, and then using a frother." She also notes that the Cookies & Cream flavor makes a tasty pudding, although it has a somewhat unappetizing grayish color.
Or you could try baking and add it to countless delicious recipes! If you aren't sure where to start, Dynamize will keep your culinary game on point with inspo on their casein product page or blog—protein chocolate covered strawberries, cookies and cream protein pancakes, or edible birthday cake protein cookie dough anyone…?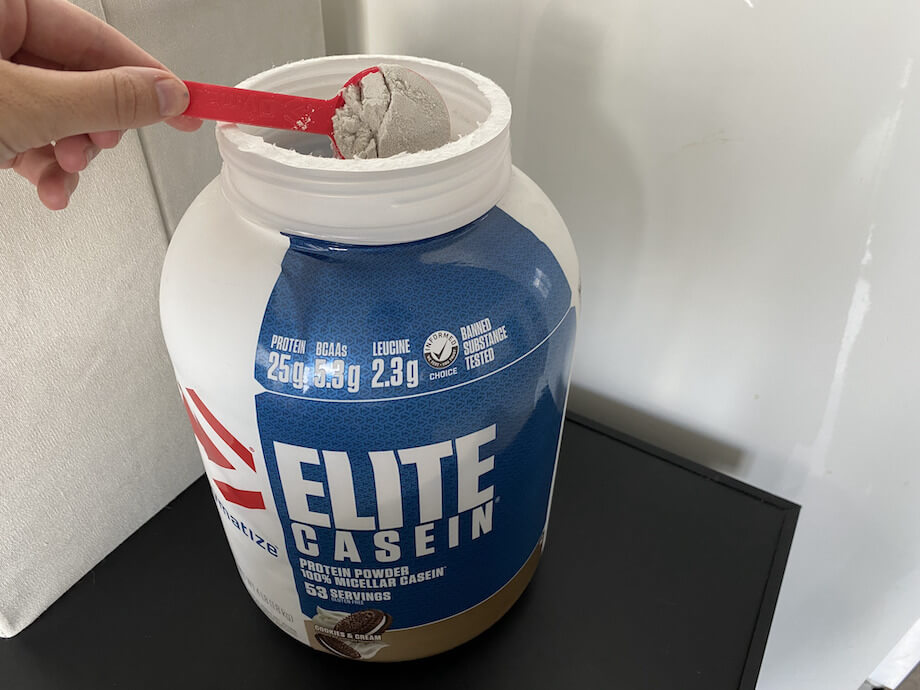 BRB, going to grab a (protein-packed) snack…
In all seriousness, using and adding casein protein powder to "healthified" recipes can keep that sweet tooth tame, hunger at ease, and your health and fitness goals right on track.
The Dymatize casein blend is Informed-Choice certified, which denotes it's been tested and monitored by third-party testers and meets international purity standards. The seal also assures consumers that they aren't subjecting themselves to banned and harmful substances.
| | |
| --- | --- |
| Protein Content | 25 g per 2 scoop (34 g) serving |
| Flavor Option(s) | Cinnamon Bun, Cookies & Cream, Smooth Vanilla, Rich Chocolate |
| Cost | $67.28/51 servings = $1.32/serving |
Best Gluten-Free Casein Protein: Ascent Native Fuel Micellar Casein
Good for: People who want peace of mind knowing that their protein powder is certified gluten-free
Other casein powders are devoid of gluten, like Muscle Feast and Naked Nutrition, but Ascent Native Fuel Micellar Casein is noticeably gluten-free at first glance at the product page—certified gluten-free, that is.
Showcasing the certified gluten-free seal means it's been reviewed by Gluten-Free Certification Organization (GFCO) and meets the strictest of gluten-free standards. Specifically, the product contains 10 or fewer parts per million of gluten and is essential for those managing celiac disease or other gluten-related health conditions.
They're also Informed-Sport certified, so competitive athletes particularly can feel confident they are consuming a product without banned substances.
And two interesting observations to note: the number of servings also vary based on flavor—Chocolate (about 25 servings), Chocolate Peanut Butter (about 24), and Vanilla Bean (28 servings). The second observation: the price is $44.99 for all flavor options regardless of the servings. You can also snag a 4-pound, 50-serving bag of the chocolate casein powder for $74.99 and save almost $0.20/per serving.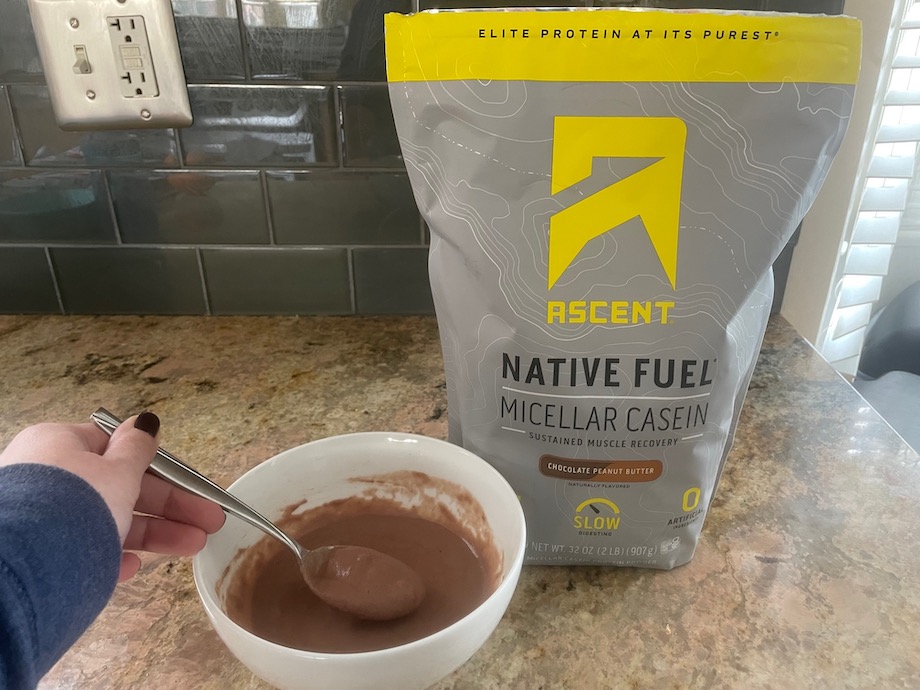 Aside from any cost and serving confusion, all of the flavor options are free of artificial ingredients. Instead, the brand uses more natural flavors and sweeteners like cocoa and stevia leaf. Unfortunately, Nicole Davis, GGR senior editor and product tester, wasn't a fan of the Chocolate Peanut Butter flavor. "I really tried to like this because it does have good customer reviews. I mixed it with water, milk, into a shake with frozen banana and ice, and made a pudding. The taste is just very off-putting to me." She did say the pudding recipe on the bag was the best option and it could make a nice sweet treat for some people—just maybe try the chocolate or vanilla flavors.
| | |
| --- | --- |
| Protein Content | 25 g per 1 scoop (32 g) serving |
| Flavor Option(s) | Chocolate, Chocolate Peanut Butter, Vanilla Bean |
| Cost | $44.99/25 servings = $1.32/serving (based on Chocolate) |
Other Casein Protein Powders We Researched
This roundup would be wheyyyy too long if we tried to capture all of the great casein protein powders on the market. While we still stand by our top picks, other products we researched and would recommend include:
How We Picked and Tested the Best Casein Protein Powder
How we picked and tested the best casein protein powder was meticulous, thorough, and (incidentally) based on the four Fs: the supplement's formulation, flavor options, financial cost, and faithfulness of the brand.
Formulation
Ideally, a casein protein powder will mostly contain protein and we strive to find products with at least 20 grams of protein per serving. NOW Sport's casein—which provides 19 grams of protein per serving—is the exception, although it's important to note the 24-gram serving size is a bit lower than others. If you calculate the protein based on a typical 30-gram scoop, the NOW Sport's casein powder would provide about 24 grams of protein.
We also review the purity and quality of the protein—like if it's sourced from grass-fed cattle—and any additional ingredients. If other ingredients are added, we make sure to rationalize their function and purpose.
Flavor Options
We search for and capture various flavors—and sometimes lack thereof—to satisfy diversified palates, because the best-tasting protein powder will differ for everyone. Because while some consumers enjoy unique and fun flavors, others prefer non-flavored options that can seamlessly be added to water or hidden with other drinks.
Financial Cost
We firmly believe cost shouldn't have to dictate reaching health and fitness goals, so you'll never find a product list of ours without financial flexibility. Many supplement companies also offer the ability to "subscribe and save," as well as free shipping and additional discounts, so we encourage taking advantage of such options if or as available.
The Faithfulness of the Brand
Is the brand faithful to its products AND consumers? We pride ourselves on being honest in our reviews and look for similar values in other brands and companies by reviewing:
Manufacturing and testing protocols, including if the product is third-party tested
Access to customer support via chat boxes, phone, contact forms, etc.
Return policies and money-back guarantees
Brand and product reviews on company websites, seller sites like Amazon, and social media profiles
Benefits of Casein Protein Powder
What the slow-digesting protein can offer has been touched upon. But let's slow it down and truly capture the benefits of casein protein powder.
Reinforces Daily Protein Intake
Protein, an essential macronutrient along with carbohydrates and fat, carries out thousands of critical reactions in the body. And supporting hormonal health, body composition goals, and strong immune functions are just a few benefits of protein.
The amount of daily protein you need depends on age, birth sex, health goals, and other factors. Just about anyone could benefit from a protein supplement, despite differing needs from one person to the next, especially if you're not meeting daily protein targets from wholesome high-protein foods.
Improves Athletic Performance and Recovery
If you want to improve your performance in the gym, you should be keeping protein in your back pocket. (Not talking literally here, but you do you.) But really, leaning on the best muscle recovery tools and supplements—casein protein included—can in turn improve your performance.
While a small study, 2013 research5 reiterates that pairing resistance training with pre- and post-exercise protein can induce significant changes in performance and body composition. But when examining performance-enhancing effects between whey and casein proteins, there was not a noticeable difference between the two.
A first-of-its-kind, yet also small 2018 study6 examined if consuming casein or whey protein could positively improve resting metabolic rate and resistance exercise the following morning. The researchers found that a higher dose of casein protein (48 grams) before sleep may provide small, yet favorable changes in morning RMR and performance.
A more recent 2020 study published in Physical Activity and Nutrition1 reviewed the effects of pre-sleep casein protein intake on post-workout recovery. The researchers concluded that at least 40 grams of casein after an evening resistance training session, and about 30 minutes before bed, shows to be an effective strategy to facilitate muscle recovery.
Assists with Body Composition Goals
Looking to build muscle mass or slim down? Whatever your body composition goal, protein can and should assist.
Sustaining and growing muscle is essentially the byproduct of resistance training and adequate protein. While casein is digested slowly, thus prolonging amino acid release and use, research7 shows that both casein and whey elicit similar increases in muscle protein net balance.
In terms of a protein powder for weight loss, the slow absorption of casein may promote feelings of fullness and control hunger. This ultimately helps to minimize cravings and moderate calorie intake, which may result in weight loss.
Overall, though, much of these body composition benefits are mostly attributed to consuming sufficient protein.
Supports Bone and Dental Health
As a rich source of calcium, it's not surprising that casein can help support strong bones and teeth. A review in the Journal of the American College of Nutrition8 suggests that casein supplementation reduces post-fracture bone loss, medical complications, and hospital stay while increasing muscle strength.
Research published in Caries Research9 even hints that casein and casein-derived proteins reduce or prevent enamel erosion, especially when paired with fluoride. Additional research out of the Australian Dental Journal10 proposes that casein phosphopeptide-amorphous calcium phosphate (CPP-ACP)—produced from milk protein casein with a great ability to stabilize calcium phosphate—could be a natural addition to chewing gums and food products to lower the risk of dental caries.
(Perhaps there's double dental support if you drink a pre-sleep casein protein shake and then brush your teeth!?)
Honors Convenience and Versatility
Whether you're on the go or just looking for a convenient option, protein powders are shelf-stable and easily transported without the worry of keeping cold or going rancid. Plus, there's less worry about food waste when compared to letting that package of chicken breasts expire!
Protein powders are also highly versatile—simply mix with water or another liquid for a quick protein shake, blend into smoothies, bake into countless recipes, and so much more. Really, protein powders can be as convenient and versatile as you wish them to be!
Dosing and Interactions
So now that you're close to picking a casein protein powder right for you (more detailed guidance up next!), how much protein should you consume? Does casein protein increase the risk of any interactions? Let's explore protein dosing and potential interactions to give you better peace of mind.
Protein Dosing
Again, the amount of protein you should consume each day depends on many factors like age, birth sex, and activity levels. As a general starting point, use protein's Dietary Reference Intake (DRI) of 0.80 grams of protein per kilogram (g/kg) or 0.36 grams of protein per pound (g/lb) of body weight. For someone who weighs 200 pounds (90.9kg), this amounts to 72 grams of protein per day.
However, DRIs denote the lowest daily intake value for a nutrient and research11 recommends consuming at least 1.2 to 1.6 g/kg of high-quality protein for optimal health. Based on the same 200-pound individual, this would equate to 109 to 145 grams of protein per day.
RELATED: Best Organic Protein Powder
Factoring in body composition and performance goals can vary protein targets. If your goal is weight loss, and you are in a caloric deficit, up to 2.0 g/kg may protect you from losing precious lean muscle. Aiming for 1.2 to 2.0 g/kg each day shows to support athletic performance and recovery according to 2019 data published in Nutrients.12
Certain health conditions can also influence protein needs. For instance, people managing liver or kidney diseases13 may need to limit their protein intake.
Casein Interactions & Safety
While there are currently no noted casein protein interactions at this time, casein peptides might decrease blood pressure and cause blood pressure to drop even more if taking an anti-hypertensive medication. People with a milk allergy can be allergic to casein, which is a milk protein, and would benefit more from a non-dairy option like a vegan protein powder.
Milk allergies should also not be confused with lactose intolerance, in which the body doesn't make enough of the enzyme lactase to break down the milk sugar lactose. Casein might be a viable option for those with lactose intolerance, as most if not all of the lactose is removed, although it's still wise to consume with caution.
If you have any questions and/or concerns about all things protein dosing and interactions, we encourage consulting with a registered dietitian for expert guidance.
Buying Guide: What to Look for in Casein Protein Powder
Ready to experience the benefits of a casein protein supplement yourself? Review the following tips and steps before punching in your credit card number.
Formulation
All of our top picks follow this simple principle: the majority, if not all, of the formula should contain protein with next to no fillers and fluff. Especially if choosing a casein protein powder beyond our list, be sure to review the following:
Protein content and type: Choose a casein protein powder that supplies at least 20 grams of protein per serving. Also opt for micellar casein, which is in most casein protein powders.
Carbohydrates and fat content: While carbs and fats are essential macronutrients like protein, they aren't exactly necessary in a protein powder. But if you're looking to use a protein supplement as a meal replacement, we recommend using a specifically formulated meal replacement powder or pairing it with carbs and fats for a more satiating and balanced meal.
Additional ingredients: Again, a protein powder should mostly contain protein with little to no carbs and fats. If the casein protein contains anything more than micellar casein, we advocate for choosing products with intentional ingredients—like stevia to enhance the sweetness and flavor—over ones with added sugars, fillers, and other unnecessary ingredients.
RELATED: Best BCAA for women
Personal Needs and Budget
Absolutely are we not trying to deter you from supplementing with casein. But because you'll be spending about $50 per container give or take, it's smart to consider if you actually NEED one and how it could benefit your current lifestyle. If you're searching for a convenient protein source or wanting to fine-tune your recovery, casein is a great option.
Also considering protein powder is non-perishable, unlike the casein from cottage cheese, it can be a cost-effective investment to hit your daily protein targets. However, you should still factor in how much you're willing to pay for protein powder (or any supplement for that matter).
Most casein protein powders provide at least 15 servings per container—but more often around 30 servings—although some brands offer larger sizes. If you can, we recommend opting for the largest size available so that you'll be stocked and ready—and very likely save some dollars you can put toward another tub or product!
You can also snag free shipping and/or a "subscribe and save" option with most protein powders. We do recommend trialing the protein before committing to a recurring protein shipment, or at least remembering to skip or cancel orders if you're still only a few scoops deep.
Flavor (or Non-Flavor) Preference
Some casein protein powders—like Naked Nutrition's and NOW Sport's products—are unflavored. This allows you to add them to water, smoothies, and other recipes without much notice.
But if you have a sweet tooth or simply prefer tasty options, there are many satisfying flavors on the market. Also because what qualifies as the best tasting is personal, go for a flavor you think you'll enjoy the most so you can hit your protein targets with delight.
Certifications and Verifications
Because supplements are not tightly regulated, it's smart to review any certifications and verifications they hold. All might not be important to you—like being Certified USDA Organic or Certified Gluten-Free—but we do recommend double-checking if the product is manufactured in NSF-certified, FDA-inspected, and/or cGMP-compliant facilities and third-party tested.
Company Values and Integrity
We're always evaluating the company behind the product and encourage you to do the same as a consumer, especially if supporting them with your purchase. While everyone has their own unique set of values, key areas we look into include:
An "About Us" page, or one that's similar, that details the company's mission and core values—do their values align with yours?
Consumer reviews on the company's main website, social media profiles, and third-party seller sites as available.
Return policies and money-back guarantees, which help reassure us the company feels confident in its product while prioritizing consumer satisfaction.
So before confirming your purchase, we encourage you to make a few more clicks and poke around their website and explore their social profiles—and maybe check us out while you're there!
FAQs About Casein Protein Powder
Is casein better than protein powder?
While casein can be found in natural food sources like cottage cheese, it's also produced into a protein powder. Whole food sources are often encouraged over supplements, as they tend to contain more essential nutrients, although a casein protein powder can be a convenient option to hit your daily protein targets. 
Is casein protein powder any good?
Casein protein powder can be a good option for anyone needing to supplement their diet. It may prolong muscle protein synthesis, support bone and dental health, and assist in your body composition goals.
Why not take casein protein?
People who already eat enough protein to meet their individual needs might not benefit from taking casein protein, or any other protein supplement for that matter. Those with a milk or dairy allergy should avoid taking casein protein and individuals with lactose intolerance should approach with caution, although it's generally considered to not cause any adverse side effects. If you are interested in taking casein but not quite confident in doing so, we strongly encourage you to consult with a dietitian or another healthcare professional for expert guidance. 
These statements have not been evaluated by the Food and Drug Administration. This product is not intended to diagnose, treat, cure, or prevent any diseases.
References