We test and review fitness products based on an independent, multi-point methodology. If you use our links to purchase something, we may earn a commission. Read our disclosures.
Full-body workouts are a great, efficient method to get the most out of your session. Not only can these workouts attack multiple muscle groups, but they can also save time when done with a full-body workout machine.
There are a wide range of full-body workout machines out on the market, from small bodyweight trainers, to smart home gyms and functional trainers—even hefty home gym power racks weighing over 1,000 pounds. It's hard to know what would work best for you and your needs.
We were able to research and test many of these machines, and named some of our favorites. Read on for our list of the best full-body workout machines.
Fully Tested and Researched Full-Body Workout Machines
Our team researched top brands and machines from popular manufacturers, looking at things such as price, footprint, and construction. In addition, we were able to get our hands on several workout machines to try out at our headquarters, testing the product's durability, assembly, and versatility in achieving a total-body workout.
The team, consisting of certified personal trainers, CrossFit Level 1 Trainers, and competitive athletes, took notes and we then compiled this list of full-body workout machines to provide you with the best information available so you can make an informed decision on your gym equipment purchase.
The 10 Best Full-Body Workout Machines
Best Functional Trainer: REP Fitness FT-5000 2.0
Good for: Anyone looking for a quality functional trainer at a reasonable price
The REP Fitness FT-5000 is our choice for best functional trainer as it is a well-built, high-quality machine that offers a range of exercises, making it a great tool for a full-body workout. Although it nears 900 pounds, it ships partially assembled, which is helpful in putting together such a large piece of equipment. Additionally, it's competitively priced for a functional trainer at $2,500, and REP Fitness offers a lifetime warranty on the frame.
The FT-5000 boasts dual 224-pound weight stacks at a 2:1 ratio, meaning that 224 pounds will feel like 112 pounds of actual resistance. There are other functional trainers that go as high as 4:1, so this ratio is nice. Additionally, this trainer has a multi-grip pull-up bar with three different grips: neutral, supinated, and wide. It is large, and there are functional trainers with smaller footprints; but the FT-5000 is built solid with 11-gauge steel and chip-resistant powder coating that will last.
The original FT-5000's handles could only top a height of 52 inches, making it difficult for tallet athletes to get a full range of motion. The 2.0 has corrected this with a max height of 73 inches, plus a lower starting point as well.
The weight stacks start at 12.5 pounds, which might be a little too heavy for certain isolation exercises. However, if this is not an issue for you, this is a great functional trainer to attack the lower and upper body with, making the REP FT-5000 our top pick.
| | |
| --- | --- |
| Price | $2,499 |
| Footprint | 36" D x 68" W x 85.5" H |
| Weight | 875 lbs |
| Resistance | Dual 224-lb weight stacks |
| Warranty | Limited lifetime warranty, 1-year on cables |
Best Smart Home Gym: Tonal
Good for: Those looking for guided training and the latest technology in home fitness
Smart home gym equipment is on the rise, and one of the forerunners is the Tonal. The Tonal is a wall-mounted screen with cable arm attachments on either side. During your workout, the Tonal's screen has a personal trainer that guides you through the workout and demonstrates how to perform exercises.
The machine uses digital resistance based off of an initial full-body assessment, and then adjusts the resistance for you on each exercise; still, there is an option to manually input your own level of resistance. The resistance only goes up to 100 pounds per cable arm, though.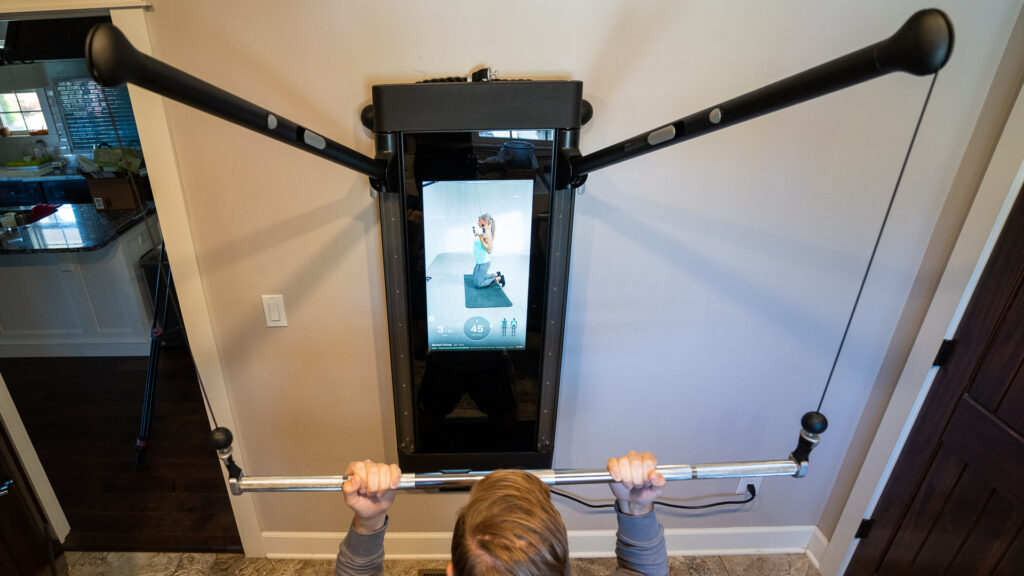 The Tonal is wall-mounted and doesn't take up a lot of space, aside from an included basic weight bench. However, to properly execute the exercises available to you, you'll need about 7 ft of space around your machine. Due to installation requirements, Tonal sends a professional team to deliver and install the machine.
This smart home gym has a hefty price of $3,995, plus a monthly membership fee of $49 for app access (which the first year is included in the initial purchase price). You can also finance the machine for as low as $84 per month. While not the most affordable price, you can check out our Tonal coupon page to see how you can save. Additionally, you might be able to save during a holiday weekend.
Read our full Tonal review for our in-depth thoughts on this piece of smart home gym equipment.
| | |
| --- | --- |
| Price | $3,995 plus $49/mo app membership |
| Footprint | 5.25" D x 21.5" W x 50.9" H |
| Weight | Not disclosed |
| Resistance | 200 lbs (100 lbs per arm) |
| Warranty | 1-year |
Best Cardio Machine: Concept2 RowErg
Good for: Anyone looking for a full-body workout that will also get the heart rate up
When it comes to rowing machines, the Concept2 RowErg stands out as one of the most popular rowers out there, being the staple rower in just about every CrossFit gym. It's a great option at home, too, being user-friendly for beginners and advanced athletes alike. It's a bit longer than many other rowers at 95 inches long and 24 inches wide, but it can easily be rolled to an upright position for easy storage. We like that the inseam height on the rail accommodates taller users, too.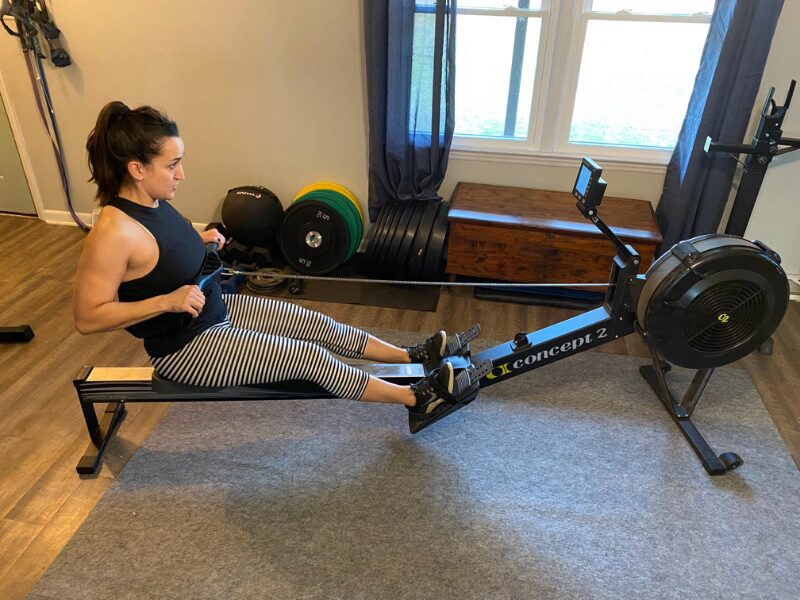 There isn't a lot of setup or adjustments to make to the RowErg, and while it has a performance monitor, the tech is pretty simple. With that said, the PM5 monitor does track just about every metric you can think of for a rowing machine: strokes per minute, distance rowed, split times, and average pace, just to name a few.
The Concept2 RowErg uses air resistance for this low-impact cardio workout. Even though I'm a weightlifter who can squat over 600 pounds, just a one-minute sprint on this rower leaves my lower body burning.
It is a little pricey compared to other rowers at just under $1,000, and the performance monitor doesn't offer any interactive programming or many workout options.. Additionally, some complain about the rowing seat being too firm and uncomfortable. However, with its durability and high resale value, we highly recommend the Concept2 Row Erg as one of the best cardio machines for a full-body workout.
Read our full Concept2 RowErg review to find out what else we love about this rower.
| | |
| --- | --- |
| Price | $990 |
| Footprint | 95" L x 24" W x 14" H (20" H with tall legs) |
| Weight | 57 lbs (68 lbs with tall legs) |
| Resistance | Air flywheel |
| Warranty | 5 years (frame), 2 years (other parts) |
Best Budget Full-Body Workout Machine: X3 Bar
Good for: People who travel often and want a small, compact piece of exercise equipment
The X3 Bar was created by Dr. Jon Jaquish with the intention of being a full-body workout machine and program that could replace your entire home gym and other exercise equipment.
Essentially, the X3 is a bar that can hook to various resistance bands and a platform, which will allow you to do many different exercises that are typically done with free weights and barbells: deadlifts, front squats, and presses, for example. The bands add more resistance throughout the movement, to where you are pulling up to 300 pounds of resistance (600 with the elite band, purchased separately). The bar itself has some strong knurling, which some will appreciate for a strong grip, while others may find it too aggressive.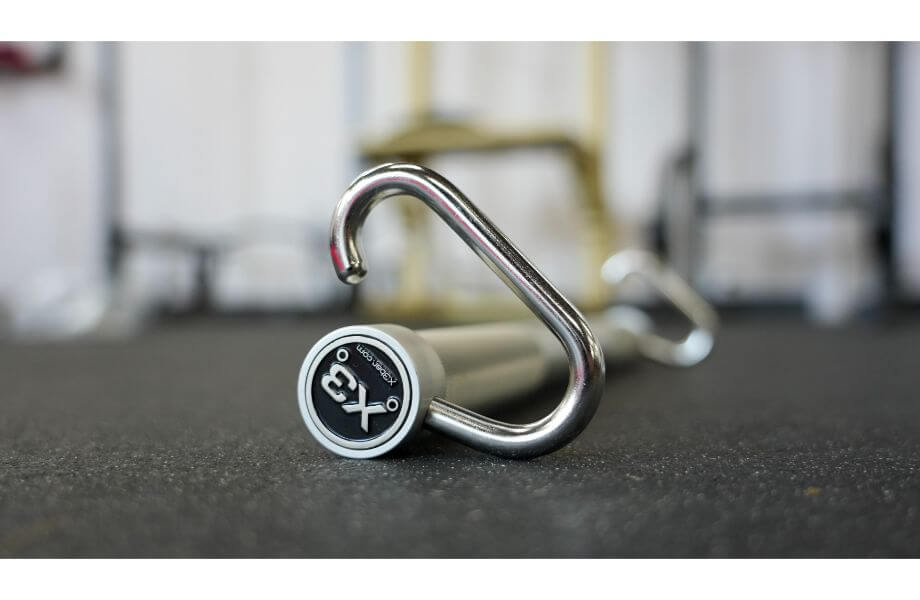 The impressive thing about the X3 bar is that it is an all-in-one trainer with an incredibly small footprint when compared to typical full-body functional trainers. The bar is 21.5 inches long, and the ground plate is 19 inches long, and with the resistance bands can be easily stored in between workouts. This is a great portable machine that can be traveled with, for quick workouts entailing the entire body.
At just under $550, the X3 Bar can seem like a lot of money for some bands, a bar and a ground plate, but it also comes with a 12-week workout and nutrition program included, as well as financing options. Some customers have also complained that the bands—which only have a one-year warranty—have worn down after only a few weeks. Still, for its price point, versatility, and portability, the X3 is a great option for a full-body workout machine that is more affordable than most full-body machines.
Our full X3 bar review will provide the rest of our thoughts on this product.
| | |
| --- | --- |
| Price | $549 |
| Footprint | 19" L x 10" W x 1" H (ground plate) |
| Weight | 17 pounds |
| Resistance | Up to 300 lbs (600+ with the elite band) |
| Warranty | 1 year (bands), 5 years (bar and ground plate) |
Best Home Gym: Force USA MyRack Modular Power Rack
Good for: Anyone looking for a versatile, budget-friendly power rack to build out a home gym
One thing you look for when building a home gym is versatility; can this piece of equipment provide the full-body workout and help you achieve your fitness goals? Well, the Force USA MyRack is certainly one of the best options out there. Its strength is its versatility with a pretty low starting price.

At just $500, you can start with the four-post squat rack, then add attachments you want for your rack and home gym. You literally pay for what you want, and Force USA has quite a few options for this power rack. Boasting 20 attachments to choose from, Force USA offers everything from J-hooks and multi-grip pull-up bars, to lat pull downs and cable crossover attachments.
This is a low and budget-friendly price, but Force USA made some choices to make this rack affordable. For one, the steel used is 12-gauge, which is a thinner steel than the industry standard of 11-gauge steel. In addition, the rack is bolted together instead of welded, which makes the rack ship easier, but also bolts aren't going to be as solid as welds. Force USA addresses this with backer plates at all joints to strengthen the rack, and in our use of the rack, it was pretty sturdy.
The uprights are also not an industry standard, at a square 2.4 inches. This means you can't add any of your own attachments from other companies like Rogue or REP Fitness made for a 3-inch-by-3-inch upright; you'll have to use Force USA's attachments. The good news is that Force USA offers so many attachments that this shouldn't be a hindrance. These uprights also use Westside hole-spacing, at one-inch apart, and have the holes numbered to insert attachments evenly and conveniently.
Some of the attachments are not the best out there, particularly a couple of the pull-up bar attachments. While the multi-grip attachment has a nice knurling on it, the straight bar and other pull-up bars have a powder coat, which is surprisingly slick. Still, this is a great option to build out a total gym just from one squat rack.
Read our full Force USA MyRack review to learn more.
| | |
| --- | --- |
| Price | $499 (attachments are extra) |
| Footprint | 55" L x 47" W x 87" H |
| Weight | 176 lbs |
| Resistance | n/a |
| Warranty | Limited lifetime (frame), 10 years (cables and pulleys), 1 year (upholstery and attachments) |
Best Cable Machine: Vitruvian Trainer+
Good for: Those wanting a space-saving cable machine with substantial resistance
The Vitruvian Form Trainer+ is another smart piece of workout equipment, having a platform with two cables protruding from it. The cables offer resistance throughout the entire movement adapted to your strength and speed, as the cables can make adjustments 40 times a second. It is all resistance training and each cable arm can work up to 220 pounds of resistance, totaling 440 pounds.
This is already more resistance than most smart home gyms offer, but the magnetic resistance is different and more difficult than free weights, as the resistance is constant. With the heavier resistance, and a weight capacity of up to a 330-pound person, this cable machine can be a great choice for any fitness level, but in particular can be a good cable machine for a bigger, stronger athlete, too.
Vitruvian made this look sharp, with a carbon fiber shell and LED bar along the side. Although it is 80 pounds, it can also be maneuvered easily around the house with wheels on one side. It's not too big of a footprint and can be moved with relative ease.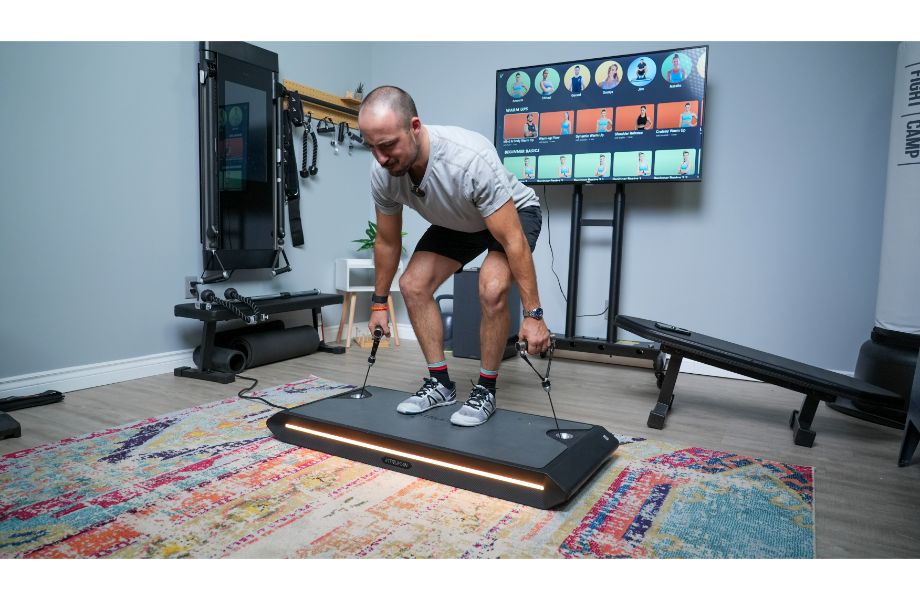 The Trainer+ has a variety of additional attachments for the cables; however, you can only use their attachments, as it does not use a carabiner. It also comes with a decent bench, but one that can only be used with the Trainer+ as the legs are different heights, for one end to sit on the platform.
The hardware is great on this machine, but the software is not its strongest point. It is not as streamlined of an app as some smart home gyms, like Tonal, but the Australian company is also newer, and continues to adjust the software. Unlike many smart home gym options, there is no screen on the Trainer+, and we'd recommend having a TV screen nearby to connect your phone to, otherwise you'll be struggling to see the trainer-led workouts on a small phone screen.
We cover all of the ins and outs of this machine in our full Vitruvian Trainer+ review.
| | |
| --- | --- |
| Price | $2,990 |
| Footprint | 46.06" L x 20.47" W x 4.52" H |
| Weight | 80 lbs |
| Resistance | Up to 440 lbs magnetic resistance |
| Warranty | 2 years, 12 months (cables and accessories) |
Best Full Body Machine with Bench: Life Fitness G7
Good for: Anyone looking for a heavy-duty functional trainer that will last
Common in commercial gyms, the Life Fitness G7 can also be a solid piece of home gym equipment, as it is made with 11-gauge steel; it's durable and it will last.
Additionally, this machine is versatile, with 20 different height adjustments for the cable pulleys, allowing you to perform 55 different exercises for a full-body workout. Along with the cable's D-handles, you get a straight bar, foot strap, thigh strap, and stability ball, adding more options to your workouts.
There are dual 160-pound weight stacks with a 2:1 ratio on the cable pulley system, which means the effective resistance is only 80 pounds each cable. While this might not be enough for some, it will probably be more than enough resistance and weight for most fitness enthusiasts.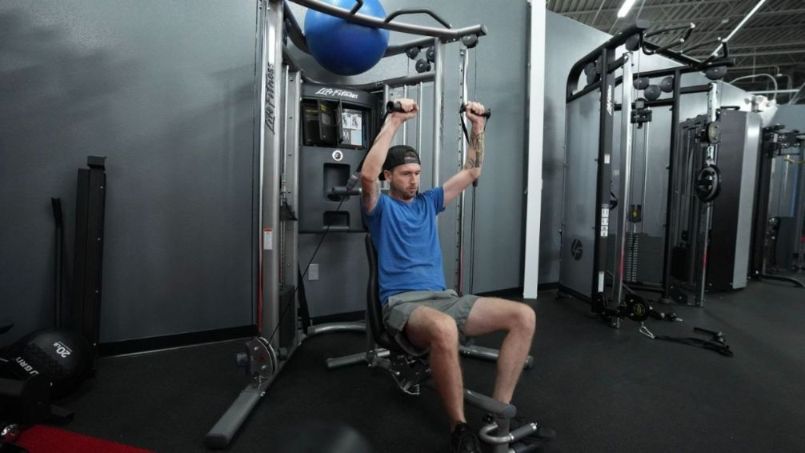 The optional weight bench is built the same way, with durability and versatility in mind. Constructed of the same 11-gauge steel as the G7, the bench can be adjusted to different heights, for an incline, straight, or decline bench. The bench can be folded up and locked in place in the G7 to store as well.
Storing the bench is great, as the Life Fitness G7 has quite a footprint. The machine itself is over five feet wide and four feet deep, but to use it properly, it's recommended to have 10 feet by 8 feet of open floor space. Along with the large footprint is a large price tag of $3,889, over $4,500 with the adjustable bench. However, there are financing options available, as well as a lifetime warranty on all parts of the G7—except the cables, which are three years.
| | |
| --- | --- |
| Price | $3,889 |
| Footprint | 69.5" W x 83" H x 48.5" D |
| Weight | Not disclosed |
| Resistance | Dual 160-lb weight stacks |
| Warranty | Lifetime, 3 years (cables) |
Best Portable Full-Body Workout Machine: MAXPRO SmartConnect Home Gym
Good for: People needing a small, compact machine for full-body workouts on the go
The MAXPRO is a highly versatile machine that is extremely portable and lightweight. It's just over a foot long when folded away, and weighs under 10 pounds. It folds out to a small platform for your feet with two rope attachments on either side. Despite the incredibly small footprint, the durable ropes from the machine can create resistance up to 300 pounds, meaning this small exercise machine packs a pretty big punch.
Along with the portable machine, there are several options to add on in the "Elite Bundle." Accessories include a wall track, bench, jump belt, suspension handles, exercise mat, foam roller, and a backpack for traveling. The bench and wall track add some more variety to the already versatile machine, allowing you to do a bench press or rows. The bench, like the MAXPRO, also folds up, keeping the entire bundle a pretty compact option.
The software that the MAXPRO SmartConnect uses has a large library of workouts, and can also track your workout progress. However, the software is a bit clunky and less user-friendly than other workout software apps.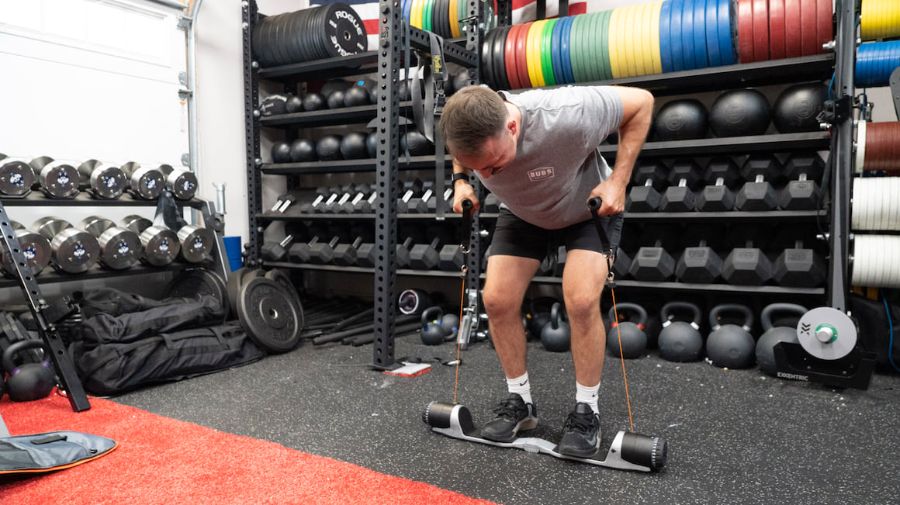 A couple callouts we had were that the ropes only create resistance while being pulled, meaning they can only be used for concentric movements of exercises. Along with this, the price is a bit high, where the MAXPRO usually sits at around $1,000, and the Elite Bundle adds at least $500 more. However, if you need a portable home gym for travel and have a higher budget to spend, this is a fantastic option.
Read our full MAXPRO review to learn more about the pros and cons of this machine.
| | |
| --- | --- |
| Price | $1,099 |
| Footprint | 16" L x 10" W x 4" H |
| Weight | 10 lbs |
| Resistance | Up to 300 lbs |
| Warranty | 1 year limited |
Best Bowflex Full-Body Workout Machine: Bowflex Revolution
Good for: Anyone looking for a versatile full-body workout machine with a good bit of resistance
Bowflex has been in the home gym market for a while now, offering a diverse set of exercise machines. Their Bowflex Revolution Home Gym uses SpiraFlex technology, which has resistance without inertia. The resistance plates lock and are loaded like typical weight plates, but do not have to be lifted like typical free weights; they stay in place. Adjusting the weight plates can be a little clunky though, especially with the larger 40-pound plates. The plates can be loaded to create up to 220 pounds of resistance, or 300 pounds with an upgrade.
The Bowflex Revolution is extremely versatile, with the ability to do over 100 exercises and 400 variations. The seat can be extended for more options as well. There is even a leg press station in the machine.
Although it is foldable, you will need a lot of open floor space to use all the features of the Revolution, about 10 feet by 7 feet. Additionally, this machine can be a bit pricey, at about $2,900, plus more if you want the 80-pound resistance upgrade. There are financing options available, as well as optional professional assembly.
| | |
| --- | --- |
| Price | $2,899 |
| Footprint | 112" L x 38" W x 73" W |
| Weight | 336 lbs |
| Resistance | 220 lbs (300 lbs upgraded) |
| Warranty | 10-year limited |
Best Bodyweight Full-Body Workout Machine: TRX Home Suspension Trainer
Good for: Those wanting a tough full-body workout using only your body as resistance
TRX straps are different from other functional, full-body workout machines in that the resistance is your own bodyweight. These straps give access to a wide variety of bodyweight exercises when suspended from overhead. The Home Suspension Trainer allows for these straps to be hung in any home with a sturdy door or a pull-up bar. Plus, the trainer is extremely portable, weighing less than two pounds. The suspension anchors can even be used on a strong branch.
The nylon webbing straps and carabiners are durable, being tested at 1,300 pounds. These straps have D-handles at the bottom, which can be gripped for exercises. Due to the suspension of the straps, almost every movement attacks the core as you stabilize during your workout. It makes for a tough total-body workout.
Compared to other suspension trainers, the TRX straps can be expensive. Additionally, due to the necessity for a strong core, lots of exercises are challenging at first for the general population, and there is a bit of a learning curve involved.
If you're interested in purchasing your own TRX system, don't forget to check out our exclusive coupon code for 15% off!
| | |
| --- | --- |
| Price | $229 |
| Footprint | Fits in a mesh carry bag |
| Weight | 2 lbs |
| Resistance | Bodyweight |
| Warranty | 2 years |
Other Full-Body Workout Machines We Researched
This list of the best full body workout machines is pretty expansive, and you better believe we researched and tested even more options. Here are a few pieces of equipment that didn't quite make the cut.
Torque F9 Fold-Away Functional Trainer: Torque created this functional trainer as a space-saver, being foldable and being able to fit into a 3-feet square corner. The trainer has dual weight stacks with three options available for purchase: 150 pounds, 200 pounds, or 225 pounds. Well-designed and versatile, the F9 still gets pretty pricey, especially with the heavier weight stack options. Furthermore, reviews show that assembling the machine can be difficult for some.
XMark Functional Trainer: Dual 200-pound weight stacks with a 2:1 pulley ratio are the centerpiece for this functional trainer. It also has 19 adjustment positions for the cables and handles, with numerous cable attachments to add versatility to your workout options. Despite being a solid functional trainer, it is not a budget-friendly piece of equipment, and it also has a pretty complicated assembly process.
Force USA G20: This is an all-in-one trainer, made of 11-gauge steel tubing and boasting dual 289-pound weight stacks at an incredible 1:1 cable ratio. The G20 has 29 attachments included, along with J-hooks and safety bars. It's big enough to support multiple users at once, but it is very big, with a shipping weight of over 1,500 pounds. It is difficult to assemble, and once it is assembled, it won't move around easily at all, so make sure you know where you want it!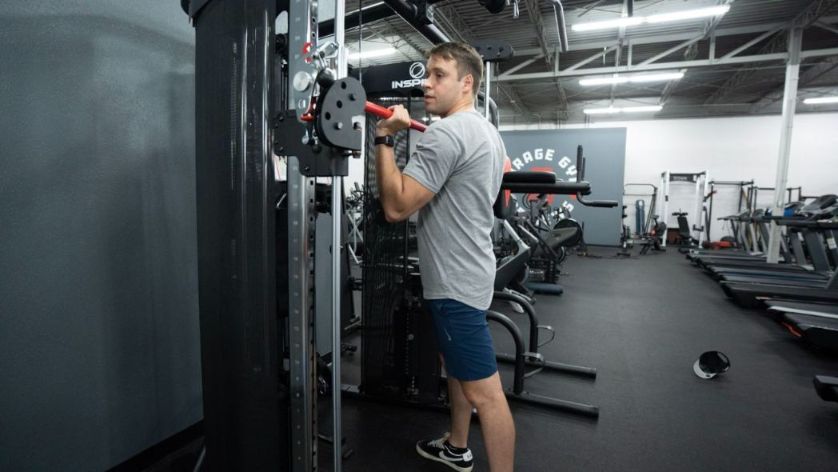 Inspire Fitness FT2: The FT2 has a lot of options that most functional trainers don't: upper and lower pulleys along with adjustable pulley systems, too. There is a Smith machine attached as well to the dual 165-pound weight stacks. Regardless, there is no option for free weights on the Smith machine, and also some reviews state the Smith machine bar gets in the way of other exercises.
TUT Trainer Tower: This all-in-one functional trainer uses resistance bands—called TUT Plates—to mimic a cable machine. It's a small, less expensive machine compared to other functional trainers, and is a great option for beginners. However, more advanced lifters will need to add extra TUT plates for more resistance. Furthermore, it doesn't support a low row or overhead press without the purchase of extra attachments.
How We Picked and Tested
In order to finalize our list for the best full-body workout machines, we researched major manufacturers and then shipped machines over to Garage Gym Review HQ, where our team performed many workouts and exercises on each machine, taking notes on the construction and functionality of each machine. Here are the main points we considered.
Construction: Even with some of the less expensive options, we wanted to make sure that these full-body workout machines were well-built. Many of these machines can be expensive; we want to make sure they will last if we're going to recommend them. The frame of each machine should be constructed of solid quality materials; the cables of functional trainers should last, and resistance bands should be quality as well.
Resistance: There are a wide range of exercise machines offering different kinds of resistance for strength training. We considered the type of resistance, as well as the maximum resistance that each machine offered. Particularly, in cable pulley systems, the cable ratio would be considered as well, as the weight stack is not always the effective resistance for the machine.
Footprint and Portability: The size and space needed for these machines also range pretty wildly. When a garage gym needs to utilize limited space, we consider how much space a home gym machine takes up. Sometimes, a machine can take up a lot of space if it has a lot of versatility and functionality; it can be the centerpiece for a home gym. Still, if there is a lot of equipment already, a smaller, more compact option might be better.
Versatility: Full-body workout machines are versatile, as they are supposed to be a workout machine for your entire body. These machines should hit the upper body, lower body, legs, arms, and core all within the one trainer. In some cases, this can be done in one exercise, like on a rowing machine; in other cases, the machine should have the ability to train different exercises.
Benefits of Full-Body Workout Machines
There are many ways that a full-body workout machine can help you in your fitness endeavors. Some home gym machines might focus more on cardio exercises, and some may be more strength-based, but here are a few benefits that all of these machines have in common.
Build Muscle
Even as a competitive weightlifter, I've used full-body workout machines in my training to help build strength and muscle. Any resistance training forces muscle groups to adapt, helping build lean muscle, which helps build strength. Full-body workout machines might use different means of resistance, from free weights to cables and resistance bands, but all use some type of resistance. Therefore, a full-body workout machine is a great tool for any strength training program.
Burn Fat
When we exercise, we expend energy and burn calories. Those calories burned also help in burning fat. While typically we tend to think burning calories is from doing aerobic exercises, we actually burn calories from weight training as well. Whether it's a cardio machine like a rower, or a strength machine like a functional trainer, you will burn calories while working out on one of these home workout machines. Plus, muscle burns more calories than fat, so the more muscle you have on you, the better for body composition goals.
Workout From Home
Full-body workout machines can be a great starting point for anyone wanting to set up a garage gym, as they are all-in-one trainers. Beginning your home gym with a full-body workout machine means you will have the ability to train the entire body just from one piece of equipment. In addition, you won't have to travel anywhere for your next training session; it's just in the other room. There's tremendous convenience in having a full-body workout machine as your home gym.
Speed Up Your Workout Routine
Full-body workout machines are great to make your workouts more efficient. Because these trainers can be all-in-one machines, you can do your entire workout without moving from equipment to equipment. Just this can reduce your workout time substantially. Instead of building the upper body on three different machines, and then doing lower body exercises with another three or four machines, you can get it all in with minimal adjustments quickly.
RELATED: Best Online Workout Programs
Reduce Your Risk of Injury
Many full-body workout machines use different resistance than just free weights, like dumbbells, kettlebells, and barbells. Some smart home gyms use magnetic resistance in their cables; others use resistance bands. Cables and resistance bands provide low-impact resistance when compared to free weights because your feet typically remain planted, meaning less shock on the joints; plus you're typically dealing in lighter loads as well. Additionally, strength training and performing exercises with proper form helps strengthen tendons and ligaments, further reducing your chance of injuring joints.
What to Look for in Full-Body Workout Machines
There's a lot to think about when purchasing a full-body workout machine. Here are a few aspects of these workout machines to consider:
Purpose
It's important to know what you want out of a full-body workout machine. Most of these machines are versatile; still, there are some that might be better for you depending on your fitness goals.
If you're wanting more of a cardio workout out of your machine, it might be better to get a conditioning machine, like a rower.
Perhaps you want to do more strength training. In this case, a machine with more resistance-based options, like a functional trainer, might be the better choice.
If you would prefer to train some free weights as well, then a great option would be to build attachments onto a power rack.
Still, if you are on the move a lot, it's worth looking into more portable trainers and options.
Versatility
Many machines offering full-body workouts provide versatile workout options. It's important to consider just how versatile these machines would be for you, though, since more exercises doesn't always mean a better machine. But for a full-body workout machine to be efficient, it should have the ability to train the entire body: upper and lower body, from the triceps to the glutes and beyond. A wide range of exercises can also add variety to how you train muscle groups.
Durability
Many full-body workout machines are an investment, so make sure the materials used are up to par. Industry standard is 11-gauge steel for tubing, so it's a quality framework for many machines. If the machine uses cables, make sure the cables are of a decent quality: usually, thicker cables are better and more durable. Also, look for a protective coating, which will extend a cable's lifespan.
Obviously, quality materials will cost more, so consider this if you need a budget-friendly option. Find the option that gives you more value: a well-built machine at an affordable price.
Footprint
Many functional trainers take up a lot of space, but even smaller machines, like the Tonal Smart Home Gym, still require a decent amount of room to use properly. It's important to not only consider the footprint of a workout machine, but also the floor space needed to properly use the equipment. If space is a commodity, there are quite a few portable, compact options available as well.
Warranty
Again, these machines can be investments. It's good to consider what warranties these machines have. Warranties will vary greatly depending on the company, but typically, these full-body workout machines will range from 3 years all the way to lifetime warranties. Additionally, smart home gyms typically have shorter warranties, around one or two years. Many of the larger, more expensive options include a longer lifetime warranty, which can be comforting when making a large purchase like a full-body workout machine.
FAQs
What gym equipment is best for your whole body?
Is it OK to do a full-body workout everyday?
You can do a full-body workout every time you exercise, but it's best to give your body one or two rest days each week to recover and rebuild. It's also smart to vary the workouts, with emphasis on different muscle groups each day to avoid overtraining any particular muscle group during a given week.
How long should a full body workout last?
There is no exact time for a full-body workout—even if you have 20 minutes for a full-body routine, you can still get an effective workout. Workouts lasting from 45 minutes to an hour will allow you to fully fatigue the entire body with multiple exercises and sets, along with adequate rest between your sets. How long your workout lasts will depend on the time you have available, and what your goals are.