We test and review fitness products based on an independent, multi-point methodology. If you use our links to purchase something, we may earn a commission. Read our disclosures.
The Force USA MyRack is not only one of the most customizable racks available, but it's also one of the most feature-filled for those on a budget. After training in the MyRack over 30 days and testing (literally) every accessory they make, we can confidently recommend it to anyone looking for a budget squat rack.
Force USA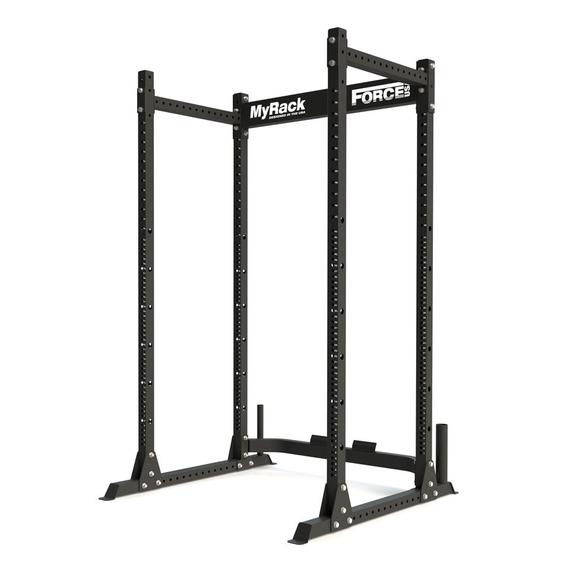 Force USA MyRack Modular Power Rack
Use code GGR5 at checkout to save 5% on all Force USA orders above $250! The Force USA MyRack is the most versatile power rack ever designed and can either be used freestanding* or when bolted-in to the floor to perform squats, bench presses, overhead presses, deadlifts, and more.Whether you train weightlifting, powerlifting, Crossfit®, Olympic lifting, calisthenics, gymnastics or just want to build muscle or burn fat, the MyRack is 100% customizable so you can take your workout to the next level.Start with the bulletproof MyRack base unit forged with precision welded, laser cut 12 gauge steel.The MyRack features westside spacing with 54 different numbered adjustment points to perfectly position any size user for bench press, squats and more. The lower bench level heights have 1-inch spacing while the squat height levels have 2-inch spacing.Next customize your MyRack with 20 different optional attachments including chin-up bars, pull-up bars, dip handles, landmine rows, lat-pulldowns, J-hooks, safeties, cable crossovers, and even a monolift attachment to unlock 100's of different configurations!Complete your power rack system with the versatile MyBench. Each MyBench features flat, incline and decline settings and comes complete with removable preacher curl attachment and separate leg developer.The MyRack has been engineered and tested to meet our rigorous safety standards and weight ratings. So you're guaranteed the safest, highest quality power rack available.And, we stand behind every MyRack Power Rack we sell with our ironclad lifetime structural warranty. BASE RACK SPECIFICATIONS:Laser cut steel construction Height – 87″ Width – 47″ Depth – 55″ Interior Depth – 29" Extra-sturdy Steel Construction 12 GA Steel Uprights Westside spacing 54 adjustment points front and back 5/8" accessory holes 2.4" x 2.4" uprights Freestanding and bolt-in options Lifetime structural warranty Product Weight – 176 lbs. Arrives in 3 separate boxes
Unboxing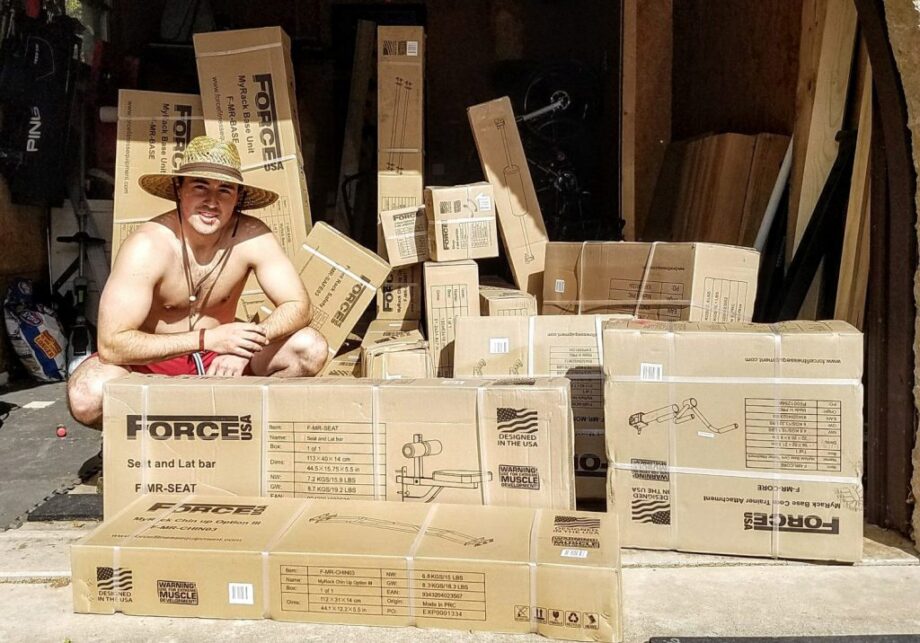 The Force USA MyRack showed up in front of the garage stacked on an XL pallet. Seriously, it's been a while since I've seen so many shipping boxes on one pallet. I was happy to find that pretty much every box was in great shape without any being mangled or torn up. A+
Force USA MyRack Review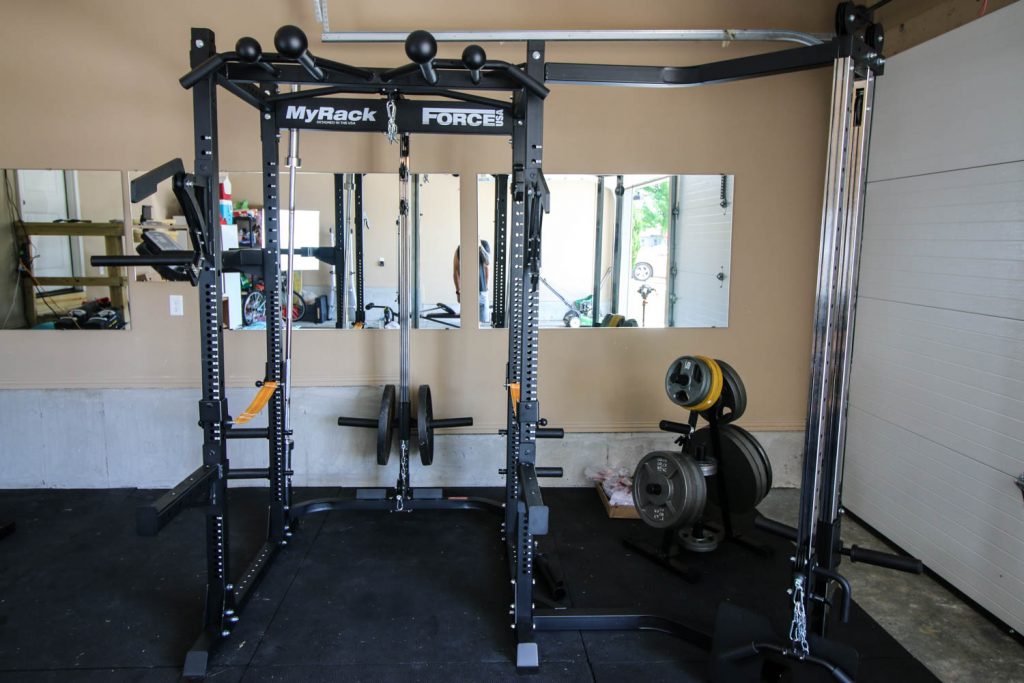 The Force USA MyRack is one of the most requested reviews we've ever done. We get questions through Instagram, Email, Facebook, YouTube, and just about every other place you could think regarding equipment. People want to know how does X compare to Y and if either are worth the money. Despite the hundreds of products we get asked to review, people are enamored by the Force USA MyRack. And, they're enamored for a good reason.
Force USA has taken a budget rack and created an insane amount of accessories, all at a great price. To take it one step further, the ease of purchase (especially on the accessories,) makes the buying experience the best out of any company selling gym equipment (except of course when you purchase through Amazon.) Don't take my word for it, check out the site here.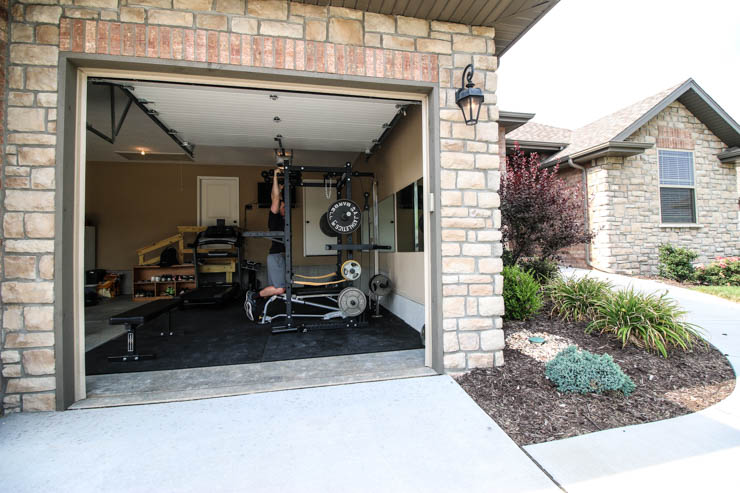 Too often, equipment companies focus so much on the product that they forget about the online buying experience. People want to see what they're purchasing and they want to easily add it to their cart without having to calculate shipping and figure out how to navigate the site. Although this has nothing to do with the equipment, I feel it was done well enough that it needs to be mentioned. A+ Force USA.Now, to the important stuff.
The Force USA MyRack is not the best rack available. I don't think there's many that would argue against that, the team at Force USA included. But, I don't believe Force USA was trying to create the "World's Best Rack" when conceiving the MyRack concept.
From my standpoint, the goal of the MyRack was to make it easy and affordable for people to purchase a good, not great rack, with a great selection of accessories. Seriously, there aren't many racks on the planet that can compete with the number of accessories the MyRack has (more to that later on.)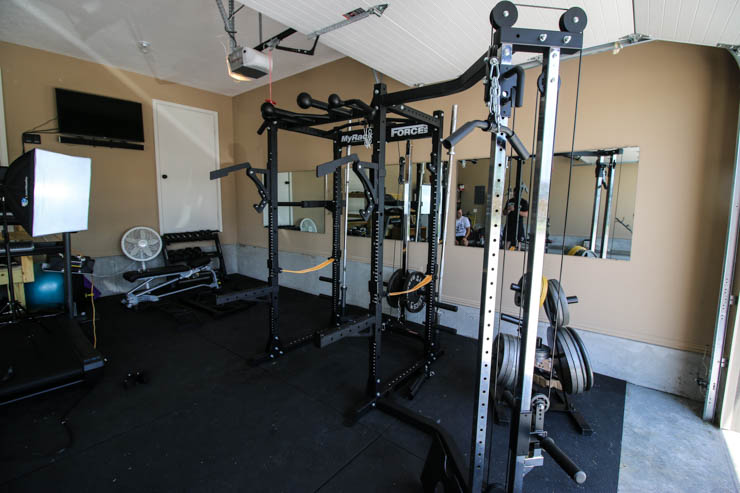 The MyRack is based around a four-post power rack that is both heavy and deep enough to stand on its own without being bolted to the ground. This is an important feature as the target market for the MyRack is home gym owners that will neither want or possibly even be able to bolt the rack to the ground.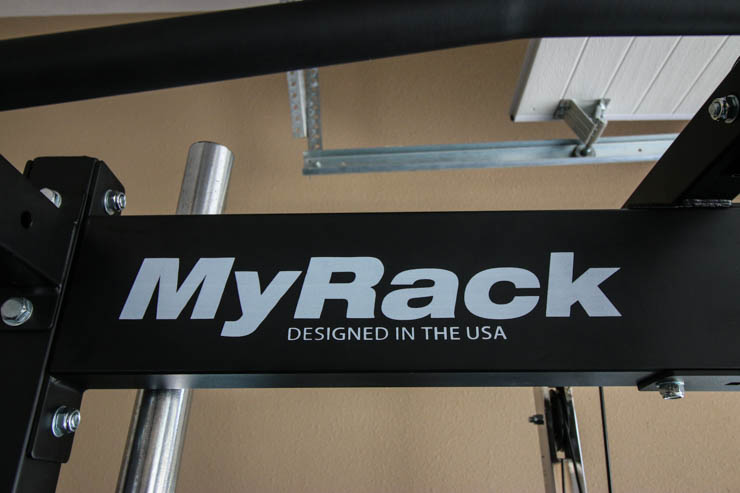 Here are the basic specs for the MyRack Modular Power Rack:
Laser cut steel construction
Height – 87″ / Width – 47″ / Depth – 55″ / Interior Depth – 29″
54 adjustment points front and back
5/8″ accessory holes2.4″ x 2.4″ uprights
Freestanding and bolt-in options
Lifetime structural warranty
Product Weight – 176 lbs.
Arrives in 3 separate boxes
First off the MyRack is not as strong as similar looking racks like the Rogue R3 (our personal favorite rack for most garage gym owners.)
The reason it's not as "strong" is due to its 12-gauge steel construction. Most racks including the Rogue Infinity, Monster Lite, and Monster lines feature 11-gauge construction. This has been the standard for most home gyms, and although 11-gauge is overkill for most people, knowing they have a rack that can hold 3x the amount of weight they'll ever dream of lifting is reassuring.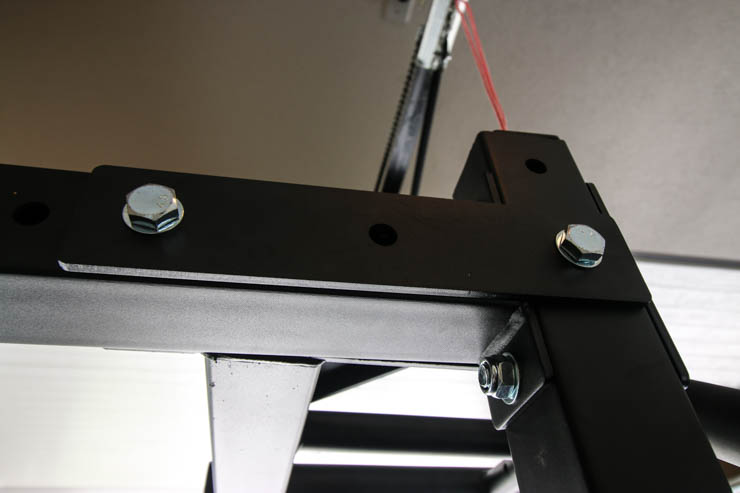 In order to strengthen the 12-gauge construction, Force USA has added backer plates at all joints that are bolted in order to prevent any potential damage. Although I would like to see the stronger 11-gauge steel, I do understand that it would increase the price, and considering this is a budget-friendly rack, that may not be the best decision for most.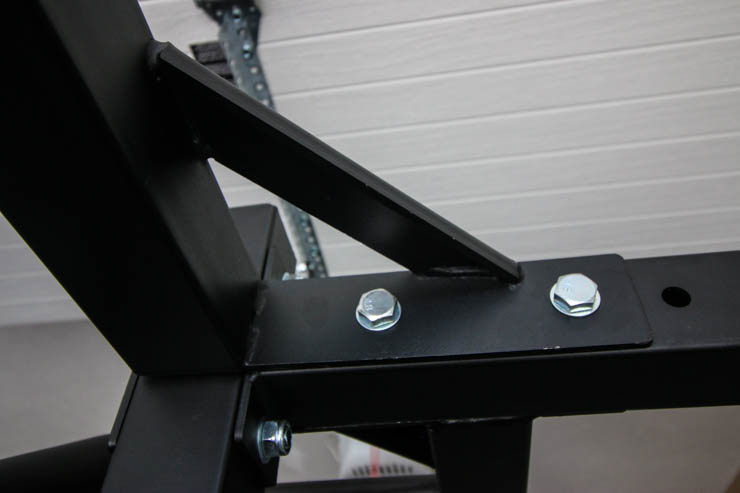 Another feature of the Force USA MyRack that allows it to be as cheap as it is (with free shipping no less,) is the fact that everything breaks down to easily ship. This means there are no welded panels like you see on more expensive racks that require big, heavy shipping pallets. Bolted panels are weaker than welded panels, but again, for the price, welded panels don't make sense.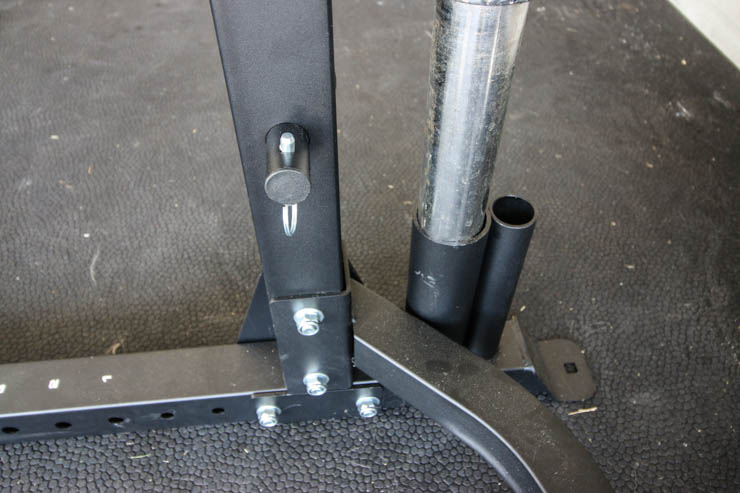 Although bolted panels are great for price, understand that this rack takes quite a while to put together in comparison to most others due to the amount of pieces that come disassembled and then require bolting.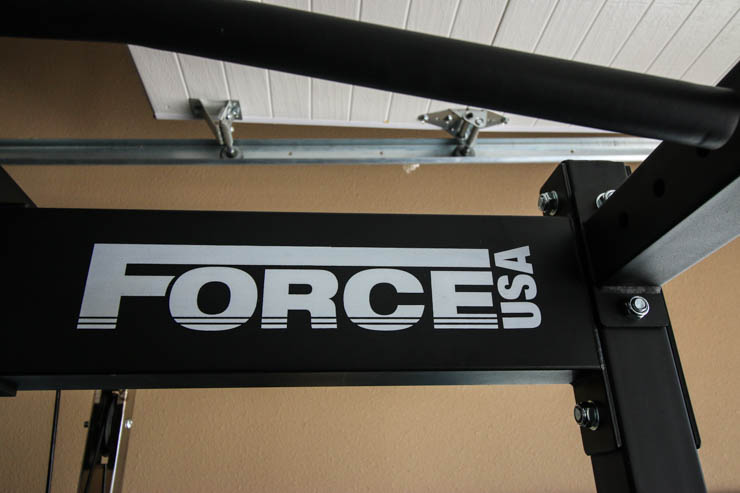 Although bolted panels are great for price, understand that this rack takes quite a while to put together in comparison to most others due to the amount of pieces that come disassembled and then require bolting.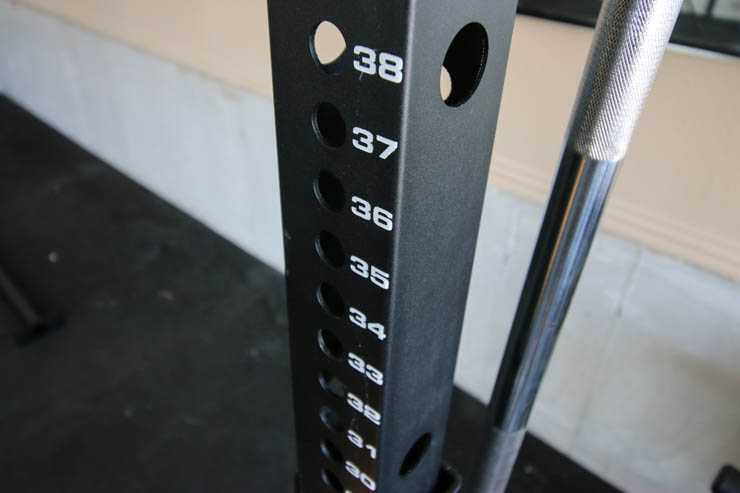 In order to have places to attach all of the available accessories that you're likely going to want if you purchase this rack, Force USA has laser-cut holes on all of the uprights, feet, and upper stabilizer pieces. This means, with the optional band pegs, you can add accommodating resistance as well as adjust j-hooks and other accessories easily.
Force USA has also taken the ever-popular Westside-Hole Spacing through the bench area and added it to the MyRack. Kind of interesting that just about every company has adopted this as standard practice.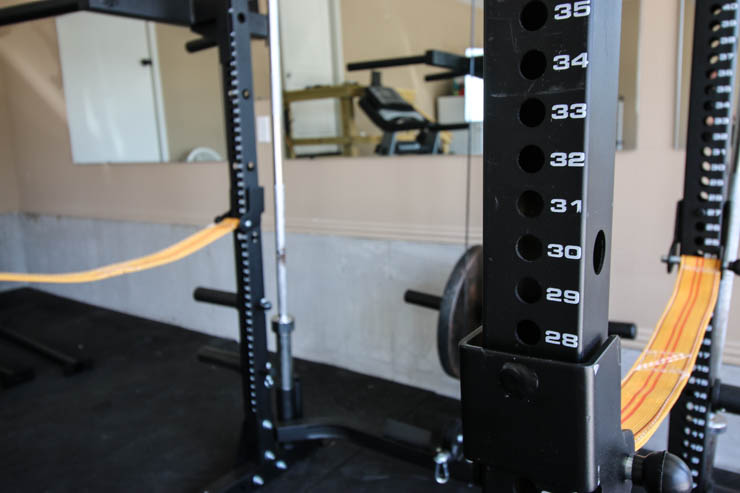 One feature that Force USA has added without an additional charge is numbering the holes on each upright. They're printed on, not laser-cut, and they could potentially wear off over time, but I think it's a great, inexpensive touch that makes it easy to even out the attachments. There are no other racks I know of that are even close to this price point with something similar.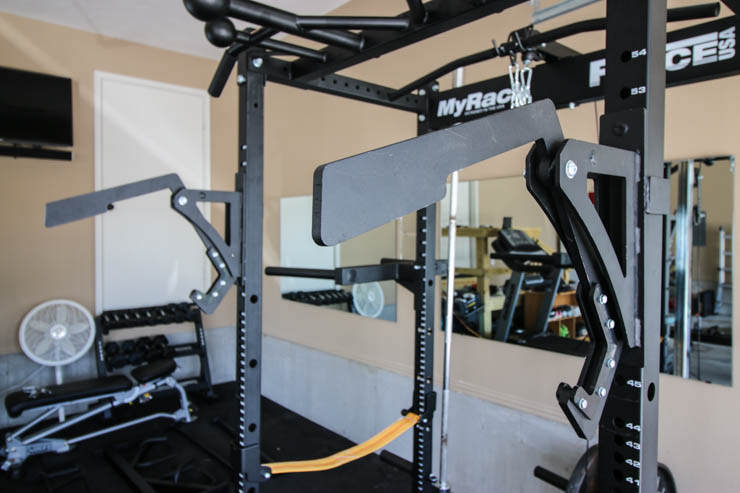 In use, the MyRack is sturdier than expected. Thanks to the lower and upper braces, the MyRack has sways very little side to side when racking and reracking weight. Although it would definitely benefit from being bolted to the floor (as all racks would) it isn't completely necessary, and you can purchase optional plate holders for rather cheap to weigh it down.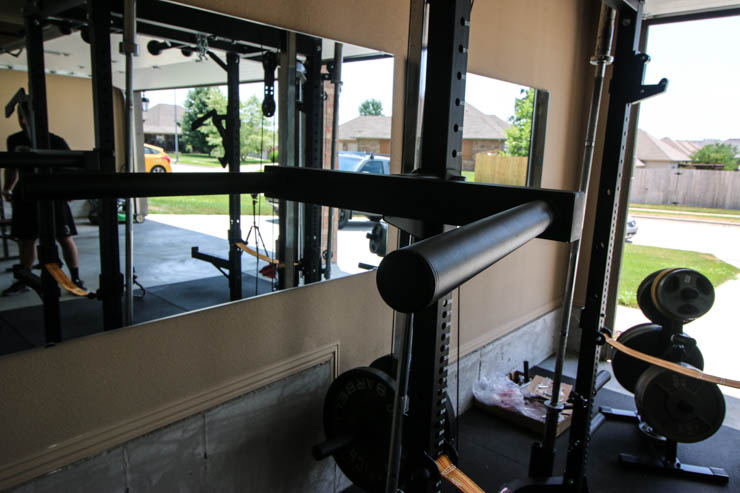 One thing to understand when ordering the rack is that it doesn't come with any accessories. Everything is purchased ala carte, meaning you don't have to pay for extra things that you don't want, but you will need to buy accessories to get started, such as j-hooks.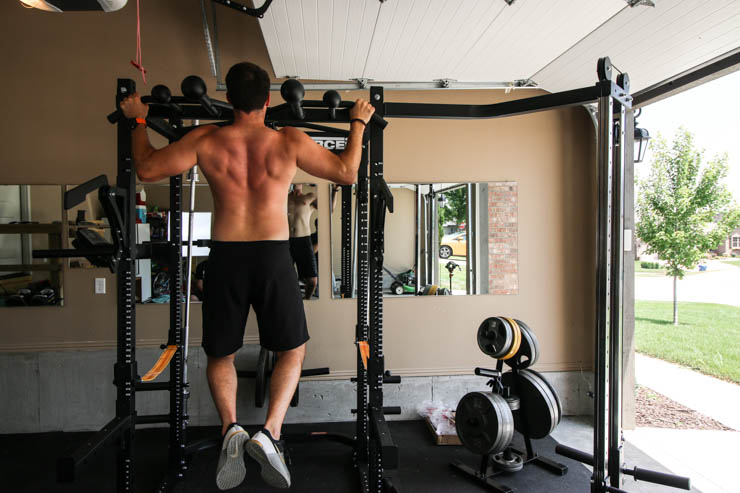 Another thing to be aware of with the MyRack is the upright size. The uprights are a very unique size (done intentionally I'm sure.) Rather than the standard 2″x2″, 2″x3″, or 3″x3″ uprights, the MyRack uprights are 2.4″x2.4″. You're probably not thinking this is a big deal, but it kind of is. By using a non-standard upright size, Force USA is "forcing" you (see what I did there) to use their attachments and only their attachments.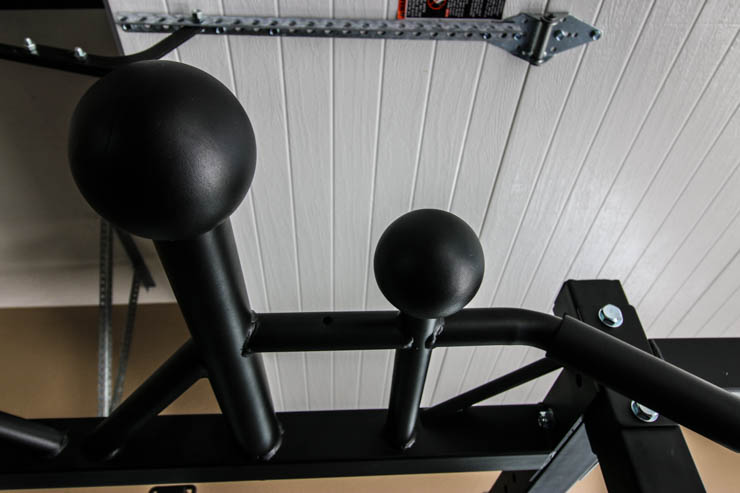 Rogue Fitness, Titan Fitness, Rep Fitness, Fringe Sport, or any other company making attachments will not fit on this rack. Thankfully, Force USA has a wide array to choose from. All in all, the Force USA MyRack is an excellent rack for those on a budget, but want the accessory options of much more expensive racks. We give our recommendation for this rack.
Force USA MyRack Accessories Review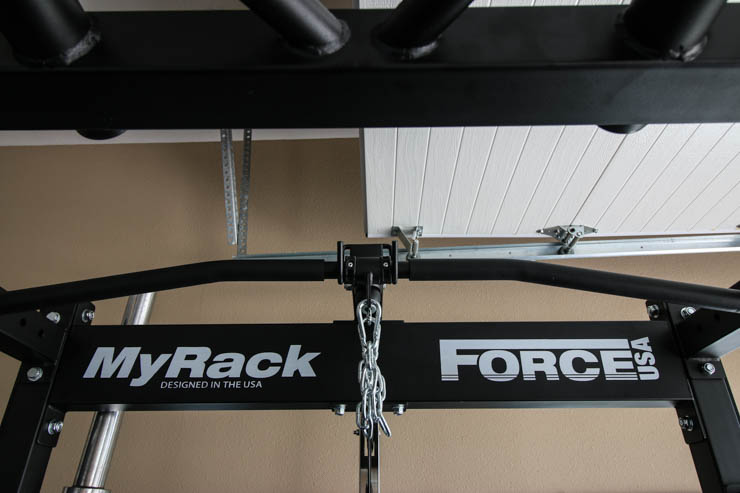 One of the best features Force USA offers for their MyRack is the wide array of attachments that are available. Force USA wanted an in-depth review, so they sent LITERALLY every attachment they make. Let's look at them individually.
J Hooks and Monolift Attachments
If you're purchasing the MyRack, you'll need a set of J-Hooks. Force USA offers three different options that all have their place. The MyRack Standard J-Hook is just as it sounds. A standard j-hook with solid pin rods and nylon inserts that should prevent damage to barbell knurling when racking. The nylon isn't the highest quality, and I don't see any option online to have the nylon replaced, so that could be a problem further down the line.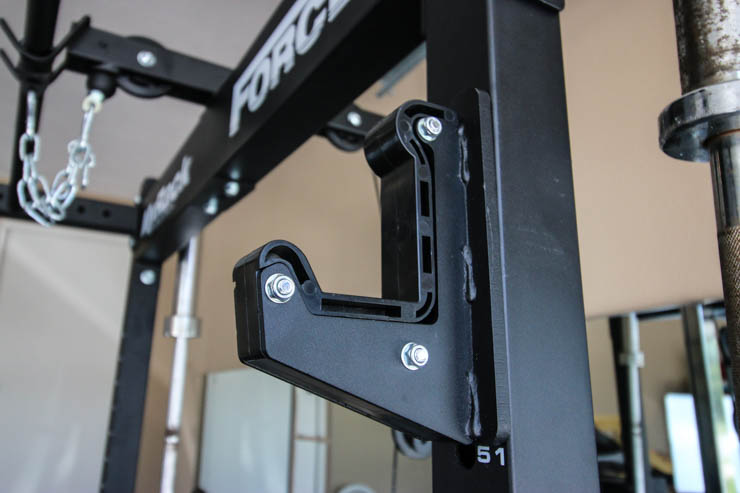 For most users, I would suggest upgrading from the Standard J-Hook to the MyRack Deluxe J-Hook. The Deluxe J-Hook is a sandwich style j-hook that offers a "much heavier weight rating" (no weight ratings listed on the site, unfortunately.) The Deluxe J-Hook's have nylon that covers the entire face of the j-hook that will protect your expensive barbells knurling and leave you a more satisfied user over time. Just trust me on this one.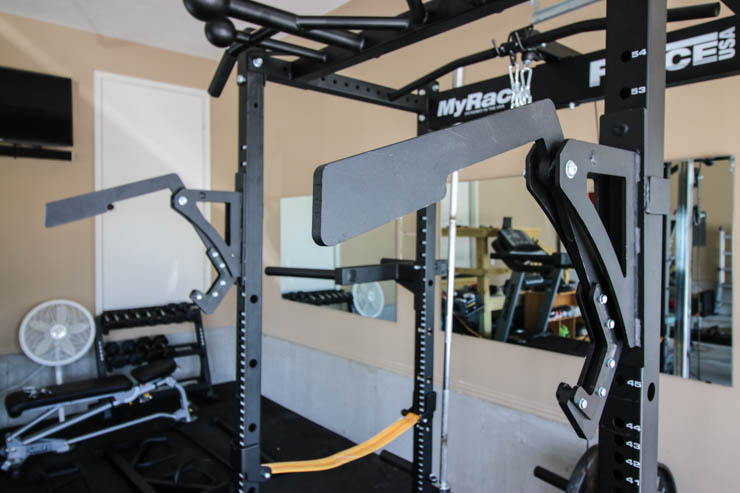 The MyRack Monolift System allows you to unrack the bar without having to walk it out. Although these aren't the greatest monolift hooks we've seen (I'm worried the nylon is going to wear down rather quickly) they do get the job done for their intended purpose. One improvement that could be made is making the monolift arm longer, currently, due to their short length they don't move very far to get out-of-the-way.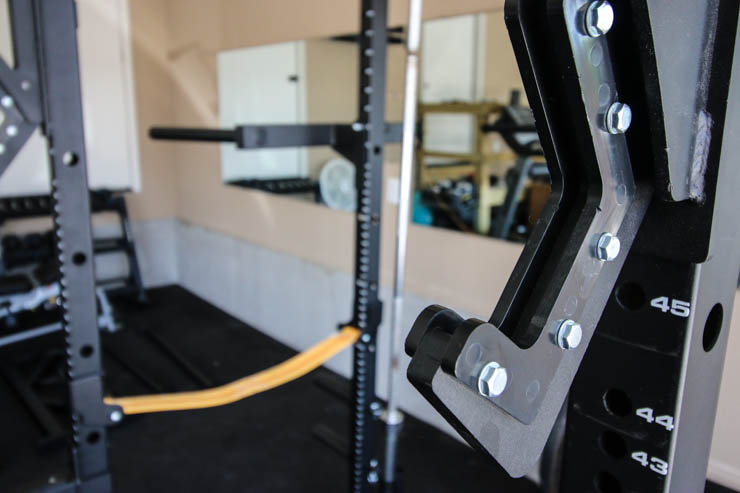 Chin Up Attachments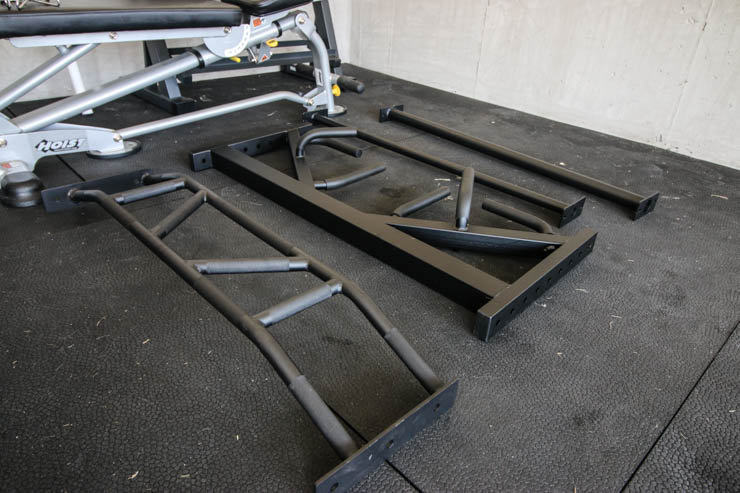 Force USA offers 4 different chin up attachment options. Without a doubt, everyone who purchases the MyRack will purchase some sort of chin up attachment. Chin ups are a staple exercises for those that train at home, and thankfully for you, Force USA has taken some of the most popular chin-up bars on the market and offer them for less than just about anyone else.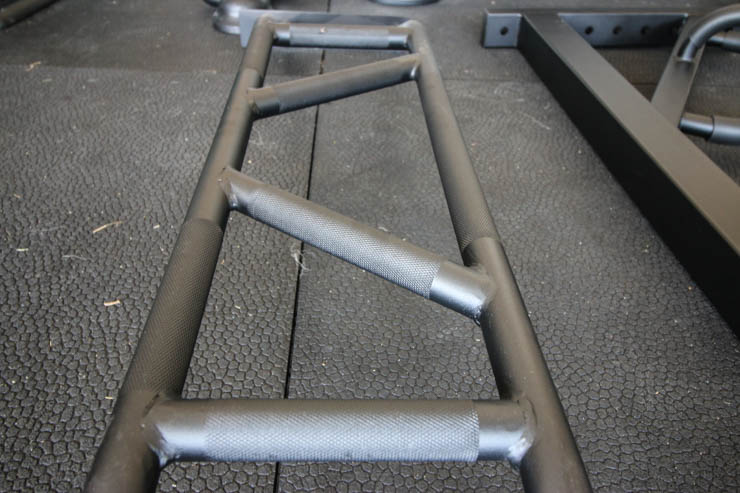 The MyRack Classic Grip Chin-up Bar is similar to the many multi-grip chin-up bars that are available. It features multiple handle options (I especially like the angled center handles) and the entire bar is powder coated. However, what I really like about this bar is the knurled handles. I'm a huge fan of knurled grips on pull-up bars due to the added grip on otherwise slippery powder coat, so I'm happy they went with this option.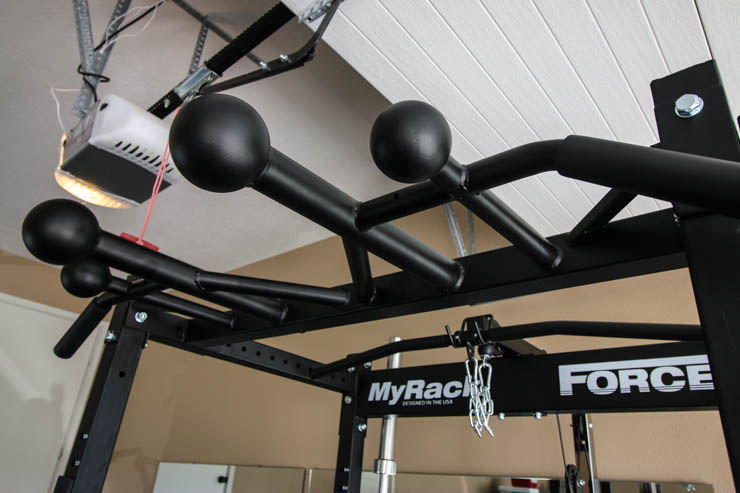 The MyRack Globe Grip Chin-up Bar is my personal favorite chin-up bar option that Force USA offers. As you can see, it's pretty much an exact replica of the Rogue Crown Pull-Up Bar that retails for $225 plus shipping. Not only does it have pretty much all of the same pull-up options as the MyRack Classic Grip Chin-up Bar, but it also has cannonball grips on the ends to add a different stimulus and make pull-ups/hangs more difficult.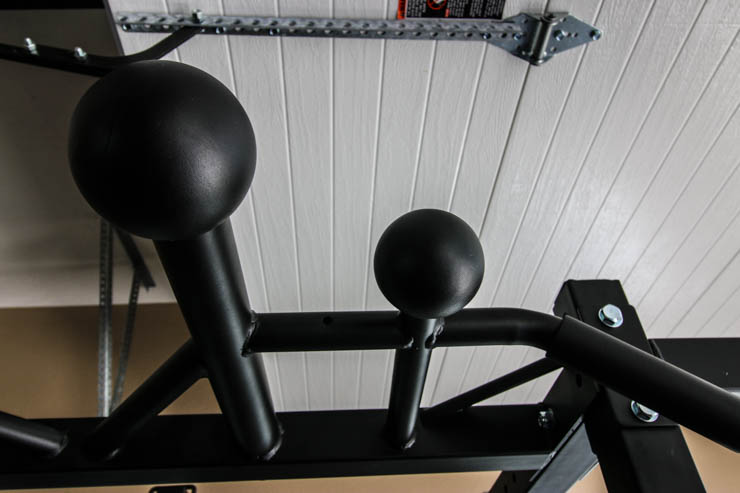 Again, the powder coat is a bit slick on this which makes gripping the globes even more difficult than they already are, but it isn't a big enough issue to steer clear. This is the Chin-up Bar we would recommend for most people.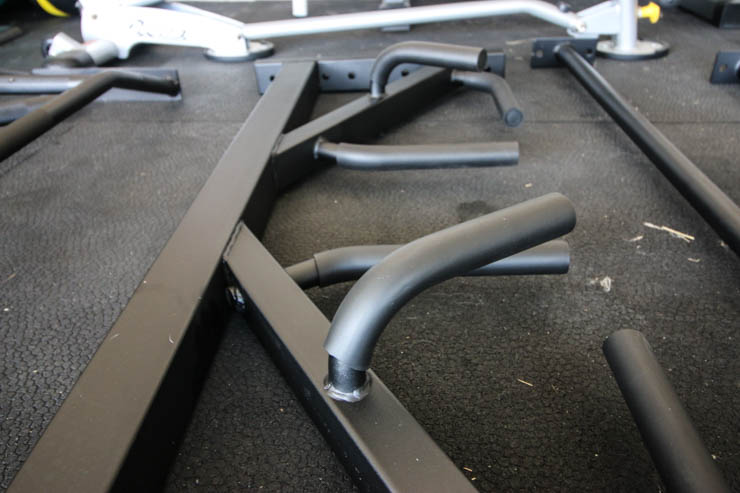 The MyRack Hammer Grip Chin-up Bar is a nice option if you like performing your pull-ups with mostly a hammer grip or have another pull-up bar elsewhere in your gym. I do feel like it's a bit limited compared to the other options, although the angles do feel pretty great. One thing I don't like about it is the foam grips that go over the handles. I would have preferred to see these handles knurled similar to the MyRack Classic Grip Pull-up Bar. For the price, we would suggest the MyRack Classic Grip Chin-up Bar over this one.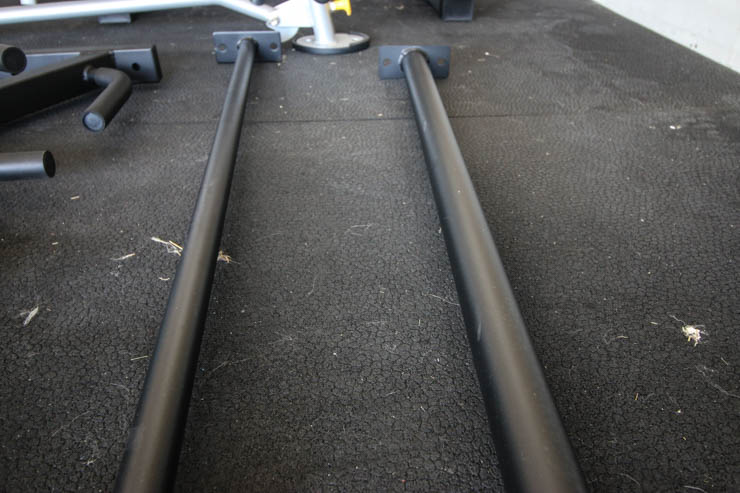 The MyRack Monkey Bars come with two different chin-up bars, one skinny and one fat. If you train for CrossFit and do quite a bit of kipping movements and/or muscle-ups, this is probably your best option, although I do feel like it should be cheaper than the other pull-up bar options due to its features.
Lat Pull Down & Cable Crossover Attachments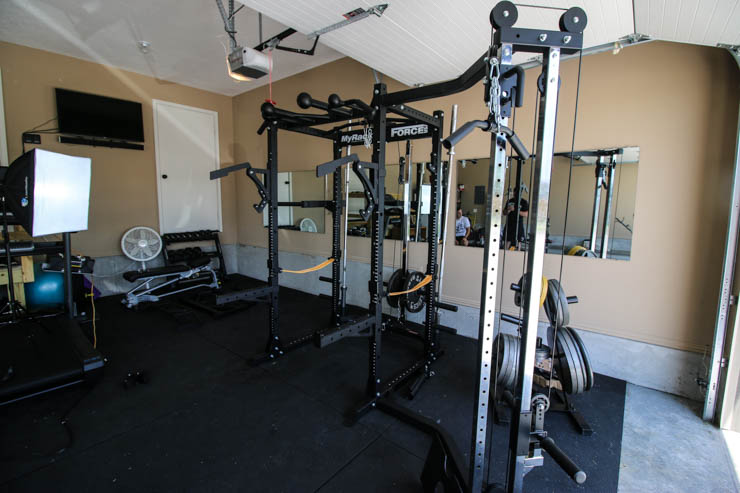 The Lat Pulldown and Cable Crossover attachments are one of the most standout features of the MyRack. There are very few/if any other racks that offer this sort of versatility at this price. You could literally build an entire gym using just the MyRack and its attachments. If you're into bodybuilding or just want to do some additional work with cable machines, then these are a must.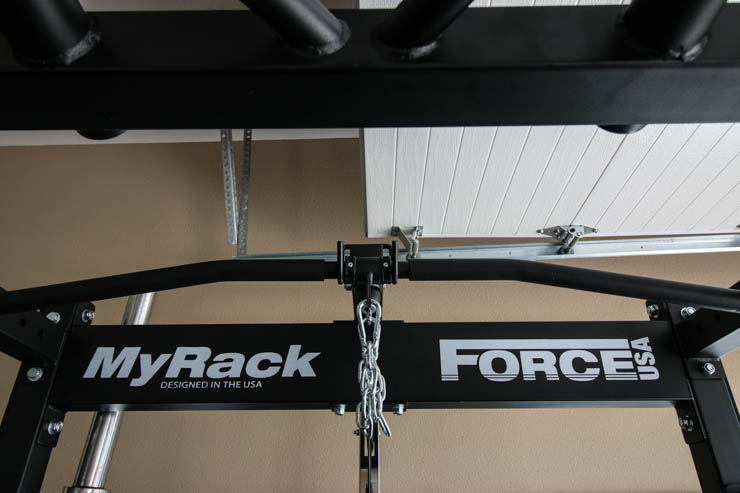 The MyRack Lat Pull Down and Low Row attachment is much better than I expected. Many lat pulldown attachments that go with racks are flimsy and short. This one, however, is pretty solid for the price. It comes standard with a few different attachments to do lat pulldowns, tricep pushdowns, and overhead cable workouts.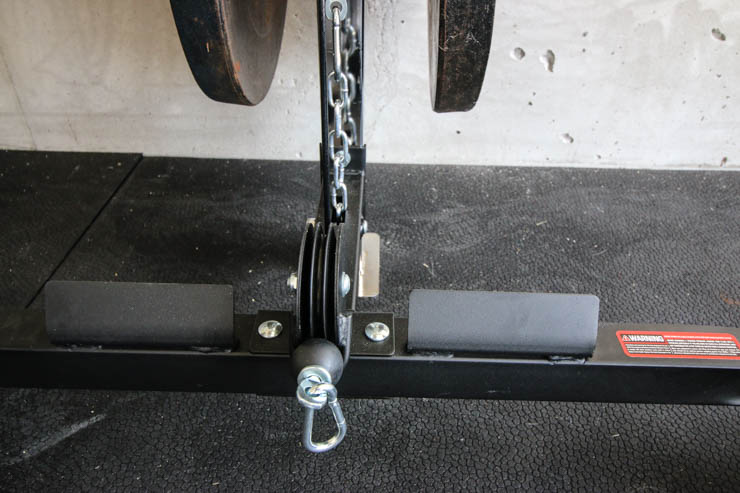 The Lat Pull Down attachment also includes a low row attachment that is a nice addition. The guide tube and plate carrier aren't the smoothest due to it being plastic gliding on metal (no bearings,) but for the price it does a bang-up job. I definitely suggest this if you're wanting to do some cable work, but be aware it does take a bit to assemble.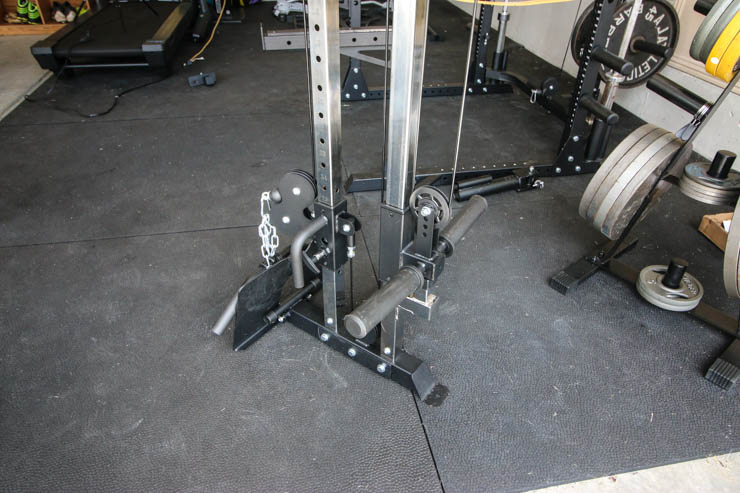 The MyRack Cable Crossover is superior in many ways to the Lat Pulldown attachment, but it is more expensive. Rather than having just a top and bottom pulley, the Cable Crossover has a fully adjustable floating pulley system with 28 different adjustment points. This allows you to set the pulley at just about any height you'd like to do everything from pulldowns to curls.
The Cable Crossover also has an optional Lat Pull Down Seat that turns the cable crossover into a pulldown machine.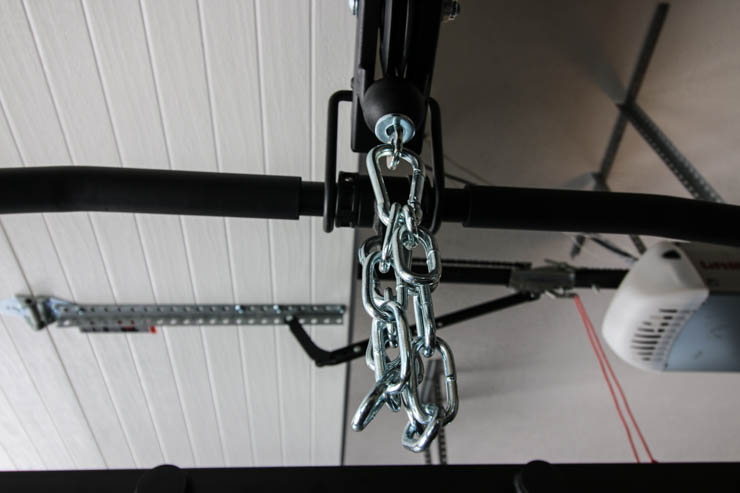 The MyRack Cable Crossover does take up quite a bit of space to the side of the rack, but it doesn't prevent you from being able to put weight on the bar when working outside of the rack.
Safety Attachments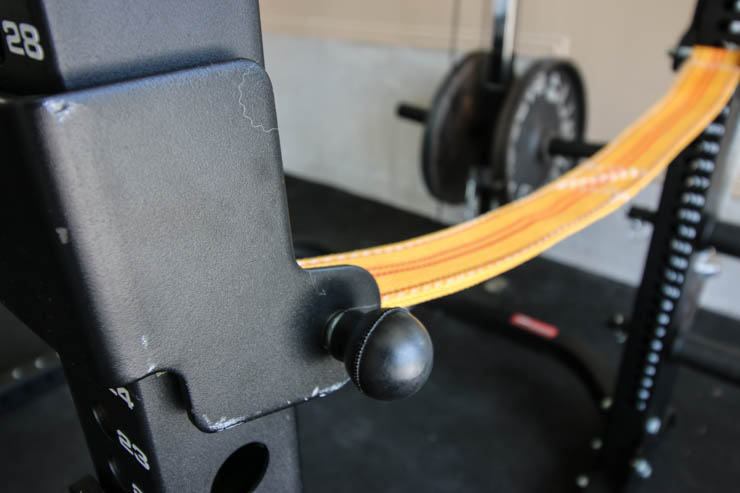 If you're going to be working out along, some sort of spotter system is a must. Seriously, do not lift alone without a safety spotter system in place; people have died from benching too heavy and being unable to get the weight off.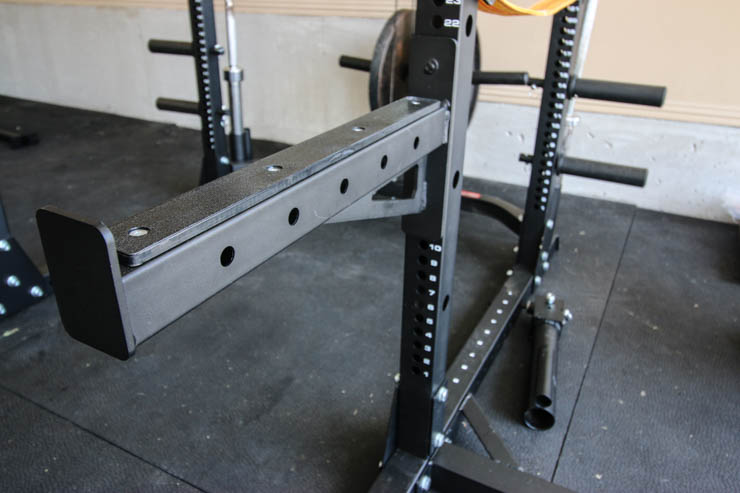 The MyRack Safety Spotter Arms are a great option if you plan to work outside of the rack. If you decide to get plate holders, you'll pretty much have to work out of the rack, so these are recommended.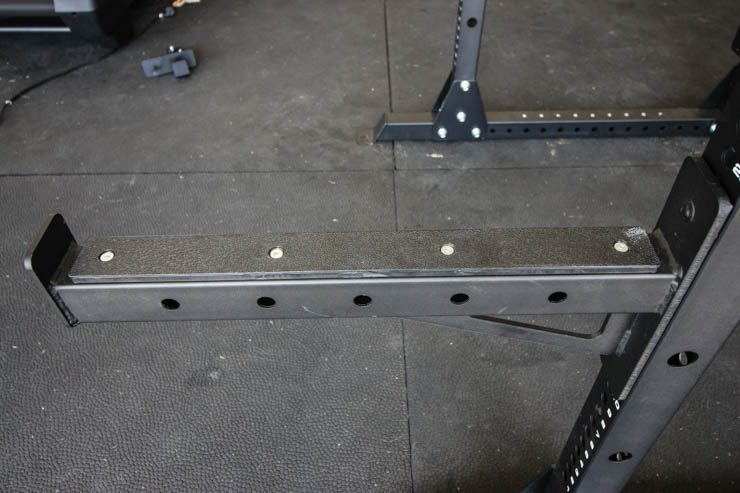 The Safety Spotter Arms feature nylon on the top to protect your bars knurling and they easily adjust into the rack. We highly recommend these.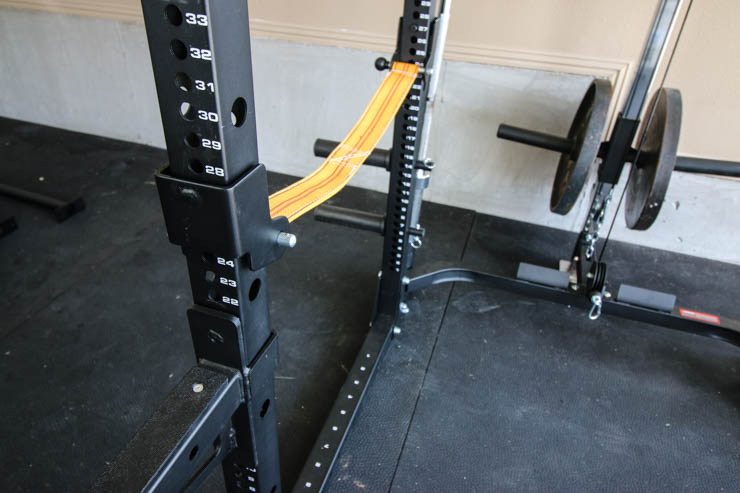 If you're going to be squatting inside of the rack, then we suggest the MyRack Safety Slings. I'm not sure how much weight these are rated for, but they seem decently strong (although I wouldn't trust them with over 500 lbs until I saw a rating test.) Safety Slings are also great for preventing the bar from rolling on your face during a failed bench press. Force USA also offers MyRack Box Tube Safeties, but I was unable to test them. From the looks though, they look solid, but I prefer the slings.
Other Attachments
In addition to the aforementioned accessories, Force USA offers quite a few more attachments.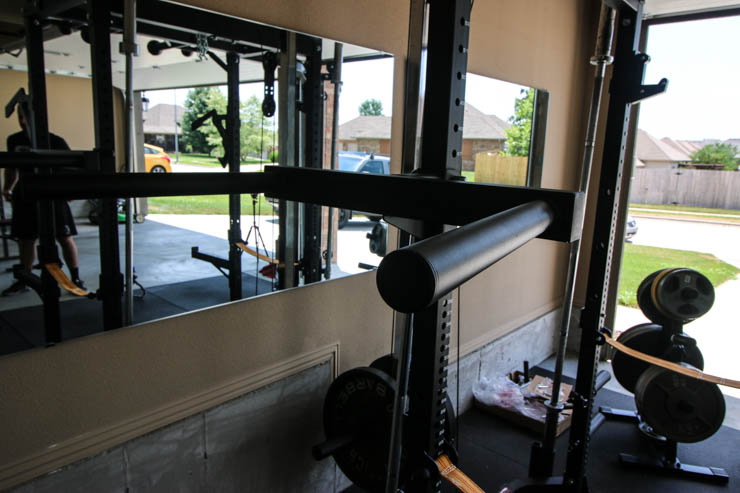 One of the more popular attachments for every rack are dip horns. The MyRack Dip Handle is a sturdy pair of dip horns, although they are a bit wide. If you'd like to add in more chest and tricep work, dips are great and these can also be used for pull-ups if placed higher up on the rack.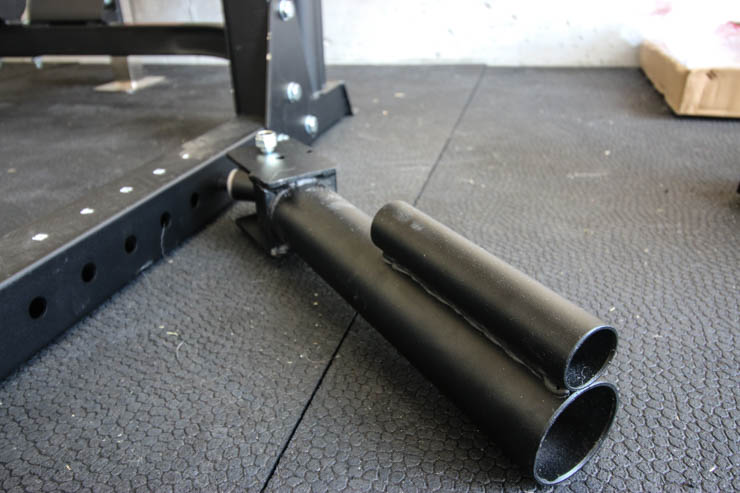 The MyRack Landmine is a solid choice for adding in various additional movements that can't be done elsewhere, especially core work. The MyRack Landmine is made to be used with both Olympic and standard barbells, although if you still have a standard barbell, I highly suggest upgrading.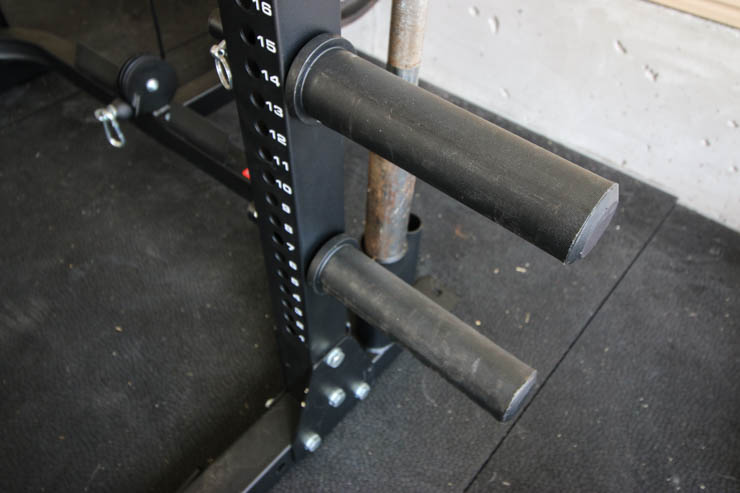 The MyRack Weight Plate Holders are one of my least favorite accessories. They're made using a thin steel rod and then a plastic sheath that allows Olympic plates to fit. Unfortunately, the plastic isn't very tough and I foresee them breaking down rather quickly. Also, I wouldn't suggest holding weight plates on the rack anyways as that limits the movements you can do in the rack. Force USA also offers band pegs that are a must if you'd like to add any sort of accommodating resistance, just make sure you weight the rack down when using the bands.
Suggested Improvements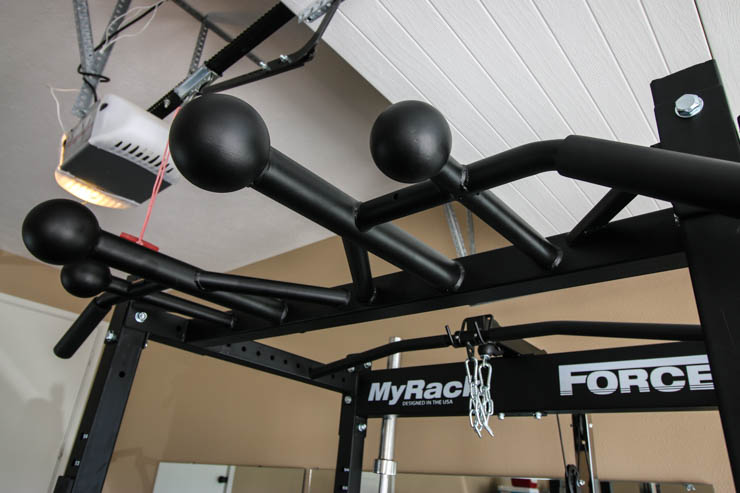 Overall, the Force USA MyRack is a great rack. It's priced extremely well and offers a ton of accessories, but there are some areas we could see for improvement. The biggest area we see for improvement is increasing the gauge of the steel. We'd love to see the 12-gauge uprights become 11-gauge for more strength and no need for backer plates at the joints.
The next improvement we'd like to see is making some of the accessories more heavy-duty. The spotter arms seem like they won't be able to hold as much weight as some may need and the safety straps, although likely strong, don't give me a ton of confidence (especially because the weight rating on the accessories isn't listed.
Full Rating
Force USA MyRack Modular Power Rack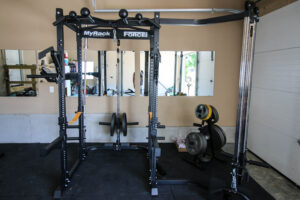 The Force USA MyRack is not only one of the most customizable racks available, but it's also one of the most feature-filled for those on a budget. After training in the MyRack over 30 days and testing (literally) every accessory they make, we can confidently recommend it to anyone looking for a budget squat rack.
Product Brand: Force USA
Product Currency: USD
Product Price: 399.99
Product In-Stock: InStock
Force USA MyRack FAQs
Is Force USA a good brand?
The Force USA MyRack is a fantastic rack in general. It's reasonably priced and comes with a plethora of accessories, but there are a few places where we think it might be better. The greatest area where we see room for improvement is in the steel gauge.
Is the MyRack similar to the Rogue rack?
Rogue power racks are heftier and stronger than standard racks, and they come with extra attachments. Rogue's racks, on the other hand, are substantially more expensive as a basic unit and to decorate.
Who is the Force USA MyRack for?
New lifters, intermediate powerlifters and bodybuilders, and anybody with a limited gym budget can benefit from the Force USA MyRack.
Where to Purchase
Force USA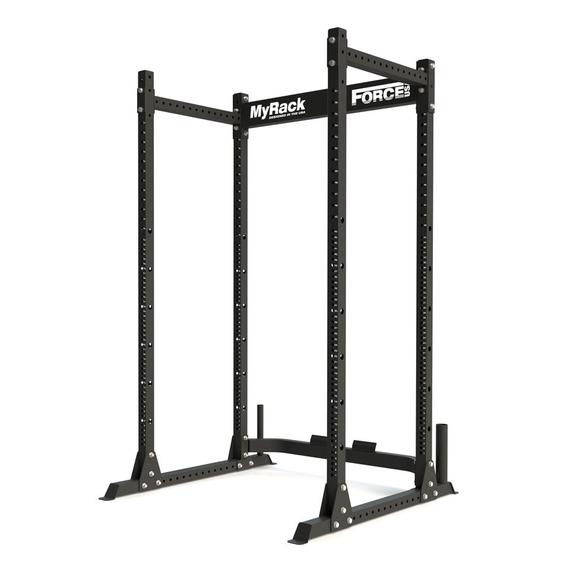 Force USA MyRack Modular Power Rack
Use code GGR5 at checkout to save 5% on all Force USA orders above $250! The Force USA MyRack is the most versatile power rack ever designed and can either be used freestanding* or when bolted-in to the floor to perform squats, bench presses, overhead presses, deadlifts, and more.Whether you train weightlifting, powerlifting, Crossfit®, Olympic lifting, calisthenics, gymnastics or just want to build muscle or burn fat, the MyRack is 100% customizable so you can take your workout to the next level.Start with the bulletproof MyRack base unit forged with precision welded, laser cut 12 gauge steel.The MyRack features westside spacing with 54 different numbered adjustment points to perfectly position any size user for bench press, squats and more. The lower bench level heights have 1-inch spacing while the squat height levels have 2-inch spacing.Next customize your MyRack with 20 different optional attachments including chin-up bars, pull-up bars, dip handles, landmine rows, lat-pulldowns, J-hooks, safeties, cable crossovers, and even a monolift attachment to unlock 100's of different configurations!Complete your power rack system with the versatile MyBench. Each MyBench features flat, incline and decline settings and comes complete with removable preacher curl attachment and separate leg developer.The MyRack has been engineered and tested to meet our rigorous safety standards and weight ratings. So you're guaranteed the safest, highest quality power rack available.And, we stand behind every MyRack Power Rack we sell with our ironclad lifetime structural warranty. BASE RACK SPECIFICATIONS:Laser cut steel construction Height – 87″ Width – 47″ Depth – 55″ Interior Depth – 29" Extra-sturdy Steel Construction 12 GA Steel Uprights Westside spacing 54 adjustment points front and back 5/8" accessory holes 2.4" x 2.4" uprights Freestanding and bolt-in options Lifetime structural warranty Product Weight – 176 lbs. Arrives in 3 separate boxes