We test and review fitness products based on an independent, multi-point methodology. If you use our links to purchase something, we may earn a commission. Read our disclosures.
GGR has the best discount to save you money on TRX equipment.
TRX is pretty much THE name in suspension training. The brand produces high-quality straps, comprehensive starter bundles, and extensive training programs to help you meet your fitness goals. At GGR, we have secured an exclusive TRX coupon code for our readers to save you 15% on your purchase.
TRX Promo Codes
There are a number of ways to save money on TRX items:
Use the code GGR15TRX to get 15% off your purchase at checkout.
First responders and military members who go through the verification process can save 20% sitewide.
Students can save 20% on their qualifying purchases after a verification process.
Sign up for the TRX Training Club on trxtraining.com to save 10% on items in your shopping cart.
Get free shipping on orders of $100 or more.
How to Apply the GGR TRX Discount Code
Step One: Shop for the items you want and add them to your cart.
Step Two: At checkout, enter the code GGR15TRX to save 15% off TRX products. If you are using a military, first responder, or student discount, you would apply that code then as well.
Step Three: Proceed with your purchase.
When Do TRX Products Go on Sale?
TRX features limited-time special offers throughout the year on select products, like kettlebells, dumbbells, and other home gym equipment. It's also a brand we see offer deep discounts around the holidays, which you can find on our holiday sales pages:
Black Friday and Cyber Monday sales
What We Love About TRX
TRX Suspension Trainer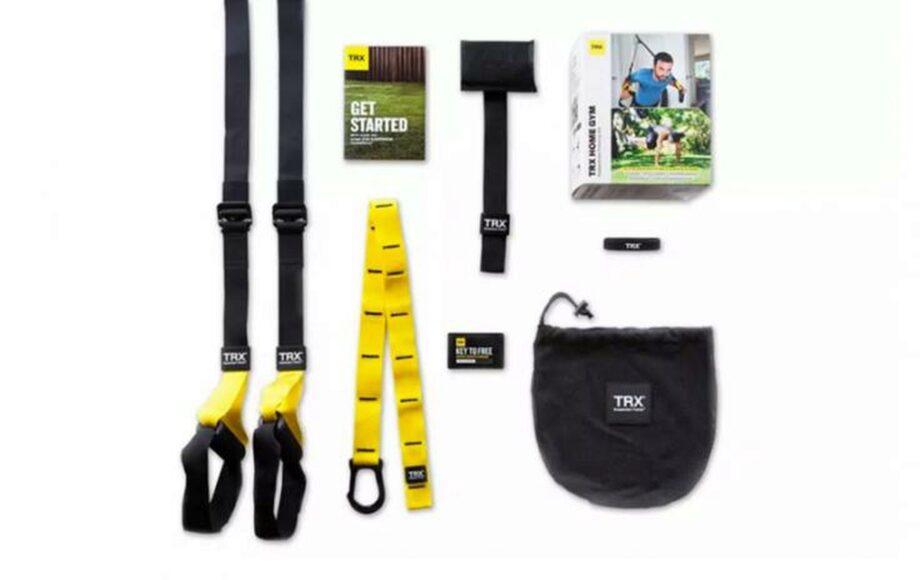 TRX Home Suspension Trainer
Originally developed by U.S. Navy SEAL Randy Hetrick as a portable training solution for his team, the TRX® Suspension Trainer gives anyone instant access to over 300 effective bodyweight exercises—all adjustable to your body type and evolving goals. The system can be set up in less than a minute using any sturdy door or anchor point—be it at home, the office, a hotel, or an outdoor park—and everything you need fits into the included mesh carry bag.The TRX Home Suspension Trainer is a full body workout tool that can improve core strength, endurance, flexibility, and stability, while burning away fat and toning lean muscle.The entire kit weighs less than 2 lbs and includes:Durable Nylon Webbing Straps with loop-and-barrel locking adjusters and a carabiner tested at 1,300 LBS. Padded Block Door Anchor connects to Suspension Trainer for use in any room with a solid, sturdy door. Suspension Anchor for hanging straps off stabilized bars, branches, poles, hooks, etc. Official TRX® App with 4 total-body workouts, 6 modular TRX® HOME workouts and more. Instructional Guide for setting up and planning out your bodyweight training regimen. Mesh Carrying Bag

Former Navy Seal Randy Hetrick invented TRX. While he was deployed, he found very little room to exercise on the ship, and he and his teammates needed a way to stay fit but didn't have much exercise equipment. So, he tied a knot in a blue jiu jitsu belt he happened to have in his pack, threw the belt over the door, and started using the belt to lift his bodyweight.
And thus, TRX was born.
Suspension training is a great way to get in a workout if you have a small space because the straps are compact equipment. These are also great wellness tools for those looking to minimize the impact exercise has on the joints. TRX offers a variety of solutions for low-impact training equipment, including:
Why Buy From TRX?
We have found that TRX is a great retailer to purchase fitness equipment from for a number of reasons:
Free shipping on orders of $100 or more
A 30-day, 100% money-back guarantee on most products
Warranties that range from three to 10 years
Countless options for training systems to fit people of all fitness levels
TRX Coupon Code FAQs
What is the TRX discount?
There are a few ways to save on new TRX equipment, including using the code GGR15TRX to save 15%. You can also save money if you are a student, military member, veteran, or first responder. 
How do I use a promo code at checkout?
Once you get all items in your shopping cart, navigate to your cart. Look for a section on the page that asks you to enter a coupon code. There should be a button that says something like "Apply discount," and you should be able to see the price of your cart change.
What is TRX?
TRX is a suspension-based system that uses straps to suspend some of your body weight. This doesn't mean you are off the ground while exercising, but that the straps take some of your weight while you work different muscle groups. TRX was a pioneer in this area, paving the way for other suspension trainers.