We test and review fitness products based on an independent, multi-point methodology. If you use our links to purchase something, we may earn a commission. Read our disclosures.
Functional trainers may not be at the top of everyone's home gym shopping list, mostly due to their size and cost, but there's a place for them in everyone's setup. Yup, that includes people in small home gyms or apartments, anyone who is always on-the-go, or those who are on a tight budget.
Don't believe us? We've picked the best functional trainers on the market today, and we're willing to bet there's one on this list that works for you. We'll go over what makes each one so special, why a functional trainer is a great addition to your home gym, and what you should look for when shopping for one.
Functional Trainers Reviewed by Functional Trainers
Listen, I understand why some people may be hesitant to trust the opinion of an online stranger—but, there are two main reasons why Garage Gym Reviews has become the most trusted source of home gym equipment reviews. For one, we've tested out every single functional trainer we're about to go over, so we're not just spitting marketing lingo back at you. We picked these items because we actually like them.
And we're a group of certified personal trainers, CrossFit coaches, and competitive weightlifters, so we know our way around fitness equipment.
The 10 Best Functional Trainers in 2023
Best Functional Trainer Overall: REP Fitness FT-5000
Good for: Anyone who wants a top-of-the-line functional trainer for a reasonable price
Best Overall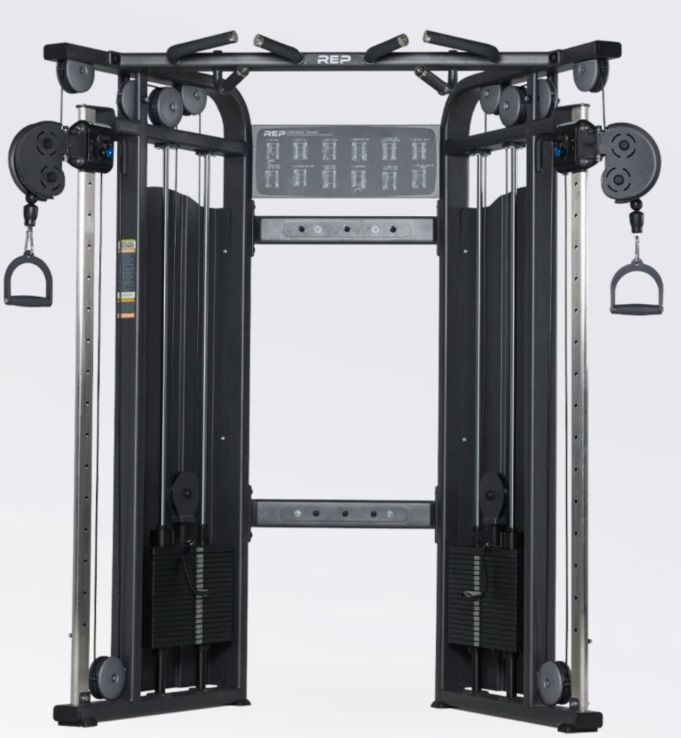 REP FT-5000 Functional Trainer
The REP FT-5000 is just like the functional trainer at your local commercial gym, and comes with dual 220 pound that have a 2:1 ratio, a frame constructed with 11-gauge steel, and three pull-up grip options (neutral, supinated grip, and wide-grip). Weighing in at 1,000 pounds, this is a heavy-duty functional trainer that doesn't need to be bolted into the ground for stability. The powder coating is also chip-resistant, so it will perform well and look good for many years. At its highest point, the handle is only 52 inches off the ground and several reviewers stated this made it difficult for taller people to take full advantage of the machine. The only other major complaint was that the lowest weight, 13 pounds, was a bit too heavy for some isolation exercises.
Pros:
Ships partially assembled
Multi-grip pull-up/chin-up bar
Lifetime frame warranty
Costs $2,500, which is a good price for a functional trainer
Cons:
Heavy starting weight
Only goes up to 52 inches at highest point
There have been some complaints of low-quality craftsmanship
The REP Fitness FT-5000 is our recommendation for most home gym owners because it's a high-quality machine that ships partially assembled (a huge plus when it comes to functional trainers, which often take many hours to put together), sells for $2,500 (a great price for this kind of machine), and has a lifetime frame warranty.
The dual 220-pound weight stack has a 2:1 ratio, which means that pulling 220 pounds gives you 110 pounds of effective resistance (functional trainers can have pulley ratios as high as 4:1). It also comes with a multi-grip pull-up bar that has a neutral grip, supinated grip, and wide-grip.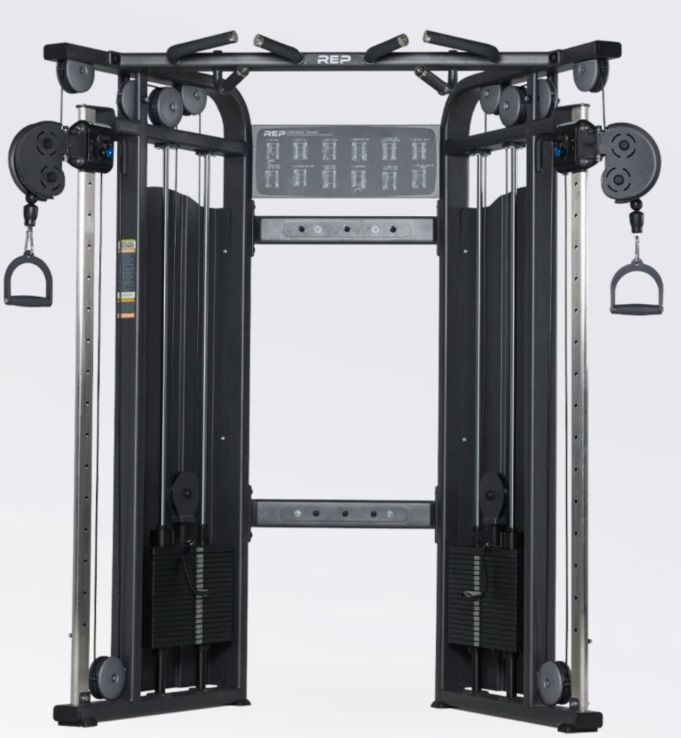 Our one complaint is that the starting weight of 12.5 pounds may be too heavy for some isolation exercises, a concern some reviewers have voiced in their reviews of this machine. The handles are also only capable of reaching 52 inches off the ground, so taller lifters may not be able to get a full range of motion.
If none of those things are a problem for you, you'll be rewarded with a 1,000-pound frame made of 11-gauge steel that's sure to last in your home gym for many years, and you'll have a lifetime warranty to give you peace of mind should anything happen to it.
Best Premium Functional Trainer: Inspire Fitness FT2
Good for: Those who want the crème de la crème of functional trainers
Best Premium
Inspire Fitness FT2
The Inspire Fitness FT2 is a piece of equipment that comes with a ton of versatility. This product comes with a Smith machine and bar that allows you to do functional and traditional training exercises. It has a larger footprint, but if you have the space, you can purchase add-ons like a bench or ab bar to even further increase how many movements you can do on this functional trainer.The dual 165-pound weight stack is also a dual pulley system, which means that two people can workout at once. The 2:1 weight ratio allows you to feel comfortable and safe using this machine if you are a beginner or expert at the gym.If you are looking for storage, this product comes with two water bottle holding stations and clips that allow you to hang your extensions and handles. Inspire Fitness also added a media shelf where you can put an iPad to follow a workout, or even put a book on the shelf so you can read to make the time pass during rest intervals.
Pros:
Heavy-duty steel construction
Included Smith machine
Multiple pulley options
Comes with 10 accessories
Cons:
Costs $5,000 (but financing options are available)
Weight stacks only go up to 165 pounds with a 2:1 ratio
Smith machine bar gets in the way of some exercises
Inspire Fitness is one of those brands you often see in commercial gym facilities, so you know their equipment is made from premium materials. I mean, if it's good enough to be used by hundreds of people a day and still function well (see what I did there?), then it should hold up in a home gym with little-to-no problems at all.
With the Inspire Fitness FT2, you're getting a cable crossover machine and a Smith machine all in one. So while the $5,000 price tag may be shocking for some, just remember you're getting two pieces of strength training equipment for that price (and you can finance it).
Each component is made with heavy-duty steel, and backed by a lifetime warranty (so long as you're only using it in a residential setting).
The FT2 has eight different pulleys, in addition to the Smith machine bar that's tied to the dual 165-pound weight stack with a 2:1 ratio. If you want to go heavier, there is a 50-pound weight stack add-on, which will take you to 107.5 pounds of effective resistance.
One of our only issues with this versatile and well-built machine is that the Smith machine bar can get in the way of some exercises, but that might only be a concern for taller lifters.
Best Value Functional Trainer: Titan Fitness Functional Trainer
Good for: Those who want a more budget-friendly product that still delivers on quality
Best Value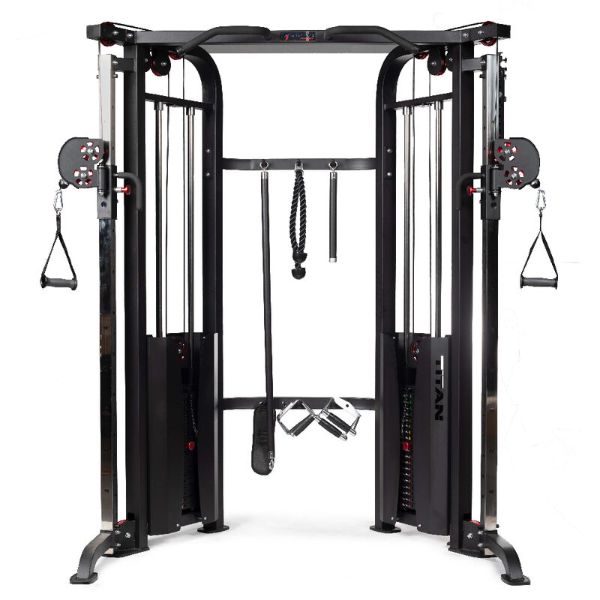 Titan Fitness Functional Trainer
The Titan Fitness Functional Trainer is a great value for those looking to add a compact and high-quality functional trainer to their home gym. It provided a very smooth training experience, and the aluminum guide rods ensure it won't wear down over time.The pulley system is easily adjustable, and should work for people of all heights. The pulleys also swivel, giving you even more versatility for your workout experience.Taller people may have issues doing pull-ups on it since it clocks in at 82 inches tall. I would've liked to see Titan give a taller option, but this allows the functional trainer to fit in a home gym with lower ceilings.
Pros:
Costs $2,500, which is a good price for a functional trainer (plus free shipping)
Durable aluminum pulleys
Dual 200-pound weight stacks (2:1 ratio)
Cons:
Only comes with a one-year warranty
Shakes a little when using heavier weights
May not be best for taller people, as it's only 82 inches in height
The Titan Fitness Functional Trainer almost took our top spot on this list, but it's still one of our favorite machines and is the exact same price as the REP FT-5000 ($2,500, and also comes with free shipping).
But, you're getting a little more bang for your buck with Titan in that it comes with seven different attachments (REP only comes with one pair of handles), more than 1,000 different adjustment positions, and a multi-grip pull-up bar.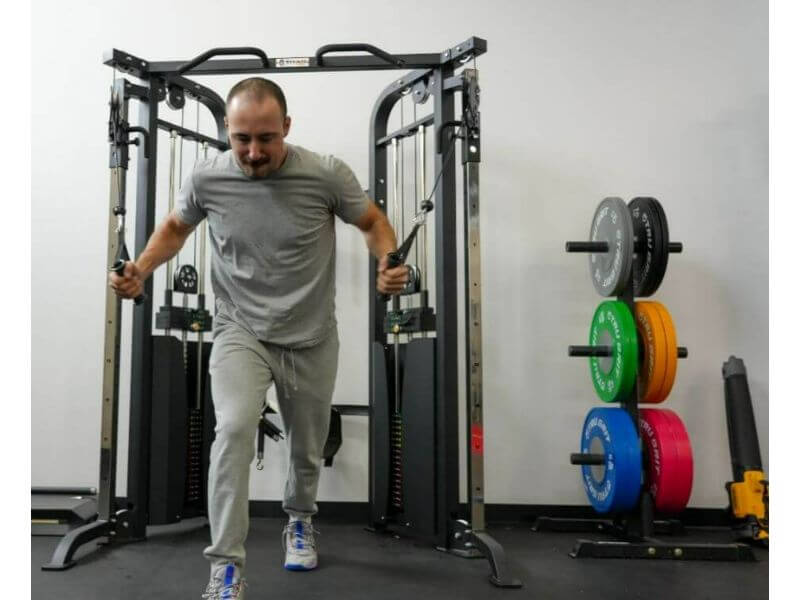 Titan, however, only comes with a one-year warranty, whereas most functional trainers have a lifetime warranty on the frame (and shorter ones for other parts). The dual weight stacks also go up to 200 pounds, whereas REP tops out at 220.
We think both are high-quality products, and you can't really go wrong with either. Go with Titan if you're looking to save money on attachments and don't mind the short warranty period.
The Titan Fitness Functional Trainer is also a bit more compact and lightweight than REP's, and despite the fact that it's under 700 pounds, it's still stable in use and doesn't have to be bolted into the ground (there is some shaking at heavier weights, but nothing to be concerned about).
Check out our full Titan Fitness Functional Trainer review to learn more about it.
Best Smart Functional Trainer: Tonal
Good for: Anyone who likes or is curious about AI resistance training
Smart Trainer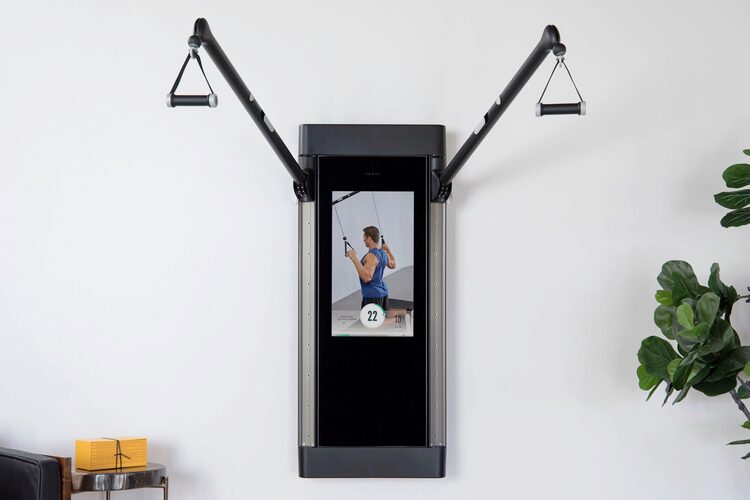 Tonal Smart Home Gym
Looking for a complete home gym that fits in a compact space? The Tonal smart home gym offers 200 pounds of resistance, more than 170 moves, and a range of full-body exercises. Plus, the AI gets to know you as a lifter the more you use it, so the workouts will be customized to your needs.Tonal may be effective, but it's not budget-friendly. The machine sells for $3,495 (which does include professional installation), but you still have to pay a $50 monthly subscription fee on top of that.
Pros:
Cables are high-quality
Eliminates guesswork during strength training
Professional installation included in final price
Cons:
$49 monthly membership fee required to activate the machine
Resistance maxes out at 100 pounds per arm
Bench is low-quality
Functional trainers are often marketed as being a personal trainer you can keep in your home gym because of their versatility and ease of use. The Tonal smart home gym takes that concept and kicks it up a notch by adapting to your strength levels as you do certain exercises.
For example, if you're doing a lat pulldown, the machine's artificial intelligence (AI) can determine how much force you're applying and adjust the resistance to that exact level. This way you're always lifting Goldilocks weight—not too light, not too heavy, but just the right amount of tension to build muscle without injuring yourself.
The Tonal machine is a perfect fit for those who are curious about AI strength training equipment, anyone who lives in apartments or small spaces (you need 7 feet of space around the machine), or those who just want a machine capable of providing a full-body workout.
One group of people it's not for, however, are those on a budget. The machine itself costs $3,500 (psst, don't tell anyone but we have a Tonal coupon), which includes the cost of professional installation. But that's still expensive, and on top of that, you need to pay a $49 monthly membership fee to access all the classes.
If you have the money for it, we think it's well worth the investment. But if you're on a budget, we have other options for you.
Check out our full Tonal review to get our complete in-depth look at the future of fitness.
Most Versatile Functional Trainer: Force USA G20 All-in-One Trainer
Good for: Those who want their functional trainer to do just about everything
Most Versatile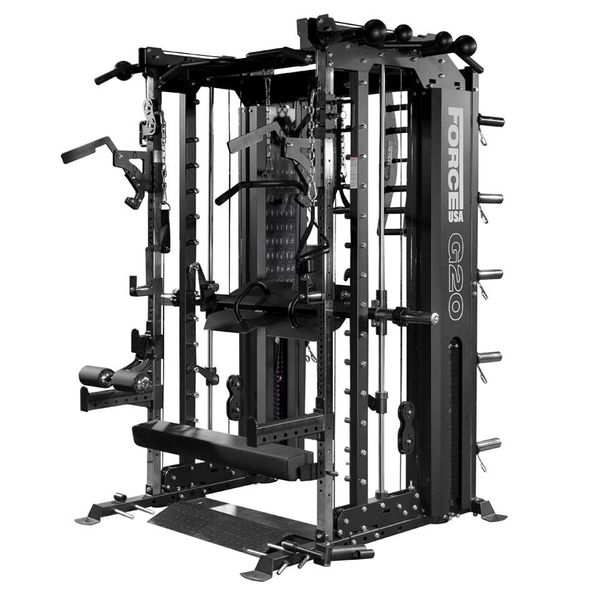 Force USA G20 All-In-One Trainer
Use code GGR5 at checkout to save 5% on all Force USA orders above $250! The Force USA G20 All-In-One Trainer is truly a magnificent machine that allows you to perform hundreds of different workouts within the same footprint of a single power rack. This 11-in-1 strength training system combines the functions of a power rack, functional trainer, Smith machine, leg press, chin up, suspension trainer, core trainer, lat pulldown, low row, calf raise, and an innovative new VersaPad station into one compact multi-station machine. The Force USA G20 comes with an impressive 29 attachments, 578 pounds of stacked weight and is built like a tank (steel construct).  With plenty of interior room to move around, the Force USA G20 supports multiple users.The dual weight stacks go up to 289 on each side, and the machine includes a 1:1 pulley ratio. The pulley movements are high quality and reported to be smooth. The Westside spacing boasts 51 different adjustment points included on the front posts which allows for very precise safety bar positioning to ensure that they can do their job without impeding your range of motion. This home gym system includes 11-gauge steel throughout and is not going to budge after having it set up, which also means that you need to find a good spot for it to begin with. Shipped at 1,525 pounds, this bad boy is not easily assembled, so that is something you must plan for. The footprint measures a width of 75 inches, a depth of 67 inches, and a height of 91 inches, which is relatively compact for an all-in-one gym but still a hefty size to fit in most rooms.
Pros:
11 strength training machines in one
Can be customized to meet your fitness goals
51 adjustment points
Cons:
Starts at $6,000 (financing options are available)
No included barbell storage
Complicated assembly and wells weigh over 1,000 pounds
Just about every functional trainer can be described as "versatile," but only one truly personifies that term: The Force USA G20 All-in-One-Trainer. Is it expensive? Heck yeah, but consider that it'll probably be the last piece of strength training equipment you'd ever have to buy since it comes with a power rack, Smith machine, functional trainer, leg press, and more (11 machines in one).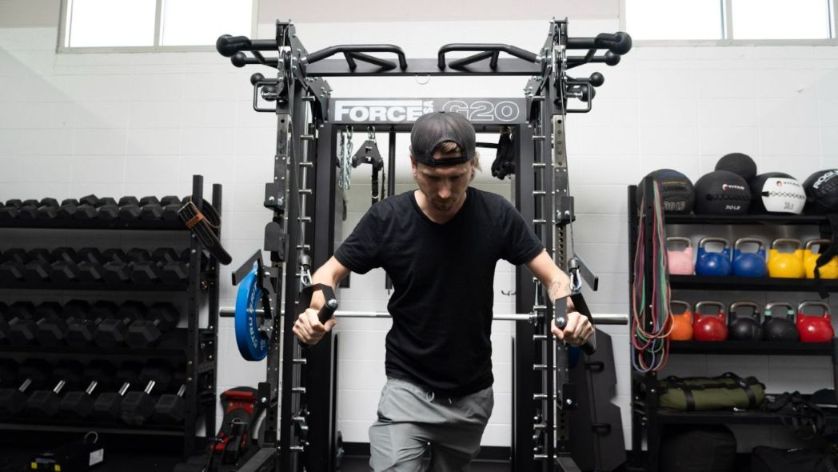 Not sold on it yet? The entire rig has 29 different attachments, 51 adjustment points (with Westside hole spacing throughout the bench area), and dual 289-pound weight stacks with a 1:1 ratio for maximum resistance. A 1:1 ratio gives you more tension, but it also means the cables can't travel quite as far as a machine with a 2:1 ratio.
It can also be used by multiple people at the same time, and the frame is backed by a lifetime warranty. Is it a perfect machine? No, but nothing is ever perfect. As you could probably guess, one of the downsides of this beast is that it has a lot of parts that require extensive assembly—heck, it took GGR Operations Manager Sam "Assambly" Presley 35 hours to put it together, and he's a professional gym equipment assembler (yes that's a real thing).
And yes, $6,000 is a lot of money (even if you finance it), but we maintain it's a worthwhile investment for those who have the space and budget for it.
Find out why in our full Force USA G20 review.
Best Budget Functional Trainer: REP Fitness FT-3000
Good for: Anyone looking to save money on a functional trainer
Budget Trainer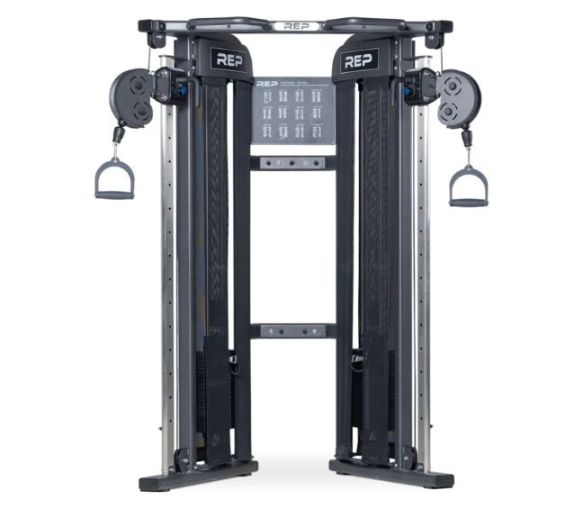 REP FT-3000
The REP FT-3000 Functional Trainer is one of the best budget-friendly and compact functional trainers on the market. At 34 inches deep and 53 inches long, it's smaller than most other functional trainers and should fit in most garage gyms. And unlike other machines that take countless hours to assemble, the FT-3000 ships partially put together and should take two people no longer than two hours to install.At $2,150, this is not the cheapest functional trainer out there, but anything cheaper than this is likely to be made with non-durable materials. This thing, on the other hand, is heavy-duty and built to last. The cables do require a bit of a break-in period before they start feeling buttery smooth, but after a few days, you should have no problems with it.The dual weight stacks go up to 180 pounds each with a 2:1 ratio, meaning you get a maximum effective weight of 90 pounds per side.
Pros:
Costs under $2,200, which is a very low price for a functional trainer
Only 34 inches in depth, so it doesn't take up much room
Relatively lightweight, at 770 pounds
Cons:
Cable attachments not included
The break-in period is a bit longer than other functional trainers
Not the best for taller lifters
Budget-friendly is a relative term here, but the $2,150 REP Fitness FT-3000 is the functional trainer we'd recommend for people looking to save money. Now it's not the cheapest machine out there, but anything lower than this is likely made with materials that could break on you during use or may require extensive maintenance to keep it functioning.
There's no such worries with this trainer, though the pulleys require a bit of a break-in period (no longer than a week) until they start feeling buttery smooth.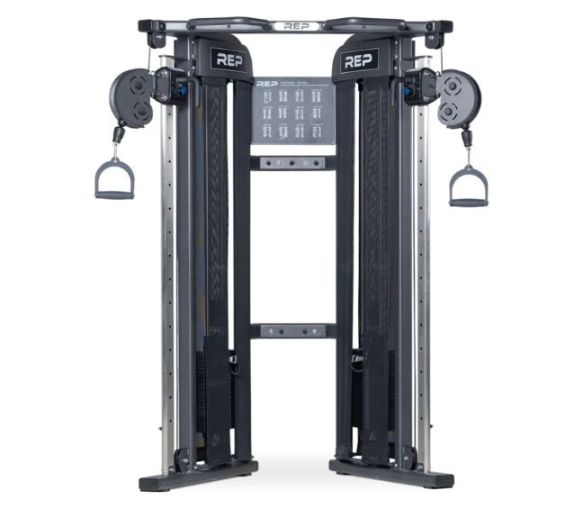 One of the biggest advantages of this functional trainer, besides the price, is its size. It's only 34 inches in depth and 53 inches in length, so it should fit in most garage gyms with no problem. The 78-inch height may cause some issues for taller lifters, though reviewers on REP's websites say it's nothing that a little ingenuity can't solve.
As is the case with any budget home gym equipment, you are sacrificing some quality to save on money. The dual weight stacks max out at 180 pounds with a 2:1 ratio, and besides two D-handles there's no included attachments.
On the bright side, it comes with a lifetime frame warranty and ships partially assembled. And with the money you're saving on the machine, you can easily purchase some high-quality attachments to add to it.
Best Portable Functional Trainer: Vitruvian Form Trainer+
Good for: People who are constantly on-the-go
Portable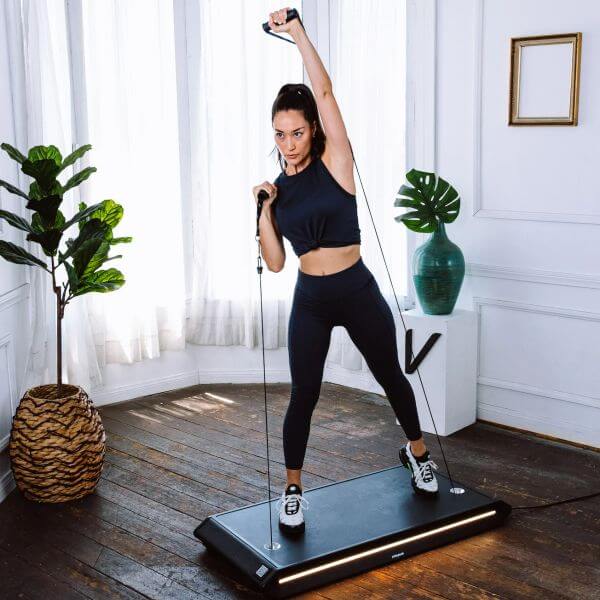 Vitruvian Form Trainer+
The Australian-made Vitruvian Trainer+ is a machine that only takes up 46.06 inches by 20.47 inches by 4.52 inches of space. This makes it easy to store wherever you have a few square feet of floor space.This machine allows you to complete over 200 different exercise movements and the weights intelligently adapt to you and your strength. These weights resistances range from 0 to 440 pounds, which means it can accommodate the vast majority of people with varying fitness levels.During your workout, the weights will adjust 50 times per second, so it's like you have a real-life, personal spotter at all times.This product is quite expensive and is newer to the market. A lot of the reviews state that Vitruvian has a lot of room for improvement, especially when it comes to the app. As usual, it takes fitness tech companies a while to work out all of the kinks in these computer-controlled products.You are able to connect the Trainer+ to Bluetooth and the machine itself is very quiet. You are also able to purchase different add-ons such as a bench, handles, and straps.
Pros:
Compact and lightweight
Produces up to 440 pounds of resistance
Gives users the ability to perform more than 200 exercises
Cons:
Requires $39 monthly subscription
Costs around $2,500 for the full package
Still in beta mode, so there's room for improvement
If you're someone who's on-the-go a lot, or lives in an apartment, you may think that a functional trainer is out of the question for you. Not so, and the Vitruvian Form Trainer+ is proof of that.
Engineers from the Land Down Under have been able to pack 440 pounds of force into this 44-inch long, 20-inch wide, and 5-inch tall platform that only weighs 80 pounds, and comes with transport wheels for easy maneuverability. The cables are not the smoothest—they can be a bit jerky at times—but you can still perform more than 200 exercises with them.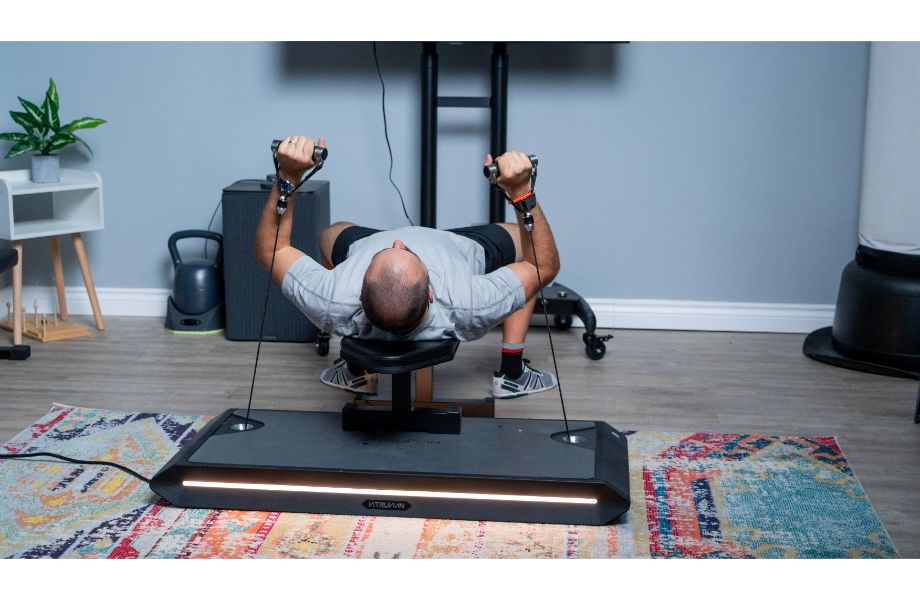 The Vitruvian Form Trainer+ also uses advanced data tracking to adjust the cables' tension up as you lift so it provides the perfect resistance for each move.
Like most smart home gym equipment, this trainer requires an app and a monthly $39 subscription (on top of paying $2,500 for the machine). It's also still in beta mode, so the app and product still have some issues that need to be fixed (the app is prone to crashing).
Get our full thoughts on the futuristic trainer by reading our full Vitruvian Trainer+ review.
Best Compact Functional Trainer: Torque F9 Fold-Away Strength Trainer
Good for: Home gym owners who don't have a lot of space but still want a functional trainer
Compact Option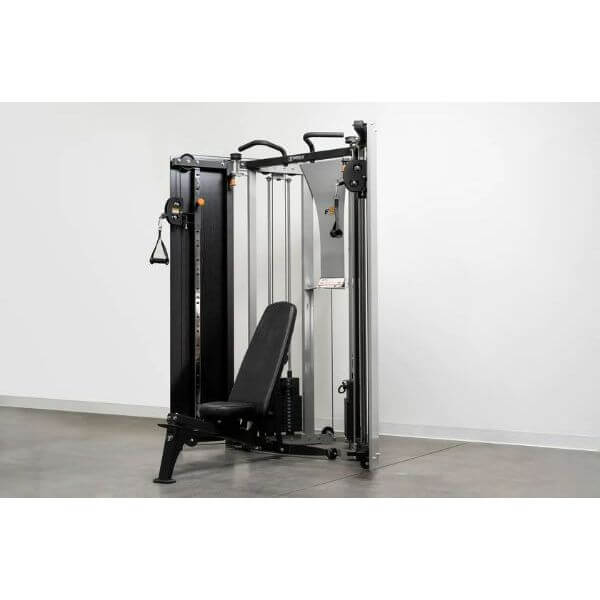 Torque F9 Fold-Away Functional Trainer
If you're looking for a full functional trainer that's also compact and easy to put away, look no further. As stated in the name, this product is a full functional trainer, but is easily able to fold away behind doors that are a part of the trainer. When closed, the doors hide the front of the trainer and can help keep a safe home gym environment for children and pets.Its compact design allows it to fit into only a 3-foot-by-3-foot corner. It is easy to use and you can quickly adjust the weights during your workout. This product is available for purchase in three different weight stack sizes (150-pound stack, 200-pound stack, 225-pound stack). It also comes with six different accessories (universal strap, leg boot harness, pair of short strap handles, squat harness, straight bar, and a pair of snap hooks).The cables allow you to travel up to 94 inches and have a .5:1 weight ratio. The machine also is equipped with a pull-up bar and the assist strap function allows you to practice chin-ups and dips to gradually help you towards an unassisted pull-up. This product does not come with a bench, but you are able to purchase a bench add-on that docks securely into the machine and also stores away when closing the doors.
Pros:
Fits in 3-feet-by-3-feet corner, and can be folded when not in use
Multiple weight stack options (but price increases as weights get heavier)
94 inches of cable travel
Cons:
Difficult assembly
Starts at $2,000 (can be financed)
Weight stacks aren't labeled with their weight
When in use, the Torque Fold-Away Strength Trainer tucks into a 3-foot-by-3-foot corner while still giving you up to 94 inches of cable travel. There are functional trainers much larger than that without nearly that much range.
But the beauty of this trainer is its ability to be folded to an even more compact footprint, which is not only great for those looking to save on space, but also for anyone with small children who may want to play with sharp and heavy objects. Simply fold the doors, and your little ones won't be able to access any part of this machine (until they get old enough to figure out how it works).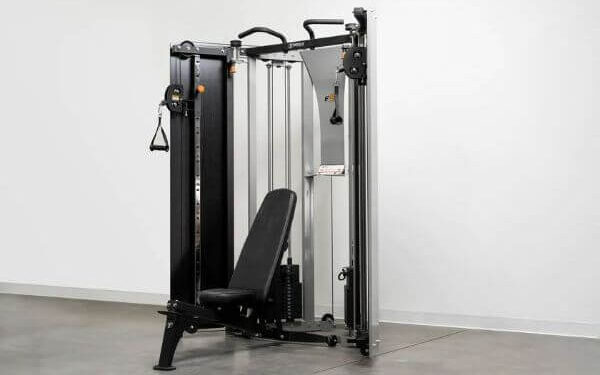 It comes with multiple accessories, an optional stow-away bench, and pulleys with a 2:1 ratio (you can pick from a 125-pound, 200-pound, or 225-pound dual weight stack). Just know that you'll be sweating as much, if not more, assembling this thing as you will working out with it. Several reviewers claim the instructions are not very helpful, and that it took several hours until it was installed.
If you already have a squat rack, another great option is the Torque Relentless Rope Trainer. While it may not be as versatile as some of our other options, it fits on most racks and gives you a full-body workout that doubles as your cardio session.
Best Commercial Functional Trainer: Life Fitness G7 Home Gym With Bench
Good for: Those looking for a commercial-quality functional trainer
Commercial Trainer
Life Fitness G7 Home Gym
If you're looking for a high-end functional trainer that enables a full-body workout from the comfort of your home, the Life Fitness G7 Home Gym could be a valuable investment. Featuring 160-pound dual weight stacks, a 2:1 pulley ratio, 20 height positions, and a variety of included attachments, the G7 enables you to perform a seemingly endless amount of exercises. Whether you're looking to work on small, stabilizing muscles, target specific muscles with fixed motion exercises, or perform a full-body functional workout, the G7 has you covered.The G7 comes with a pair of medium-length soft strap ergonomic handles, a foot strap, thigh strap, straight bar, and exercise ball. And, since it uses a traditional carabiner for attachments, you can easily build out your gym with various attachments. The machine comes equipped with a multi-grip pull-up bar that allows for three different hand positions. Cable motion technology enables user-defined paths of motion so it can be used in virtually any position.Costing close to $3,700, the G7 is certainly an investment. Additionally, it stamps out a rather large footprint. Measuring 48.5 inches long, 69.5 inches wide, and 83 inches high, Life Fitness recommends an area of 10 feet by 8 feet to house the machine. While the full weight of the machine is not specified, we know this thing is heavy . You want to be sure you have the space for it as well as the ceiling clearance before making this purchase.
Pros:
Comes with multiple attachments and is highly versatile
Price includes professional installation
Lifetime warranty on everything but cables, which have a three-year warranty
Cons:
Requires 10' L x 8' W floor space
Costs around $4,500 (can be financed)
Effective resistance maxes out at 80 pounds
If you want your home gym to feel like a commercial fitness facility, allow us to re-introduce you to the Life Fitness G7. That's right, we said re-introduce. Life Fitness machines are used in more than 100,000 commercial gyms across the world, and there's a good chance you've either seen the G7 or something very similar to it.
This machine is made with commercial-grade materials and has an 11-gauge steel frame, and is backed by a lifetime warranty on all parts but the cables (which are covered for three years, the industry standard).
You'll also get 20 different height adjustments, so it can be used by just about everyone, and is capable of 55 different exercises. The dual weight stacks max out at 160 pounds with a 2:1 ratio, so you're only getting 80 pounds of effective resistance.
Now if you're an actual commercial gym owner, or you're looking for top-of-the-line commercial quality, check out the Life Fitness Signature Series Dual Adjustable Pulley. Before you click that link, just know you're going to be paying around $8,300. 
Best Functional Trainer on Amazon: XMark Functional Trainer
Good for: Anyone who prefers to do all their shopping on Amazon
Prime Option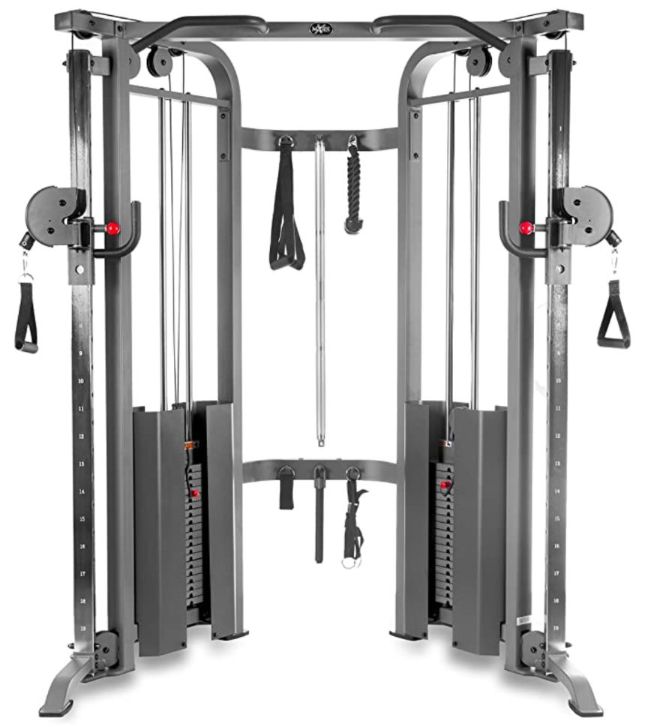 XMark Functional Trainer Cable Machine
The XMark Functional Trainer Cable machine features a dual 200-pound weight stack, 19 adjustment positions, and numerous cable machine attachments that allow users of all heights and fitness levels to get a full-body workout with just one piece of equipment.XMark may not be a household name in the fitness industry, but if you're a fan of Titan Fitness then you'll like this machine–after all, Titan's functional trainer and this one are made by the same manufacturer.The XMark Functional Trainer has a 2:1 pulley ratio, split-grip pull-up bar, and is constructed with 11-gauge steel.
Pros:
Made with commercial-grade materials
Works for people of most heights
Dual 200-pound weight stacks (2:1 ratio)
Cons:
Complicated assembly
Costs $2,900
Complaints of low-quality bolts and screws used for assembly
The XMark Functional Trainer would be higher on our list, were it not for its $2,900 price tag. But if you have the budget for it, or you're just someone who refuses to shop anywhere besides Amazon, it's a great option.
The adjustable cable pulley system starts at 12 inches and goes up to 78 inches in height, allowing people of multiple height levels to use it.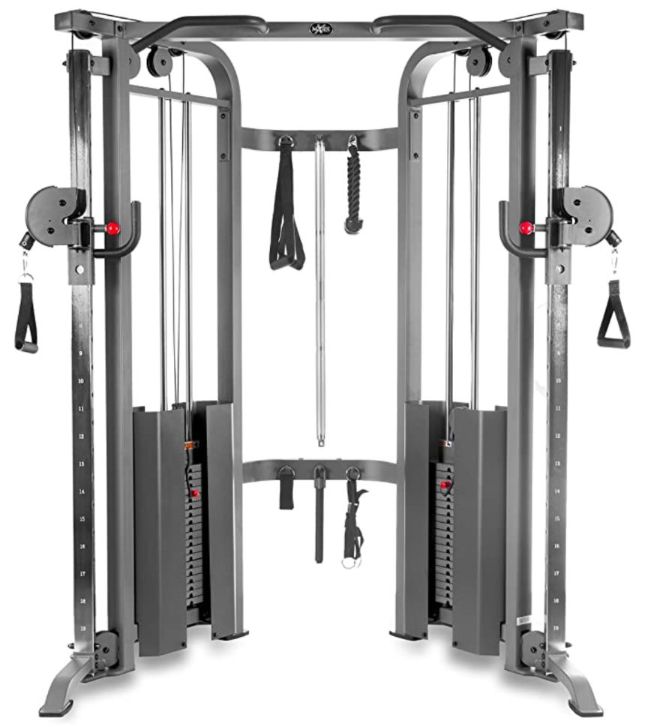 The accessory bundle includes a triceps rope, triceps pressdown bar, a multi-grip revolving curl bar, and two single-grip handles, in addition to the two short handles that come with it. Not many functional trainers offer that many attachments without having you pay extra. If that's not enough versatility for you, it also comes with a split grip pull-up bar and 19 adjustment points.
Lastly, it's made with 11-gauge, 2-inch-by-3-inch steel, so it's built like a tank. The dual weight stacks go up to 200 pounds with a 2:1 ratio.
Price aside, the only other major red flag about this trainer is the assembly process. We spotted several reviews stating customers had to make frequent trips to the hardware store to replace low-quality bolts and screws, or that certain parts were missing in their order.
Other Functional Trainers We Researched
Body-Solid Functional Trainer: We saw this model, along with the Body-Solid Powerline, come up often during our research, but the resistance was too light, and the materials weren't up to our standards. They may appear to be great budget-friendly picks, but looking at the construction, we expect it will cause more headaches than anything else.
What is a Functional Trainer?
Functional training has become a fitness buzzword in recent years, to the point where some companies and Instagram influencers are slapping the term on just about everything.
A functional trainer, as a noun, refers to any type of machine that helps train your body for everyday movements. So that could be shoulder rotations (reaching around to grab something on your desk), proper squatting (sitting down on something), hinging our hips (bending down), and much more.
Functional trainers often provide full-body workouts, so we can train every muscle group to keep our bones and muscles healthy as we age.
How We Picked and Tested the Best Functional Trainers
We had quite a number of functional trainers to choose from, so here's how we were able to narrow down our final list to just 10.
Size
Functional trainers are often quite big, but we wanted to find machines that could fit in most people's home gyms. Obviously some people have more space than others, which is why we gave different options that work for garages and even apartments.
Design
A functional trainer should not only look nice (such as having a smooth powder coat and chip-resistant coating), but it should also be designed in a way that makes it…well, functional. That means not having parts that can get in the way of certain exercises, or that using it is difficult at any time.
Resistance
Although people's resistance needs can vary greatly, we wanted to make sure each machine had a variety that could work for beginners as well as lifetime lifters.
Attachments
Attachments aren't necessarily a vital part of a functional trainer, but they do increase their versatility by quite a lot. We tried to find models that either came with attachments or accessories, or had options at a budget-friendly price range.
Versatility
A functional trainer is inherently versatile, but we tried to find ones that offered even more bang for your buck than the average machine out there.
Pulley Ratio
As we mentioned before, some functional trainers can have pulley ratios as large as 4:1, which would mean that pulling 100 pounds only gives you 25 pounds of effective resistance. We kept our options at 1:1 or 2:1, but that means the cables may not travel as far as a 4:1 pulley ratio (you win some, you lose some).
Benefits of Having a Functional Trainer
If you're still not sure whether you should purchase a functional trainer, here are some reasons why we think you should.
Convenience
For one, you have a complete full-body workout system at your disposal at any time. No waiting in line behind the guy who's been looking at his phone for 30 minutes while you're trying to do some quick cable raises.
Versatility
We've used this word a lot throughout this piece, but it can't be understated just how many different movements can be done with a functional trainer. Besides the almighty Olympic barbell, dumbbells, and kettlebells, there are very few pieces of equipment that can work every part of the body the way a functional trainer can.
Save Money
This might be hard to believe when you look at the price of some of these, but consider how much you spend on monthly membership fees, the cost of gas and the amount of time you spend getting to and from the gym, and other expenses that rack up during commuting. A functional trainer can pay for itself in as little as two years, especially if you finance it.
What to Look for in a Functional Trainer
Think you're ready to purchase your first functional trainer? Here's a quick buyer's guide to make sure you're taking all important factors into account.
Size
Bust out the tape measure and find out if the functional trainer you have your eye on can fit in your home gym, and also check to see what the cable travel distance is (this is how far the cables can go to get maximum tension).
Cables/Pulleys
Cables and pulleys on functional trainers are made with different materials, with aluminum (the best choice, but also the most expensive) and fiberglass being the most common. Each manufacturers' website should disclose what their cables and pulleys are made of, but if you can't find it, you can always reach out to customer service and ask them.
Durability
You'll also want to look at what the frame is made of. If it has a lot of plastic parts (some is fine), odds are it won't be as durable as something that's mostly made with 11-gauge steel (the lower the number, the stronger the steel).
Attachments/Accessories
Most functional trainers will come with a pair of short handles, and for some that may be all you get. Others come with included accessories such as a straight bar, long bar, short bar, ankle cuff, ankle straps, curl bar, triceps rope, D-handles, or a push-down bar. These attachments make the machine much more versatile than it already is, and if they're not included with your trainer, are often sold on the manufacturers' website.
Resistance
As with any piece of strength training equipment, you'll want to make sure the resistance is light enough that you're not constantly struggling with it, but also heavy enough that it's not a constant cakewalk. The one thing that might complicate that is the pulley ratio.
Pulley Ratio
Most machines will have a 2:1 pulley ratio, which means that pulling 50 pounds gives you 25 pounds of effective resistance. As we've said, some machines on the market go as high as 4:1. It should be noted that even functional trainers that work with weight plates, or plate-loaded trainers, also have pulley ratios, so that 45-pound plate may not give you 45 pounds of resistance.
Price
Listen, most functional trainers worth buying are going to be at least $2,000. The good news is most companies allow you to finance your order, and the monthly payments can sometimes equal or be less than a gym membership.
Warranty
With very few exceptions, most functional trainers will have a lifetime warranty for the frame. You'll want to see what type of coverage you get for the other parts, including the pulleys, cables, and attachments.
Best Functional Trainer FAQs
What is the best functional trainer?
Is a functional trainer worth it?
A functional trainer may be expensive, but at the end of the day you'll be able to do a full-body workout anytime you want, without having to wait in line behind someone else. So if you have the budget and space for one, it's a great addition to any home gym.
What should I look for in a functional trainer?
When shopping for a functional trainer, you should consider the machine's size, how good the cables and pulleys are, how durable it is, what resistance it offers, the pulley ratio, price, and warranty. 
Can you build muscle with a functional trainer?
Yup! Functional trainers are a form of resistance training, which means they can induce muscle hypertrophy and help with muscle gain. In fact, some studies suggest they're better for muscle growth than free weights because they provide constant tension throughout a movement.