We test and review fitness products based on an independent, multi-point methodology. If you use our links to purchase something, we may earn a commission. Read our disclosures.
Generally speaking, exercise equipment is pretty bulky and expensive (e.g., treadmills, exercise bikes, squat racks, and barbells). However, not all of us are graced with spacious garages, basements, and bonus rooms to outfit our home gyms. Perhaps you're renting, sharing a home, or living somewhere temporarily—with those barriers, it doesn't always make sense for you to invest in traditional workout equipment.
Whatever your circumstance might be, you're probably landing on this roundup of the best portable home gym options because you need a unique solution to your living (or traveling) situation.
We're Home Gym Experts
Our expert product testers are not only owners and users of home fitness equipment, we're also fitness professionals ranging from certified personal trainers to Olympic athletes. We're well versed in training with barbells and dumbbells, as well as resistance bands and bodyweight exercises.
Our team has had their hands on each of the products listed in this roundup and we're excited to show you our top picks for best portable home gyms.
7 Best Portable Home Gyms:
Best Overall Portable Home Gym: TRX Home Suspension Trainer
Good for: Folks looking for a truly portable home gym that is easy to set up and take down
Portability-wise, the TRX Home Suspension Trainer really takes the cake—it's less than 2 pounds and fits into a small carrying bag to stow away or take with you on the go. The TRX suspension training system is a unique method to incorporate all the major muscle groups and add more range of motion to your bodyweight training. You'll be able to perform hack squats, inverted rows, pull-up variations, push ups, core exercises, stability drills, pilates, and even supported yoga poses.
The TRX is an all-in-one system because you have the ability to target every part of your body. Plus, you have the ability to adjust the straps, which changes your body's angle and distance to the floor on each exercise—meaning you are in control of the level of difficulty regardless of your fitness level.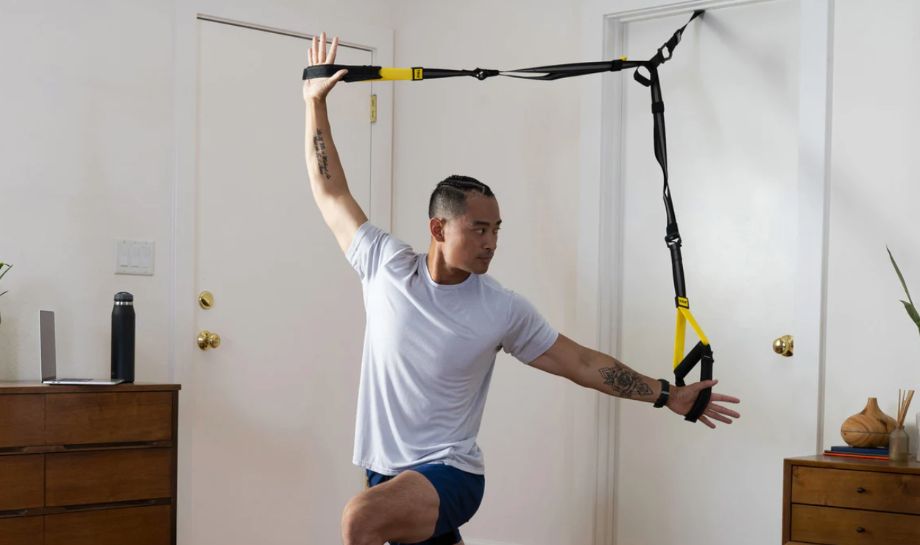 The TRX Suspension Trainer won't replace free weight training, but it can level-up your bodyweight training. For about $230 you'll receive the suspension trainer straps made with heavy-duty nylon, door anchor, suspension anchor (for squat racks, light posts, trees, or any other sturdy objects), and a mesh carrying bag. You'll even receive a 30-day free trial to the TRX Training Club app, which has home workouts and exercise tutorials on how to get the most out of your suspension trainer.
You might also like knowing your purchase even comes with a two-year warranty. As you might imagine, this warranty covers manufacturer defects not normal wear and tear or misuse of the TRX system.
| | |
| --- | --- |
| Price | $229.95 |
| Footprint | N/A |
| Product weight | 1.5 lbs |
| Resistance | Bodyweight suspension training |
Best Smart Portable Home Gym: MAXPRO SmartConnect Home Gym
Good for: Anyone who needs a lightweight functional trainer for at home or on the go
MAXPRO SmartConnect Home Gym has had a lot of buzz in recent years, and for good reason—it's less than 10 pounds, foldable, and is basically a mini functional trainer (aka cable machine) delivering up to 300 pounds of resistance.
Much like a full-size functional trainer, this mini gym is an all-in-one machine. You can pretty much hit all the major compound movements (like squat, row, and press) in addition to isolation movements (like biceps curls, and single-leg exercises).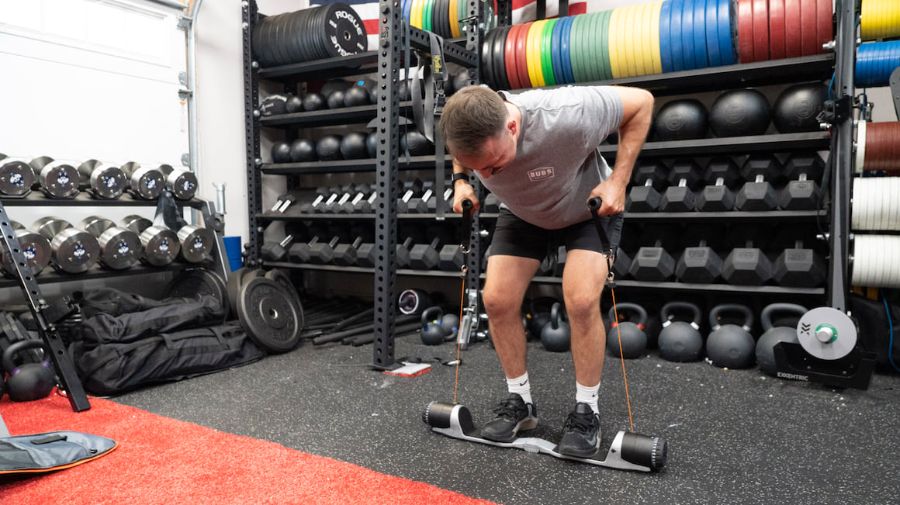 GGR founder and equipment expert, Coop Mitchell personally tested the MAXPRO and finds he uses it quite frequently. He enjoyed the fact that this lightweight machine is pre-assembled and pretty much ready to use right out of the box. However, he notes in our full in-depth review of the MAXPRO that it will be worth purchasing the wall-track up front with your initial purchase, saying that, "you can do way more exercises with this addition to your MAXPRO."
The wall-track might allow you to adjust your leverage point on the wall, but it's worth noting that it will cost an additional $325. However, with the base price of $799 you'll get the MAXPRO machine, three-piece "Quick Connect" bar, two handles, ankle straps, door mount system, and a USB charger.
The MAXPRO can not only provide several hundred pounds of resistance, you can also connect via Bluetooth to the brand's app for workouts and to monitor your metrics. Coop mentions the app was a little clunky when he tested it, and notes not to expect Peloton-level quality.
| | |
| --- | --- |
| Price | $799 |
| Footprint | 10″ L x 16″ H x 4″ W |
| Product weight | 9 lbs |
| Resistance | 300 lbs of resistance training |
Best Portable Home Gym Personal Trainer: Future App
Good for: Individuals who want a personal trainer in their pocket!
OK, OK, so technically Future isn't a true portable gym—but like I mentioned earlier, we all live under unique circumstances and perhaps Future (and having a personal trainer at the touch of a finger tip) is the best solution for you at the moment.
Here's what you need to know about Future: It's an app that can pair you with a personal trainer based on your personal fitness goals, your preferred type of training, your equipment, and even common interests you share.
I will say that just like finding a personal trainer IRL, you won't jive with everyone's methods (or personalities) so it's OK to get picky with your selection. When I browsed through the coach profiles on the Future website, I noticed you can select a trainer based on their coaching style—detail oriented, high energy, even keeled, and supportive to name a few.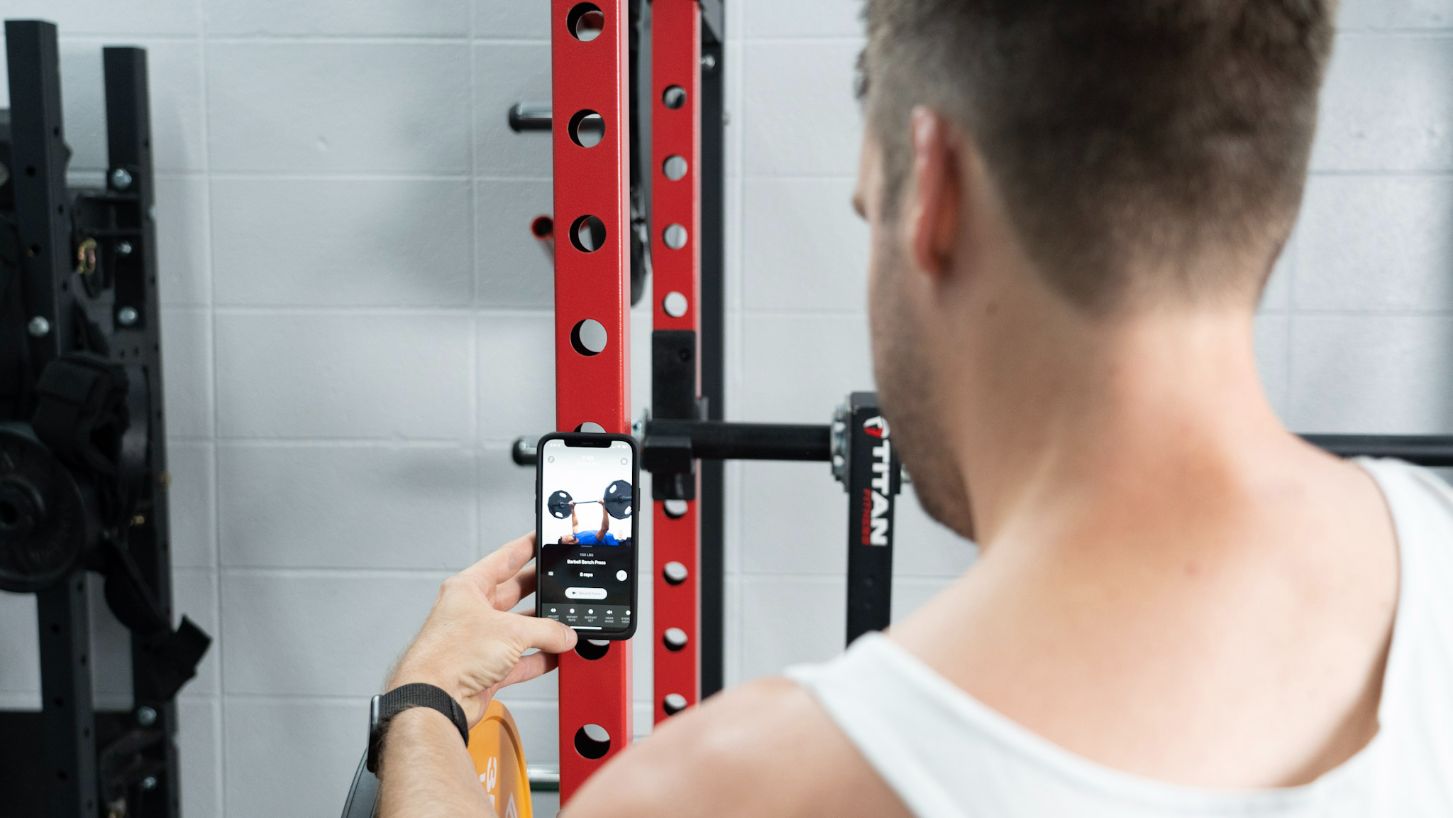 Speaking as a certified personal trainer myself, I think that is a nice feature. I personally would dread being paired with a super bubbly, high-energy coach when I need someone who is more laid back but extremely detail oriented.
All that said, Future requires a $150 monthly membership fee (and let's remember that's just for the app—no equipment comes with this monthly price). If you're someone who is limited in space and equipment, your personal trainer can design a bodyweight-specific workout plan for you. However, for the price there are probably better options for bodyweight-only programs.
Coop personally tested (and still uses) Future and likes the ease of use on the app platform, the actual programming, and the ability to record and send videos to your coach. If you think Future is the right option for you, check out our in-depth review before you ditch your gym membership!
| | |
| --- | --- |
| Price | $150 per month |
| Footprint | N/A |
| Product weight | N/A |
| Resistance | N/A |
Best High-End Portable Home Gym: Vitruvian Trainer+
Good for: Folks with limited space but who want a solid piece of exercise equipment
When it comes to home gym equipment that can serve as an all-in-one strength training machine, the Vitruvian is a unique choice if you have a flexible budget. The Vitrvian is essentially a platform that provides digital magnetic resistance (up to 440 pounds) via cables and handles.
I'd call this a compact home gym that's fairly portable, but it's not a toss-in-your-bag type of portable. It's not super heavy but it's worth noting that the Vitrvian platform is about 80 pounds and measures over 3 feet in length and is just under 2 feet wide. That said, this could be suitable for someone who just needs to have their home gym setup completely stored away while not in use. It's also worth mentioning that the Vitruvian has a 330-pound user weight capacity.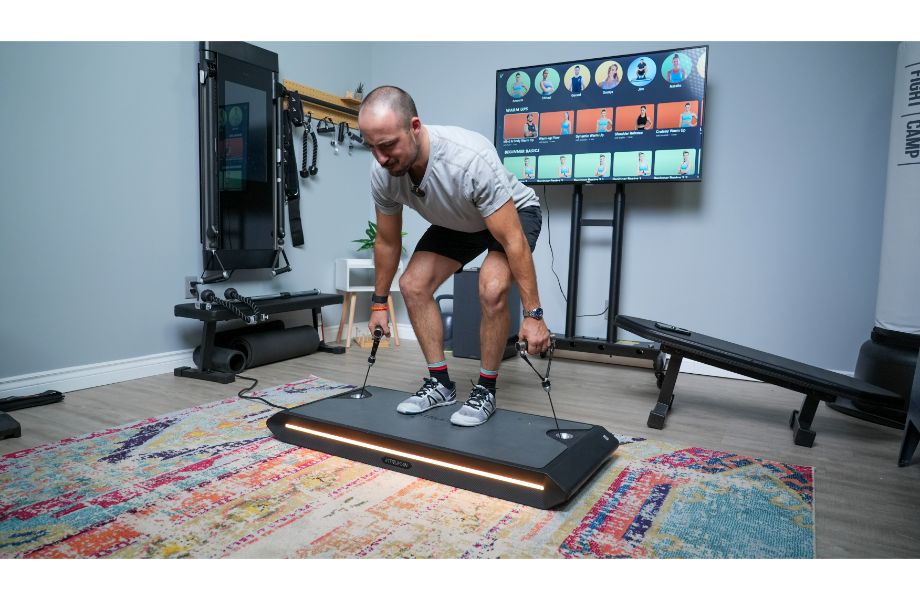 The Vitruvian starts around $2,900 and the monthly membership is $39 per month, which you'll need if you want full functionality of the machine. With the membership, you'll have access to a library of workouts and real-time tracking of every repetition you perform and the loads you use.
There are four modes to training: pumped, time under tension (TUT), old school, and eccentric-only. Coop notes in his in-depth video review of the Vitruvian that the eccentric training might be the most unique feature of this device. In this eccentric-only mode, the digital resistance of the concentric (upward portion of a given lift) is essentially removed and the eccentric (lowering portion) is the only part that is loaded with resistance. It might not sound like a lot, but trust me that will make for some seriously hard workouts.
RELATED: Vitruvian Trainer+ Review
| | |
| --- | --- |
| Price | Starting at $2,900 |
| Footprint | 44" L x 20" W x 5" H |
| Product weight | 80 lbs |
| Resistance | 440 lbs of digital resistance |
Best Lightweight Portable Home Gym: Gorilla Bow
Good for: A simple and lightweight option for resistance training
The Gorilla Bow is a fairly inexpensive and lightweight option for your home gym or for bringing with you on the go. Essentially, you have a set of tube bands—all ranging in levels of resistance—and an aluminum workout bar in the shape of a bow.
What's interesting about the Gorilla Bow is that it's pretty much a self-contained portable gym capable of full-body workouts where your own body acts at the anchor (versus using a door anchor).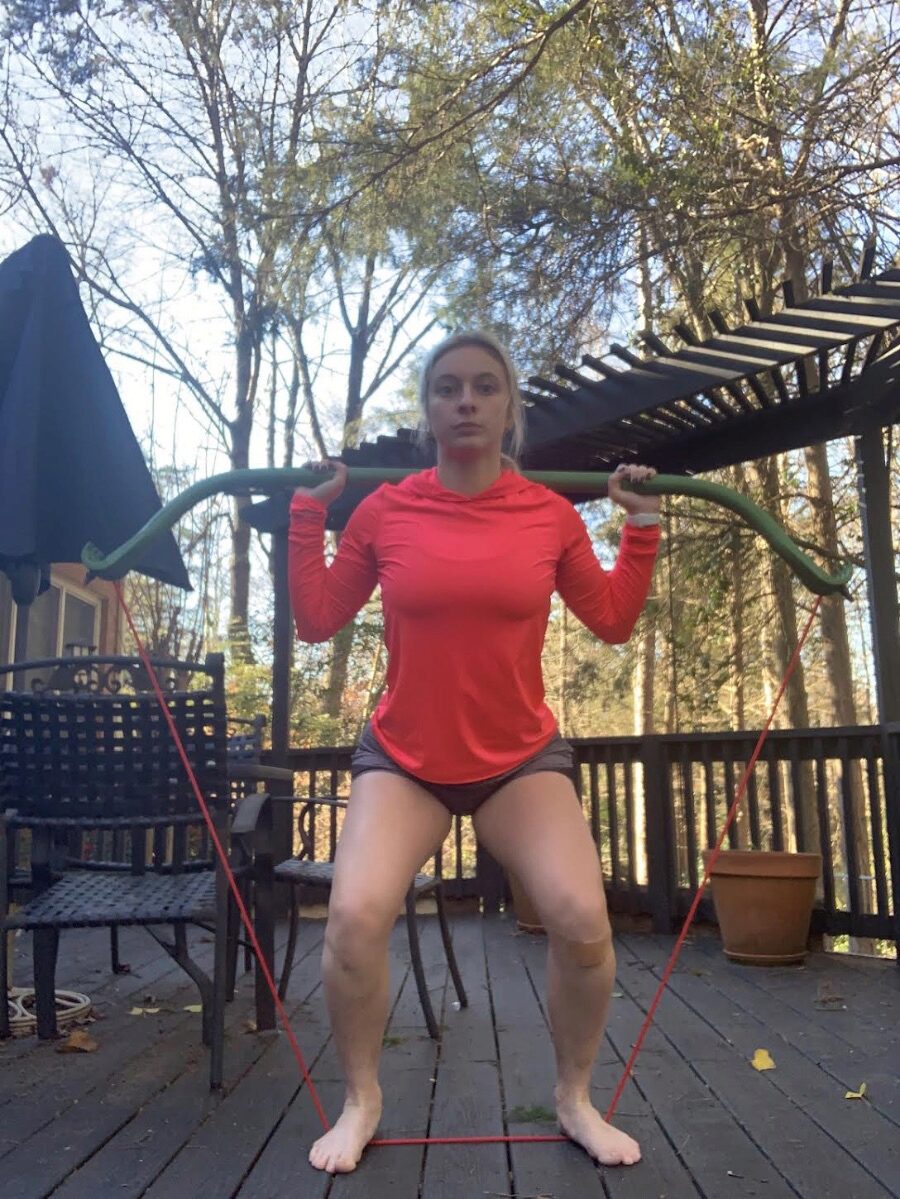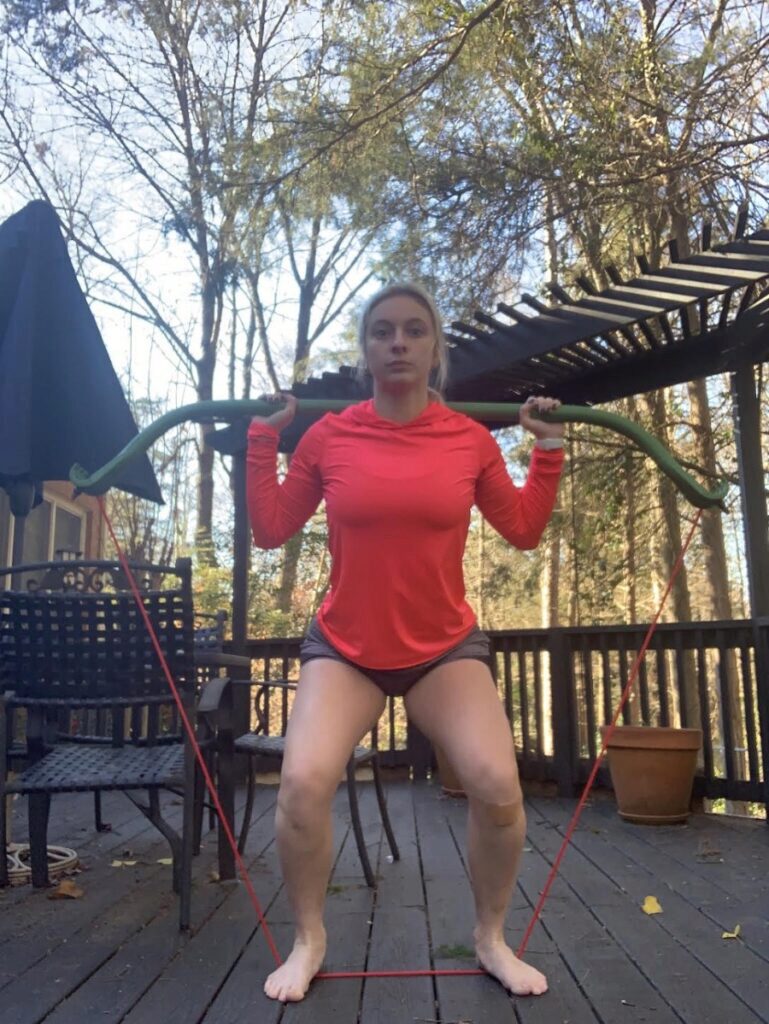 For example, you will have to stand on the band to anchor it down for lower body exercises like deadlifts, squats, and lunges. For upper body movements you'll have to anchor the band with your back muscles to perform a chest press or sit on the band for an overhead seated press.
Additionally, you can even mimic a pulling motion similar to using a real bow and arrow by holding one arm out straight and using the other to pull back the resistance band.
A former GGR product tester, Caroline Lubinksy, used the Gorilla Bow and liked the clever and simple design. However, the one thing she noted was the fact the Gorilla Bow might be confusing for beginners.
In Caroline's in-depth Gorilla Bow review she also mentions that the all-access app does have a beginner category focused on learning basic movement patterns. The app is $14.99 per month but you will get a free 30-day trial with your purchase.
| | |
| --- | --- |
| Price | About $215 on Amazon |
| Bow length | 56" |
| Product weight | About 8 lbs |
| Resistance | 300 lbs of tension |
Best Portable Home Gym for Strength Training: X3 Bar
Good for: Folks looking to progressively get stronger with an ultra-portable gym system
The X3 Bar is a unique solution if you're limited on space and serious about getting stronger. It comes with four heavy-duty latex bands, a foot plate, and a mini workout bar.
So what sets this system apart from a set of Rogue Monster bands? Honestly, it's the foot plate and the workout bar. The bands alone are high-quality, but the added components make the system really versatile.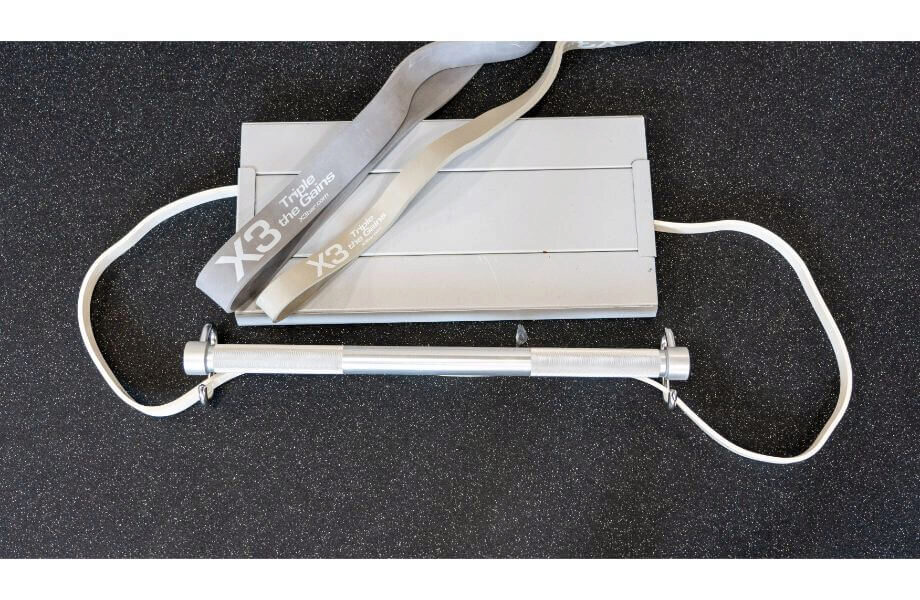 The bar features knurling and bearings that allow it to rotate smoothly with your movement. The entire setup is 17 pounds and can easily be thrown into a backpack for a weekend getaway or your luggage during a vacation.
Although the price is a little steep at $549, there is a lot of value in being able to take the X3 Bar with you wherever you go. In fact, our GGR social media manager Brittany Combs talks about bringing the X3 Bar with her on vacation and into her living room during her kid's playtime in our in-depth video review on the X3 Bar.
With the price you'll also get a 12-week program with instructional workout videos to help you navigate each movement. Brittany liked following the program and using the app and says she enjoyed the metrics and progression reports as she got stronger.
RELATED: X3 Bar Review
| | |
| --- | --- |
| Price | $549 |
| Bow length | 10" L x 19" W x 1" H |
| Product weight | 17 lbs |
| Resistance | 300 lbs |
Best Portable Resistance Band Set: Rogue Tube Bands
Good for: Folks who prefer classic tube bands for easy storage and portability
Rogue Tube Bands are the OG of portable home gyms. As simple and straightforward as they might be, bands are always my fallback when it comes to easy, full-body workouts on the go.
On the Rogue website you can purchase bands individually (ranging from very light to over 60 pounds of resistance) or for $75 you can purchase all six Rogue bands as a set.
The downside to the Rogue Tube Bands is they don't come with ankle straps or a door anchor. That said, when I use tube bands at home I'll loop them around the support post in my basement or if I'm outside, it'll use the balusters on my deck.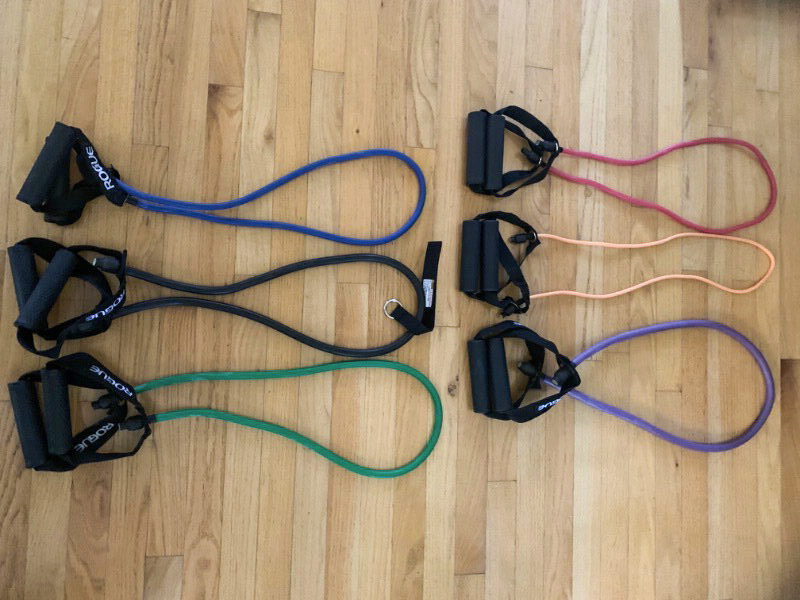 Makeshifting an attachment point can help you achieve movements like lat pull-downs, triceps extensions, and chest flyes. Many lower body movements can be anchored by your feet, such as squats, lunges, and deadlifts.
Additionally, our former product tester Caroline mentioned that she didn't appreciate that the resistance band tension in weight is not listed on the band like you might find on competitor brands. If that's not a dealbreaker, check out our in-depth review on our full experience with the Rogue Tube Bands.
| | |
| --- | --- |
| Price | $75 for complete set |
| Bow length | 48" |
| Product weight | N/A |
| Resistance | 60 lbs |
Other Portable Home Gyms We Researched
Harambe System: Although we've tested this product and agree it's a solid competitor to the X3 Bar, the price is slightly higher without providing that much additional value. However, if you're really interested in the X3 Bar, I urge you to read our in-depth review on the Harambe System so you can make that call yourself.
OYO Personal Gym: This is another mini functional trainer option and it did not make this list because it provides only 40 pounds of resistance. 
Bodylastics Resistance Bands Set: This set of bands is quite similar to the Rogue Tube Bands featured on this list and they're priced considerably cheaper than Rogue. So why did we choose the more expensive set? Here's my reasoning: If you use bands as your primary method of resistance training—meaning your resistance bands are not just for warm-ups and accessories—you'll want to invest in a high-quality set.
How We Picked and Tested
Before we curated this list of the best portable home gyms, our GGR team considered the following:
Price: With a portable option, we know you're not going to match the durability or functionality of traditional home gym options (like barbells, dumbbells, cardio equipment, etc.) so we figured the price needs to reflect the limitations of a portable gym.
Footprint and weight: If something is going to be truly portable, it needs to be light enough to move on your own and small enough to store in a bag or your vehicle.
Training options: We made sure that the options on this list allow you to train full body workouts, through different ranges of motions and different planes of movement.
Targeted fitness level: We wanted to make sure this list had options for both beginner lifters and experienced lifters alike.
Benefits of A Portable Home Gym
If you're someone who is on the go or not quite settled into a long-term living situation, here are some of the benefit of a portable gym:
Build Muscle
Beginners and experienced lifters alike can benefit from a portable home gym. In the case of the beginner, introducing a fitness routine won't take much resistance, time, or reps to build strength (especially if you're coming from a sedentary lifestyle). As you adapt and get stronger, you'll need to make changes and progressions to keep getting stronger. However, it is worth mentioning that you don't always have to add more weight—progress can come from changing your rep range, overall volume, rest time, or range of motion.
Portability
If you're someone who travels frequently, lives a nomadic lifestyle, or is just limited on space, a portable gym might be your best option. Portability means it's easy to pick up, move, and store out of the way.
Buying Guide For Best Portable Home Gym
Before you go ahead and click "add to cart" be sure to go over our buying guide for portable home gyms:
Price Tag
As with any home gym purchase, we suggest setting a budget because it can be easy to get excited and go overboard. Generally speaking, portable equipment is fairly affordable given the small size and limited resistance offered. However, you'll notice the more weight offered and more technical, the bigger the price tag.
Product Weight and Portability
Depending on your needs and just how portable you want your equipment, be sure to review the specifications to determine the footprint and product weight. It's also not a bad idea to consider if it's compact enough to fit into a carrying bag or if you'll need to use the transport wheels for moving it around.
Versatility
Speaking as a certified personal trainer, nothing excites me more than being forced to get creative on building workouts around limited equipment. It makes me feel like the ultimate problem solver. However, I understand that not everyone feels that way. What I do urge you to think about is if you can perform full-body workouts and use the equipment to exercise more than one group of muscles.
Resistance Levels
Be sure the resistance levels offered on the equipment you're interested in can accommodate not only where your fitness level is today, but as you get stronger and more physically fit.
Best Portable Home Gym FAQs
What is the best all-round home gym?
The best all-around home gym will depend on your goals, fitness level, and budget. The best part of owning your own home gym is that you can curate a lineup of equipment tailored to your training style. You don't have to be loyal to one brand, either! If you're curious about the best all-around gym equipment we think might have a place in your home gym, check out our roundup of the best home gym equipment.
Do portable gyms work?
Yes, a portable home gym system is a viable option for anyone short on space or who travels frequently. Portable gyms certainly won't replace weightlifting or CrossFit but can still help you build muscle and strength.
Do at-home no equipment workouts work?
Depending on your fitness level and your fitness goals, bodyweight workouts can be an appropriate option. Luckily for you, we have pulled together six challenging bodyweight exercises you can try today (with scalable variations, too).