We test and review fitness products based on an independent, multi-point methodology. If you use our links to purchase something, we may earn a commission. Read our disclosures.
Anytime you walk into a commercial gym, you will see someone doing some curls in front of a mirror, either with dumbbells or an EZ curl bar. I'm not picking on anyone for that; I've been that guy before, and some days I still am! But curls are one of the most popular exercises in a typical gym setting for people attempting to get big arms and "chase the pump." In addition to that, they provide a great workout for the biceps.
One tool for curls is the curl bar. If you're like me and like to get some biceps work done without doing chin-ups all the time, a curl bar can be a great addition to your home gym setup, both for biceps and triceps. Here, based off of testing and research, we have accumulated our top picks for the best curl bars on the market today.
If you are looking for a specialty bar to provide a bit more variety to your workouts, or are just needing a bar that provides less stress on your wrists and elbows, read on to see what curl bar best suits your needs.
Lots of Bars Tested, Lots of Curls Performed
Barbells are above and beyond the piece of gym equipment Garage Gym Reviews has tested and researched the most. From Olympic barbells to specialty bars like curl bars, we have seen our fair share of good, bad, and ugly bars. We know what to expect from a quality bar, and what to look out for when it comes to look and feel.
In addition, when we test our bars, in this case curl bars, we take them through the ringer. We take them through curls, skull crushers, rows, and the like, all to provide the best information for you, in order to help you make an informed decision on your next purchase.
Plus, we live the gym life—not just talking the talk, but walking the walk. Our team consists of certified personal trainers, CrossFit-L1 trainers, weightlifting coaches, and competitive athletes. We've been around the block with a variety of bars and know what makes a good product a solid recommendation.
The 8 Best Curl Bars
Best Overall Curl Bar: REP Rackable Curl Bar
Good for: Anyone looking for a quality rackable curl bar priced exceptionally well
The REP Rackable Curl Bar is our top pick for curl bars. Although REP Fitness makes a short curl bar as well, we went with the rackable version, as it will be able to be used on any power rack—a big bonus for most home gym users. It was one of the first rackable curl bars to come out at its price point, and remains one of the top options available.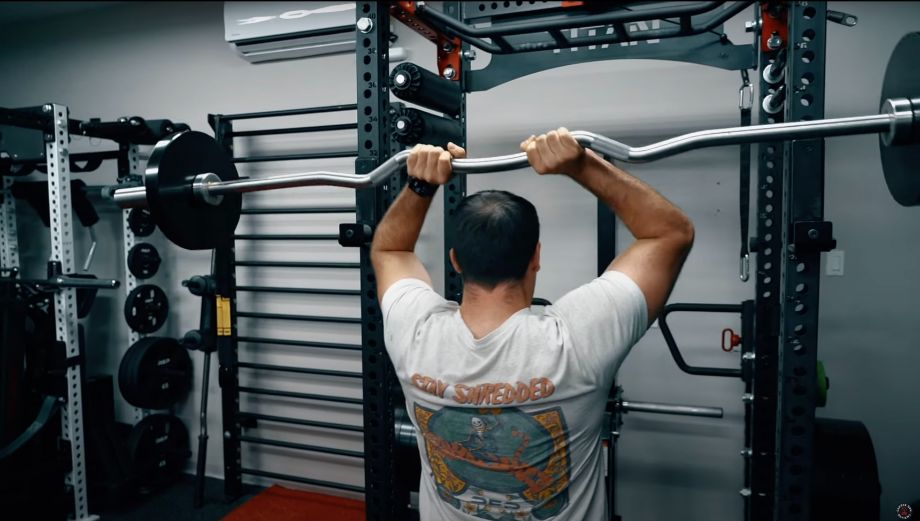 The curl bar comes in two different finishes: a hard chrome coating, and a stainless steel finish. REP claims the hard chrome coating is more durable than common chrome, however we tested out the stainless steel curl bar, so we can't speak to that directly. If you need a more budget-friendly option, go with the chrome option.
One issue we had in our use of the REP Rackable Curl Bar was the rust resistance. Although we had the stainless steel bar, it did gather some rust. While some rust is inevitable, we weren't sure if this really provided much more rust protection than the chrome option.
With that said, the REP curl bar is a great piece of fitness equipment. The knurling feels great and the diameter is 30 millimeters, which is a little thicker than most barbells. One great benefit to a rackable curl bar is that you can also go heavier in exercises by setting the bar at its starting height—no need to deadlift or clean the barbell first. For most home gym owners, a rackable curl bar like REP's will provide great value to your home gym.
| | |
| --- | --- |
| Price | $199 ($299 stainless steel) |
| Weight | 35 lbs |
| Length | 74" |
| Distance between sleeves | 51" |
| Loadable sleeve length | 10" |
| Diameter | 30 mm |
| Shaft coating | Hard chrome or stainless steel |
| Sleeve coating | Hard chrome or stainless steel |
Best Short Curl Bar: Rogue Curl Bar
Good for: Those wanting a good short curl bar that will last
When it comes to good quality on a barbell, we should talk a little bit about Rogue Fitness, the number one barbell manufacturer in the world. The Rogue Curl Bar is our pick for best short curl bar because of its quality make and reasonable pricing, all for an American-made product.
The coating is in two options, a black E-coating and black cerakote. The cerakote is priced slightly higher, as it will offer more protection, although both options will help resist rust and corrosion. The knurling is nice and runs along the whole bar, save for the immediate center of the curl barbell.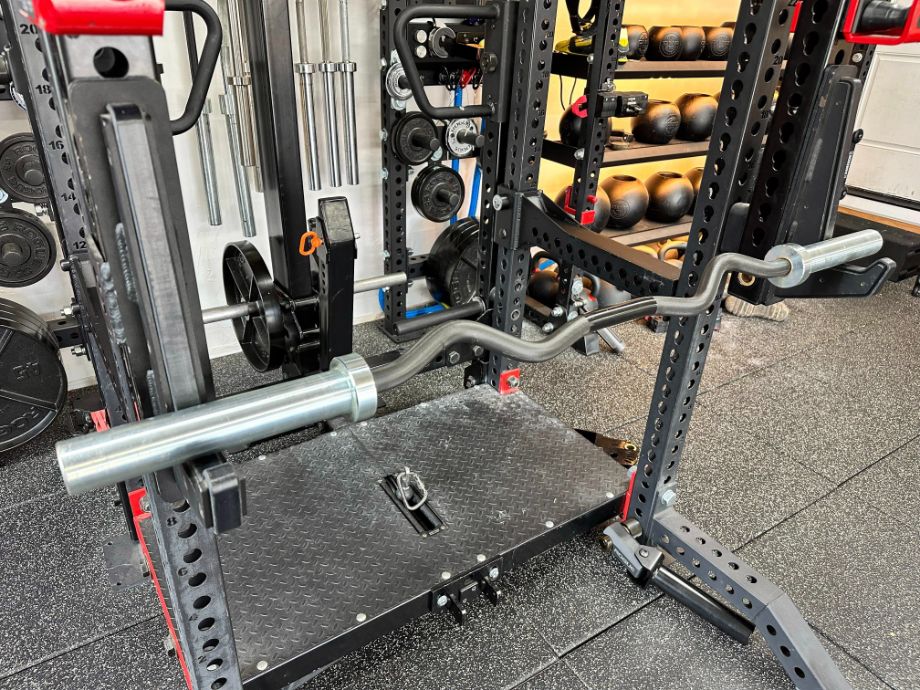 The slightly wider diameter makes for a comfortable grip during use, and the aggressive bends of the bar are well done. During testing, GGR founder and expert product tester Coop remarked that these angles and curves felt superior compared to other more shallow bends on other brands.
Some people did not like the E-coating on the bar, saying it gave the bar a slick feel and dulled the knurling. Also note that this is a short bar and not rackable, although there is a Rogue rackable curl bar if you are leaning in that direction. However, for its build, this is one of the best options out there—great quality at a decent price.
| | |
| --- | --- |
| Price | $225 ($245 for cerakote) |
| Weight | 30 lbs |
| Length | 54.5" |
| Distance between sleeves | 31.5" |
| Loadable sleeve length | 10.5" |
| Diameter | 28.5 mm |
| Shaft coating | Black E-coating or cerakote |
| Sleeve coating | Bright zinc |
Best High End Curl Bar: Gungnir Curler
Good for: People wanting a premium specialty barbell with nice features
When it comes to premium curl bars, few compare to the Curler by Gungnir of Norway. The stainless steel bar has an electroless nickel deposit on the sleeves. The stainless solid steel and electroless nickel deposit are two of the best finishes to have for rust resistance and corrosion protection.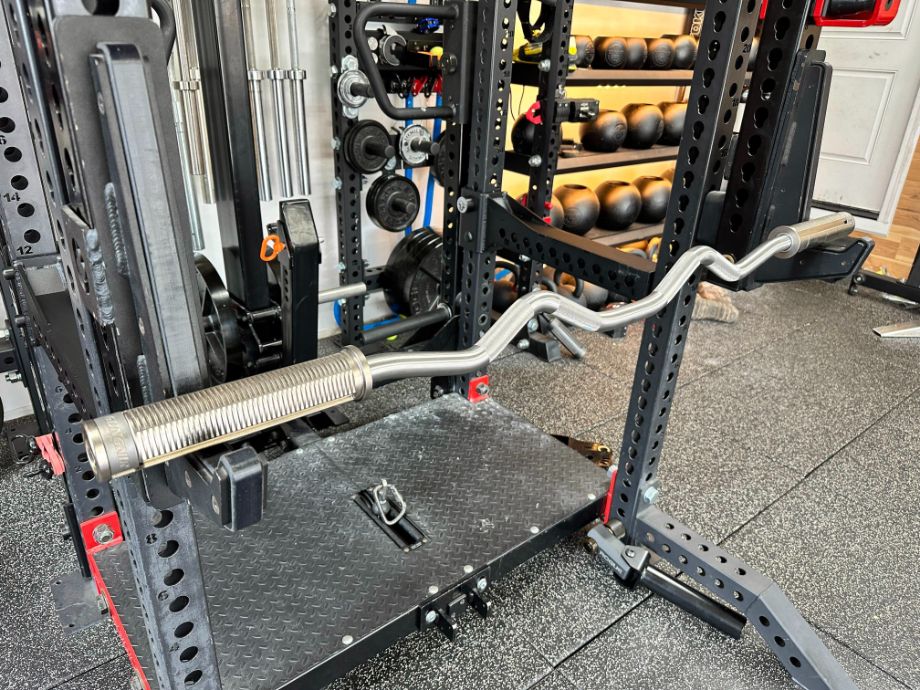 One neat feature that you do not see on most other curl barbells is that the Curler has built-in collars: titanium slide locks that can be adjusted to secure your weight plates on the curl bar. Built-in collars are an efficient and convenient perk of this bar, as you can load the curl bar, slide the lock in place and quickly get into your set.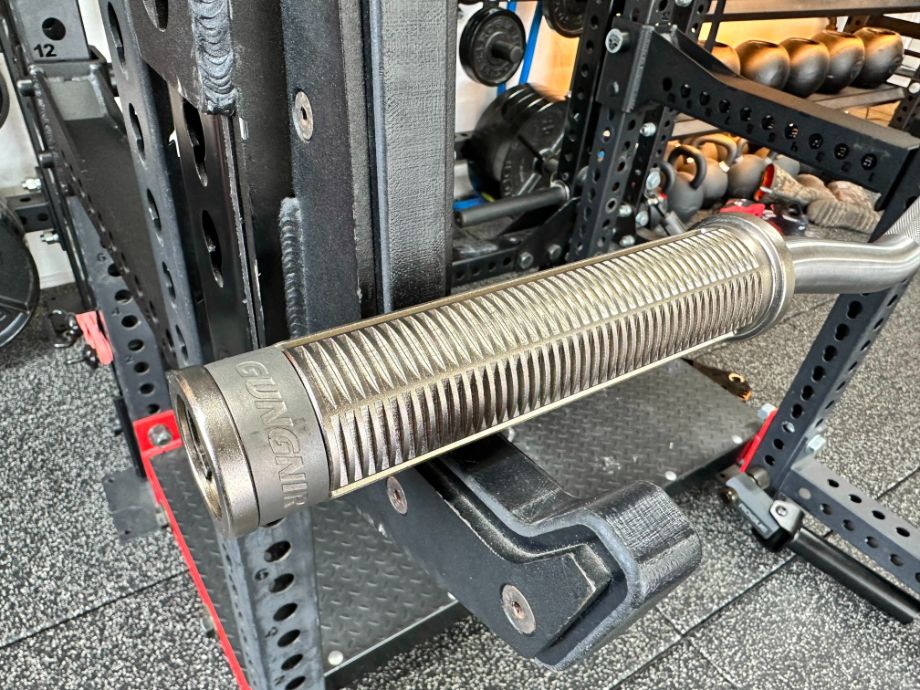 Additionally, the knurling on the bar is great, not too rough and not too passive. Located on the curves of the bar, it allows for a close grip or wide grip while doing curls or other exercises. It covers just where your grip would be, and we'd love to see it extend a little bit to account for a larger hand or slight variations in grip.
In our testing, Coop wished the diameter was a little thicker, although this will be user preference. The thinner diameter of 28 millimeters is common in Olympic-lifting bars, but curl bars can be a little thicker typically.
There is no rackable version of this curl bar yet, so it may not be the best fit if you are looking for something to fit on your squat rack. The Curler is also not going to be a budget-friendly option. However, if you are looking for a high-quality, heavy duty curl bar, the Gungnir Curler will provide you with that level of premium quality.
RELATED: Gungnir Allrounder Barbell Review: Built-In Barbell Collars
| | |
| --- | --- |
| Price | $549 |
| Weight | 11 kg / 24.25 lbs |
| Length | 53.14" |
| Distance between sleeves | Not disclosed |
| Loadable sleeve length | 9.05" |
| Diameter | 28 mm |
| Shaft coating | Stainless steel |
| Sleeve coating | Electroless nickel deposit |
Best Budget Curl Bar: Bells of Steel EZ Curl Bar
Good for: Anyone looking for a specialty bar at a competitive price
If you are looking to save a bit of money on an EZ Curl Bar, Bells of Steel's short curl bar is a great starting point. Being sold under $100 on Amazon, this bar has a good finish to prevent corrosion, and a very sleek design. For a little more, you can also get the sleeves in a gold titanium finish, to help swag out your home gym.
The bar accepts 2-inch Olympic iron or bumper plates, and the weight capacity is 500 pounds, which is solid for a short curl bar. Also, the curvature of the shaft is less pronounced than their rackable curl bar in order to provide a more ergonomic grip all around. The bar also has bronze bushings to allow for a smooth spin while using the curl bar.
The finish of the shaft is black phosphate, which should provide decent resistance and protection. However, it's not as protective as stainless steel. Still, it functions just as well as any other curl bar for curls, upright rows, and the like; plus it comes in at a more than reasonable price point.
| | |
| --- | --- |
| Price | $129 |
| Weight | 22.5 lbs |
| Length | 47.2" |
| Distance between sleeves | Not disclosed |
| Loadable sleeve length | 7.2" |
| Diameter | 28 mm |
| Shaft Coating | Black phosphate |
| Sleeve Coating | Nickel plated |
Best Value Curl Bar: Titan Olympic EZ Curl Bar
Good for: Those looking for an inexpensive curl bar that gets the job done
This EZ Curl Bar presents high quality at a killer price. At under $100, this bar has a chrome finish along the shaft and stainless steel sleeves. That will be some decent protection against rust and corrosion, especially considering the price point.
The Titan Fitness Olympic EZ Curl Bar has a 28-millimeter diameter, which is a typical grip thickness in Olympic barbells. Still, don't let the "Olympic" in the name fool you, as its specs are not typical of an Olympic barbell; this is a short bar and therefore won't be rackable if you want to use it on your squat rack.
The weight limit is 200 pounds, so if you have incredibly strong biceps or triceps, then this may not be the best option for you. But for most people, this should be enough, unless you're wanting to use the curl bar for a less conventional movement for it, like a bench press.
The curves are less pronounced than some other curl bars, which is a positive or negative depending on what kind of grip options you are looking for in a curl bar. The bar has a medium knurling, which feels nice and won't let the hands slip during repetitions. It only has a one-year warranty, which is a fairly short warranty when it comes to barbells. Still, this bar has high value with a very low price point.
| | |
| --- | --- |
| Price | $94 |
| Weight | 17 lbs |
| Length | 47" |
| Distance between sleeves | Not disclosed |
| Loadable sleeve length | 6.5" |
| Diameter | 28 mm |
| Shaft coating | Chrome |
| Sleeve coating | Stainless steel |
Best Ultra Budget Curl Bar: CAP EZ Curl Bar
Good for: People looking to spend the least amount of money possible for a specialty bar
Because specialty bars lack the versatility of a typical Olympic barbell, many people don't see the point in spending a ton of money on them. In that case, if you are looking for a curl bar that will barely put a dent in your wallet, look no further than CAP Barbell's EZ Curl Bar.
Selling at a staggeringly low $39.99 on Amazon, this short curl bar gets the job done for most people. The bar comes with T-screw collars, meaning all you need is some Olympic weight plates to use. It's only rated with a weight capacity of 200 pounds, which is less than most competitors, however it's still a high enough weight limit for most people using it for curls and skull crushers.
The black powder coat finish is not as resistant as stainless steel or cerakote, but it will provide some protection against rust and corrosion. Additionally, the knurling is a little more passive than most. Nevertheless, if you are looking for a good bar for a low, low price, the CAP EZ Curl bar provides an ultra budget option.
| | |
| --- | --- |
| Price | $39.99 |
| Weight | 15.5 lbs |
| Length | 47" |
| Distance between sleeves | 32" |
| Loadable sleeve length | 7.5" |
| Diameter | 25.4 mm |
| Shaft coating | Black powder coat |
| Sleeve coating | Black powder coat |
Best Rackable Curl Bar: Bells of Steel Rackable Curl Bar
Good for: Lifters looking for a rackable curl bar with good value and a sleek design
Although there are some better quality curl bars when it comes to rackable curl bars, the Bells of Steel Rackable Curl Bar is our pick because of the value it brings—it's a high quality curl bar at a lower price point than most similar bars. It even offers a limited lifetime warranty.
A rackable curl bar is a great feature for home gym owners, as they will be able to use their squat rack or power rack with the bar. Made just long enough for a typical rack, a curl bar can now be loaded off the floor, making it a convenient option for most people. Also, the bar can be taken off the rack, so the J-cups can be adjusted for a proper height for your exercise, instead of taking a bar from the floor to overhead just to do some triceps extensions.
The Bells of Steel Rackable Curl Bar has goods specs for a good price. With a black cerakote finish on the shaft and titanium plated sleeves, the bar is durable and will resist common wear pretty well. The knurling is good, and the curves on the bar are more pronounced, allowing for more variety of grip options. The weight capacity is rated at 700 pounds, which is going to be a more than heavy enough load for most people.
There are a couple customer reviews that talk about slight issues in quality, notably that the cerakote coating was slightly uneven. Companies like Rogue and REP Fitness may offer better quality rackable curl bars, but at its price point, Bells of Steel made a curl bar with good value.
| | |
| --- | --- |
| Price | $199 |
| Weight | 33.5 lbs |
| Length | 74.6" |
| Distance between sleeves | Not disclosed |
| Loadable sleeve length | 9.5" |
| Diameter | 28 mm |
| Shaft coating | Black cerakote |
| Sleeve coating | Titanium plated |
Best Adjustable Curl Bar: Bowflex SelectTech 2080
Good for: Those needing a compact, adjustable barbell and weights setup
Some people who like the feel and usefulness of fixed barbells at commercial gyms might want to look into adjustable barbells for their home gym. They can replace multiple fixed barbells, which saves a lot of space, and they can be convenient when changing weights. The Bowflex 2080 is our pick for best adjustable curl bar because it is the most polished adjustable barbell out of the ones we have tested.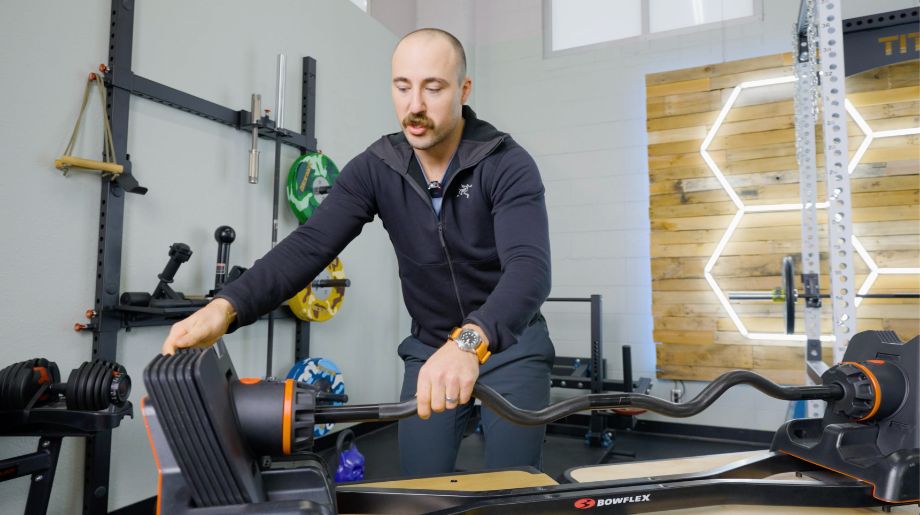 The Bowflex 2080 comes with a straight bar and a curl bar, and can go from 20 pounds to 80 pounds over 10-pound increments, essentially replacing seven fixed barbells and seven curl bars.
Similar to the SelectTech 552 adjustable dumbbells, the barbell has an adjustment knob that makes it easy to adjust the weights. Unlike the Bowflex adjustable dumbbells, the knob is on the inside of the weights, not the outside. In our testing of the Bowflex 2080, Coop mentioned that he liked the click of the adjustment knob, letting you know that the adjustment was made. The knobs are made of plastic, which aren't the most durable adjustment knobs we've seen, but it will get the job done.
Anyone looking for heavier weights will be happy to know that Bowflex offers a 40-pound upgrade to the 2080s, allowing for up to 120 pounds. Still, if you are looking to lift more than that, this may not be the right item for you. Also, the black oxide coating is not the most durable resistance coating, but so long as you take care of it, this adjustable barbell will last.
| | |
| --- | --- |
| Price | $599 |
| Weight | 20 lbs – 80 lbs |
| Length | 59.3" |
| Distance between sleeves | Not disclosed |
| Loadable sleeve length | n/a |
| Diameter | Not disclosed |
| Coating | Black oxide |
Other Curl Bars We Researched
Some curl bars we took a look at simply didn't make the cut. Here are a few we liked, but ultimately just didn't quite break through our top list.
Major Fitness EZ Curl Bar: This bar is a great deal; at around $150, you get a decent curl bar. Our main concern with it is the finish being prone to rust or corrosion. Otherwise, our product tester, Lindsay, says it performs well in workouts.
Jayflex Hyperbell: Similar to the Kettle Gryp, the Jayflex Hyperbell is a straight bar, kettlebell grip, and curl bar that allow dumbbells to be added on the ends as weights. It turns dumbbells into kettlebells and barbells. While this can be great for someone who has a minimalist home gym and only has dumbbells, most home gym owners will have access to bars and plates already. It probably isn't for everyone.
Eleiko Curl Bar: Eleiko makes high quality products, and their curl bar is no different. With needle bearings and a max load of over 1,100 pounds, this curl bar is a quality product. However, with super high quality comes a super high price.
MX Select MX 100: The MX 100 is an adjustable barbell that ranges from 28 pounds to 100 pounds over 11 increments, and it comes with a straight bar and a curl bar. While the knurling is great and the adjustment mechanism is metal and durable, the odd weight jumps offer less refinement than other adjustable barbells.
Rage Fitness Curl Bar: The Rage Fitness Curl Bar has great value, since it's a good curl bar for under $70. However, with a short warranty and some user complaints on the quality of the bar, there are other value and budget options available that we would recommend over it.
Synergee Commercial EZ Curl Olympic Bar: Although we can't argue with the sub-$100 price, we just didn't like this curl bar enough to include it on our list.
How We Picked and Tested
To test these curl bars, we did exactly what you're thinking: curls. We did enough curls to get a nice pump in the arms. I've got a bit of delayed-onset muscle soreness just typing this up right now.
Kidding aside, we did take these bars through a lot of reps, taking note of the feel of the bar both in the grip, the curvature of the handles, and the knurling on the bar. Additionally, in our research and testing, we took note of the coating of these bars, to make sure that they could withstand some use and wear.
Finally, we accounted for the value of these bars, making sure that each curl bar was worth its price. Our final list provides a wide range of options all varying in price, but ultimately, these curl bars all bring great value to any consumer.
Benefits of Curl Bars
Curl bars are specialty bars; they were made for just a handful of exercises, so they won't have the versatility of a normal Olympic barbell. However, they were made for training the biceps and triceps, and they do that job exceptionally well. Whether doing preacher curls, standing curls, extensions, or rows, curl bars will help you isolate those biceps and triceps.
Curl bars allow for isolation exercises, basically keeping the exercise focused on one muscle group at a time. Skull crushers isolate the triceps and curls isolate the biceps, for example. Isolation exercises have their place in most training programs, but are particularly popular in bodybuilding routines, making a curl bar a great tool for a bodybuilder's home gym.
The curve of the curl bar allows for a better grip for these exercises. It's closer to a neutral grip, which puts less stress on your wrists and forearms than a straight bar. Additionally, the multiple curves on the curl bar will allow for a variety of different grips on the bar—reverse, wide, or narrow grips, for example. The variety of grips can help train your forearms and grip in different ways through curls and triceps extensions.
What to Look for in Curl Bars
A curl bar is a specialty barbell, meaning it's not a necessity in a garage gym—but it is nice to have for what it does. Most of what you'd want to consider when purchasing a curl bar is similar to looking at Olympic barbells, but there are a couple unique things to look out for in a curl bar.
Coating
A good curl bar (or any barbell for that matter) should have some sort of coating or finish to it that will help it resist rusting and corrosion. There are a variety of solid finishes: chrome, black phosphate, zinc, and stainless steel, just to name a few.
Stainless steel is arguably the best finish, as it combines great protection on the bar with a good feel for the user—but it will also cost more. If you are looking to save some money but still have decent protection, then zinc, chrome, or E-coating will be a suitable option.
Knurling
Every good barbell should have decent knurling, and the rule doesn't change for a curl bar. Usually, an EZ curl bar will have a textured knurling around the bends of the bar—where you would grip the bar. Good knurling will help keep your grip strong, and keep the barbell from sliding around in your hands.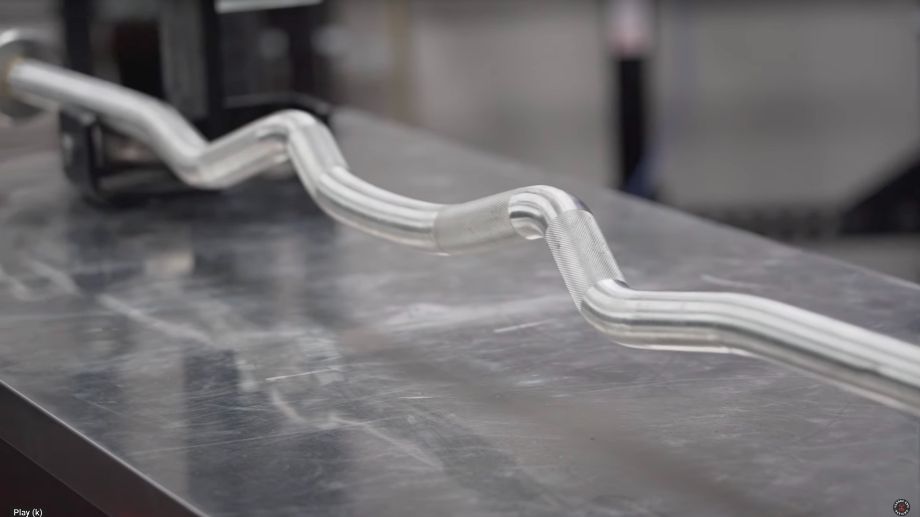 How aggressive of a knurling you want depends on your preference. Too aggressive could cause discomfort, but too passive will lessen your grip. Generally speaking, most curl bars will have a medium knurling, with cheaper bars tending to be a little more passive. If your bar is too aggressive (or passive), weightlifting gloves might help with your grip.
Bushings Vs. Bearings
Barbell sleeves rotate independently from the bar shaft with one of two rotating systems—bushings or needle bearings. Bushings are going to be great for slower powerlifting movements, like a squat or deadlift, that won't require a lot of spinning, whereas bearings are great for Olympic weightlifting movements, where the barbell needs to rotate quickly. Bearings typically are more expensive than bushings, though.
It's important to have some spin for a curl bar, however the movement is slow and controlled enough that bushings should be more than enough. Some curl bars have a hybrid bushing and bearing combination that can improve spin and make you feel less of the weight when it rotates.
Bar Sleeve
Olympic weight plates have become the norm in weight training, able to fit on 2-inch thick barbell sleeves. However, some curl bars come with standard weight plate sleeves, which allow for 1-inch plates to be loaded. Which is right for you purely depends on what plates you already have in your home gym. If you have Olympic plates, go with an Olympic curl bar; if your plates have 1-inch openings, go with a standard curl bar.
Bar Curve
Each EZ curl bar has some curves in the center of the bar, allowing for multiple grips that can both work your grip differently, but also put the wrists in a less stressful neutral position. Some bars can have more pronounced curves, which will allow you to curl in a grip closer to perpendicular to the bar, typically called a super curl bar. The design of the curve can change bar to bar, but it usually isn't a pricing factor.
Rackable Curl Bars Vs. Short Curl Bars
Most traditional curl bars are shorter than Olympic barbells, meaning most people will have to load the bar from the floor and then pick it up to use in your workout. In recent years, however, manufacturers have designed rackable curl bars, with a barbell shaft long enough to fit on a squat rack.
A rackable curl bar makes it easier to load and unload a curl bar, and you don't have to deadlift the bar each time you use it. However, a rackable bar tends to be more expensive than a short curl bar. If you don't have a squat stand or power rack in your garage gym, I would recommend getting the short bar.
FAQs
What type of curl bar is best?
Is an EZ bar better for curls?
An EZ curl bar has a zig-zag bend in the center of the shaft, shaped like a wavy "M". Gripping an EZ bar will put your wrists and forearms in a more neutral position, causing less stress and torque on the wrists than on a traditional Olympic barbell. 
Are curl bars good for bicep curls?
Curl bars are great for biceps curls; the neutral grip allows for less stress on the wrists, and a more natural position for curls. However, a curl bar can also be used for the triceps, such as when doing a triceps extension behind the head.
Furthermore, a curl bar is great for bilateral training, where both sides of the body move in unison. For unilateral training, it's best to use dumbbells for curls.