We test and review fitness products based on an independent, multi-point methodology. If you use our links to purchase something, we may earn a commission. Read our disclosures.
When building a home gym on a budget, determining what equipment to buy and where to put things can be difficult. So, to give you some inspiration, here are the 10 best budget home gym setups we've encountered.
Two of the biggest buzzwords among those that work out at home are "budget" and "home gym." The reason is large that everyone wants a gym at home, but also wants to spend as little money as possible (especially when starting out.)
Building a home gym with some of the best budget home gym equipment has become easier than ever. For one, there are a ton of companies making budget-level home gym equipment that although cheaper than what was available in previous years, is still of decent quality. The second reason it's easier than ever is that there are a ton of reviews available on equipment.
On Garage Gym Reviews alone, we have well over 2,000 reviews and ratings from both us and users that are ever-increasing. Lastly, and this is the basis for this article, is there are many people posting their setups on how to build a home gym on the cheap for inspiration. More inspiration can be found in our guide to the Ultimate $1,000 Budget Home Gym.
1. Small Room Budget Home Gym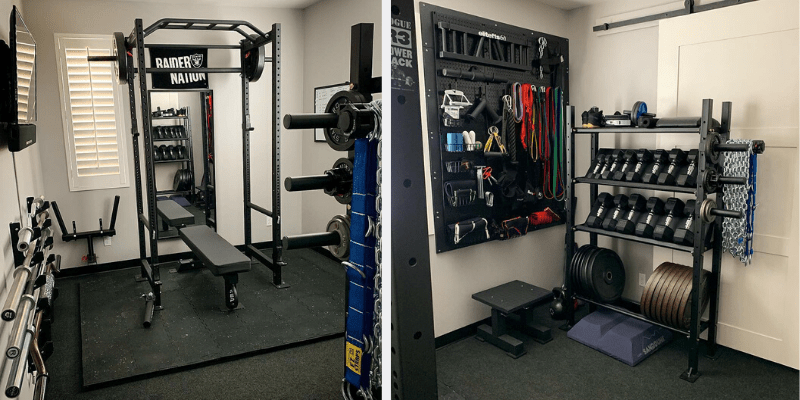 This gym is the ultimate response to the phrase, "buy only what you will use." Rather than buying a massive power rack that takes up an egregious amount of space, this gym uses a Rogue R-3 Power Rack as the centerpiece.
Budget Power Rack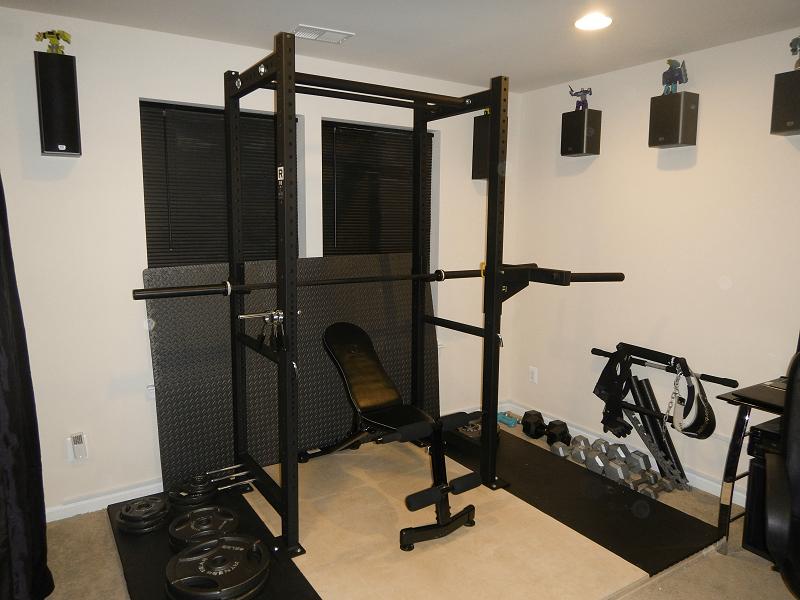 Rogue R-3 Power Rack
Part of the Rogue Infinity R-Series, our original R-3 Power Rack features 2x3" 11 Steel Gauge uprights (90 3/8" tall) with 5/8" holes in the Westside pattern—1" through the bench
The R-3 is based on a design from Westside Barbell with fully welded panels, 1" hole spacing through the bench area, and a thick powder coat. This rack is definitely on the top of my list for best power racks I used in my garage gym for nearly 3 years and I still have it.
Although this is made by Rogue, it's one of their best squat racks that are budget-friendly and is great for those short on space due to its short depth.
The squat cage sits on a DIY Weightlifting Platform that is just big enough to allow deadlifts without feeling cramped. Do-it-yourself equipment is a common theme among gyms that are trying to stay on a budget and is something everyone should consider. This one uses rubber puzzle-style mats that should limit the noise from dropping weights and protect their foundation. Be sure to also check out the best training shoes to provide you with the right support.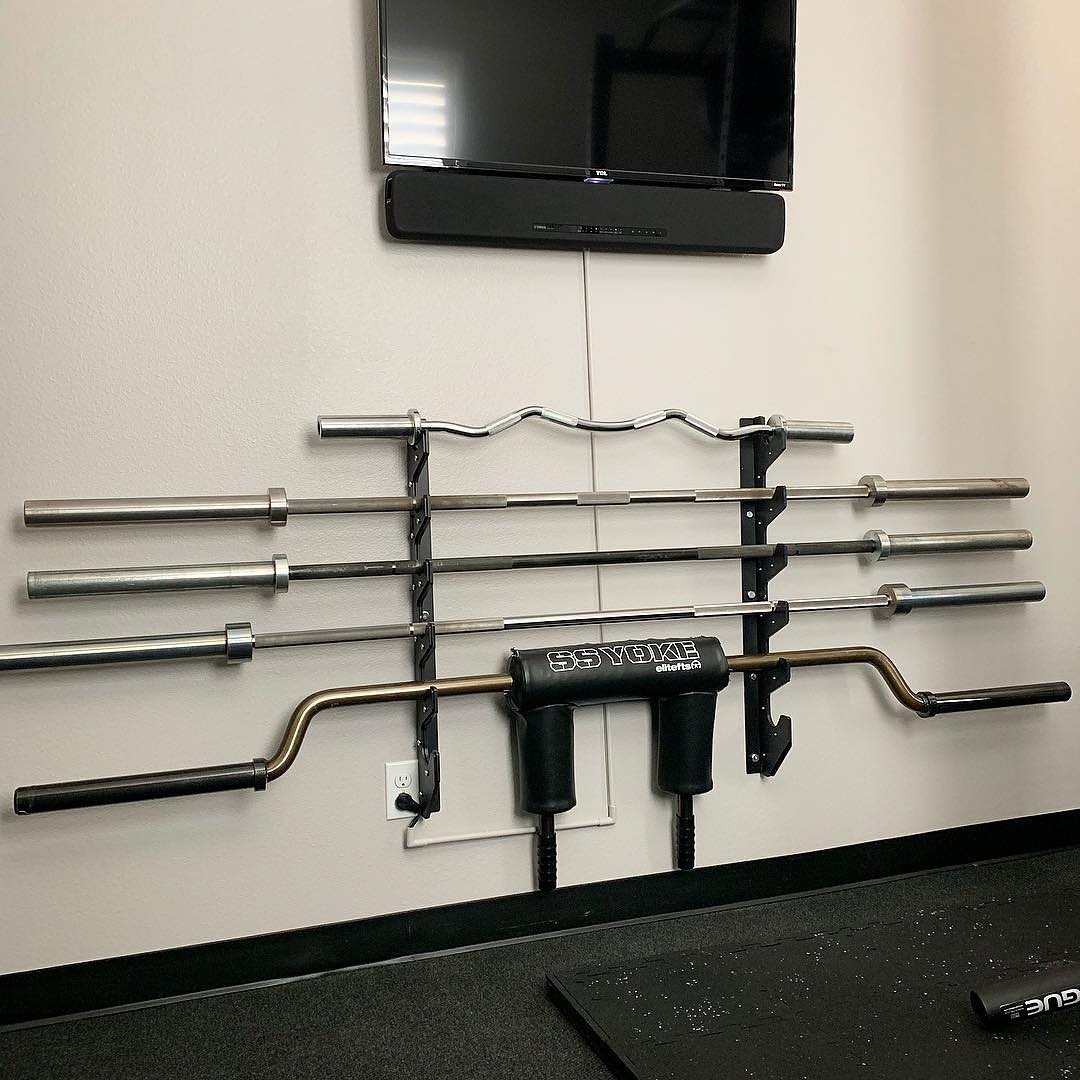 In addition to the squat rack, this gym has a barbell gun rack with a curl bar, Rogue Ohio Power Bar (one of our top picks for the best powerlifting barbell) a Rogue Bar 1.0, a Rogue Boneyard Bar, and the EliteFTS SS Yoke Safety Squat Bar. None of these barbells are what you would consider "cheap," but they are on the lower-end price-wise for quality barbells. The two places we suggest people spend money are barbells and racks and that's exactly what this gym has done.
Read my in-depth Rogue Ohio Power Bar review here.
In between the rack sits a REP FB-5000 Competition Flat Bench. We've written various reviews on the FB-5000 and it is currently our top pick for the best weight benches for most people. Although a great bench, it's still priced well.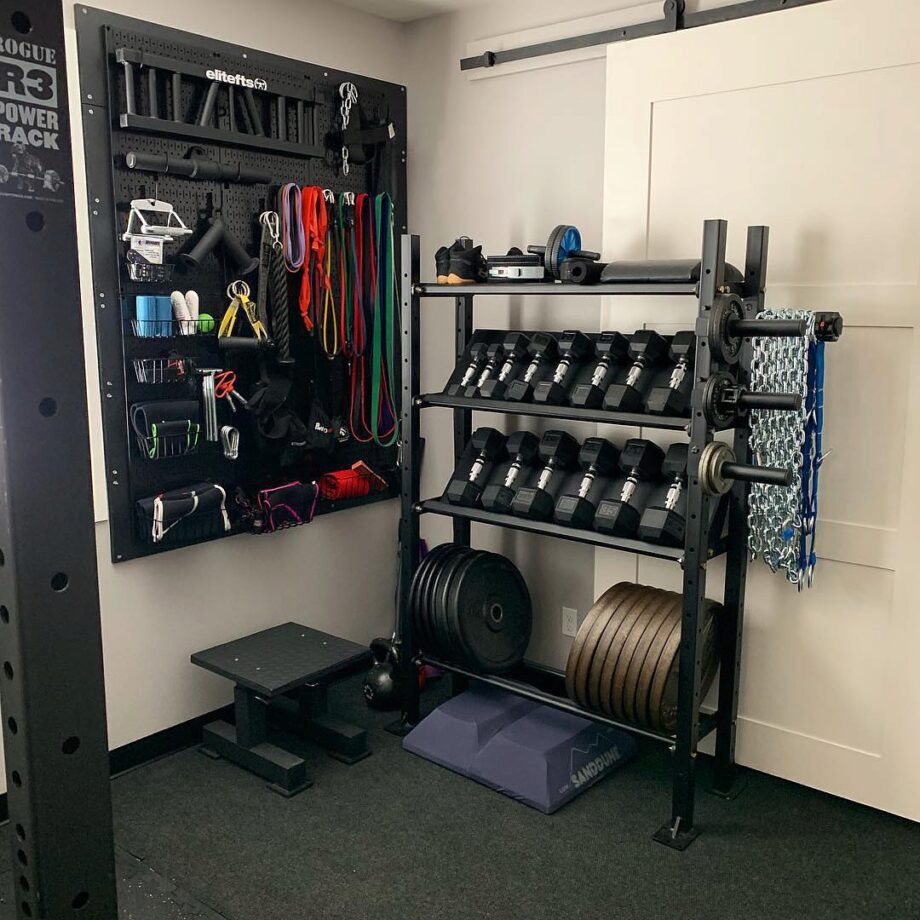 On the other side of the gym sits a Titan Mass Storage Rack. This is the same storage rack I have in my garage gym, but he has the smaller version. There are a few bumper plates and quite a few 45 LB plates that were likely purchased on Craigslist as well as a small number of dumbbells. Lastly, is a Wall Control Pegboard setup that has all sorts of attachments, resistance bands, knee wraps, and the like. These are quite cheap on Amazon for the versatility they provide.
2. College Kid Bedroom Gym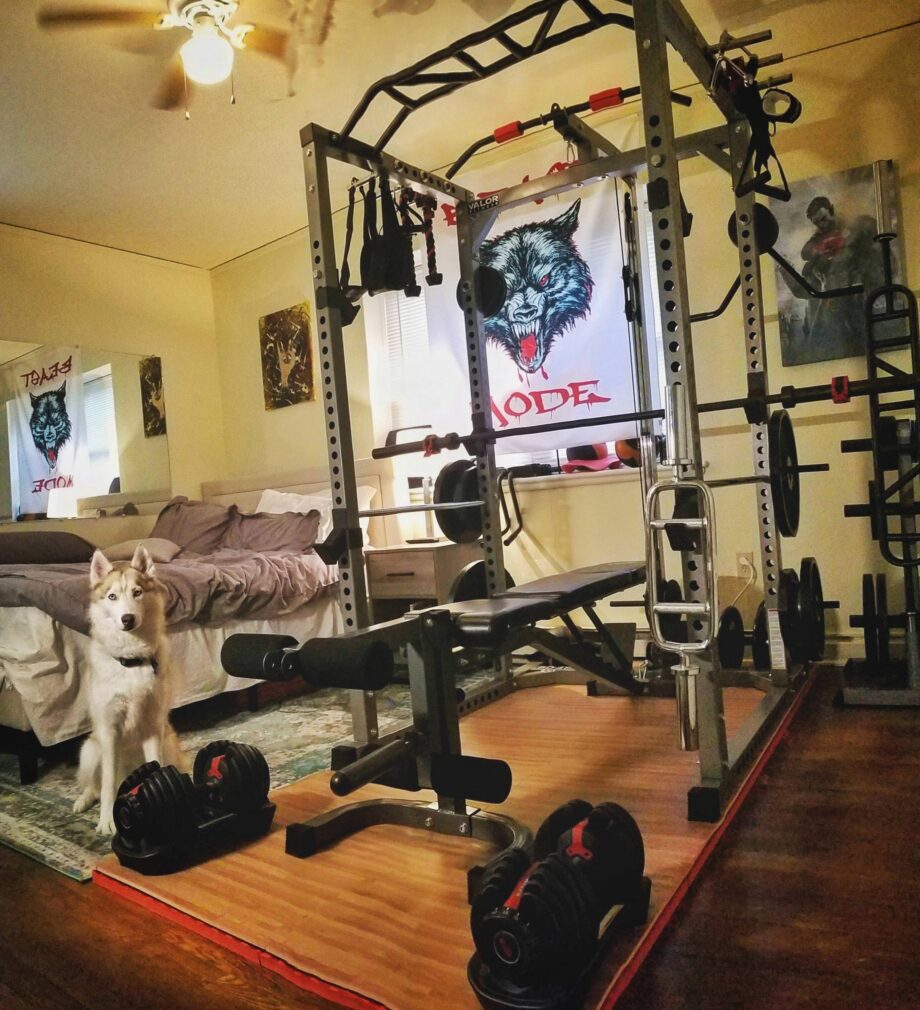 Lack of money is not the biggest reason for not starting a home gym. It's honestly a lack of desire. The reason I say that is because I constantly see people with hardly any money figuring out a way to start working out at home. You don't have to have an insanely tall squat rack or overbuilt barbell, you just need some basic items and look into some of the best home gym equipment to get you started.
This home gym is in a bedroom right next to where the guy sleeps. He didn't have a ton of space or money, so he made do with what he had.
Amazon Power Rack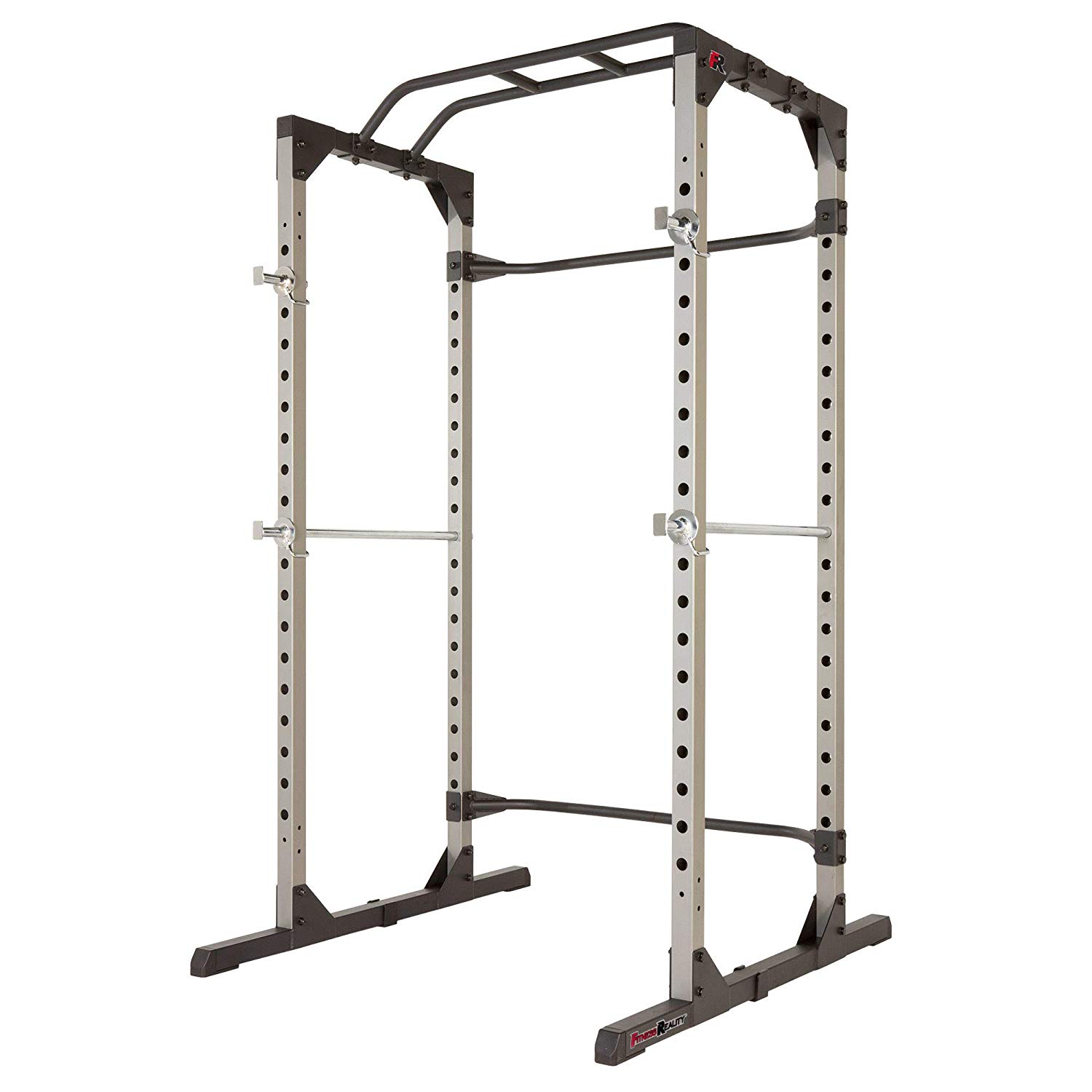 Fitness Reality 810XLT Super Max Power Cage
NOTE: 800 lbs weight capacity. Large walk in space providing easy side to side movement. New OPTIONAL Attachments for J-Hooks, Dip Bars, Weight Plate Holders and Landmine (Sold Separately) 2" x 2" square steel frame construction. Two 3 1/4" long chrome lock on safety bars. Two 23" long chrome dual mounted safety bars 19 adjustable height levels for the safety bars. Safety bars are Compatible with 7' Olympic bars, User height up to 6'4" Multi-position over head chin up/pull up grip bars. Olympic bar and weight plates not included Can be combined with the Fitness Reality 1000 Super max 800 lb capacity 12-position weight bench. Can be folded for storage New OPTIONAL Attachments for J-Hooks, Dip Bars, Weight Plate Holders and Landmine (Sold Separately)
The centerpiece of the gym is a low-price power rack from Amazon called the Fitness Reality 810XLT Super Max Power Cage. This is a great beginner rack due to its price and features (there are actually quite a few accessories available for it.) On the back of the rack, a lat pulldown attachment was added that increases the price quite a bit, but isn't needed unless you do a lot of bodybuilding-type movements. The multi-grip pull-up bar and spotter pins allow for a lot of versatility in addition to the normal functions of a power cage.
RELATED: Building A Budget Home Gym on Amazon
In addition to the rack are a standard Olympic Barbell, a multi-grip bar, and some Olympic plates. It doesn't look like there's a ton of weight, but plates are something that can be added slowly over time as you find them on Craigslist. In the middle of the rack ists an adjustable bench that also includes a preacher curl and leg extension attachment. Although we don't love these types of benches, they work if you want extra versatility, just don't expect them to feel that great or be very stable.
Budget Adjustable Dumbbells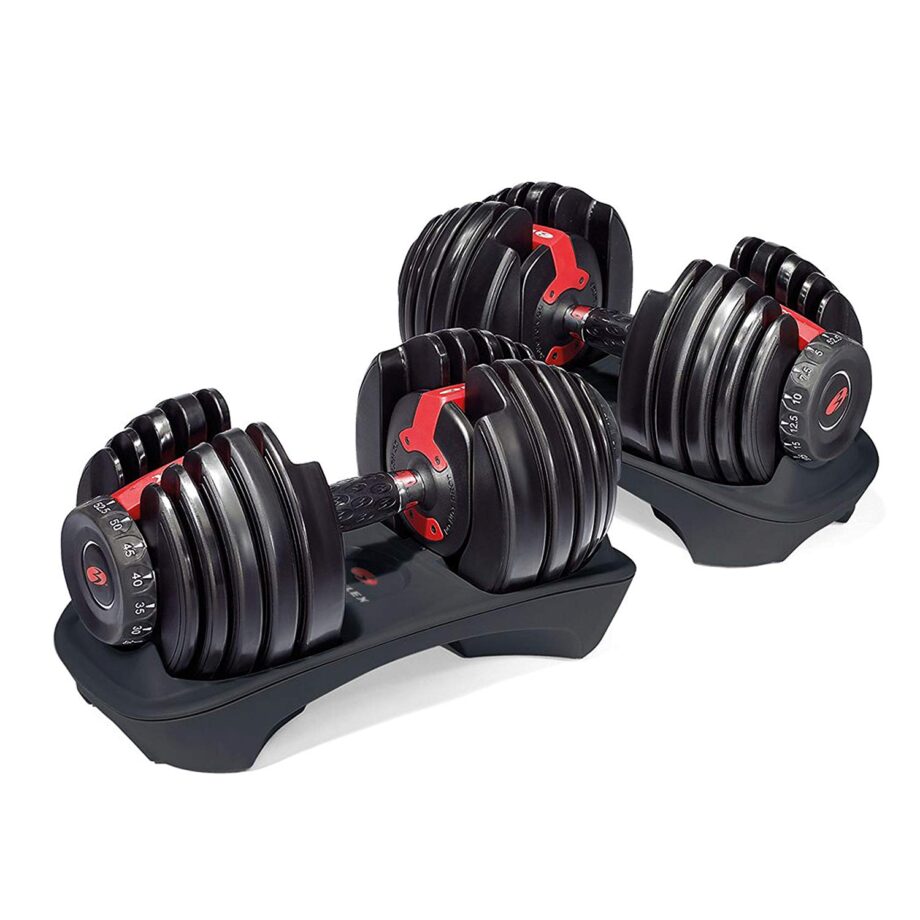 Bowflex SelectTech 552 Adjustable Dumbbells
These adjustable dumbbells replace 15 sets of weights. Weights adjust from 5 to 52.5 lbs in 2.5 lb increments up to the first 25 lbs. Easy-to-use selection dials for adjusting weights. They are sold as a pair. Easily switch from one exercise to next and with the turn of a dial you can change your resistance, enabling you to gradually increase your strength. Versatile workout for your legs, back, chest, abs, shoulders and arms. Compatible with the free Bowflex SelectTech® training App for iOS and Android.No more picking up 30 different dumbbells to give you the results you want! Say goodbye to 15 sets of dumbbells cluttering your workout space. With weight that adjusts from 5 to 52.5 lbs., you'll continue to see results as your fitness level improves. Durable molding around metal plates provides for a smooth lift-off and quieter workouts...no clanging metal plates! With the wider weight range you can do heavy exercises such as shrugs and lunges as well as lighter exercises such as curls and raises.
The other standout piece of equipment that likely gets quite a bit of use is the Bowflex SelectTech 552 Adjustable Dumbbells. These are probably the best value adjustable dumbbells on the market, although we prefer Powerblocks. Check out my in-depth Bowflex SelectTech 552 Adjustable Dumbbells review here! The rack and the rest of the equipment all sit on a DIY Weightlifting Platform that appears to have some cushion on the bottom for sound suppression. I would estimate this entire setup could be had for under $1,500, maybe even $1,000 if bought on sales or on Craigslist.
3. Murphy Bed DIY Apartment Gym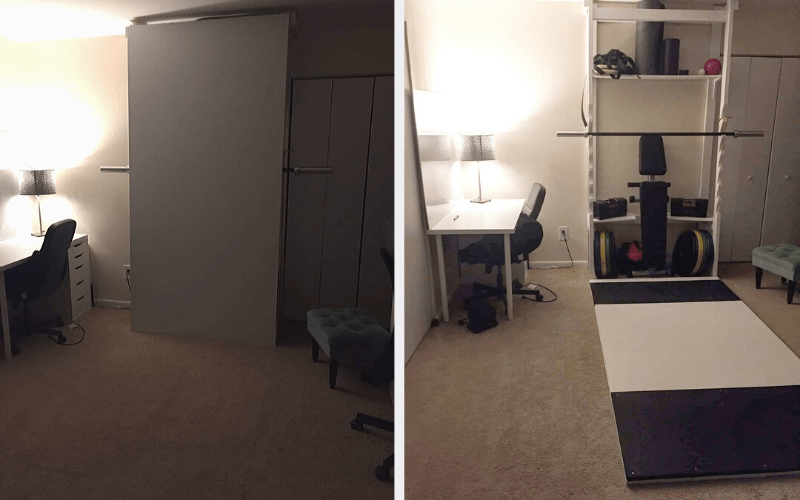 Now this one is definitely a bit off the wall, but when you don't have a ton of space, you do what you can. This is the first time I've ever seen something like this, and to be honest, it's pretty genius. As you'll see, in place of a bed, Ryan, who posted in our Garage Gym Community Facebook Group, placed a deadlift platform outfitted with rubber stall mats that can be folded up to hide his entire gym. Once laid out, the pieces that were hidden are a barbell that sits on built-in notches that simulate a squat rack (we wouldn't recommend lifting very heavy on this, however) and some shelves for various pieces of equipment. These include some of the best bumper plates as well as a budget-friendly adjustable bench, some gymnastics rings, and Powerblocks Adjustable Dumbbells. This is how you get creative without spending a ton of money or having a lot of space.
4. Minimalist Garage Gym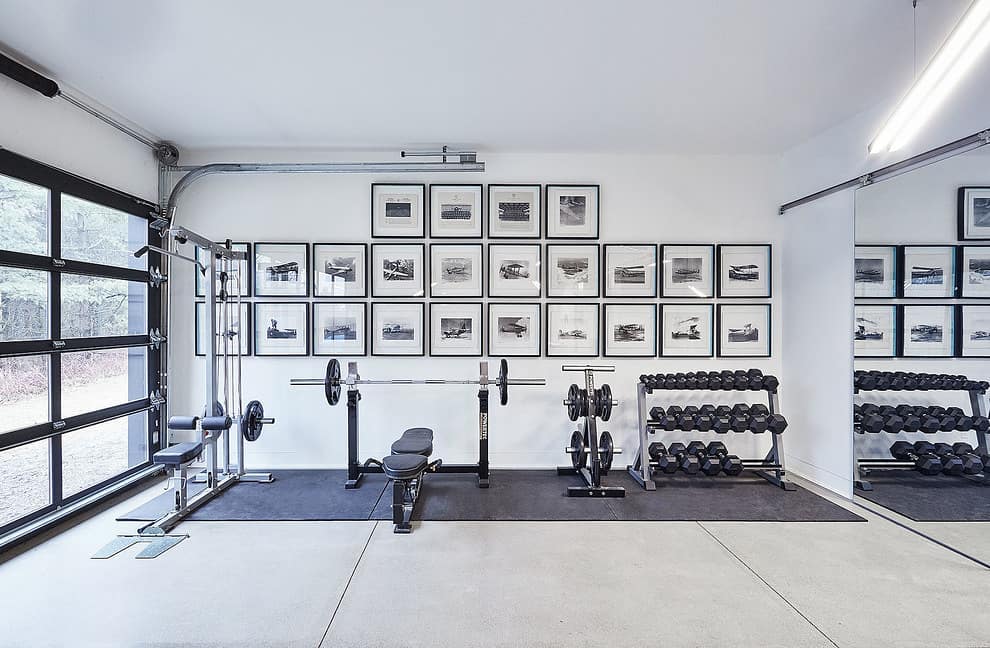 This is an extremely clean and well-lit garage gym (large thanks to the glass panel garage door.) I think the perfect descriptor for this space is that it's minimalist. There are very few pieces of equipment cluttering the area and a ton of working room. For more assistance in building and extending this gym, check out our Ultimate Home Gym Guide (for any budget)to learn more.
Best Cheap Lat Pulldown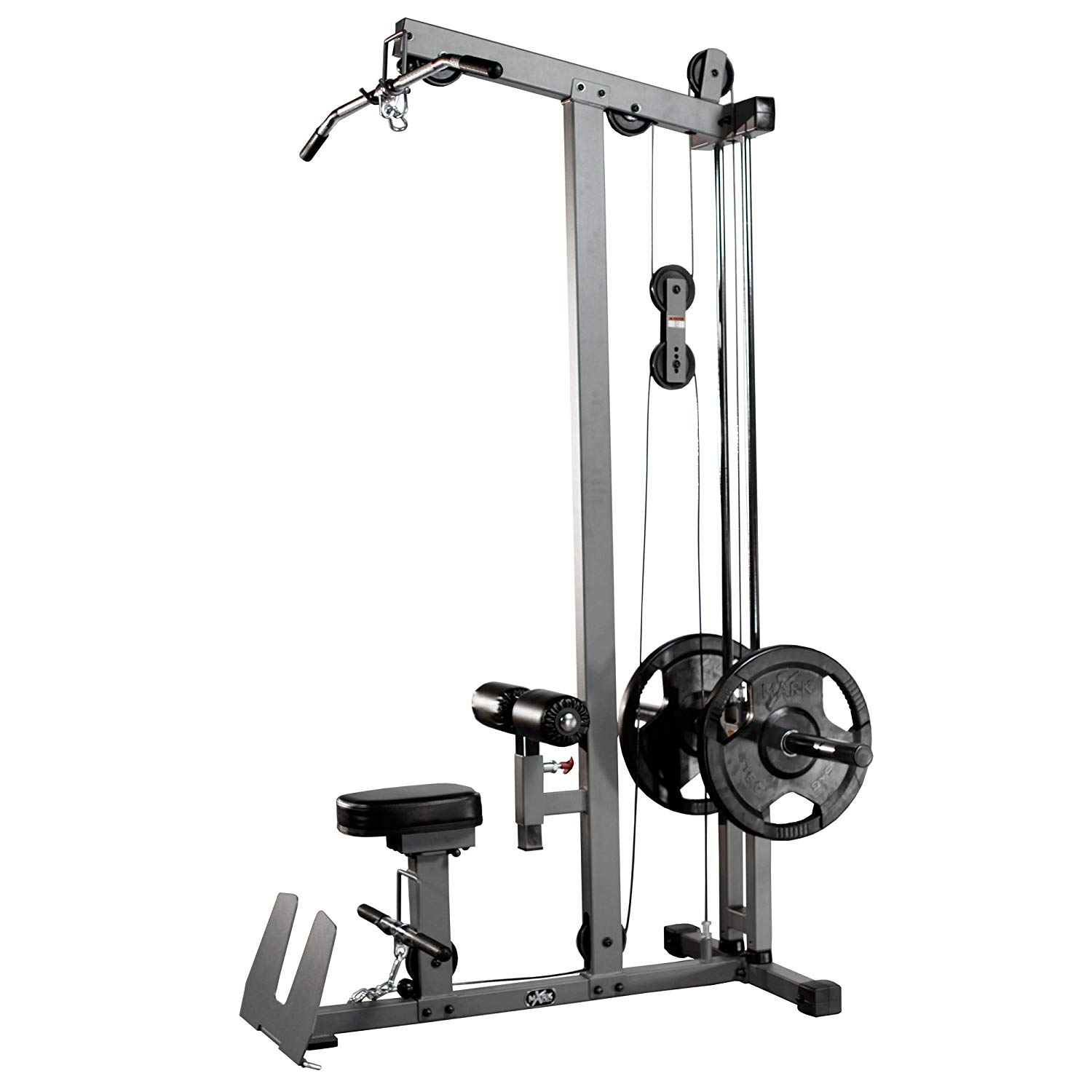 XMark Heavy Duty Lat Pulldown and Low Row Cable Machine
The XMark Lat Pull-down and Low Row Cable Machine XM-7618 targets the upper back, shoulders and arms. The XMark XM-7618 is uses 11-gauge 2" x 3" steel, nylon coated aircraft quality cables, extra-thick 3" Dura craft cushion, a flip-up footplate for use with the low row bar and two 14" chrome Olympic sleeve adaptors. Also included is tear resistant Dura guard vinyl, skid-resistant feet and a baked powder coat finish. Included are bars for lat pull downs, low rows, bicep curls, tricep presses and shrugs. Optional machine attachments and bars are available from XMark. Features: • Chrome plated lat pull-down bar and low row bar • Nylon coated, aircraft quality (2200 lb. test) cables • Heavy duty 11-gauge 2" x 3" construction • High and low pulley stations • For use with Olympic or standard weight plates • Chrome plated Olympic adapter sleeves included • Extra-thick 3" Dura craft cushion • Tear resistant Dura guard vinyl • Oversized 4.33" vinyl covered thigh pads with chrome end caps • Textured rubber hand grips • Flip-up diamond foot plate • Baked powder coat finish • Bolted on, skid resistant feet • 400 lb. maximum load capacity • Dimensions: 56.7"L x 48"W x 82.7"H
There are really 4 main pieces of equipment. On the left is a lat pulldown made by XMark Fitness called the XMark Heavy Duty Lat Pulldown. For the price, it's probably one of the best-value plate-loaded lat pulldowns due to how smoothly it operates for the price.
Next to that is a bench press called the Powertec WB-OB16 Olympic Bench. This is a surprising piece of equipment to be featured in this gym because it's really not designed to be used as a squat rack. That said, this may just be a home gym that's used when the owner can't get to their commercial gym. Then to the right of that is a plate tree with iron plates and a dumbbell rack with rubber hex-head dumbbells.
What really makes this gym appealing in my eyes is the awesome photography along the back wall and the massive mirror contrasting the garage door. Although I prefer more equipment, this is enough to get the job done for most.
Here are my recommendations for The 10 Most Important Budget Home Gym Tips to help you.
5. Ultimate Budget Powerlifting Home Gym Setup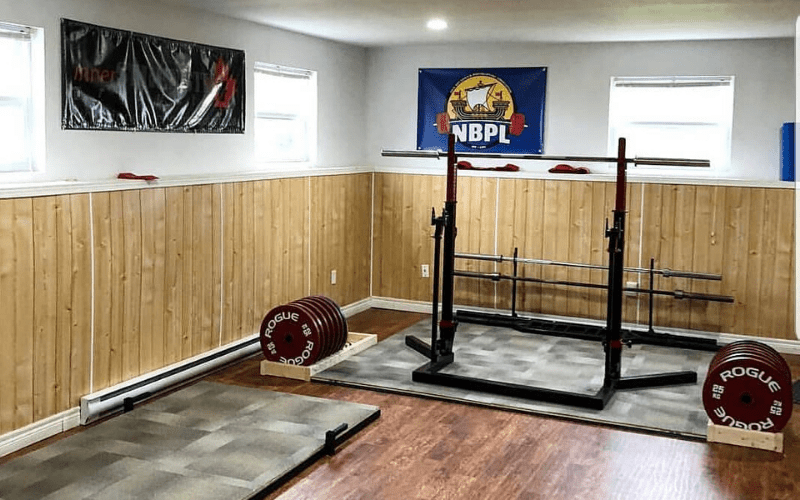 This basement gym has everything you need to squat, bench press, and deadlift without anything extra. Literally, there are plates, a combo rack (designed for squatting and benching out of,) a deadlift platform with band pegs, a couple of barbells, and some plates. That's it.
The centerpiece and most expensive part of this gym is the combo rack. A combo rack is called such because it can be used for both squatting and benching. It's what is most often used in Powerlifting Meets and is great to use because it's easy to change heights while the bar is still loaded. I don't love this combo rack because there are no spotter arms which is dangerous when training alone, but it appears to possibly be homemade.
Legendary Power Bar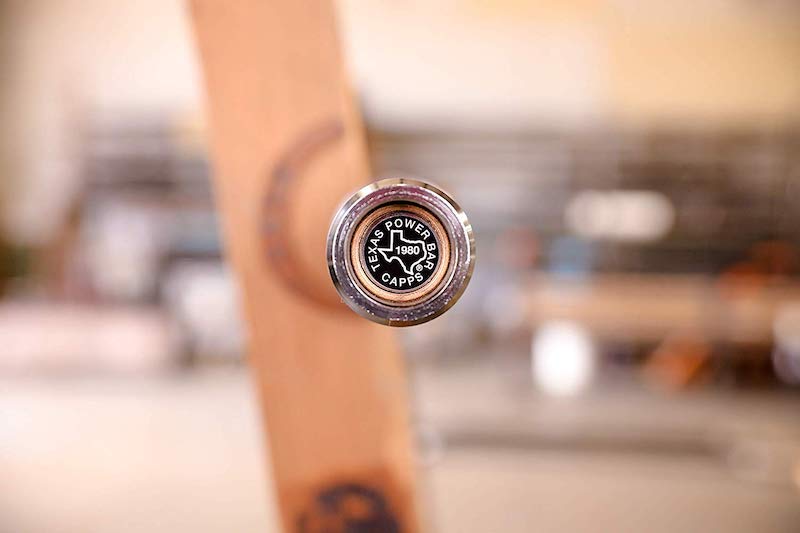 The most expensive piece(s) of equipment in the gym is the Rogue Calibrated Powerlifting Bar. There are quite a few 25KG plates that are the heaviest and therefore the most expensive, but if you want to practice as you play, these are your best bet. I'm not sure what all of the barbells are, except I know one of them is a Texas Power Bar from Buddy Capps which is one of the most legendary power bars ever created.
Read our comparison between the Rogue Ohio Power Bar vs the Texas Power Bar.
Read my full Rogue Calibrated Powerlifting Plates review.
Although there are some expensive items in this gym, there are only a few pieces so we would still categorize this as a great budget-friendly setup for a competitive powerlifter.
6. Shipping Container Gym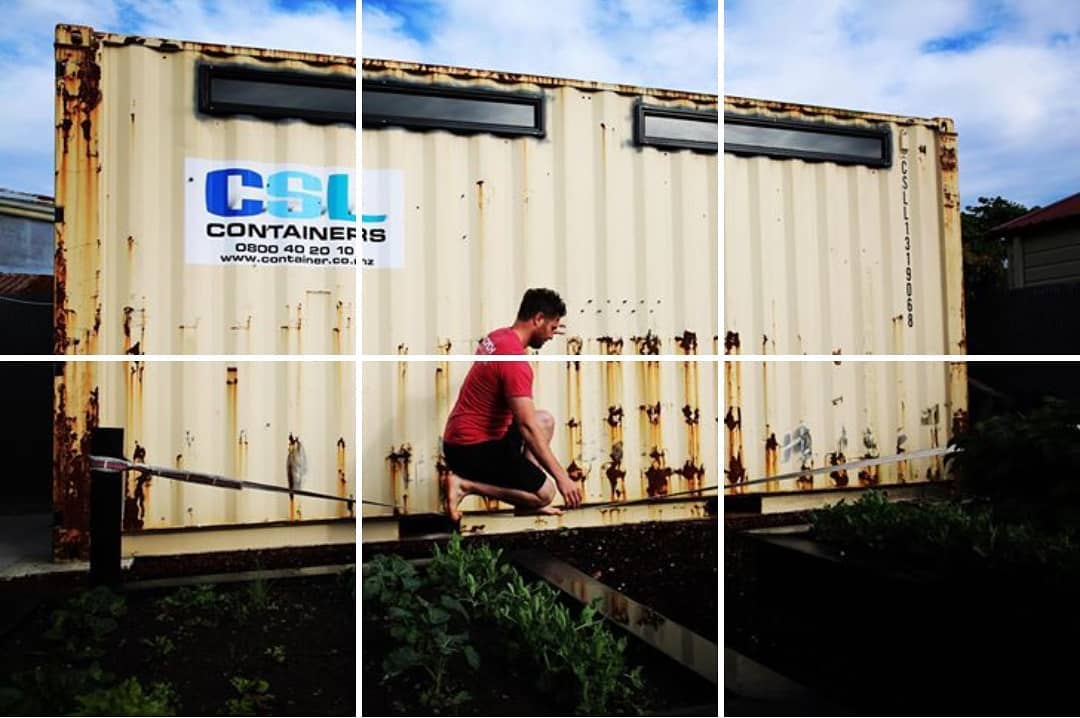 Not everyone has space in their home for a gym. Some decide to build theirs outdoors while others decide to buy a shipping container, drop it in their backyard, and build it up into a compact, low-price, DIY setup. This is just that scenario.
Here is my step-by-step guide to Building A Budget Home Gym from Titan Fitness.
The main piece of equipment in this gym is a Titan T-3 Squat Stand. This squat stand is modeled after the Rogue S-2 Squat Stand and is a compact, free-standing rack with a built-in pull-up bar. This type of rack is actually the first squat rack I ever had and it gave me many years worth of serviceable performance.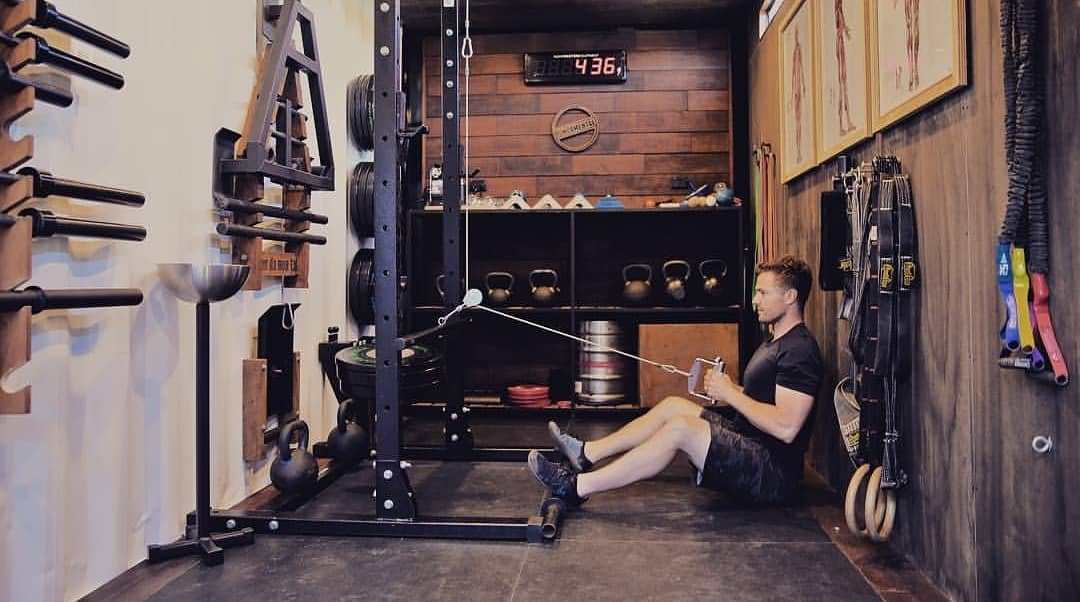 The most impressive part of the gym, and I'll think you'd agree is all of the DIY Storage areas. In the back of the gym is a standard bookshelf type of storage, but along the walls are both barbell and sled storage that gets heavy, large pieces of equipment off the floor and onto the walls. This includes kettlebells and weight plates as well. He even is using a cable pulley system for low rows to target his back muscles in the picture, showing just how versatile a shipping container gym can be.
7. Rooftop Home Gym with Turf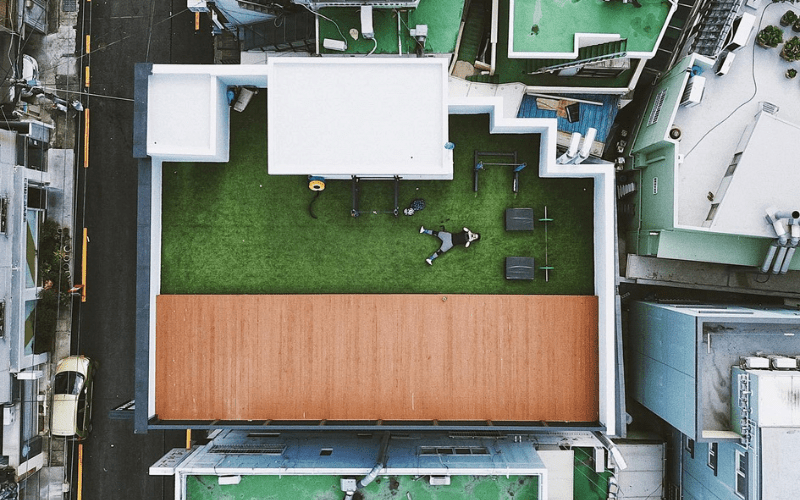 This is about as unique of a gym as we've ever posted. One, it's on a roof in China. Two, the entire thing is covered in repurposed football field turf. Three, you can see the entire layout thanks to a drone shot overhead. I love it.
Folding Squat Rack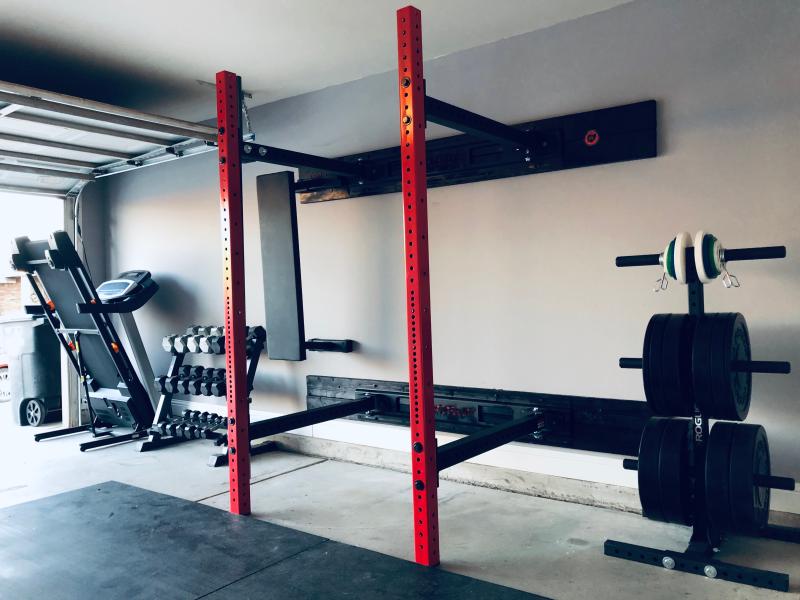 Rogue RML-3WC Fold Back Wall Mount Rack
The Rogue Custom Color Fold Back Rack includes all the features of our original retractable Monster Lite RML-3W Power Rack, with the added ability to select your own color finish for the unit's 90.375" uprights.The central design challenge with the Fold Back Rack was to come up with a wall-mount unit that could be folded inward or outward for optimal space efficiency, yet still offer the sturdiness of our standard Monster Lite power racks. To achieve this, our engineering team developed a unique hinge-and-pin system that is both easy to install and rock solid. In use as a squat stand, pull up rig, or power rack, the feel is miles beyond lighter fold-back setups that use thinner steel.The RML-3WC Fold-Back Rack is manufactured in Columbus, Ohio, and includes two laser-cut, 3x3" 11 gauge steel uprights, with Westside hole spacing through the bench/pull area and 2"-on-center spacing above and below. All steel is powder coated in the Rogue factory for a durable finish, with 11 custom color options to choose from.Stringers Included StandardFor optimal support, we're including a pair of stringers with any Custom Color Fold Back Rack order. Made from laser-cut and formed 3x3" 11 gauge steel, these stringers measure 59" long x 10.125" tall, and extend 0.8125" off the mounting surface when installed. One stringer is used to mount the top hinge brackets and the other for the bottom hinge brackets.
Although I wouldn't suggest to most to cover your entire gym in turf, it's probably the best option for this outdoor gym. The equipment that's featured here is pretty simple. A fold-away Rogue RML-3WC in a matching Bright Blue colorway as well as some barbells, plates, and crash pads for dropping weight. Be sure to also check out the pros/cons of the Rogue RML-3WC.
There's a whole lot of fitness that could be accomplished here, outside, on top of a roof.
8. Olympic Weightlifting Shed Gym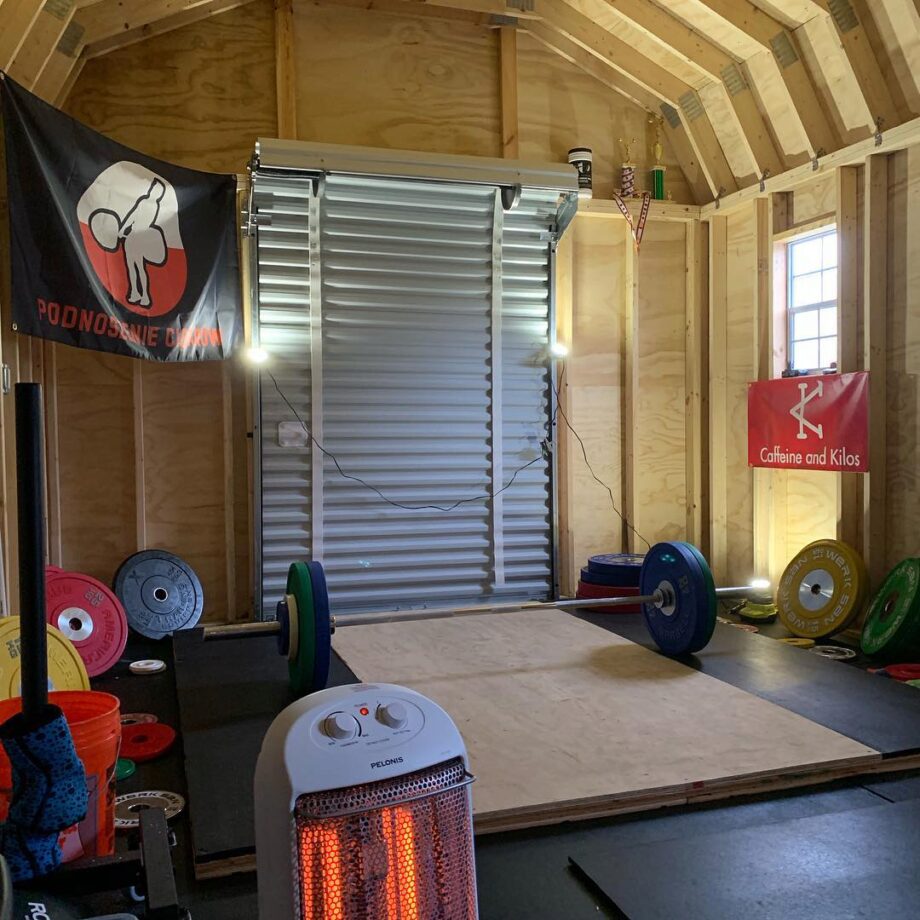 Olympic Weightlifting only requires a set of bumper plates, an Olympic barbell, maybe some barbell collars, and a platform. Sure, a squat rack would be helpful for accessory movements, but even it isn't needed. This makes this sort of training absolutely perfect for a barebones budget home gym, or in this case, a shed gym.
This gym is built inside of a standard shed that includes a roll-up garage door, horse stall mats, and a concrete foundation. Although it likely gets pretty cold in the winter, most of the year this would be an absolute dream to train in.
Basic Squat Stand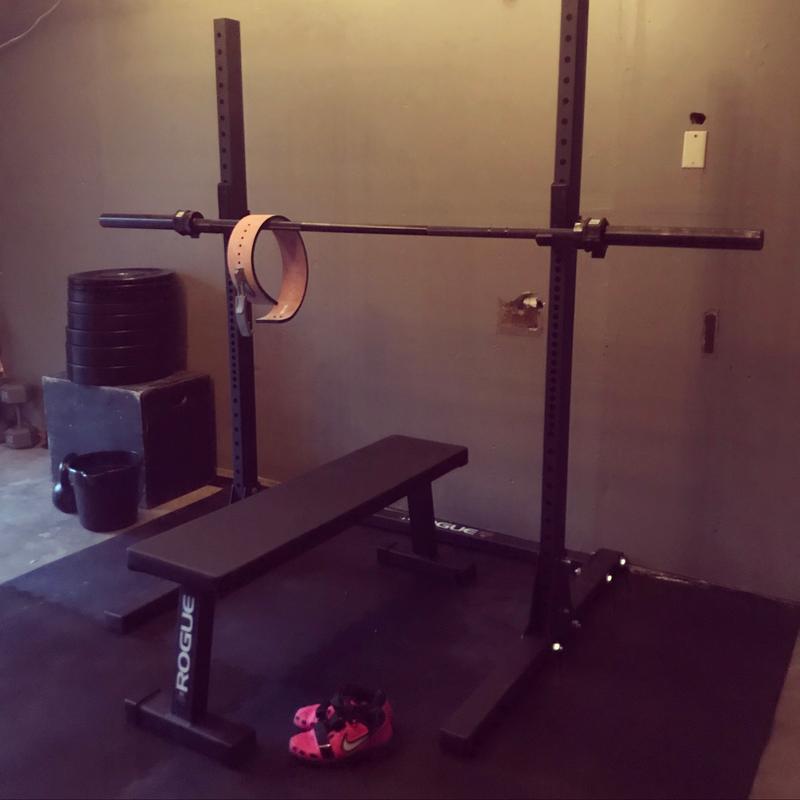 Rogue S-1 Squat Stand 2.0
Standing 72" high with a 48" x 48" footprint, the American-made S-1 Squat Stand is a space-efficient unit that gives up nothing in quality. As with the entire Rogue S-Series, we've designed the S-1 for both durability and ease-of-use, starting with 2x3" 11-Gauge steel uprights, Westside hole spacing, and J-cups with protective UHMW plastic liners. Tested at a weight capacity topping 1,000LB, the latest model of the S-1 also includes an updated base that replaces the formed socket with the same bolted triangle plates used on our Monster Lite squat stands, improving the overall stability of the unit.Because it's the smallest and most practical of the S Series squat stands, the S-1 does not have pull-up bar holes. Its unique versatility, however, still makes it an all-in-one work station for squats, bench, clean pulls, floor press, overhead press, and much more. The S-1 is also compatible with a wide range of 2x3" accessories, including the Safety Spotter Arms, and Rogue Landmines.
The equipment that fills this gym is a DIY Weightlifting Platform (pretty common among cheap home gyms,) a Rogue EU Weightlifting Barbell, a Rogue S-1 Squat Stand, and some American Barbell Urethane Bumper Plates for the best bumper plates.
All of this equipment is top of the line, but because there are so few pieces, it makes an awesome setup within reach for most people trying to lift at home and build a great home gym setup.
9. Second-Hand Backyard CrossFit Gym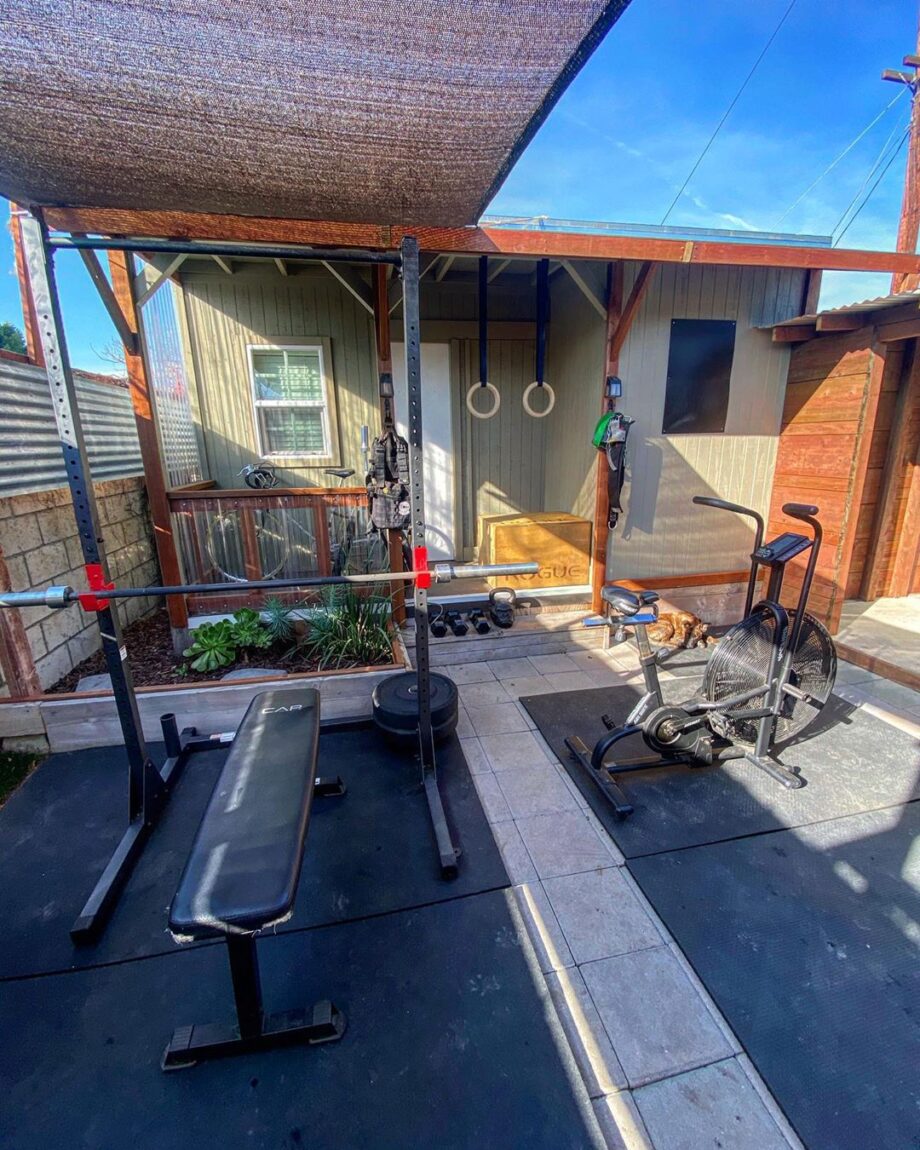 Depending on your climate, abackyard gym would be the absolutely ideal setup. This gym features a lot of used or low-cost gym equipment to create a mini CrossFit Box in his backyard.
CrossFit Air Bike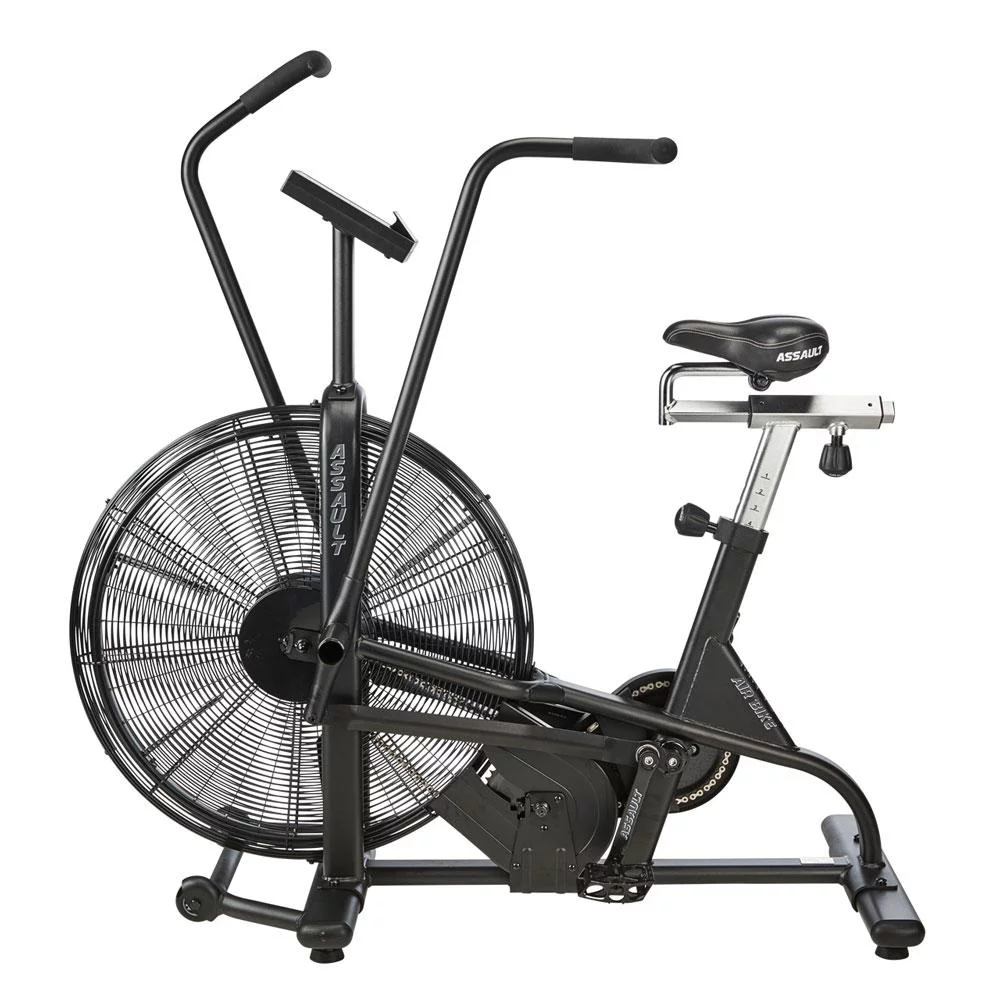 Both the squat stand and bench are made by CAP Barbell. The squat stand is called the CAP FM-905Q Squat Stand and at under $200 most of the time is one of the cheapest squat racks available. It has plate posts on the back to increase stability and a pull-up bar to do kipping pull-ups and muscle-ups like I'm sure this guy does.
In addition to the rack setup, this gym has an Assault Bike that is one of the top and best air bikes among CrossFit Games Athletes as well as a plyo box from Rogue and some gymnastics rings. Although this is a pretty basic CrossFit Setup, there are a ton of different methods that can be accomplished with this equipment.
RELATED: Best exercise bikes
10. Basic Bodyweight Calisthenics Home Gym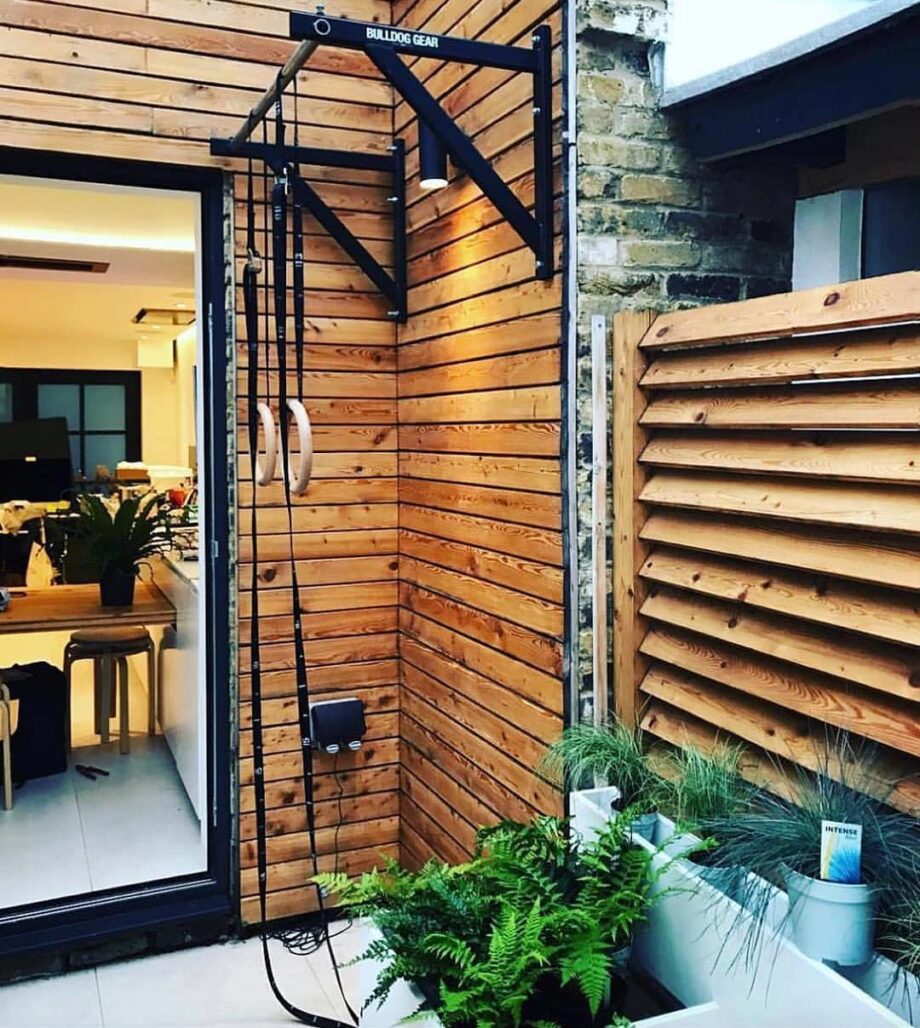 Not everyone trains with a barbell and plates. Some like to focus on bodyweight movements like pull-ups, levers, pistol squats, and gymnastics ring movements. For that kind of training, this setup is great.
The pull-up bar is there for static movements and the gymnastics rings are available for more dynamic, instability-type movements. If you don't have a lot of space or money but still want to be able to do some training at home, this type of setup can be both cheap and effective.
Best Budget Home Gym Setups FAQs
Is it cheaper to build a gym at home?
A home gym is also far less expensive in the long run than a gym subscription. We'll delve into more specifics in the following section, but the majority of home gyms could end up being less expensive for their owner in less than three years when compared to the cost of a commercial gym membership.
Is a home gym worth it?
A home gym can not only be as successful as a commercial gym in keeping you fit, but it can even be more effective. Faster workouts, convenience, and the desire to use something you've spent so much money on can all motivate you to exercise more frequently.
How much does it cost to setup a gym at home?
A home gym can cost as much or as budget-friendly as you make it, with the normal price range being anywhere between $300 and $15,000. The average is roughly $2,000.00.
What is the best basic equipment to get for my home gym?
At the bare minimum, we'd recommend a pair of adjustable dumbbells, a barbell, weight plates, and a squat rack.