We test and review fitness products based on an independent, multi-point methodology. If you use our links to purchase something, we may earn a commission. Read our disclosures.
American Barbell is by and large making some of the best training equipment available, and the Urethane Pro Series Bumper Plates are no exception. Utilizing urethane instead of the traditional rubber creates an ultra-durable, low bounce plate, with vibrant colors. These are the best competition bumper plates we've had the opportunity to review to date.
American Barbell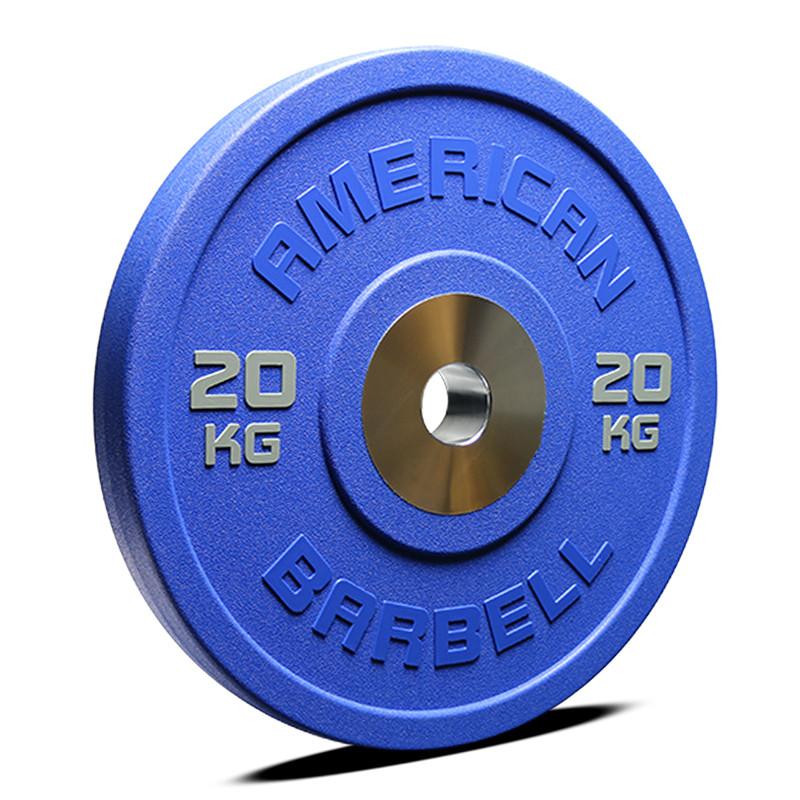 American Barbell KG Urethane Pro Series Plates
American Barbell is the first company to manufacture a urethane bumper plate. These bumpers are exceptionally durable and have a very low bounce. We use German urethane to ensure the highest quality and bright, vibrant color.Custom markings & logos are color molded into the color bumper plates, which creates an excellent look and promotes a long lasting performance.The 140MM hard chrome hub is a solid one-piece construction and has a chamfer for easy bar loading and reduced bar sleeve wear.Diameter: 450MMPlate Thickness:10KG: 40MM (1.57")15KG: 46MM (1.81")20KG: 53MM (2.08")25KG: 58MM (2.28")
Unboxing
The American Barbell Urethane Bumper Plates showed up on my doorstep rather quickly. I'd been anticipating receiving these plates for sometime as I'd been doing research for a bumper plate guide and stumbled upon urethane and its many uses.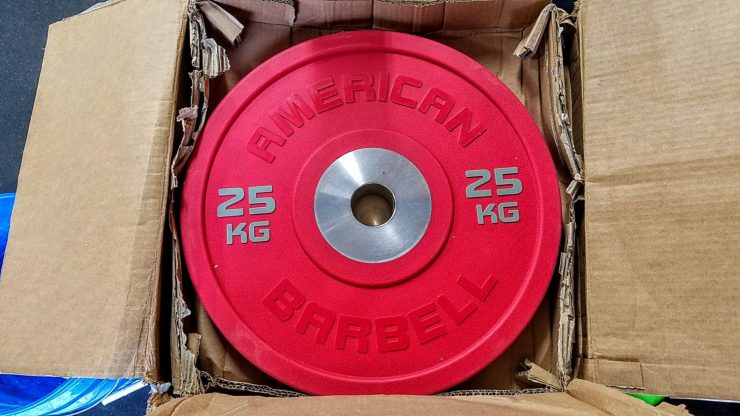 Pictures seriously do not do these justice. Not only are they incredibly durable, which I'll get into more on that later, their colors are the most vibrant I've seen. Nothing I've used compares to the look of these plates.
Video Review
American Barbell Urethane Bumper Plates Review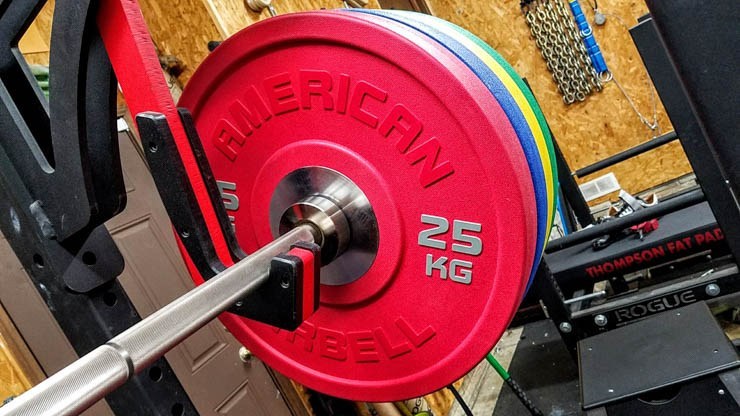 American Barbell is producing some outstanding equipment. We've reviewed a couple of their barbells in the past, and although they don't get as much recognition as some other offerings on the market, they're every bit as good.
In addition to barbells, American Barbell has just about every piece of equipment you'd want, including Bumper Plates.
I've had the opportunity to use many different bumper plates, but this is the first set of urethane plates I've ever come across. As illustrated above, urethane is much different from the rubber that is traditionally used by nearly every other bumper plate available.
But, before I get into the performance of the units, let me first discuss the superficial details.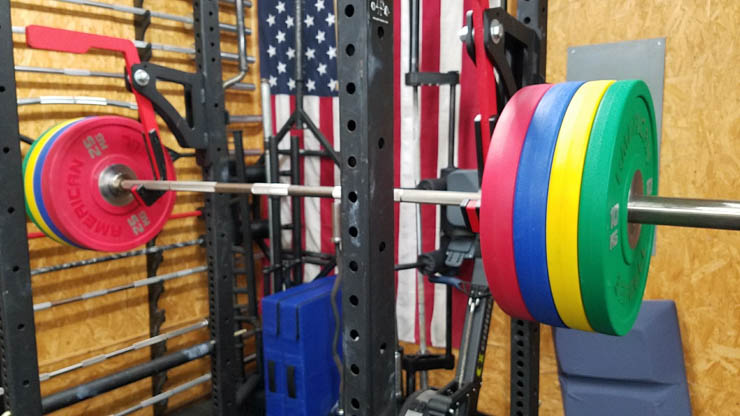 First off, these are the brightest bumper plates I've ever seen. In pictures, it's obvious that the color is more vibrant, but they're nothing like what you see in person. The first time I opened the box of the 25 kg plates I was blown away.
For most people, the brighter colors are a cool feature. They're something that stands out in the gym, while still being within the standard colors for each stated weight. However, if you're someone who wants every plate in your gym to match, and you already have quite a few bumper plates, understand that these won't easily blend in. But, for me, I like things that stand out.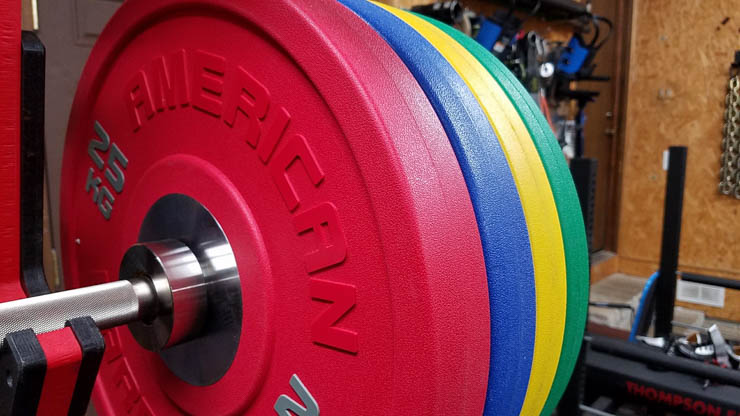 All of the colors, despite being bright, resist scuffing pretty well… except for the 15 kg yellow plates. For some reason, I'm guessing due to their shade, the yellow get's scuffed very easily, however, due to the hardness of the rubber, they clean up very easily.
As you get closer to the plate, you notice they have a pebble finish. One of the big knocks on urethane plates in the past was how slippery they were. Due to a low coefficient of friction, urethane plates were known to slip out of people's hands, breaking toes, feet, and all sorts of other things. Although the American Barbell Urethane Plates aren't the easiest plates to grip, the pebbled coating is a welcomed feature. There's no doubt that these urethane plates are harder to pick up and hold than standard rubber plates, but it isn't a big enough issue to avoid them because of that.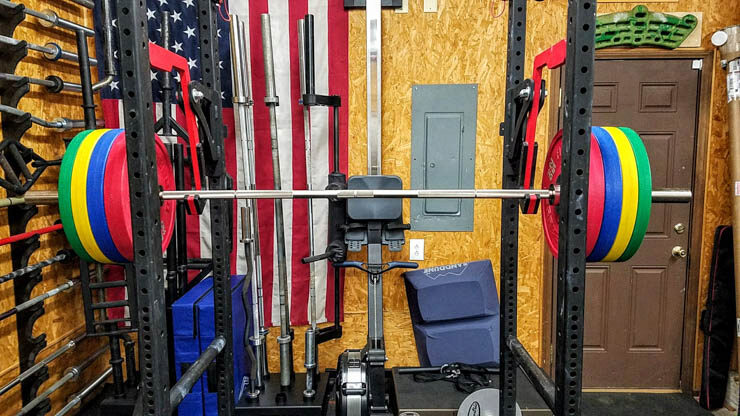 Knowing that urethane is notoriously slippery and at heavier weights may be difficult for people to hold, American Barbell also added a lip to the outside of the plate. Although the lip is definitely needed and helpful when transferring plates from the ground or rack to the bar, it does make it somewhat difficult to pick the plates off the ground when lying flat. This again isn't a big problem, but something to be aware of.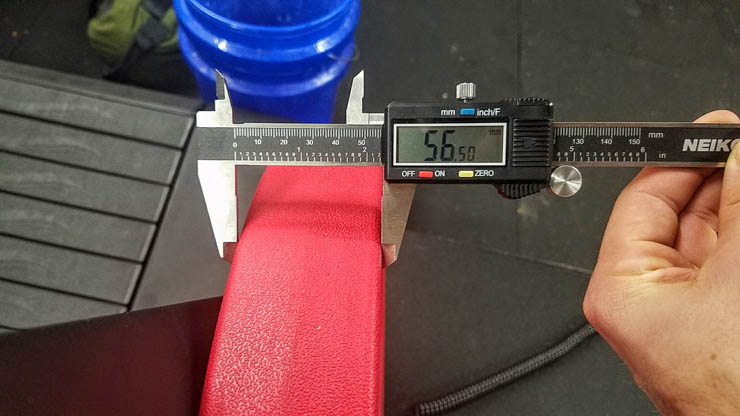 One reason for the difficulty in removing the plates from the ground when lying flat is due to the plates squared off profile. The squared edge helps to keep the plates from flying all over the gym after being dropped and likely has something to do with the way plates have to be manufactured to prevent the urethane from cracking. The square profile has a great look, and is another feature that helps to make the plates stand-out.
The identifying numbers on the face of the plates have a contrasting color that stands out, but not overly so, while the American Barbell logo is the same color as the plate.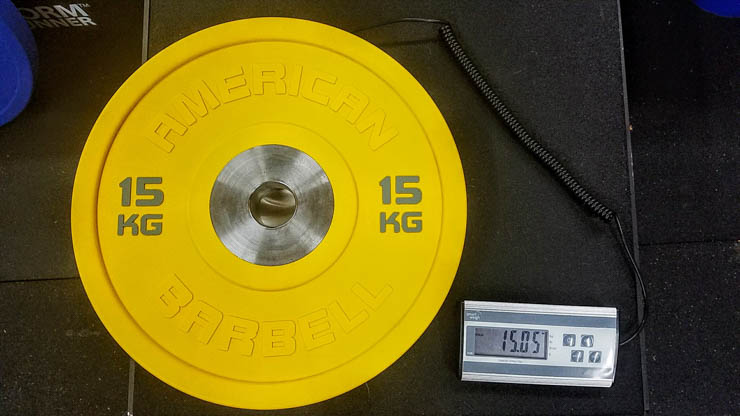 Overall, the American Barbell Urethane Plates are some of the best looking plates on the market. There are a few others that give them a run for their money, such as the unique Klokov Plates, but not many.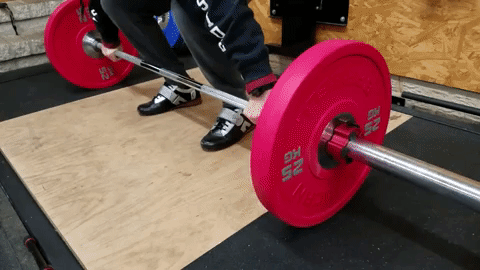 When it comes to performance, there isn't a more durable bumper plate available than these. Most bumper plates are tested to 5,000 drops, including the most well-respectedbumper plates in the world, Eleiko's. American Barbell tests these Urethane plates to 55,000 drops from 8.5 ft and the only change to the plate that was done was some dirt that had to be wiped off after.
American Barbell's urethane actually comes from Germany and in talking with a representative is said to be the most durable material that is currently being used in bumper plates.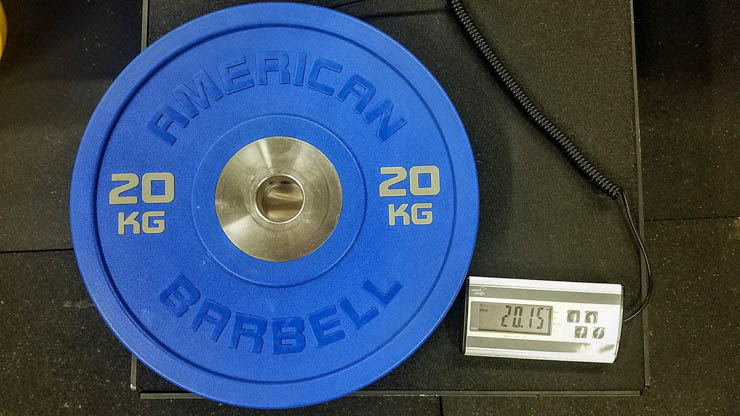 It must be said that a few other companies are selling urethane bumper plates, but American Barbell is the company who holds the patent in China, so, I would assume that many of the bumper plates you see on the market currently are simply rebranded versions of American Barbell's.
Urethane also has a much lower bounce than the rubber used in traditional bumper plates. Rather than bouncing high and flying all over the platform, these plates bounce slightly low and stay low. The only downside of this is that they do make a bit more noise when dropped than traditional bumper plates.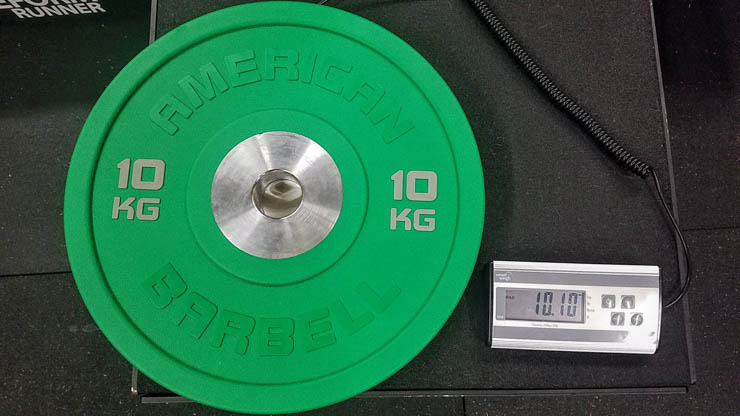 Regarding the accuracy of the plates, they were very close to the stated weight. Using a calibrated postage scale that was tested first on a weight I know is exact, all of the plates were within the stated allotment of weight.
Although plates that are a couple of pounds off isn't a huge deal, when you're spending money on plates that cost this much, they should be pretty close to the stated weight. Thankfully these are.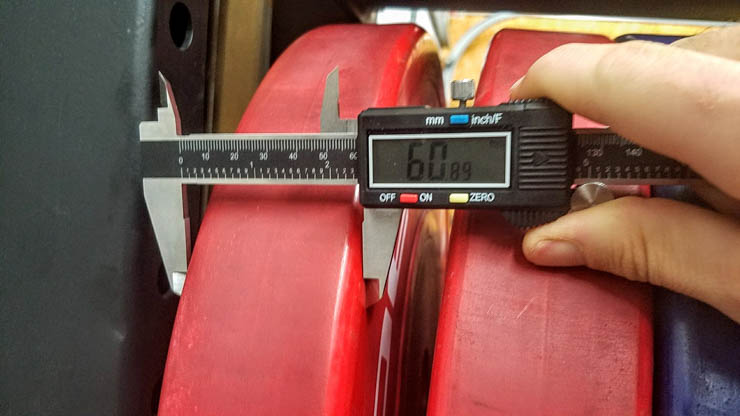 They're also slightly thinner than most competition training plates. I measured them compared to other plates we have on hand including Pendlay Elites and Rogue Competiton Bumpers and I was pleasantly suprised to see the comparison. A thinner plate simply means you can fit more of them on the bar, which matters for those that use bumper plates for deadlifts and squats.
One unique feature on these plates is the fact that the center hub is one piece. This prevents it from separating from the urethane and provides a clean and uniform look.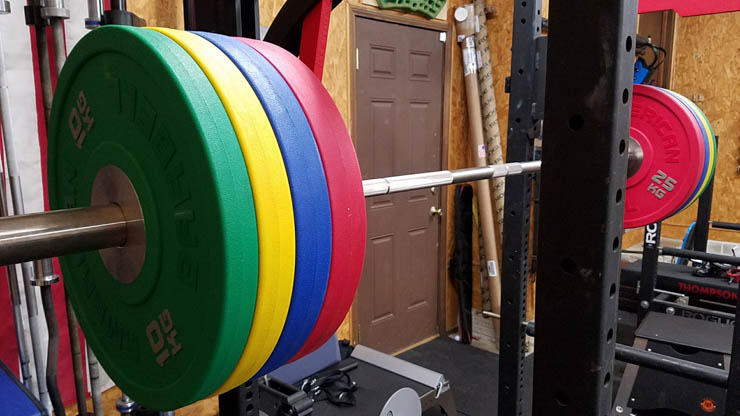 After using the American Barbell Urethane Bumper Plates in various workouts, including the clean and jerk and the snatch, I can confidently recommend them to anyone looking for a competition bumper plate that is made to stand the test of time and look good while doing it.
Suggested Improvements
One of our goals at Garage Gym Reviews is to be unbiased and honest in our reviews. For this reason, we like to provide ways that a product can be improved. Although the American Barbell Urethane Bumper Plates are fantastic, there is one improvement we'd like to see.
As discussed in the review, one minor dislike we had with the plates was the difficulty in picking them off the ground. Due the plates having such an extremely squared-off profile, getting a finger under the plates to get a grip is very difficult. In order to make it easier for them to be lifted off the ground, we suggest making the corner slightly more round.
Although this is a minor change, we believe it would make the plates easier to move from the ground to the bar.
Full Rating
American Barbell Urethane Bumper Plates
American Barbell is by and large making some of the best training equipment available, and the Urethane Pro Series Bumper Plates are no exception. Utilizing urethane instead of the traditional rubber creates an ultra-durable, low bounce plate, with vibrant colors. These are the best competition bumper plates we've had the opportunity to review to date.
Product Brand: American Barbell
Product Currency: $
Product Price: 330
Product In-Stock: InStock
American Barbell Urethane Bumper Plates FAQs
Are urethane bumper plates better?
Rubber is usually softer than urethane. Because of its stronger engraving capabilities and higher resilience to deterioration, urethane will profit from this. Rubber, on the other hand, has a higher impact resistance and elastic memory. This is why the majority of bumper plates are made of rubber.
Where are American Barbell Urethan bumper plates made?
We physically make our Olympic Bars, cast our Urethane goods, formulate our Rubber products, cast our own Iron, and precision CNC machine our Dumbbell handles and Olympic bar parts in our factories in the United States and China.
Where to Purchase
American Barbell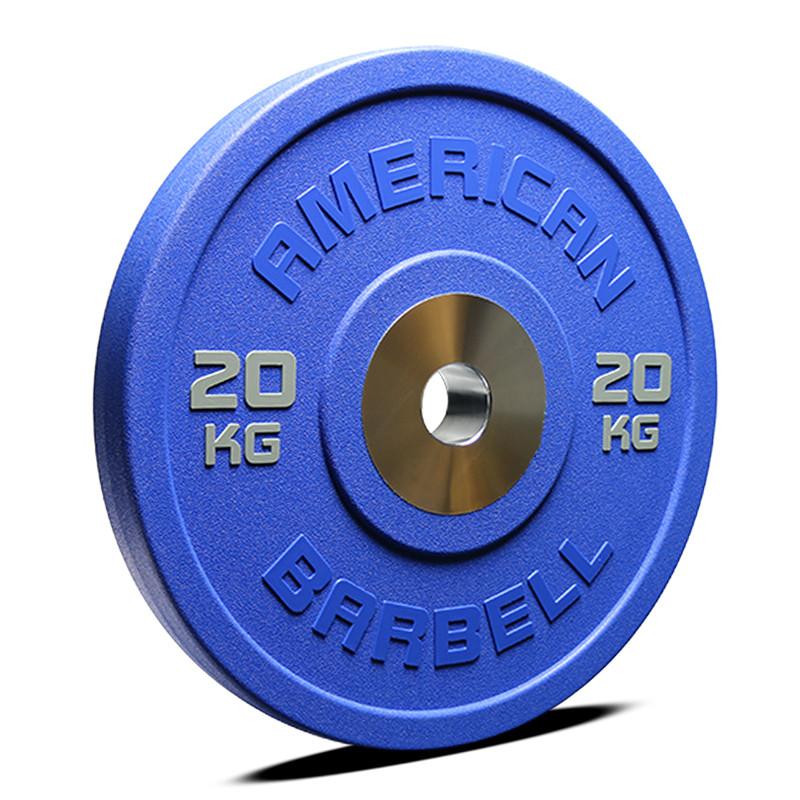 American Barbell KG Urethane Pro Series Plates
American Barbell is the first company to manufacture a urethane bumper plate. These bumpers are exceptionally durable and have a very low bounce. We use German urethane to ensure the highest quality and bright, vibrant color.Custom markings & logos are color molded into the color bumper plates, which creates an excellent look and promotes a long lasting performance.The 140MM hard chrome hub is a solid one-piece construction and has a chamfer for easy bar loading and reduced bar sleeve wear.Diameter: 450MMPlate Thickness:10KG: 40MM (1.57")15KG: 46MM (1.81")20KG: 53MM (2.08")25KG: 58MM (2.28")