We test and review fitness products based on an independent, multi-point methodology. If you use our links to purchase something, we may earn a commission. Read our disclosures.
Pre-workout supplements come in two varieties. There's the "here's exactly what's in a serving, how much of each ingredient it contains, and a white board of the studies backing it up" school. And then there are the throwback-to-the-bodybuilding-forums, "Just trust me, bruh" supps.
Insane Labz Psychotic Pre-Workout doesn't tell you too much about what's inside, and you almost definitely haven't heard of some of the ingredients. But those terrifying screaming clown faces all over the front of the bottle let you know everything's OK.
Is this the best pre-workout you've never tried, a shady stim-fest… or both? Our Psychotic Pre-Workout Review dives behind the clown mask to let you know.
Medical disclaimer: This article is intended for educational and informational purposes only. It is not intended as a substitute for medical advice. For health advice, contact a licensed healthcare provider. GGR also recommends choosing a product that has been third-party tested for quality.
Our expert reviewer, Bob Iafelice, nutritionist and registered dietitian, reviewed Psychoctic pre-workout and we want to share his thoughts at the top:
"I guess this product is aptly named—you would have to be borderline psychotic to take it. Not being transparent about amounts of bioactive ingredients clearly means they are hiding something. Who would want to take a product with powerful stimulants without knowing how much they're getting? Ditto for creatine and DMEA. I would not recommend Insane Labz Psychotic to anyone. Why take the risk when there are other good products with stimulants AND full transparency?"
If you're still looking to give Psychotic pre-workout a try, even after this warning, read on.
Our Pumps Don't Lie
Our team of expert testers were a bit sketched out by the proprietary blend on the Psychotic label. But because we're athletes and certified trainers who know very well what a good pre-workout supplement feels like, they still slammed a scoop, hit the gym, and took a trip in the name of research. That's how we approach every review of every supplement.
Insane Labz Psychotic Pre-Workout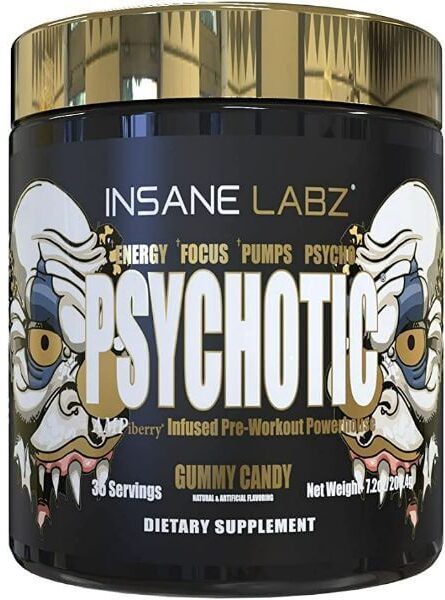 GGR Score: 3
Product Highlights
High-stimulant pre-workout

Key ingredients beta-alanine, creatine monohydrate, and DMAE bitartrate

Energizing and nootropic properties
Pros & Cons
Pros
Contains 400 mg of caffeine
DMAE bitartrate to improve focus and cognition
13 different flavors
Competitively priced at $1.08/serving
Cons
Proprietary blend
Undisclosed amount of DMAE which affects the brain chemical acetylcholine
Level of stimulants may be dangerous for those who are caffeine-sensitive
Bottom Line
Insane Labz Psychotic Pre-workout is an affordable option for those looking for a high dose of caffeine. However, for those looking to optimize their intake of other common ingredients, this proprietary blend is not the most reliable option.
A Quick Look at Insane Labz Psychotic Pre-Workout
Insane Labz (not "Insane Labs") sells a wide range of pre-workout and fat-burner dietary supplements leaning into mental illness and slasher movie imagery.
According to the "origin story" on their website, the brand was founded by "a horror head who started a local gym and supplement store, but was dissatisfied with the options available to his customers."
Continuing the theme, the flavors of Psychotic flavors include "Santa's Blood" and "Zombie Piss." And in case you have any doubts or regrets, the site also promises that all products are backed by a, sigh, "111% Asylum Guarantee."
Before You Buy
This isn't for noobs. We'll give some beginner-friendly alternatives below.
There is a 15-day return window if you purchase direct from Insane Labz
Is Psychotic Pre-Workout Worth It?
At $39.99 for a 35-serving bottle on Amazon, Psychotic could be considered a budget-friendly alternative to premium pre-workouts like Pre-Jym ($52.99 for 30 servings) or Ghost Pre-workout ($44.99 for 25 servings).
But both of those brands also feature transparent labeling, which our testers felt was worth the extra cost. Insane Labz does offer a fully disclosed version of Psychotic called "Psychotic Clear," which is priced about a dollar per scoop above these premium brands.
Great for:
Lifters who trust word of mouth more than supplement facts labels
Experienced energy junkies who like a little mystery
Evil clowns
Not recommended for:
Athletes who ask, "Wait… what am I taking?"
Beginners or anyone sensitive to stimulants
Psychotic Pre-Workout Specs
| | |
| --- | --- |
| Price per serving | $1.14 |
| Serving size | 6 g, 35 servings per container |
| Flavors | Apple, blue raspberry, cotton candy, fruit punch, grape, gummy candy, Hawaiian orange, peach mango, Santa's blood, snow cone, sour cherry colada, watermelon, zombie piss |
| Key ingredients | Caffeine anhydrous, creatine monohydrate, beta-alanine, fulvic acid |
| Third-party tested? | No |
| Benefits | Energy, more energy, and ENERGEEE |
Experience Using Psychotic Pre-Workout
Anthony O'Reilly, GGR performance editor, nutrition coach, and personal trainer, tried a scoop of Psychotic without knowing how much caffeine was in it—a brave man!—and quickly felt that it lived up to its name. He noted:
"This is all energy and no benefits. Because it uses a proprietary blend, it's hard to know how much caffeine is in it, but I'd wager it's above 300 milligrams at the very least. I just felt sick after taking this. Pump was average at best."
He continued: "I'm someone who likes a strong pre-workout, and I'm even a fan of novelty pre-workouts. There are better options for both than this. People might go for it because it's affordable but I'd go with Cellucor C4 before this. Even something like Six Star Pre-Workout Explosion would be a better pick because they clearly show how much of everything is in their product. I've used Six Star and felt much better than I did when taking Psychotic."
RELATED: Cellucor C4 Pre-Workout Review
Price Per Serving
Most online retailers will charge around $40 for 35 servings of Psychotic, or $1.14 per serving, which is a low-to-mid-range per-serving price for a pre-workout.
Psychotic Gold, which has a little less caffeine but contains the pump-enhancing ingredients citrulline malate and agmatine sulfate, comes in at about $1.28 per serving on Amazon. Psychotic Clear, which has no proprietary blends and lists all ingredients and dosages, comes in at a beefy $2.75 per serving.
Formulation
Any Insane Labz Psychotic review has to operate in the dark, because the precise dosages in the product are hidden within a proprietary blend. This was a big reason why our tester felt he couldn't recommend the product.
Oddly, while the label doesn't say how much caffeine is in the product, the company's website does: "Caffeine content from all sources: 400 mg." We've solved one mystery!
That's about the equivalent of 4 to 5 cups of strong brewed coffee or two energy drinks, and stronger than some caffeinated big-hitters like Legion Pulse. So yeah, it's burly.
But the stims don't stop there. The proprietary "Psychotic Blend" also contains:
Rauwolfia vomitoria extract: An herb closely related to the somewhat notorious stimulant yohimbine.1
Dimethylethanolamine: At first glance, this looks a lot like DMAA (1,3–dimethylethanolamine), a popular old-school pre-workout ingredient that the FDA banned after it was linked to increased blood pressure and cerebral hemorrhage.2
The brand's website, though, clarifies that Psychotic actually contains DMAE (dimethylaminoethanol). This compound is a precursor to the neurotransmitter acetylcholine, and was once an over-the-counter drug for childhood hyperactivity. DMAE hasn't been studied for workout benefits, but has been studied as a way to induce lucid dreams, if that has any appeal to you for your chest day.3
But here's the thing: because this information is only on the website, it's easy to peep the label and think you may have found the last remaining DMAA pre-workout supplement. Maybe that's the point.
AmpiBerry: This is a trademarked name for juniper berry (juniperus communis), which studies have shown to have diuretic qualities.4 Insane Labz claims on its website to sell the only pre-workout containing juniper, which the brand says helps to increase the absorption of other nutrients.
OxyGold Fulvic Acid: This trace mineral has become increasingly popular after a 2015 study concluded that a fulvic-acid-rich goop called Shijalit could raise testosterone levels.5
Psychotic also contains the tried-and-true pre-workout ingredients creatine monohydrate, beta-alanine, and huperzine A, but the dosages aren't disclosed on the label.
RELATED: Best Pre-Workout Ingredients
Taste and Solubility
Most reviewers speak positively of Psychotic's flavors and solubility. Anthony tried Watermelon and calls it "insanely sweet," and said that it dissolves just fine. Other flavors include Blue Punch, Cherry Bomb, Fruit Punch, Grape, Gummy Candy, Orange, and Pina Colada.
Side Effects
With any high-stimulant pre-workout supplement, the greatest risk of side effects are likely to be racing heart rate and anxiety.
This is partly because of the high caffeine content, of course. But some pre-workout users find rauwolfia and other yohimbine-related compounds to cause anxiety. A 2010 study in the Annals of Pharmacotherapy dug deep into this trend and found that a third of adverse-effects reports related to yohimbine were about anxiety and agitation.6
If that's an issue for you, consider a product built around the best pre-workout ingredients that don't contain stimulants.
Third-Party Testing
Insane Labz doesn't list any third-party verifications on its label or website. However, the website states that they are "FDA-compliant" and adhere to current good manufacturing practices (cGMP).
Comparison to Bucked Up Woke AF
Woke AF Pre-Workout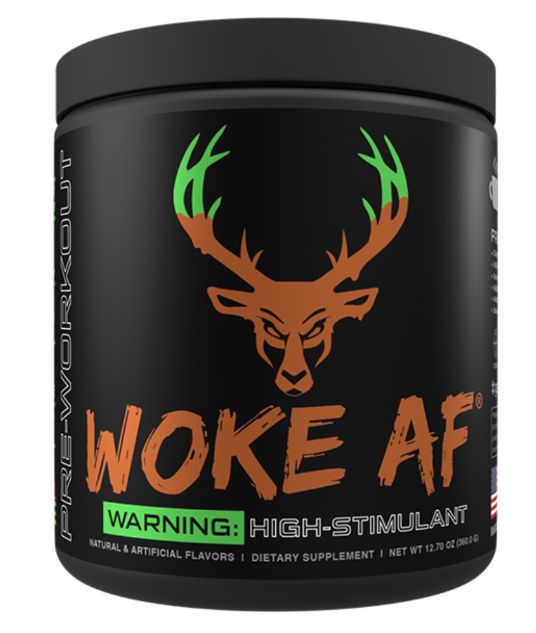 GGR Score: 3.8
Product Highlights
High-stimulant pre-workout

Zero sugar

Keto/paleo-friendly

GMP-certified

14 flavor options

Loaded with 3 different stimulants
Pros & Cons
Pros
Specially-designed for max pump but without the crash at the end
Won't kick you out of ketosis
Variety of flavors
Mixes easily with water
Long-lasting energy to get things done
Very high caffeine content (333mg)
Contains beta-alanine
Cons
It is high-stimulant, and likely too stimulating for a lot of people
Probably will cause the jitters and skin itchiness
Very high caffeine content (333mg); yes, this is a pro and a con
Some flavors sell out quickly
Bottom Line
The bottom line for this product is that if you have never tried a pre-workout mix before, this one might not be for you, seeing as it is a pretty intense formula. If, instead, you are a pre-workout junkie and aren't getting the same energy and pump from your typical brand; then this would be a good option for you.Not only will you be ready to lift all of the heavy things, but you can also sharpen your endurance, focus, and overall performance. Many customers also raved about the customer service from this brand.
Both of these popular pre-workout supplements contain a whole lot of caffeine and a few ingredients that might have you scratching your head. Psychotic tops Woke AF in caffeine anhydrous content at 400 milligrams versus 333 milligrams. However, Woke AF has a more robust blend of pump ingredients, including citrulline malate and AstraGin.
As for whether you would rather attempt to raise your testosterone using Woke AF's deer antler velvet or Psychotic's fulvic acid, well, the science is preliminary at best for both. So go with your, um, heart.
If you prefer non-proprietary blends, Woke AF will give you the specific dosages you crave. But you'll pay for it: $1.80 per serving for Woke, versus around $1.18 per serving for Psychotic.
Check out our full Woke AF Pre-Workout review.
Customer Experience
Insane Labz' website return policy states that if you buy from a third party, your returns should go through that third party. Things are a bit more generous if you buy direct from the Labz.
The brand's website features a phone number, email address, and a chat tool where you can supposedly hit up "the Mad Chemist" himself. And as previously noted, they back up every product with a "111% Asylum Guarantee," whatever that means. So the framework for customer services and returns does seem to be in place, should you need them.
Ordering Psychotic Pre-Workout
Insane Labz products are widely available through the usual big supplement retailers, or direct from the company. Amazon's price usually comes in at about $20 under the brand's direct price. But Insane Labz does offer the option of paying in installments using Afterpay or Sezzle. And if you subscribe through the company's site you can save 45% on every recurring order.
Customer Reviews
As of this writing, Amazon had 666 (yep) Insane Labz Psychotic reviews averaging 4.5 out of 5. Psychotic Gold pre-workout has 10 times the amount, at around 6,800, while their nootropic-focused pre I Am God has nearly 2,000 reviews.
Reviewers speak highly of Psychotic, but warn prospective buyers that it's powerful stuff. A typical headline said "Best there is," but warned, "strong so be careful." Another raved "Wow!!" but added, "This should come with a caution label." (To be clear, it does.)
Final Verdict of Our Psychotic Pre-Workout Review
If stims are your jam, you might already have Psychotic in your gym bag. If not, our reviewers recommend either going for a pre-workout that provides more label transparency, or going whole-hog and buying the label-disclosed Psychotic Clear. (Unfortunately, that fancier variety doesn't come in Zombie Piss flavor).
Psychotic Pre-Workout Rating
Psychotic Pre-Workout
This caffeine-packed pre-workout gets rave reviews from gym bros. Our Psychotic Pre-Workout Review will let you know if you'll love it as much as they do!
Product Brand: Psychotic
Product Currency: $
Product Price: 44.95
Product In-Stock: InStock
Psychotic Pre-Workout FAQs
Psychotic Pre-Workout
This caffeine-packed pre-workout gets rave reviews from gym bros. Our Psychotic Pre-Workout Review will let you know if you'll love it as much as they do!
Product Brand: Psychotic
Product Currency: $
Product Price: 44.95
Product In-Stock: InStock
Is Psychotic a strong pre-workout?
Yes, it's definitely strong. All varieties of Psychotic Pre-Workout contain at least 325 milligrams of caffeine, and as much as 400 milligrams. Online reviewers consistently warn to start with half a scoop until you build a tolerance, even if you're an experienced pre-workout user. 
What does Psychotic pre-workout do?
Psychotic Pre is an energy supplement with caffeine and some additional ingredients to boost mental focus. It also contains beta-alanine to boost muscular endurance, but the label doesn't say how much. If you want better pumps during your workout, check out Psychotic Gold pre-workout, which contains the science-backed pump-boosting ingredients agmatine sulfate and L-citrulline malate (though how much is a mystery). Psychotic Gold also contains two additional longer-lasting forms of caffeine. 
How much caffeine is in one scoop of Psychotic pre-workout?
There is PROBABLY around 400 milligrams of caffeine in a scoop of Psychotic Pre-Workout. I say "probably" because the label doesn't specify how much is in there, but the company's product page states, "Caffeine content from all sources: 400 mg." That's about the equivalent of four cups of strong brewed coffee or two energy drinks.
How much creatine is in Psychotic Pre?
The supplement facts label for Psychotic Pre doesn't say how much creatine monohydrate or any other ingredient the blend contains. Instead, it simply lists a 4,459 milligram "Psychotic blend" containing creatine, beta-alanine, caffeine, and other ingredients. So while it might contain a science-backed dose of 2.5-5 grams of creatine, it might contain far less. 
These statements have not been evaluated by the Food and Drug Administration. This product is not intended to diagnose, treat, cure, or prevent any diseases.
References
National Center for Complementary and Integrative Health. Yohimbe. November 2020.
Gee P, Jackson S, Easton J. Another bitter pill: a case of toxicity from DMAA party pills. N Z Med J. 2010;123(1327):124-127. Published 2010 Dec 17.
Sergio W. Use of DMAE (2-dimethylaminoethanol) in the induction of lucid dreams. Med Hypotheses. 1988;26(4):255-257. doi:10.1016/0306-9877(88)90129-6
Raina R, Verma PK, Peshin R, Kour H. Potential of Juniperus communis L as a nutraceutical in human and veterinary medicine. Heliyon. 2019;5(8):e02376. Published 2019 Aug 31. doi:10.1016/j.heliyon.2019.e02376
Pandit S, Biswas S, Jana U, De RK, Mukhopadhyay SC, Biswas TK. Clinical evaluation of purified Shilajit on testosterone levels in healthy volunteers. Andrologia. 2016;48(5):570-575. doi:10.1111/and.12482
Kearney T, Tu N, Haller C. Adverse drug events associated with yohimbine-containing products: a retrospective review of the California Poison Control System reported cases. Ann Pharmacother. 2010;44(6):1022-1029. doi:10.1345/aph.1P060