Titan Fitness is known for making budget-friendly home gym equipment. However, wading through the vast amount of equipment they sell and determining which is worth buying and which isn't can be difficult. We've used, arguably, more gear from Titan Fitness than anyone in the world (other than employees of the company) and are taking our experience as well as others to provide recommendations on the best equipment available from Titan.
Want to start an argument? Bring up one of these three topics at your next dinner with friends: religion, politics, or Titan Fitness vs Rogue Fitness. Seriously, one of the most asked questions we receive from people is whether they should go with Titan or Rogue for their budget garage gym build and people can be absolutely ruthless in arguing for their side.
To help weed through all of this random conjecture and the wide variety of equipment that Titan sells (to be honest, there are quite a few things we vehemently suggest avoiding) we've decided to compile this guide. We've gone through the various reviews we've done on Titan equipment, reviewed the equipment we had on hand, consulted with some users in the community, and researched various reviews on Titan's website (although these aren't super reliable because Titan screens their review section.) Here are our recommendations.
Video Review
Who is Titan Fitness?
Titan Fitness is an exercise equipment manufacturer that produces medium-level quality equipment and machines at a lower price than most of its competition. Most of the Titan equipment can be compared to Rogue products in theory, but their overseas production, poorer customer service, and vaguely stated warranties mean that the quality is not the same as what you would find with the Rogue name. In fact, we'd go as far as to say that Titan Fitness has taken many of Rogue's designs and made them overseas to offer at a lower price.
On the other hand, Titan Fitness products are considerably less expensive (honestly, many of them are half of what Rogue sells when shipping is considered) while maintaining quality standards that would suit a large percentage of home gyms around the world.
With that said, one of the key things that many people who are building a home gym must take into account is the price of the equipment. When you don't have unlimited resources, something has to go. Whether it be quality, features, warranty, customer service, etc. a budget home gym cannot have it all.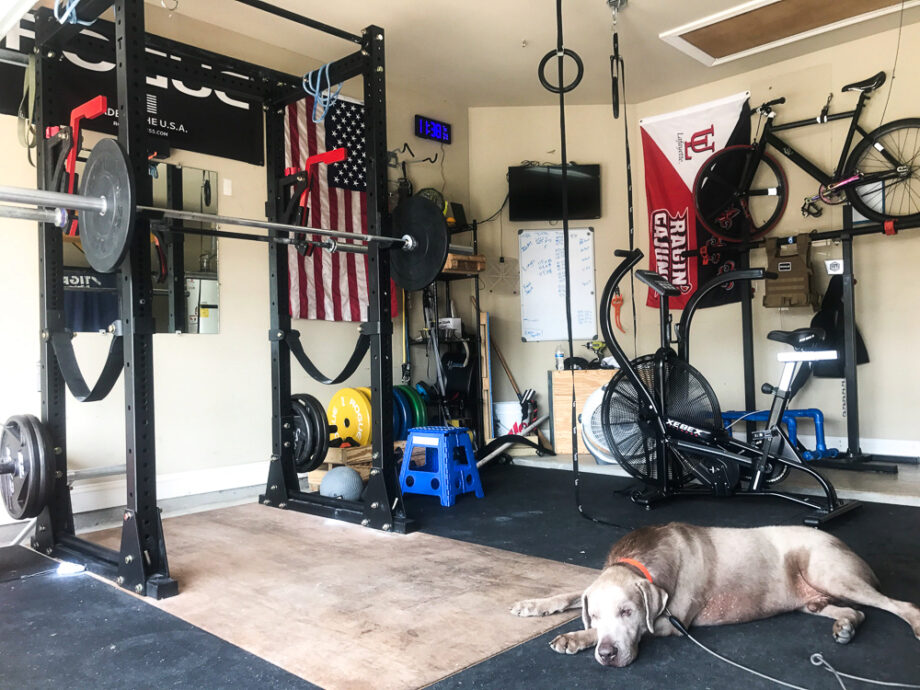 Taking all of these things into account, we suggest Titan Fitness equipment for anyone looking to build an extremely functional home gym with all of the necessary features, but without breaking the bank. When you start receiving your Titan equipment, you immediately notice a difference between the quality of their products compared with other budget brands.
Titan is definitely a step above in certain aspects and depending on the piece of equipment. When you start your workouts and want accessories and safety options that don't hold you back from working out the way you want, then you realize that Titan is a fair option.
The truth is, if you had unlimited resources then we would probably suggest a different brand like Rogue Fitness or Sorinex to build the perfect garage gym for your home. But since the vast majority of us have a limited budget, and some of us more than others, the Titan Fitness equipped home gym is a great combination of features and quality at an economical price. Titan is certainly not the only coming making gym equipment for the budget-minded home gym owner. Rep Fitness, Vulcan Strength, Fringe Sport, and others should also be considered.

Barbell
Top Pick: Titan Blues City Olympic Barbell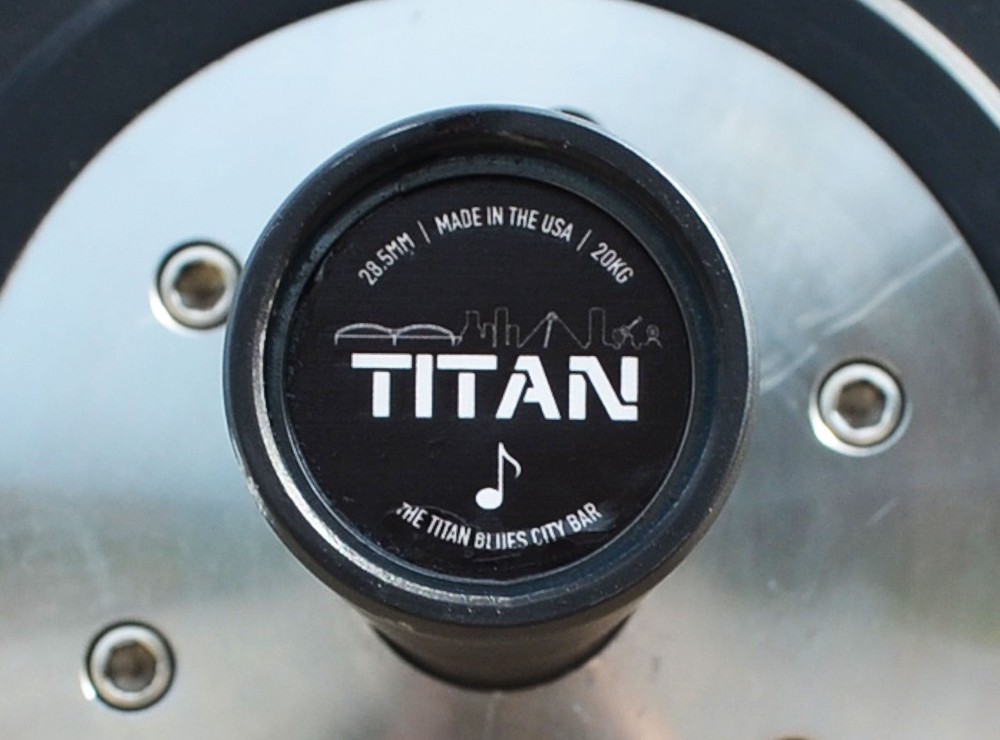 A cursory glance at the specs and style of this bar is all that you will need to realize why it's our top choice from Titan. This Olympic barbell comes with standard knurling and dual knurling marks that will help you position yourself for any lift.
The center of the bar is smooth with no knurling to protect your neck during cleans and front squats and the knurling is 16" wide on both sides. The barbell is 86.75" in total length with 16.25" of the loadable sleeve on both sides. The sleeves contain bronze bushings for consistent spin and the Cerakote shaft has a tensile strength of 190,000 PSI and will provide a decent whip.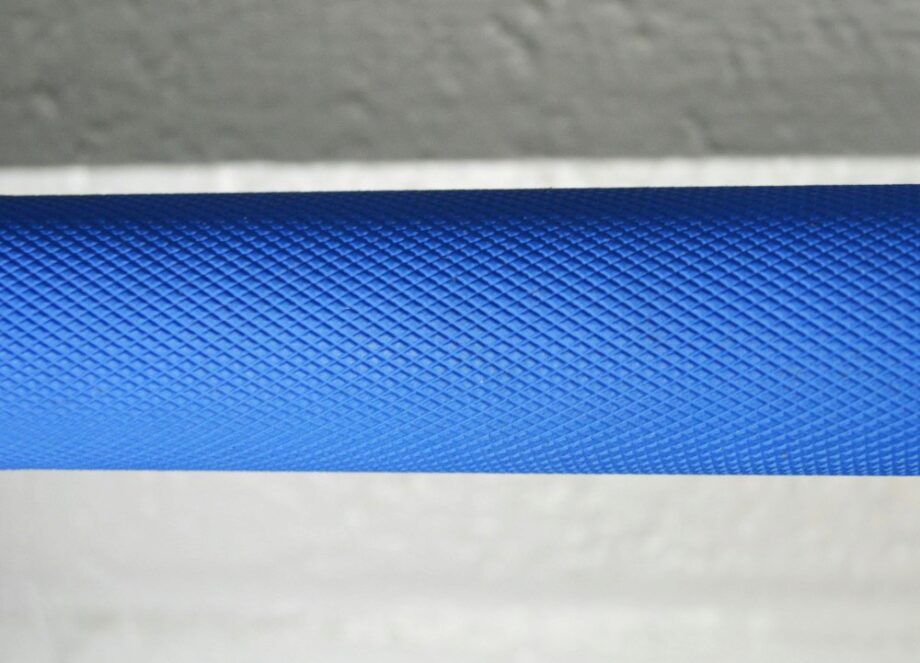 These specs are perfect for just about any serious lifter and will accommodate beginners as well, but a couple of the features on this bar really make it stick out. First of all, the price is right. It retails at a little under $300, but you can sometimes find it for a little bit cheaper than that on the Titan website. This is a pretty outstanding price for a bar that's made in the USA and is Cerakoted.
The lack of knurling in the center is great for those that plan to use the bar for CrossFit or any Olympic lifts high reps. As opposed to most of the Titan line, this barbell is manufactured and sourced in the USA which speaks to its quality and workmanship. This barbell is the best that Titan sells and we were surprised how good it was for the price.
Runner-Up: Titan Blue City Power Bar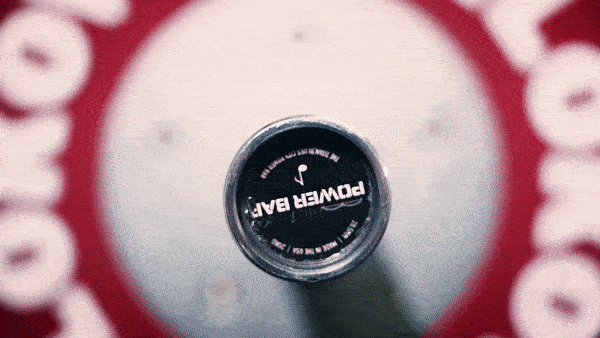 The Titan Blues City Power Bar is, as the name suggests, a powerlifting bar rather than an Olympic lifting bar, and as such, has more aggressive knurling, powerlifting knurl marks, and a center knurling to grip the shirt during back squats.
Most of the other specs are quite similar to the Blues City Olympic Barbell except for the fact that the Blues City Power Bar should have less whip due to the higher tensile strength of the steel. The heavy-duty black oxide shaft has a 200,000 PSI tensile strength which will prevent the bar from whipping throughout the lift or permanently deforming.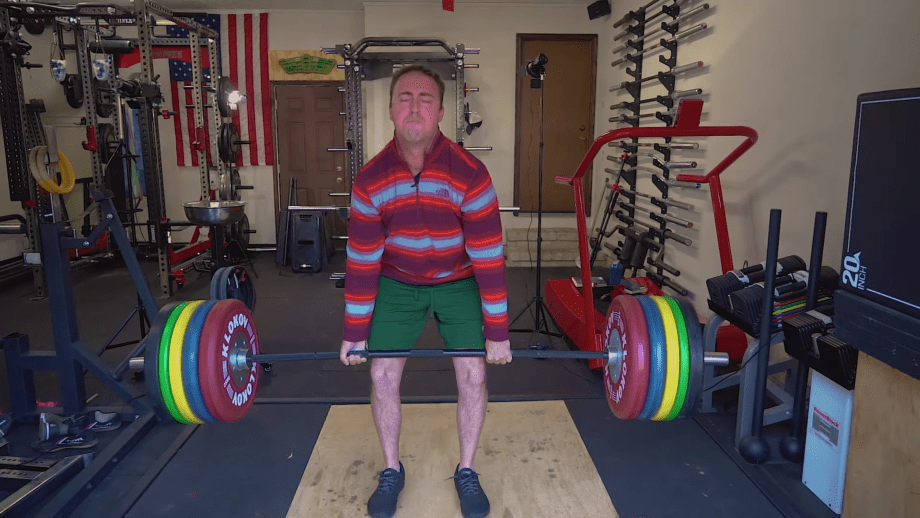 The main difference between the top pick and this runner-up choice is a personal preference to what kind of training you do most often. If you're planning to focus more on powerlifting where heavy lifts and few reps will be the norm, then the Blues City Power Barbell is Titan's best option. It has a bit stronger steel, has a more aggressive knurl, and doesn't provide much whip, all of which lend themselves to the squat, bench, and deadlift.
If you're more interested in a more traditional workout regimen or are planning on doing mostly CrossFit workouts, then the top choice Blues City Olympic Bar should be your barbell of choice. At a similar price point, the only difference between these top two choices is the features.
Budget Pick: Titan Atlas Bar
The Titan Atlas Bar is really the only other choice we'd suggest other than the ones we've already recommended, and especially if you are working with a more limited budget. In terms of overall spending, your barbell is the one piece of equipment that you could splurge on when assembling a complete garage gym, so we'd suggest looking elsewhere for a bar.
For the sake of this article, we're detailing all Titan Fitness equipment, but Rogue has vastly superior barbells. At the same time, this budget pick is a decent barbell for all types of lifting purposes including powerlifting and Crossfit.
RELATED: Best CrossFit Equipment for Home Gym
The Atlas Bar is also about half the price of the other options. The Atlas Bar has a listed medium knurl (in reality, it's extremely passive), dual knurl marks, and has a 220,000 PSI tensile strength steel which is more than anyone reading this article will ever need.
It has a good whip for multiple reps but can also stand up to the heavyweight and abuse of powerlifters. For general training, this is a well-rounded and versatile barbell, and while it does not quite measure up to the first two choices, if you legitimately can't spend more, then it's worth considering.
Like the rest of the Titan line, it comes with a 1-year warranty, but unlike the Blues City line, it's not manufactured and sourced in America. Remember, while this is a great budget pick, your barbell is the one piece of equipment that you will have daily contact with, so do your research and choose the bar that best suits your preferences. If it's the Atlas Bar, even better because it's a great bar for a great price.
Specialty Bar Option: Titan Multi-Grip Barbell V2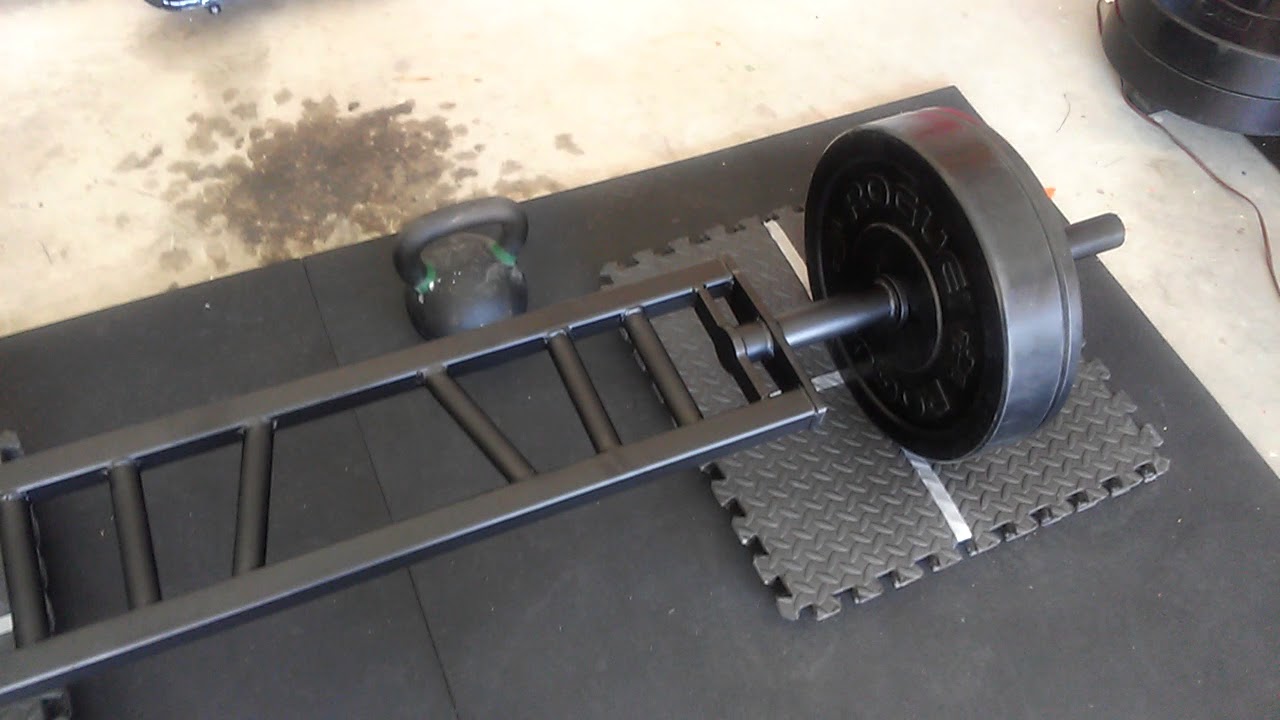 The Multi-Grip V2 from Titan is a great specialty bar option, but this should not be your primary barbell unless you need the specialty grips for health and joint reasons. The great thing about the multi-grip V2 is that it gives you multiple grips at different widths. This versatility allows you to work stabilizing muscles and to give primary muscles a workout from angles that they are not accustomed to.
At the same time, the grips and angles are such that the pressure on your wrists and shoulders is greatly lessened which can help keep your joints and muscles injury-free. The temptation may be to make this your primary barbell, and this would be a mistake.
This is a great option if you have an extra $100 to spend on your garage gym and want to have the option of changing up some of your bigger lifts like bench press, military press, etc. But make sure this purchase is supplemental to whatever you choose as your main barbell; there's a reason we call them specialty bars. If you have wrist or shoulder problems, this could also be an excellent way to continue a heavy lifting workout regimen while taking the stress and pressure off of your injured joints.
Squat Rack
Top Pick: Titan X-3 Flat Foot Power Rack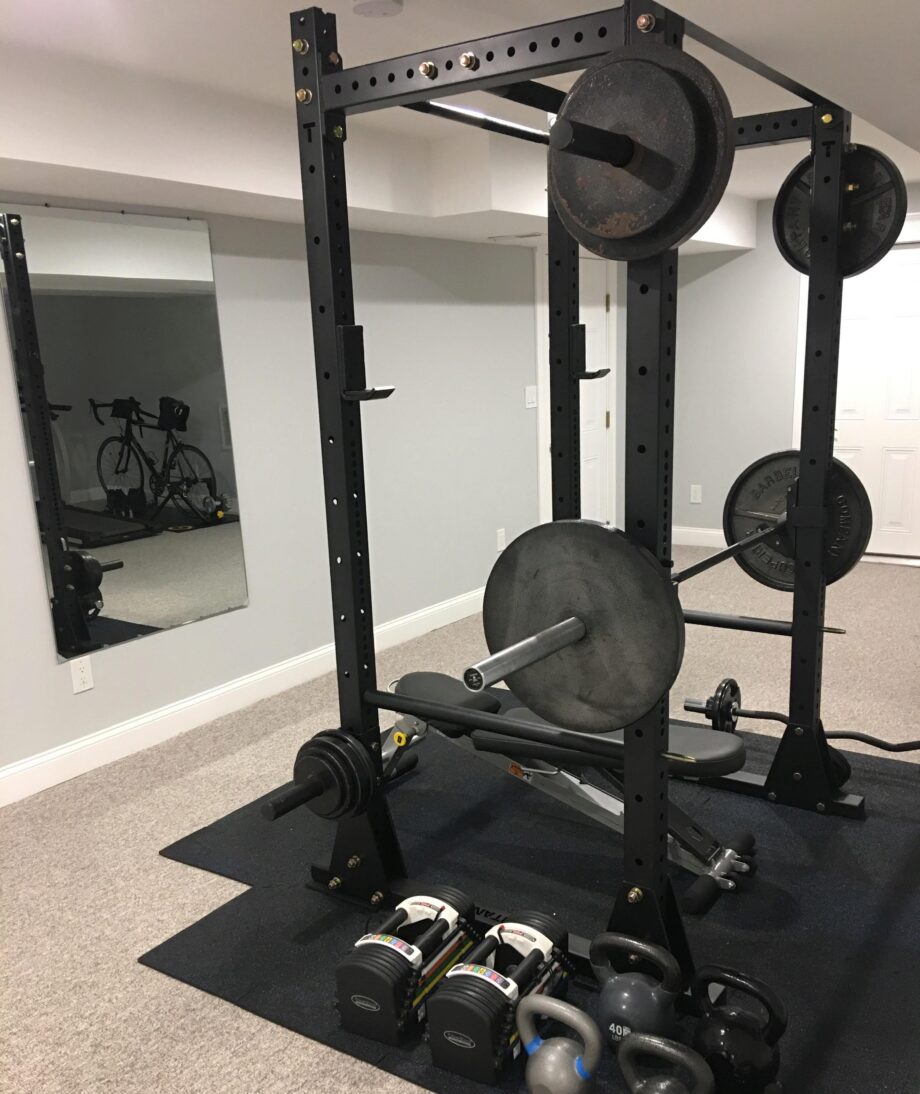 The Titan X-3 Flat Foot Power Rack is one of Titan's best power racks and is unique in that it doesn't need to be bolted down to the floor. This is important for portability and so that you don't mess up your garage or home gym flooring. This is also an extremely versatile power rack that has the option to be extended either 10" or 24" which takes the inside depth of the already nice-sized rack to either 40" or 54".
The bottom line is that the Titan X-3 has the quality (as we will discuss later), versatility, features, and size to be one of the best racks on the market. While its size and versatility are some of the main selling points of the X-3, the price is what sets it apart from not only the other Titan offerings but really most everything else on the market.
It has the features of a $1,000 to $2,000 power rack but it starts at a price point of just over $600 and can be extended to almost double its size for right around $900. Compare that to the similar Rogue RM-6 and the Sorinex XL and you will see very similar features (but a much higher standard of quality) for less than half the price.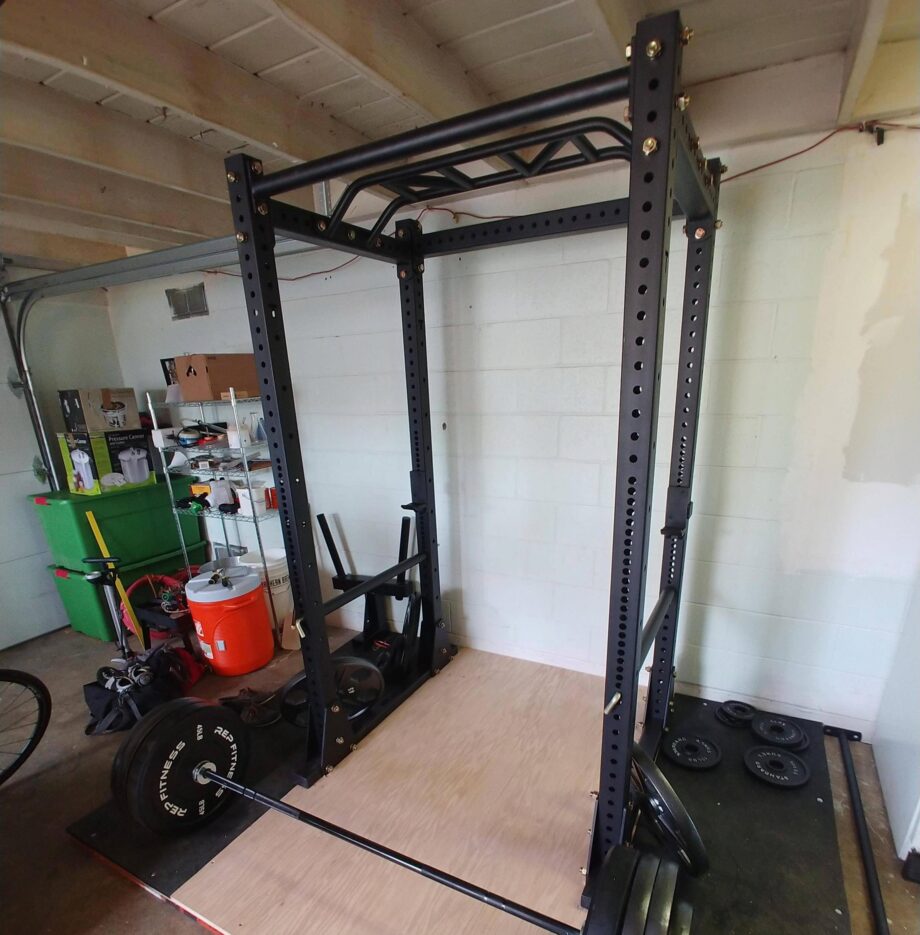 The Titan X-3 is rated at 1,500 pounds with 3" x 3" 11-gauge steel uprights, similar to the more expensive Rogue and Sorinex offerings (although Titan's are made overseas using imported steel.) As mentioned before, and because of its flat feet, the X-3 doesn't need to be bolted to the floor and remains sturdy and unshakeable no matter how heavy the weight load.
With a 49" x 48" footprint, the X-3 is a perfect size for tighter fits and it even comes in a short (82") or tall (92") model depending on the height of your ceilings. Even if you have a larger space or move into one, there are 10" and 24" extension kits to add more uprights for additional lifting or plate storage and the portability of the rack makes moving it possible.
As far as accessories go, the Titan X-3 has great options and can use not only what Titan sells, but also what Rogue sells for their Monster Lite Racks. The X-3 comes with spotter arms, weight storage, multiple j-cups, upgraded pull-up bars, and has the option for a wide variety of other attachments. The X-3 uses Westside Hole Spacing through the bench and 2-inch spacing everywhere else making it easier to start the weight at the right height.
The only real downsides of the X-3 are the short 1-year warranty, lack of customer service, worst quality of powder-coat, welds, and the like as well as the fact that it was manufactured and sourced overseas. For some people, these negatives are enough to look elsewhere, but to get all of the features and quality offered by the X-3 at this price point, something has to give (believe it or not, you still generally get what you pay for.)
If you are creating a Titan home gym on a budget, this rack has almost everything that you could want at a great price.
Runner-Up: Titan T-3 Power Rack
The runner-up Titan T-3 rack is perfect for small spaces and comes in depths of either 24" or 36" with a tall or short option for each depth. The price is right for each of these options as they range from under $400 up to around the $500 mark. This rack gives you the ability to lift heavy while maintaining safety and efficiency with multiple safeties and j cups and is equivalent to the much higher priced Rogue R-3 for considerably less money.
RELATED: Titan Fitness T-3 vs Rogue R-3 Power Rack
In terms of quality, the T-3 doesn't match the X-3 due to thinner posts, but a 1,100-pound rackable capacity and 4,400-pound total rack capacity is more than most everyone in the world could hope to need. The rack uses 1" westside spacing through the bench area and 2" everywhere else, includes a black powder coat, can be bolted to the ground, contains 2×3" tubing with 11-gauge steel, and now features 6" hole spacing on the sides.
The bottom line is that this is a great and simple power rack at an incredibly low price when compared to similar models. While this is the runner-up Titan rack for a garage gym, it could actually be considered the top choice if space is your biggest issue, and oftentimes in a garage gym, this is the case.
There isn't much not to like for the price, but there are some downsides to this rack. The same issues that haunt a large majority of Titan products like customer service, poor shipping standards, overseas manufacturing, and some skimping on quality are most of the complaints that Titan customers have.
There have been a few reported cases of j-cups breaking (which is always scary to hear) as well. The T-3 is a good rack, that if you have the ability to bolt it to the ground or a platform will provide years of service.
Budget Pick: Titan T-3 Folding Rack
The T-3 Folding Rack is in the same series as the power rack mentioned above and has some of the same features, hardware, and quality as the other T-3 series equipment. The main difference is that it adds in the ability to fold the rack away when not in use. When building a garage gym with limited space or a family who also uses the garage for other things, this feature can be huge. When folded it takes up very little space and it's both easy to fold and easy to install allowing you to park your car in the garage if needed (yes, some people still do that, although we disagree.)
The fact that the T-3 Series Folding Power Rack can be folded when not in use is a huge advantage for a garage gym, but it may not be its biggest advantage. Coming in at close to $300, this is one of the best-priced fold-away racks on the market. This is the best-priced fold-away power rack on the market, and while it's manufactured and sourced overseas, and shipping and customer service have been issued in the past for Titan Fitness, the price and the quality make this rack worth the risk.
Weight Bench
Top Pick: Titan Hefty Bench V2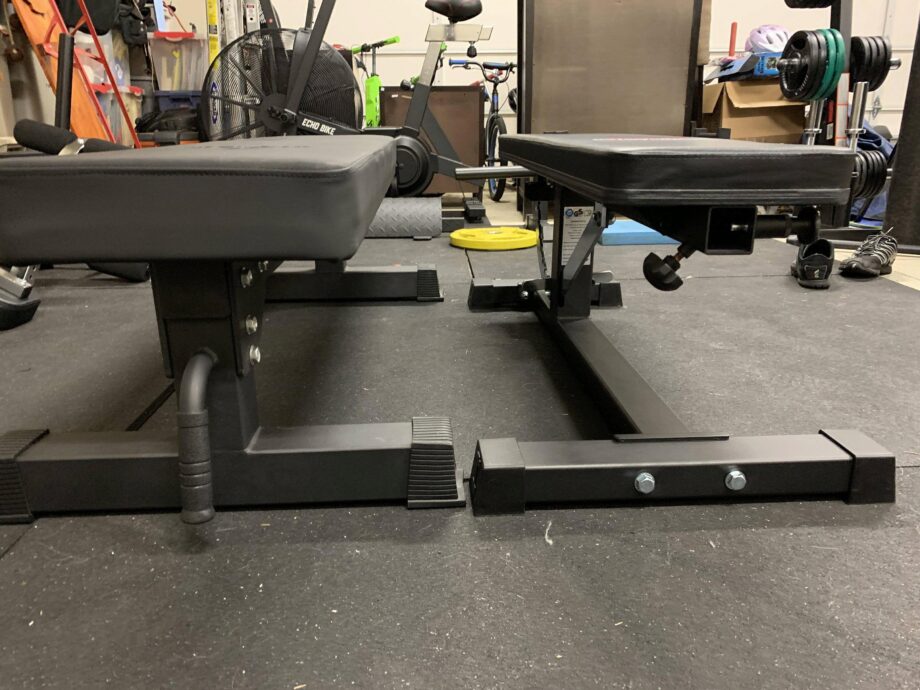 Although there are many pieces of equipment that Titan makes that we think are just okay, the Titan Hefty Bench V2 is actually an excellent bench, regardless of price. The Hefty Bench V2 has been reworked to have plenty of cushions, an extremely sturdy design, and the ability to hold up to a rating of 1,200 pounds (although we're sure it could handle more.) The bench's extra-wide design is intended to be a clone of the Rogue Thompson Fat Pad from world-record powerlifter Donnie Thompson.
Although we prefer the version from Rogue, the Hefty Bench is a good alternative for the price. In addition to the pad, the height of the bench is the ideal 17" high, which is the standard of the IPF (International Powerlifting Federation.) This bench was designed with serious lifters in mind and it has all of the quality and features that you would expect from a serious weight bench.
A bench will be one of the most used pieces of equipment in many people's home gym as it provides you with the ability to do lifts such as the bench press, incline, pullovers, rows, triceps extensions, curls, leg lowers, step-ups, etc. You will also spend as much time on your bench as you will almost any other piece of equipment in your gym so it's vital that you are comfortable and that the bench is made of high-quality material. This bench is both, and at under $200 you can't go wrong.
The Titan Hefty Bench is constructed of 3" x 3" tubing, has a thick 15" wide pad, and comes with a handle and wheels to increase portability and allow you to move the bench easily from one exercise to the next. The bottom line is that this is a bench made for lifters who will spend serious time on a serious piece of equipment, and at the price, it's hard to beat.
Upgrade Pick: Titan FID Bench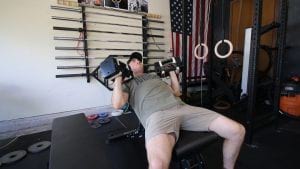 If you prefer an adjustable bench, then the Titan FID Bench is a good option. It's actually a standard industry design that was made popular by Rep Fitness. The Hefty V2, while it's extremely high in quality and comfort, is not as versatile as an adjustable bench. The FID bench has 7 back positions and 4 seat positions to allow you to get into position for any lift imaginable. From an upright shoulder press to a decline bench press and everything in between, this bench is very versatile.
Coming in at the same shipping weight, same price, same basic dimensions, and the same portability as the Titan Hefty V2, you can't go wrong with either product. The main difference you are choosing between is the quality and padding of the flat bench to the versatility of the adjustable one.
For heavy lifters who spend a great deal of time on a bench with heavyweights, the flat bench is the better choice. For lifters who are more interested in higher reps and more flexibility but will spend less focused time on the bench, then this adjustable option is for you. They are both pretty good products, but they have their niche and it's up to you to decide which features are more important.
Budget Pick: Titan Flat Bench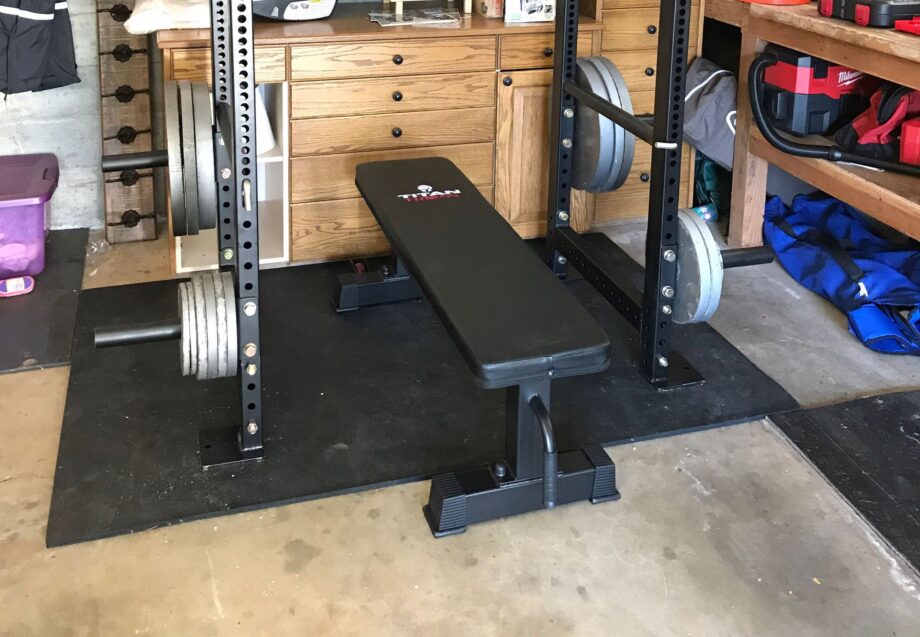 The Titan Flat Bench is the budget-friendly version of the Titan Hefty V2. The main differences are the quality of construction, the width of the padding, and the thickness of the pad. This bench is rated for about 200 pounds less than the V2, but that does not affect the large majority of lifters. The Titan Flat Bench is also about $50 cheaper in price, but the quality difference and comfort are worth that extra money if you have it to spare. If you're looking for a basic flat bench, this is your best budget option.
Gymnastic Rings and Pull Up Bar
Top Pick: Titan Wood Gymnastic Rings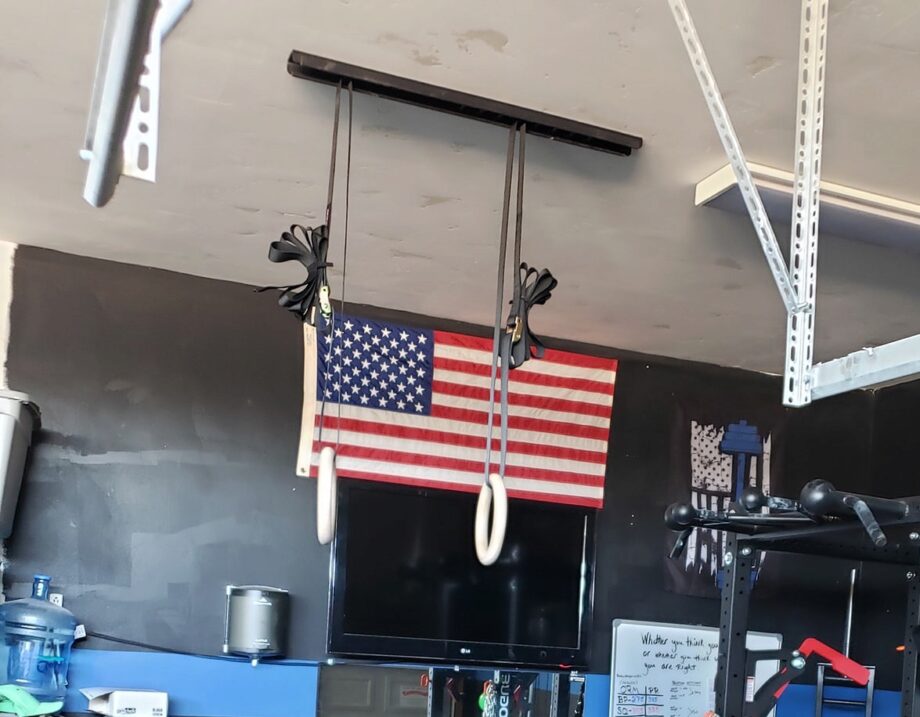 Professional quality rings for an incredible price. At under $50, the Titan Wood Olympic Gymnastic Rings should be a staple in any home gym. Even if you have never used gymnastic rings before, they are easy to install and could add some much-needed variety to your workout. They weigh 15 pounds, are simple to install, and can be used on ceilings up to over 15 feet high…And did we mention they cost less than $50? The main issue to look at for Titan's rings is they sometimes come rough-sanded.
You may have to break out the sander to smooth out the finish, but after enough chalk is used, they'll end up feeling fine. Every garage gym should have gymnastic rings, and wooden rings are by far our favorite so long as they aren't left outside.
Another Option: Titan Wall Mounted Pull Up Bar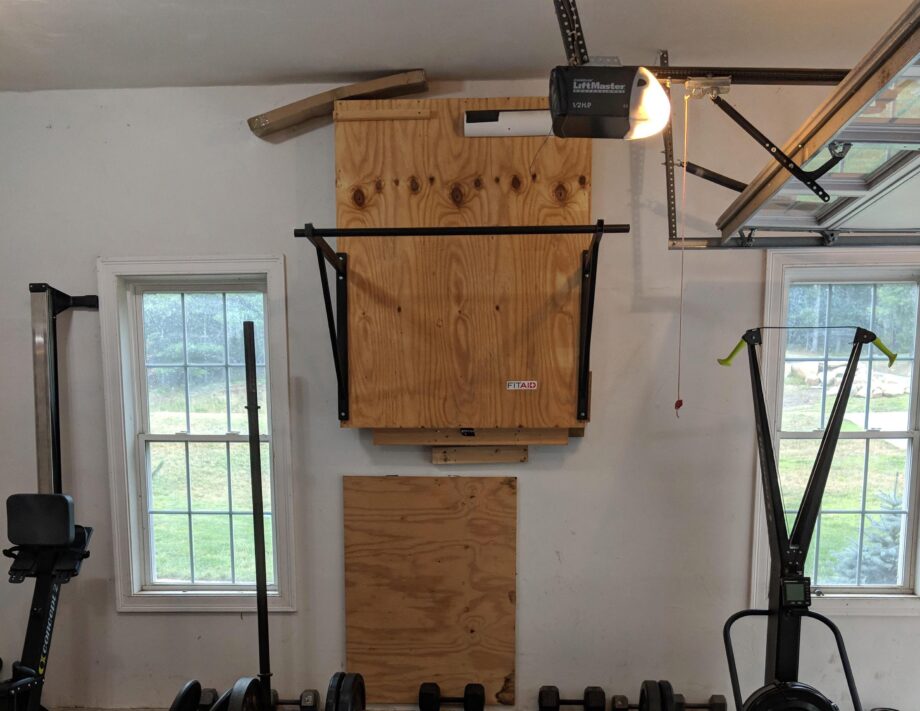 The Titan Wall-Mounted Pull-Up Bar is one of the best value pull-up bars available. The main problem with this pull-up bar is that you likely don't need it. If you are building a garage gym then you should also be purchasing a power rack that almost always comes with an included pullup bar with great quality and at a sufficient height.
If for some reason, you don't already have a pullup bar then this option, for less than $70, has very little downside and is the best option for a pullup bar. In general, a pullup bar is more important than the Olympic gymnastic rings, but it's ideal to have both. If you have not already made the purchase, consider a power rack with a pullup bar attached, but if that is not possible, this is the pullup bar for you.
Weight Plates
Top Pick: Titan Elite Bumper Plates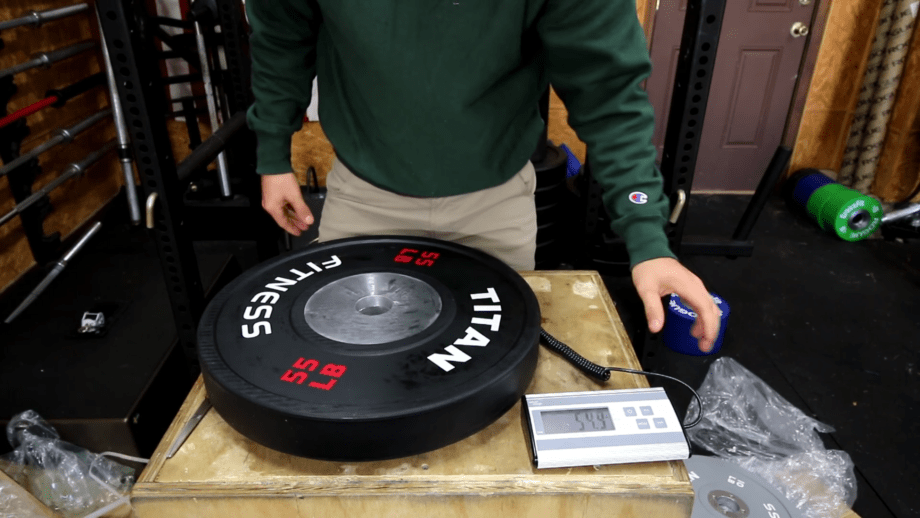 The Titan Elite Olympic Bumper Plates come in 10, 25, 35, 45, and 55 pounds and you can buy either the 230-pound set (a pair of each weight except the 55) or the 340-pound set (a pair of each weight). With a Shore A Durometer rating of 90, it's a great combination of minimum bounce with maximum durability. While the plates are all black, the writing on the weights is color-coded for easy identification even if you are used to the traditional plates, although we've found that the writing does wear off over time.
When purchasing weight plates, there are a few features that set good plates apart from others. For instance, these bumper plates are made out of rubber but with a steel collar that reinforces the plate for high rep use. The rubber makes them less likely to damage the floor and more likely to remain aesthetically pleasing.
At the same time, the steel collar helps to maintain the shape of the plate for as long as you are planning on using them while providing the necessary weight. These plates have a raised plate lip to make them easier to carry, a precise 50.6mm collar to help them hug the barbell and a 55-pound option that is not usually found in the larger, black bumper plates.
While many of you reading this article may be used to traditional iron plates that come in different sizes rather than just different diameters, you should keep an open mind on bumper plates. Being the same diameter, they absorb weight equally rather than the largest plate always taking the brunt of the force, they have some give but aren't too bouncy, and they will look good for a long time. These bumper plates are a little pricey at around $600 for a full set, but they're still much cheaper than many of the competitors.
We've used and abused our set of Titan Elite Bumpers and they still look great and weigh accurately after more than a year's worth of use.
Runner-Up: Titan Olympic Rubber Bumper Plates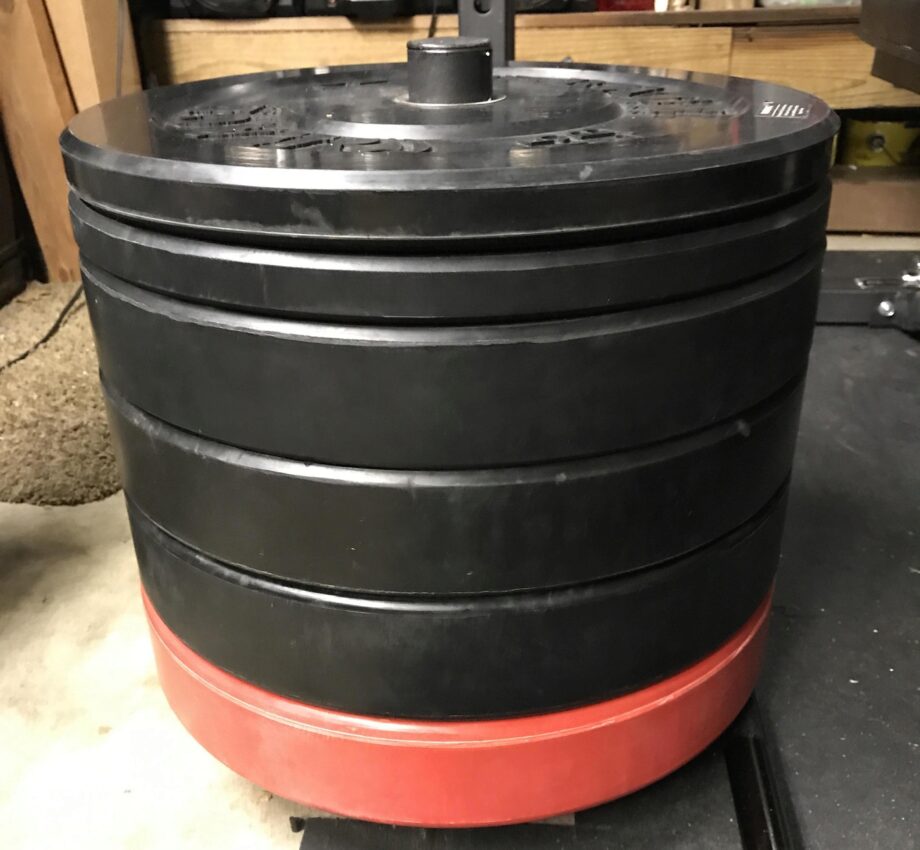 The Runner-Up plates are the Titan Rubber Bumper Plates which are the thicker style compared to our top pick; they're also about $100 cheaper and come with fewer features. The first thing you will notice is that these weights don't look as nice and don't come with color-coded writing. These are strictly convenient and aesthetic features, but there is something to be said for a nice-looking plate set.
The next thing you'll notice is that there is not a 55-pound option but there are 100 and 15-pound options that are not available in the elite set. This gives some versatility and makes it easier to load for certain exercises, but you could also add either option to the elite set if they were important to you.
The main difference is that this is an economy set that isn't going to have near the amount of life in them as competition bumpers. For a budget home gym, however, they're a viable option if going through Titan Fitness. Many of the same features that are found on the elite set such as the steel collar, good durometer rating (88), and rubber material are also found on this set. While the elite set is better and has some advantages, if you are looking for a more economical plate set, these bumper plates are over $100 cheaper without losing a great deal of quality.
Budget Pick: Titan Cast Iron Plates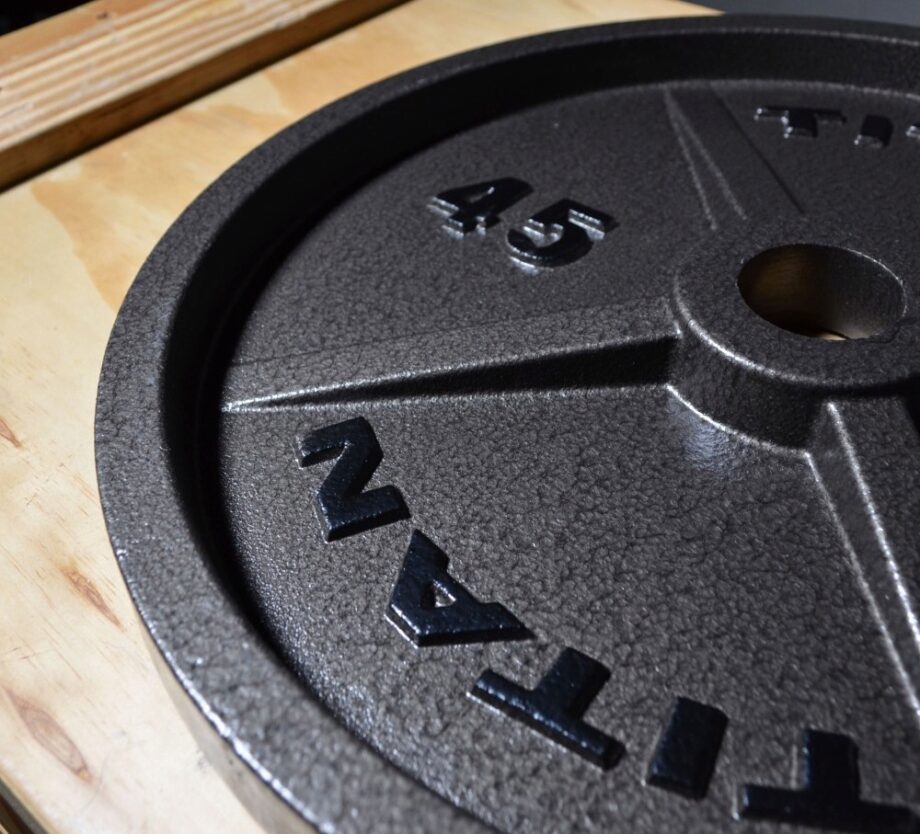 The Titan Cast Iron Olympic Weight Plates are the more traditional set that you find in most weight rooms across the country. A set includes a 2.5, 5, 10, 25, 35, and 45-pound pair which gives additional versatility and combinations as compared to the bumper plate options.
The cast iron will last forever in terms of shape and usefulness but it will show wear and tear much more quickly than the rubber bumper plates. With cast iron, there is no bounce when dropped, but it's much more likely to cause damage to the floor without proper padding or chip the iron on the plates.
On top of everything mentioned above, this plate set costs $200 less than the elite bumper plates, and $100 less than the standards. There were initially some issues with the first plates they released (they were the wrong outside diameter), but we've been assured they've since fixed this issue. If you're looking for the best price option and the option that you're probably the most familiar with, then the Titan Cast Iron Olympic Weight Plates are perfect for your home gym.
Dumbbells
Top Pick: Titan Loadable Dumbbell Handles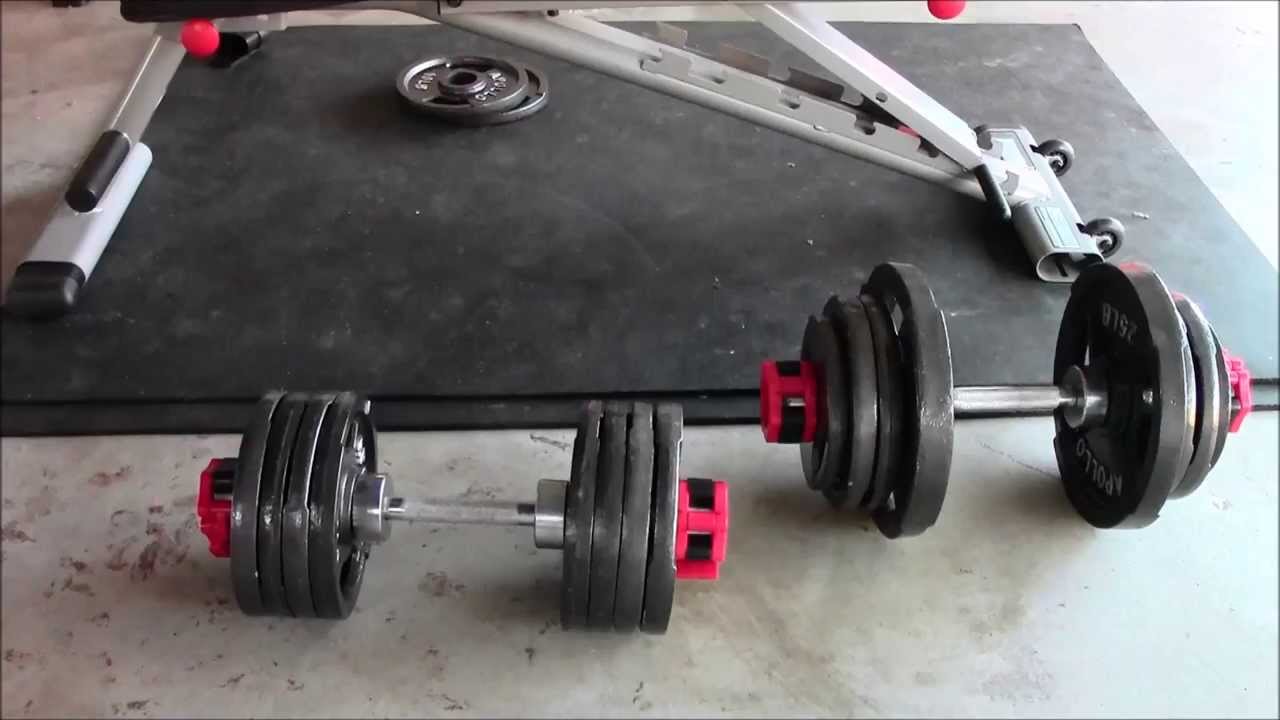 The Titan Loadable Dumbbell Handles are basically two options for dumbbells as mentioned above, you can either purchase a loadable pair and use the weight plates you have already purchased, or you can purchase a dumbbell set. There are 3 huge differences in these options:
Price
Space
Ease of Use
These differences are so big that none of the other features really matter at all as your decision will come down to these things. When it comes to the Loadable Olympic Dumbbell Handles, the price and the space-saving nature of the product almost make it a no-brainer. At a fraction of the cost, think $60 instead of $2,000, you can have every weight combination imaginable at the palm of your hand. On top of that, the Titan loadable dumbbell handles will perform similarly and feel similar to the barbell that you already purchased giving you the consistency of feel and performance.
If you stopped at that last paragraph, you would have to wonder why anyone would buy anything else. The problem with this purchase is such a big problem in general that some people give up the space and the cost for the convenience of the other set. When using loadable dumbbell handles there is just too much racking/unracking weight, sliding on or sliding off collars, and placing and removing weights every time you transition from one exercise to the next.
Upgrade Pick: Titan Black Rubber Hex Dumbbells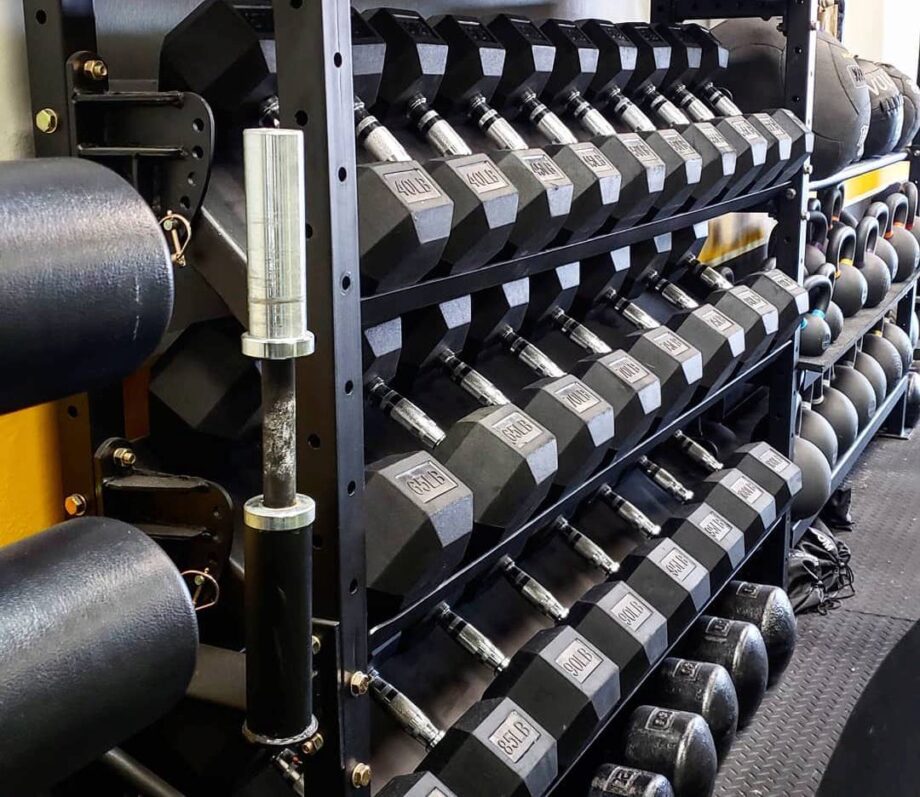 To purchase a set of the Titan Black Hex Dumbbells that give you pairs from 5 – 25 pounds at 5-pound increments, it will cost you a little over $200. To purchase a set of these dumbbells that give you pairs from 5 – 100 pounds at 5-pound increments, it will cost you over $2,000. If you choose the latter option, then this will be by far your costliest home gym purchase and will take up by far the most space in your home gym. You could also purchase the first set and then mix and match other weight pairs only purchasing the ones you use the most.
On the flip side, to move from one weight to the next with this set of dumbbells involves nothing more than setting one pair down and picking the next pair up. There is no removing and replacing the collar, adding or taking away plates, and racking and unracking the weight you need. A set of dumbbells like this one allow you to keep your momentum going throughout the workout without having to worry about transition time, and this purchase will save you almost incalculable time.
We've used these exact dumbbells in our personal training gym for nearly two years and they still look as good as new. Something most people don't realize is that pretty much all black rubber hex head dumbbells come from the same place, so you should be looking for the best price first, and warranty second.
Kettlebells
Top Pick: Titan Adjustable Competition Style Kettlebell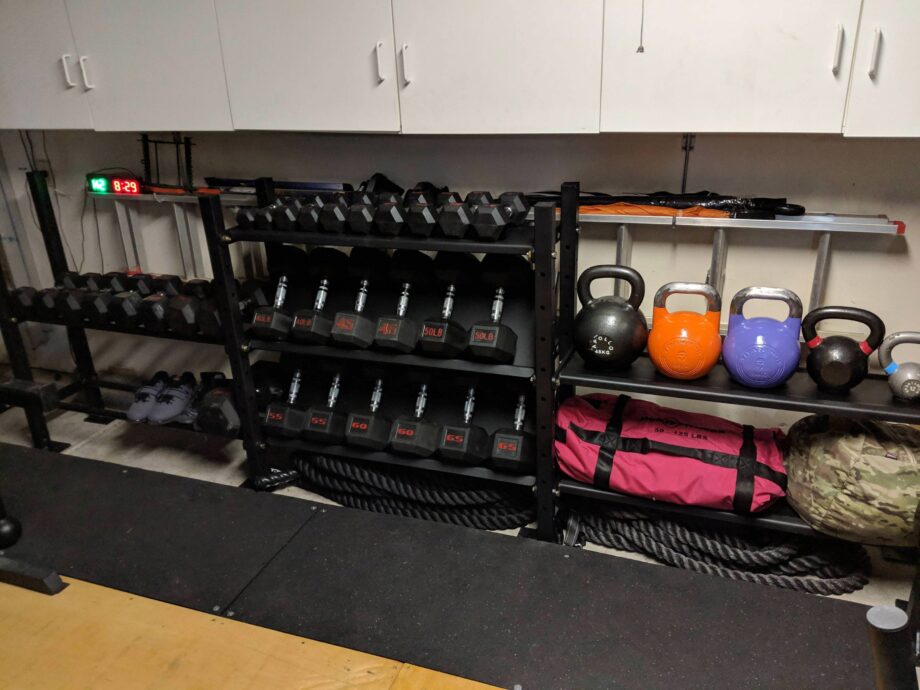 The Titan Adjustable Competition Style Kettlebell weighs around 12 KG empty and comes with six cast iron plates that can give you around 20 different weight configurations and a max weight of 32KG (which is pretty impressive for its size.) The best thing about this adjustable kettlebell is that it looks like, feels like, and performs like a traditional kettlebell but gives you the versatility of the plate loadable option. The worst thing is that you need an Allen wrench just to change the weight.
With a price coming in at less than $150 and the fact that changing the weight of a kettlebell is not an everyday occurrence, this adjustable kettlebell is our top kettlebell pick. The issues with many adjustable options when it comes to weightlifting equipment are quality and ease of use. With the adjustable kettlebell, these issues are largely mitigated by two things. The first is that kettlebells are not an everyday piece of equipment for most workouts and the second is because the design of this adjustable set mirrors a competition kettlebell and the weights that are housed inside are made of tough cast iron.
Especially when creating a garage gym in a usually limited space, adjustable and loadable weightlifting equipment options, like the Titan seated leg curl/extension machine provide an advantage. The problem is usually that these same advantages come with equally negative disadvantages (see the loadable dumbbell review above).
The Titan Adjustable Competition Style Kettlebell has all of the positives of adjustability while mostly solving the lingering issues associated with this type of equipment. The main issue with this is that you're going to have to use an Allen key every time you change weights. This is incredibly annoying and you'll find yourself not changing the weights often during a workout. If you don't mind this inconvenience, these are a good value. If you hate setting things up like we so often do, then we'd look elsewhere to standard kettlebells.
Upgrade Pick: Titan Cast Iron Kettlebell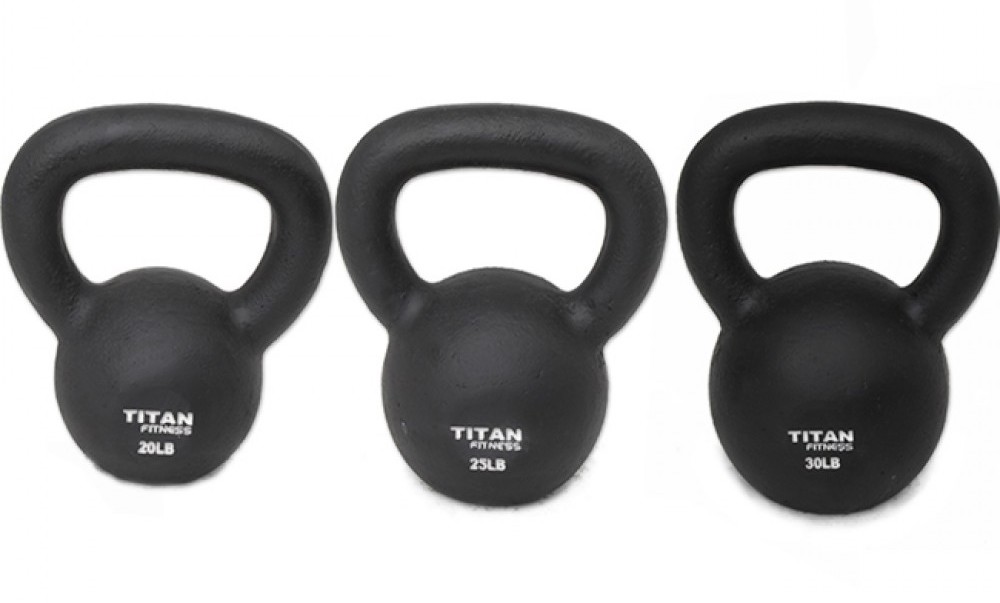 The Runner-Up kettlebell pick is the Titan Cast Iron Kettlebell. As opposed to our top pick, this kettlebell is not adjustable so you would have to purchase kettlebells in whatever weights you are most likely to use. Titan offers a few sets that will give you a good base that you could add on to as necessity and money allow, but if you were to purchase two kettlebells of 50 pounds or more then you have already gone over the price of the adjustable kettlebell.
The cast iron is both rugged and cast with a one-piece design (something you don't often see with cheaper kettlebells), which allows it to withstand most of the abuse that will be placed on it. The kettlebells are advertised to flat bottoms so that they are easy to store and do not tip over, however, we've seen many that have rounded or uneven bottoms which cause them to tip over. If this happens, we suggest shooting Titan an email for a refund. They're usually pretty good about taking care of our readers.
The grip is wide and ideal for almost any size hand and it also has the right amount of grip that will not hurt your hands or slip out of them. It's aesthetically pleasing with a sleek black design that is made to be shown off in your gym.
Now, as expected for the price, there have been a few issues reported; mainly cosmetic, however. For instance, one reviewer had this to say: "The quality of my 55lb kettlebell is ok, it arrived in a very beat up box, which is worse than what I have previously received from Titan. There were a few cosmetic blemishes on the kettlebell itself on places where the powder coat/paint was applied sloppily." The Titan Kettlebells are also not known for their weight accuracy. For most, this isn't a big deal, but for those that like their equipment to weigh exactly what it says, we'd suggest looking elsewhere, such as Kettlebell Kings.
One reviewer had this to say regarding the weight accuracy of their 55 LB Kettlebell: "It weighed in at 53.5 lbs on my scale, so keep in mind the weight may not be entirely accurate when ordering heavier kettlebells."If price and space were not an issue, then a set of these cast iron kettlebells would be our top pick.
However, to have the versatility provided by the adjustable kettlebell you would have to pay over a thousand dollars and these kettlebells would take up a large amount of space in your garage gym. These are okay on the quality scale but high up on the budget scale. If you want one of the best kettlebells and need them cheap, this is your best bet from Titan.
Budget Pick: Titan Plate Loadable Kettlebell Swing
When building a garage gym space, price, and versatility are key components to your decision. The Plate Loadable Kettlebell Swing from Titan will allow you to do quite a few different kettlebell movements for the lowest price and the least space. All you have to do is purchase a $50 swing and use the weight plates that are already there. When you're finished, just put the plates up and the swing is small enough to fit anywhere in your garage.
The downside to this option is that it's a little awkward feeling and doesn't have the feel of a kettlebell. It's also a little shaky in the movement and takes quite a bit of time to load and unload.
While ease of use and the difficulty of loading and unloading this kettlebell swing are big disadvantages, there is another disadvantage that makes the adjustable kettlebell a much better option…quality. When you use this loadable kettlebell swing, it's really not even a kettlebell. You can swing with it, do some deadlifts and carries, as well as Power Stairs (if you're into Strongman movements), but other than that, you're pretty limited.
The shakiness mentioned above and the overall lack of quality is difficult to overcome, especially when there is a slightly more expensive option (there is about a $100 difference in the two products) that is just simply better, (you could also make a DIY option pretty easily with galvanized pipe.)
The bottom line is that if you end up with the plate loadable kettlebell swing as opposed to the other two options reviewed above, it's for one reason…price. If you know that kettlebells will not take a huge place in your workout routine and you want to use that money on a more useful product for what you do, then this $40 option may be just what you need.
You have already purchased the plates and you can easily store this out of the way and leave yourself more room for more important equipment. These two things make this loadable kettlebell swing a good, ultra-budget option for your garage gym.
Weight Sled
Top Pick: Titan Power Weighted Drag Sled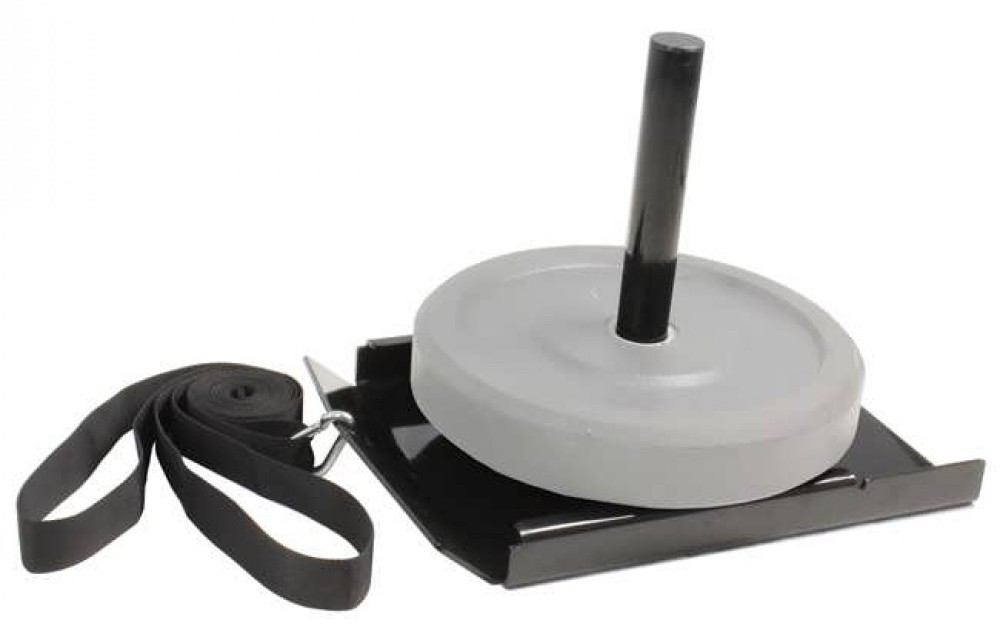 The Titan Drag Sled comes complete with a leash and a harness to allow you to perform both forward and backward facing drags. The cost is less than $100 and you can use the Olympic weight plates you are using in the rest of your home gym. While not the most important piece of weightlifting equipment, the sled can add variety and versatility to your workout by allowing you to focus on major and stabilizing muscles in a different and effective way. There are definitely better sleds on the market, but these things get beat up rather quickly, so a budget option like this is usually your best bet.
Upgrade Pick: Titan Pro Sled System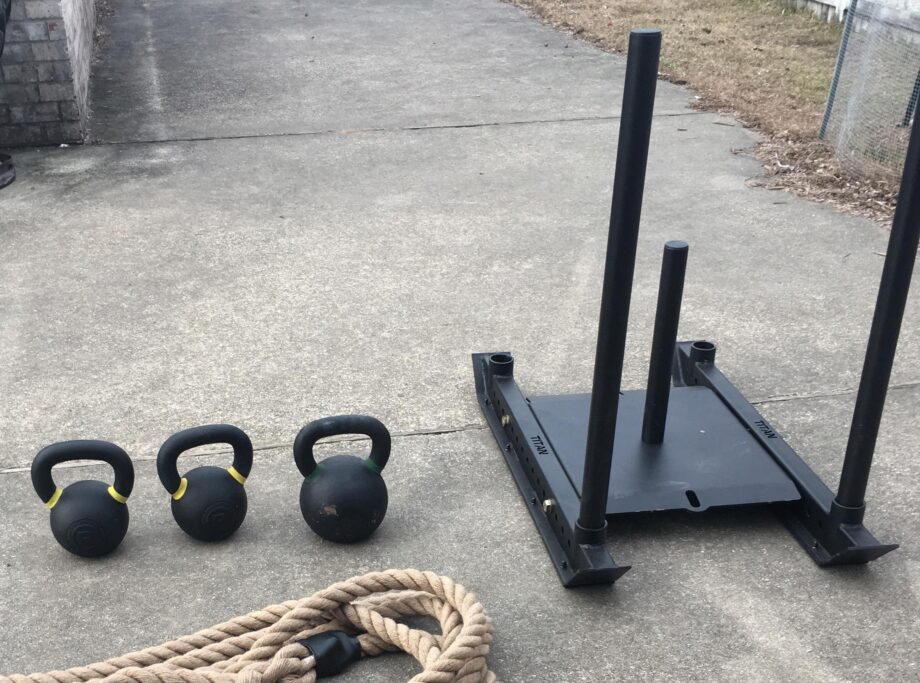 The Titan Pro Sled System is definitely an upgrade over the weighted drag sled, but it may not be enough of an upgrade to pay more than double the price. With the upright poles, the Pro Sled System acts as a push, pull, or drag sled and this sled can be used on almost any surface.
The main difference between the two sleds is that the Pro System has two upright poles that allow you to hold and push rather than strapping a harness on and pushing against it with your shoulders. This is a much more natural movement and it also helps to prevent injury as your joints are stabilized throughout the process. The harness, on the other hand, allows you to use more of your natural strength to pull even more weight.
While they are both excellent, the Pro Sled System does not give you enough to justify paying the extra especially when you could use that money to upgrade somewhere else.

Building A Budget Home Gym From Titan Fitness FAQs