We have affiliate relationships through which we are paid a commission on sales through some of the links on our site. Read our disclosures.
There are a lot of different jump ropes out there. There are speed ropes; weighted ropes; beginner jump ropes; beaded ropes; fancy ropes with wooden handles and memory foam grips. There are even smart jump ropes and ropeless jump ropes. But which jump rope is the best jump rope? I'll help you figure that out if you keep scrolling.
Why You Should Trust Us
I know a lot more than I ever thought I cared to know about jump ropes. And now I ambush everyone who expresses interest in buying a jump rope because bearings and bushings and wires and coatings, oh my! Jump ropes are, evidently, more complex than most people ever realize.
But, thanks to the fact that the Garage Gym Reviews team thoroughly tested more than 20 jump ropes from various brands, you can skip the part where you research bare steel wires vs. coated wires and just pick the one from this list that sounds nice to you.
Best Jump Rope in 2022
Best Overall Jump Rope: WOD Nation Double Under Speed Jump Rope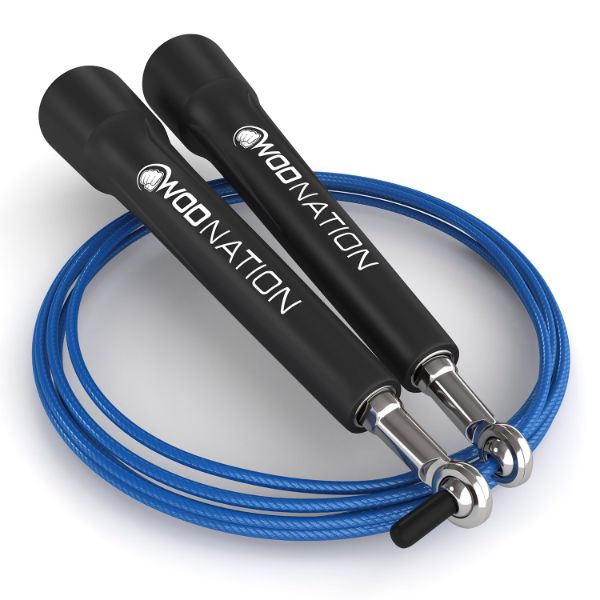 Good for: People who want a great speed jump rope for a good price that will last years
Best Overall Jump Rope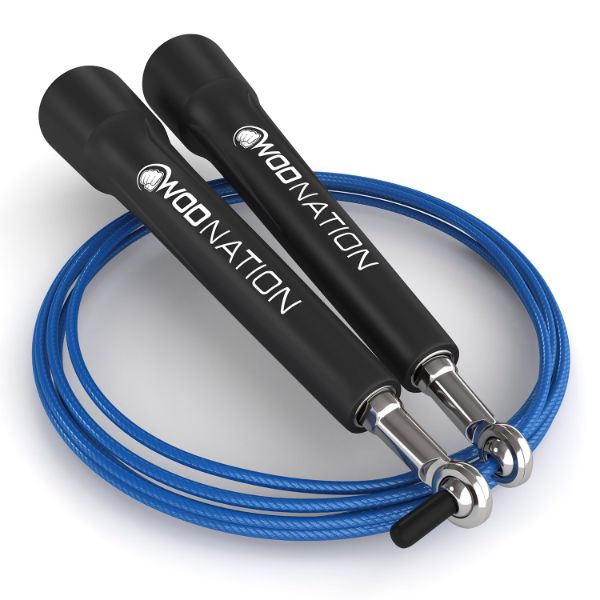 WOD Nation Double Under Speed Jump Rope
Our team has used and loved the WOD Nation Double Under Speed Jump Rope for years. For under $20, you get the rope, an extra cable, and a carrying case.However, the real value in the rope lies in its performance. It's a 2.5-millimeter cable that whips quickly through the air, ideal for people who need a fast spin (hence why it has "double under" in the name). This is thanks in part to the double-steel bearing system, which features a ball-and-socket-style mechanism.The WOD Nation ropes come in a variety of colors on the handles and cable. Each cable is a standard length, requiring you to size and cut (with wirecutters) at home. If the rope is still a little too long, you're able to adjust without cutting by pulling the cable through the bearing and tightening the bolt (which you should use a tool for instead of just hand-tightening).
My Favorite Things:
Only costs $20
Incredibly lightweight, yet durable
Comes with two cables
Cable lasts for years even when using on asphalt
Fast and spins with minimal wrist movement
My Callouts:
You have to use wire cutters to adjust the length
Basic plastic handles
Kinks easily if you don't store it well
The WOD Nation Double Under Speed Jump Rope is an all-time favorite among Garage Gym Reviews team members. Our editor Kate Meier has personally used this rope for five years and doesn't have any complaints.
Not only does the WOD Nation speed jump rope feature all of the necessary components of a good speed rope—ball bearings, uber-thin cable (2.5 millimeters), coated wire cable—but it's durable, long-lasting, and costs just $20. That price point makes this rope an exceptional value before you even account for the fact that your purchase comes with two interchangeable cables and a carrying case. And it ships free with Amazon Prime! Really, what more could you ask for?
Kate did have to switch the original cable out for the second one after three years, but she admits to the ultimate CrossFit sin of using her jump rope on abrasive surfaces like concrete. Doing this with any coated cable rope will eventually wear down the coating and expose the bare wire underneath. Still, for a coating to last three years is pretty impressive.
Even after testing and using probably more than a dozen speed ropes, this is still Kate's favorite, and it's one of mine, too. I used the WOD Nation speed rope for a few years before switching to a Rogue Fitness SR-3, not because I needed to, but because I'm a gear junkie.
The only complaint people seem to have about this rope is that the nuts holding the cable in place can come loose. Just tighten them with a small wrench. Also, you'll probably need wire cutters to cut this rope to length, or at least some pretty strong kitchen shears. Other than these minor inconveniences, the WOD Nation Double Under Speed Rope is just about perfect and we think it's the best value for most people.
Best Jump Rope for CrossFit: Rogue Fitness SR-2 3.0 Jump Rope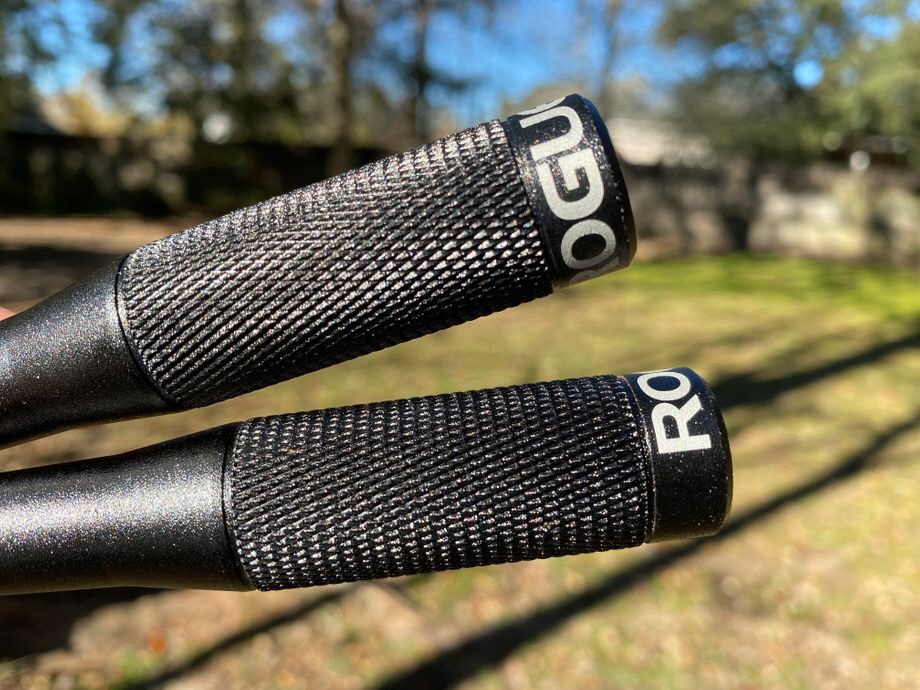 Good for: Anyone who wants to beat everyone in double-under WODs
Best Jump Rope for CrossFit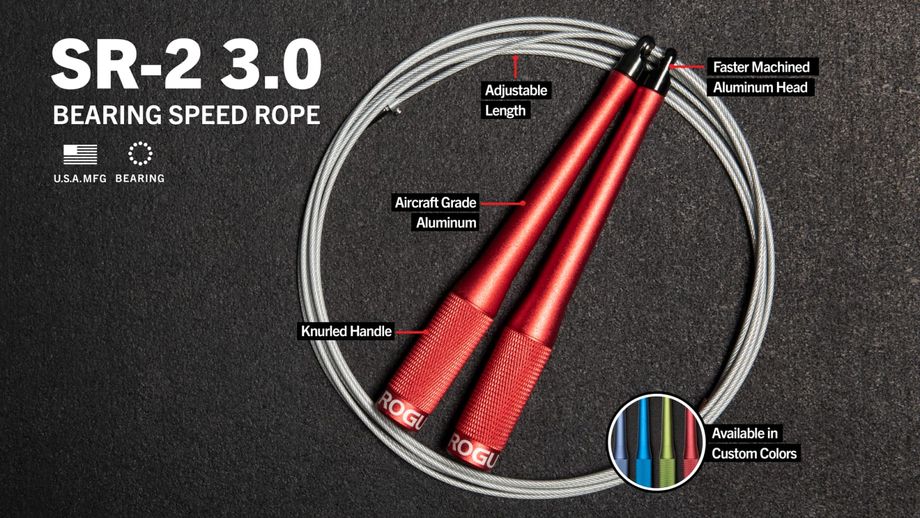 Rogue SR-2 3.0 Jump Rope
This is a magical speed jump rope that will give you a magical PR on your double-unders. Just kidding—kind of. That actually happened for one of our Garage Gym Reviews team members while testing the Rogue SR-2 3.0 rope (after testing several others!). With a total weight of 0.35 pounds, a 2.4-millimeter rope diameter, and uber-lightweight aluminum knurled handles, it's not too hard to see how this speed rope could increase your double-under capacity. The SR-2 3.0 features a coated speed cable and a high-speed bearing system for all-degree rotation. It's a standard 120-inch cable that can be cut to size based on your height. You can get the SR-2 3.0 with standard handles (6.75 inches long) or short handles (5.25 inches long).
My Favorite Things:
Extremely lightweight (0.35 pounds)
Option for shorter handles
Knurled lightweight aluminum handles
Blazingly fast
My Callouts:
Thin cables can get warped easily
Should be used only on gym flooring for longevity
Adjustable, but screws are tiny and hard to manage
I'm a double-under fiend. I'm pretty sure it's because it's the only skill-based CrossFit movement I excel at (toes-to-bar, no. rope climbs, definitely not). Regardless, I love 'em. By no means am I a pro, but I can consistently do sets of 50 and I had a pretty decent PR of 112.
Then I got my hands on this rope and enjoyed a smooth PR of 137 double-unders. Was it the precision-machined aluminum handles? The oiled swivel ball bearing system? The diamond kurling and tapered grip? The 2.4-millimeter speed cable?
All of these features come together to create a wildly fast yet durable and consistent rope, which is exactly what you need for CrossFit WODs, during which you move from double-unders to thrusters to box jumps to who knows what else. You need speed and you need consistency, and this rope will help you achieve both.
The Rogue Fitness SR-2 3.0 is best for people who are already proficient at double-unders and want to get better. I wouldn't recommend it for someone who's just learning how jumping rope fits into CrossFit. That's a recipe for welts and whip marks.
Like all Rogue SR series ropes, the SR-2 3.0 is a size-and-cut rope. It comes only in a 120-inch cable length, so you have to size it to your height and cut the rope accordingly. A pair of good scissors should do; I didn't have any issues with fraying. Once you size the rope appropriately, retighten the screws, cut the excess off, and replace the end cap. The tiny screws are a bit frustrating to deal with, but that's just the standard. If you have a small Phillips head screwdriver, you'll be fine.
Take care if you plan to pack this rope into any bags, as thin cables can easily warp. And, as always, use caution in outdoor settings. You'll maximize longevity if you use it only on non-abrasive surfaces such as gym flooring.
Best Jump Rope for Learning Double-Unders: CrossRope Get Lean Jump Rope Set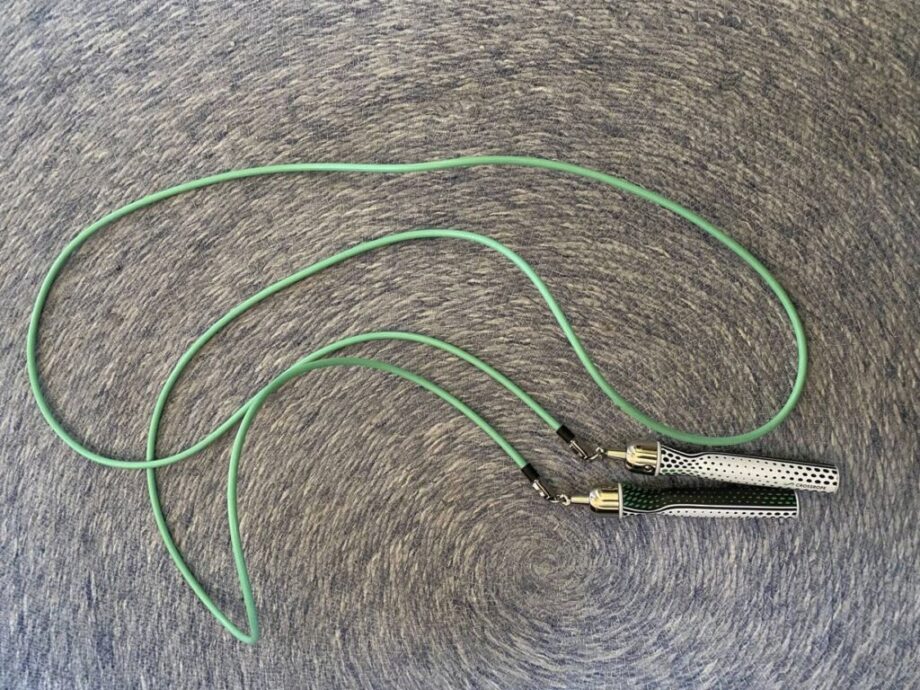 Good for: People who are trying to nail double-under rhythm and want to avoid welts
Best Jump Rope for Learning Double-Unders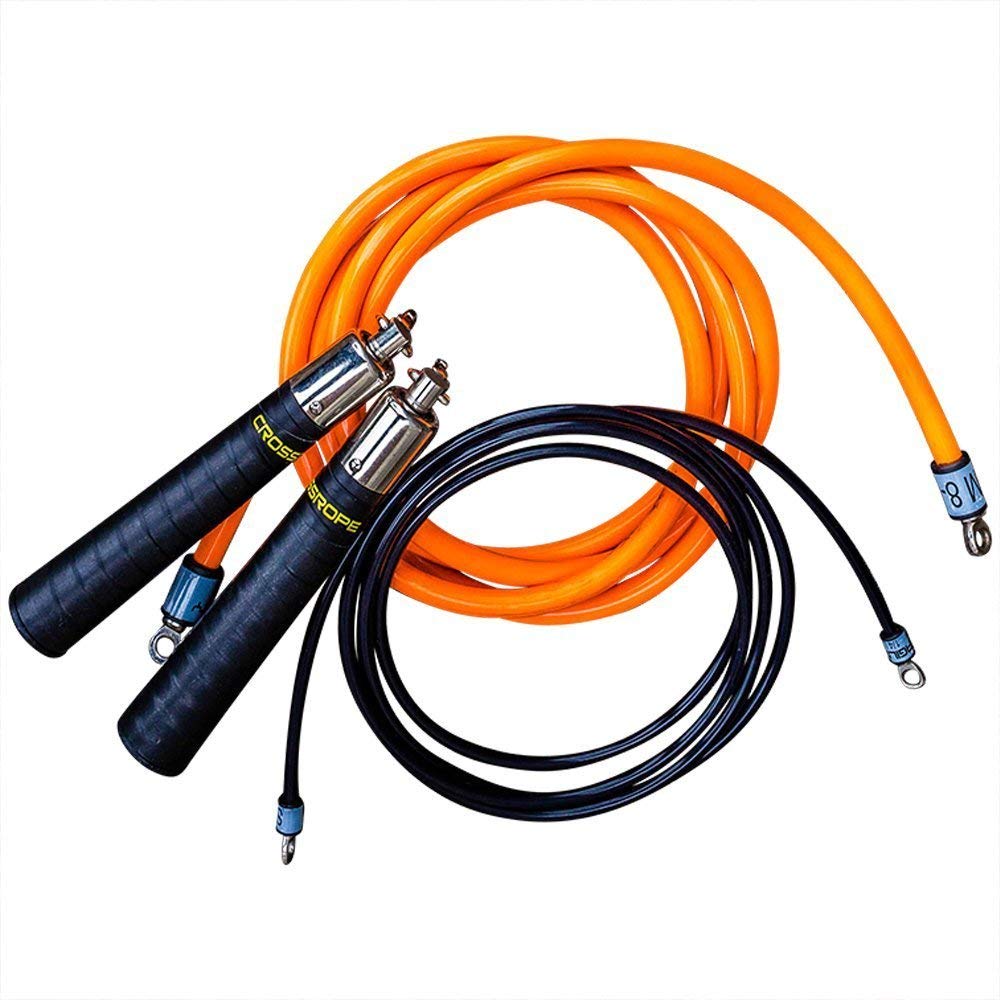 Crossrope Jump Ropes
GET STRONGER, LOOK FITTER, FEEL MORE POWERFUL - Take your best jump towards incredible fitness with the highest quality jump rope on the market, built for every training need. Speed rope and high intensity training? Yep - use our lightweight Agility rope. Power strength and endurance workouts? You got it - just quickly clip on the heavyweight Intensity rope. Both ropes are included in this Crossrope Starter Set, with more ropes available in other sets. LEARN TO JUMP ROPE QUICKLY, OR BUILD ON YOUR SKILLS - Our unique weighted ropes make it easier for beginners to learn fast, and for experienced jumpers to get better and stronger more quickly. Weighted jump rope exercise can burn fat and boost endurance, muscle definition, strength and body conditioning - all while enhancing coordination and agility. Whatever your experience level with skipping rope, Crossrope will give you as much workout as you can handle. PATENTED CLIP SYSTEM, HIGHEST QUALITY BALL BEARINGS - No one else has the quick-change weighted jump rope system offered by Crossrope. Switch in seconds between speed rope training and heavy jump rope training, staying smooth all the way with spinning ball bearing handles that will go as fast as you can possibly jump! Top quality bearings control rope rotation at the correct speed to protect your joints and prevent any rope tangles. TRAIN LIKE A WARRIOR, ANYWHERE - Crossrope is your portable gym, offering a versatile workout no matter where you are, at whatever intensity level you need! With just two ropes, you can quickly and easily mix up training between light and speedy or heavy and powerful, with every option in between. Our durable PVC-coated, wire core ropes can be used on any surface - indoors or outdoors. Crossrope is perfect for home or travel. LET US GUIDE AND INSPIRE YOU TO NEW HEIGHTS - The Crossrope Starter Set includes our "Jump Without Limits" quick reference guide, packed with tips and techniques from experts. We also share numerous tried-and-true jump rope workouts - from novice, to full body training, to freestyle challenges. Create a fun new exercise regimen, get in the best shape of your life, and show the world your fancy footwork!
My Favorite Things:
Rope is interchangeable with different handles
Comes with a carrying case for organization
Provides good feedback for learning
My Callouts:
Heftier than a speed rope, but still fast
Handles are relatively heavy
Can't utilize smart features unless you subscribe ($79.99 per year)
So, you want to learn how to do double-unders. Prepare yourself for weeks or months of hellish rage and torn up skin… Unless you invest in the CrossRope Get Lean Jump Rope Set, which might help you nail the rhythm a bit quicker and minimize welts.
Garage Gym Reviews staff writer Anthony O'Reilly tested the CrossRope jump rope set and enjoyed his experience with the interchangeable ropes. The Get Lean set comes with a pair of handles and two cables: a 0.25-pound cable and a 0.5-pound cable. The cables are easily interchangeable thanks to CrossRope's Fast Clip System.
The reason this set is so good for learning double-unders is because the heavier cables provide a ton of feedback during jumping (meaning, you can feel where the cable is in the rotation while you're jumping—not something you can really feel with speed ropes).
As a beginner trying to learn double-unders, feedback is important because a new jumper needs to develop body awareness to know where their body is in relation to the cable. Without that awareness, you'll never develop a consistent rhythm to master double-unders.
The ceramic ball bearing system in the handles helps, too. Anthony says the CrossRope handles have smooth-as-butter rotation. "Not an ad, just the truth," he wrote in his testing notes.
The sizing was on-point, too, Anthony said. You can choose from four sizes (S, M, L, XL) and CrossRope provides a handy sizing chart for easy selection.
Best Speed Rope: RPM Sprint Jump Rope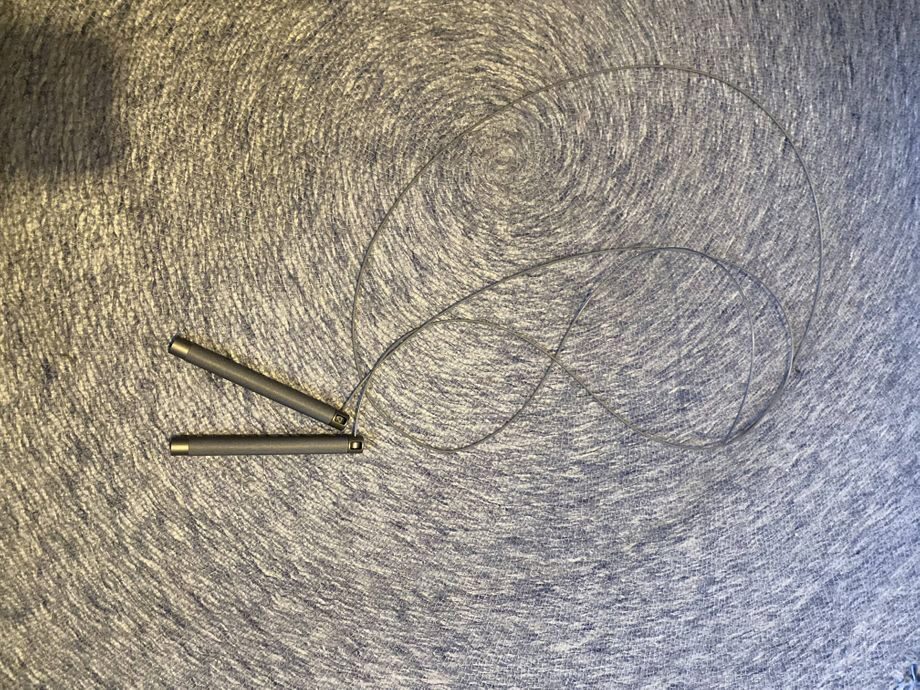 Good for: People who are already good jumpers and care primarily about speed
Best Speed Rope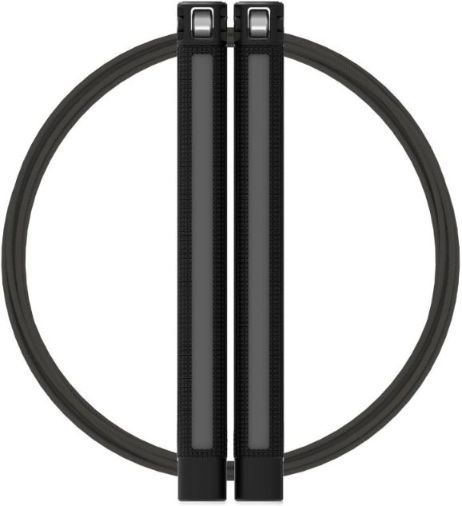 RPM Speed Rope - Sprint
The RPM Sprint rope is one of the best lightweight speed ropes on the market, as well as being one of the most affordable at $35. If you're looking for a rope that can go fast, this is it–it's in the name, after all. Featuring a coated cable and knurled handles, this speed rope isn't for the faint of heart. It's built to deliver a grueling cardio workout experience thanks to the oil-infused bushing anti-friction system that ensures a smooth rotation with each turn.  The RPM Sprint is incredibly light, making it easy to bring on the road (it also comes with its own cloth carrying case), and is cut-to-size so it works for people of all heights. The setup is a bit frustrating, but the workout experience is well worth it. 
My Favorite Things:
Oiled bushing rotation system
Full-length, mild knurling on the handles
Comes with its own cloth case
My Callouts:
Screws for adjusting the length are stupid small
5.5-inch handles might be small for some people
It's a bare cable, so making contact with the skin hurts
Do not—I repeat, do not—buy this rope and start jumping if you have 1) never used a speed rope before or 2) want to start learning double-unders but haven't tried yet. This rope will hurt like heck when you inevitably whip yourself with it, especially if you opt for the bare steel cable, which our product tester Anthony did.
But by all means, buy this rope if you are already proficient at speed jumping and/or double-unders and want to get even faster. The RPM Sprint Jump Rope offers next-level speed, thanks to the dual-axis rotation, which eliminates torque build-up in the handles. The oil-infused bushing system maximizes spin and power transfer, while the thin bare cable moves through air like a knife through butter.
Honestly, a rope this fast could push a good double-under-er into triple-under territory.
The cylindrical handles feature full-length, mild knurling to assist with grip. They're just 5.5 inches in length and quite thin in diameter. Anthony mentioned they felt small in his hands, but the knurling made up for it. The handles are constructed of aluminum, so they're lightweight.
During testing, Anthony's one big complaint about the RPM Sprint (and all other RPM ropes) is that the initial adjustment process is frustrating. The set screws are tiny, and as someone with large hands, Anthony found the whole shebang to dampen the entire rope experience. Make sure you have a small screwdriver handy, or a friend with nimble fingers.
As for the whipping thing, that's just a fact you must be willing to accept with any bare wire rope, and if you choose that route, be ready to explain your welts to non-CrossFitting friends.
Best Weighted Jump Rope: Rogue Fitness PRO Jump Rope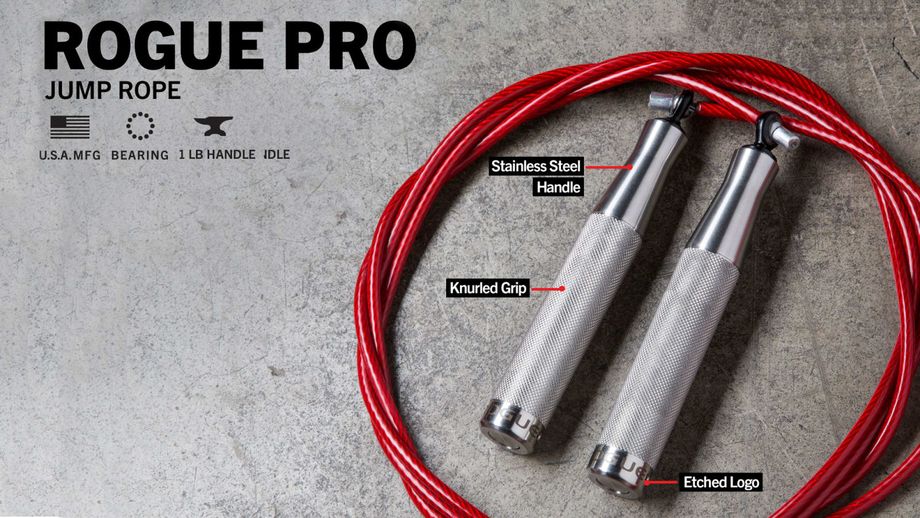 Good for: People who want a unique weighted jump rope for building stamina
Best Weighted Jump Rope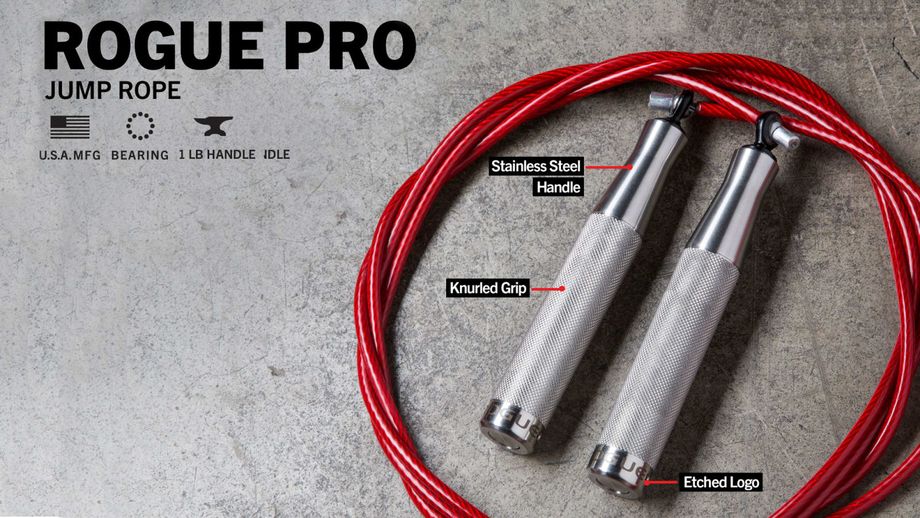 Rogue PRO Weighted Jump Rope
If you want to up the ante on your double-unders by increasing your stamina, the Rogue PRO weighted jump rope is a good way to do so. This rope features thick (25 millimeters), heavy, stainless steel handles—most of the weight lies in the handles versus the cable, like in other weighted jump ropes. The Rogue PRO jump rope has a plastic-coated cable that is 5.5 millimeters in diameter. This is about twice the thickness of Rogue Fitness' SR (speed rope) series, all of which have cables of about 2.4 millimeters. Even double-under pros may only be able to get a few good reps in with this jump rope before resorting to single-unders. But that's okay—this rope is built for endurance and strength training, not speed. By implementing the Rogue PRO jump rope into your weekly training, speed ropes will feel light as a feather.
My Favorite Things:
Stainless steel handles will resist corrosion
Great for building endurance and stamina
Bearing rope with 360-degree swivel in the handles
My Callouts:
Takes a lot of getting used to coming from a speed rope
Thick rope is hard to pack up
Not adjustable (but comes in five lengths)
I always thought weighted jump ropes had weighted cables. Not this one. The Rogue Fitness PRO Jump Rope is a unique weighted rope because the majority of the weight lies in the handles, not the cable.
The handles are constructed of stainless steel and weigh one pound each. That may not sound like a lot, but it's quite a lot when you're attempting to jump quickly. Apparently, CrossFit Games athletes used this rope at the 2016 Games and did double-unders with them. They are definitely superhuman, because I maxed out at seven double-unders with this thing.
Though thick, the handles have great grip because they're fully knurled with the exception of the tapered base. The knurling is extra helpful because of how heavy and thick the handles are.
To give you an idea of just how big the handles are, they're 25 millimeters in diameter—not much skinnier than an Olympic barbell (28.5 millimeters) and the same as the shaft of a 15-kilogram barbell such as the Rogue Bella Bar. Despite the diameter, the handles still have great spin thanks to the 360-degree swivel bearings.
I thoroughly enjoyed the challenge this rope gave me. After a few sets of single-unders, I was winded, so I know the Rogue PRO would be a great rope for building strength and stamina. The cable itself isn't super heavy, but is definitely heavier and thicker than a speed rope. In fact, it's more than twice the thickness of the Rogue SR series ropes at 5.5 millimeters.

The Rogue PRO is not adjustable, but it's available in 5 fixed-length options (95 inches to 115 inches in 5-inch increments). Rogue provides a size chart to help you choose. I ordered the 105-inch inch rope, which is said to fit heights 5-foot-5 to 5-foot-9. I'm 5-foot-6 and the rope felt a little long. I was able to jump just fine, though, after a few reps.
Best Smart Jump Rope: Tangram Smart Jump Rope Rookie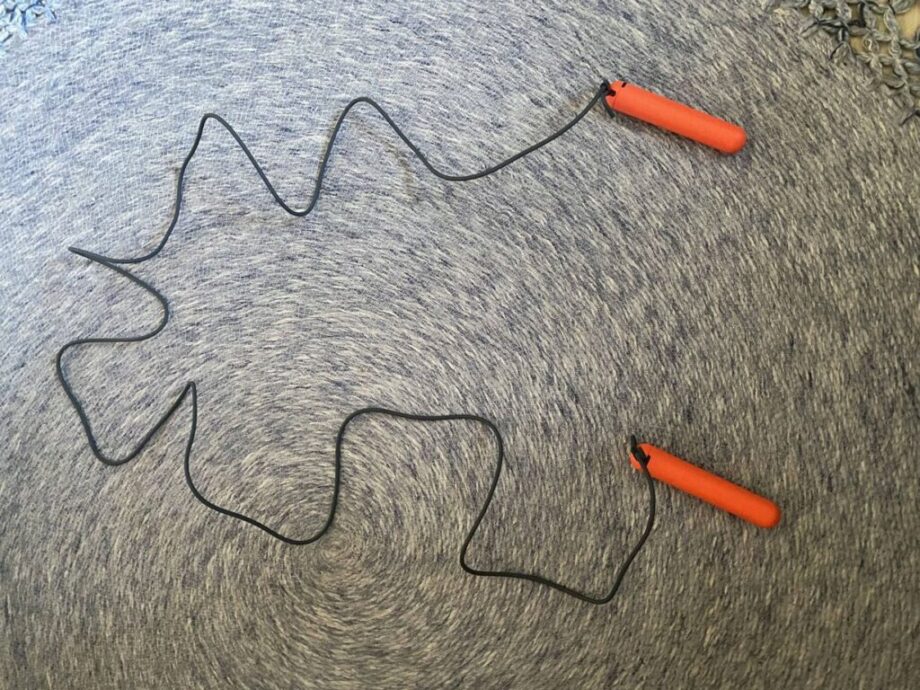 Good for: Anyone who can't be bothered to count their reps (and wants to see their exercise data)
Best Smart Jump Rope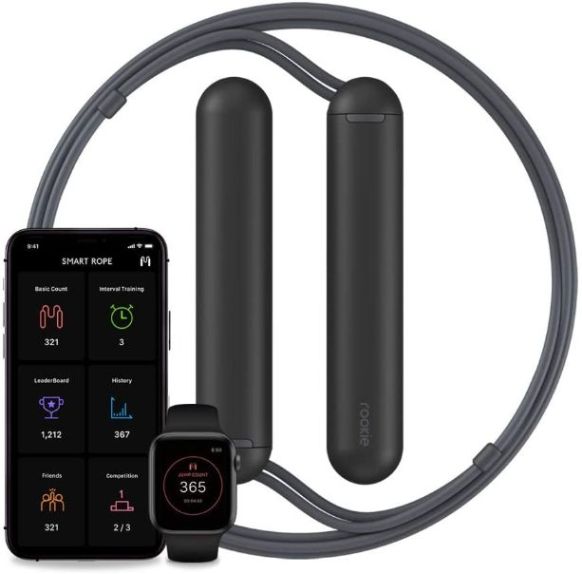 Tangram Smart Jump Rope Rookie
The Tangram Smart Jump Rope Rookie is a smart rope that tracks your rotations through an app. Unlike other smart home gym equipment, you don't have to pay anything extra for the full app experience (something we really appreciate). Even without the app, we really liked this rope. It's easy to adjust, lightweight, and comes with a convenient carrying case. It does tend to tangle pretty easily, but the knots are not difficult to get out at all. While this isn't the best rope (you're not going to be hitting many double-unders with it), it's still a great tool for quick and easy cardio workouts with the added bonus of having an app track your rotations. 
My Favorite Things:
Easy to adjust to different lengths, doesn't require any cutting
Counts number of jumps for you
Lightweight 55-gram cable
My Callouts:
Battery setup is kind of complicated
Plastic handles don't have a tapered base
5-inch handles maybe too small for people with large hands
If you're tired of counting your reps while jumping rope, consider a smart jump rope, which will count for you and provide a number of stats in addition. For example, the Tangram SmartRope app counts jumps, calories burned, and time elapsed. You can also set daily targets and track your jumping history.
Aside from the smart features, the Tangram Smart Jump Rope Rookie is a pretty solid rope. It's adjustable, but doesn't require any cutting like most adjustable ropes. You simply thread it to your desired length through the handles. Anthony O'Reilly, a Garage Gym Reviews writer who tested this rope, said it worked for people of multiple heights and skill levels.
The Rookie has plastic handles that work just fine. They're 5 inches in length, which didn't feel too small for Anthony thanks to the thicker width.
The cable weighs 55 grams (1.9 ounces), so it's nice and lightweight. Anthony was able to move it quite quickly and said he got into the groove with it faster than some other ropes he tested. It does get tangled quite easily though, despite being advertised as a tangle-free polypropylene cable. It's anything but tangle-free when not in use, Anthony said, and it can get annoying.
However, the overall experience was enjoyable, and it's pretty cool to just jump without counting, knowing you can later look to see your reps. I think it would be really fun to set a timer for, say, 20 minutes and complete as many reps as possible without having to focus on counting.
Best Jump Rope for Beginners: XYLSports Jump Rope
Good for: People who want to test the waters with an inexpensive but durable rope
Best Jump Rope for Beginners
XYLSports Jump Rope
The XYLSports Jump Rope is a highly affordable tool for people who are just learning how to skip rope. The 9-foot-8-inches rope is easily adjusted for people of most heights, including children. Simply open the handle, pull the cable through and cut it, knotting it off.With a bearing system, the rope spins well enough for beginners to get the hang of it. A light cable means that tripping up won't leave whip marks the way speed ropes or heavy ropes will. The rope itself is 5 millimeters thick and made from PVC.The foam handles are comfortable and easy to grip, but will probably wear over time.
My Favorite Things:
Relatively tangle-free
PVC rope is easy to cut for adjustments
Ships free with Amazon Prime
My Callouts:
Thick, foam handles are comfortable but not build for speed workouts
Lightweight, but not super quick, cable
No true rotation system, just a rope through a handle with a knot on the other end
For those who want a basic, durable jump rope with a comfortable grip and decent speed, the XYLSports Jump Rope is the one to get. It's an Amazon's Choice pick with over 2,000 positive reviews.
In our testing, the verdict pretty much came down to this: Nothing special, nothing bad. It's just a jump rope. And it only costs about $10, so it's a great pick for anyone who wants to try their hand(s) at jumping rope but isn't sure they'll stick to it.
Made of PVC, the cable is durable but easy to cut for adjustments. It's lightweight but has some heft to it, so it will provide feedback as it moves through the air. This is helpful for people just learning to jump rope.
There's no true rotation system—it's really just a rope threaded through a handle—so the spin isn't the smoothest. Still, even true beginners will have no problems rotating the rope. All in all, you can't go wrong, because it's a $10 jump rope that will probably last years.
Best Jump Rope for Kids: Rogue Fitness Licorice Rope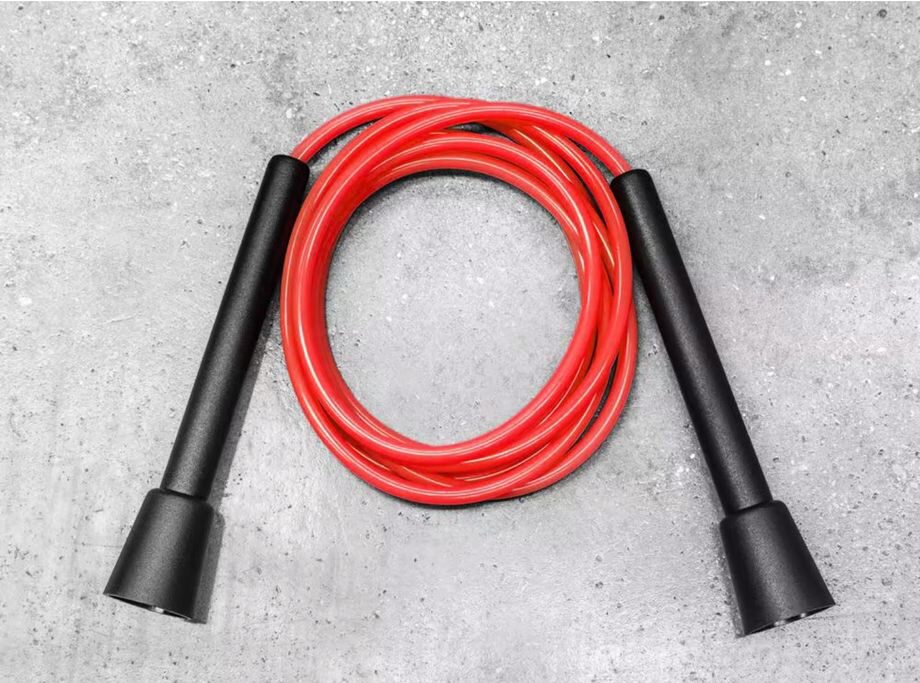 Good for: Parents who want to buy an inexpensive and safe rope for their kids
Best Jump Rope for Kids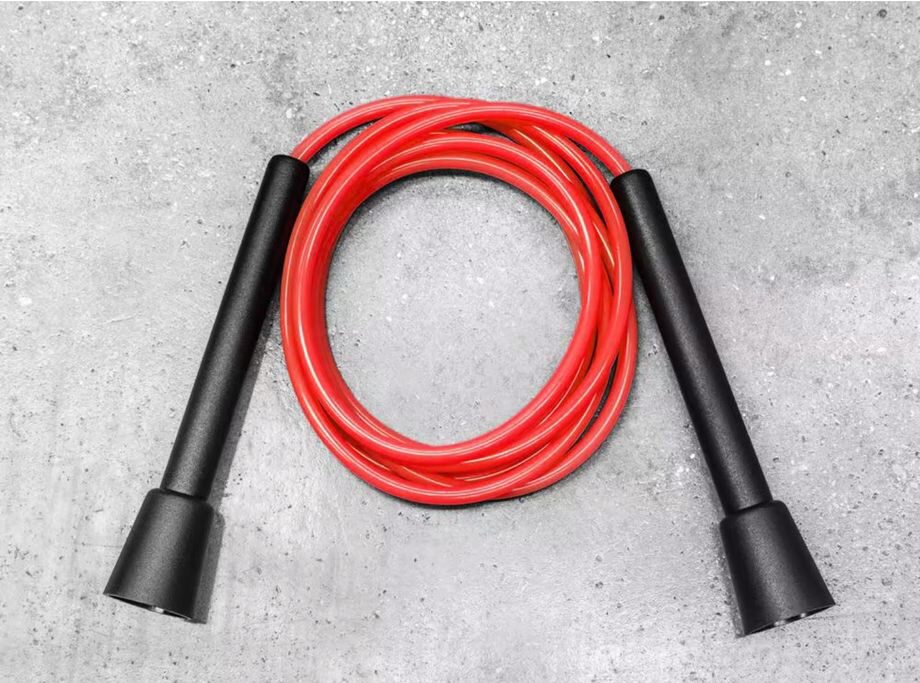 Rogue Licorice Rope
The Rogue Licorice Jump Rope is a basic plastic jump rope. It's inexpensive and great for anyone who wants to try jumping rope but isn't ready to invest in a more expensive rope with fancier features. The Licorice Rope is bare-bones, but that's not necessarily a bad thing. The cable is made of flexible PVC and the handles are also plastic. They don't contain a true rotation system; rather, there's just a bit of space between the rope and the handle, which allows the rope to spin. These ropes come in four sizes (seven to 10 feet) and they're color-coded for easy recognition.
My Favorite Things:
Inexpensive
Beginner-friendly
Easily packable
Safe for kids
My Callouts:
Doesn't have quick spin
No bearings or bushings
Short handles (5.25 inches)
Parents, if you want a run-of-the-mill, basic plastic jump rope for your little ones to use, the Rogue Licorice Rope is a good choice. There's nothing special and nothing bad about this rope: It's inexpensive, tangle-free, and gentle on skin if it happens to make contact.
Is it fast? No. But unless your child is the next Tia-Claire Toomey or Mat Fraser, does it really matter? Also no.
Still, I was able to jump at decent speeds and even get in a few sets of 10 to 20 double-unders with the Licorice Rope. That's saying a lot for something that doesn't even have bearings or bushings. It's just a PVC cord threaded through a PVC handle with a knot to keep it in place.
Because the cable is made of relatively thick (5 millimeters) PVC, it'll withstand use on concrete or asphalt better than a thinner coated wire cable. PVC also holds up well to sunlight exposure, so no worries if your kiddo leaves their rope outside in the sun for a few days.
Licorice Ropes weigh just over 3 ounces in total, and the handles have a small 0.6-inch diameter, which will be easy for kids to hold onto. They come in four different sizes (7, 8, 9, or 10 feet) and are color-coded for each length. With a price point of less than $9 each, you won't be out much if your kid decides to destroy it, as kids do.
Best Jump Rope for Tall People: Rogue SR-1F 11' Cable Jump Rope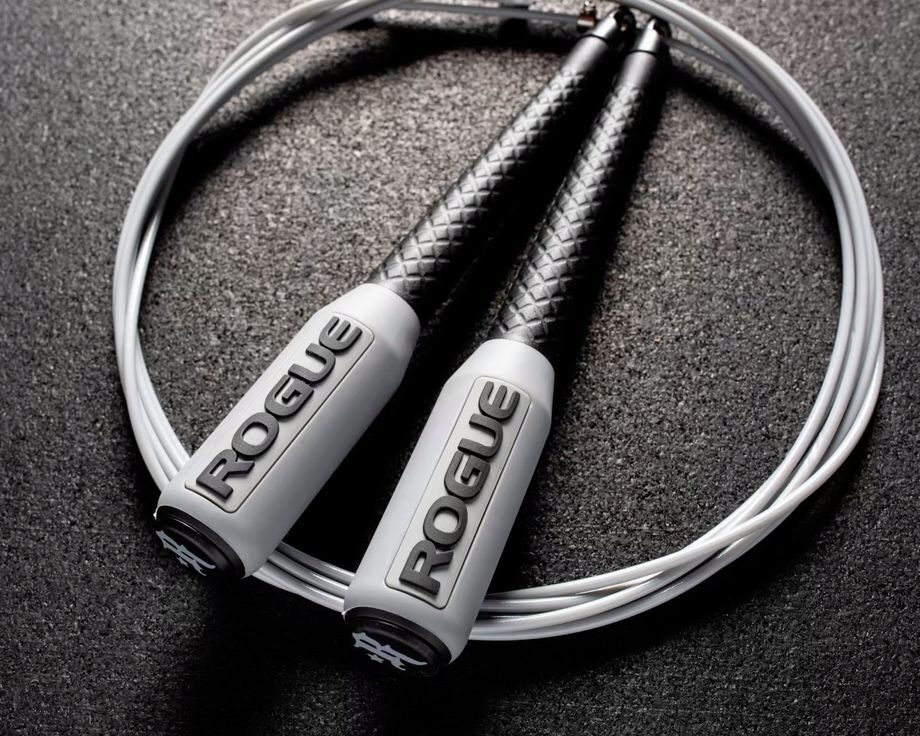 Good for: People for whom a standard 120-inch cable doesn't cut it
Best Jump Rope for Long People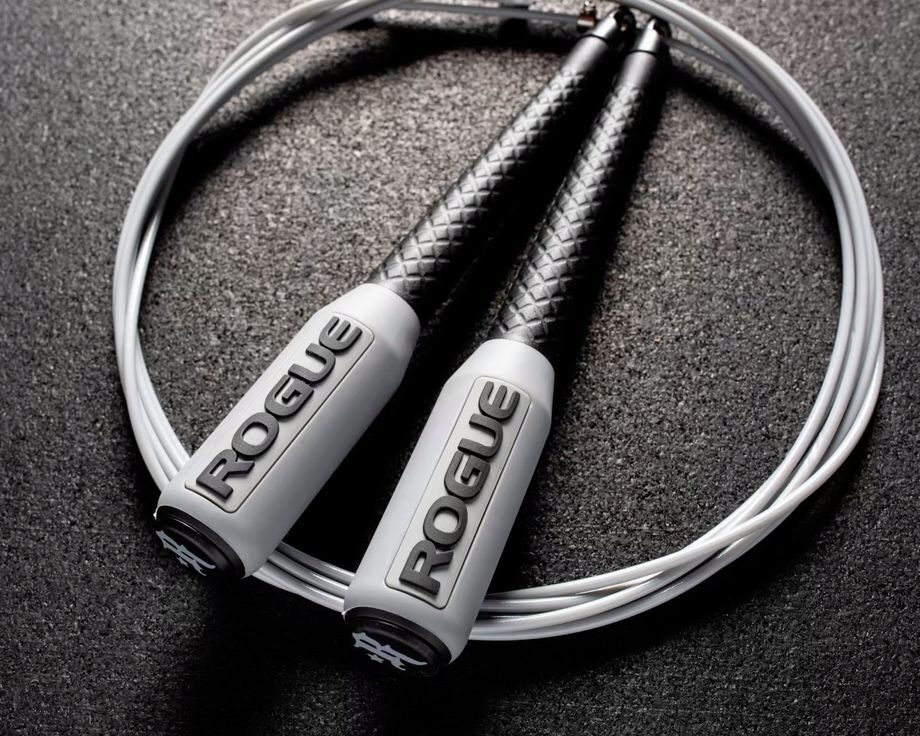 Froning SR-1F 2.0 Speed Rope
Designed in collaboration with Rich Froning, four-time CrossFit Games champion, himself, you can rest assured that this rope is one of the best in the business. Rogue Fitness tapped Froning's mind for every single factor he'd want to see in a speed rope to absolutely dominate double-unders—and what kind of rope he'd use in his own gym, CrossFit Mayhem. Sure enough, this rope is fast and durable, featuring sweat-resistant textured handles and a flexible polyurethane cable. It has super-smooth bearings for ultimate grip rotation and tapered handles for good grip.
My Favorite Things:
Designed in collaboration with Rich Froning (!)
Super smooth bearing rotation
Thin, fast, flexible cable
Sweat-resistant handles
My Callouts:
Not recommended for use on non-abrasive surfaces
No option for shorter handles
Will scuff if used on concrete
The Rogue Fitness SR-1F is a jump rope in the SR series designed in collaboration with Rich Froning, four-time CrossFit Games Champion. (P.S. Coop toured Rich's barn gym and it's pretty dang cool.) The SR-1F is similar to the rest of the SR series ropes, with a 2.4-millimeter coated wire cable and thin handles with bearing rotation.
However, the SR-1F utilizes a polyurethane coating rather than nylon. Polyurethane is softer and more flexible, thus it doesn't warp as easily or show as much coil if you plan on rolling it up.
Rogue offers an 11-foot replacement cable for the Froning SR-1F, making it one of the best options for taller athletes. For anyone over 6 feet tall, the standard 10-foot cable may not be long enough. This sometimes depends on your jumping style, but if you want to play it safe, go with the 11-foot cable.
The handles on the SR-1F are pretty nifty. The body of the handle is made of textured nylon, which feels kind of like knurling on the SR-2 but softer, because it's not metal. The base of the handle is plastic with a TPE (thermoplastic elastomer—fancy word for rubber) overmold. Both parts of the handle are super grippy and sweat-resistant, which is hard to find in plastic handles. They're 6.5 inches in length and 0.5 inches in diameter with a taper to 0.875 inches.
I think $30 is a great price for this rope. Not only are you getting Rogue quality, but you're getting a Froning-associated piece of equipment. Score. You will have to pay extra for the 11-foot replacement cable, making the total cost $40, which is still pretty good. 
Related: Best Treadmills for Tall Runners
Best Jump Rope for Endurance Training: RX Smart Gear Drag Rope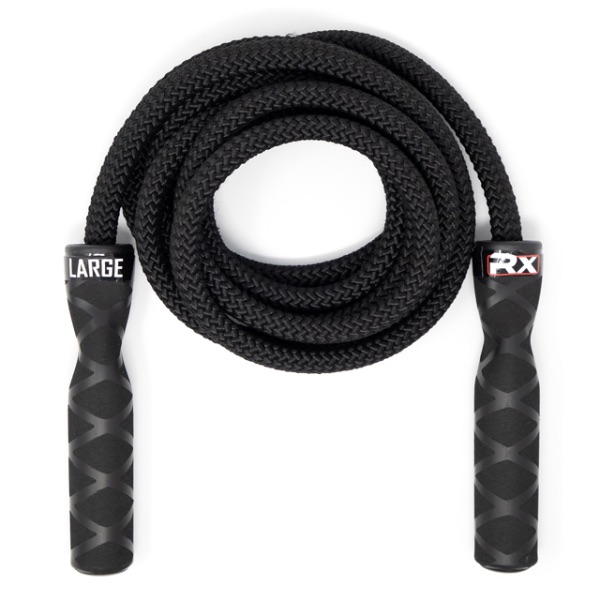 Good for: People who want their butt kicked during training sessions so they can kick butt during competition
Best Jump Rope for Endurance Training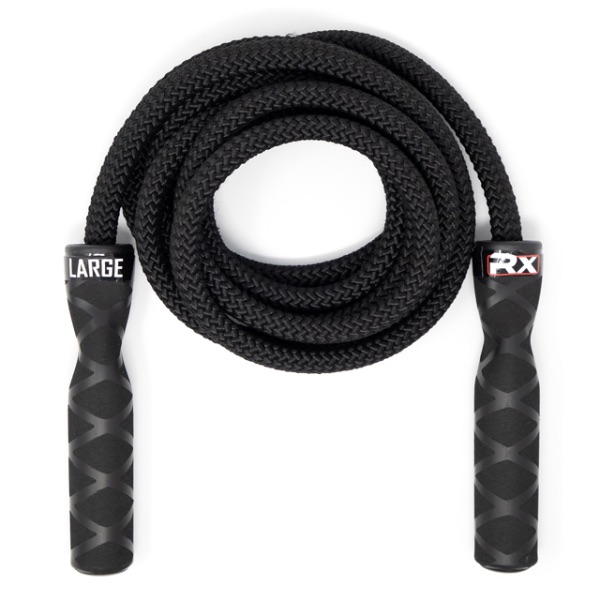 Rx Smart Gear Drag Rope
The Drag Rope from Rx Smart Gear is a simple but highly effective rope that consists of two handles and a piece of polypropylene rope. However, that is all that is needed to produce a substantial drag coefficient, as well as a pretty cool wind tunnel noise when you use it. Although the Drag Rope will provide an intense, full-body workout, the handles are designed so that you can keep your grip on them even when you're sweaty. 
My Favorite Things:
Will 100% kick your butt
Thick and heavy to create a drag for stamina training
Criss-cross pattern on the handles helps with grip
My Callouts:
Will 100% kick your butt (yes, I meant to put this in both places)
Not adjustable, but comes in three sizes
Braided rope looks great, but probably is not the most durable
Looking for a butt-kicking? Get this rope. Not looking for a butt-kicking? Still get it, because ya probably need it.
In all seriousness, if you are trying to increase your stamina or endurance, you need the RX Smart Gear Drag Rope. It's called a drag rope for a reason. Kate Meier, our Garage Gym Reviews editor and the lucky duck who got to test this rope, dubbed it "best for kicking your butt."
The rope is thick and heavy to create a drag, which you will actually hear as the rope moves around you. It's pretty cool (and frigging hard), according to Kate.
There are no bearings or bushings to help with rotation on the Drag Rope: None. Just handles and a rope, which makes it wicked worse. It's all up to you and your wrists. It takes serious effort to turn the rope, Kate says.
It's not so much that it's heavy (it weighs about 10 ounces all-in), it's that it's a braided, woven, polypropylene rope that sounds like you're in a wind tunnel when jumping. Single-unders are hard enough with this, so major props to anyone who would dare do dubs.
Using the Drag Rope will definitely give you a burn and leave you breathless. It's kind of a fun way to make singles harder.
A braided rope like this looks great, but it's probably not the most durable. We wouldn't recommend using it much outside because it'll probably fray easily on rough cement. On the other hand, it would move through grass okay.
Best Luxury Jump Rope: RX Smart Gear EVO G2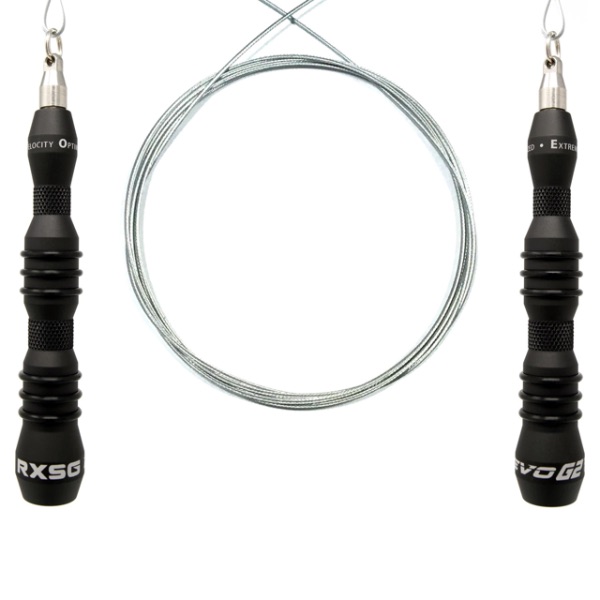 Good for: People who have enough disposable income to spend $100+ on a jump rope
Best Luxury Jump Rope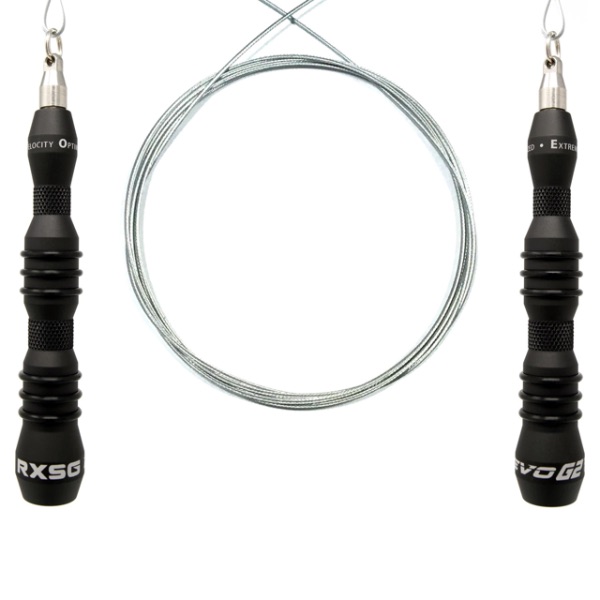 Rx Smart Gear EVO G2 Speed Rope
With the EVO G2, RX Smart Gear made improvements to the overall reliability and durability of its EVO G1 speed rope. The rope's cable is offered in six weights and the length ranges from 6.5 feet to 10 feet. There are over 20 color options for the PVC coating. Uncoated cables are offered for more advanced users. The diamond knurling on the aerospace-grade aluminum handle increases the user's control, and EVO's patented dual-bearing swivel assembly makes for a speedy and accurate rope.  The EVO G2 comes with a hefty $150 price tag, but that does include a carrying case and an RX Smart Gear patch. The cost is due in part to the insanely amazing handles and the fact that every aspect of the rope is customizable. The reviews on the RX Smart Gear website are overwhelmingly positive; one complaint about the rope was that the cable length was not adjustable. 
My Favorite Things:
Using it will make you feel like royalty
Has diamond knurling and rubber traction on the handles
Every element of this rope is customizable
Even the case is fancy
My Callouts:
Expensive—$150
Honestly, that's all we got. This rope is bonkers.
If you're a budget-minded folk, just skip over this part because you're going to be sad you can't enjoy this insanely luxurious jump rope after reading about all of its "Eff you, I'm rich" specs. If you have $150 to spend on a jump rope, carry on.
The handles are made of "aerospace-grade aluminum" with meticulously placed rubber bands for grip. They feature a "pinch point" silhouette with diamond knurling for your fingertips. It really doesn't get much more tricked out than this. It's a jump rope, for goodness sake, but it feels like a museum-worthy artifact.
In the EVO line of ropes, RX Smart Gear uses a patented dual bearing swivel system. It's smooth with a capital S. Kate, Garage Gym Reviews senior editor, said she definitely noticed she didn't need as much movement from her wrists to get and keep the rope moving.
The rope comes in its own beautiful zippered case with a sleeve for the rope and two spots for the handles. The handles come wrapped in mesh for protection.
Not only is it luxurious AF, but it's customized out the yang. You can pick different weights based on where you are in your jumping game. Kate went with the Elite 2.6, which is for intermediate athletes. (She probably would have done fine with the Ultra 1.8, too, which is for advanced athletes). The choices range from 3.6 millimeters ("Buff") to 1.3 millimeters ("Advanced+"), as well as two options for bare cables.
You also choose a cable length based on your height, and you pick your own color. RX Smart Gear provides a chart to help identify which cable to get.
Best Budget Jump Rope: Degol Ball Bearing Skipping Rope
Good for: People who want the best jump rope they can get for the lowest price
Best Budget Jump Rope
DEGOL Skipping Rope
The DEGOL Skipping Rope is an ultra-budget rope that feels like it should cost much more than $9. Easily adjustable for people of all heights, ergonomic handles coated in memory foam, and a ball bearing rotation system are just some of the reasons why you shouldn't overlook this rope. This rope is definitely more suited toward beginners than those with extensive rope experience, but we still think it would make a great addition to any home gym. But don't just take our word for it, this rope has more than 30,000 5-star reviews on Amazon. The DEGOL Skipping Rope is another example of why you shouldn't just pay attention to brand names. For an affordable cardio experience at a budget-friendly price, look no further than this.  
My Favorite Things:
Costs less than $10
Surprisingly good quality for the price
No. 1 bestseller on Amazon
My Callouts:
Handles are a bit thick at 1 inch in diameter
Bearings are okay, but not supreme (but again, $9)
Tangles happen, but are few and far between
If you're just looking for an inexpensive tool to use for home workouts, you can't go wrong with this Degol skipping rope. It's an adjustable jump rope with bearing rotation and a braided steel wire cable coated in durable PVC. It has 6-inch long handles with memory foam grips, so you're basically getting the best of speed and comfort for a palatable $9 price point.
While we wouldn't necessarily recommend this rope for someone trying to become a double-under wonder, we think it's a great option for everyday, general fitness use. You could easily implement it in HIIT workouts, for endurance training, or for speed training.
The Degol Ball Bearing Rope is a bestseller on Amazon with more than 30,000 five-star reviews. Anthony, our writer who tested this rope, wasn't overly enthused—but repeatedly reminded us, "It's a $9 rope, so…". You can't exactly expect steel-clad construction, but this rope will definitely do the trick for the average person just looking to jump rope for fun or general fitness.
Anthony, our staff writer and product tester, found the memory foam grips to be slightly too soft for his liking, but sees the value for people who prioritize comfort over all else. Additionally, the bearings were decent, but certainly not the fastest he's experienced.
The Garage Gym Reviews consensus? For $9, you really can't go wrong.
Other Jump Ropes We Researched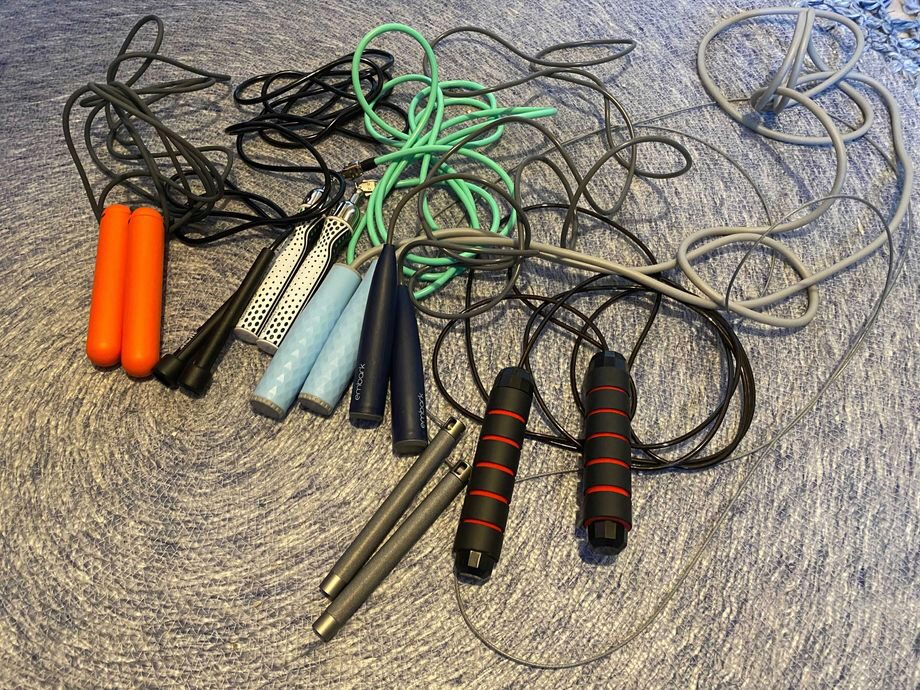 The list above includes what our Garage Gym Reviews team collaboratively decided are the best jump ropes. However, we tested several other jump ropes we think you should know about. None of these are terrible and all are perfectly capable of helping you reach your fitness goals, but here I'll explain why they didn't make the top list.
This rope has the same speed cable as the Rogue SR series—it's a 2.4-millimeter coated wire cable. However, the handles on the E-Grip are very different. When I tested this rope, I didn't particularly like the handles and thought they did more harm than good. They're much thicker than the other SR series rope handles and they feature a unique shape designed to be more ergonomic. This rope would be a good choice for people whose hands or wrists ache while jumping with standard rope handles.
This is yet another Rogue SR series jump rope. The SR-3, however, has bushings instead of bearings. What this means in practice is that the SR-3 doesn't spin as smoothly as the SR-1 or SR-2. Bushings just don't allow for the same degree of rotation, and that's why this one didn't make our top list—in general, bearings are the better choice for most people.
The EVO GO can kind of be lumped with our top luxury jump rope pick, the RX Smart Gear EVO G2. It's just as high-end, said Garage Gym Reviews editor Kate Meier, with the only difference being the handles. On the EVO GO, the handles are about 5 inches long, which is an inch shorter than the handles on the EVO G2. We think 6-inch handles fit most people's hands better. But, this is a great luxury option for people with smaller hands.
The EVO FRE is also super-duper similar to the EVO G2, our top high-end jump rope pick. The difference between the EVO G2 and the EVO FRE is that the FRE handles are made of polymer, which is lighter than the aluminum G2 handles. Other than that, these ropes are about identical. With all EVO ropes, you can customize them out the wazoo—color, rope diameter, handle weight, and more are all customizable.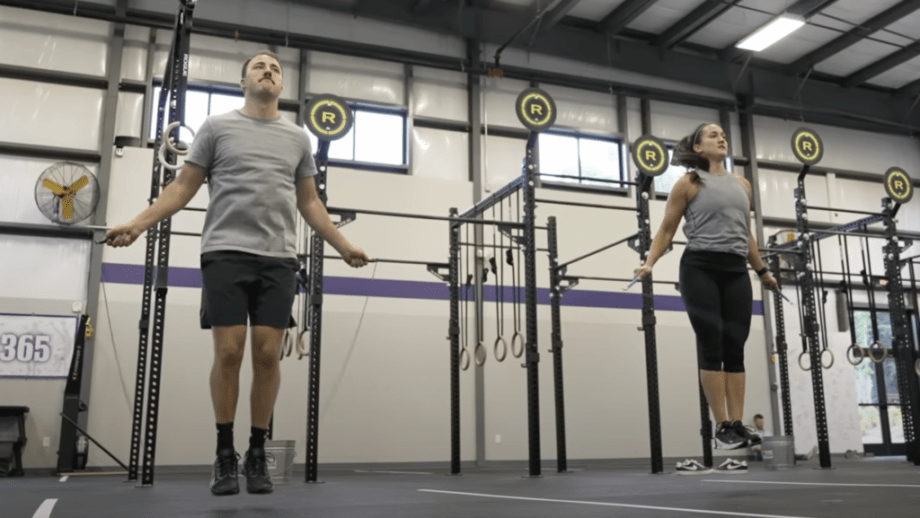 Kate Meier, Garage Gym Reviews senior editor, tested this rope and she very pointedly stated she hates the handles, but likes the rest of the product. The handles are plastic with a textured rubber overmold, which Kate says doesn't provide a great grip but is enough to get by. The handles are also unusually long at about 7 inches, and heavier than what you find on most speed ropes. The cable itself is also relatively heavy at 3.4 ounces, so beginners will get more feedback, but advanced jumpers may get frustrated at the heft.
This is another run-of-the-mill jump rope with a 5-millimeter thick PVC cord and plastic handles. According to Anthony, our writer who tested this product, the Starfit Lightweight Jump Rope is, in fact, insanely lightweight— "I can't overstate this," he said. Unfortunately, the adjustment mechanism isn't very intuitive, and it took Anthony some guesswork to change the length of the rope.
The ProudPanda Weighted Jump Rope is similar to our pick for the best weighted rope, the Rogue Fitness PRO Jump Rope. The weight lies in the one-pound steel handles, which, on the ProudPanda rope, are coated in silicone. This is a nice touch for grip, but Anthony says they seem kind of absorbent, so they might start to stink after a while if you have sweaty hands. Overall, this is a solid weighted jump rope, but doesn't seem to be as high quality as the Rogue PRO.
This was a nice rope, Anthony notes, until it broke. Yup, one of the ball bearings popped out of the rope during testing, so we couldn't include it in our top list. Before the rope broke, Anthony enjoyed the precision-machined aluminum handles and the speed, although he says it wasn't as fast as the other RPM rope he tested: the Sprint, which is our pick for the best speed rope.
The Rogue Foam Grip Jump Rope is a PVC rope with a thicker cable, which makes for a great beginner rope. Due to the width of the cable, new jumpers will be able to receive feedback from the rope mid-jump to inform their technique. The neoprene foam handles are comfortable and make for a nice grip, but people with smaller hands may not enjoy this rope. The handles are thick with a 1.25-inch diameter. This rope isn't fast enough for double-unders, but it's great for recreational use or for endurance workouts.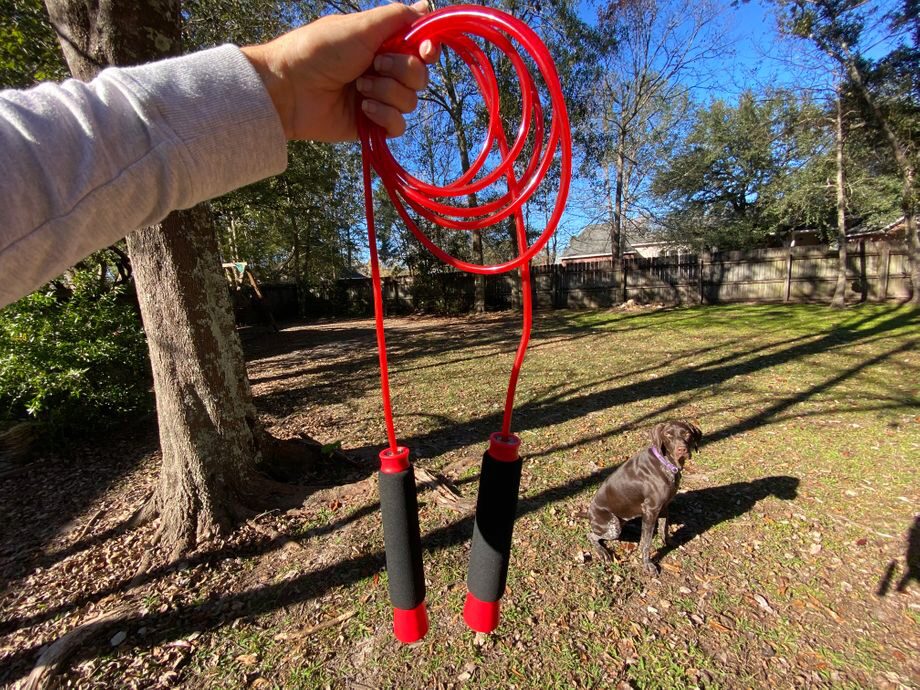 Ropeless Jump Ropes
We didn't test any ropeless ropes this go-around (and I, quite frankly, didn't even know that was a thing until I started working on this project). But we think they're worth calling out because there's a growing selection of ropeless jump ropes and we may eventually add some to this guide.
Ropeless jump ropes are—if you need any help guessing—jump ropes without a full cable. They're also called cordless jump ropes. This type of rope is great for learning, as they're obviously tangle-free and won't give you any welts if you lose your rhythm. They're good options for people who have low ceilings or limited space and don't want to knock a house plant over or smash a lightbulb.
How We Picked and Tested the Best Jump Ropes
Phew. I didn't know what I didn't know about jump ropes before writing this guide to the best jump ropes. For real: Never, not once in my life, did I ever think about the oiled ball bearing system on a high-speed jump rope before this project. And I'm a CrossFitter, so I can imagine that people who don't do CrossFit care even less about the mechanisms that power a jump rope.
But hey, we did the dirty work anyway. We analyzed 20-plus jump ropes from every angle we could think of to bring you this guide. Here's exactly how we did it.
Research
First, we scoured the web for jump ropes and took into account our own personal experiences with various jump ropes across the years. Many of us at Garage Gym Reviews have been doing CrossFit for years, thus jumping rope for years. We compiled a massive list of jump ropes and then ordered them and shipped them to three product testers on our team.
Testing
The three of us then spent a couple of weeks testing each jump rope shipped to us and writing detailed notes in our product testing worksheet with a testing methodology specific to jump ropes.
We practice single-unders and double-unders in isolation, as well as in workouts and warmups. Because all of our testers can do double-unders, we tested each rope to see if they were fast enough for the notorious "dubs." Try as we might, some just weren't, and several sessions ended in profanity—but we used those experiences to understand what, exactly, different kinds of jump ropes are built for.
We used the ropes in our home gym setups, at box gyms, and outdoors on different surfaces when applicable (yes, *cringe*, we even used some bare wire ropes on asphalt…).

Shortlisting
Once our testing was complete and all of our notes were entered into our handy-dandy testing worksheet, we created a shortlist of what we deemed the best jump ropes. We included a variety of types and ran the list by other Garage Gym Reviews team members, including Coop, of course, for additional expert input.
Finally, we created the best jump rope guide you see here.
Benefits of Jump Ropes
Not sold on getting a jump rope for your home gym? Here are a few benefits of jump ropes that might convince you.
Space-Saving and Travel-Friendly
Jump ropes don't take up much room in your home gym, and you can easily pack one up to keep up your fitness on the road.
Endurance and Stamina
Why do you think professional boxers spend so much time jumping rope in their training? Because jumping rope is a phenomenal cardio workout. Just a few minutes into a jump rope workout, you'll find your heart rate elevated and your breathing rate increased.
Weight Loss
If you're exercising to lose weight, jumping rope is a good activity to add to your workout routine. You might actually end up with more calories burned than from running or doing other cardio activities. There's little cold, hard data about this, but based on METs, jumping rope burns more calories in 30 minutes than running.
Coordination and Skills
Jumping rope is good for your brain, too! Skipping rope challenges you to think about the way your body moves in space, which will help you develop more body awareness and, thus, better coordination.
What to Look for in a Jump Rope
You wouldn't buy a squat rack without doing boatloads of research, right? You shouldn't press "buy now" on a jump rope without doing ample research, either. Sure, jump ropes seem like a relatively simple piece of equipment, but if you're trying to make it to the CrossFit Games or just become a local double-under whiz, you need the right rope (read: more than a bare-bones PVC rope with foam handles).
Here are a few things to look out for—and all of the factors we took into consideration—in a jump rope.
Sizing and Adjustment
Treat jump rope shopping like shoe shopping. Look at the sizing! Rope length is the most important factor in choosing the best jump rope for you.
Some jump ropes come in non-adjustable lengths while others come as a standard 120-inch (10-foot) cable that you can size to your height and cut yourself.
I personally prefer size-and-cut ropes because they're more customizable. Sometimes, even if you're within the height range of a non-adjustable rope you buy, the length can still feel awkward. If you don't want to deal with the tiny screws on a size-and-cut rope, however, non-adjustable is the way to go.
Rotation Mechanism
Just like barbells, jump ropes are designed with bushings or bearings for rotation. Who knew?! Whether a rope has bushings or bearings makes a massive difference in the overall workout experience. Of note, a bearing jump rope can rotate smoothly in all 360-degrees, while a bushing jump rope has a limited degree of rotation.
Because of this, ropes with a ball bearing system allow a lot more room for error than ropes with a bushing system. This means that even when you get tired, or if you're having an off day and your rhythm is wacky, a ball bearing rope is a bit more forgiving. Plus, bearing ropes tend to be faster than bushing ropes.
This doesn't necessarily mean bearings are always best, though. Ropes with a bushing system can be better for new jumpers who need a slower spin and more tactile feedback from the rope. Bushing ropes also tend to be less expensive.
Cable: Material, Width, Weight
The cable of a jump rope largely dictates how quickly you can jump, regardless of how good you are at skipping ropes.
For instance, a high-quality, bare steel wire constitutes the quickest of the quick—and the most painful if you mess up (hello, welts and whip marks). Conversely, a thicker, braided rope is going to be much slower and not beat up your legs if you happen to miss a skip.
And then there are all of the in-betweens: Coated stainless steel speed cables, flexible PVC cables, thick, tangle-free ropes, and weighted cables. Use this rule of thumb when shopping for a jump rope: The thinner and lighter the cable, the faster it will spin.
Handles: Material, Shape, Length, Width, Grip
Just like there are a ton of different cable styles, there are plenty of grip options, too. From classic plastic handles to aircraft-grade aluminum grips to memory foam handles, there's no shortage of customization. I wouldn't recommend choosing a jump rope based solely on the handles, but make sure to choose a length, width, and material you're comfortable with.
Portability and Packability
For home gym owners, this won't be a primary concern. However, I know that when I go on a trip, I'm always eyeing my home gym ahead of time, thinking about which items I can take with me.
A jump rope is an awesomely packable piece of home gym equipment that you can take on the road—unless the cable easily warps when rolled up and renders your rope useless (or, at best, super annoying to use). All of the ropes we recommend in this guide to the best jump ropes are relatively packable. Our team of product testers didn't note any warping or malfunctions after wrapping these ropes up.
Generally, bare steel cables are more prone to warping than coated steel cables or PVC cables.
Jump Rope FAQs
How do I choose a jump rope? 
You can choose the best jump rope for you by considering factors such as the type of cable, the diameter of the cable, the type of handle, the rotation mechanism, and the handle shape. It's also a good idea to look into factors like durability and longevity. 
Which type of jump rope is best? 
There's no single best jump rope, rather the best jump rope for each person. Jump ropes are just like any other type of fitness equipment: What works for you may not work for others. You can find the best jump rope for you by using our buying guide and looking through our top picks.
What jump rope is good for beginners? 
For beginners, the Garage Gym Reviews team recommends the XYLSports Jump Rope. Or, for people who are just beginning to learn double-unders, we recommend the CrossRope Get Lean Jump Rope Set.
What makes a good skipping rope?
A good jump rope should be durable, easy to pack and travel with, and have smooth rotation in the handles. Other than that, most features come down to personal preference and what specific needs an individual has in a jump rope.
What length should a jump rope be? 
The length of a jump rope depends on your height. This is why we recommend a lot of size-and-cut ropes—this style of rope allows you to completely customize the length of the rope. 
Are weighted jump ropes better? 
Weighted jump ropes are better for some things, like building stamina and strength, but not for other things. If you want to learn double-unders or get into speed jumping, you should look into speed ropes. 
Is jumping rope better than running? 
Jumping rope has its benefits, and so does running. Both types of exercise provide cardiovascular health benefits—the best exercise is the type you'll do consistently.