We test and review fitness products based on an independent, multi-point methodology. If you use our links to purchase something, we may earn a commission. Read our disclosures.
The Exxentric kPulley2 is a flywheel training machine that is deceivingly simple in its operation, but brutal in its application. Although there are other flywheel machines available, Exxentric is by far the leader and the kPulley2 can add a ton of variety to any home gym, if you're willing to spend the money.
Exxentric kPulley2 Review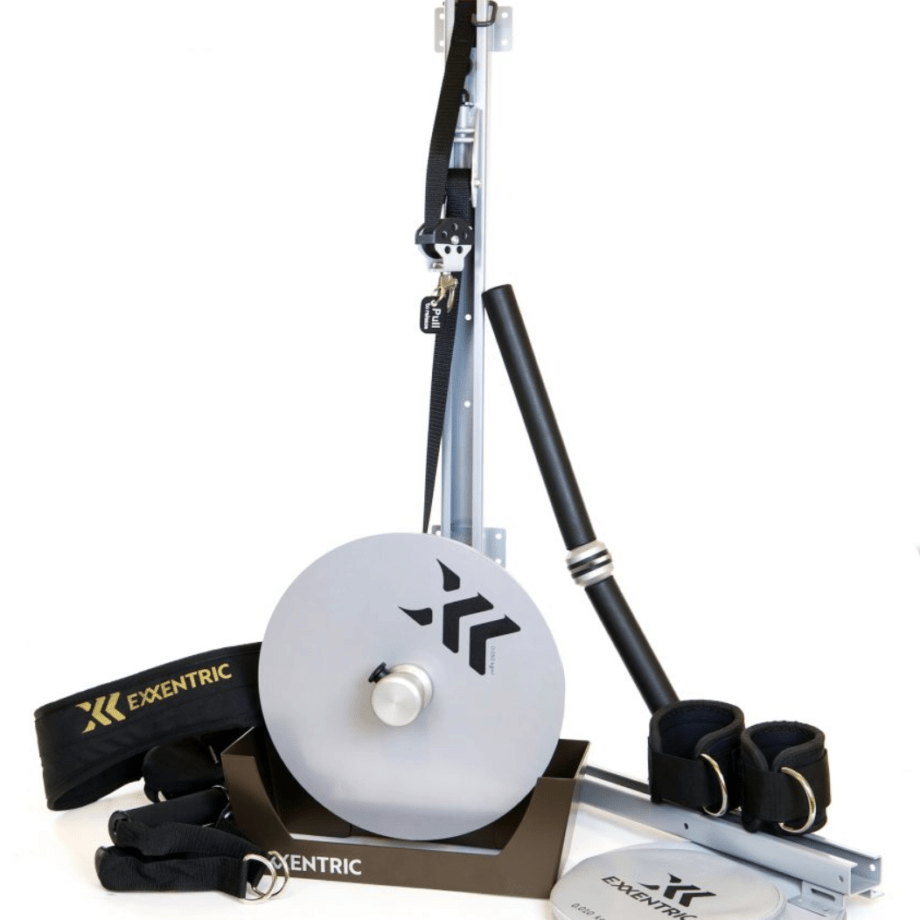 Exxentric kPulley
The kPulley is the revolutionary flywheel training solution enabling users to enhance their strength through rotational and pull exercises but also push and lower limb exercises. It comes with a built-in kMeter II feedback system and its central housing is coated in the classic Exxentric brown colour. The inertia capacity of the kPulley goes up to 0.140 kgm² or two Extra Large Flywheels.With the kBox and kPulley, instead of a fixed load determined by gravity when lifting weights, you work against the variable inertia of heavy steel flywheels determined by the effort and energy you unleash into the device.These training devices are truly versatile and serve multiple purposes, allowing you to engage your upper body, core and lower body with a wide variety of exercises.It is completely portable and easy for anybody to carry or stove away.
Flywheel training is a rather new idea that utilizes inertia from spinning discs for resistance rather than gravity and weight plates or dumbbells. We've reviewed the kBox4 from Exxentric to high praise in the past and expected a similar result in reviewing the kPulley2. Exxentric prices their products similar to an Eleiko, and for good reason, the quality is top-notch. Although I wouldn't suggest budget home gyms add a kPulley to their setup, for someone that wants a minimalist gym or likes the finer things in life, we suggest using one.
Should You Add the Exxentric kPulley2 to your Home Gym?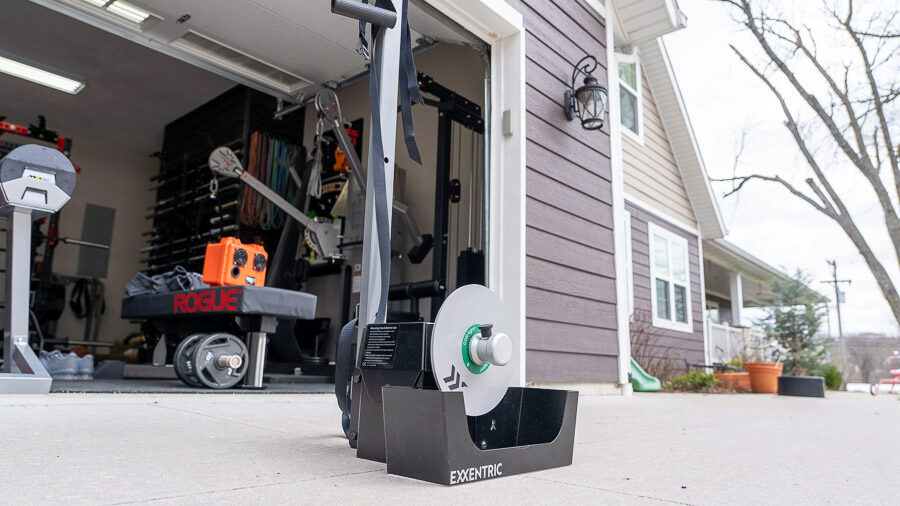 The kPulley2 is an extremely versatile piece of equipment, albeit at a rather high price. Here is who I think it's made for and what type of home gym owner I'd recommend it to:
Who I recommend the kPulley2 for
Someone who only wants one piece of equipment for a minimalist home gym.
If you like your equipment to provide a ton of versatility in a small footprint, the kPulley2 is ideal.
The person who has an eye for details and appreciates quality, not just function.
Athletes who train in high output sports like ice hockey, sprinting, cycling, and the like will especially like the kPulley2.
Who I don't recommend the kPulley2 for
If you're on a budget, then we suggest starting with equipment in our budget home gym guide.
If you mostly train for strength, then I think there are better options like a Freemotion Dual Cable Cross or Titan Lat Pulldown for that sort of training.
The trainee who focuses on basic movements such as squat, bench press, and deadlift and doesn't care too much about getting creative in working out should probably pass this by.
Video Review
Using the Exxentric kPulley2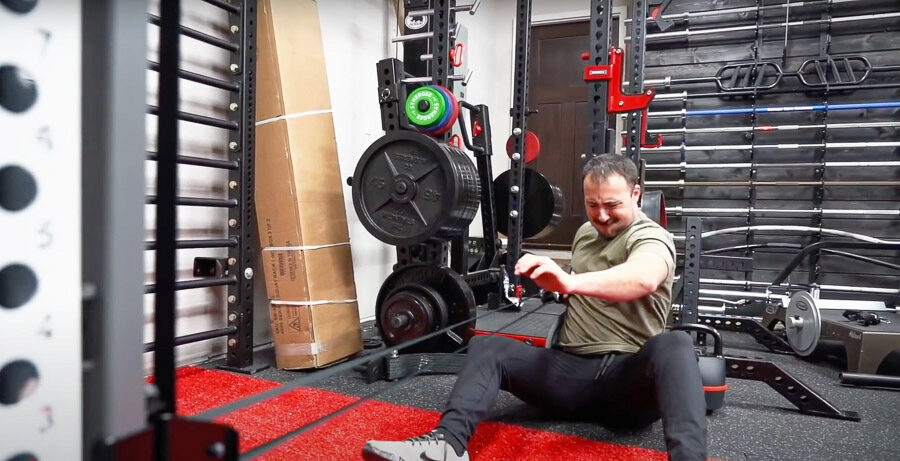 Exxentric is the leader in flywheel training. I've used many different systems and although there are certainly competitors at lower price points, there are none that have as complete of a system.
I've been using the kBox4 from Exxentric for about three years nowand it finds it's way into my training every single week. I use it for curls, belt squats (oh my quads!), and many other movements. I love the system.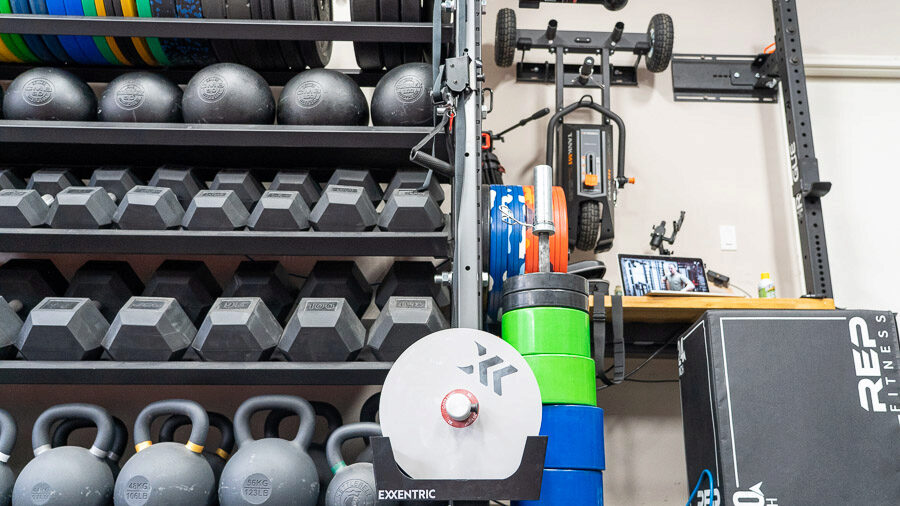 However, there are movements that I've wanted to do that the kBox isn't really designed for.
This is where the kPulley2 shines.
For most home gym owners, I'd recommend the kBox4 first as a pulley from the floor is more versatile in my opinion.
However, the kPulley2 can do a lot and does it really well.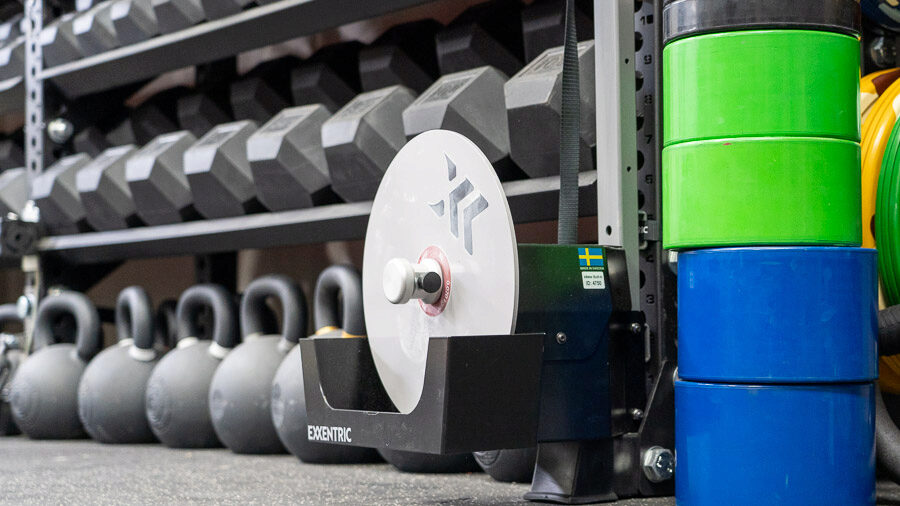 When I pulled the kPulley2 out of the box, I had the same unassuming feeling I had with the kBox. "This can't provide too tough of a workout. Look how little it is."
Wrong. Very wrong.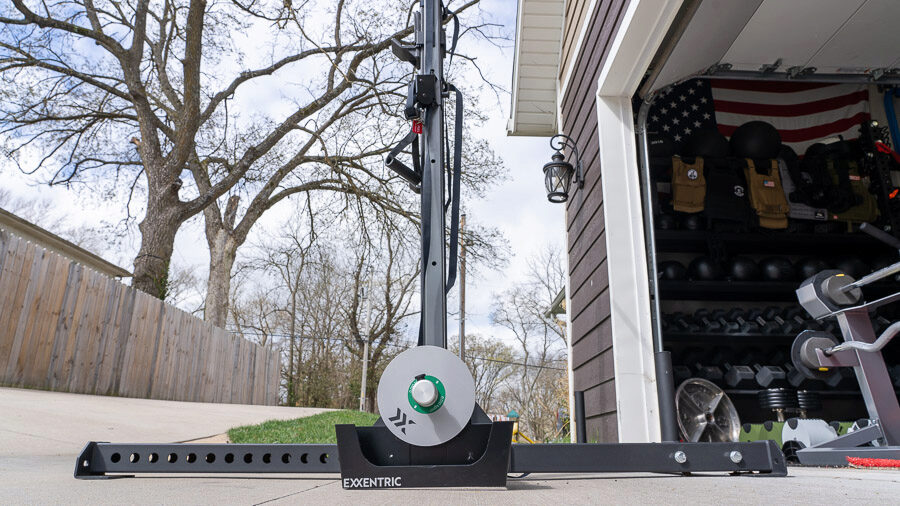 Once assembled, I placed it against the upright on one of my squat racks. It's capable of being tied to any vertical structure such as a pole or tree, but I think most garage gym owners will attach it to their rack. It can also be bolted to studs in the wall, but I like being able to move it around.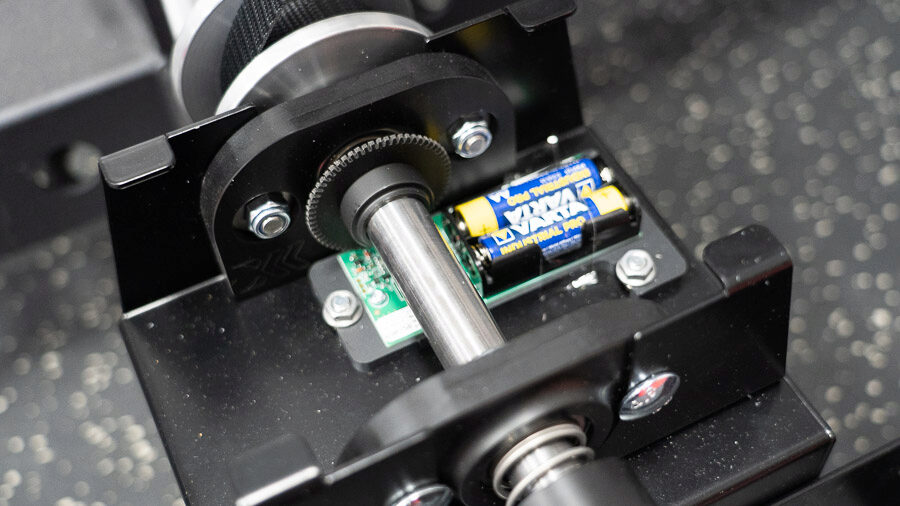 The base unit features a spinning axle that allows various-sized flywheels to be attached quickly. When in use, the flywheels start turning faster than many would assume and this is why quality construction is so important.
Most resistance for strength training comes in the form of gravity. Weight plates, dumbbells, kettlebells, barbells, and the like all use heavier weight to create increased resistance. It's the way of the gym world.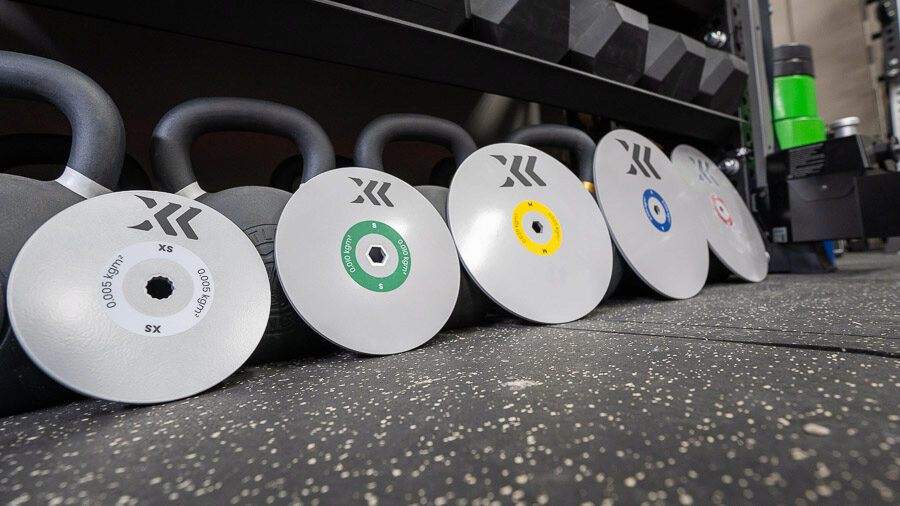 However, the kPulley2 utilizes flywheels and the inertia they produce to create the resistance. This is a hard thing to describe until someone begins using the unit.
The first movement I did with the kPulley2 for testing purposes was a simple one-arm row. I began pulling and started to increase my force over time. The harder I pulled, the harder away, the harder it pulled me towards the unit.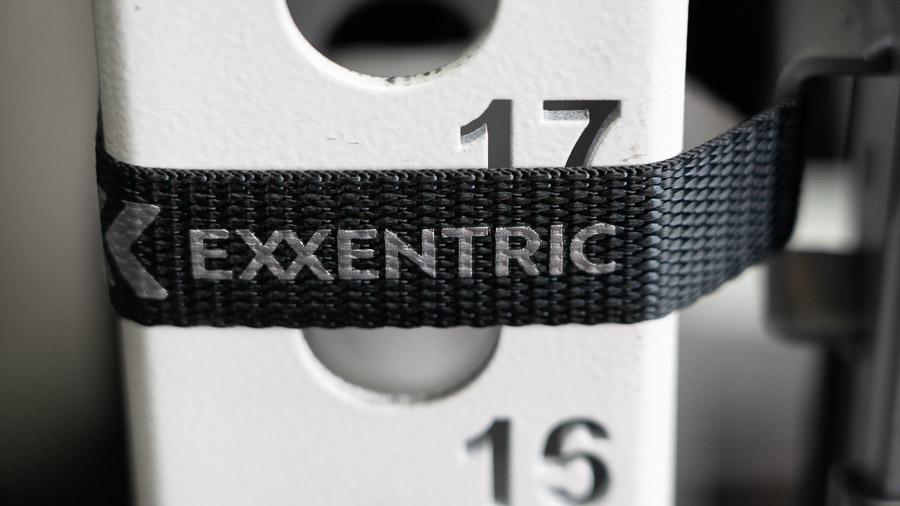 This is the beauty in the simplicity of flywheel training. You control the resistance in real-time and every rep allows you to match your maximum strength output with equal resistance.
The other reason the kPulley and flywheel training, in general, is fantastic is that the eccentric portion of the lift is overloaded. This forces the trainee to focus on both portions of the lift, whereas the eccentric can often be overlooked in barbell movements.
My Favorite Workouts with the kPulley2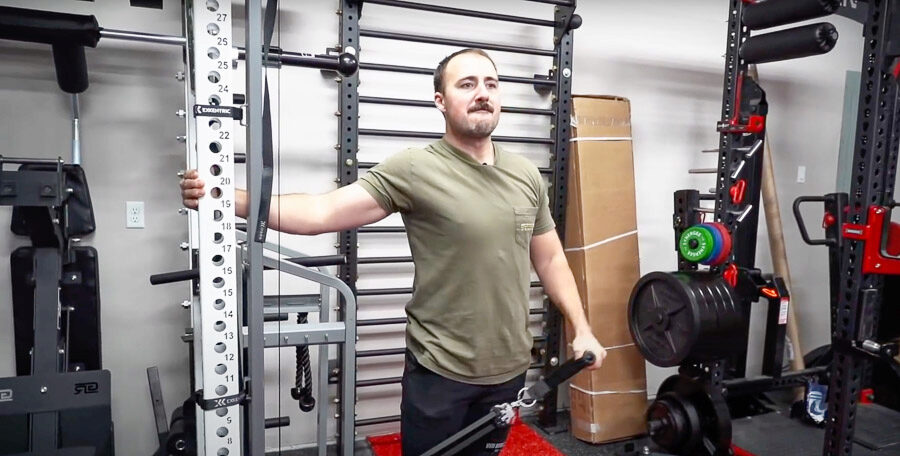 The kPulley2 is designed to allow you to be as creative as you'd like in your training. In recent years, we've seen a lot of unique movements come about and although I like the increase in people moving, I prefer the exercises that provide a lot of bang for the buck.
For both core stability and back hypertrophy, the movement I found myself doing most often on the kPulley2 was rows. Both single and double arm variations.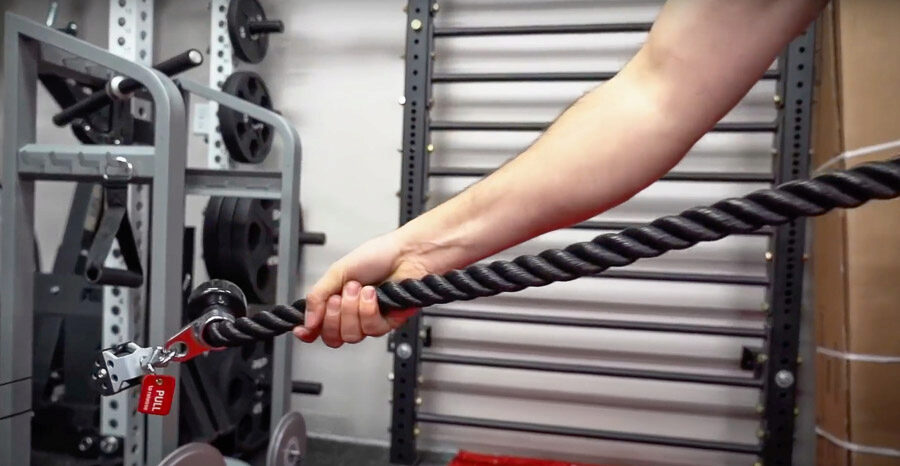 For single arm rows, I take a staggered stance, place the top pulley at shoulder level on the kPulley2's upright and slowly start rowing to dial in my form.
When I feel comfortable, I start the work portion of the set. This is a tricky movement as you feel like you can pull much more than you may be capable of resisting while standing. This is why I like it as it requires a lot of stability while also requiring pulling strength.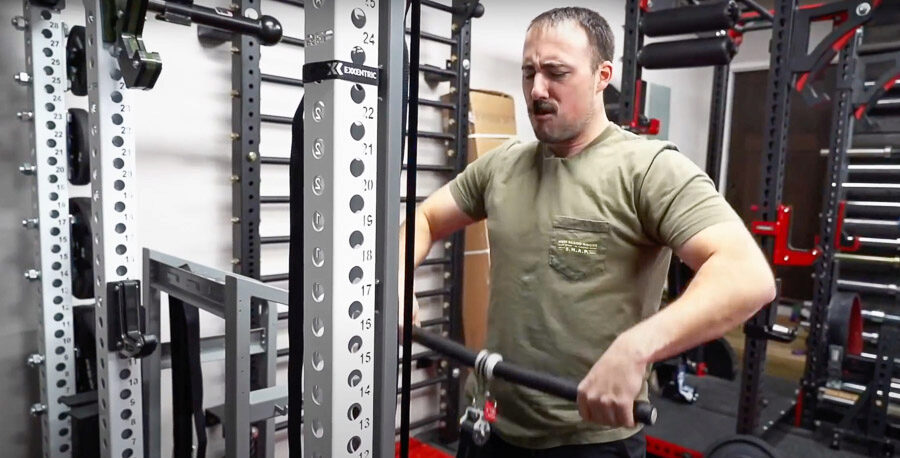 Another movement I love with flywheels is curls. You can get such a massive pump and truly burnout your biceps with the kPulley2.
I begin by placing the pulley at the bottom hole and adjusting the strap to slightly longer than the top of a curl rep. I then begin by slowing curling to get the rhythm and from there, it's war. I like to curl up as hard as possible to see if I can stop the flywheel on the way down. I never can, but it forces me to work hard on the eccentric portion of the lift.
Lat pulldowns, rotations, and many other movements are also possible and worth trying with the kPulley2. The one movement I didn't feel great with on it is squats, but the kBox4 is the option designed for that movement.
Exxentric kPulley2 kMeter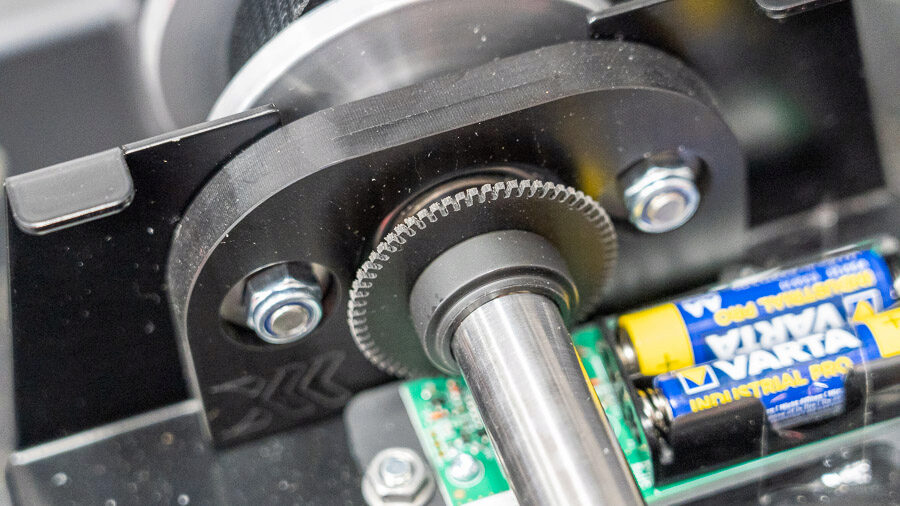 One part of the Exxentric flywheel systems that separate from competitors is their kMeter. The kMeter is a bluetooth connected device that tracks various metrics during usage of the kPulley2 and delivers it via their app on your smartphone.
I've always had difficulty telling how hard I'm training with flywheel systems. You can feel a certain way, but proof is in the data.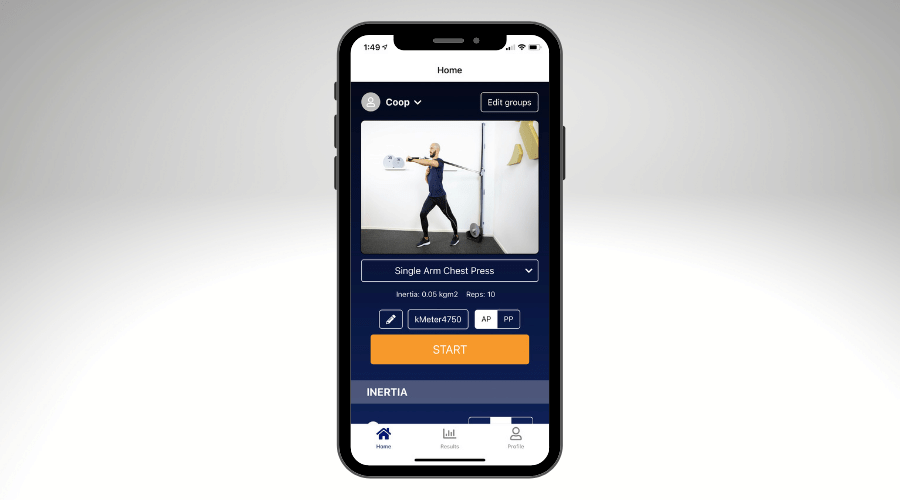 The kMeter and it's app allow the trainee to have immediate feedback on how hard they're training, similar to a velocity tracker used in conjunction with the weight on a barbell.
This component may seem small, but I think it's nearly essential to increasing loads and therefore performance over time. You can judge your effort on something like an RPE scale, but using the app you can tell if you're improving over time.
Final Thoughts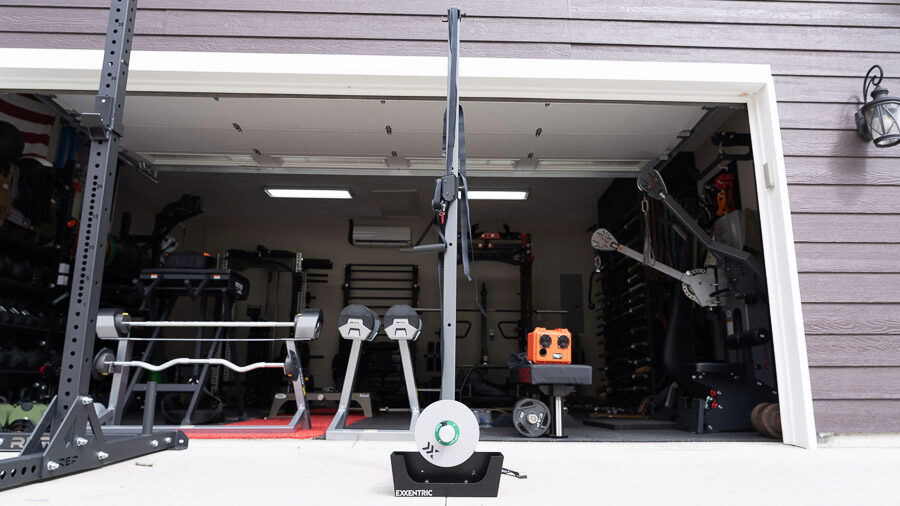 The kPulley2 is a great addition to the Exxentric flywheel line-up. After using it for a few month, I find myself incorporating into my training more and more. I do prefer the kBox4 as I do a lot of training that's benefitted by having a pulley come from the floor, however, there are many exercises I've been able to do with the kPulley2 that are simply not feasible with the kBox.
I definitely recommend the kPulley2, but you have to meet certain criteria. It's not cheap and it takes some creativity to get the most out of it. However, I foresee the kPulley2 lasting the rest of my life and me getting fitter through using it over the same time period.
Full Rating
Exxentric kPulley2 Flywheel Training Device
The Exxentric kPulley2is a flywheel training machine that is deceivingly simple in its operation, but brutal in its application. Although there are other flywheel machines available, Exxentric is by far the leader and the kPulley2 can add a ton of variety to any home gym, if you're willing to spend the money.
Product Brand: Exxentric
Product Currency: $
Product Price: 2080
Product In-Stock: InStock
Exxentric kPulley2 Flywheel Training Device FAQs
How do I set up Exxentric?
Place the flywheel in place and turn the knob.
Choose and connect your accessories.
Take up a position on the kBox. Whether you're facing the flywheel or the short sides
Make a change to the drive belt's length.
Find your best spot….
To begin, spin the flywheel.
How do flywheel trainers work?
By using the inertia of a flywheel instead of basic gravity to provide ideal resistance, flywheel training improves the efficiency of your strength training.
What is flywheel inertial training?
Instead of using standard weights, flywheel training uses a revolving disc. A rope connects the disc, which is also known as an inertial flywheel. The inertial flywheel begins to rotate when you pull the rope. You will encounter resistance during this acceleration. A concentric movement is the name for this phase of the action.