We test and review fitness products based on an independent, multi-point methodology. If you use our links to purchase something, we may earn a commission. Read our disclosures.
As simple as they may look, ab rollers pack a lot of power and deliver a core-blasting workout. To use one requires you to engage more than just your abs. You'll need to rely heavily on your entire upper body to successfully complete one movement, so be ready to incorporate your triceps, biceps, shoulders, and more!
Finding the best ab roller for you requires more than just heading to Amazon and typing in "ab rollers." It takes doing some research. Some ab rollers are best suited for shorter people, and have handles that wouldn't work for individuals with bigger hands. Others have two wheels instead of one, or maybe one has a complicated assembly process. These sorts of details are overlooked, but they're the ones that actually matter.
Whether you're a beginner or an advanced athlete, on a budget or looking for something high-end, you'll find the best ab roller to meet your needs right here, right now.
You're Rolling With the Best
There's nothing wrong with asking your friend who occasionally works out which ab roller they purchased, but here's the thing: What's good for them might not be what's good for you. We all have very different preferences, budgets, and fitness goals, so it's crucial to discover what personally aligns with us.
Our testers are certified personal trainers, exercise specialists, bodybuilders, and fitness enthusiasts who know a thing or two about ab rollers and building core strength. So when you need to find the best ab roller for you, we've got the experience to help you pick the right one.
The Best Ab Rollers for Stronger Core Muscles
Best Ab Roller Overall: REP Fitness Ab Roller
Good for: Trainees desiring a straightforward, affordable, and sturdy ab roller that can get the job done.
If you're looking to add a sturdy, stable, and affordable ab roller to your home gym, the one from REP Fitness is a good choice. For approximately $10, you can start taking your core exercises to the next level. In addition, the brand offers free shipping, which is a nice perk, and a 30-day money-back guarantee just in case you're not satisfied. I also like that the assembly process is quick and easy, so you can pretty much get started once it arrives at your door.
When our GGR testers tried it out, they had positive reviews. Some stated, "It's a good wheel" and that "it's smoother than I thought." Many were surprised that for the price, it didn't wiggle and wobble more. One person compared it to the Rogue ab wheel, stating, "The Rogue wheel is better quality but way more expensive. However, this definitely gets the job done." Even on a budget, you could definitely still achieve a strong core if you made this purchase.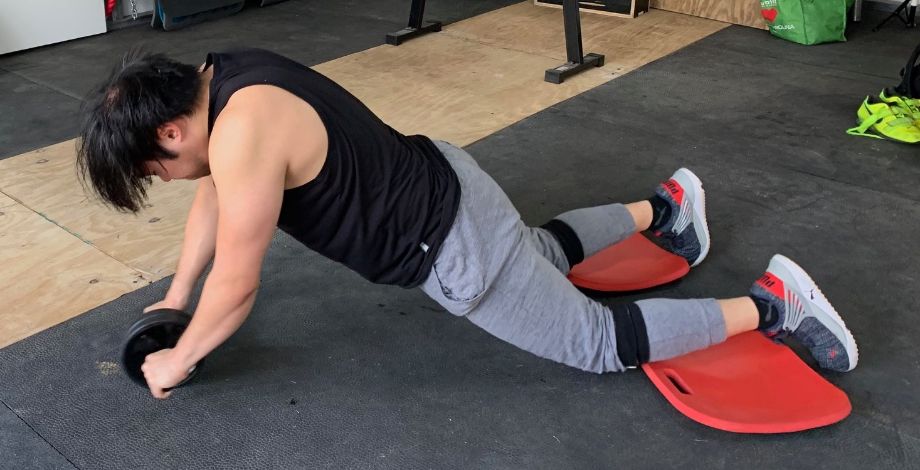 While it would've been nice if this came with some example ab roller exercises, it's not a big deal considering the price. You'll be able to hop online and find plenty of abdominal exercises that include ab rollers with no problem.
When I imagine ab rollers, this is honestly what I envision. It's all black, has the typical two-wheel design that's made of high-quality plastic, and has rubber-coated handles at both ends. The ab roller is incredibly light (only 2 pounds), but it can handle a person up to 300 pounds.
The one thing you would have to watch for, as mentioned by one tester, is that, "While the handles are comfortable, they are shorter, which might be an issue for those with big hands." So, in my opinion, if your hands are small, and you want something practical and incredibly cost-effective, this should be your top pick.
| | |
| --- | --- |
| Handle Material | Rubber-coated handles |
| Weight Capacity | 300 lbs |
| Dimensions | 7" diameter wheel, 10" handles |
Best Budget Ab Roller: GoFit Super Ab Wheel
Good for: Budget-conscious beginners looking for an ab roller kit with core workout examples and a warranty.
Coming in at less than a pound with wide-treaded dual wheels and neon green handles is the GoFit Super Ab Wheel. It'll probably be one of the lightest pieces of fitness equipment you own, but it can handle a 400-pound person with ease thanks to a high weight capacity.
Dual, wide wheels, like the ones on here, allow for increased stability, and one of our GGR testers noted that the extra stability from the double-wheel design would benefit beginners. So, if you're a newbie and concerned about your form, start with something like this. Single or thinner wheels will require you to engage your core muscles more to gain stability, which can be very challenging if you currently lack core strength.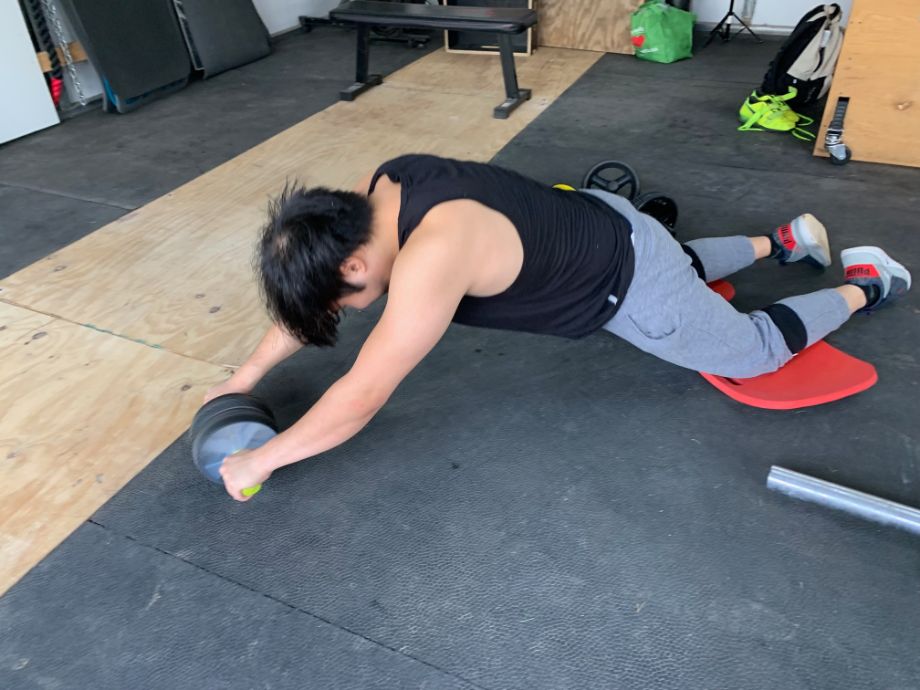 The rubber-grip non-slip handles on the GoFit are said to be designed with comfort and safety in mind. Some customers like that the handles are a bit larger at the outer ends, as it keeps your hands from slipping off. The cushioning should also help prevent blisters and help you get in more reps.
One of our GGR testers didn't particularly like the handles, though. They found the handles very small and said they didn't feel very secure compared to others. They also expressed that the handles were almost too grippy for them, but if you prefer a very rubbery grip, then these might be good for you. Remember, we all have different preferences!
I like that this roller kit comes with a training manual, so you'll get some examples of how to strengthen your obliques, rectus abdominis, and more. It also includes a 90-day warranty, so if there's a defect in the material or design, the original purchaser can contact the brand and get the issue resolved.
| | |
| --- | --- |
| Handle Material | Rubber |
| Weight Capacity | 400 lbs |
| Dimensions | 7″ diameter wheel, 13″ total width |
Best Ab Roller for Beginners: Perfect Fitness Ab Roller
Good for: Trainees who want an ab roller they can progress with.
Admittedly, the Perfect Fitness Ab Roller doesn't look like many other ab rollers on the market. The brand proclaims that because of its patented design, novices and pros alike will be able to strengthen the muscles in their lower back, core, chest, arms, and more.
What makes it so different is, honestly, the carbon steel spring mechanism. The carbon steel spring is supposed to add resistance when you roll out and also provide you with extra assistance when you roll back. This built-in resistance is meant to amplify your results. However, some customers say the spring has trouble recoiling and doesn't provide any additional resistance.
The Perfect Fitness Ab Roller also has an extra wide, spherical wheel instead of the flat wheel typically found on similar products. Because of its shape, you'll have more stability going back and forth, but you must utilize your ab muscles even more, specifically your obliques, when you're steering it left or right. This lateral rolling action might prove very difficult for a beginner, but for advanced trainees who are tired of doing stereotypical ab rollouts, this will give them just the challenge they crave.
This ab roller is all about helping you work out more efficiently, so the ergonomic handles on here are angled to further engage your arm and core muscles. However, when you're not using the ab roller, these handles can be removed so it's easier to transport and store. Do keep in mind, though, that this piece of gym equipment is 4.63 pounds, so it's definitely not the lightest one on this list.
If you order this product, you'll also get a three-week ab workout guide, foam knee pads, and a one-year manufacturer's warranty. However, you can expect to pay almost $40 for it. Price-wise, it's definitely on the higher end for ab rollers, which will be a deal breaker for some.
| | |
| --- | --- |
| Handle Material | Rubber |
| Weight Capacity | 300 lbs |
| Dimensions | 9" L x 7.88" W x 9" H |
Best Ab Roller on Amazon: Vinsguir Ab Wheel
Good for: Amazon shoppers who prefer wider wheels to maximize stability.
The Vinsguir Ab Wheel features an extra wide-wheel design that's made to support up to 500 pounds of user weight. The width of the wheel by itself is 3.2 inches, making it an excellent option for beginner and intermediate trainees desiring stability.
A stainless steel shaft goes through the wide wheel, which is likely why this particular ab roller can tolerate such a high user max weight. The foam handles are well-made and provide comfort along with a sturdy grip. In fact, one of our GGR testers said, "The padded handles feel comfortable. I have smaller hands, so they fit well."
With this ab roller wheel, you'll be able to really engage your hip flexors, back muscles, and abdominals. Our testers found that it functioned well and was stable but mentioned that the side stickers didn't stay on well. Another GGR tester felt that, given the price, it would be best to find this particular ab roller on sale.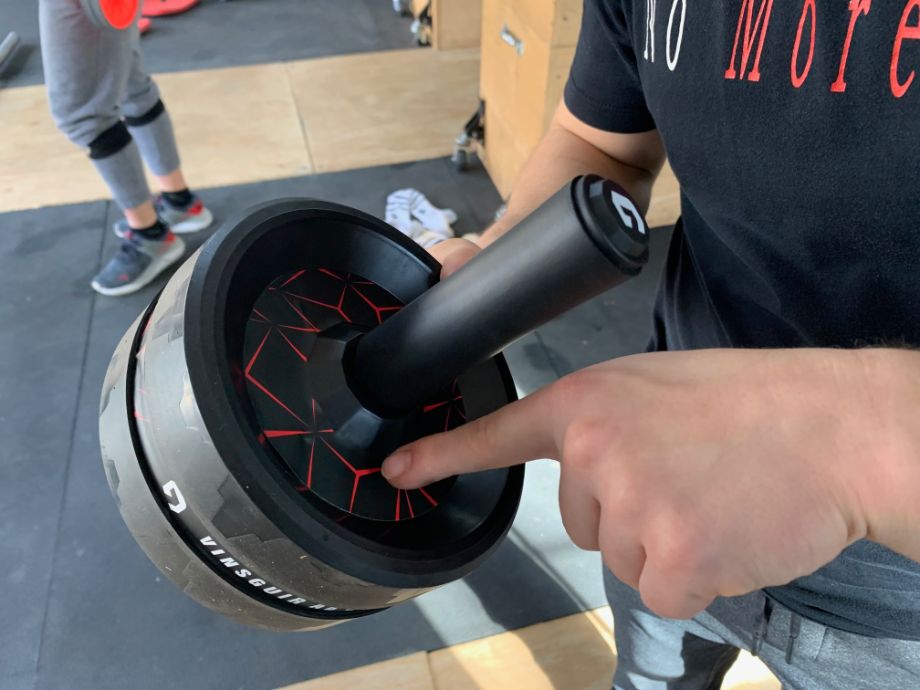 In addition to the roller, this kit also comes with a foam knee pad to protect your knees. This is definitely a nice perk because ab roller workouts do put pressure on this area, especially if you're working out on hardwood floors. Without an exercise mat, you'd have to grab a towel or find something else to kneel on. Unfortunately, many customers complained that this particular mat is too small to have any real benefit.
The Vinsguir Ab Wheel does have to be assembled, but it's relatively simple to do and can be done in probably under a minute. Our GGR testers didn't have any issues with the assembly process. They found that all you have to do is insert the stainless steel part through the wheel and slide the two rubber handles on each side. From there, it's pretty much ready to go. Its assembly process also makes it an easier ab roller to travel with, which you don't always find with these.
Overall, the Vinsguir ab roller is a stable option with a high-end feel. Although the stickers make it look a little less upscale, the overall quality and build make it a top pick.
| | |
| --- | --- |
| Handle Material | EVA rubber cotton handles |
| Weight Capacity | 500 lbs |
| Dimensions | 12″ total length, 3.2″ wheel width |
Best High-End Ab Roller: Rogue Fitness Ab Wheel
Good for: Individuals who want a very durable, long-lasting, well-built ab roller.
The first word that comes to mind is heavy-duty when I think of the Rogue Fitness Ab Wheel. First, let's appreciate the 1.25-inch rubber easy-grip handles. One of our testers stated that they're "very grippy and very long," which makes them ideal even for those with larger hands. These noteworthy handles are placed on a nickel-plated steel shaft, making it practically impossible to break.
You're also getting a sturdy wheel with tough-as-nails rubber tread. You'll find that the wide wheel on this ab roller is somewhat rounded. This is a unique feature, but it's there so you can roll in and out without veering in any unintended direction. It has sealed bearings, too, which makes for accurate traction and quiet rotation.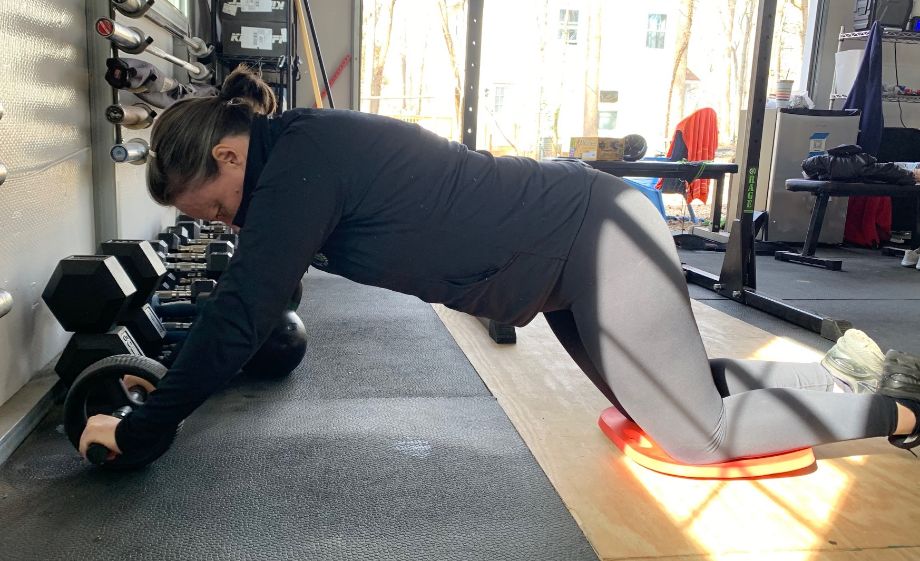 As one GGR tester mentioned, "I like the thicker wheel because it feels sturdier for me. I'm a beginner, so it's helpful to feel more stable." Another said, "The tread feels solid and smooth. It doesn't feel very wobbly."
The statements made by the GGR testers reinforce how well-built this piece of equipment is, and of course, quality comes at a higher price. This ab roller is a whopping $75, but it appears that most people who buy it love it. Since it's made with quality products, you'll probably be able to use it regularly for years to come—but that price will still be a lot for some people to stomach.
| | |
| --- | --- |
| Handle Material | Rubber handle |
| Weight Capacity | 600 lbs |
| Dimensions | 8″ diameter wheel, 3″ wheel width, 16″ total length |
Most Versatile Ab Roller: SKLZ Core Wheels
Good for: Trainees who'd prefer a kit with two ab wheels to diversify their ab workout routine.
Let's face it. There's only so much you can do with just one ab roller—which is why SKLZ provides you with two. You'll be able to try out numerous ab roller exercises with the SKLZ Core Wheels and aren't just stuck doing regular-shmegular ab wheel roll-outs. Our testers found that they offer much more versatility for full-body activities like wide push-ups and one-handed work.
The design of these ab rollers is also much different than what you'd usually find. Instead of having handles on either side of the central wheel, these each have one foam grip handle with rubber wheels on each end. The grips are plush but not so thick that you'll find it hard to actually hold them. You'll also notice that they're thicker in the center and become narrower at the ends to fit easily into your hands. This ergonomic design enhances the workout experience, but one of our testers noted that the foam may break down over time with frequent use.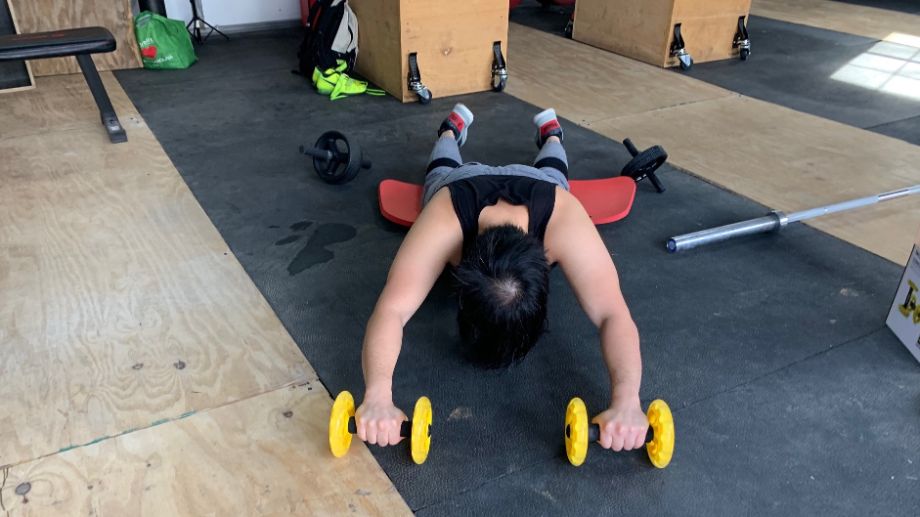 These rollers are very well-constructed yet still lightweight and compact. The wheels are smaller than what you'd find on other rollers, but they're mostly sturdy. The non-slip rubber tread allows stability so you can confidently work out on different surfaces. Plus, the wheels are soft enough that they won't scratch the floors. However, one thing that might annoy you is that the rollers are a dust magnet, likely due to the sticky rubber tread.
The SKLZ Core Wheels might be a good choice for you if you're completely over other ab roller designs. For advanced athletes, these will offer a challenge that'll for sure engage the entire core. Beginners may like these, too, as having an extra ab roller can give you additional stability. On the flip side, new trainees could view these rollers as too complicated for their strength training routine. Ultimately, it depends on your individual preferences. One of our testers found that they had more control than they initially thought they would, so the ab rollers may be worth a try.
| | |
| --- | --- |
| Handle Material | Foam handles |
| Weight Capacity | 225 lbs |
| Dimensions | 9.5" L x 6" W x 9.5" H |
Other Ab Wheels We Tried and Researched
Although the WOD Nation Ab Wheel didn't make it as one of our top picks, we felt like it deserved an honorable mention. The heavy-duty PVC wheels, along with the stainless steel handle and comfortable grip, will help you train both your upper and lower body. Users up to 330 pounds can use this ab roller for strength training and core balance control.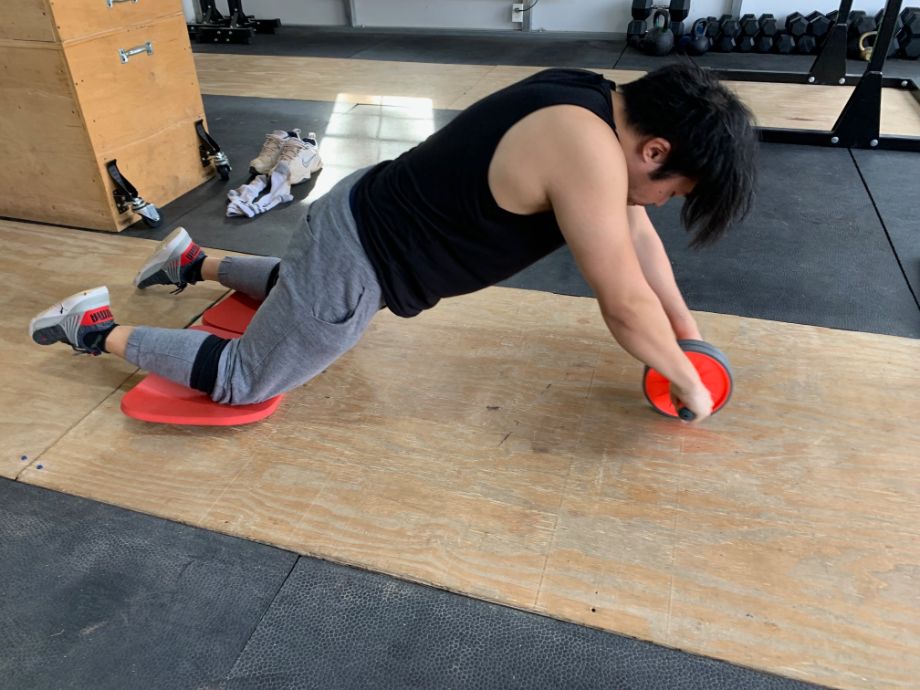 This particular ab roller kit doesn't come with a training manual or any warranty. It also doesn't come pre-assembled, so you'll need to put it together when it arrives. Fortunately, the assembly process is said to be simple. So if you're always on the go, you can bring this along with you. In addition, it's only 1.43 pounds, so you won't have any issues adding this to your gym bag.
How We Picked and Tested the Best Ab Rollers
As you know, there are literally hundreds of different ab rollers out there with different designs, price points, features, and more. We determined our top picks by researching the most popular ab rollers and then deciding which ones we wanted to bring in for testing.
Once they arrived, our team of competitive weightlifters started ab rolling around to figure out which ones were the best. They spent a few weeks incorporating these ab wheels into their core workout routine and were able to evaluate each one to see if they were any good.
We specifically looked at factors like:
Durability
Stability
Handles
Grip
After our GGR team finished testing them out, we came up with our official list of the six best ab rollers.
Why You Should Use an Ab Roller
If you want to strengthen your abdominal muscles, couldn't you just rely on movements like sit-ups, crunches, and hanging knee raises? Well, yes, you could, but adding an ab wheel is a great idea, and here's why:
They're Effective
In 2006, a comparative study1 was done on 21 healthy adults who were tasked with completing a series of core exercises. Each of these individuals was connected to a device that measured the strength of the muscle contractions they experienced while working out. The individuals used abdominal straps, the Ab Revolutionizer, and the Power Wheel during their exercises, and guess which one was the most effective?
If you guessed the Power Wheel, you're correct! Scientists found that they were the most effective at activating abdominal and extraneous muscles.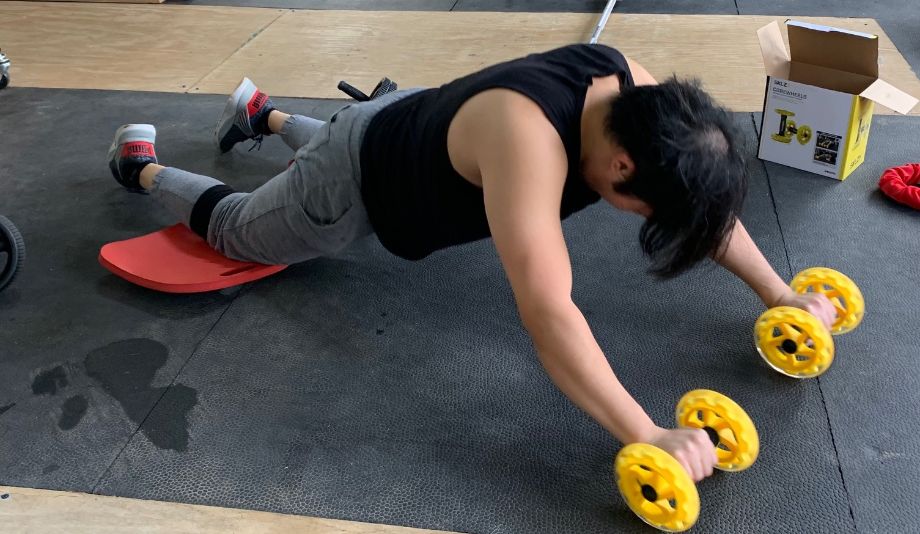 They're Challenging
If you like challenges and are seeking exercises that hurt so good, this is the one. Completing a few sets of ab workouts with these things will have your core on fire and give your triceps a run for their money. Ab rollers may be small, but they're mighty and will have even the most advanced trainees second-guessing themselves.
They Improve Your Posture
As discussed in a 2012 article from Harvard Medical School2, one of the best ways to better your posture is by strengthening your core, and ab rollers can definitely help with that. The rectus abdominis and the transverse abdominis are core muscles that help stabilize your entire trunk. Ab rollers target those exact muscles, so you should notice a difference in your posture if you use them consistently enough.
They're Mostly Inexpensive
Ab rollers are cost-effective pieces of gym equipment, usually costing between $20 and $65. Of course, you can get them cheaper than that or more expensive, but they're still generally more affordable than barbells and weight benches. These are a good choice if you're new to fitness, on a budget, and trying to add some items to your home gym.
How to Choose the Best Ab Roller
If you're trying to determine the best ab roller for you, here are a few things you should consider.
Wheel Type: Wide or Narrow
Before you go off buying one of these, you have to first decide this one thing: Do you want an ab roller that's going to offer more stability or more versatility? If you're a beginner, you'll probably want something more stable, which means you'll want to consider ab rollers with wider wheels. However, if you've done quite a bit of core training and are ready to spice things up, you'll prefer a narrower wheel. Narrow wheels are easier to angle, so you can move left or right and really target your obliques.
Want a Single or a Double?
Another thing you'll want to pay attention to as it relates to the wheels is if you want one or two. Having two wheels offers more stability, which is preferable for new trainees. On the other hand, advanced athletes might go for a single wheel ab roller, as those will require you to engage more of your own core strength.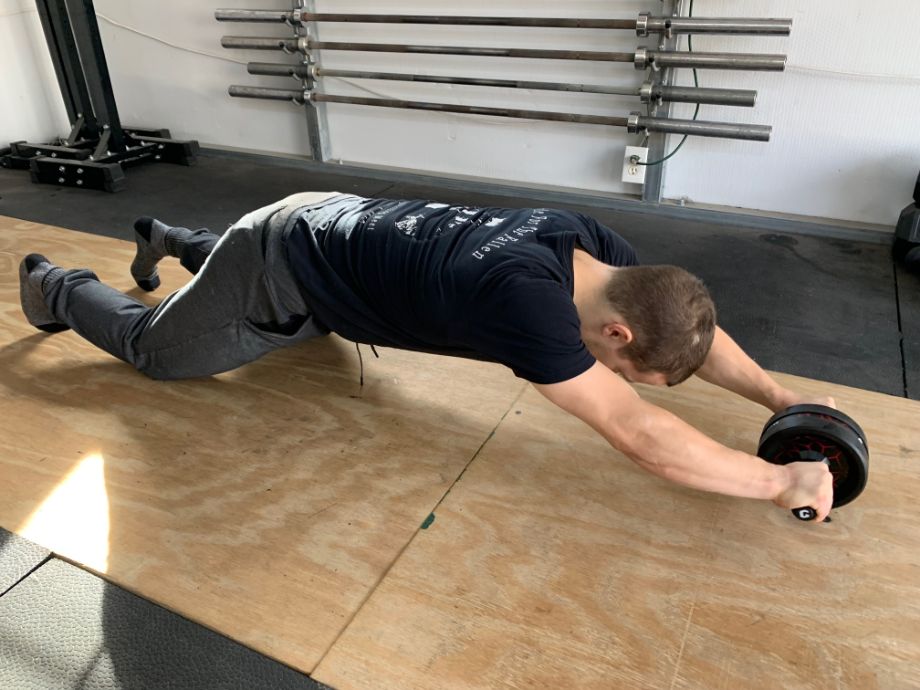 Pay Attention to the Handles
I remember purchasing an ab roller back in the day and absolutely hating the way it made my hands and wrists feel. I thought that's how all ab rollers were, but boy, was I wrong. It turns out you'll want to look for thick and ergonomically designed handles. Make sure they're properly cushioned and that they're going to be large enough for your hands. Some have very small handles, making it difficult for folks with larger hands to maneuver comfortably.
Double-Check the Weight Capacity
As you learned on this list, not all ab rollers have the same user weight capacity. Some of them go up to 500 pounds, but others might stop around 200. So make sure you select one that'll work for your current weight.
Durability
Some ab rollers are made up of cheap plastics, and those are the ones you'll want to avoid. Not only will you not get much use out of them, but using them could be dangerous. Cheaply-made handles are incredibly uncomfortable, and cheap wheels are often noisy and prone to scratching your floor.
You'll want something that's built with quality parts so it can adequately support you. Therefore, look for ab rollers with a warranty, as that gives you some assurance that the company backs their product. Also, pay close attention to customer reviews. Previous purchasers will state if the product is poor quality.
FAQs About Ab Rollers
Are Ab Rollers Actually Effective?
Yes, they are! A 2006 study1 showed that ab rollers are effective, especially compared to products like the Ab Revolutionizer and abdominal straps. 
Are Ab Rollers Good for Belly Fat?
Eh, not exactly. Unfortunately, you can't burn fat from specific parts of your body, like the belly, by doing certain exercises. It'll help strengthen your abdominal muscles, but if a layer of fat is covering it, doing ab rolling exercises won't suddenly make your muscles appear. 
Eating a healthy diet and doing cardio will help you lose body fat. If you've been using ab rollers, you'll start to see them peek through after a while! 
Is an Ab Roller Better Than Planks?
I wouldn't say ab rollers are better than planks, but I can easily say using ab rollers is more challenging than performing planks. However, both are good exercises that'll improve your core strength, so don't feel like you have to choose one over the other. 
Can You Get a Six-Pack With an Ab Roller?
Everyone has a "six-pack" of muscles, some people just have more layers of adipose tissue on top of them. If you have a layer of subcutaneous fat covering the area, you won't be able to see them. Part of getting abs is having a proper diet, so if you're not eating well, they may not become visible. 
An ab roller can help develop and strengthen your muscles, but it can't spot-reduce fat. 
References
Escamilla RF, Babb E, DeWitt R, et al. Electromyographic analysis of traditional and nontraditional abdominal exercises: implications for rehabilitation and training. Phys Ther. 2006;86(5):656-671.
Core conditioning: It's not just about ABS. Harvard Health. https://www.health.harvard.edu/healthbeat/core-conditioning-its-not-just-about-abs. Published May 22, 2012. Accessed January 19, 2023.